Terracotta Cladding & Terracotta Panels: An Architects Guide
As an architect, you might be knowing how vital a cladding is! Cladding saves an architecture from rainwater, harsh winds, and sometimes provide sound and thermal insulation too.
And we all know the increasing demand for terracotta cladding in the architecture industry. It is praised by architects and is used in most of the contemporary architectures. The first use of terracotta cladding was done in the 1960s by NBK Terracotta.
And from the past few years, it has gained immense popularity in the industry of buildings. So let's consider this a perfect time to give terracotta limelight for your own good. (And to get the spotlight too!) 
What is Terracotta Cladding?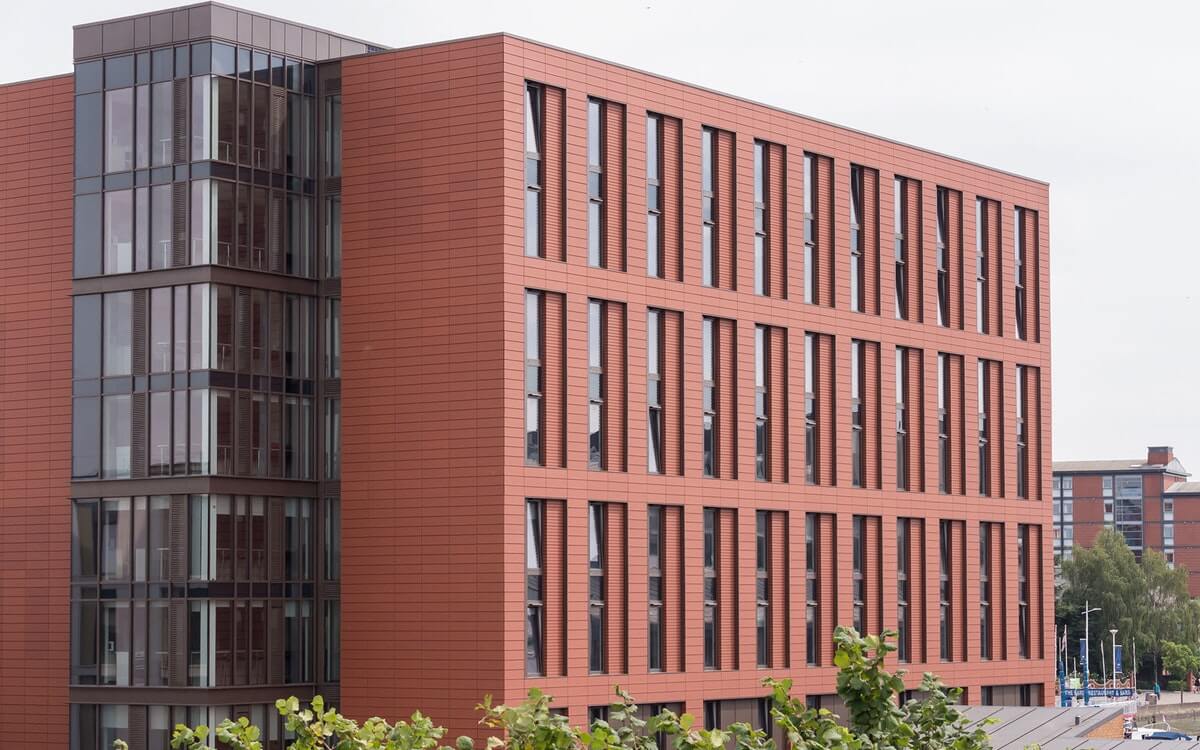 Source: imgix.net
According to LOPO, " Terracotta Cladding is manufactured with natural and aged raw clay without any other chemicals and fired at high temperatures. It is an architectural cladding material that provides a certain degree of thermal insulation and weather resistance while creating an aesthetically pleasing facade."
What are The benefits of Terracotta Cladding?
1. Durable and Longlasting
As terracotta is made from natural and raw clay, the strength is natural. Plus, it is formed after passing through the high temperatures, which makes it reliable and durable. Proper design and installation can do wonders and make its life span longer. It is possible to have a terracotta cladding that lasts up to 100 years without spending much on maintenance. 
2. Thermal Insulation
Due to the ventilated system of the terracotta, it gives better performance on thermal insulation than any other conventional insulation. The Rainscreen principle has a better performance than the precast cladding. But if the precast cladding is done with the sandwich wall concept, then it can also give reliable thermal insulation with weather resistance. 
3. Pocket-Friendly Maintenance
You might get surprised with this benefit, but as we said above (in point 1), its lifespan is long without spending much on maintenance. We weren't just saying, it's true. The surface of the terracotta cladding won't get dusty, and even it gets, one power wash and clean it off. Every 5 to 10 years, a power wash will work, and if you have glazed terracotta installed, then you can be worry-free for 10 to 20 years.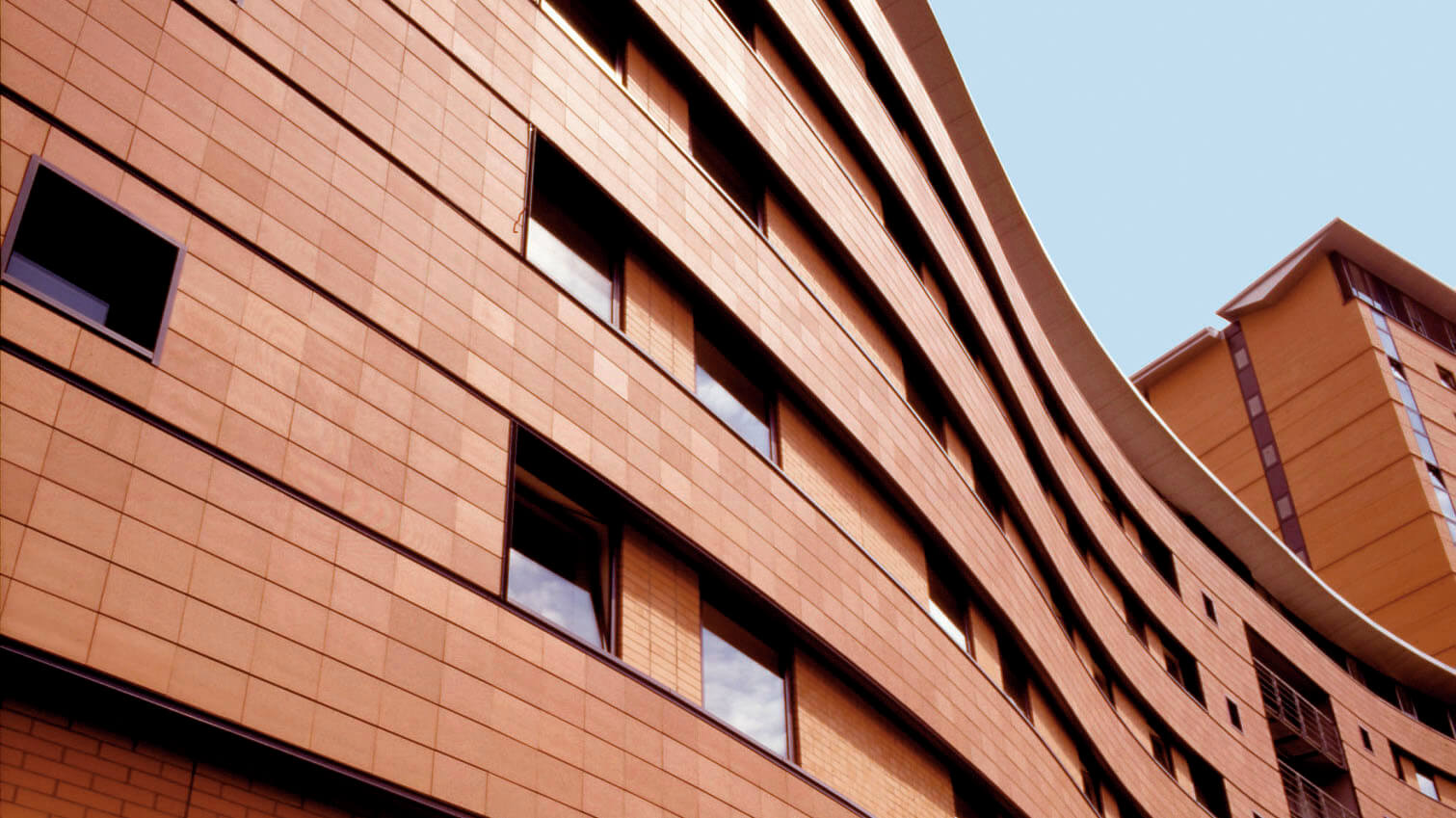 Source: forterra.co.uk
4. Environment Friendly
The terracotta is 100% nature friendly. It is fireproof and is a very safe cladding material. It is obtained from natural clay, and no one is harmed during its making, not even the environment. It is recyclable and reusable too. 
5. Multiple Aesthetics (to choose from!)
Don't let the myth rule your mind! After hearing terracotta, there are only two-three colors that come to mind mostly on the brownish shade. There are a number of options available in the terracotta cladding. Be it textures, or colors. Terracotta also has natural fired as well as the glazed surface. 
Types of Terracotta Cladding
1. Terracotta Rainscreen Cladding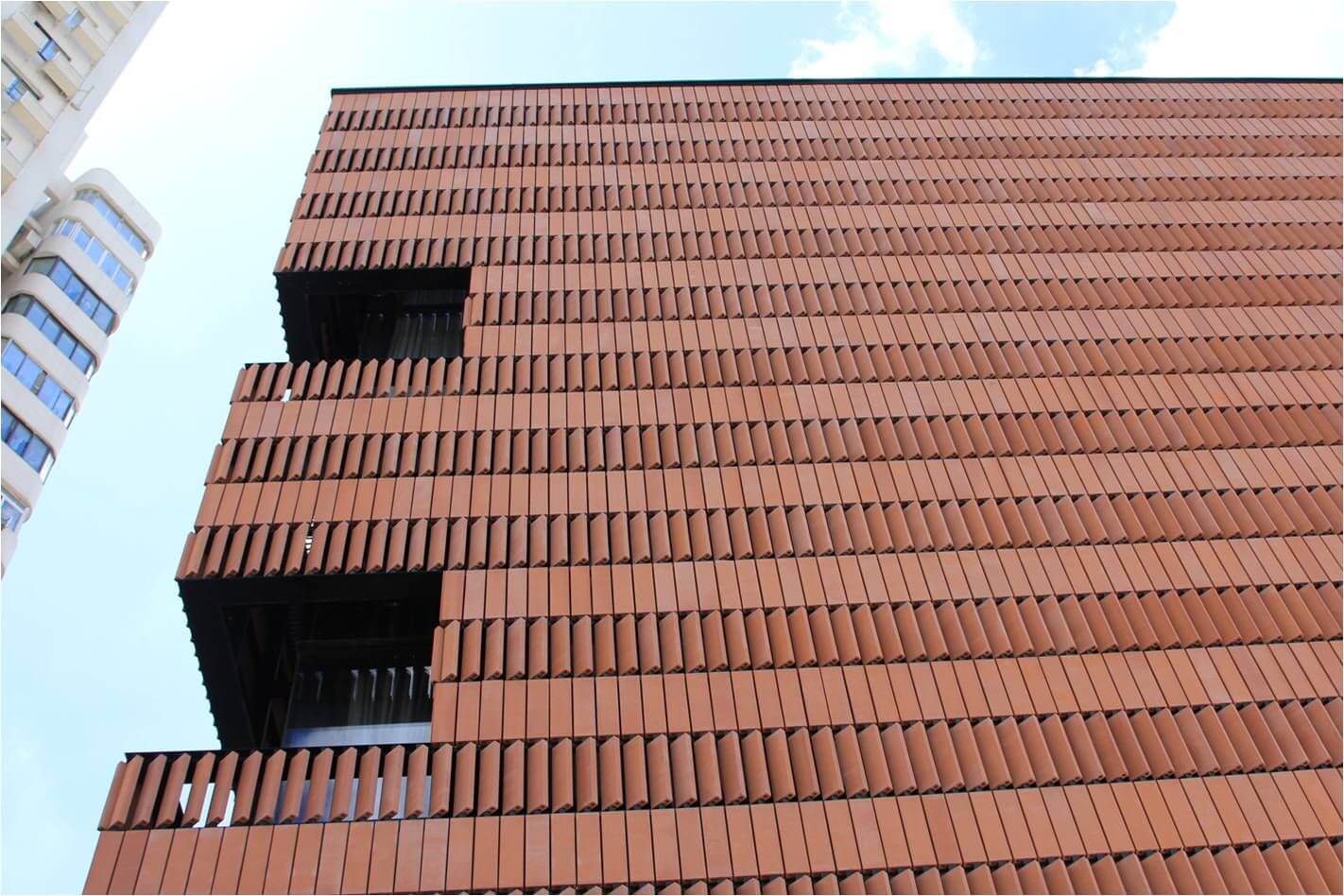 Source: pinimg.com
With the concept of rain screen, terracotta rain-screen cladding is composed of terracotta panels, supporting track systems, vapor barriers, and a ventilated cavity. The plus point of this type of cladding is it doesn't use grout sealants like silicone, so there are fewer joints in the wall. This also makes it easy to maintain and can be installed easily in any weather condition. This method is used in making of building's core for a longer lifespan.
2. Terracotta Precast Concrete Panels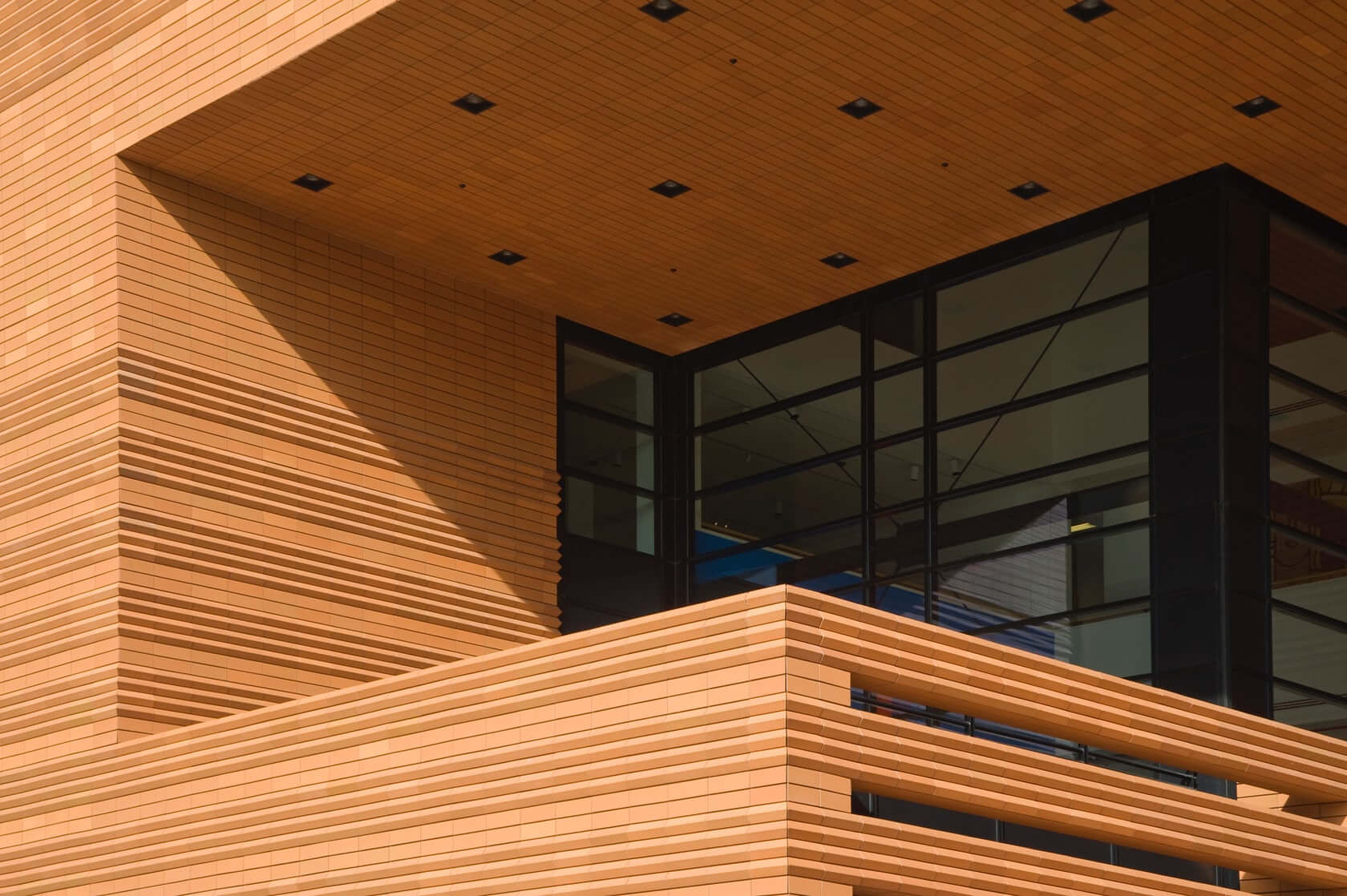 Source: architizer.com
Here in this type of cladding, terracotta concrete panels are embedded into large concrete units. This idea of coating is suitable for designers who are looking for strength with flexible designs, finishes, and profiles. From inside, this cladding looks like a solid concrete wall and from outside, it is a perfect terracotta building. 
If we look at the costing, it is lesser than rain-screen cladding, but the maintenance cost will arise as it has joints.
3. Terracotta Sunshade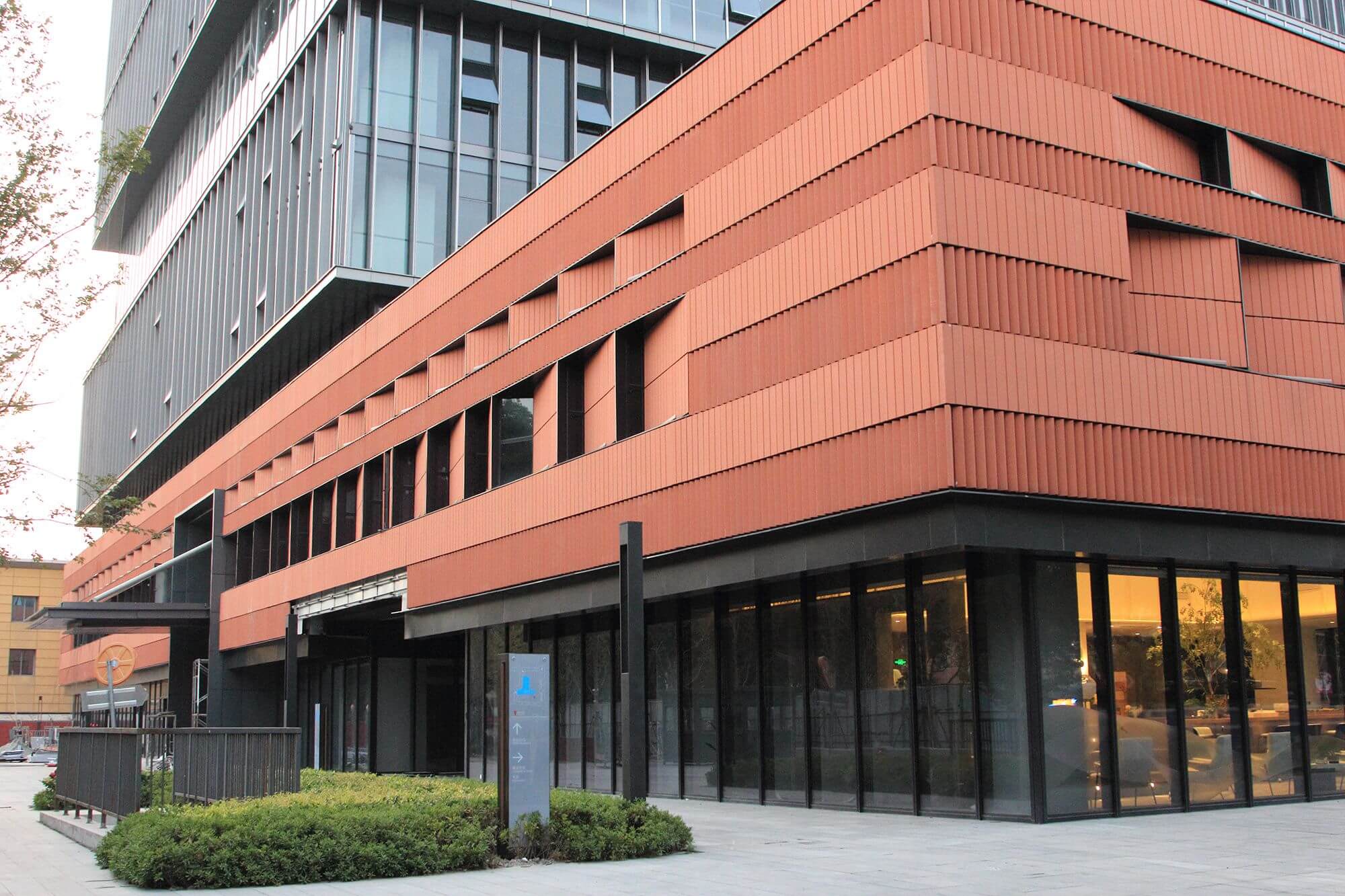 Source: pinimg.com
Terracotta sunshade or sunscreen is a product of terracotta wall cladding. Use it with the rain-screen principle cladding for a harmonium and unique facade. It can also be used as a separate element for the modern and peculiar appearance of the building. The multi-purpose terracotta sunshade has many textures for cladding while it provides the shading to the construction. The textures vary from a square, circular to oblong cross-sections, divided into terracotta louvers and baguettes.
Also Read: How to Lay a Terracotta Floor
Wrapping Up:
You will find terracotta cladding in many modern building's facades and envelopes from skyscrapers to residential buildings. It gives the modern, elegant, and contemporary look to the design and overall outlook of the construction. Along with that, it also provides thermal insulation and is weather resistance too. The best quality that attracts many architects is its low maintenance cost. So what are you still thinking about? Make the terracotta cladding an essential product for the construction.
For more information on architectural ideas, visit Architecturesideas.