There may be a need to paint the exterior part of your house to serve as a form of protection from insects and bad weather. When the wood alone is used on the outer part of your home, it can be destroyed as a result of the weather conditions. Through painting, they will be protected since they have a good coat and will not be affected by any wear and tear. Spray painting is more popular than hand painting because more area is covered over a short period and equal coverage is achieved.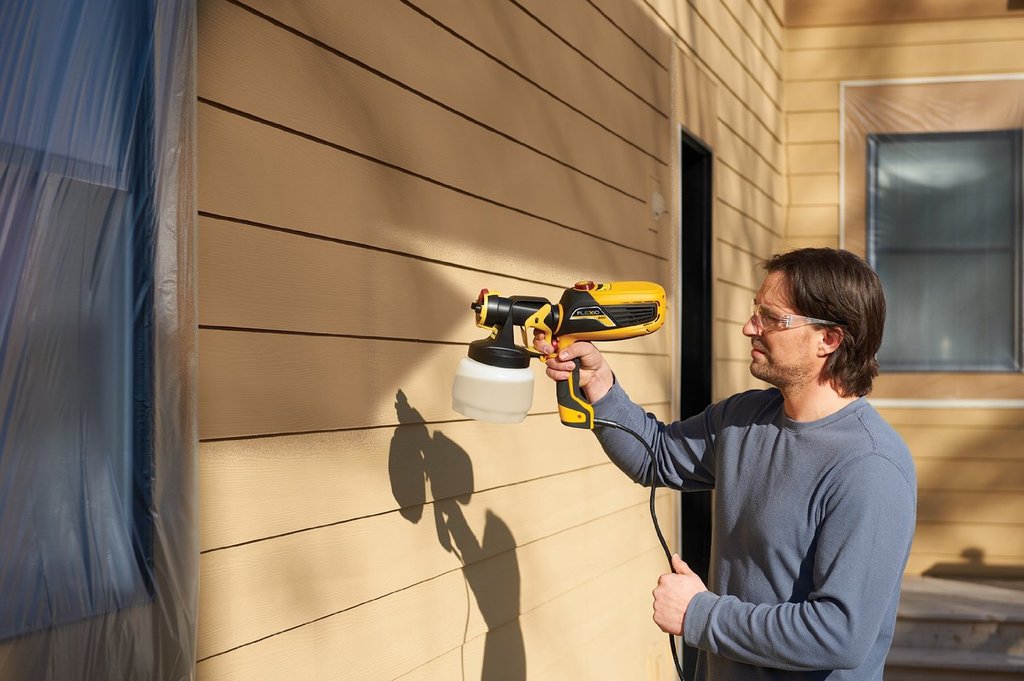 Safety Precautions
Spray equipment should be handled with great care and caution. Before starting up the process, you need to wear a protective gear which includes; the gloves that are well-fitting safety glasses to prevent the spray from coming into contact with your eyes, a spray sock or a hood as an alternative, a hat, the right form of footwear, dust masks and respirators to prevent any dust particles from getting into your nostrils. For a complete spray-painting gear, wear a paint suit or coveralls with a respirator mask, well-fitting disposable protective gloves, and safety goggles.
Types of Tool and Equipment to be used
You can use the Graco, HomeRight, or TrueCoat paint sprayer. According to Nestkoo.com, Graco X5 is the best, which is easy to use and also is of high quality. The paint or stain depending on the color that you want to use. Spray tips vary in sizes, and you use the wider type when painting a large surface while the narrow type when painting a smaller surface.
Two empty buckets for preparing the coating of the sprayer and a cleanup. Plastic sheeting which will protect the floor when painting. Masking tape will be used to mask off areas that are not to be painted. The paintbrush is used for touch-ups before starting to spray. The Magnum tip extension is optional, and you can purchase it if you want to paint areas that can only be reached by using a ladder.
A pressure roller kit that triggers the gun when you need more paint but it is optional. A spray shield is designed to prevent a fire breakout, which may be as a result of spray outs. Pump Armor storage fluid also offers protection. It was cleaning rags to clean and damp dust surfaces that are found above the floor level. Stiff nylon brushes used to clean up. Equipment that offers both safety and protection is also essential.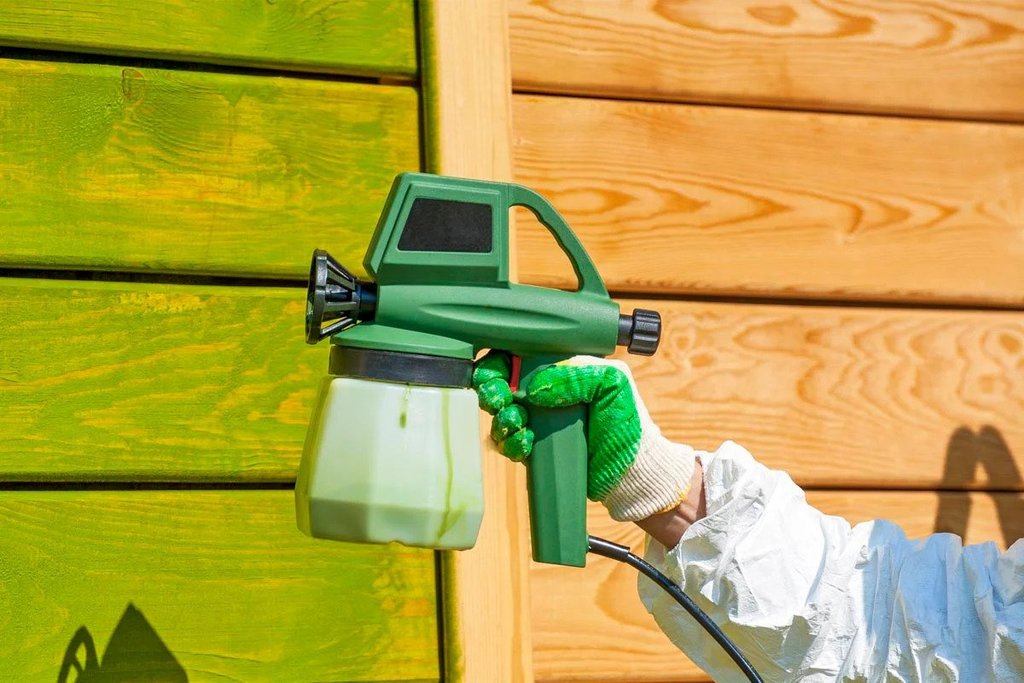 Preparation Process
Ensuring that no outdoor furniture is found within the area that is going to be sprayed in case there is any, you move them away. Enough space is needed to sustain the tools and equipment to be used. Covering any surfaces that you do not want for it to be sprayed, an example is a window.
You wash the surface of the whole exterior surface, inclusive of the eaves or soffits that will undergo the painting process by using a pressure washer and a cleaning solution. After washing, the surface needs to be given enough time to dry.
Making sure that there are no hindrances on the exterior surface to be painted; this includes dirt and mold, and you need to remove any peeling paint that is still found on the surface. This will make the painting process neat.
Repairing the damaged sidings and soffits that are found. Removing any loose nails, or you can opt-in fixing them back if they are essential. Acquiring rough surfaces since they will be a crucial help in the process.
How to Paint
Making a selection of a spray tip that suits you well, depending on the paint and surface that is to be sprayed. Ensuring that the size of the tip hole does not go beyond the amount of your sprayer. Mixing the paint if you are using many different containers, this is to ensure that there is a consistent color even when they are different.
If you have little or no experience, the start-up part should be a flat surface that is not always seen. Moving from the top to the bottom part is the most suitable while ensuring that you have sprayed any eaves and under-sidings that are there. The direction of spraying is dependent on how the exterior part was constructed, and it's surrounding.
Dividing the surface into sections that are easily accessible and ensuring that the spraying tip is 12 inches from where the surface is. You work on the outer edges first before proceeding to the area that is to be sprayed. For the corners that are on the inside part, you spray directly to ensure that the spray fan reaches on all sides. The final section is spraying the walls on the exterior after completing the eaves.
Ensure that the spray does not reach on windows and doors and finish with the remaining part, which is a flat surface. The surface must be left to dry out before removing the trim that you had placed. This will lead to crisp lines.
Conclusion
Spray painting is an easy and fun way of getting your house to look beautiful. You can join in with your family in doing the process as a way of bonding, but you need to ensure that everybody involved has a protective gear to prevent any damage from arising from the process. You will be amazed by the results of your work since it will be of high quality and within a short period. Try spray painting for better results.