Know All About the Best Deck Paint for Old Wood
Painting the old and weary deck is one and the simplest way to improve its beauty, specifically if you have the best deck paint for old wood. The painting procedure is not that difficult and you can  DIY it, which drastically reduces unwanted costs that you may have to pay if you choose the more expensive option for remodeling.
 Restoration paint is not similar to an ordinary one. Generally, it is acrylic or a solution of acrylic latex that will dry into a thick layer on your old wooden decks and fill all the cracks in the process. This article includes below the steps for deck painting, best deck stains, and deck paint reviews.
How to Prepare And Apply Best Deck Paint for Old Wood?
Step 1: Wash the Deck: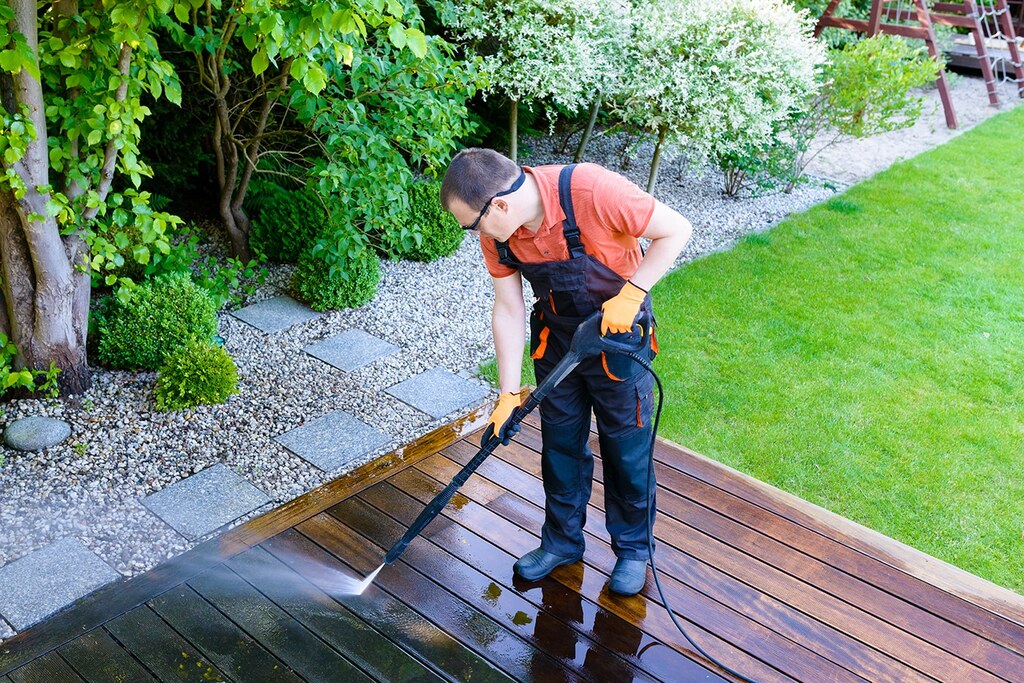 Source: westlakehardware.com
Even if it's a new deck, you should clean it before applying paint or stain. Deck-cleaning products that you can buy and spray them on using a garden hose dispenser are useful. You can brush them with a utility broom or similar brush and then rinse it off. Moreover, you should consider the following when you wash the deck.
Brighteners:
For non-painted wood decking that is unevenly greyed over time, a cleaner that brightens the wood grain will help you remove stains and discrepancies. If you don't use them, the old paint may show through a new stain application. These brighteners have a wood-bleaching product to lighten stains and dark splotches.
Deck Cleaners:
You should get an all-purpose deck cleaning solution; it is suitable for washing the deck. It will remove grime, dirt, and debris. If you intend to apply a stain rather than a paint, we recommend you to check and see if the stain manufacturer suggests a specific deck cleaner.
Mould and Mildew:
If any mold is present on your existing deck, use a cleaner with a mildewcide before painting or staining.
Skip the Power Washer:
Power washers are excellent for blowing away dirt and debris. But you should keep in mind that powerful jet water from a high-pressure washer can dig chunks of wood out of decking. After applying the deck-cleaning solution, scrub with a stiff nylon-bristle brush. Use a garden hose containing a jet nozzle to rinse away the cleaning solution, and then allow the deck to dry completely.
Step 2: Sand and Scrape the Deck: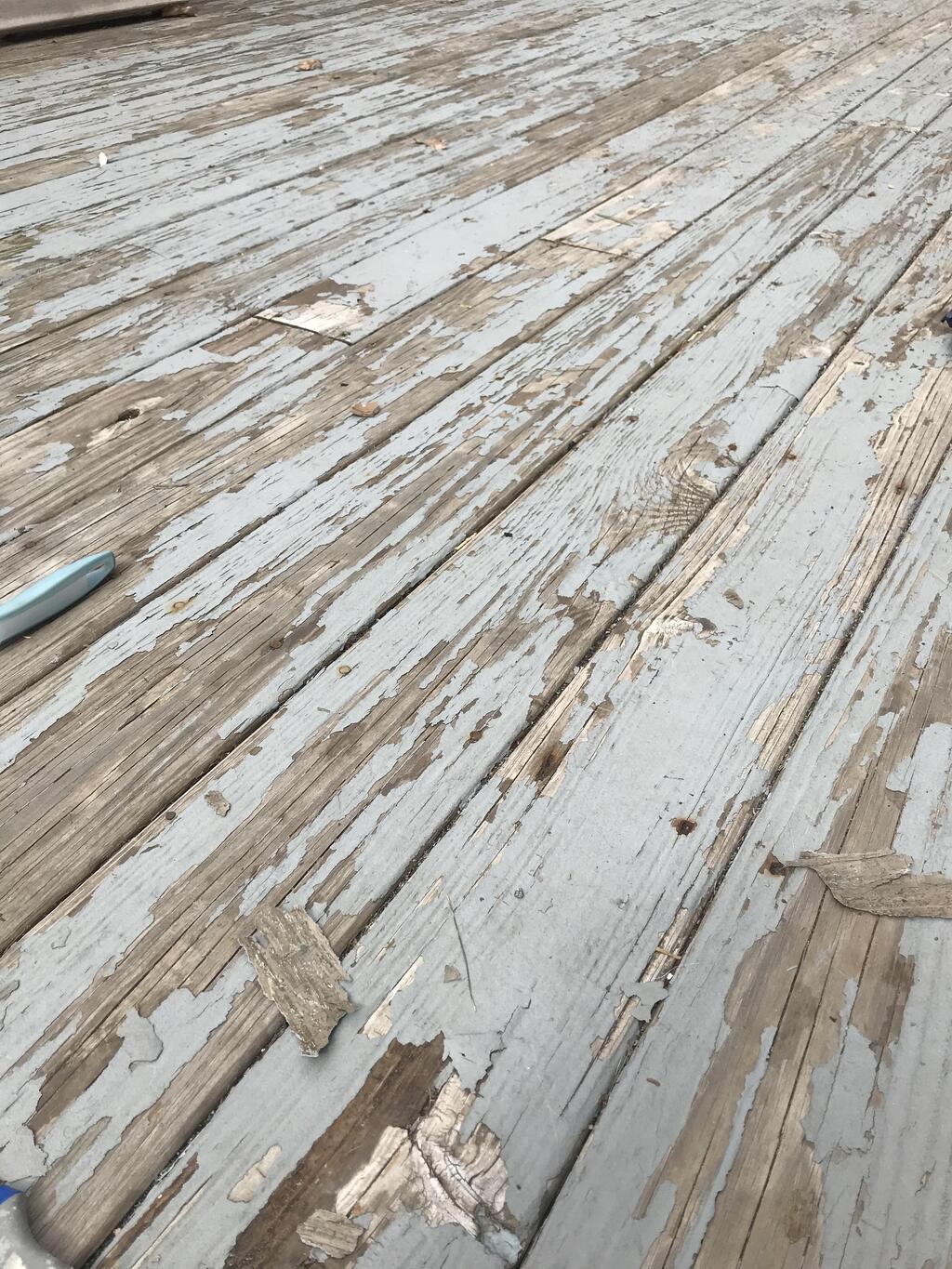 Source: redd.it
You should remove all loose and peeling paint before repainting the deck. For the best results, you should sand the rough surfaces.
Initiate with a Wire Brush:
You should use sweeping strokes over the painted decking to dislodge loose paint. A wire brush does quick work of getting rid of the loosest paint chips, although it likely will not get all of them.
Follow Up With the Scrapper:
There are two types of paint scrapers, such as:
Flat Scrapers
Curved Scrapers
Flat scrapers look like putty knives and work by positioning the blade at a low angle along with the decking and give light pushes. This step will help you to lose paint chips and remove them. This method is tried and true, but you should avoid gouging the wood with the blade. The blade on a curved scraper comes with a gentle arc at the end, and it works by pulling rather than pushing.
Don't Skip the Sanding:
Scraping hardly removes all the paint from the existing deck. After scraping the loose paint, it is likely the wood will have large areas of stuck-on paint. Sanding is necessary to smooth the edges between stuck-on paint and bare wood. Using a power sander hastens the sanding procedure, but it is better to use a sanding sponge if you do not have sandpaper. Before sanding, you should use a hammer and nail set to countersink the nails that are sticking up.
Step 3: Apply the Paint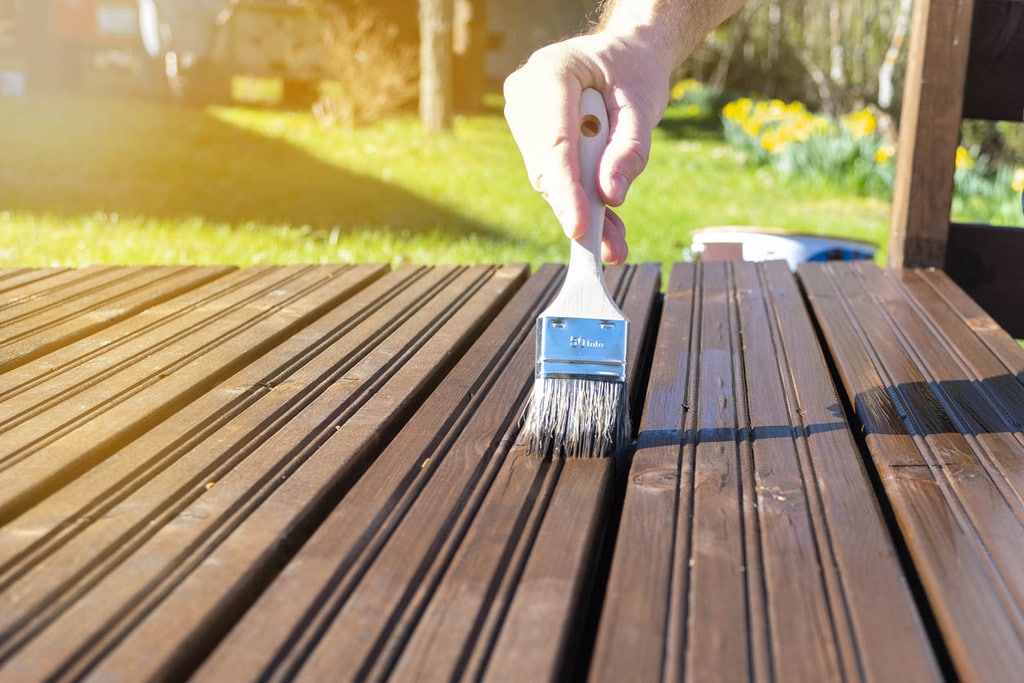 Source: bobvila.com
Before you open the can of paint or stain, you should apply the painter's tape to adjacent parts of the house or garage. After following all the above steps, this is a minimal step. The tools you choose for applying the new finish deserve consideration. You should have the following tools:
Roller:
The best tool for new paint is using a paint roller. A roller will speed up the painting process. It will also provide a uniform layer of paint. You can connect the roller handle to an extension pole, making it easy to paint while standing up.
Stain Pads:
These will help you to do quick work of applying stains to non-painted wood decks. Stain pads consist of absorbent material, such as foam, along with the ability to attach an extension pole.
Brushes:
Keep some brushes with you for painting restricted spots, such as when it is time for a paint deck or in spots where the roller cannot fit.
Do not forget about the deck underside. If you can reach it, paint or seal all deck boards' sides to protect the decking from moisture. It is more vital in regions with high humidity and heavy rains than in arid regions. If you do not seal all sides of the board, moisture may get into the wood and reduce the new paint's longevity.
How to Buy a Deck of Paint?
To help you to pick the best deck paint, I have listed some of the best collections for deck painting with great deck paint reviews that will help you to select the best paint for you. 
Cabot Paints For Decking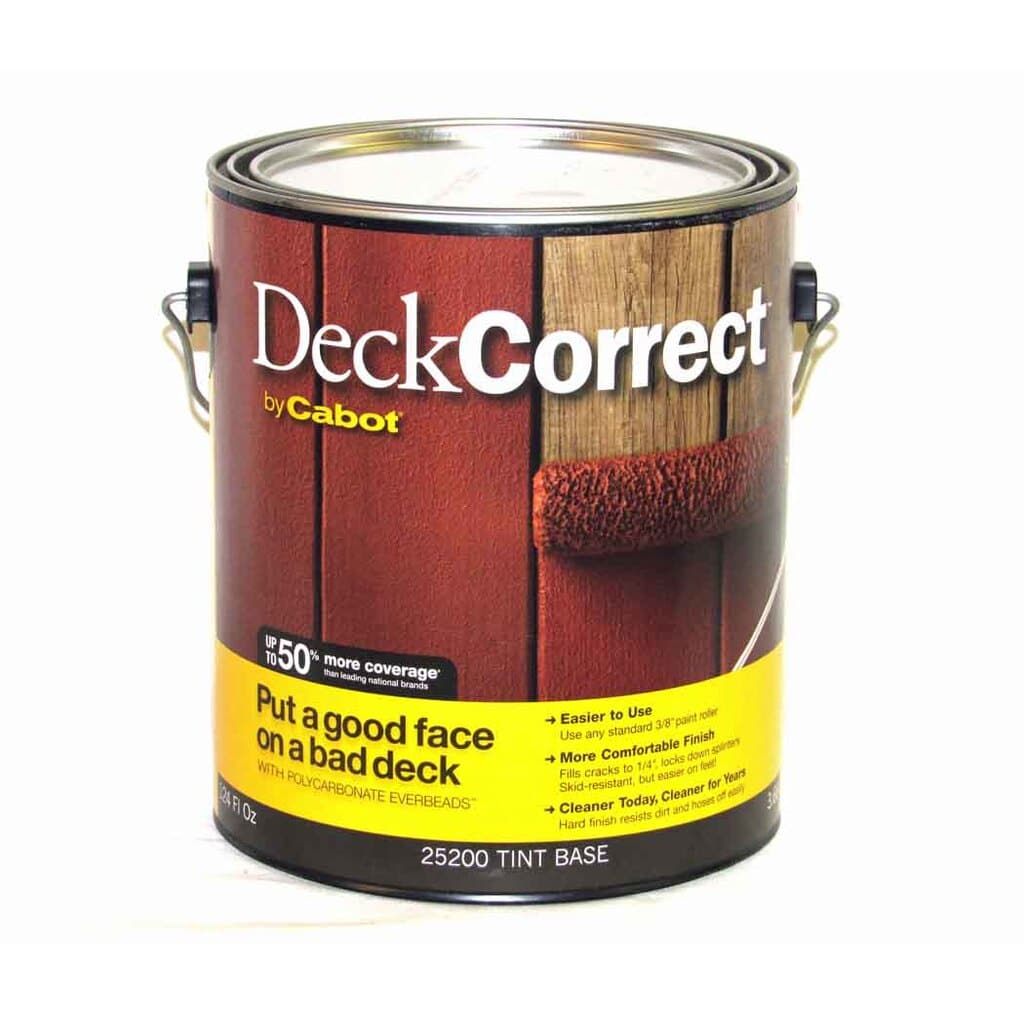 Source: amazon.com
It is a top-quality product of the Cabot Corporation. The only reason it made it to the list of best paints for decking, especially for old wood is its reputation for restoring worn-out wooden structures. You can get this product in up to more than 51 different colors. Its coverage is remarkable, with about more than 75 square feet with two layers.
Its application is less complex as well; all you need is a nylon brush or a 3/8" roller nap as the substitute. It is best for weathered wood, decks, and porches. But it is better and recommended to use a solid stain on vertical areas like the railings.
Advantages
It has wide uses from decks, concrete, porches, and weathered wood.

Ready for use within two days

Easily cleaned using soap and water

Easy to apply
Disadvantages
Not suitable for vertical surfaces

Can peel 
Kilz Over Armor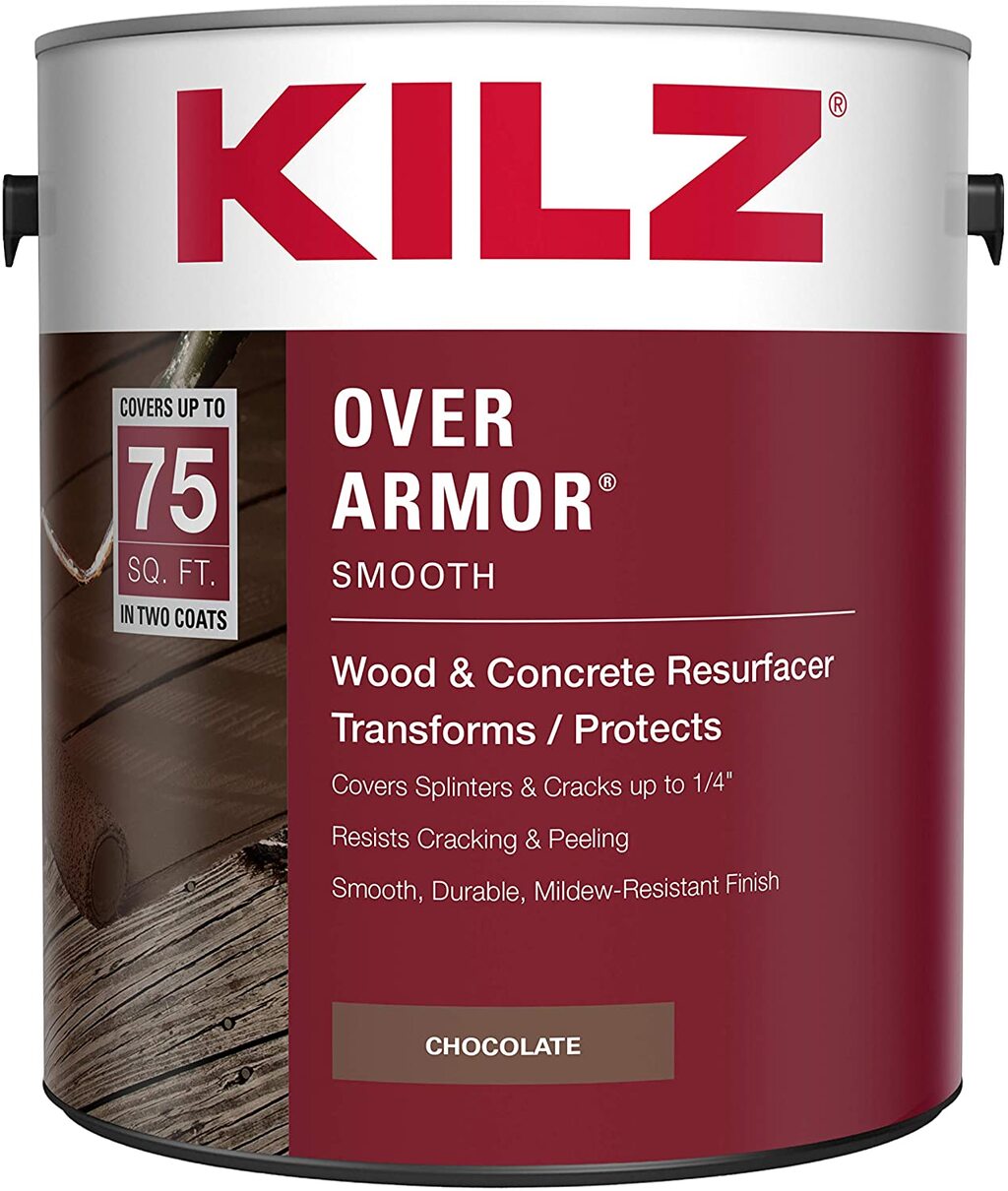 Source: amazon.com
Kilz is a masterclass from Masterchem Industries. It is among the best deck paint for old wood and does a good job on walls, wood surface restoration, and rust prevention. 
The Over Armor Resurfacer is on the list due to its excellent reputation. Masterchem's best-selling acrylic resin paint can be found in smooth and textured finishes for wood and concrete.
The formula will help you to fill the cracks on the wood surfaces, hide imperfections, and give a new uniform look to old and worn-out wood. It is also accessible in several wood stains colors. You should prepare the weathered wood or the cracked horizontal wood surface properly before applying this paint. It is also excellent for vertical surfaces like posts and railings. 
Advantages
It's an acrylic resin

Best for all weather conditions

Does not need the priming of the surface

A single gallon covers more than 70 square feet of an area

Fills and repairs holes and cracks on the surfaces for about ¼ inch

Great reviews from users

Takes less time to dry and cure
Disadvantages
Its thick consistency calls for brush only in place of other options such as a roller during application.

You should clean the surface before application.
Anvil Deck-A-New
Anvil is one of the most trustworthy and reliable companies that makes some of the top paints for decking and sealants that give the wooden structures a flawless finish. Deck-A-New Resurfacer, one of their best deck paint for old wood, works perfectly to give the structures a new look.
It cures into a slip-free surface, which you can find in two variants: concrete and wood.
Advantages
It is a known top-rated wood resurfacing paint

Provides an easy way if you want to repair the wooden and

concrete deck

It will fill the wood cracks for up to ¼ inch.

This paint is 100% Acrylic

It is great for all-weather

It will not peel in areas with high traffic on decks

If you go with a single layer, it will cover an area of 160 square feet per gallon 

You can easily clean the slip-free textured surface
Disadvantages
It demands priming and cleaning of the surface before you apply. 

Since Anvil Deck-A-New Resurfacer is not acrylic resin, it is not the best option for a region that experiences extreme weather conditions.
Conclusion 
There you have it; these were the best deck paint for old wood paints that you can use for painting. Make sure that you read all the steps carefully and do not miss any of the above steps, else you may end up making an error. It is better to take the help of someone who knows more than you.
To know more about cleaning tips, home improvement tips visit Architecturesideas.
For daily updates, follow us on our Instagram page @architectures_idea.