Are you planning to paint your room walls? One of the hottest and popular trends is the neutral colors, especially Greige! I know the name might sound confusing; however, it is the top paint colors right now. Let's see best greige paint colors.
Gray + Beige = Greige! Yes, it is made from two colors. It's like the traditional beige from the '90s, and modern grey got married and had a baby, named, greige. In simpler words, when you mix gray (a cool tone) with beige (a warm shade), you'll get this charming and the best greige paint colors.
It is a perfect color option if you're confused or can't decide between cool or warm neutral paint colors for your home. You'll get a surface that strikes a balance between two extreme color temperatures with the greige color!
They'll seamlessly and gracefully blend with most decor and color schemes, and even you can make it the focal point of the room. You can select the cool and warm greige option according to your interiors or style.
The cool hue will be an excellent choice for small and compact spaces as it will make the area look more open and spacious. In comparison, the warm greige shade will add a luster and will look lovely with pictures hanging on the walls, indoor plants, and other decor pieces.
Today in this blog, we've gathered up seven trendy and popular greige color options for you. You can try these options in your kitchen, bathroom, bedroom, or other parts of your home.
7 Stylish & Best Greige Paint Colors
The best part or you can say the beauty of this color is that it looks good with all types of warm, neutral, and cool tones. You can use it with your modern farmhouse-style design or traditional theme. You can freely experiment with creative color combinations and bold pops of color.
Here are the top 7 best greige paint colors ideas for you in 2023:
1. Benjamin Moore Gray Mist OC 30
If you want a subtle tone that looks not too dull, not too crazy, then pick this one. This greige tone will give you the illusion of a bigger space. So it is a perfect and versatile choice for small rooms or any compact space in your house. This gray mist paint color is neutral and soft, so you can add a pop of colors or colorful accents if you want.
You can use this shade in a place where there is less natural light because it will reflect light and make the room look spacious. You can decorate your place with decors with similar shades and tones.
2. Sherwin-Williams Shiitake SW 9173
Another famous greige color is the Shiitake from the paint company Sherwin Williams. If you ask why it is so common among people? Just take a look at the above picture. Doesn't it look beautiful? It will look gorgeous in modern spaces because it creates a meditative, calming ambiance.
Homeowners of the above home have used this color in their modern dining room. Here space is decorated with light blue accents and light wood tones. As it is a cooler tone of greige paint, you can play with decors with similar shades. This will help to bring out the undertones beautifully.
Additionally, you can include blues with wood accents as they will enhance the grey shades.
3. Sherwin Williams Mindful Gray SW 7016
The next paint option on our list is also from Sherwin Williams, and it is a pretty unique shade. We're saying this is because when more natural light will come into your space, the more you will see the pretty beige shade.
This happens almost opposite with the other paints. So as the day goes by the natural light increases and decreases and with that, you'll see variations in the shade. Wouldn't it be amazing?
You can use this shade in your dining area, balcony or entryway. Keep the decor simple and clean, and your space is ready to impress your guests and visitors!
4. Light French Gray
If you like the paints with more gray tones, you should try light french gray. It will look absolutely mind-blowing in kids' rooms or bedrooms. Just coat the walls with a single layer of this shade and leave it for drying for a few hours or overnight.
You can decorate the space with a small bed, some curtains and of course a rug. Take inspiration from the above room. Here white and various shades of gray have been used to amplify the wall color.
You can also use the same trick and include decor items with matching shades with some kind of pattern. Hang some shelves and art pieces, and your space is ready to rock! Your children will love this new space which is full of inspiration!
5. Sherwin Williams Worldly Gray (7043) LRV: 57
Are you planning to renovate your bathrooms? Or are you looking for some bath paint ideas? Your search ends here! Just try this shade of greige paint known as worldly gray from Sherwin Williams.
This tone of gray is not too warm, not too cold, and also not too dark, not too light. In short, it is ideal for any place but looks extremely good in spaces like bathrooms. So, create a fabulous farmhouse bathroom with a relaxing atmosphere with this incredible paint.
6. Sherwin Williams Accessible Beige SW 7036
Love minimalism and neutral color palette? If yes, then this shade of greige paint will be best for you. It is called Accessible Beige SW 7036 from Sherwin Williams. This warmer neutral shade of paint will instantly create a cozier environment and a space that feels like a sanctuary.
From its name Accessible Beige, many people think that it has more beige in it. However, it has just the right amount of gray mixed in! That's why it will make your room warm and inviting.
You can decorate your space in a cocooning, relaxing space with some soft textures and organic decors. This shade works well in open-concept areas and spaces.
7. Sherwin Williams Agreeable Gray (7029) LRV: 60
Agreeable Gray is a color that has been in and out in the interior designing trends for many years. In 2023, it has again become one of the top paint color ideas. Many people love it because it works perfectly with a variety of spaces.
This shade is fairly light but still fairly dark to give a seamless depth. It will surely make your space interesting and welcoming. As its name says, Agreeable Gray, it will work from the bedroom, kitchen to bathroom, and entryways.
Styling Guide: What Colors Go With Greige?
Now many of you are curious to know about how to style the greige color or shade. As we already told you, greige is both a cool and warm neutral, which means it can really go with everything.
You can add neutrals, decors with a similar shade of the paint color, or even a pop of colors like green and purple. You can add literally any undertone shades to give a hint of color.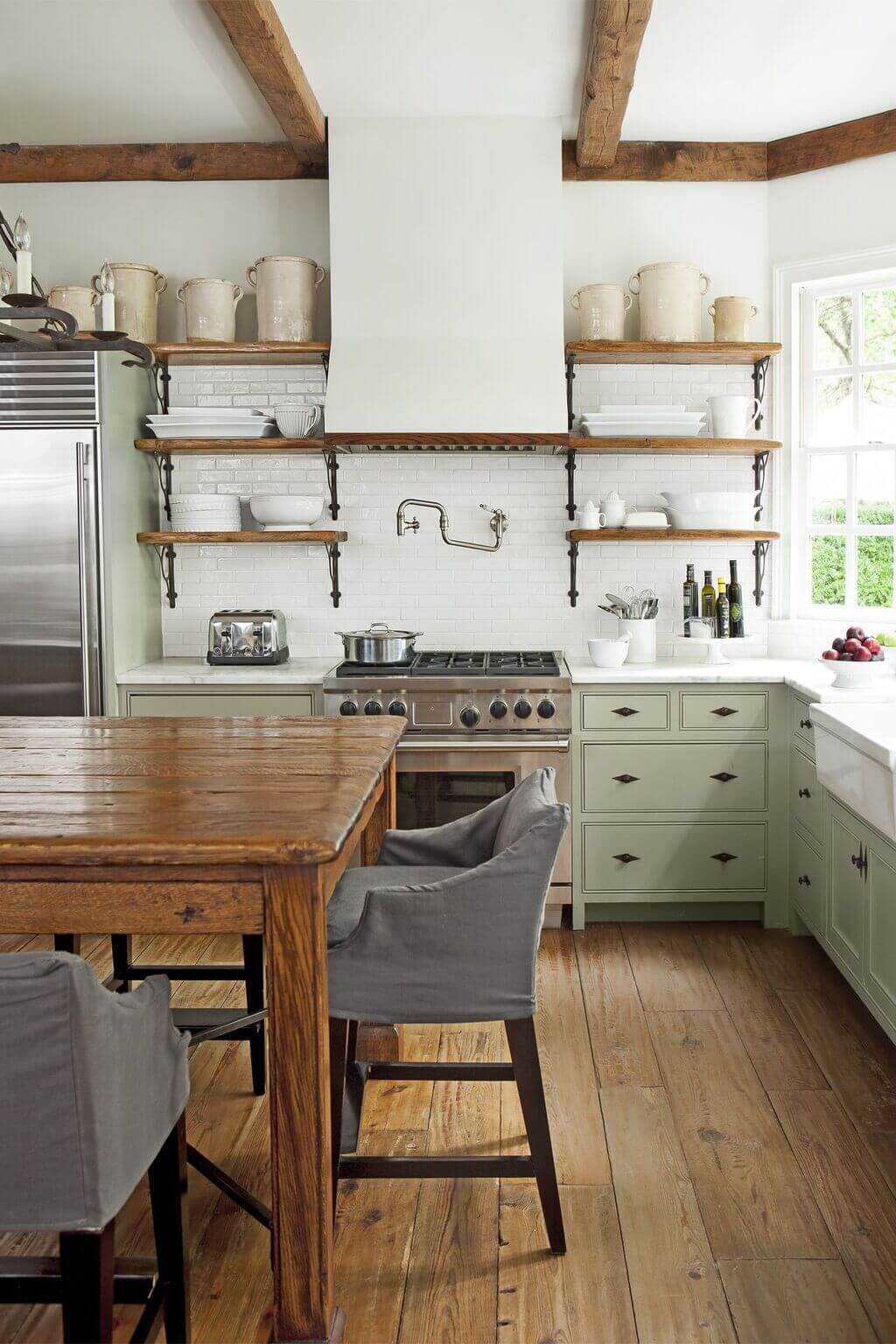 This also depends on the shade of greige paint you select. Based on that, you can go with warm tones like rusts and yellow or cooler tones like blues and greys.
To get you started, here are some more greige color options for you. So, take inspiration from these perfect neutrals and undertone colors. We've divided the greige paint into three categories: warm, cool, and dark color. You can select the one according to your home interiors and style. 
Warm Greige Paint Colors
Snowed In (Valspar)

Silky White (Behr Ultra)

Stone White (Glidden Essentials)

Alabaster (HGTV Home by Sherwin-Williams)
Cool Greige Paint Colors
Skimming Stone (Farrow & Ball)

Blanched (Magnolia Home)

Soft Linen (Magnolia Home)

Cotton Knit (Behr Ultra)
Dark Greige Paint Colors
Cornforth White (Farrow & Ball)

Stone Harbor (Glidden Premium)

Yarn (Magnolia Home)

Greige (Behr Premium Plus)
You can use this in your bedroom, living area, bathrooms, and even porch and outdoor areas. Below are some more greige color inspirations for you:
The Bottom Line
So, which greige paint color do you like the most? There are many variants of greige color options available in the market as well as online. You can even get a customized greige paint of your choice.
So, grab a brush and start painting your place in these stunning greige paint shades. Finally, decorate your room with some decors and furniture, and you're ready to get in on this trend.
So these are some of the best greige paint colors options for you. I hope this blog helped you to select the right on-trend color for your home. If you like this blog, share it with your family and friends and help them in creating a welcoming and trendy space.