Gray Bedroom Ideas: 25+ Gorgeous & Inviting Bedroom Designs
Are you looking for some creative bedroom decorating ideas? All you need is Gray Bedroom Ideas! Yes, these three magical words can change your space in a way you never imagined.
Gray is the color of the moment!
Though it comes under a neutral color palette, it is still so expressive. This color is compatible with any space from living rooms, kitchens, bathrooms, and especially bedrooms. Available in many shades, including deep charcoals, soft pewters, slate gray, and light grays. Various tones of gray can be used to create different ambiances. For example, pale gray is perfect for creating a serene vibe, and on the other hand, darker grays can make any sleeping space feel like a luxurious cocoon. 
Whether your home interiors are rustic, modern, coastal, or classic, gray is compatible with any style and has the ultimate power to transform any space without being too distracting. Gray can be subtle; Gray can be Dramatic; Gray can be anything but boring!
So if you want to make your bedroom or your kid's bedroom cozy, comfortable, and cool looking, keep on reading. Today in this blog, we've gathered up some of the best gray bedroom ideas of 2022. These latest and stylish bedroom ideas will inspire you to transform your boring bedroom space into a serene and relaxing place to sleep. 
Gray is a flexible color; that's why it gives you many decorating options. You can either paint your walls gray or use decor and accessories in gray color. From modern bedrooms to traditional and minimalist ones, this shade will work perfectly. Because of its versatility, enduring character, and distinctive presence, gray has now become a well-known color for architects and interior designers. So are you excited to explore some trendy and latest bedroom designs of 2022? Let's start with the gray color combinations. 
Trendy Gray Color Combinations
As we already told you, gray comes in many shades, tones, and tints. So which gray hue works with which colors? Which gray tint is suitable for your bedroom?
Here are some common accent colors that go with Gray:  
Gray & Dusty Pink

Gray & Yellow

Gray & White

Gray & Red

Gray & Blue

Gray & Gold

Gray & Dark Green
You can use these combinations in the form of pops of colors, patterns, and textures. 
25+ Pretty Gray Bedroom Ideas & Design Inspirations
Gray can be paired with literally any color and in many forms, such as in textures, decors, accessories, patterns, and artworks. Whether for a couple, bachelor or bachelorette, these gray bedroom designs will provide a comfortable and relaxing space. You can use different combinations to achieve your desired results and achieve something really spectacular. 
Here are more than twenty-five gorgeous gray bedroom ideas and designs for you to redesign your sleeping space. So are you ready to get inspired? Let's start. 
1. Calming Neutral Gray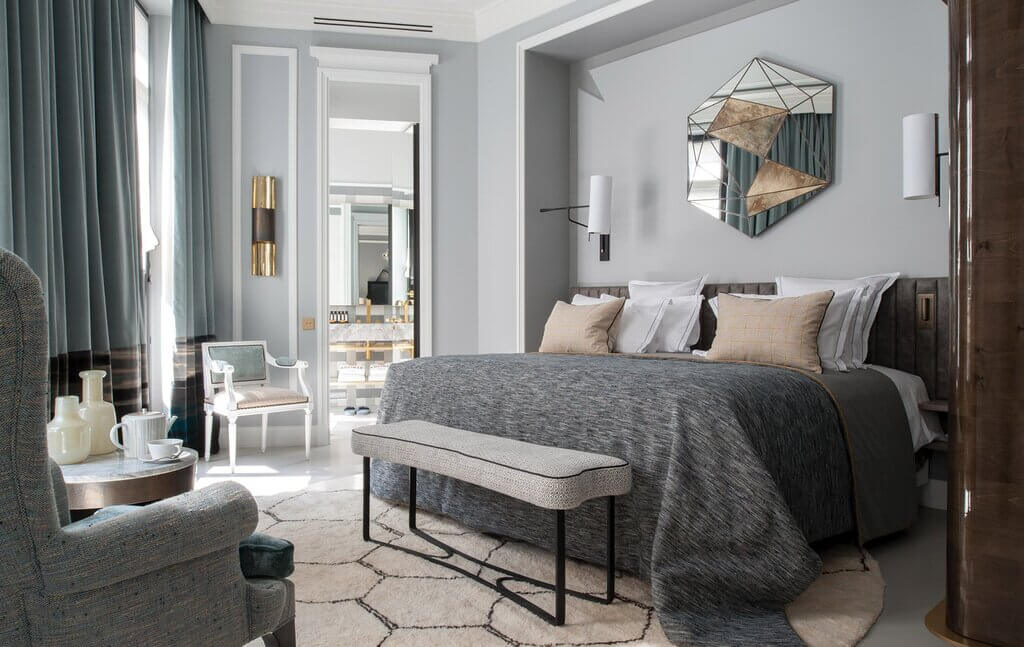 Source: shopify.com
Neutral shades of gray are perfect for master bedrooms as it makes the space calm and relaxed. Look at the above bedrooms; here, light gray is used on the walls, while a lot darker tones are used in textures and decors. This is one of the trendy gray and white bedroom ideas. You can also mix various gray tones to create a soothing effect. 
These small details can make a huge difference in your space. To complete this light gray bedroom look, add some white photo frames, green potted plants, or even pastel pillows that will balance this color. 
2. Raw Gray Concrete Look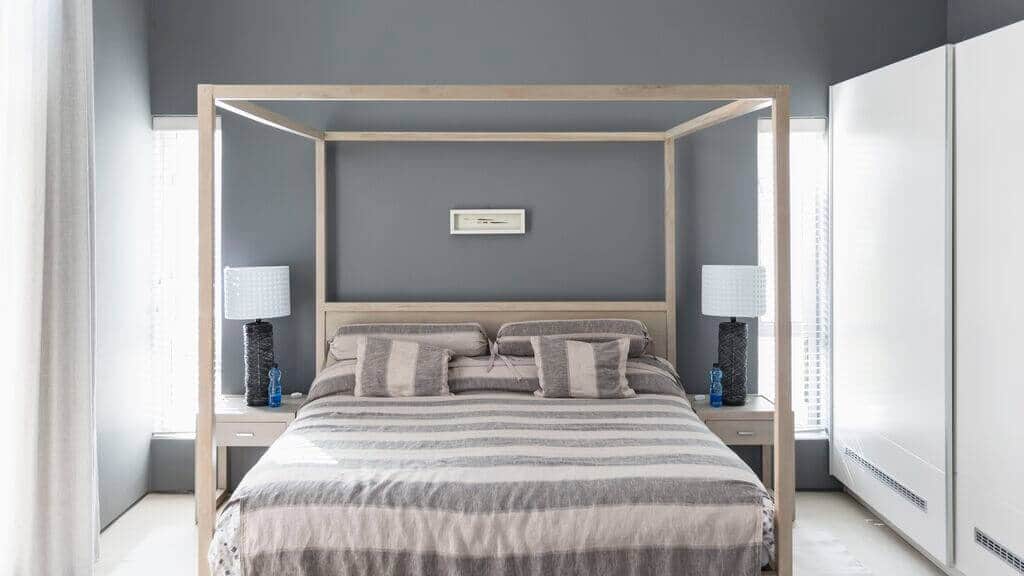 Source: thespruce.com
Raw concrete is another great way to add some gray to your room. These types of concrete gray bedroom walls are quite popular in modern apartments and lofts. These accent walls are a wonderful way to add some depth and character to a plain bedroom. 
Concrete walls offer an industrial vibe and make any space much more visually interesting. A perfect option for those who love minimalism and simple decors. If you're sure about the cement and concrete textures, you can also paint your wall in a concrete gray color. This will also give you the same effect as a real concrete wall. There are so many ways of decorating with gray walls.
3. Gray, Blue, and Brown Combo
Source: thespruce.com
If you want to create a modern look in your bedroom, you should go for these three colors: Gray, blue, and brown! I know this is an unexpected color combination but believe me, this combination works so well. However, use these colors wisely to balance the overall look. 
If you're using brown in your beddings and furniture, use light gray on the area rug, drapes, and throw pillows. Use blue decors and accessories to bring the overall theme together. Of course, you can also include other colors like neutrals to balance the look. This unique combination of colors makes your space more cozy and comfortable. So try this cozy gray bedroom decor idea.
4. 50 Shades of Gray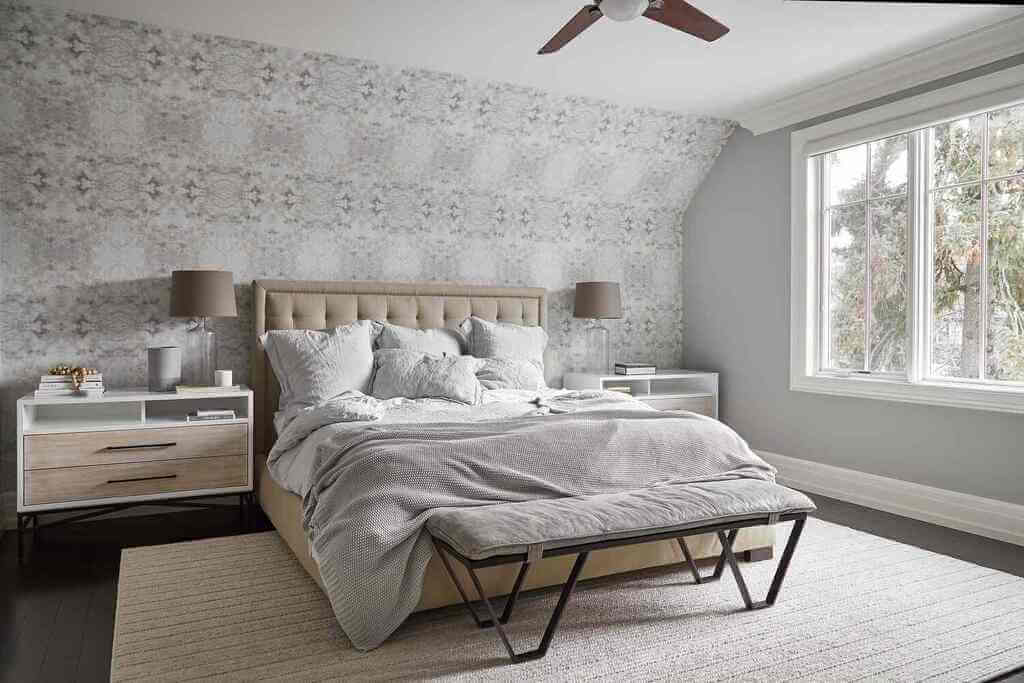 Source: thespruce.com
Quiet, sophisticated, and contemporary: these words will surely come to your mind whenever you see an all gray bedroom! There is something unique about monochromatic gray bedrooms that makes anyone fall in love with them. Perfect for those people who love minimalist designs and themes, this bedroom will give you exactly this. 
To make the space more interesting and creative, instead of one gray color, go for various shades of a gray color. Yes, exactly 5o shades of gray! Use different shades of gray in textures, furniture, decors, beddings, and artworks. Take inspiration from the above bedrooms and decorate your bedroom in a similar manner. 
Also Read: The Scientific Discipline Of Color Gray
5. Gray Goes Retro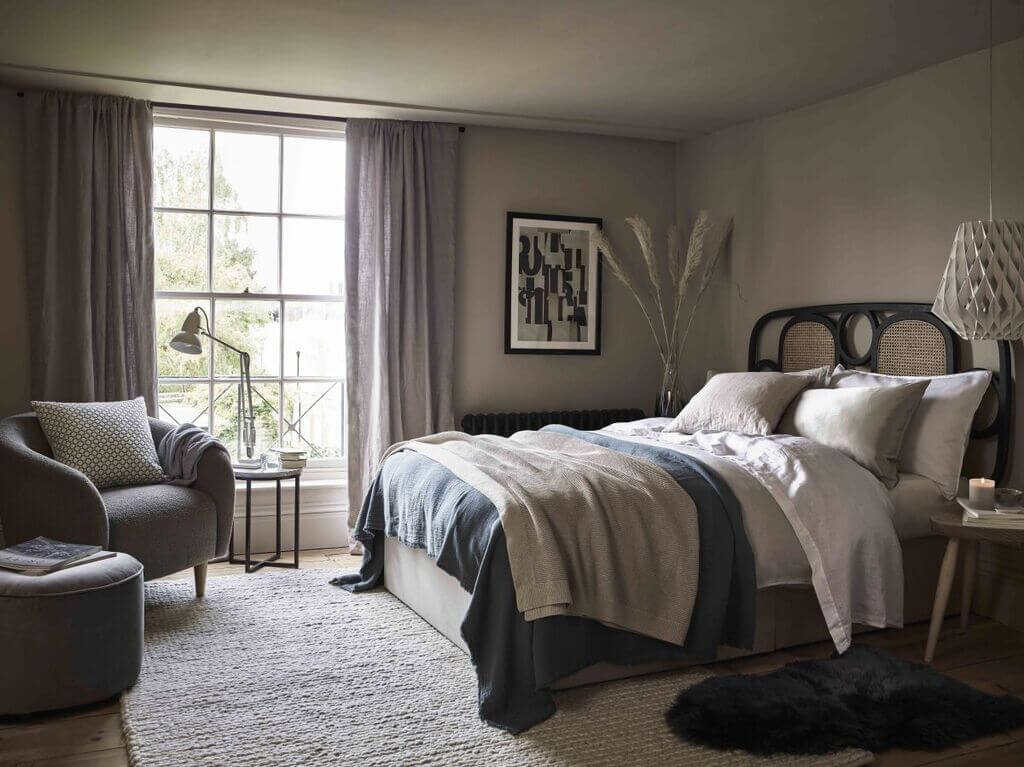 Source: futurecdn.net
There's a solid reason why retro style never goes out of style! Now you might be thinking, will gray work with retro colors? Yes, gray is often used to create a sleek and modern vibe, but it can also work magically with the retro color palette. 
In the above bedroom, the walls are painted in a medium gray shade, and retro elements have been included via various things such as a colorful blanket, pillows, and artworks. This is a fun and interesting way to include retro style with classic gray color.   
6. Dramatic Dark Gray Walls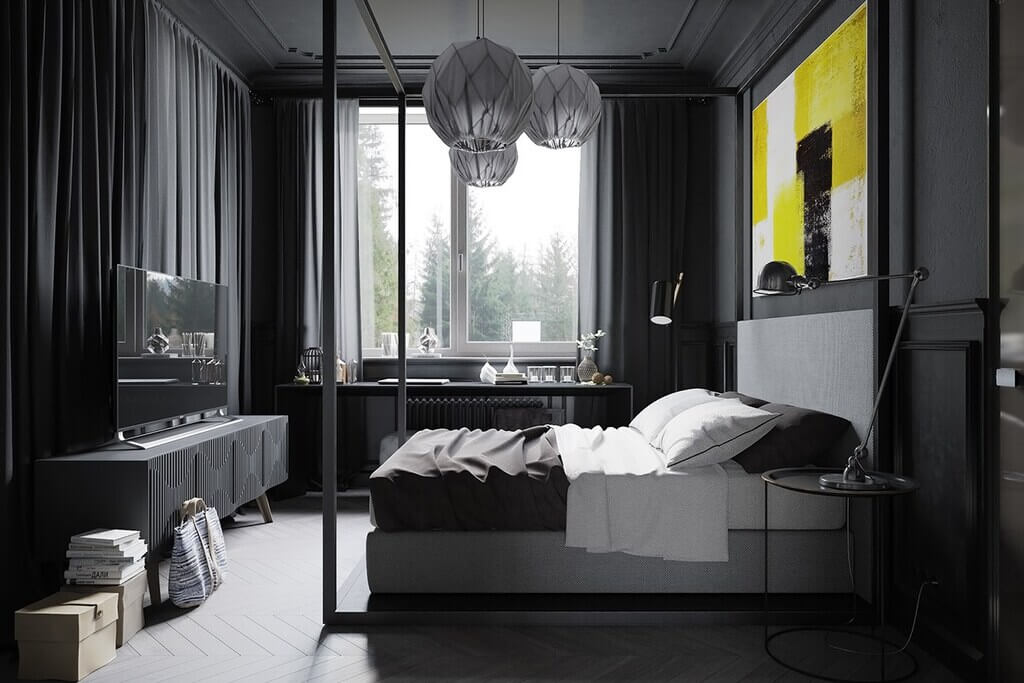 Source: home-designing.com
Do you like dark colors and dark vibes? If yes, instead of the usual gray shade, go with the darkest one and use it to create a gray accent wall in your bedroom! This dark gray bedroom theme will create comfortable and luxurious vibes to your room.
However, one thing you need to keep in mind is to use dark gray shades only when your space has lots of natural lighting. Otherwise, your room will look dull or pitch black. To make your bedroom not too dreary, use white bedding and trim and other light color elements to brighten up the room. 
7. Metallic Gray Bedroom Ideas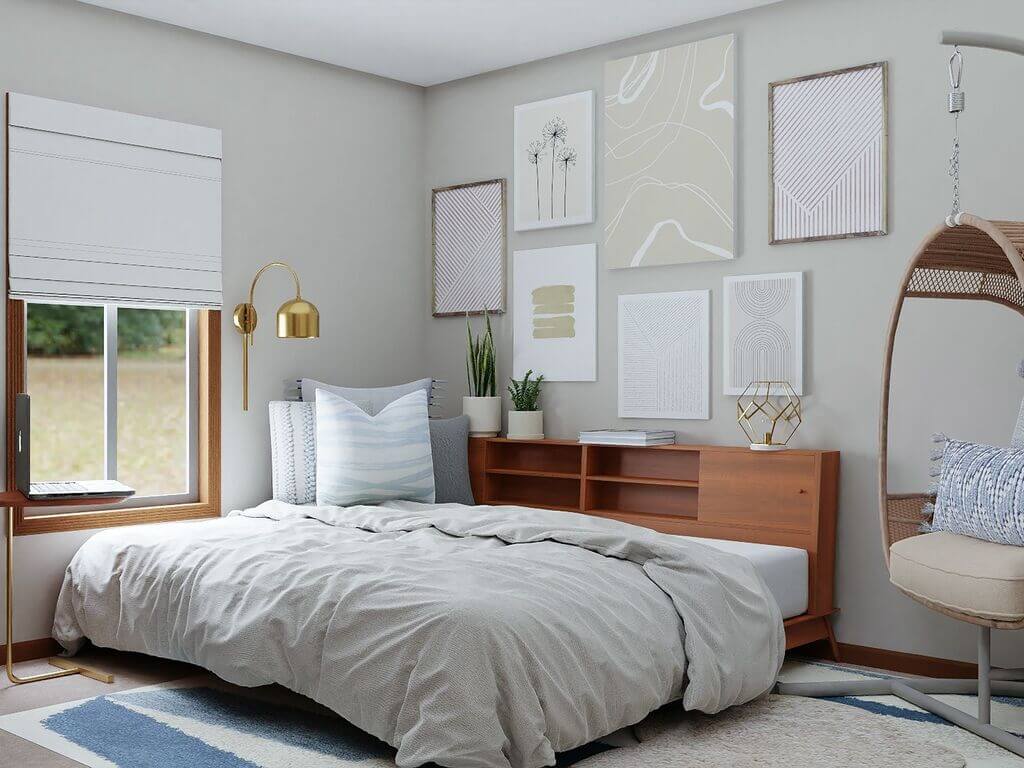 Source: thespruce.com
Add a little glamor to your look with the metallics like gold, brass, or copper! Yes, gray and shimmering colors like gold and silver are popular combinations these days. You can either go with sparkling gray walls or use metallics decors. Both ways, your space will help to create a luxe feel to your bedroom. 
These gray bedroom ideas with warm-toned metallics warm up even the coolest of gray's too. You can use an oversized ornate gold mirror or a metallic headboard, or gold flower pots and vases. This way, you can easily add a shine and a beautiful shimmering touch to your space without being too distracting. 
8. Green & Gray Room Ideas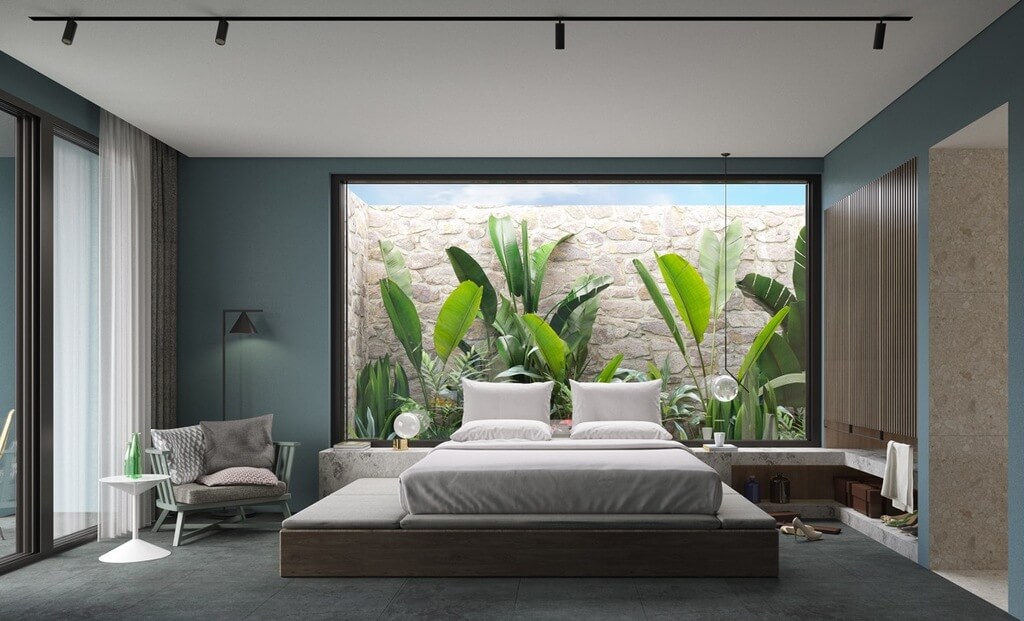 Source: home-designing.com
Another fantastic color combination for your bedroom is GRAY + GREEN! Green is the organic color that represents nature and good health. That's why it's a wonderful shade to use with neutrals like gray. When green and gray are paired together, they create a serene and tranquil ambiance. 
There are two ways to use this color combo: you can paint your walls green and use gray in other elements, or vice versa. Look at the above room; here the green accent wall complements the gray bed frame, curtains, and furniture. And in another room, the owner brings the green through plants. You can go with any techniques spending upon your personal style and taste. 
9. Iron Gray + Fuschia + Gold
Source: italamp.com
Create a statement and bold personality with this solid color combo: Iron Gray + Fuschia + Gold! A room painted in gray and decorated with fuchsia and gold elements looks so gorgeous. This color combo is so unique that it is so noticeable and eye-catching. 
Paint your bedroom's walls in dark grey or use textured wallpaper with a simple pattern. Use bright pink or vibrant pink shades in beddings, rugs, or pillows, and use furniture with gold accents. All these elements will make your room luxurious and inviting with a feeling of coziness. 
10. Moody Gray Bedroom Ideas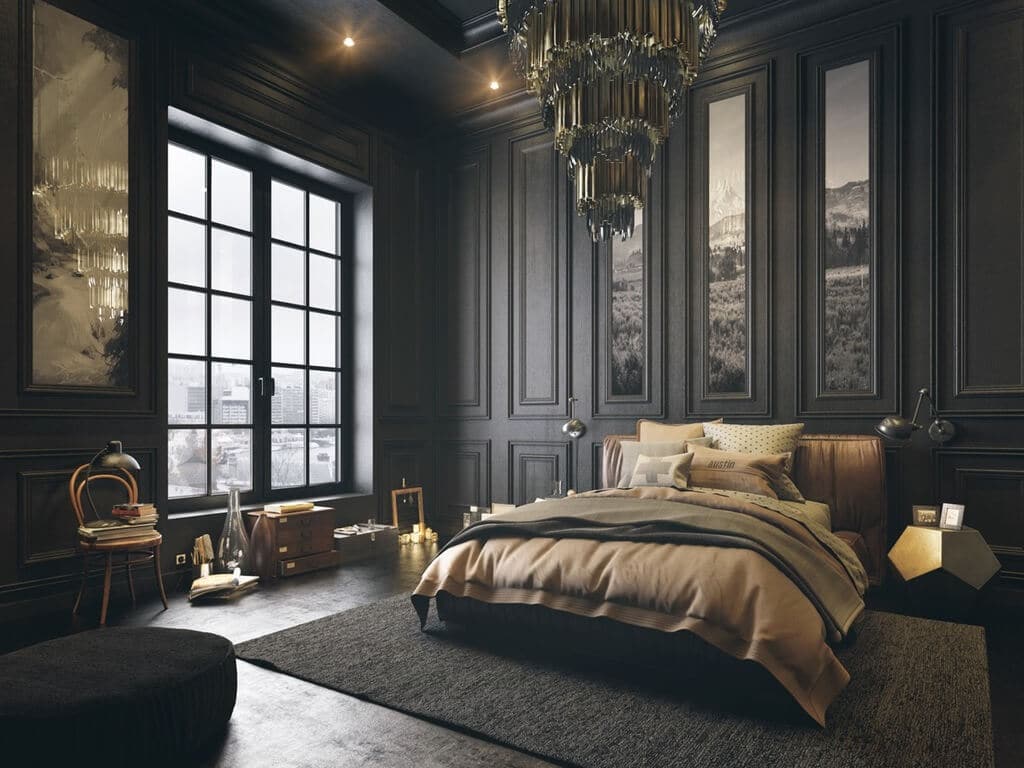 Source: home-designing.com
Want to make your bedroom space look luxurious and expensive? Go with dark gray shades! This is one of the best combinations that works every single time. No matter whether your room is in an unusual shape or has less space, the dark theme will make it stand out among all of your other rooms. 
Look at the above rooms with hotel vibes, here cool-toned charcoal gray color is used to paint the walls. This almost looks black, but it's not! However, you can also go with black and gray bedroom ideas if you want. Include decor and furnishing with dark metallic accents. If you want another color, you can add dark colors like dark blue and deep greens. These small but noticeable details will make your bedroom setting feel like an opulent hideout. 
Here are some more gray bedroom ideas and designs for you to get some inspiration: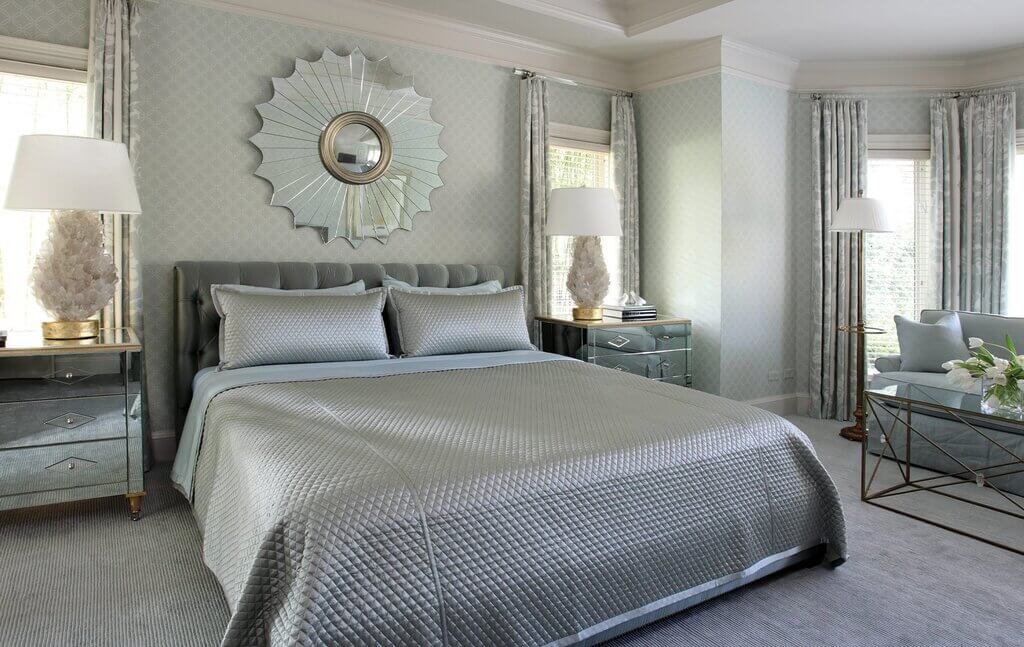 Source: shopify.com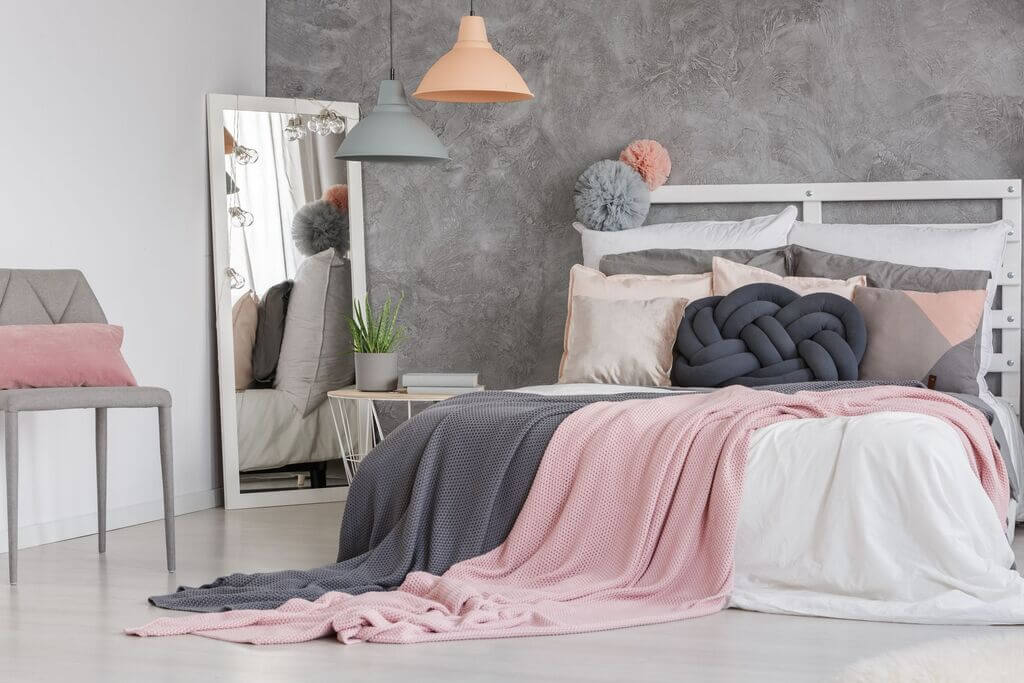 Source: hearstapps.com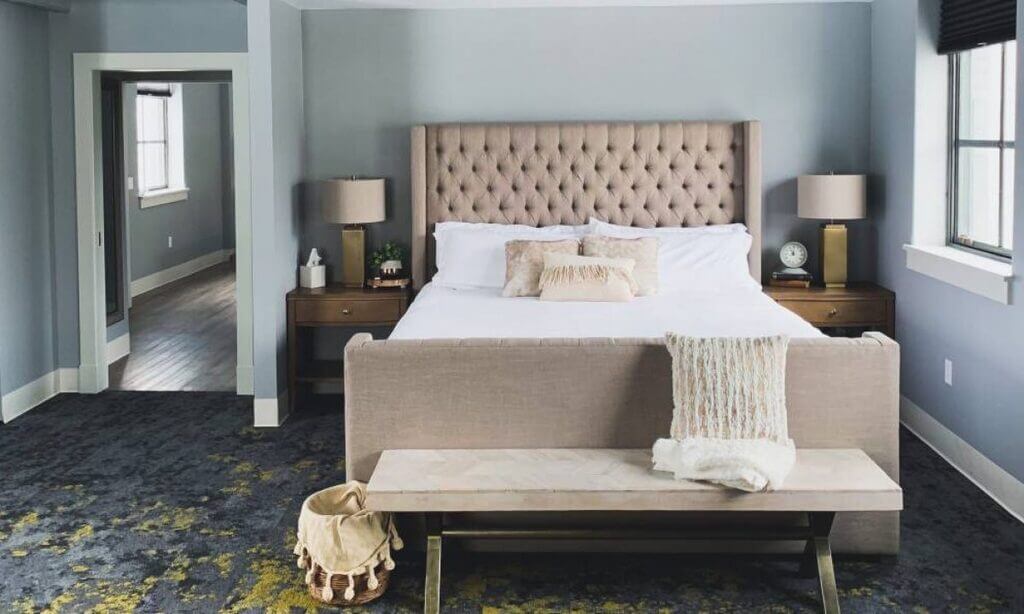 Source: airtasker.com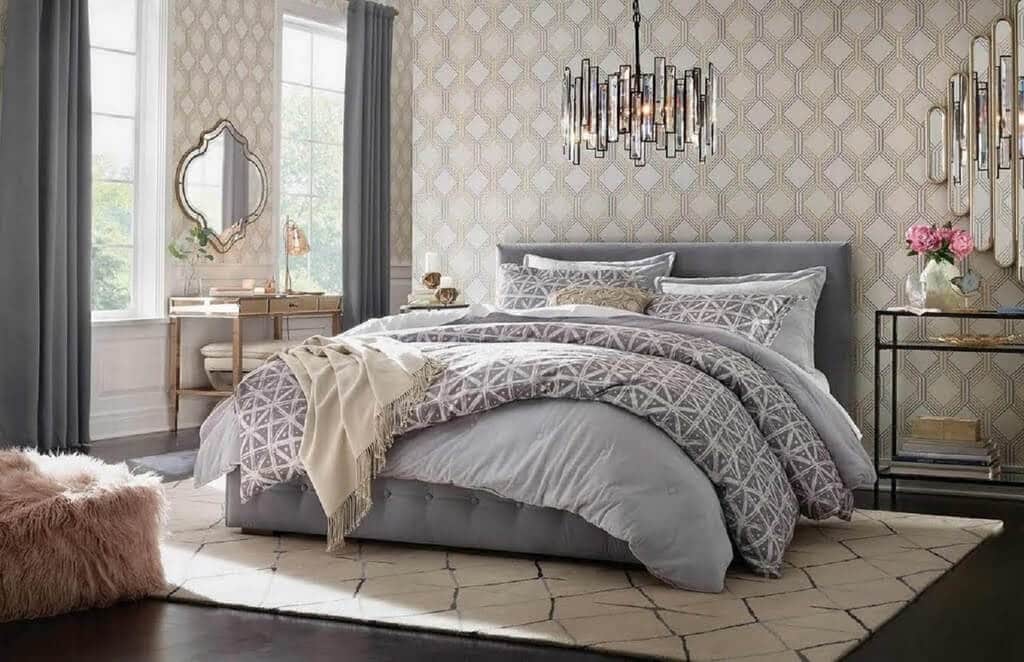 Source: treehouse.co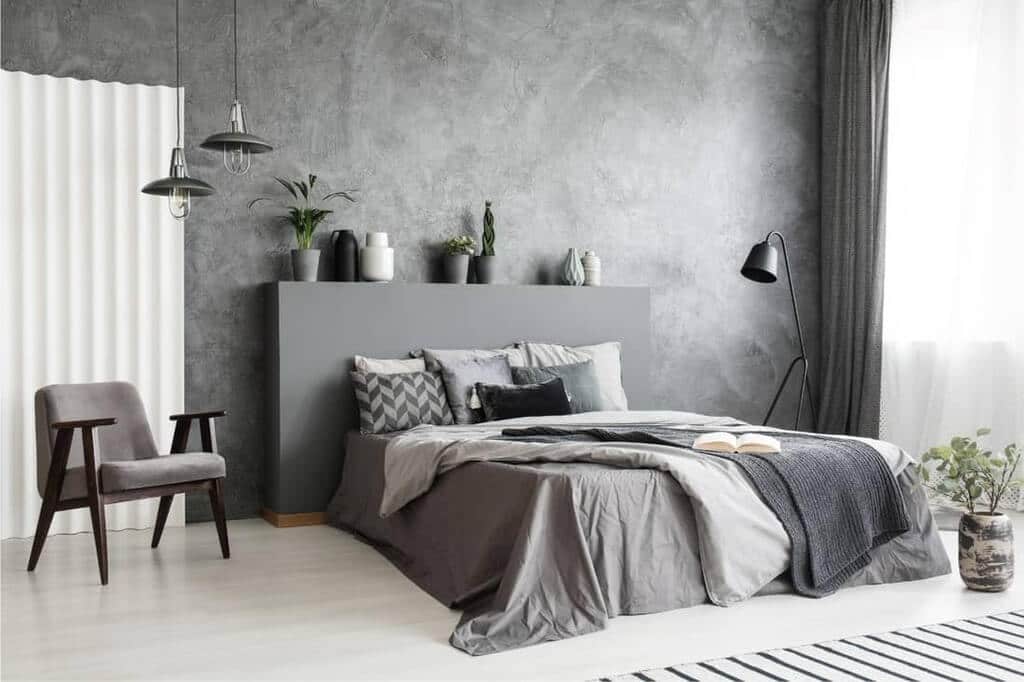 Source: homedecorbliss.com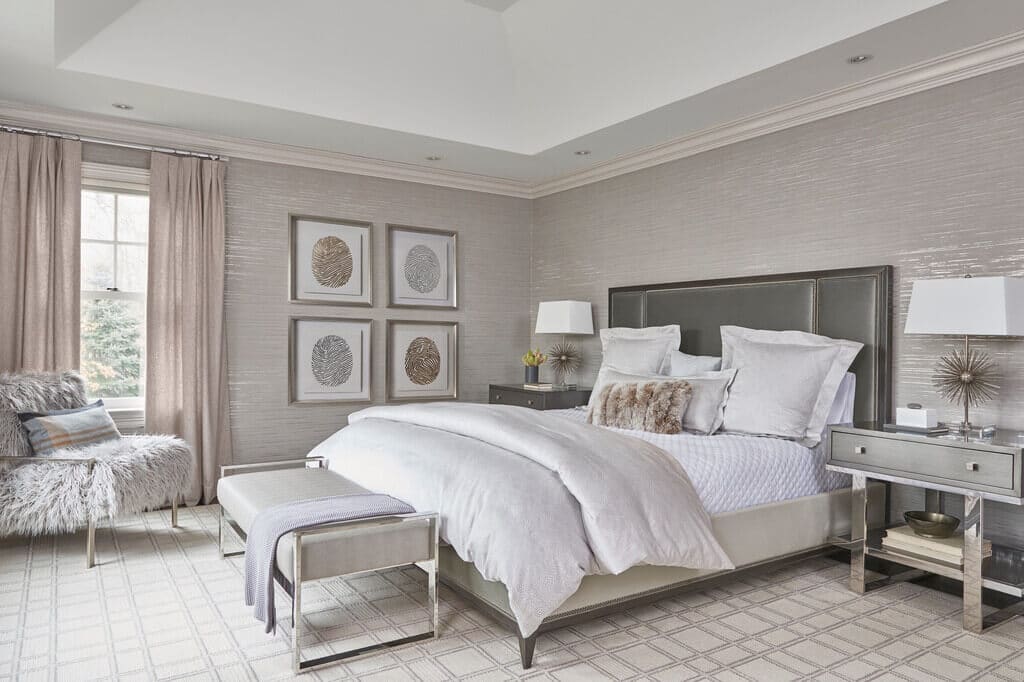 Source: hzcdn.com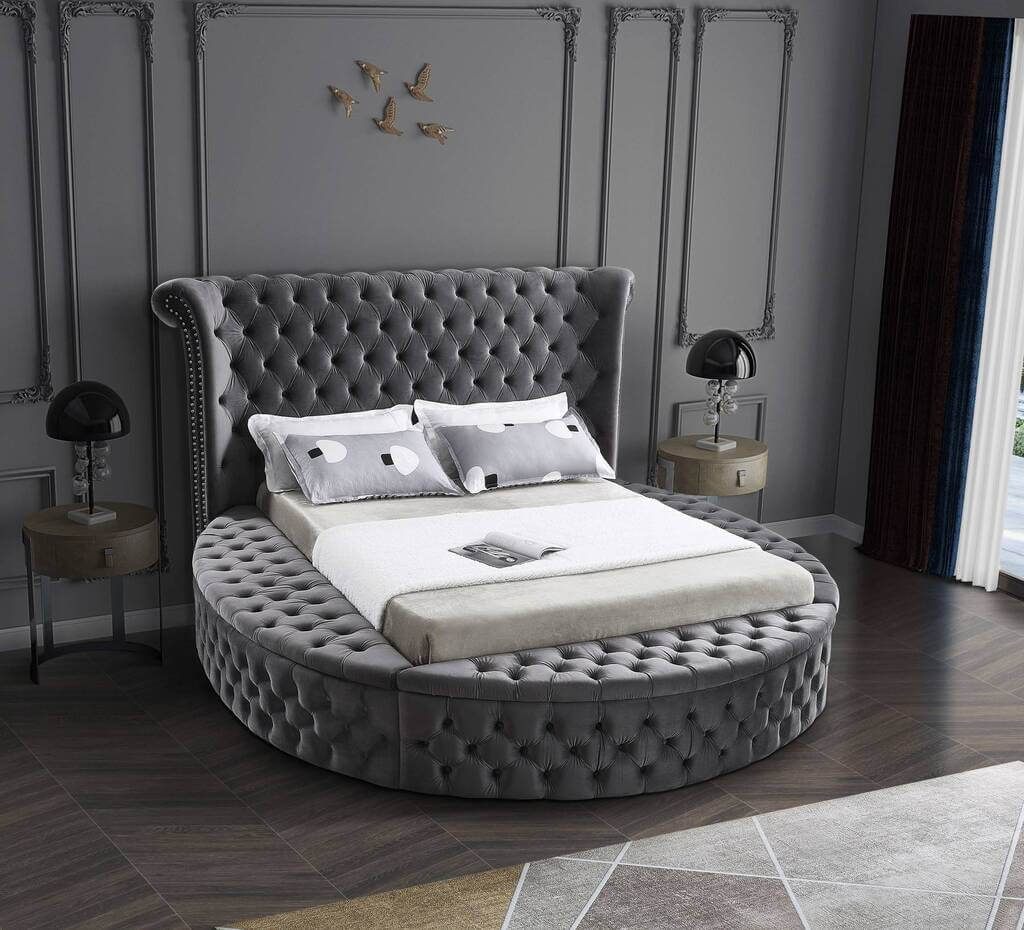 Source: decoist.com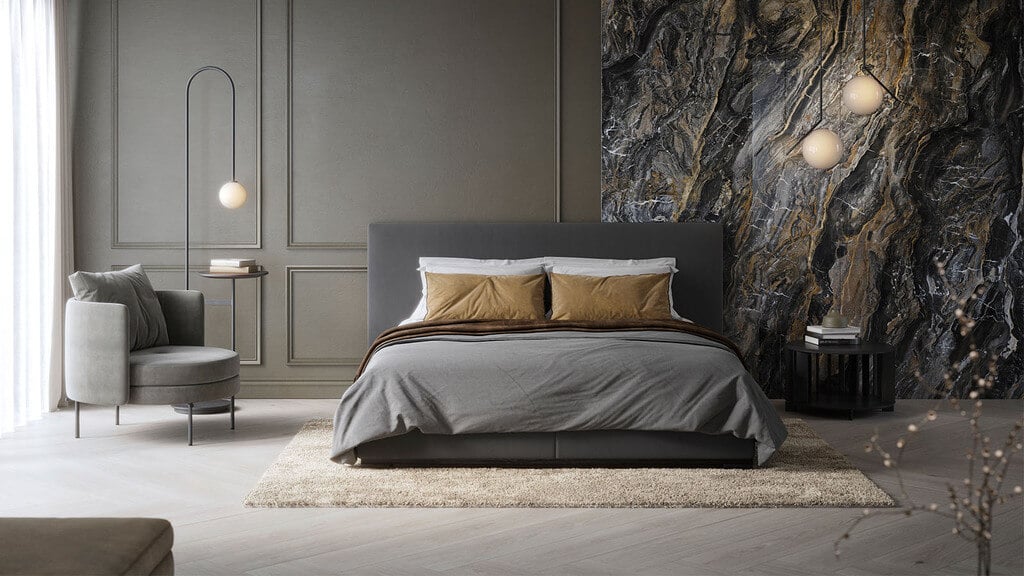 Source: porcelanosa.com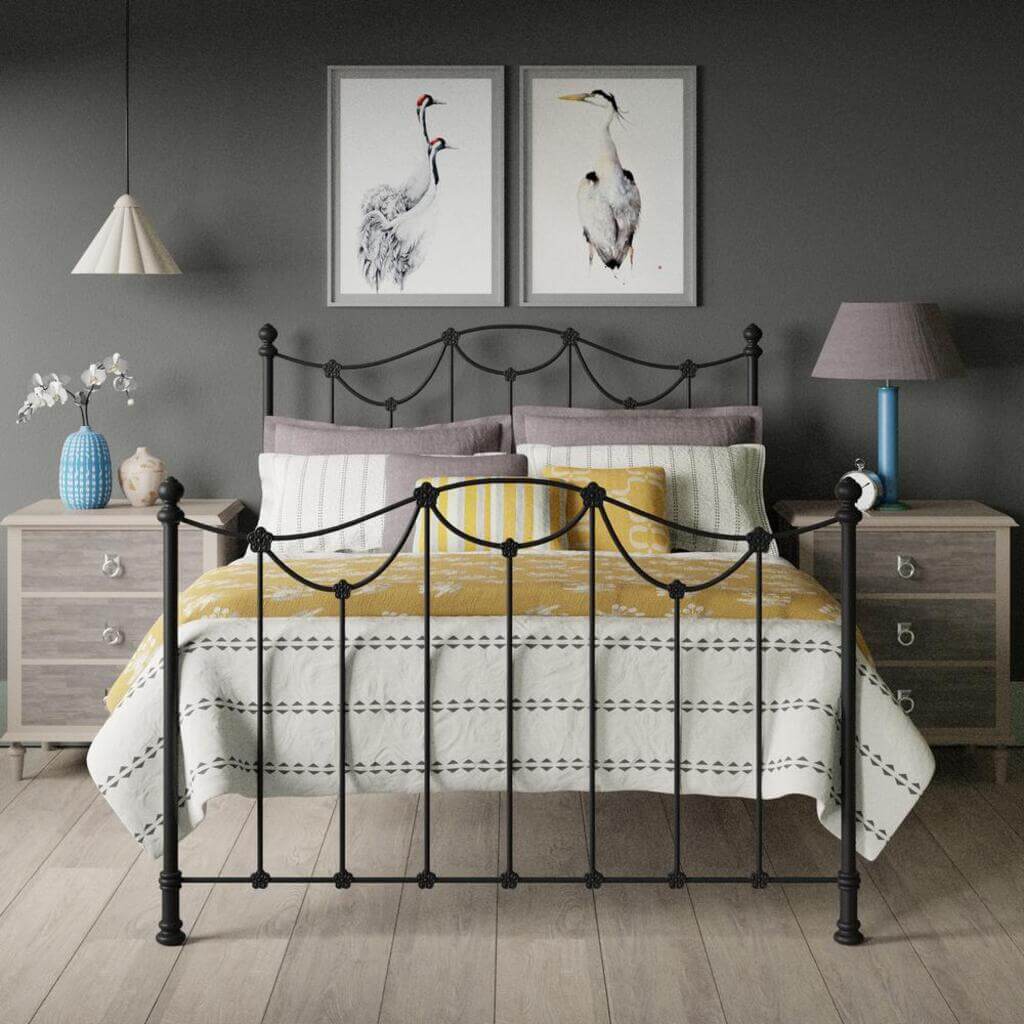 Source: obc-uk.net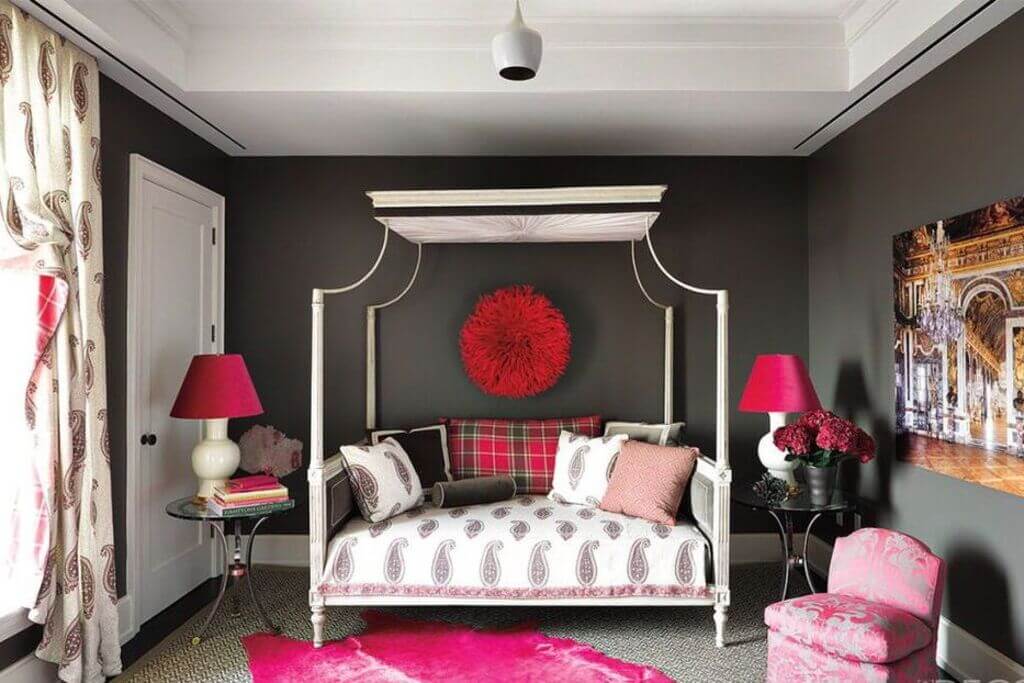 Source: hearstapps.com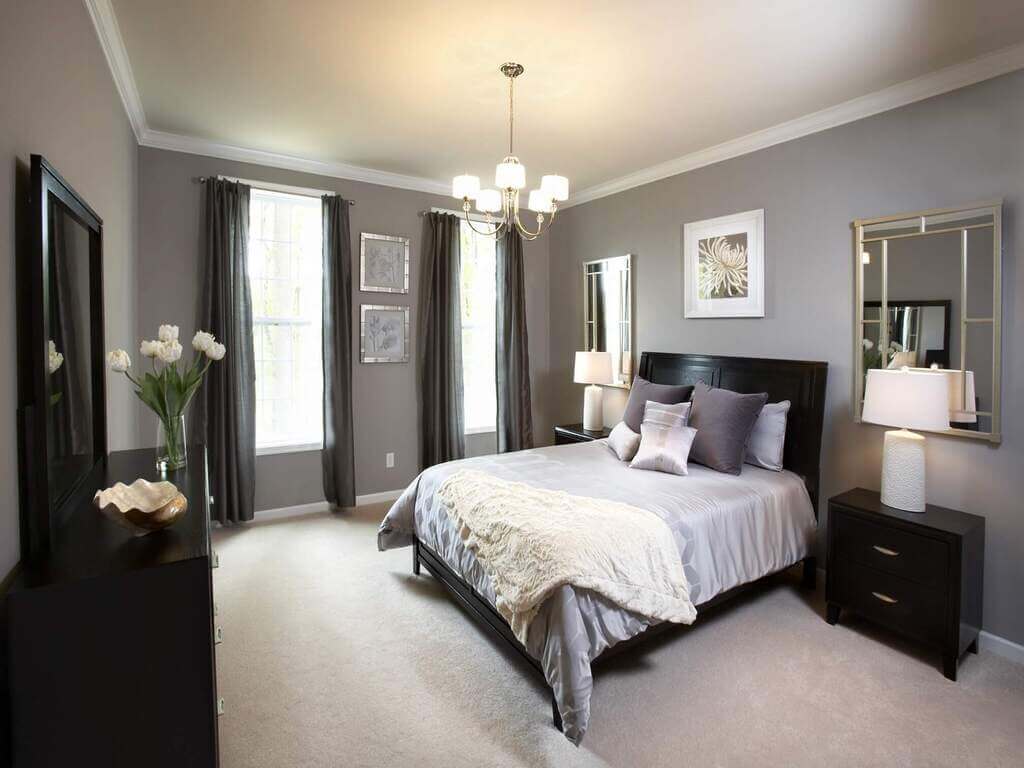 Source: homebnc.com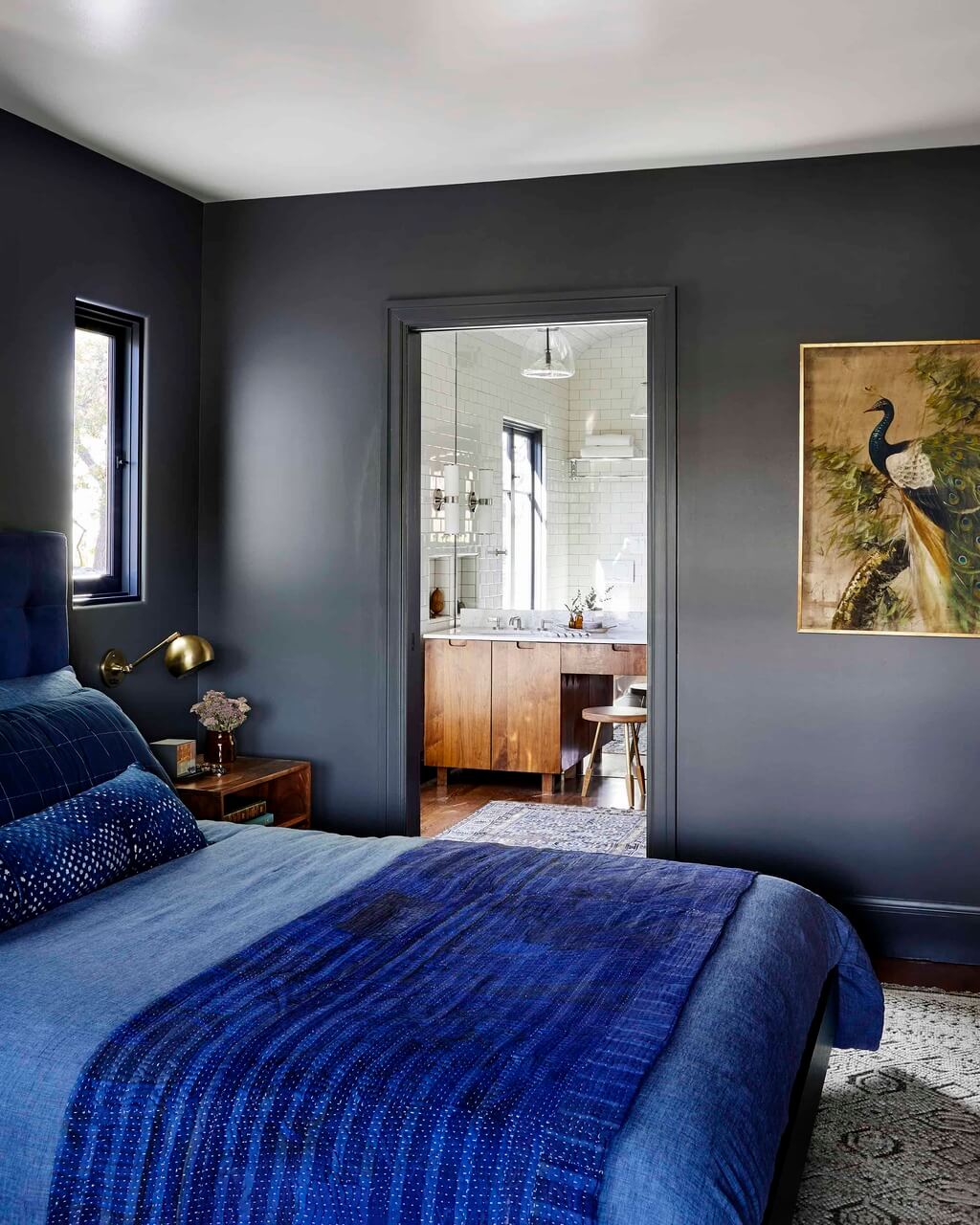 Source: stylebyemilyhenderson.com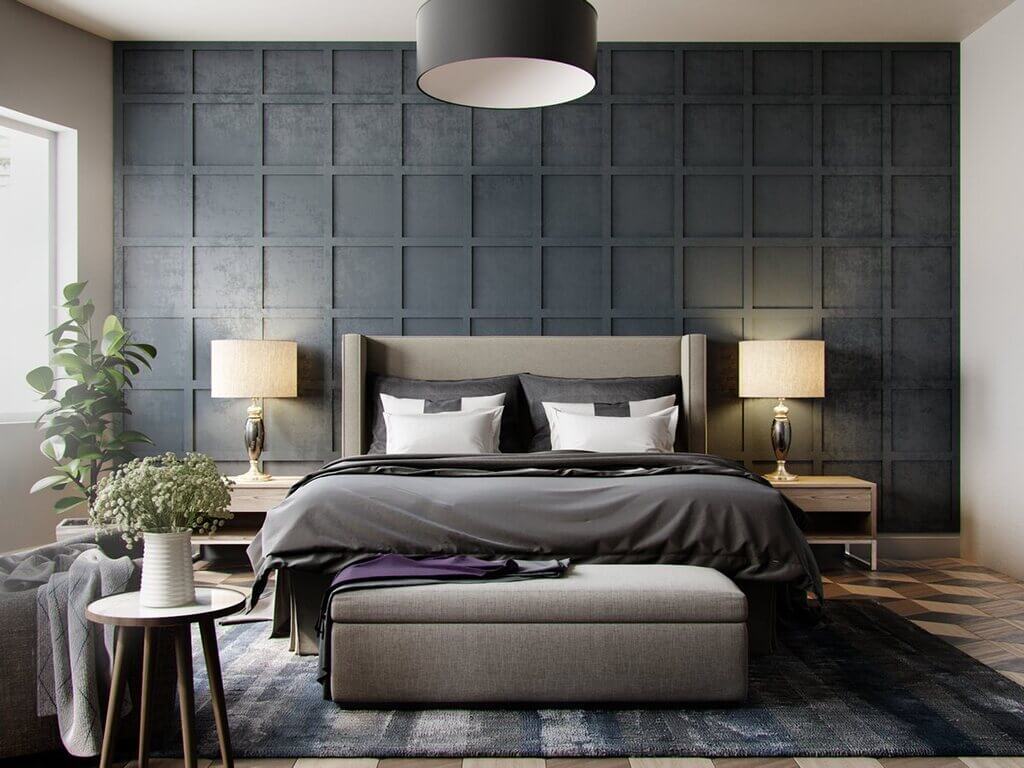 Source: wallpaperuse.com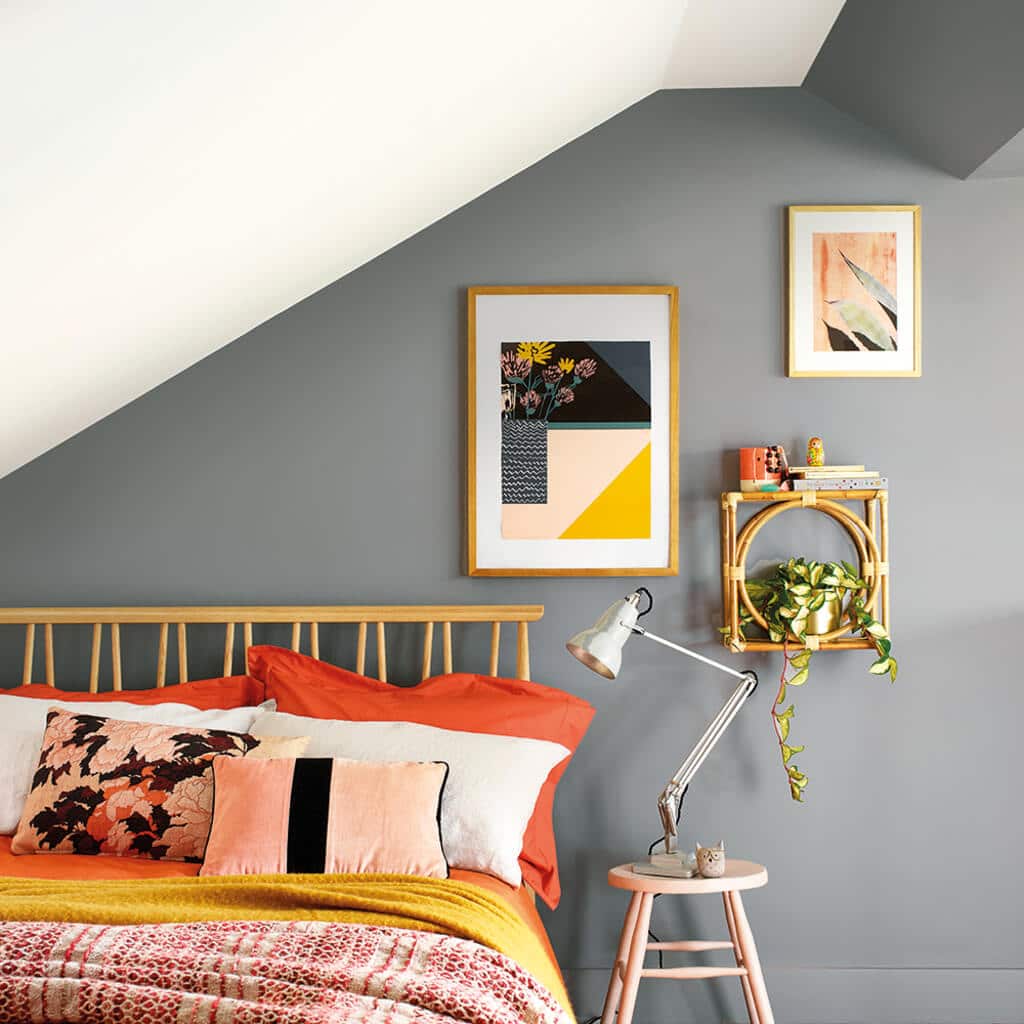 Source: timeincuk.net
The Bottom Line
So which gray bedroom idea do you like the most? The key to achieving the perfect gray bedroom is to use the gray tone as a neutral or base color and play with other colors in other elements of the room. This will create wonders! 
You're on the right track until you're using the right combination of colors with gray that we mentioned in this blog. Try to find the balance between various tones, tints, and shades of gray. With this technique, you can easily transform the ambiance of your space into a casual or glamourous, or dramatic look. 
So, this is all about the gray bedroom ideas and designs. Now you know the different colors that go with gray and how to use gray room decor properly. I hope these gray bedroom ideas and decorating tips have helped you to select the right shade of gray for your bedroom. Aso, if you found this blog interesting and inspiring, share it with your friends and family so that they can also spice up their bedrooms with these amazing gray room ideas.
For more interesting home and workplace improvement and styling ideas, explore Architecturessideas.
Do follow us on our Instagram page architectures_idea for daily architectural information and updates.