10 Big Wall Decoration Ideas: Make Your Wall from Boring to Brilliant
Big walls make any space seem larger and grand, but sometimes it can be overwhelming, especially when these large walls are plain and blank. Does your home also have large blank walls? Are you confused about how to decorate them? Let's see big wall decoration ideas.
Big wall decorations are a difficult and challenging task! It doesn't matter whether you live in a small one-bedroom apartment or a luxurious 500 square ft mansion; large and blank walls are EVERYWHERE and always intimidating!  
At some point in life, we all face this situation of decorating a large blank wall! Many people also have a hate-love relationship with blank walls. So if you're also facing the same issues and are a little confused about how to decorate a big wall, don't worry; you're not alone. It's one of the most common design and decoration dilemmas, and that's why many homeowners face the same issues.   
Having a huge blank wall is intimidating, but you won't be able to decide how to decorate it is more intimidating! Will a single art piece look good, or should you go with any other decor? Don't worry; keep reading this blog to know the perfect solution to this problem. 
Today in this blog, we will tell you some of the big wall decoration ideas. These easiest and creative techniques can be used on any wall, such as living rooms, bedrooms, kitchens, and bathrooms. Let's start with the awesome decor ideas for a large wall.
7 Smart & Clever Big Wall Decoration Ideas
Whenever you're planning to decorate a huge wall, don't think of it as a bare area that has to be covered; think of it as a blank canvas! An opportunity to express your personality through your imagination and creativity!  
From a classic gallery wall to something out of the box, in this list, you can find some of the most interesting ways to highlight that blank wall space of your home. These simple wall decor ideas and tips will help you make that bare wall into a piece of art. 
So, don't let fear stop you in your wall decor tracks and take a look at these trendy big wall decoration ideas:   
1. A Large-scale Art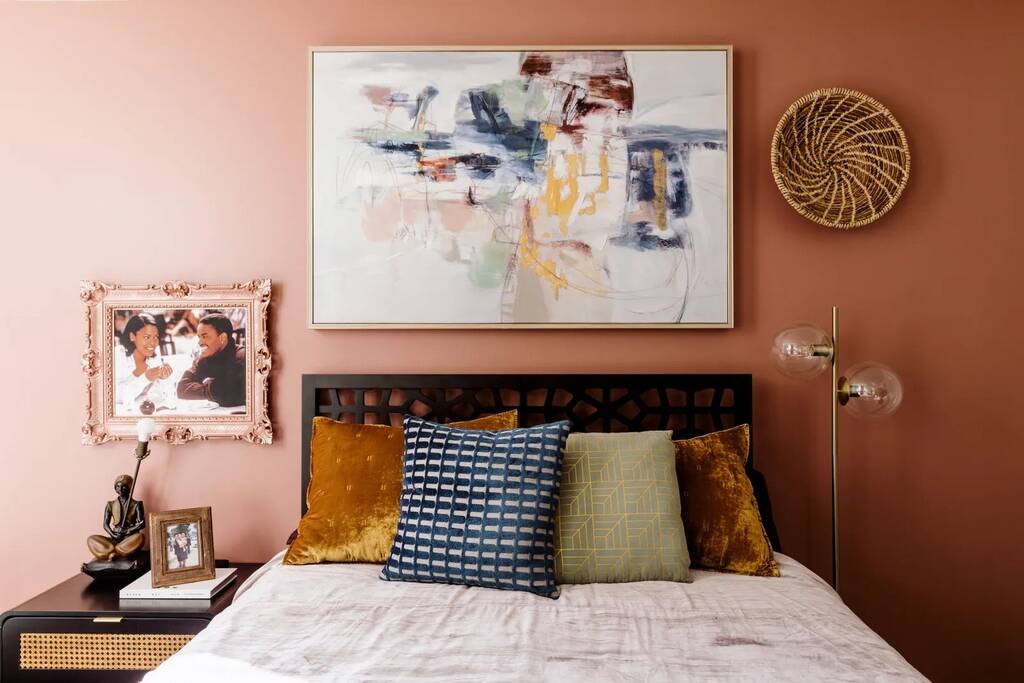 Source: architecturaldigest.com
This is the first thought that comes to your mind while thinking about filling up a blank space on the wall. After all, this is what most of the designers suggest. From abstract paintings to textured artworks, you can hang a single large wall decor to cover a blank wall, and they can look great like this one: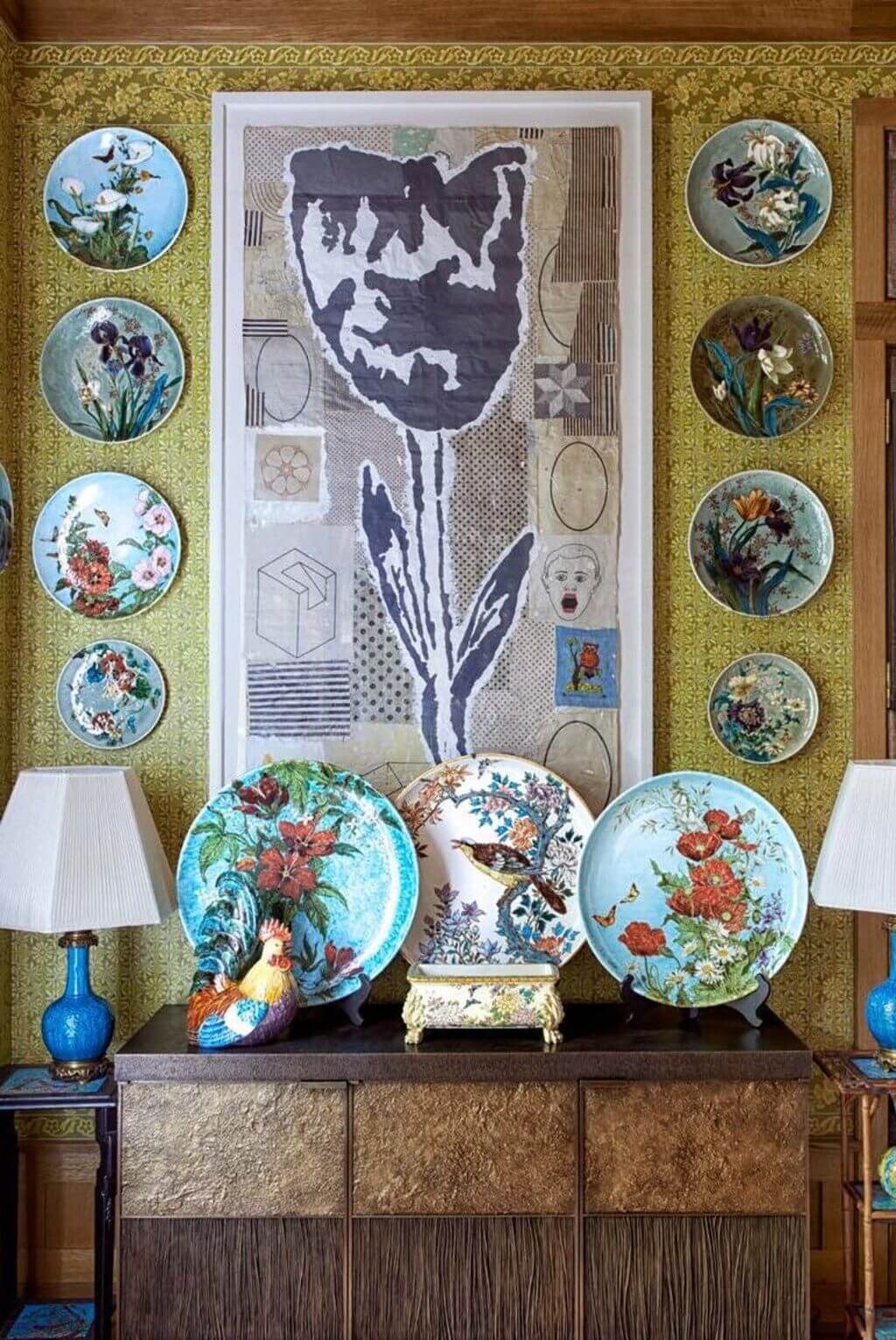 Source: hearstapps.com
But here's the thing: NOT everyone wants A LARGE PIECE OF ART!
So if you're one of those people who love something unique and out of the box, scroll down. Here are some creative ideas to make that boring wall into an accent wall. Let's see what you can add to your plain walls or how you can turn a bare blank large wall into:   
2. A Book Collection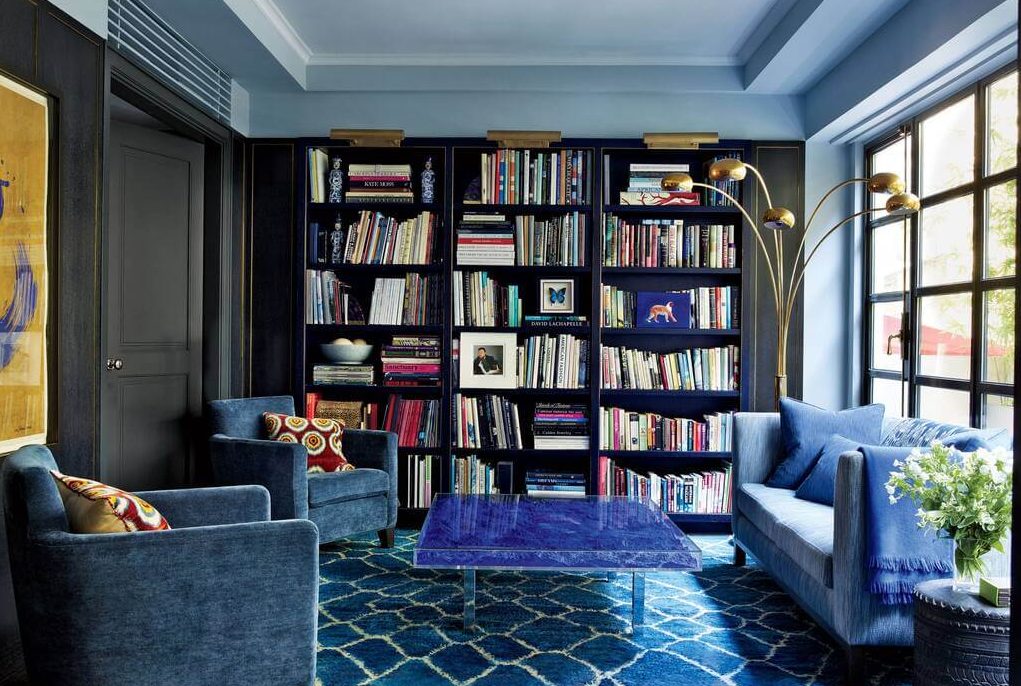 Source: architecturaldigest.com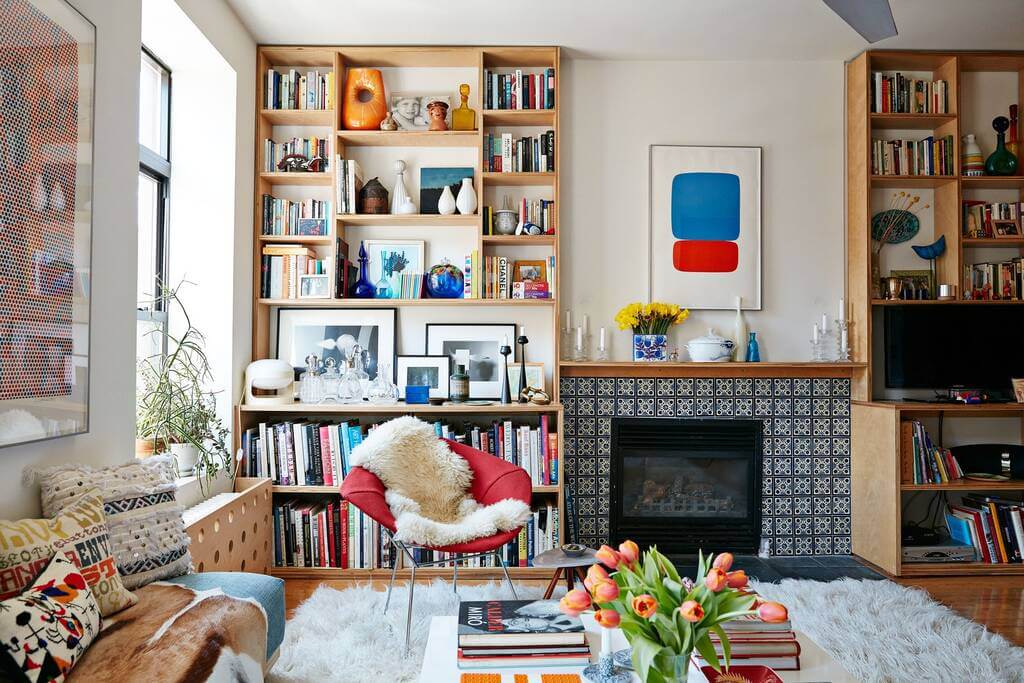 Source: architecturaldigest.com
Do you love reading books and have a huge collection? This idea will be best for you! Those who are total bibliophiles know how hard it is to separate your books from the rest once you've finished reading them, right? So why not use them to create a master art piece with dual functionality. 
Display your beloved books on that big bare wall that has been an eyesore for you. All you need to do is put up wall-mounted bookshelves. This is one of the creative large wall decor ideas for the living room. You can put your books according to their genre or color-coordinated or in whatever style you prefer. This way, you can easily add some color, texture, and visual interest to a large, blank wall.   
3. A Gallery Wall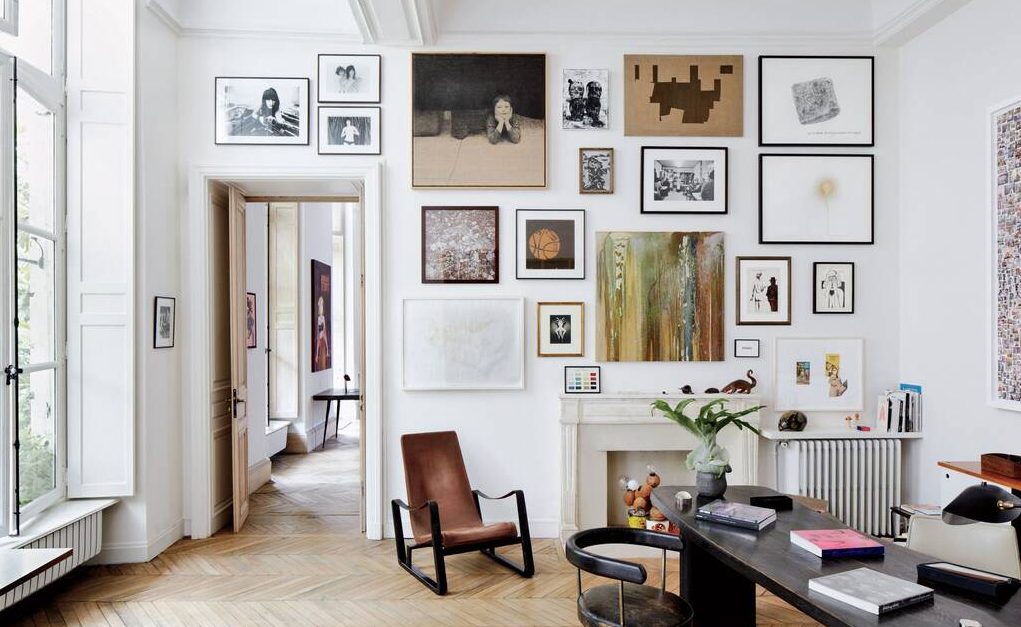 Source: architecturaldigest.com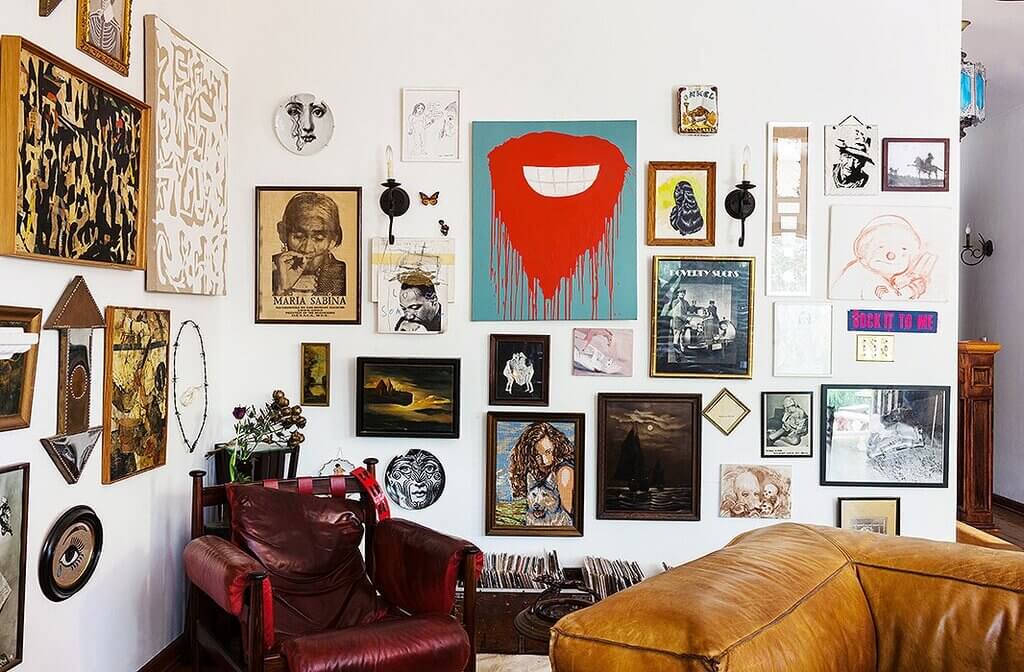 Source: scene7.com
If you can't like the one art piece concept and also don't have many books, here's another idea for you: a gallery wall! Yes, you can easily curate the gallery wall with the pictures and frames you like. The big wall decoration idea is also budget-friendly. 
You can go with any style or art of your liking and layout according to the wall. However, try this themed grid approach if you want a tailored and organized gallery wall. This is more like a symmetrical and streamlined artwork display that offers a polished look. Otherwise, you can use frames in different shapes, colors, and sizes and put them in any manner (See the above image for reference). 
4. A Stylish Wainscoting Wall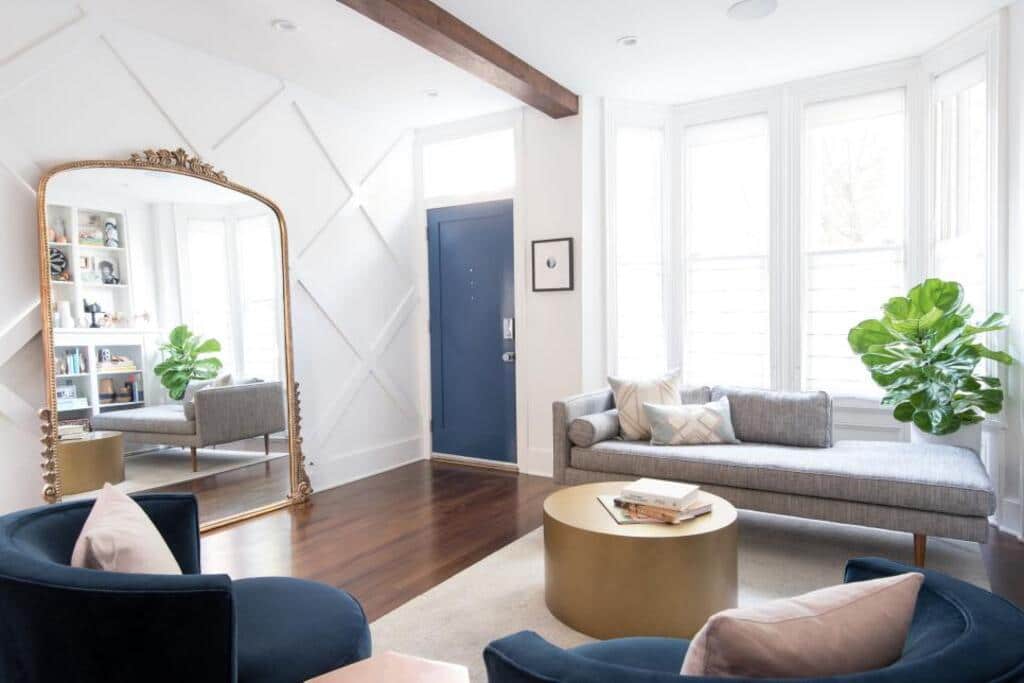 Source: sndimg.com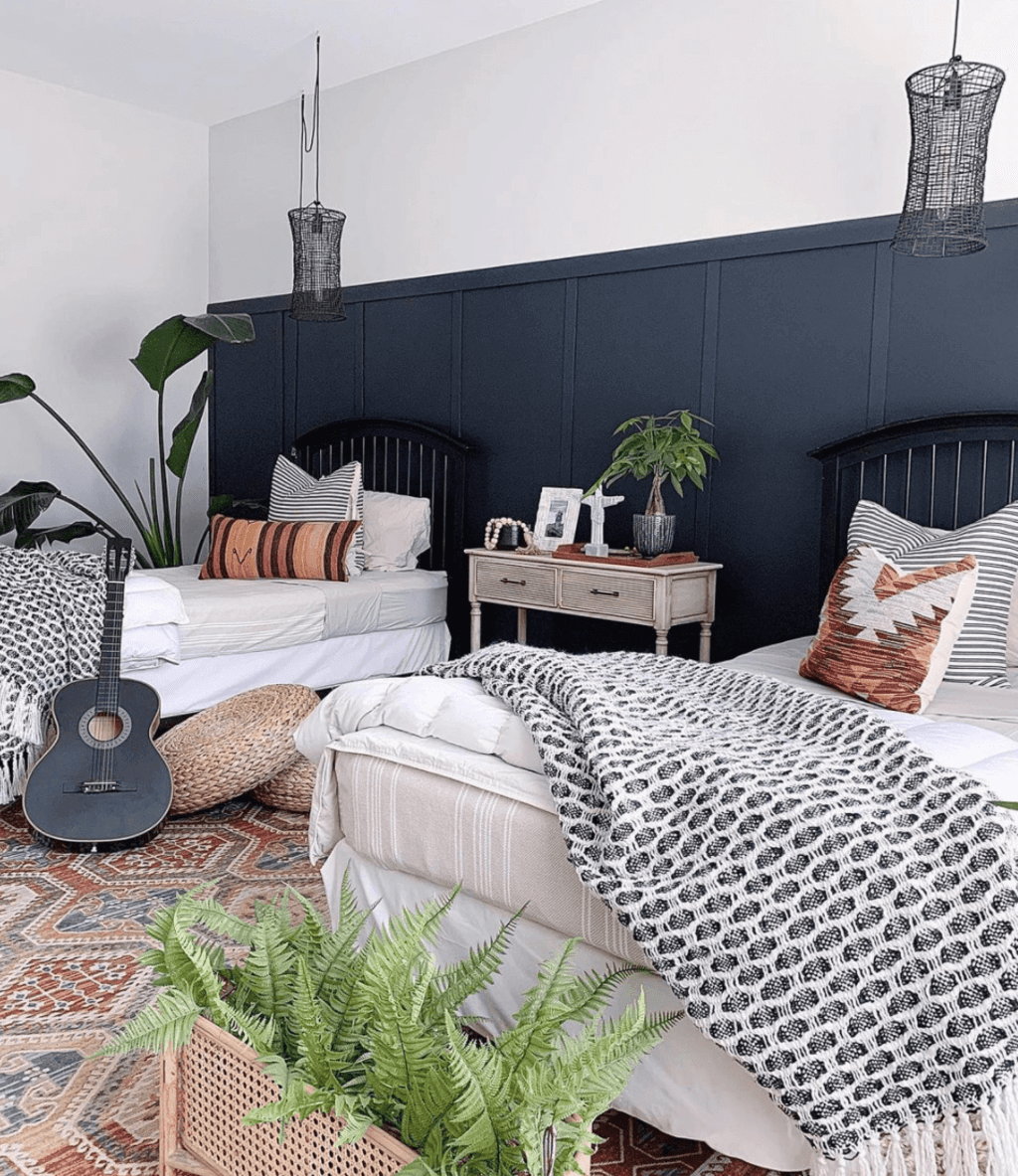 Source: thespruce.com
Gone are the days when the wainscoting was considered stuffy and bulky. Nowadays, you can see many modern homes with wainscoting, and they look absolutely gorgeous. So if you're thinking about how to bring life to your large blank wall, go with this big wall decoration idea. 
With the right dimensions and a few coats of dramatic-colored paint, the atmosphere of your space can totally change with these types of large wall art ideas. You can use wood or MDF strips and get them properly cut at any hardware store and install them. Nowadays, many home improvement stores sell premade wainscoting that is so easy to mount to your walls. Or you can just take help from a professional.  
5. A Wall of Wallpaper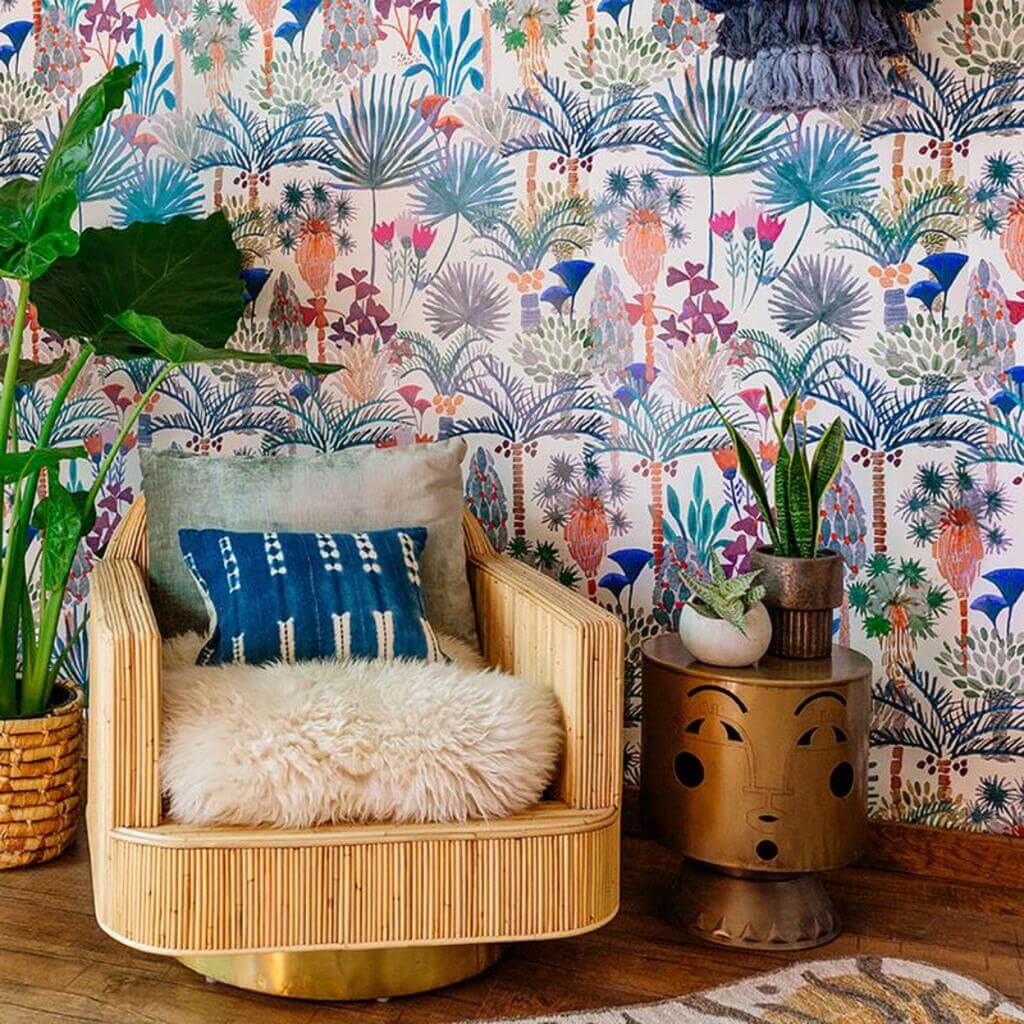 Source: architecturaldigest.com
Source: poshpennies.com
Who says you need to hang something to fill a blank wall? A unique touch of wallpaper can create wonders! This is probably one of the easiest, inexpensive, and super effective ways to fill in a large wall. 
From classy and simple wallpapers and large wall decals to wallpapers with bold designs and patterns, there are countless options available in the market. You can either use removable wallpapers or create a pattern with wallpaper, stenciling, or other decorative paint techniques. All you need is to measure your wall and order your favorite roll of wallpaper. Finally, install them and enjoy an impactful decorative wall. Try these big wall decor ideas for your space. 
6. Floating Shelves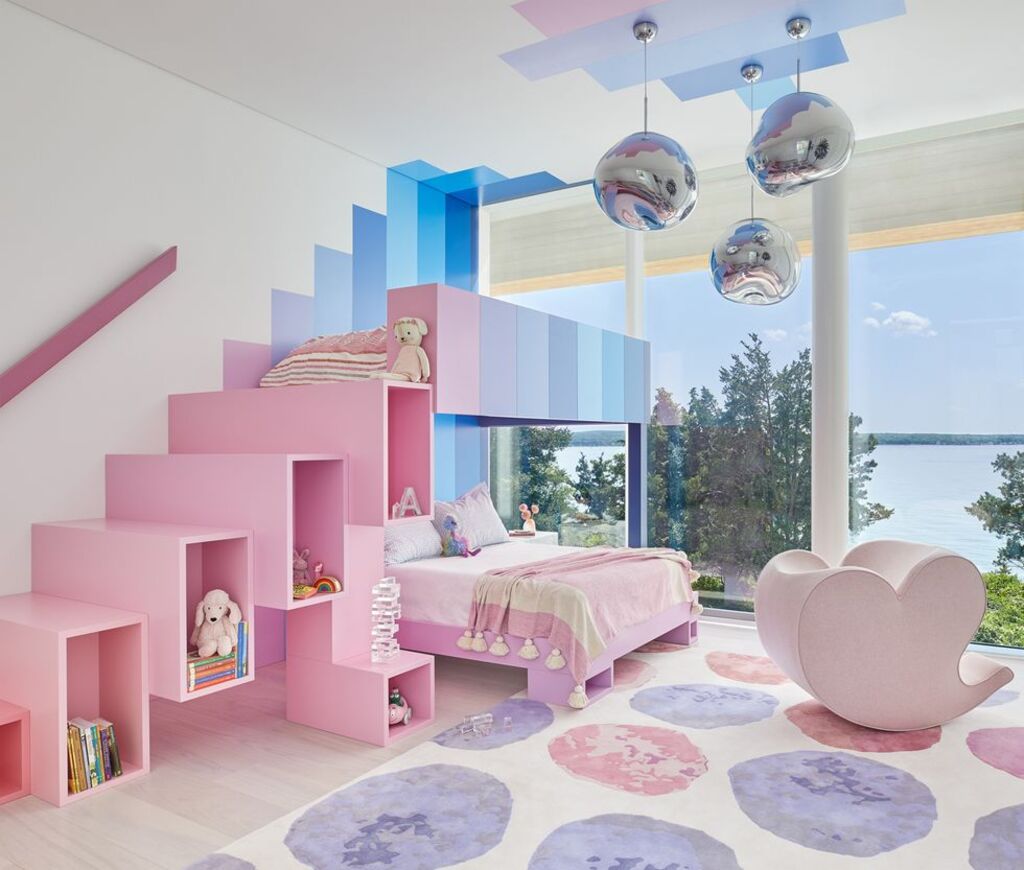 Source: hearstapps.com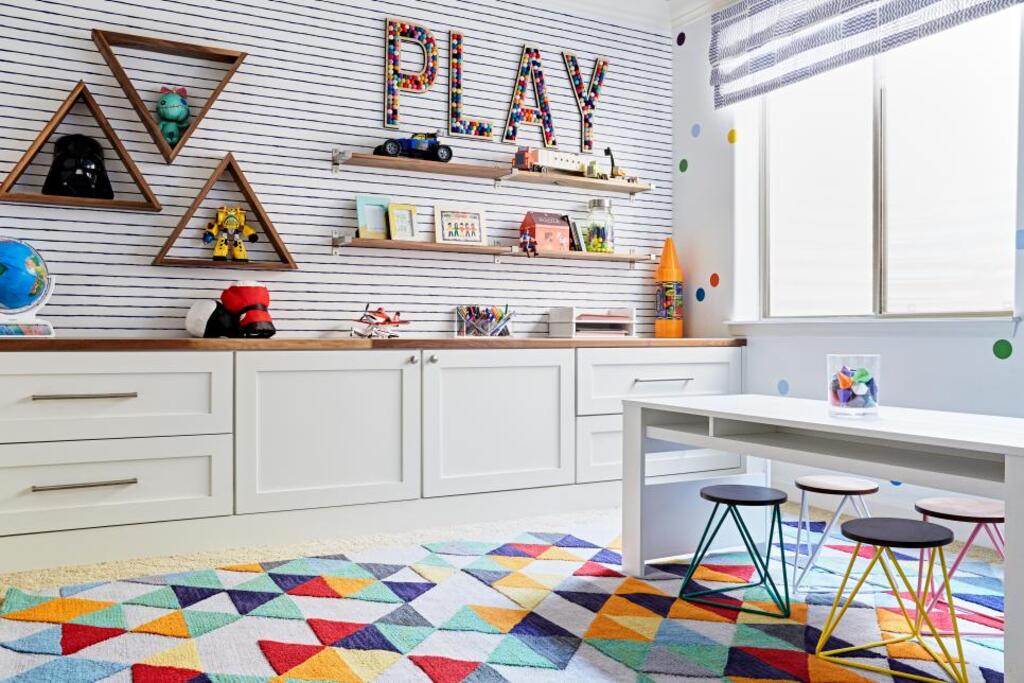 Source: sndimg.com
Want to give your walls a next lever makeover? Go with floating shelves! This is another quick, space-filling trick. You can go with a few floating shelves or just fill your wall with floating furniture. These thoughtfully arranged exposed shelves not only look great but also give you some extra storage space. 
Wooden shelves look good but take a step further and paint them to get a playful display. We're pretty sure that these painted shelves create a focal point that can't be ignored. From framed photos, books to toys, and more, you can literally display any type of decor. 
7. A Statement Mirror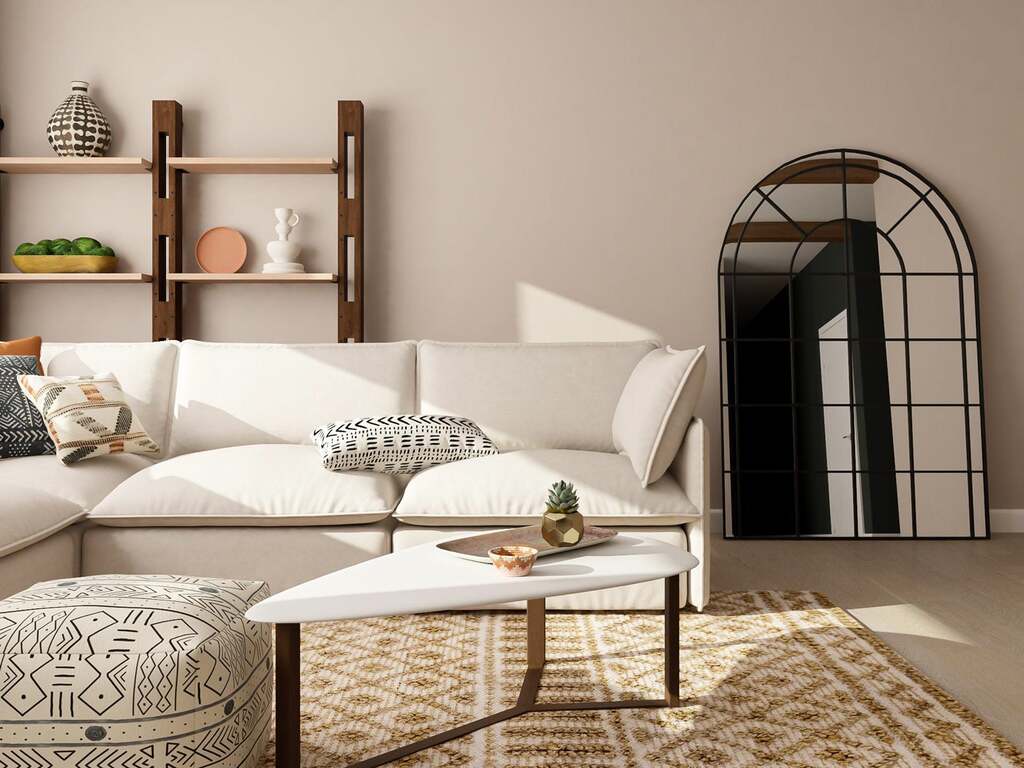 Source: modsy.com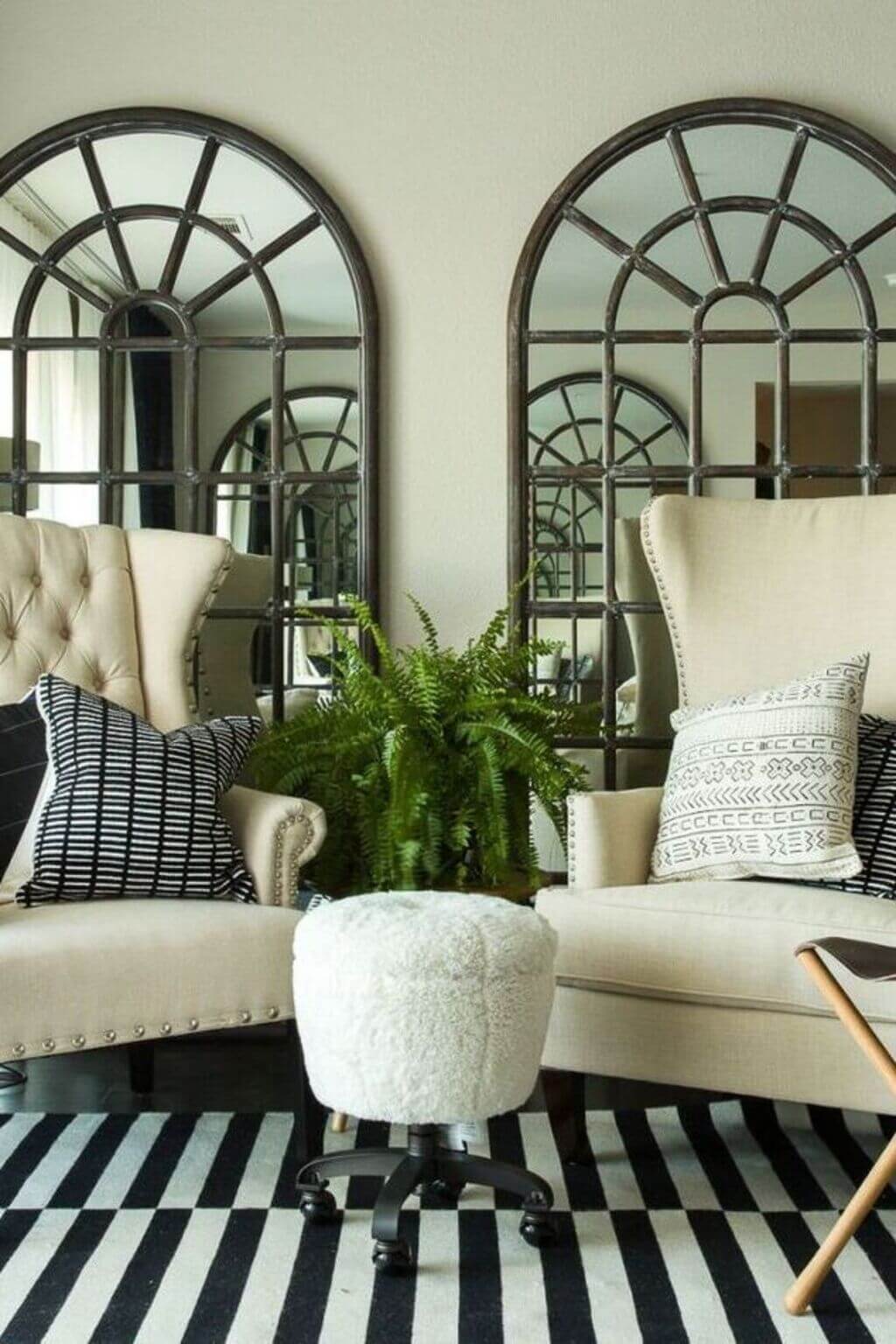 Source: hearstapps.com
Another way to decorate your big wall is Mirrors! Yes, they're magical elements that are used for many purposes. From making a space seem spacious to filling an empty wall, mirrors can be used in many ways. These types of huge window-like mirrors will add depth to the living space or can be an ideal large wall decor idea for bedrooms.
Get a large decorative mirror and place it at the center, or according to your furniture settings and you're working is done! You can either hang them or just put them against the wall. When the light reflects from these mirrors, your space will appear brighter and spacious. Plus, you can check your complete outfit and take OOTD pictures! 
8. Folding Screen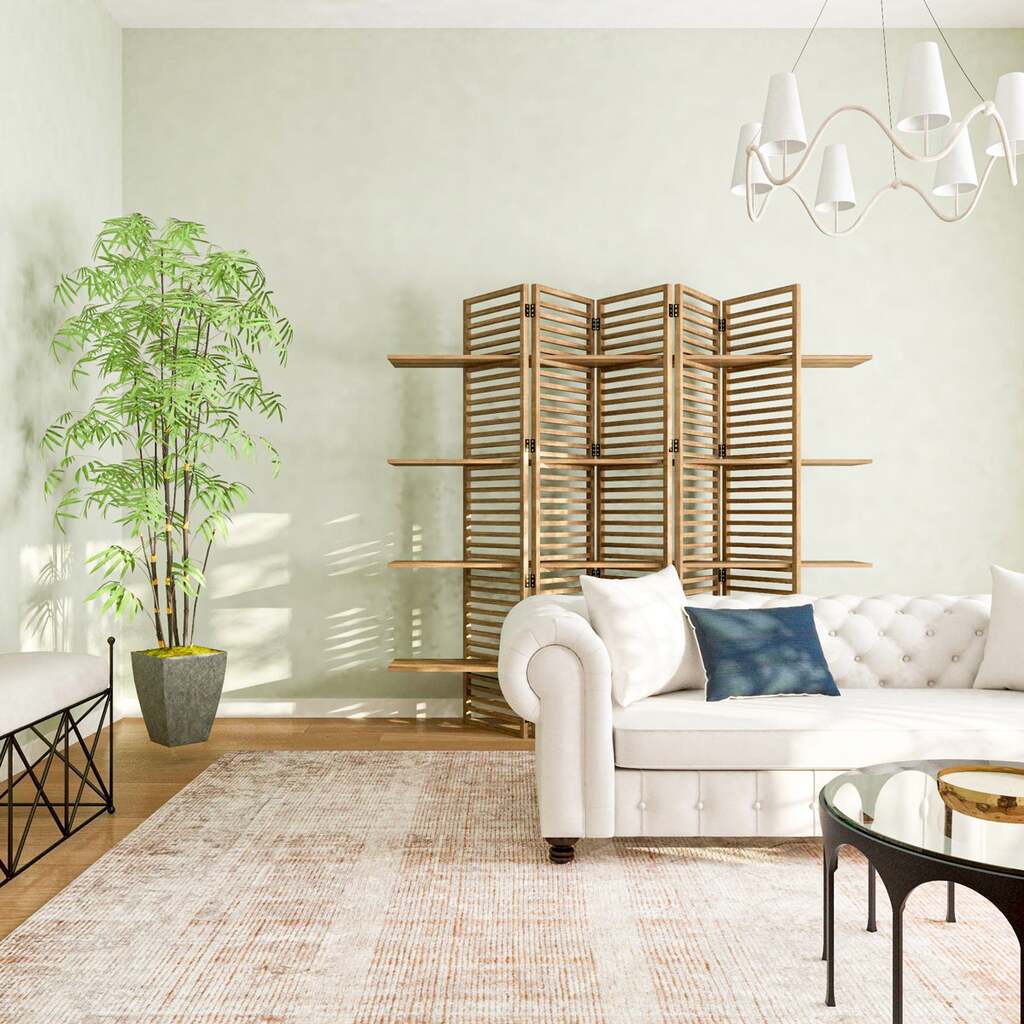 Source: modsy.com
Source: hearstapps.com
Folding screens and room dividers are standing sculpture pieces in themselves. That's why they'll also work as decor for your bare walls. A wall divider is a space-saving accent piece that easily covers a boring wall. You don't need to hang them or mount them; simply line them along the wall or put them in a corner. They'll be a sophisticated focal point of your space. 
Whether you're using your room dividers to separate the area or not, you can still use them as a decorative piece. Whenever you put them, they'll become instant statement pieces. You can also buy the flooding screens with shelves to get some more storage space.   
Also Read: The 6 Gorgeous Wall Decor Ideas for Your Kitchen in 2022

9. A Built-in/Hanging Bar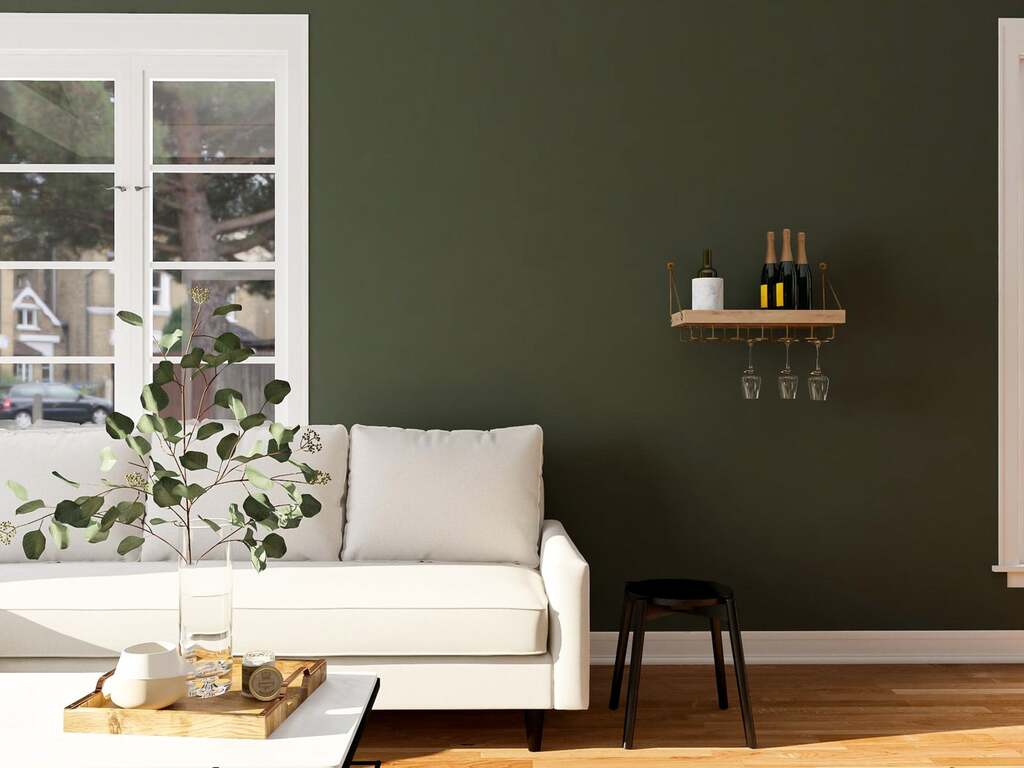 Source: modsy.com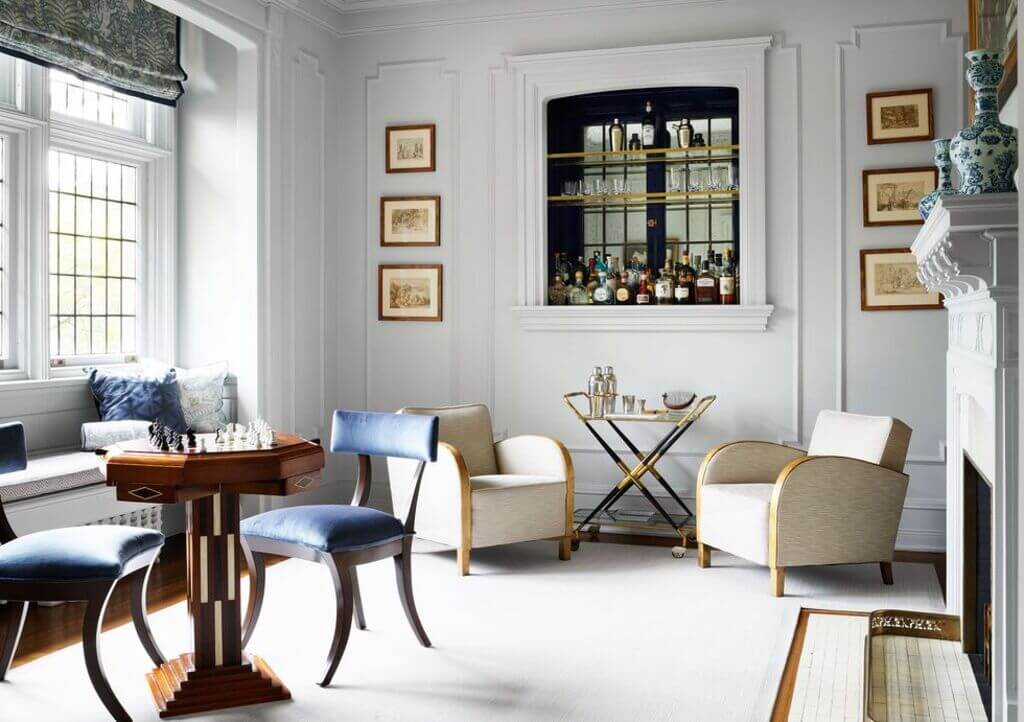 Source: hearstapps.com
Utilize that boring blank wall and transform it into a hanging bar. This is a Perfect big wall decoration idea for those who love to entertain and host parties or looking for some extra large wall decor ideas. This will fill up the wall beautifully and also add some practicality to your space. 
Put all your favorite wine bottles and cocktails with glassware in this built-in bar, and enjoy your favorite drink while having a conversation. This hanging bar can be small or large. So basically, it mostly depends on your needs and the size of the area you'd like to fill. 
10. A Tile Touch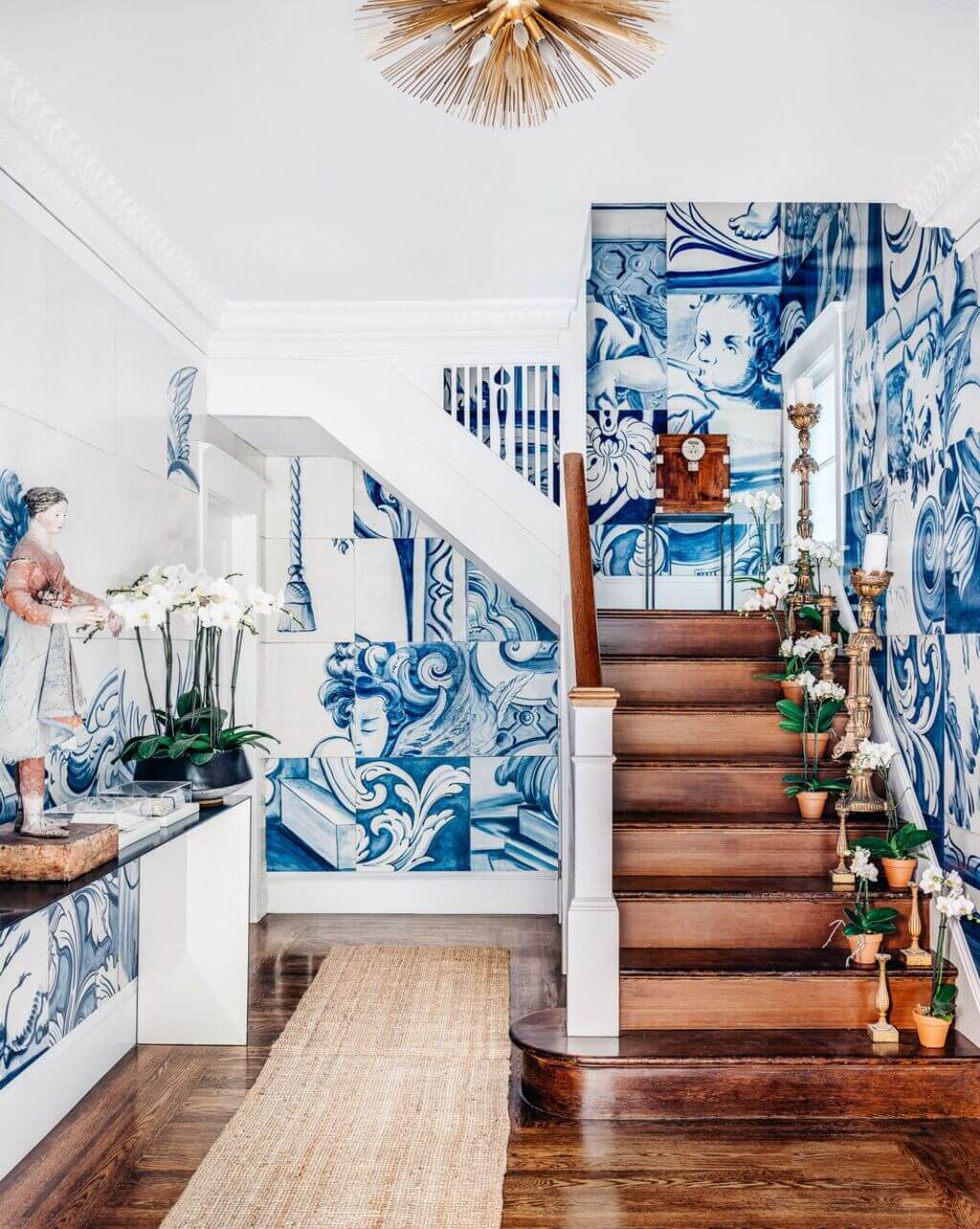 Source: hearstapps.com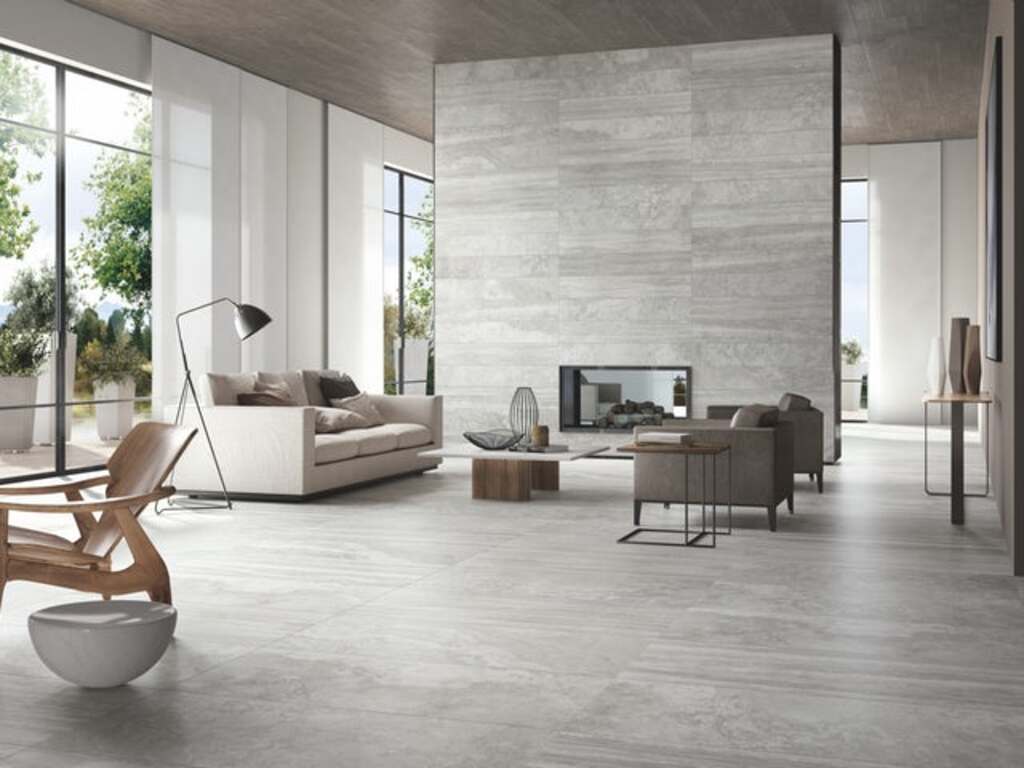 Source: architizer.com
Now, tiles are not limited to bathrooms and the kitchen. Many interior designers and architects are decorating spaces like living rooms with tiles. From the subtle and neutral color palette to bright, bold patterns, you can literally get tiles in any shape, size, and design. 
Look at the above Antonio Martin's San Francisco home. It proves that your walls can be anything but boring. Here beautiful 18th-century Portuguese tiles in aqua blue color have been used in the entryway and stairs areas.  
Here are some more big wall decoration ideas and inspirations for you: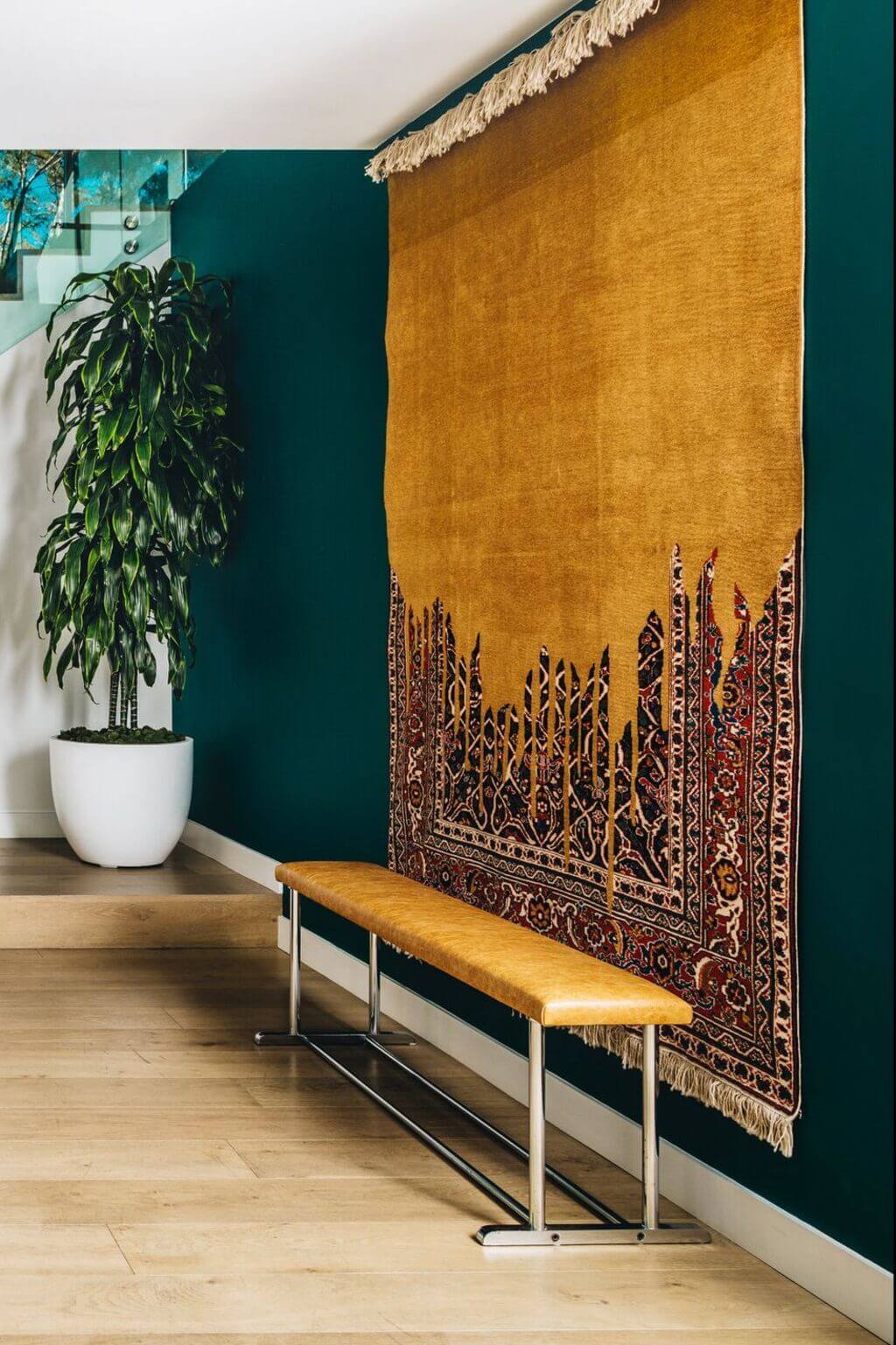 Source: hearstapps.com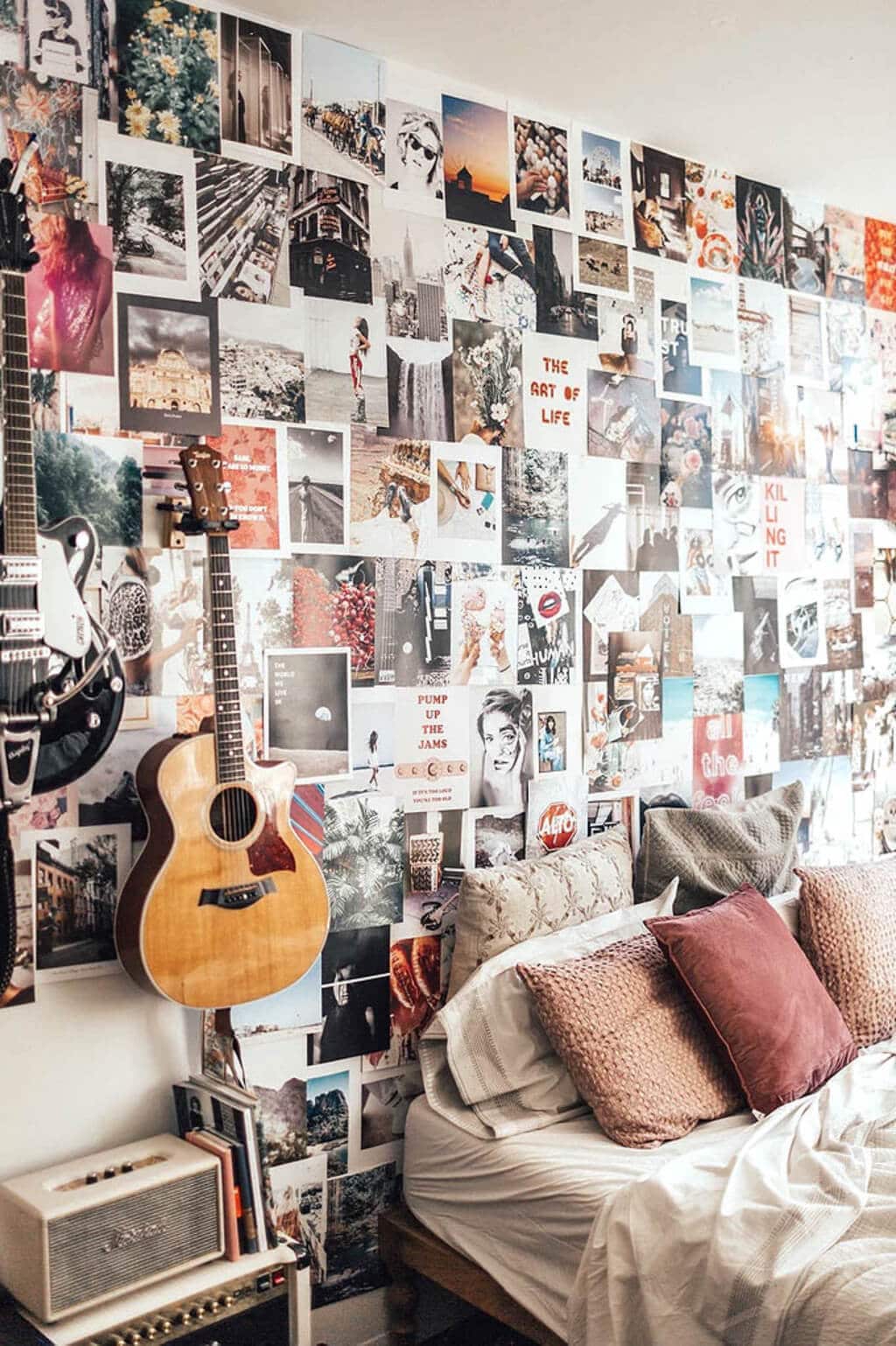 Source: poshpennies.com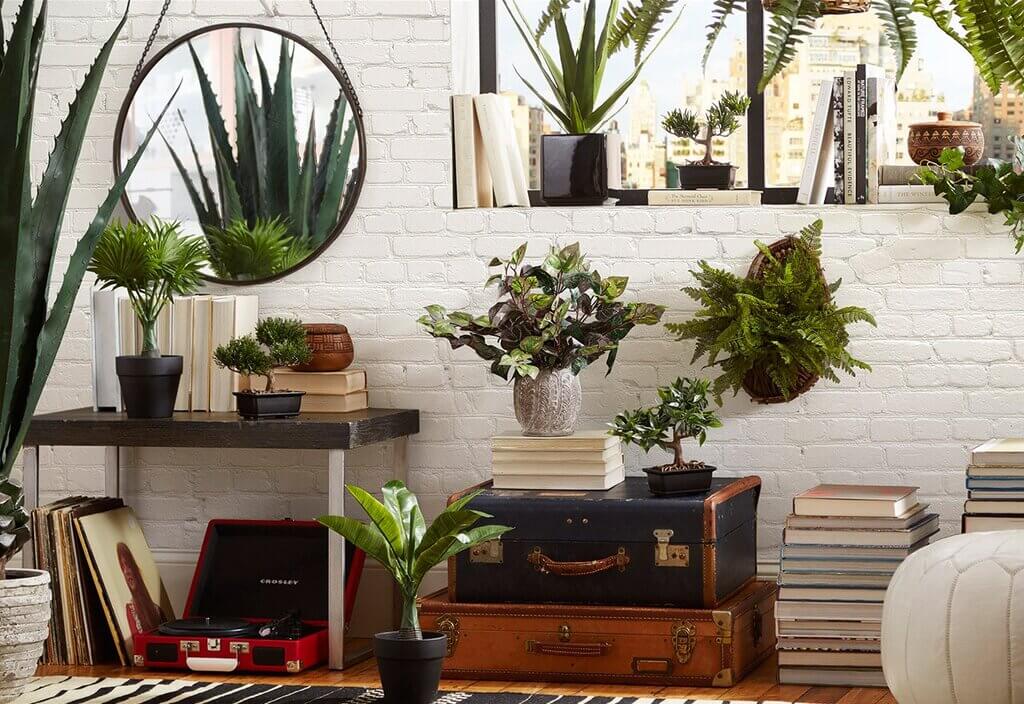 Source: wfcdn.com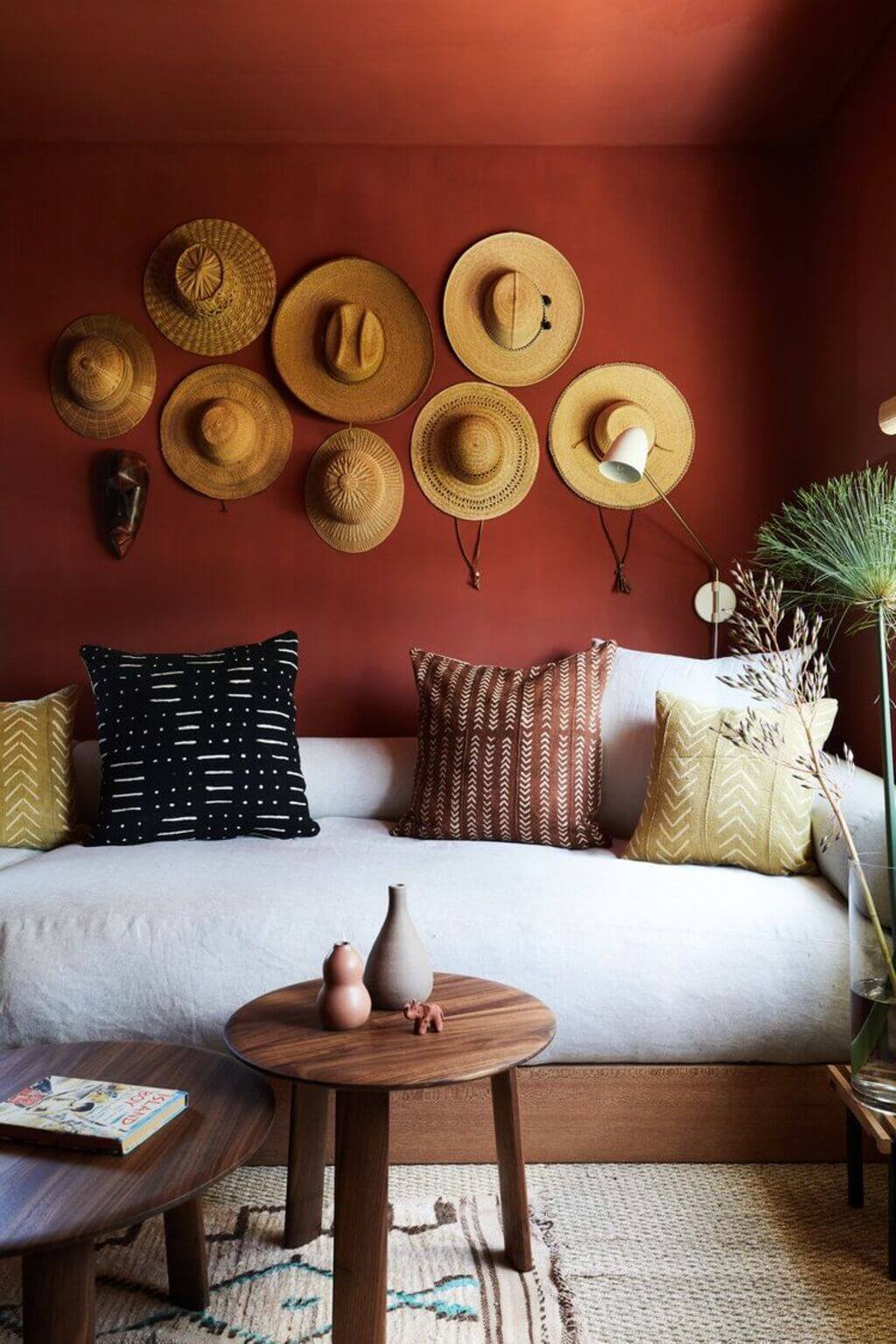 Source: hearstapps.com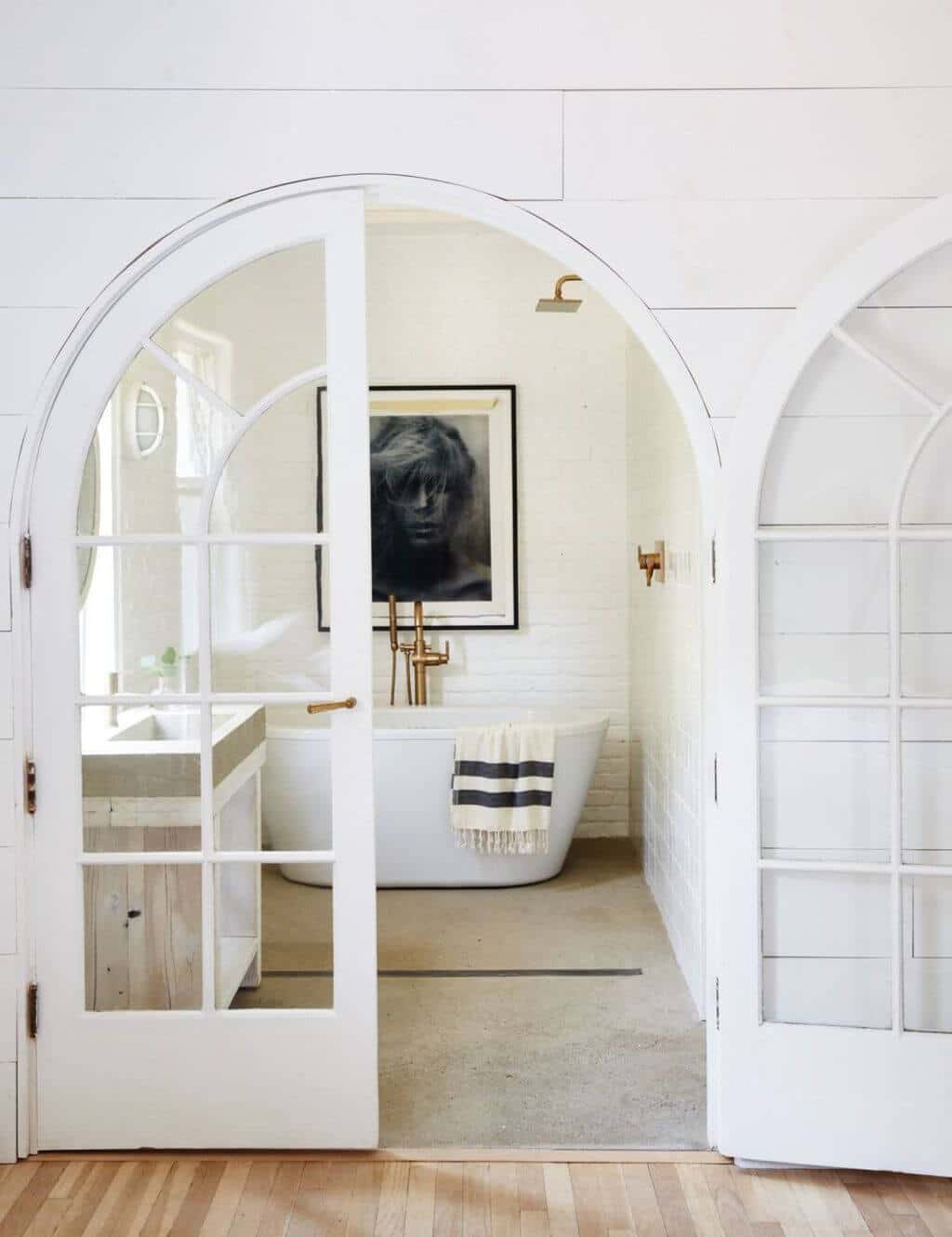 Source: hearstapps.com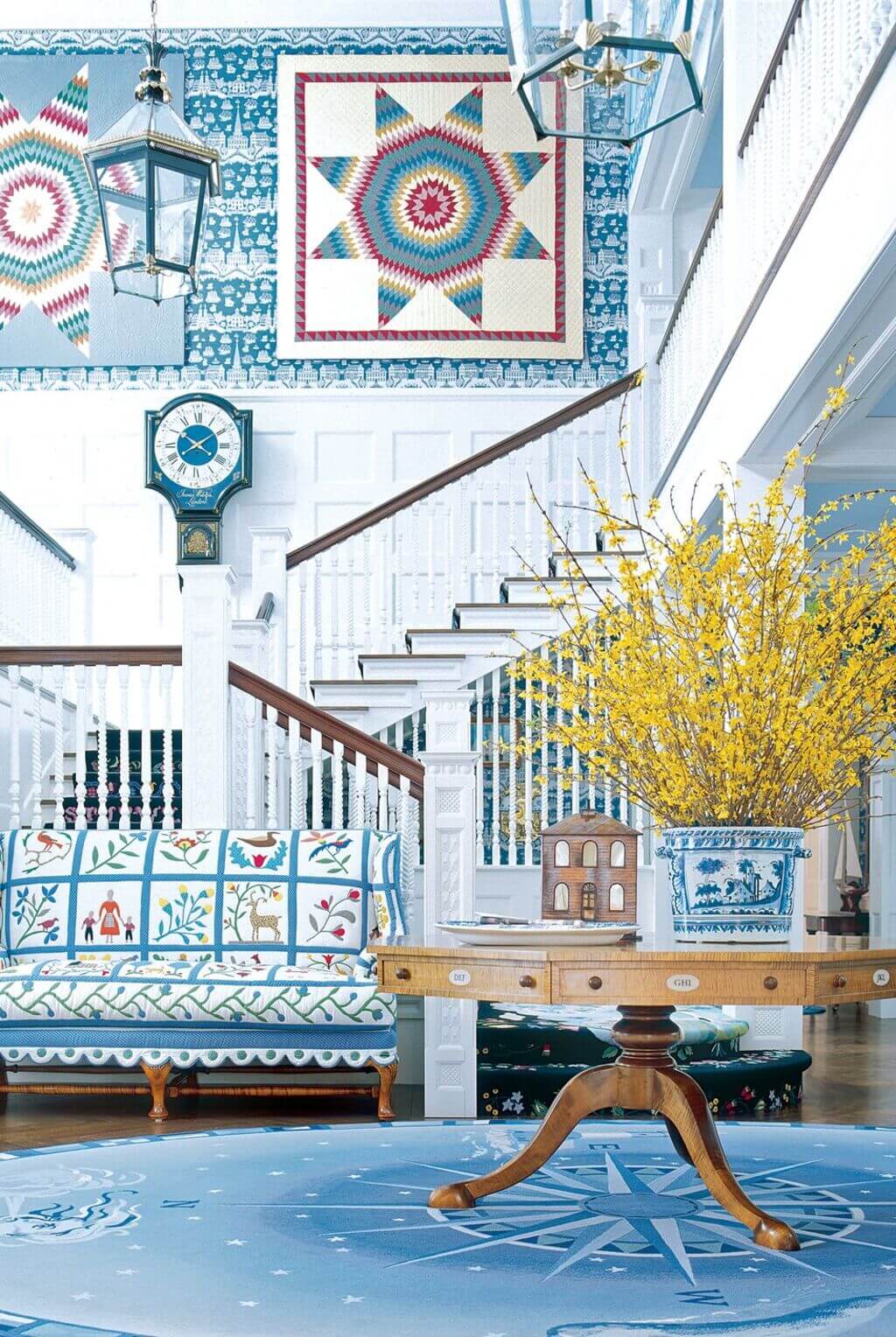 Source: hearstapps.com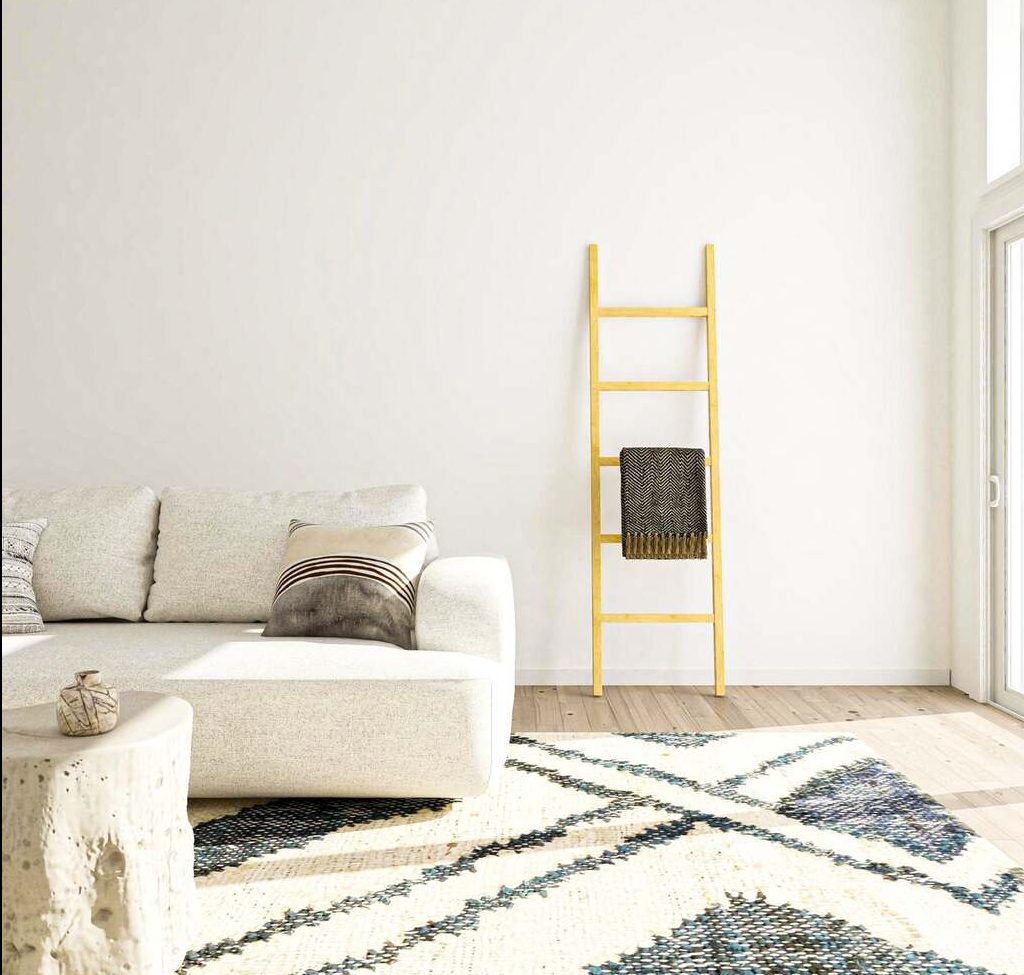 Source: modsy.com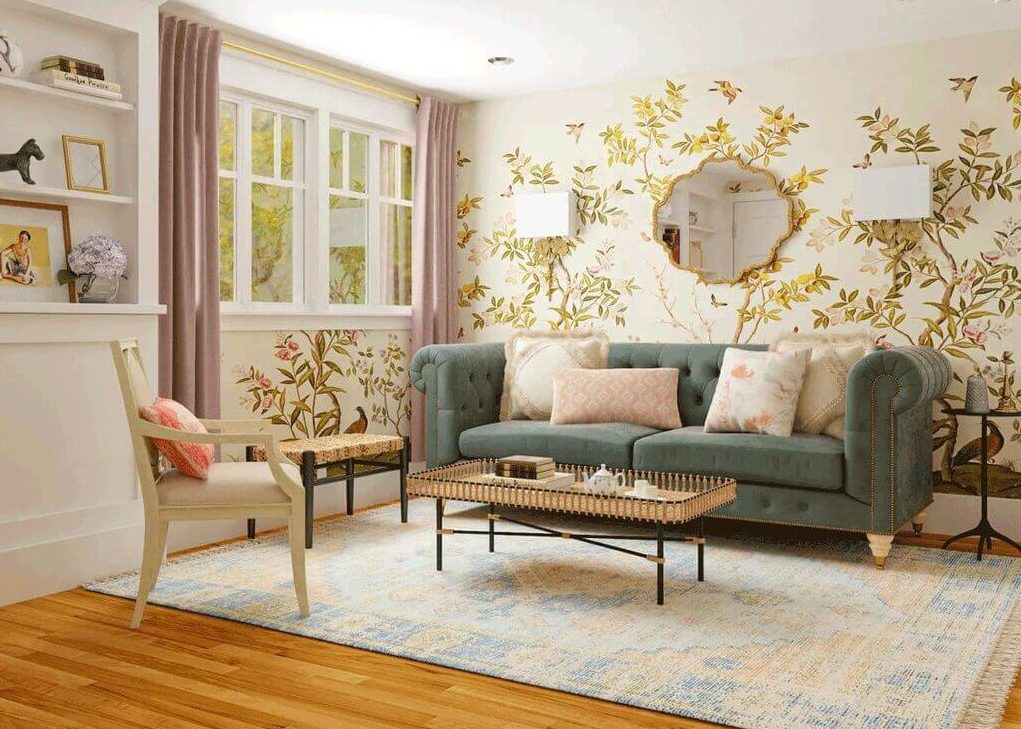 Source: pinimg.com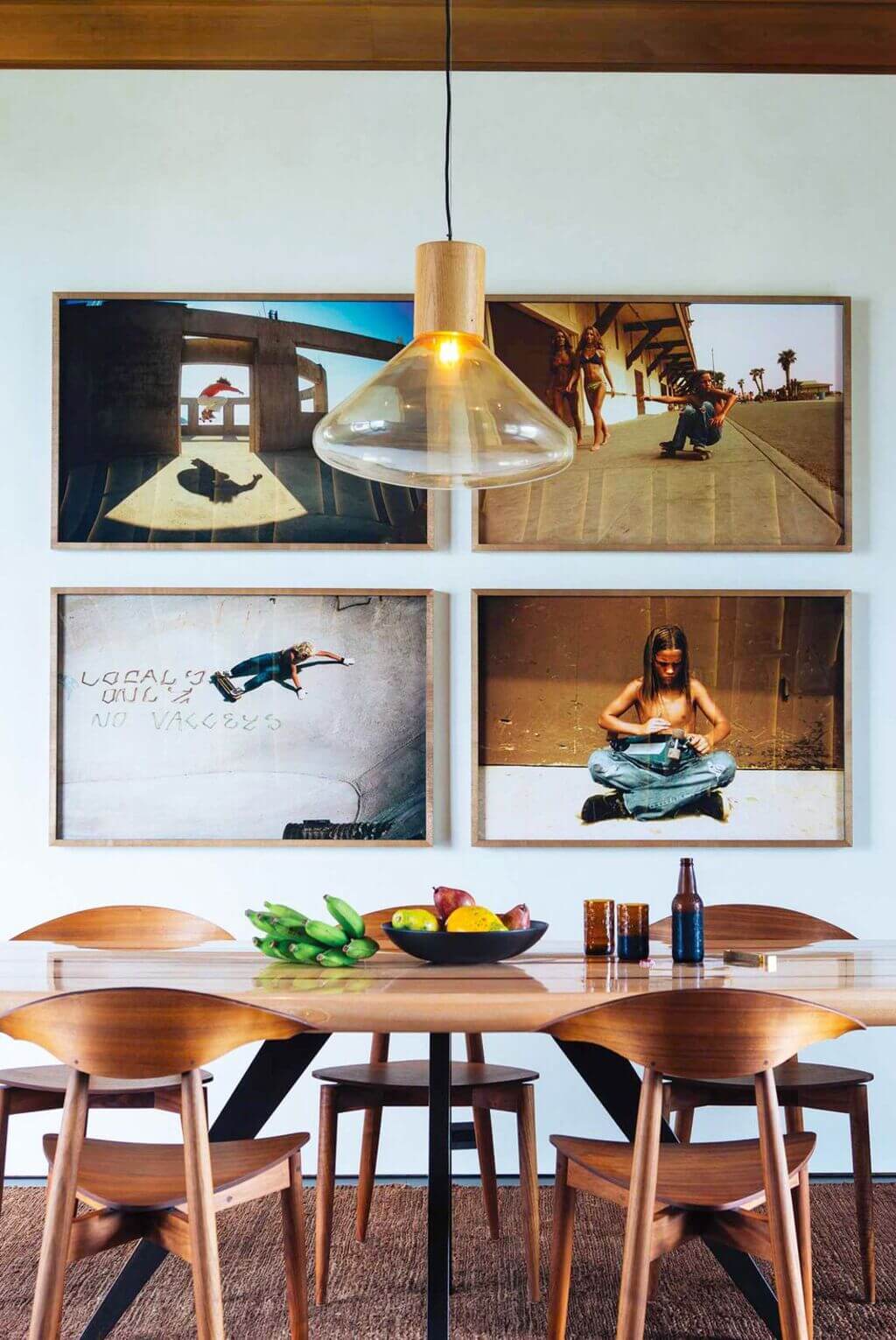 Source: hearstapps.com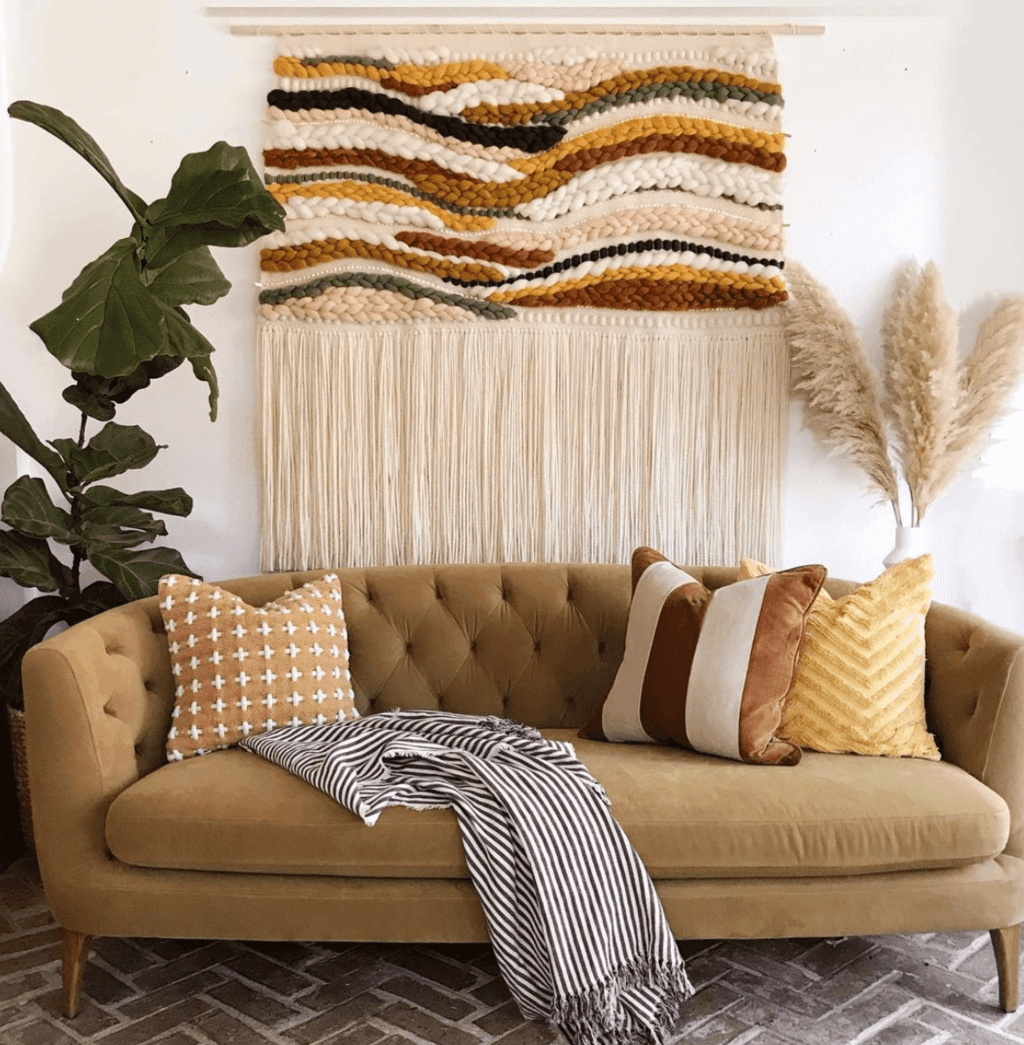 Source: thespruce.com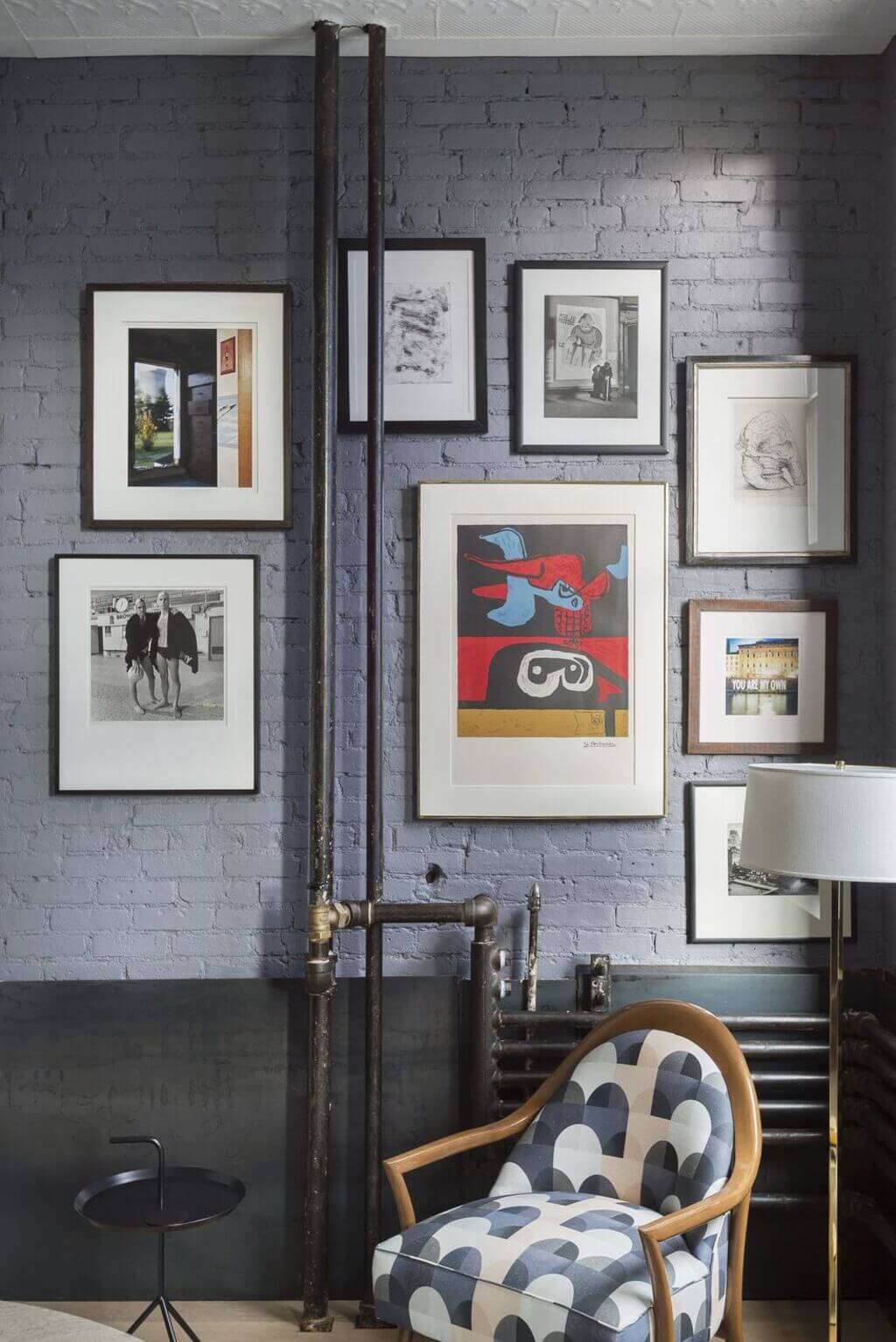 Source: hearstapps.com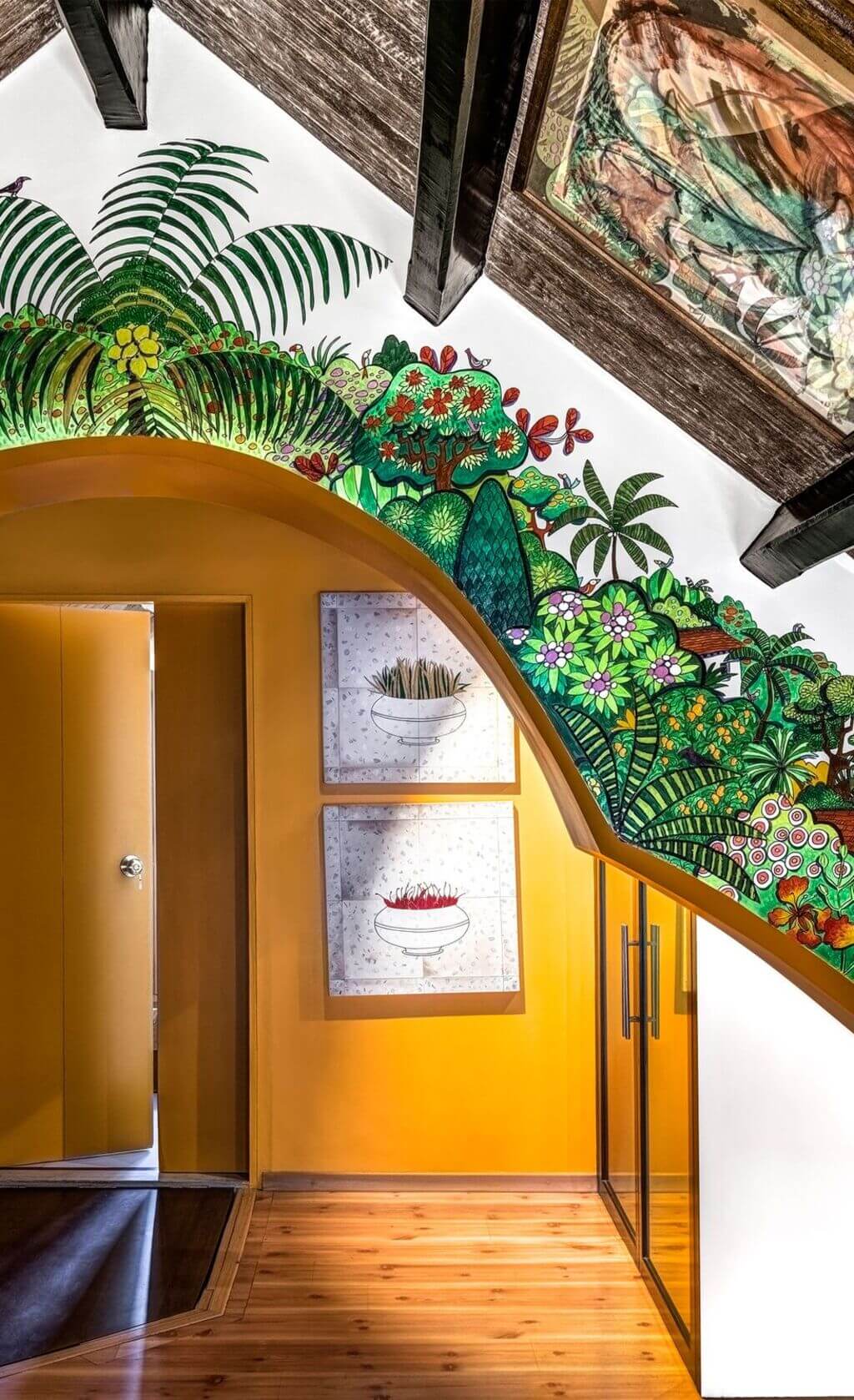 Source: hearstapps.com
Make a Boring Wall Interesting 
So which big wall decoration idea do you like the most for your home? From mirrors, artworks to floating shelves and folding screens, options are endless. You can also match the decor or frames to match the interiors of your home or DIY large wall decor according to your wall. Just don't overthink and experiment with various techniques and decor ideas to figure out what works for your space.   
So, this is all about the big wall decoration ideas and designs. I hope this blog gives you some inspiration about how to decorate a large blank wall in your home. The key is to figure out which large wall decoration ideas or techniques work best for your wall. 
For more interesting home and workplace improvement and styling ideas, explore Architecturessideas.
Follow us on our Instagram page architectures_idea for daily architectural information and updates.