Top 5 Ultra Affordable And Cozy Sectional Sofas For Your Home (Buying Guide!)
A couch is something so important for all of us; that's why we are always so picky about them, right? From comfortability to the perfect size, there are many things that we should keep in mind while purchasing our dream sofa. But it is not that simple as it seems. 
Do you remember the iconic couch of the coffee house in the F.R.I.E.N.D.S (a famous TV series)? The golden brown color couch where everybody used to hangout. Everybody wants a similar sofa where they can talk and enjoy with their family and friends. A sofa which looks absolutely great in the living area and also has enough space for everyone: finding these two things on one sofa could be a little challenging for us and sometimes they're out of our budget.
So what is the solution? The answer is sectional sofas! So whether you're living in a tiny apartment or in a mansion. These sectional sofas will look wonderful in every kind of place. Today in this blog, we're going to tell you all about sectional sofas. From various types of sectional couches to the benefits, we covered it all for you. In addition to that, we have also rounded up a list of best sectional sofas of 2020. So just grab a drink and keep on reading.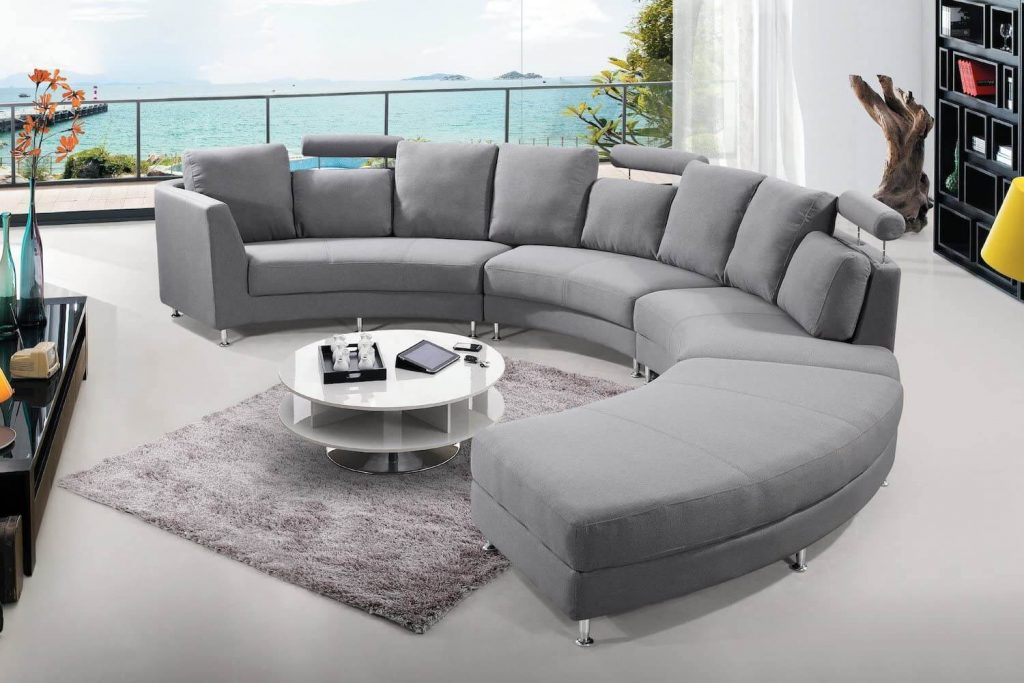 source: amazon.com
What is a Sectional Sofa?
A sectional couch or sofa is a combination of multiple independent pieces that can be put together in many shapes You can arrange them in many different ways. There are multiple shapes and designs available in the market, and each one is different from others. You can pick the one based on style, material, and size. 
Types of Sectional Sofas
When you start shopping or searching for a sectional sofa, you might get overwhelmed because there are a ton of options that are available. It may be a little confusing for you. Now you're thinking which one is best for your space?
Don't stress yourself (at least for this). We are always here to help you out. Today we have brought a perfect couch guide where you will get to know about how you can select the best sectional sofa for your home, and also, we have provided a list of sectional sofas in 2020. So keep on reading.
Basically, you can pick a sectional sofa on three things: Shape, Style, and design. Let's look into these things.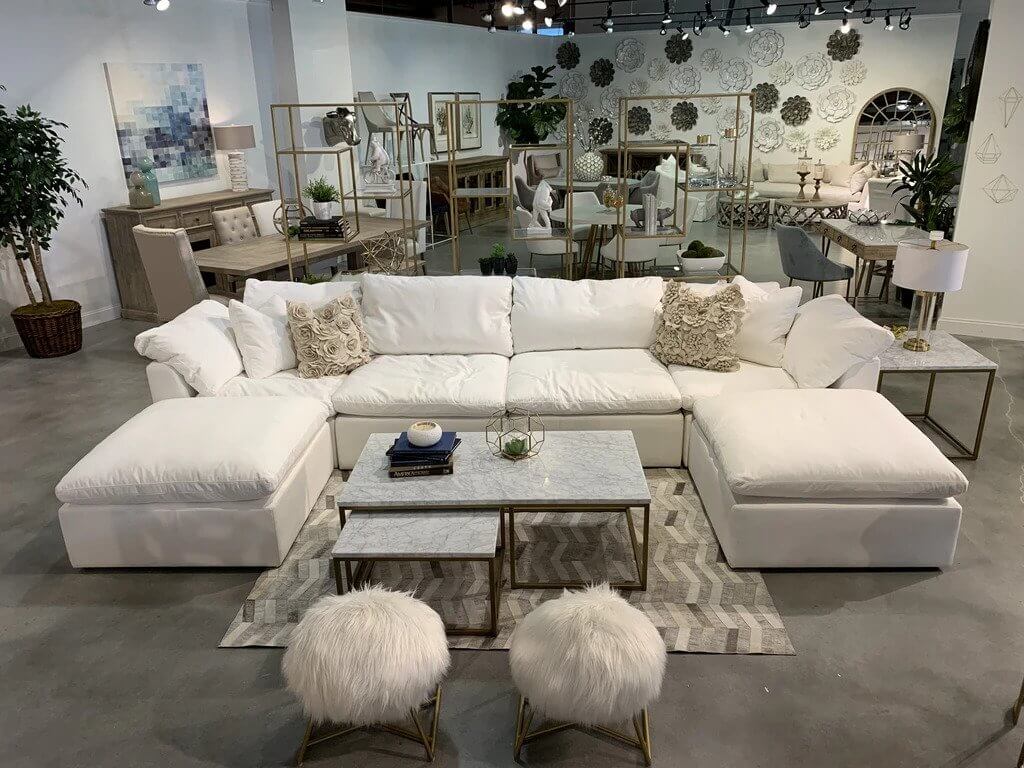 source: shopify.com
1. Shapes
In total, there are 3 main shapes of a sectional couch: Curved shaped, L- shaped, and U shaped.
These semi-circular or curved sectional sofas are a great way to maximize seating space. So if you like hosting parties, then this is the best option for you. With a curved sofa, you don't have to worry about someone sitting in a corner.
Living in a small apartment and looking for something compact? These L-shaped sofas are best for these kinds of spaces. They are small in size yet spacious and comfortable. 
Not as curvy as the semi-circular sofa, but they give you more sitting space than the L-Shaped ones. They'll look pretty good in the large living rooms.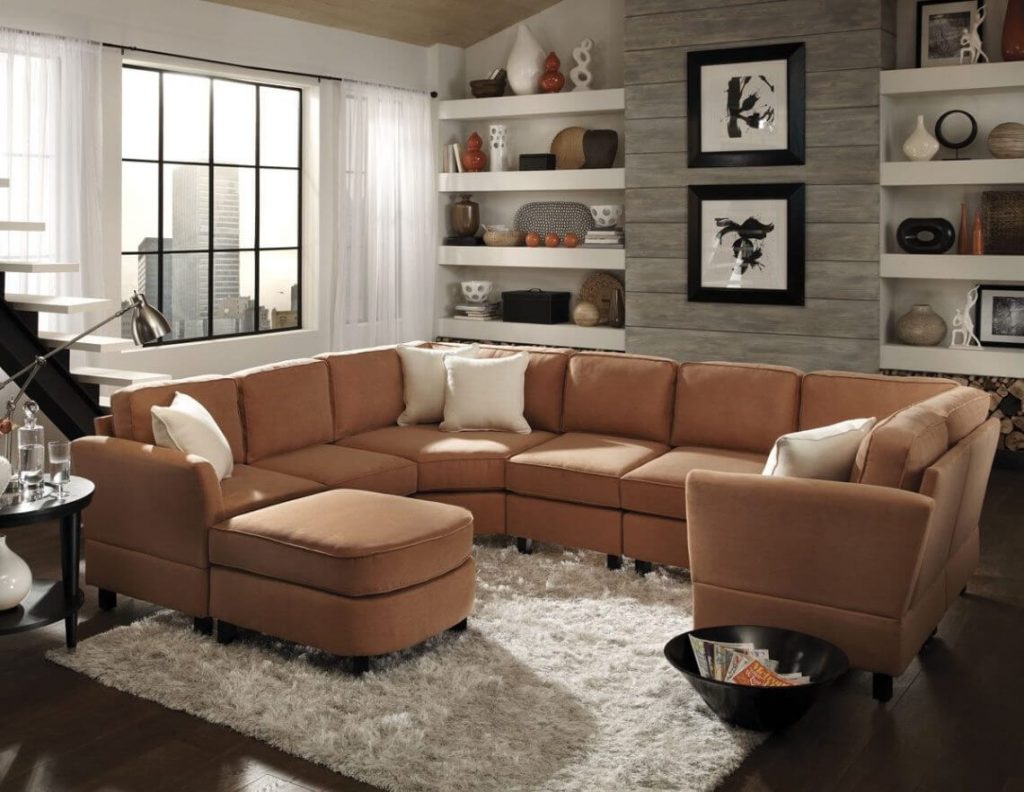 source: freshdesign.info
2. Styles
We all know how important furniture is in uplifting the ambiance of any place. Before buying any sofa, you should have a clear vision of your interior design, and according to it, you can buy a sofa or couch. When it comes to style, you can select a modern, traditional, contemporary, or a mid-century one; Yes, there are many choices. 
3. Design
Another way to choose a sofa is on the basis of design. Designs like modular, reclining, and convertible are the trendy ones in 2020. You'll get to know about these later in this blog, where we have listed the wonderful modular sectional sofas.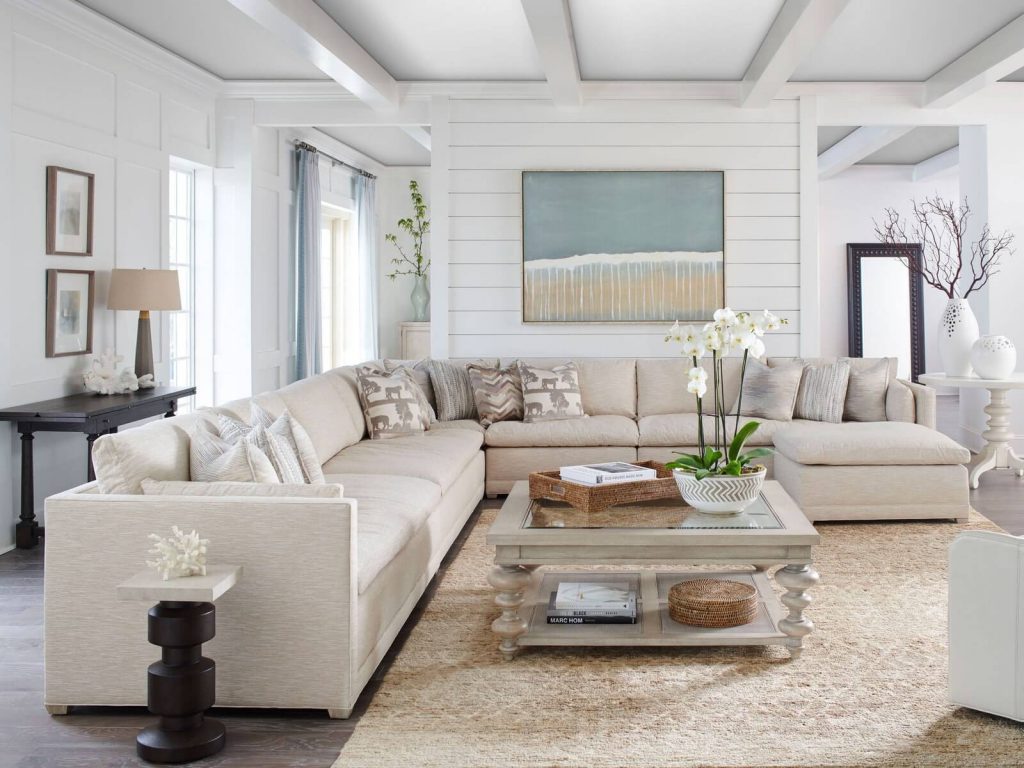 source: architecturaldigest.com
B

enefits of a Sectional Sofas
There are many benefits of having a sectional sofa in a home, such as: 
They can be easily styled in a versatile manner to achieve a modern or traditional look.

They are surprisingly inexpensive.

They are light in weight as compared to bulky two-seaters or three-seaters. 

There is also additional storage space inside of them so you can store various stuff in that. 

The cushions of sectional sofas can be easily washed off with just soap and water. 

The greatest thing about them is that they can easily be reshaped to fit in any size of the apartment.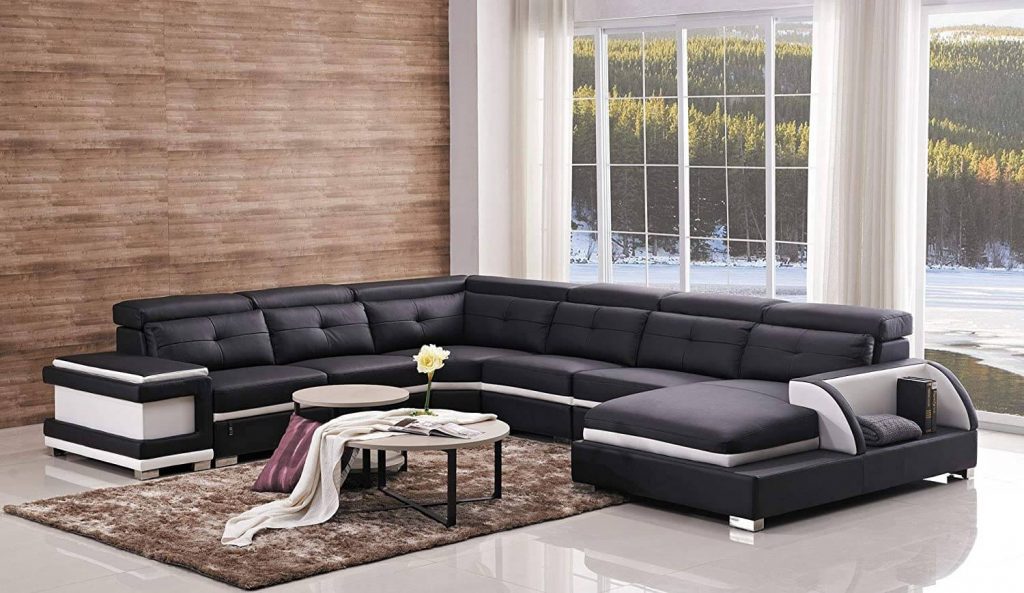 source: amazon.com
How to Use a Sectional Sofa
These types of sofas are pretty common these days. The main reason is its functionality. They can be used in so many different ways, such as: 
You can use them as a recliner for a back pain patient.

It can be used as a bed.

You can use them each section individually.

It can be used in small corner spaces.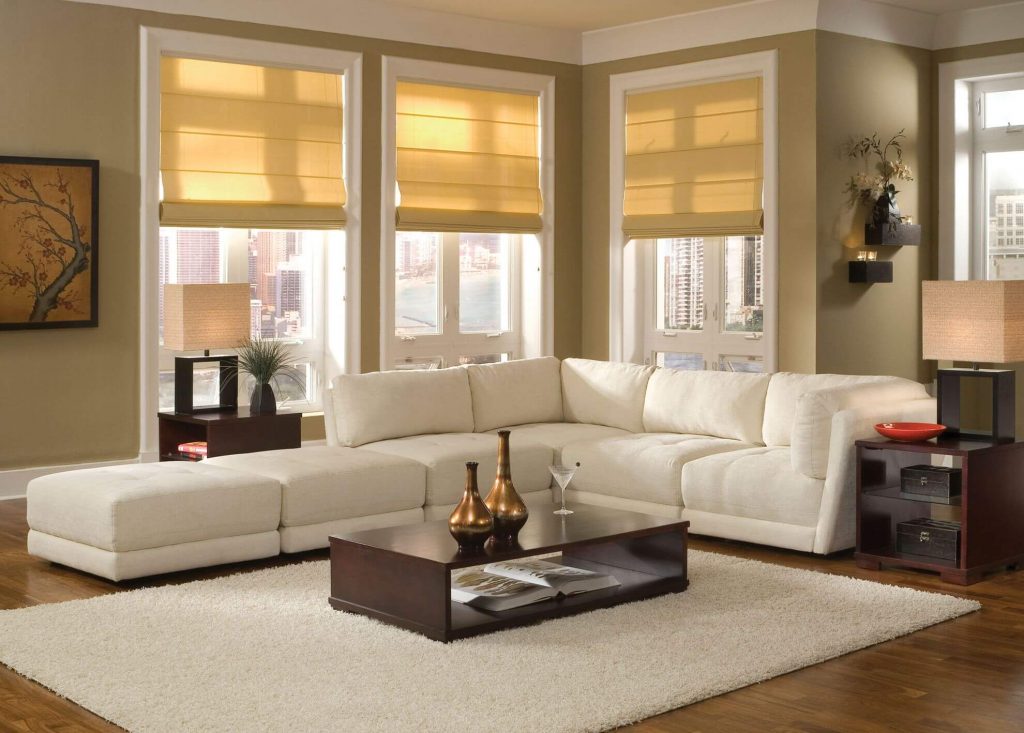 source: centralazdining.com
5 Best Sectional Sofa in 2020
After reading the benefits of sectional sofas, it's time to buy the one that works best for you. Below is the list of 5 best sectional sofas of this year. So pick your favorite one and decorate your space.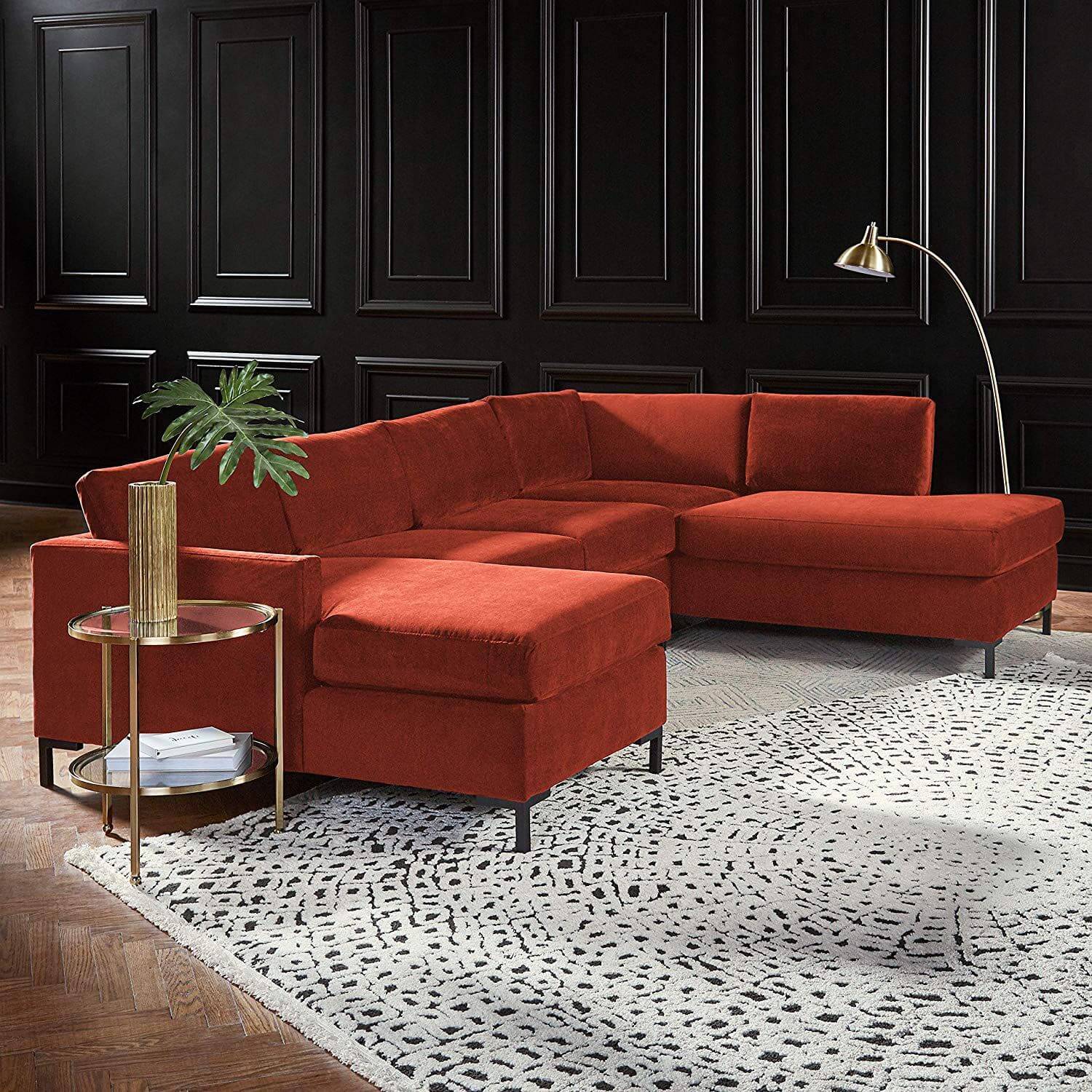 source: housebeautiful.com

This is a U- shaped sectional sofa which provides plenty of seating space. So whenever your friends come to your place unexpectedly, you will never worry about the seating because you have this huge sofa. This sofa is quite sturdy and strong as it has a hardwood pine frame and bronze-finished metal legs. You can assemble it in just 15 minutes.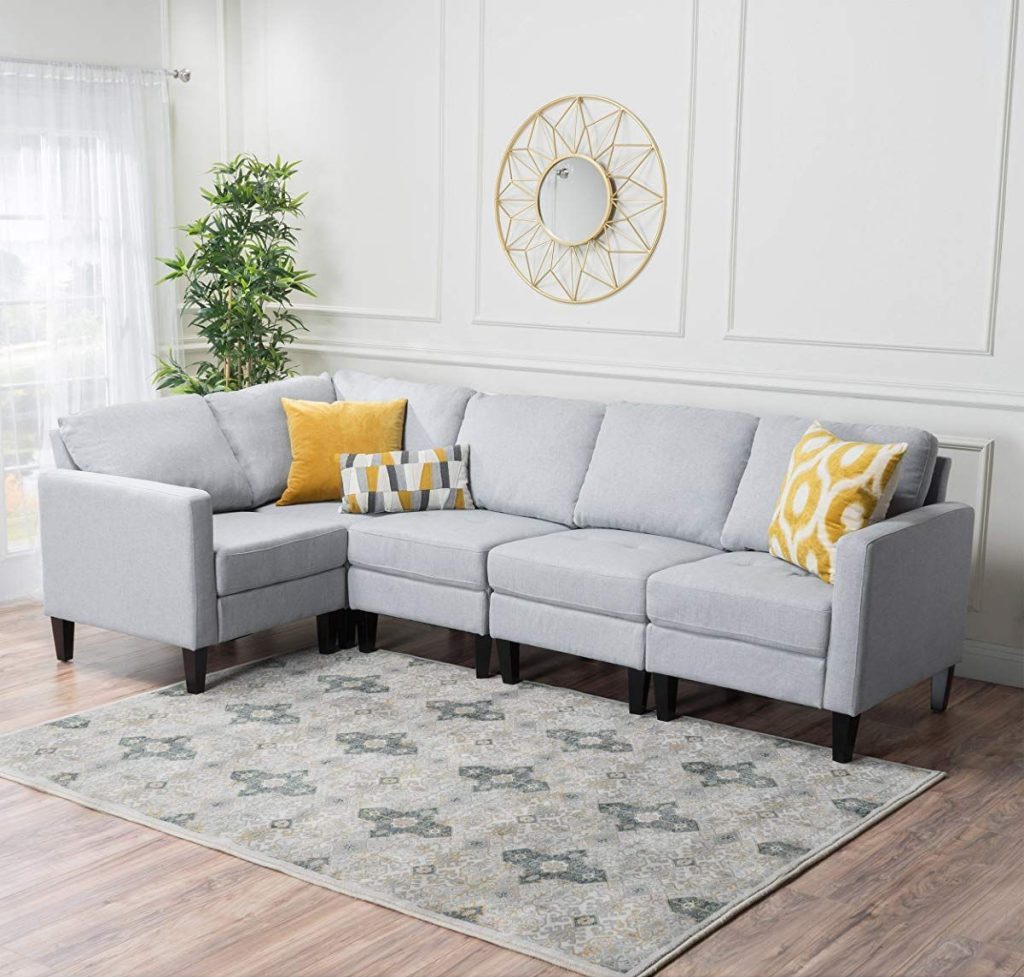 source: pinterest.com

Are you looking for something that comes in your budget and also looks fabulous? Just buy this light grey Carolina Sectional Sofa Set. It comes with one Right Arm Chair, One Left Arm Chair, One Corner Chair, and Two Armless Chairs. You easily mix and match to create whatever shape that works best for your living room.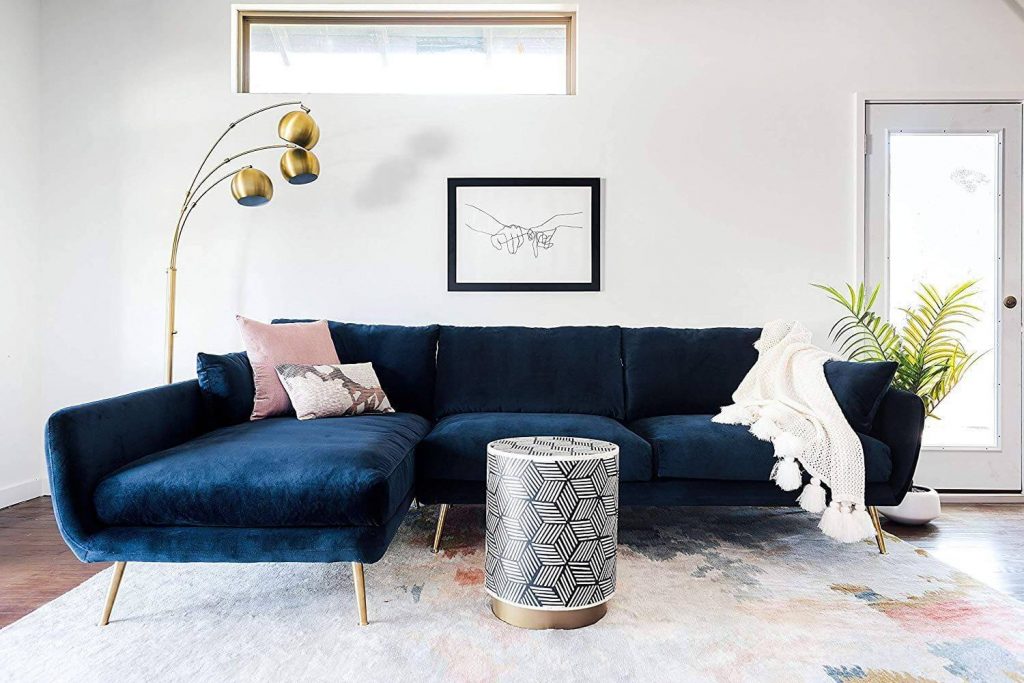 source: housebeautiful.com

Look at this luxurious looking navy blue sectional sofa. The stunning tapered golden legs and down-filled cushions are adding extra luxuriousness to it. Not only it looks great, but it is also very durable. To build the corner-blocked frame, the eucalyptus wood has been used that provides support and dependability.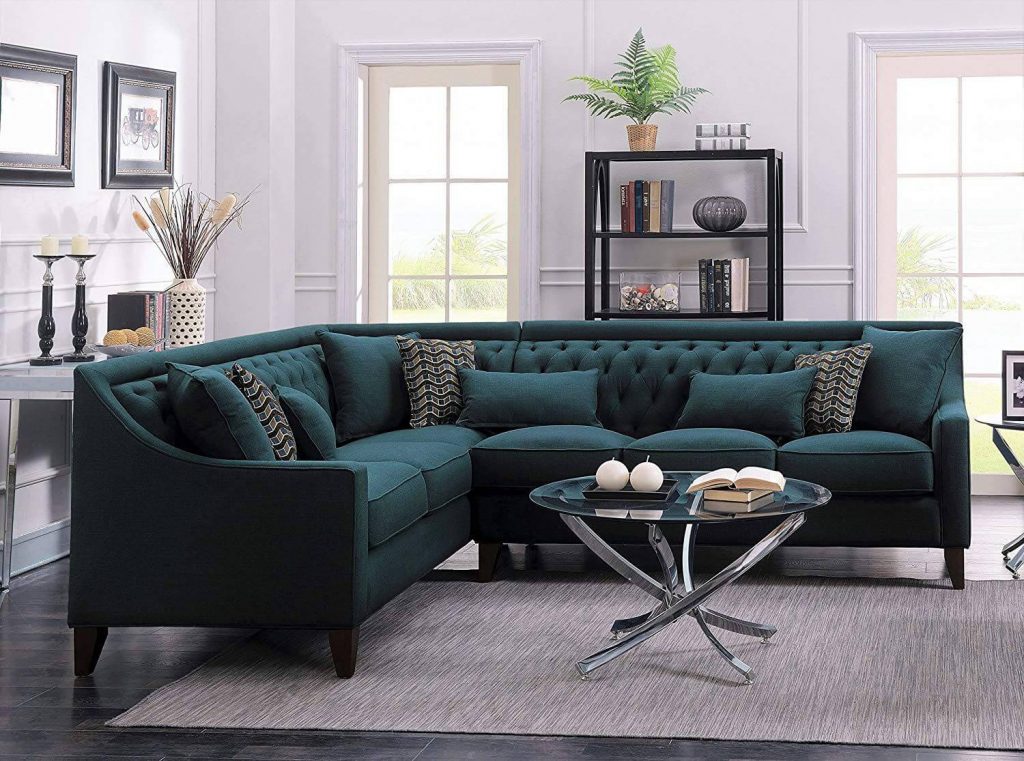 source: pinterest.com

The teal color itself is a great choice and along with that this sofa also has stylish tufting. Also, the cushions are filled with a plush downmix for extra comfort. Its style is in between contemporary and traditional, so it will look good with almost both styles. 
Also Read: Sofas or Recliners: Which are better?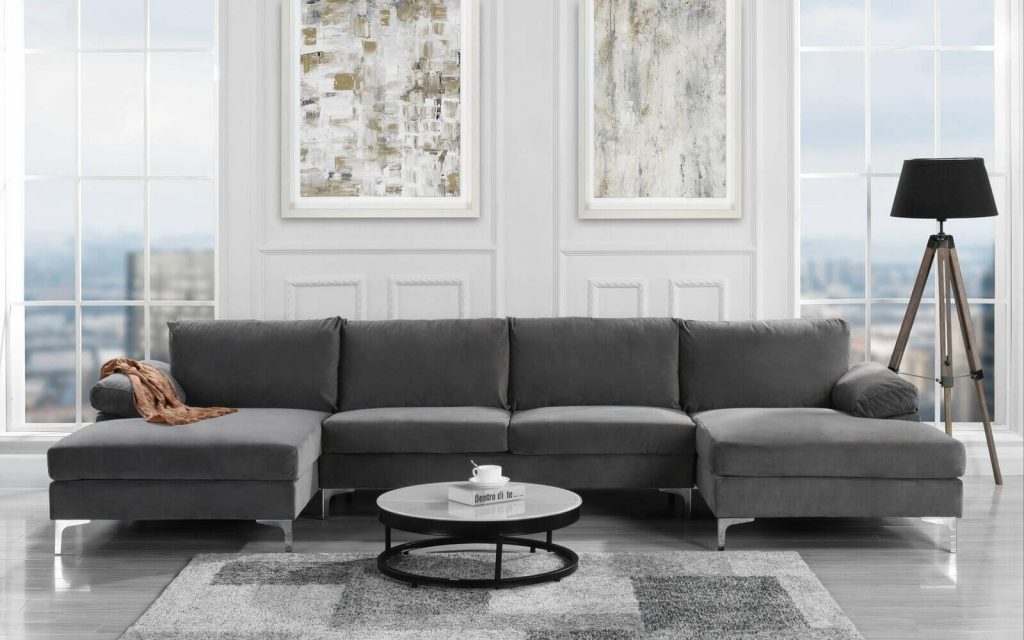 source: amazon.com

Another U shaped option for you is this black sectional sofa. It has simple designs, and six people can sit on it comfortably. Made with ultra-soft and durable velvet fabric upholstery, it is also available in various colors. 
Final Verdict
A couch brings everything together in a room. You can select your favorite one according to the shape, design, or style. But make sure that you always select a sofa according to the size of the room. These small sectional sofas can be adjusted in many different shapes. To decorate your living areas with these chic and sophisticated looking sectional sofas. 
For more home and office decoration ideas, tips, and a lot of other fun blogs like this one, visit Architecturessideas.