Best Standing Desks with 3 Monitors
A more elaborate setup calls for a sturdier and wider standing desk. If you need three monitors on your workstation, you need a more reliable standing desk. Hover through my list of the best standing desks that you can use for your 3 monitor setup.
1. Flexispot 48 x30 Electric Standing Desk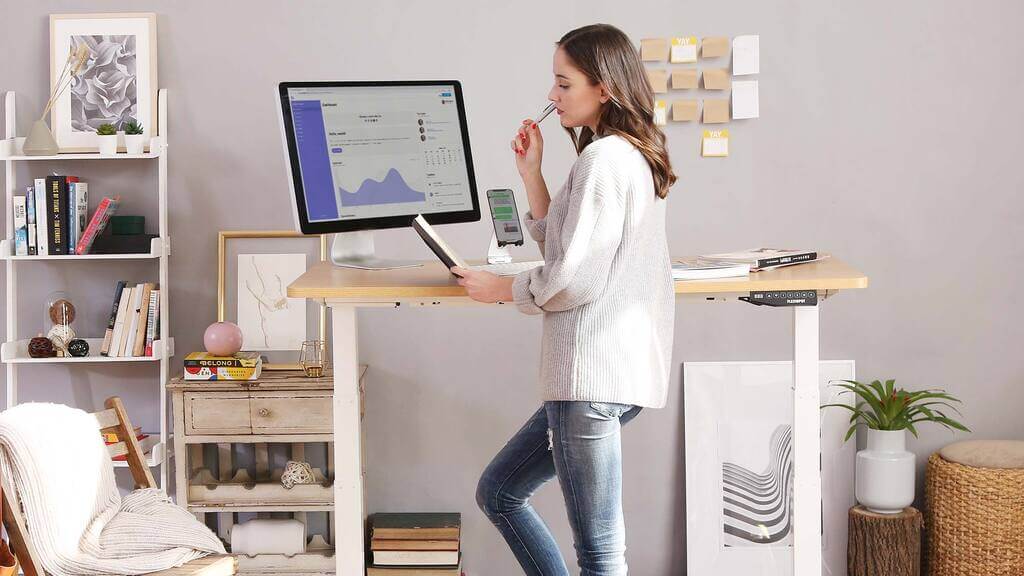 Source: futurecdn.net
This Flexispot standing desk is often outfitted with a dual monitor arm or two PCs. But you can easily add a third one without any issues. The width of the table is sufficient enough to accommodate a third monitor. 
And at the same time, the desk is pretty sturdy and durable in itself. The legs are made of industrial-grade stainless steel. It's a more durable type of steel material. The width of the desk can accommodate three 22 inch monitors.
You may add other office paraphernalia on your desk, especially if you're going to mount monitor arms, that'll free up more space on the desk. This standing desk also has a heavy-duty weight capacity. It has a weight capacity of 154 lbs. It's more than enough to support and hold three 22 inch monitors.
On top of the wide working space and sufficient weight capacity, this standing desk is built with features that you'll find very convenient. The controls are responsive, there's no lagging or stalling. It rises decently, not that fast but it's not too slow either. But at least the transition is smooth. 
The height adjustment is also enough for taller users. Even those who stand 6 feet will find this standing desk comfortable. And it's not even at the highest setting yet.
But you have to ensure that both legs start at the same height when you're installing the desk. Otherwise, you might have a crooked desk. Though you can still remedy it, it can be such a hassle.
Pros
Easy to assemble

Robust steel legs

Reactive controls

Affordable

Comfortable for tall users

Neat packaging
Cons
Might not go low enough for short people
2. AITERMINAL Stand Up desk ($499.98)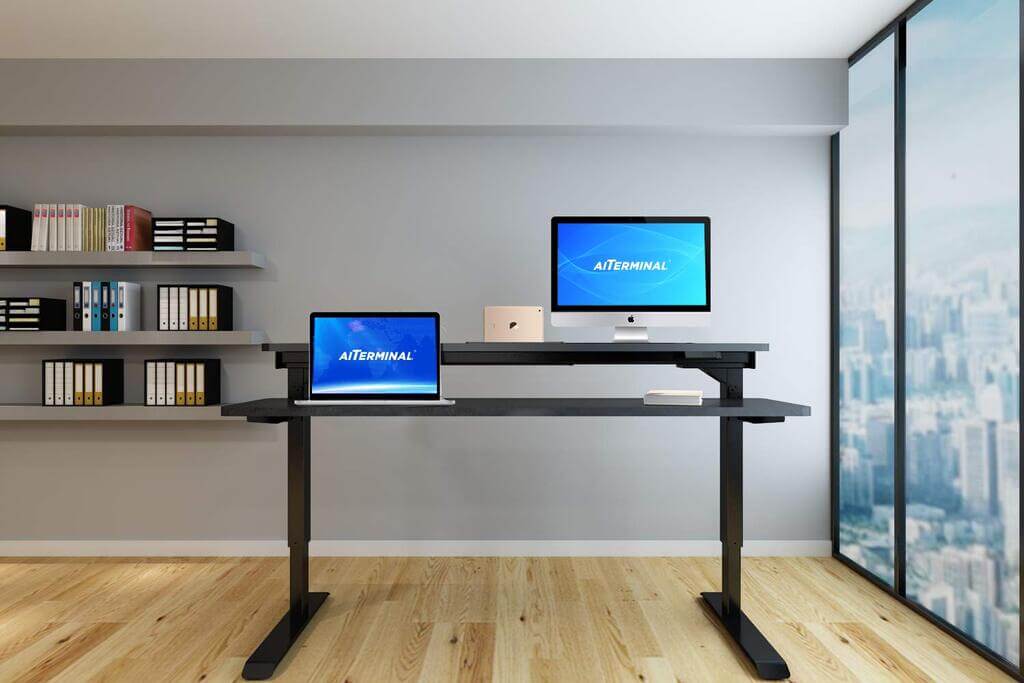 Source: amazon.com
This AITERMINAL standing desk boasts of a very spacious working space. It offers a 50-inch desktop. And if you're a busy bee who always needs a lot of space on their desk, you would be happy with this standing desk. It also has a two-tier design. So that's additional space for more office paraphernalia or office knick-knacks
It can easily accommodate three 27 inch monitors with no problem. And of course, with the heavier load comes a bigger responsibility, And this standing desk is equipped with an overload protection system. 
Because with a really wide desk, it's easy to get carried away. Before you know it, you might be going beyond the max carrying capacity. And this feature prevents that. And with a weight capacity of 220 lbs, you'd feel confident that your 3 monitors will stay on the desk while the desk is in motion.
It also has an added safety feature. And with a standing desk carrying a heavier load, this feature is a must. And the steel frame legs with powder finish are quite durable and heavy-duty. 
Indeed, the desk is wide. And when coupled with a dual function two-tier design, it gives you a lot of working space to your heart's content. 
Pros
One-touch functionality

Has several safety features

Really wide working desk

Heavy-duty

Slow start and stop
Cons
Installation requires screwing the desktop to the frame
3. FEZIBO Bamboo 60 x 24 Standing Desk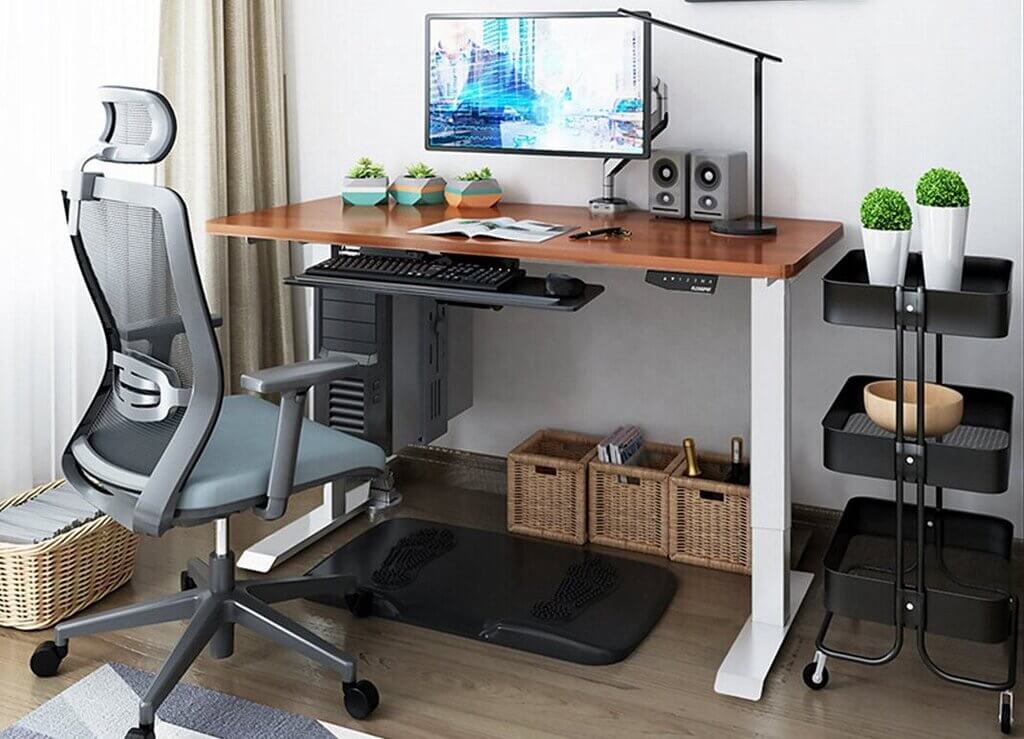 Source: standingdesktopper.com
If you're looking for elegance and functionality, the Fezibo bamboo 60 x 24 inches sit-stand desk is your best bet. This standing desk looks rather elegant with bamboo particleboard. And when coupled with durable steel legs, this workstation can definitely hold three 22-24 inch monitors with no problem.
You'd Instantly feel and see that the steel legs mean serious business. They are rather thick and look very strong. But at the same time, the entire standing desk looks aesthetically pleasing too.
And you'd also have a lot of space left for some office paraphernalia. The weight capacity of 176 lbs is fitting for an elaborate workstation. And albeit the hefty load, this standing desk is sturdy, durable, and transitions smoothly. It's also equipped with anti-collision technology. So in case, it bumps into something, the desk will halt. So you don't have to worry about your desk getting scratches if your chair suddenly gets in the way. This will prevent damage to the desk itself and will also prevent injuries.
The weight adjustment is also suitable enough for tall people. And even at the highest desk height, I don't feel any shaking or wobbling. This standing desk feels like it's built like a rock.
Pros
Has 2 sets of desk hooks

Heavy-duty

Programmable height settings

Smooth and quiet transition

Anti-collision feature
Cons
4. Vari Electric 60 Inch Standing Desk ($995)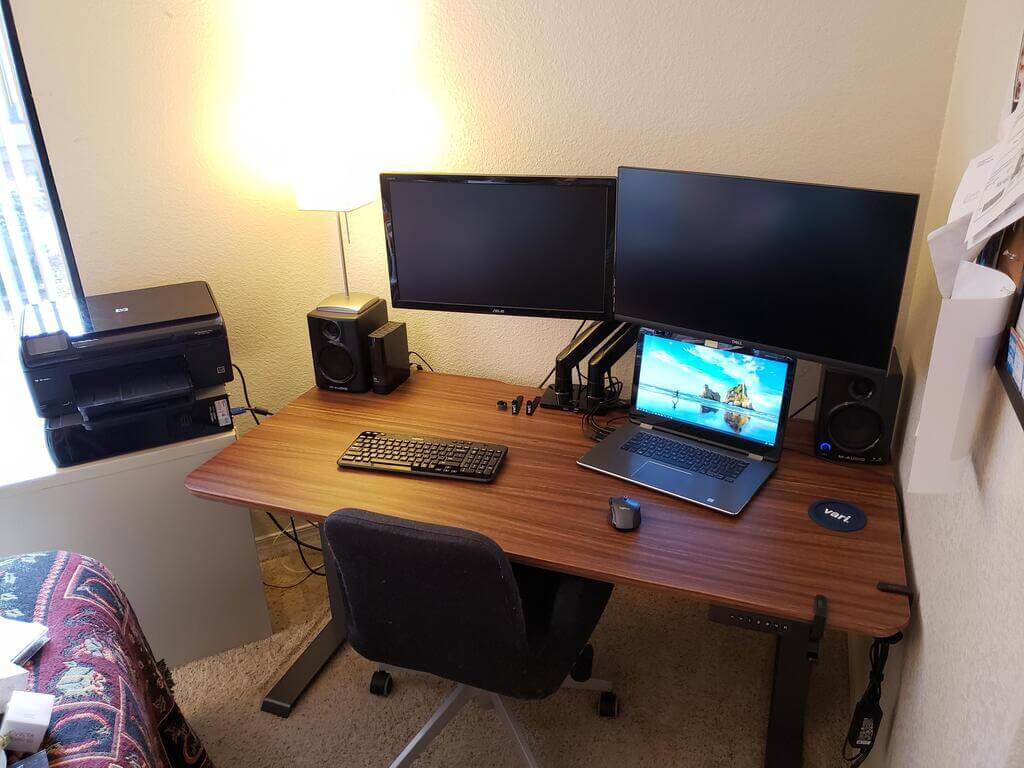 Source: redd.it
Among the standing desks on my list, the Vari Pro 60 inch sit-stand desk has a more massive weight capacity at 200 lbs. It's heavy-duty, stable, and has a wider working area for three 22-24 inch monitors.
This standing desk is pretty straightforward and easy to put up. But you have to flex some muscles because it can have a bit of weight. And this heavyweight is tantamount to sturdy and stable construction. So you can be happy about it. Otherwise, you can always ask someone to help you assemble it.
For the shipping, it came into two boxes. The top and the legs are packaged separately. And sometimes, they won't arrive on the same day. So don't panic if you have received a box with the legs missing.
It also looks high-end and feels high-end. The price isn't premium, but it isn't cheap either. I'm quite happy with how this standing desk performed. And I can't also complain about the way it looks. This sit-stand desk felt like it's built to last.
Pros
Easy to use controls

Easy to install

Sturdy and solid construction

Wide working space

Has a large cable management tray
Cons
Problems with QA, some units came with missing parts
5. Herman Miller Renew 60 Inch Desk ($1695)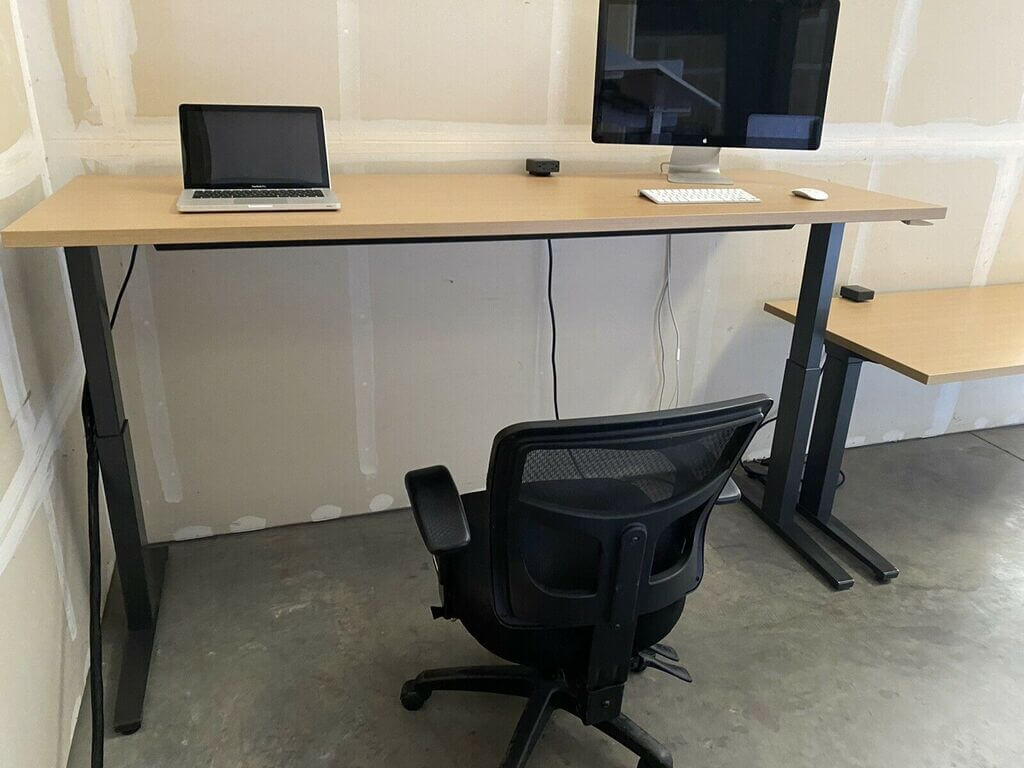 Source: ebayimg.com
A premium choice that looks really elegant is the Herman Miller Renew. The 60 inch Renew standing desk can easily accommodate 3 monitors that measure 24-27 inches.
Needless to say, this standing desk is king when it comes to sturdiness and construction. The premium price is tantamount to high-quality materials. It's a sit-stand desk that has gone smarter. So it's perfect for those who want a more innovative and updated motor. 
And when you have three motors on your setup, it's easy for all the cables and wires to look messy and tangled up. You won; have this problem with the Renew. The Herman Miller Renew has one of the most efficient cable management systems that I have come across at a standing desk.
This desk has very few flaws. And one of which is the installation. You won't be able to set it up yourself. Attempting to do so might result in a crooked or desk. It's advisable to call a professional to assemble the desk instead.
Pros
Premium build and high-quality materials

Luxurious and innovative design

A smarter desk

Impressive cable management system
Cons
Needs a professional for the installation
Also Read: 6 Excellent Tips For Standing In Front Of Stand-Desks
6. Stand up desk Tranzendesk 55 inches ($299.99)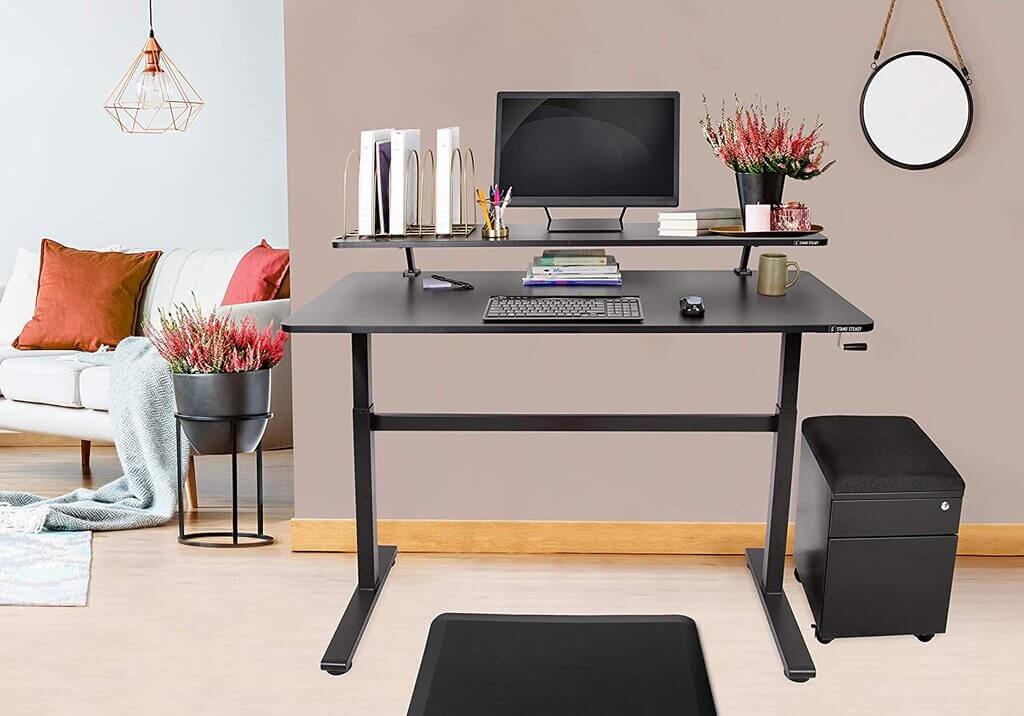 Source: amazon.com
This wide standing desk is extra high and extra roomy for three monitors. It has a two-tier design that'll give you more room for other office paraphernalia. You may even place a laptop in the first tier. 
The second tier is clamped on. I find it brilliant since you have options on where to place your desk. If you have enough space, you can do without the second tier. While if you have tons of stuff, you can buy yourself some space by clamping on the second tier. 
This standing desk is extra tall and extra wide too. Those who stand 6'4 will still be on this desk quite comfortably. It almost has all that I'm looking for in a heavy-duty desk for my three monitors. But some might not be able to see that since it is manually adjusted. Though it's a hand-cracked desk, it's pretty easy to manipulate.
So you might need to flex some arm muscles. Albeit the manual adjustment, this desk will serve you well. The steel legs are also durable and heavy-duty. And they're also less wobbling because of the wider feet. It enhances the stability of the desk. I even find it more stable than other fully electric standing desks in the market.
Pros
Two-tier design

Steady and stable

Affordable

Can accommodate tall users
Cons
The hand crank is not for everyone
More than just a wider desktop, your set up of three monitors also needs a standing desk that has a solid and robust construction. Get the complete standing desk buying guide at Standingdesktopper.com.