How to Enhance a DIY Standing Desk That Will Fit You
Many jobs now require long sitting at a desk. It is, in turn, connected with the manifestation of many sitting-related health issues. Thus, such conditions as:
Obesity

Pains in the back and neck

Headache and other issues were manifesting
These are the main reasons why diy standing desks have become popular. Also, employers have realized that a happy worker is a more productive worker. And indeed, with the introduction of height-adjustable desks, the productivity level in the offices used to boot.
If you work in an office, you need to adjust to the environment there. But in your accommodation, you can get a desk that you like or make one. Whatever you opt for, you might also want to enhance your standing desk solution. You would need several actuator types (here, all the types are available), some imagination, and skills. And our ideas will help you to turn your usual adjustable desk into a perfect place to work and create. Also, you will find some tips on how to make the most use of your desk.
What About Installing an Adjustable Monitor Stand?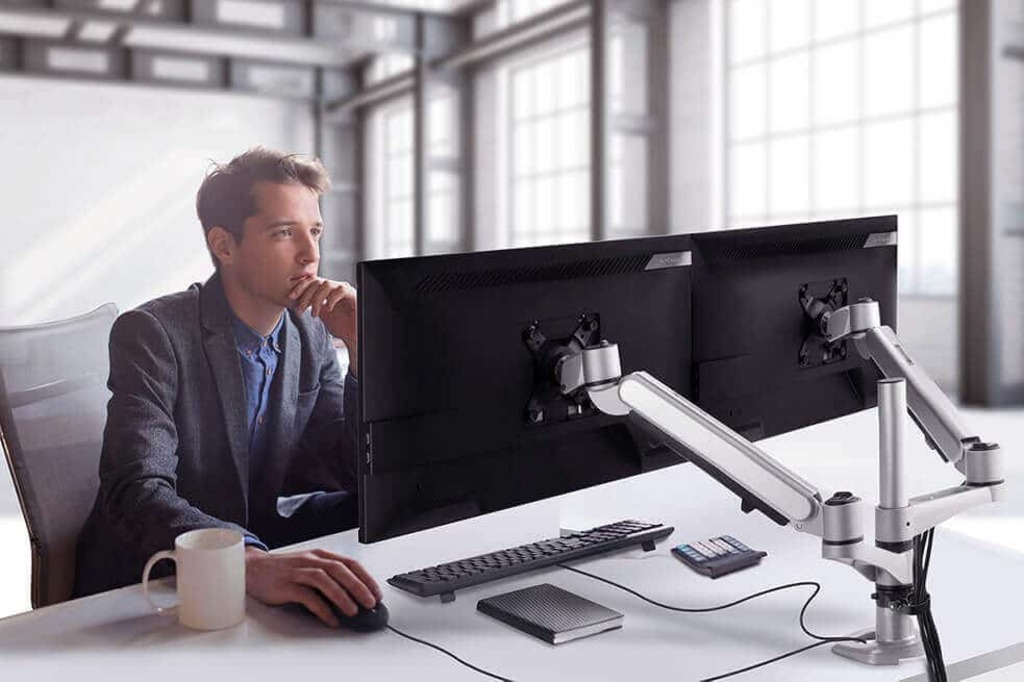 Source: viewsonic.com
Sometimes, we need not only adjust the height of the table. Sometimes, we need to move around to get some items at hand. Then, we might struggle about seeing the monitor properly.
If you install an adjustable stand for your monitor, you will be able to move it to any position. The most advanced monitor stands to allow you to lower or lift your monitor, rotate it, adjust its angle. All in all, you will be able to adjust it for top comfort. You can fix the stand to the table or purchase a mobile stand.
A Headphones Hanger for Better Sound Quality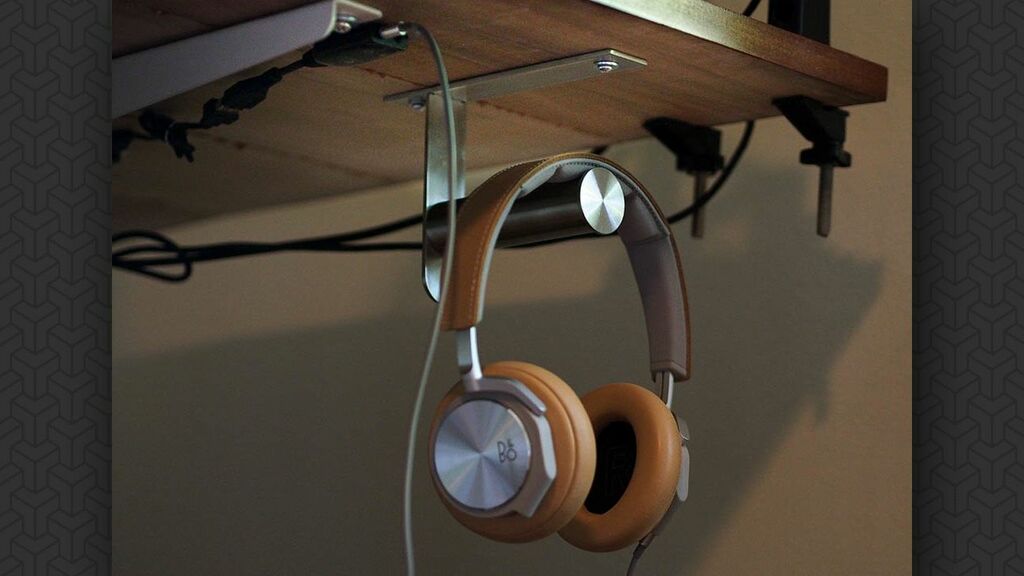 Source: pinimg.com
If you love listening to music while working, if you need to listen to recordings or live talks, headphones are a must. But every headphone user knows how tricky this item can be. It gets lost, broken, the cables twist, and similar. That's why it is a good idea to get a nice headphone hanger. You might make it adjustable or even smart, but even a usual one will already boost the safety level of your device and your comfort level.
What about a Chair?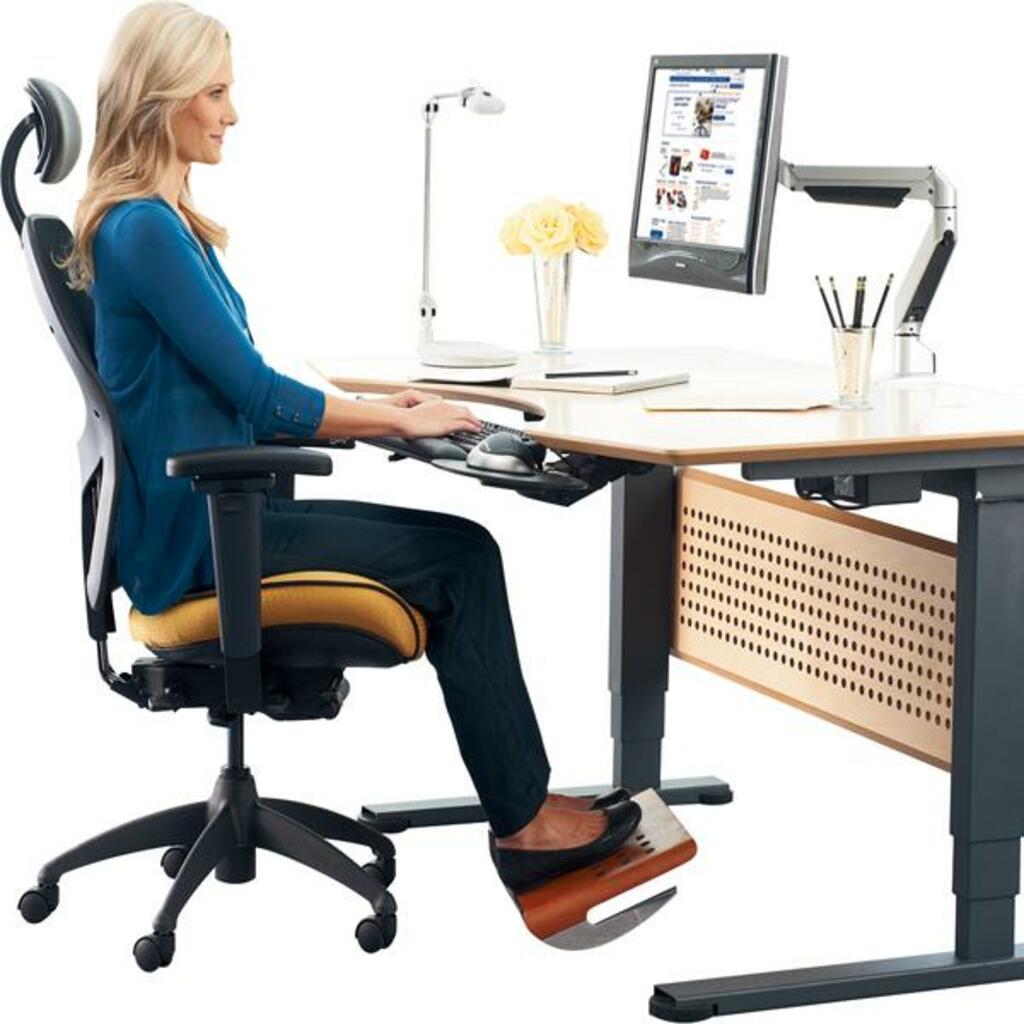 Source: shopify.com
There is no much use of all the above-mentioned enhancements if you use an old chair. It is recommended to get something ergonomic, even if the solution might be basic. A height-adjustable chair with armrests, an adjustable head-rest, comfortable and soft, can not only boost your experience but make you enjoy the work.
Some More Items?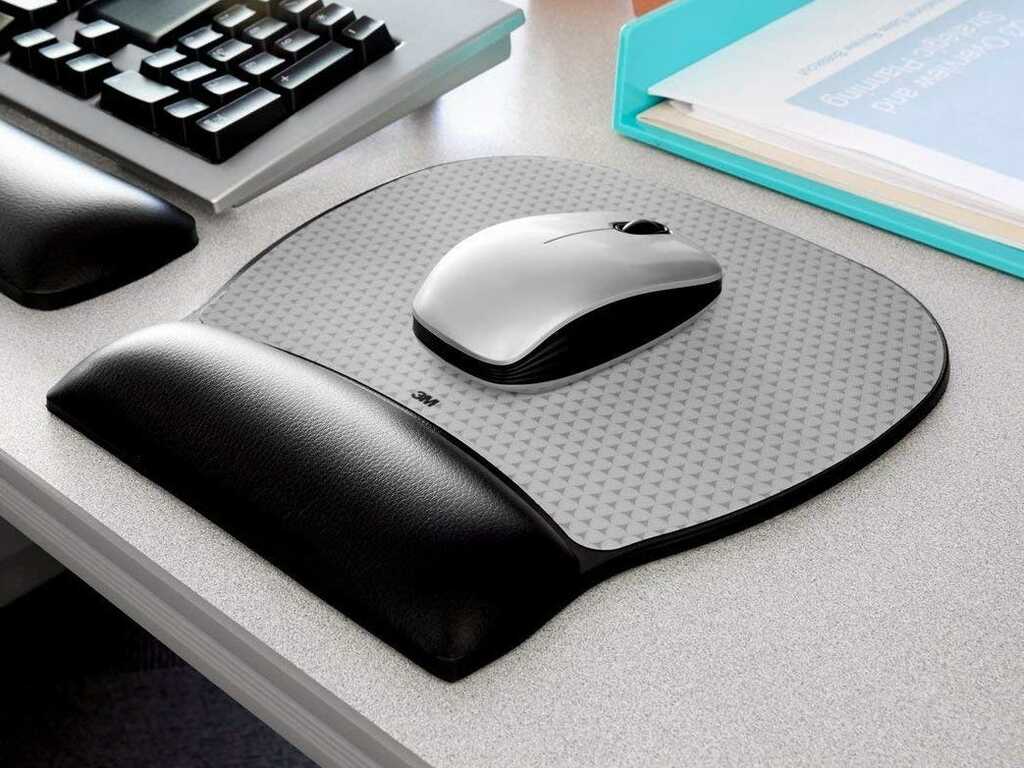 Source: insider.com
If you want to feel most convenient while working, consider replacing your usual keyboard, mouse, and mouse pad with ergonomic items. With them, your fingers and hands will get less tired. They are told to help prevent tunnel syndrome. Moreover, they all look advanced and nice.
Some Tips to Make Most Use from Your Adjustable Desk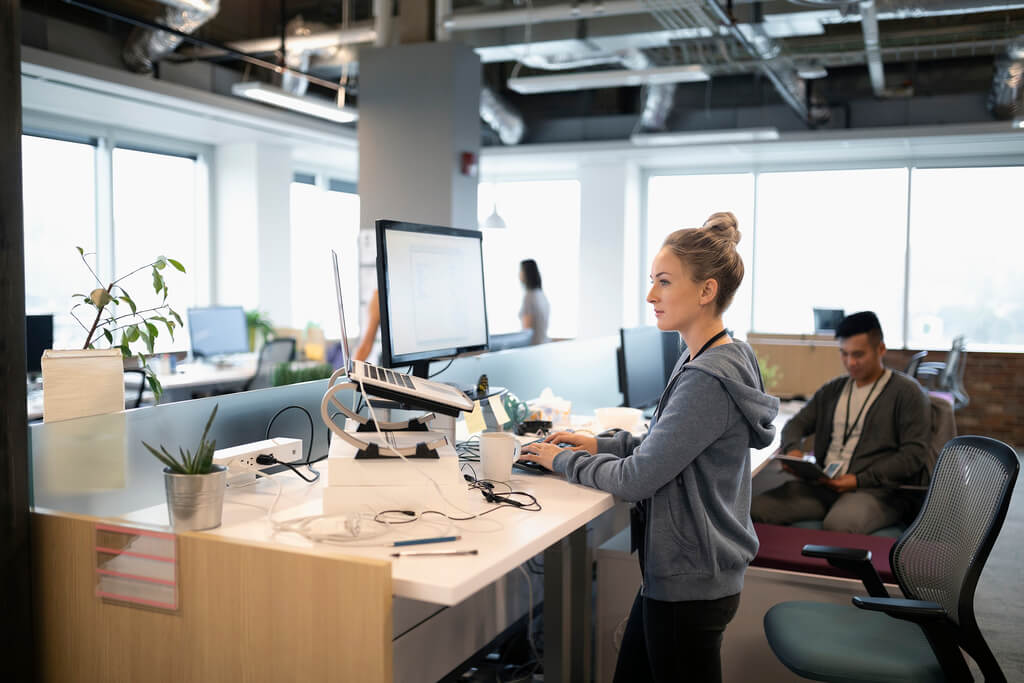 Source: s-nbcnews.com
Even if you have all the above-mentioned items, you need to use them correctly. Otherwise, all the positive effects will never be observed, and in some cases, the negative effects might be even more long-lasting and severe than if you were using a normal traditional desk.
Adjust the Height Correctly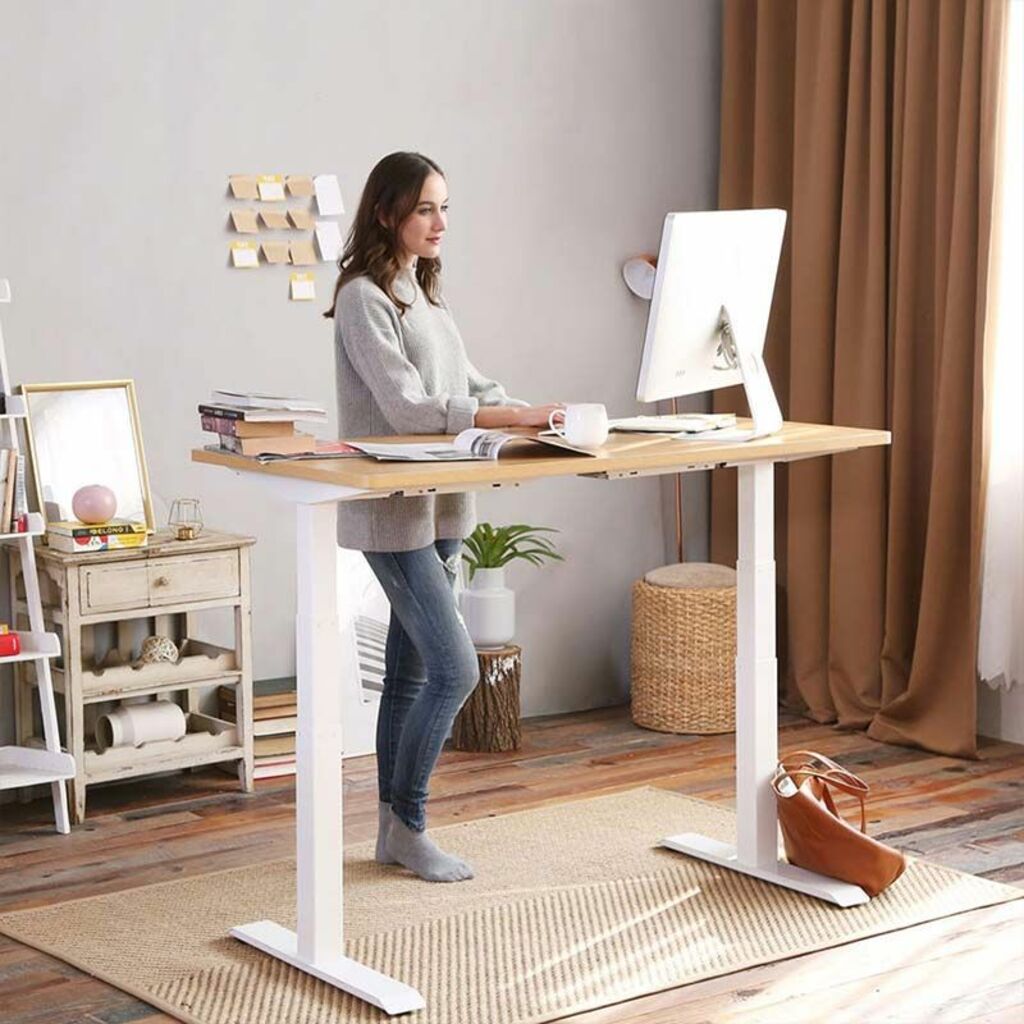 Source: flexispot.my
If the company uses traditional desks, they can be of the same height. However, the situation is different with a standing desk. The height of your item shall be adjusted properly. We all are different when standing, hence, the height of your desk cannot be the same as, say, the desk of your neighbor. 
The perfect height of the desktop is at the level of your elbows. Only like this, you can be sure that you will not do any harm to your back, and that you will feel convenient.
Don't Forget about the Footrest Bar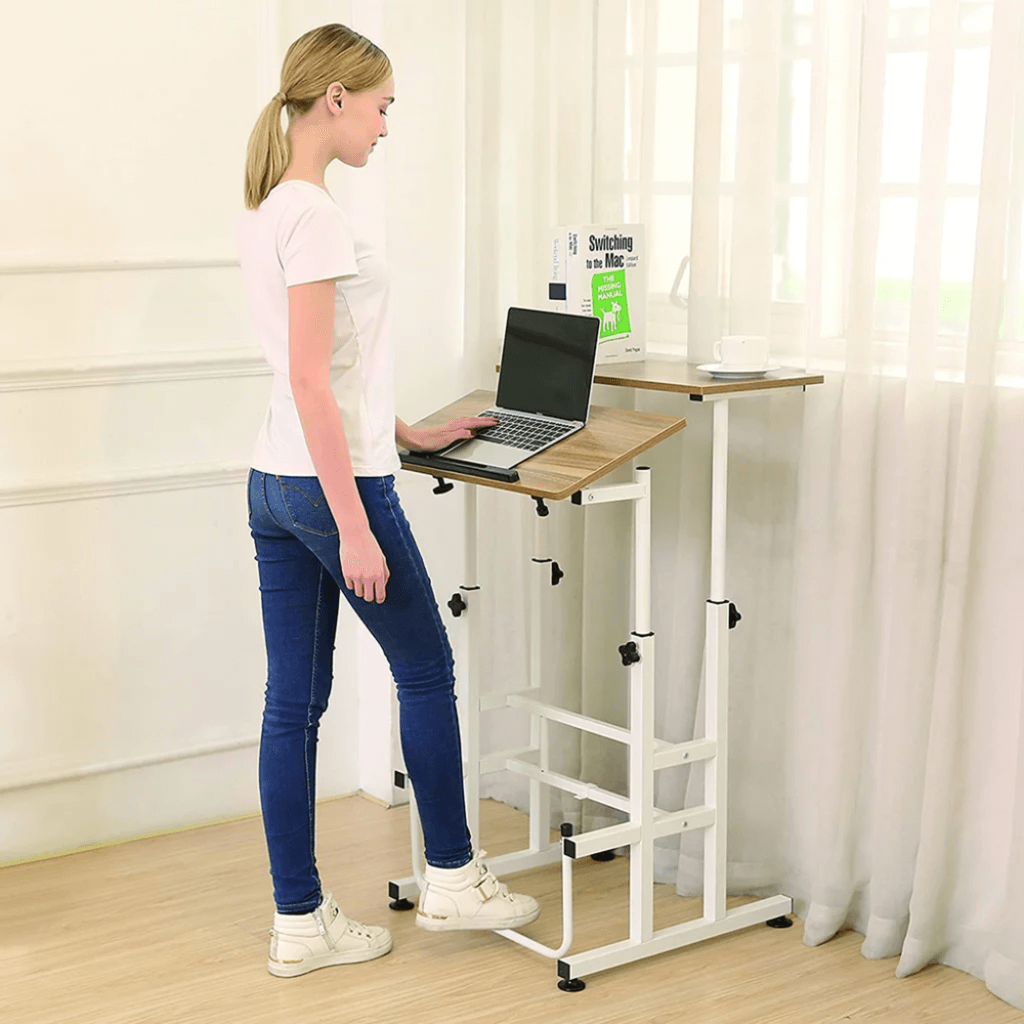 Source: pinimg.com
The footrest bar is there for a reason. And no, it is not to let you rest your toes when sitting. It is much easier to work if you can from time to time put one of your feet on the bar. Interchange your feet. This position change is the basic one but it allows your feet to have rest. Thus, you also feel much better.
Fidget, Walk around, Move
Some employers don't like it but otherwise, there is not much use even from the best office equipment. Move from time to time, fidget, change your position. It will prevent your knees from locking, muscles from getting stiff, you from getting overtired. Use every opportunity to do some simple exercises while reading a report, checking emails, and similar.
If you have chosen a correct item, equipped it properly, and using it as required, you can count on the most positive results. While it is not always possible in an office, you for sure can make the office of your dreams at home.