There is no better way to add a natural factor and element to our home than plants! One of the emerging trends of 2023 interior design is to bring nature from the outside to the inside of the house with DIY plant stand. Tall or small, big or tiny, indoor plants always offer many benefits, and you can place them not only in your homes but also in your offices and other spaces.
Whether it is summer, spring, or winter, you can always include these cute little fellas to decorate your space. From your living room, ding area to bedrooms and kitchen, you can literally put plants with DIY plant stands anywhere in your home. Another important thing is the way you display them. Plants placed in plant stands look way more modern and sophisticated. They have an important impact on the interiors and the rest of the decors of your place. That's why you can easily create the perfect ambiance by adding some greenery.
Today in this blog, we've gathered some interesting and creative DIY plant stand ideas for you. You can surely buy planters and stands from online and stores, but there is something unique and personal about the DIY kind. The store-bought will simplify things, but they will never be able to add a personal touch and character to your space. Plus, they're expensive!
So, if you want to create the perfect atmosphere according to your interiors and decors on a decent budget, try these DIY plant stands. Moreover, the following indoor plant stand ideas are pretty simple to create. You can even include your kids in this activity. These easy-to-make cheap plant stands will be a fun project for them.
We've included all types of stands in different designs and styles, from stylish modern stands to easy wooden ones. You can pick the one that you feel is right for your space and decorate it as you like. These inexpensive or almost free plant stand ideas will provide a high-end look. So, give your interiors a finished look with an indoor plant stand DIY way!
So are you ready to give a makeover to your space with these cute indoor plant stand ideas? Let's start.
25+ Creative Indoor Plant Stand Ideas For Your Home & Office
Give your home, office, or any space a stylish look with these amazing plant stand ideas. Below is the list of some of the best indoor plant stand ideas. So, whether you want to create a modern, contemporary or minimal look, you can find the perfect DIY plant stand idea in the below list.
All of the ideas are beginner woodworking projects that you can make in just an hour or two. These DIY plant stand plans here include building directions, color photos, and styling ideas. All you need to do is to gather your materials and supplies, and you're all set to start the process. Let's begin.
Mid-Century Modern Plant Stand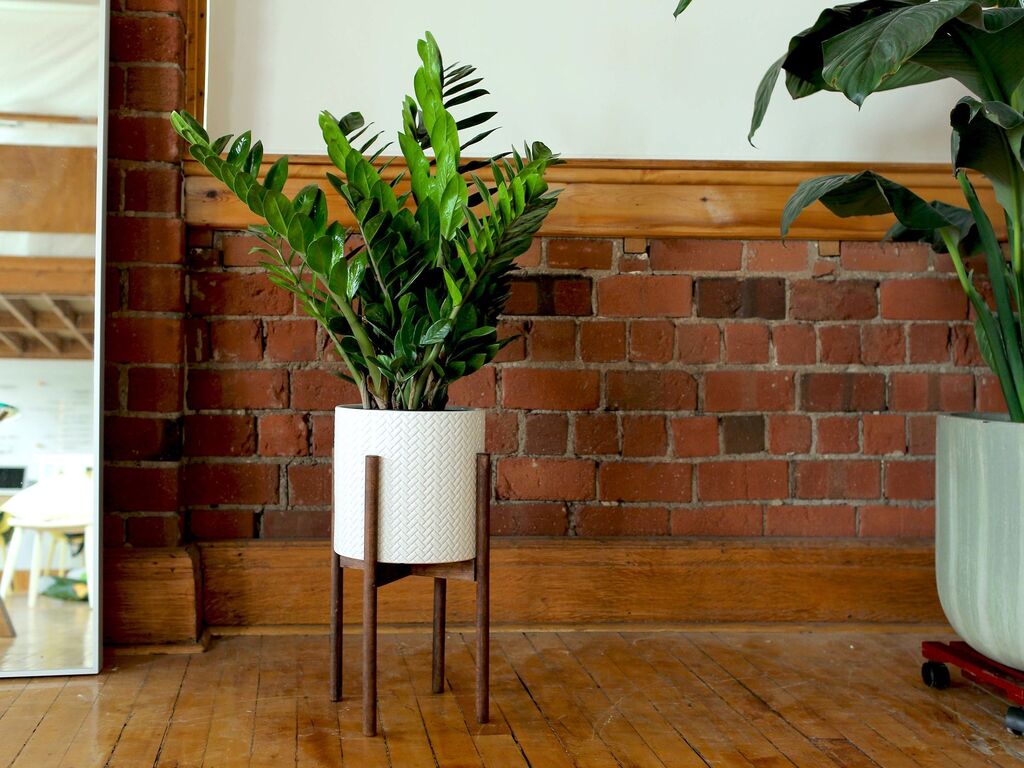 Mid-century modern style is popular these days. If you're looking for some decor, this mid-century modern DIY plant stand will be perfect for you. To make this, all you need is some wooden planks and some white paint. This DIY mid-century plant stand has a large base, so it can easily hold big pots. 
Minimal DIY Marble Plant Stand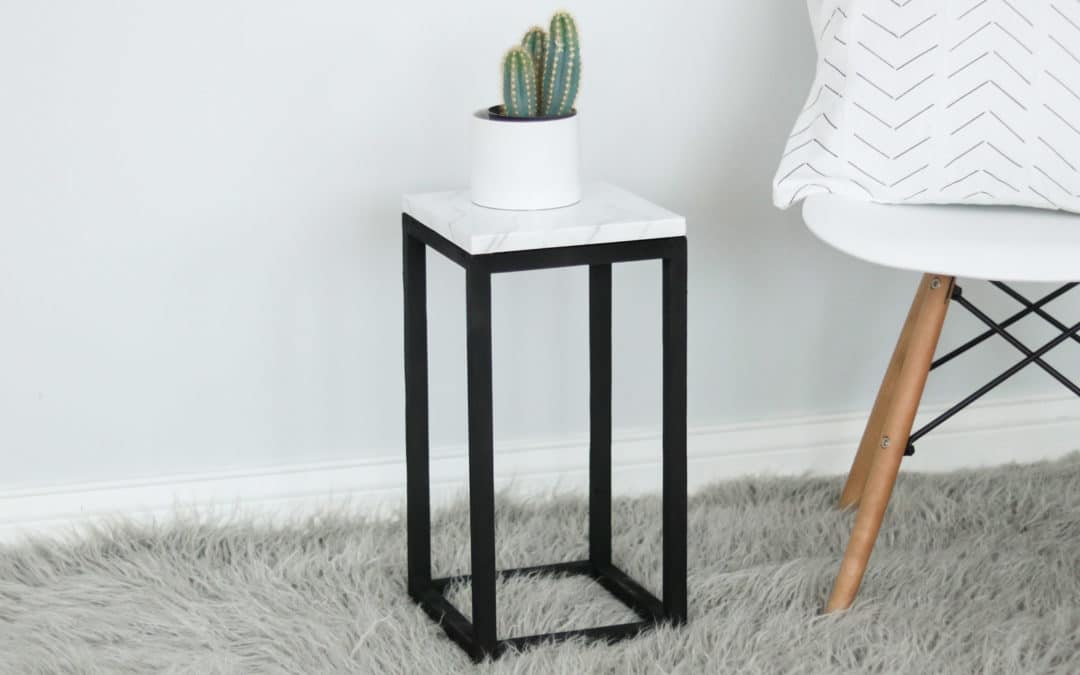 This marble stand is perfect to create a modern and minimal ambiance. You'll need some wooden dowels, a wood square, and a faux marble for the top part. First, make the square shape from the wooden dowels and paint them in black. After this, stick the faux marble stone on top of that. And your modern marble plant stand is ready!
DIY Ladder Plant Stand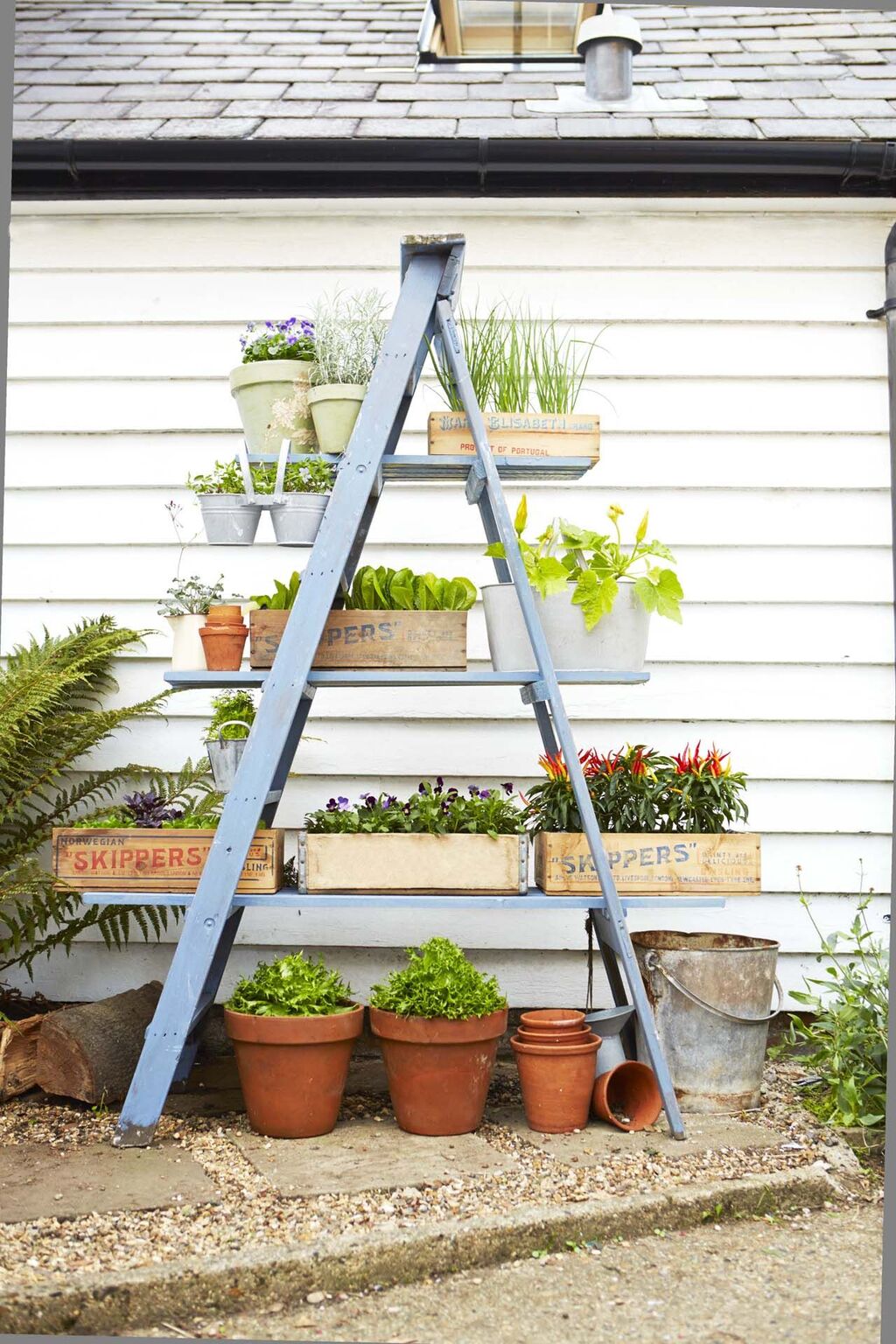 Do you love to collect many plants? Here's the perfect stand for you: DIY plant stand ladder style! This will offer plenty of space where you can put all your small and big plants. To make this, all you need is a few pine boards and some basic tools.
Floating Plant Shelf
Give an extra treatment to your boring windows with this cute floating plant shelf. You'll need only two things: a wooden round and yarn or macrame. After this, hang the stand from your ceiling or in front of a sunny window. This DIY project is easy to make and looks really pretty!
DIY Tall Plant Stand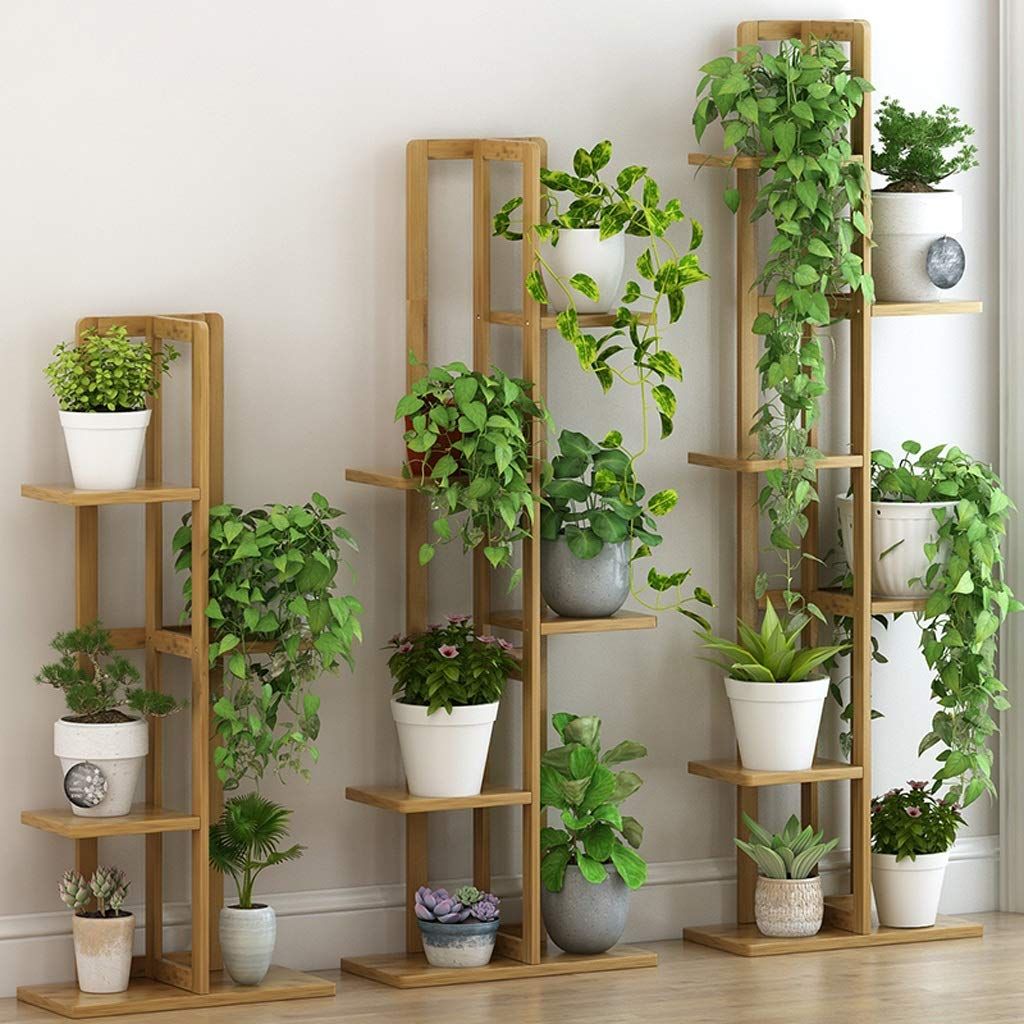 Create a unique ambiance by placing plants at various heights. For that, this tall plant holder is perfect. You can use either pine wood or any type of wood to create this simple and minimal stand for your plants. This will give Scandinavian vibes to your space. 
A Colorful Book Plant Stand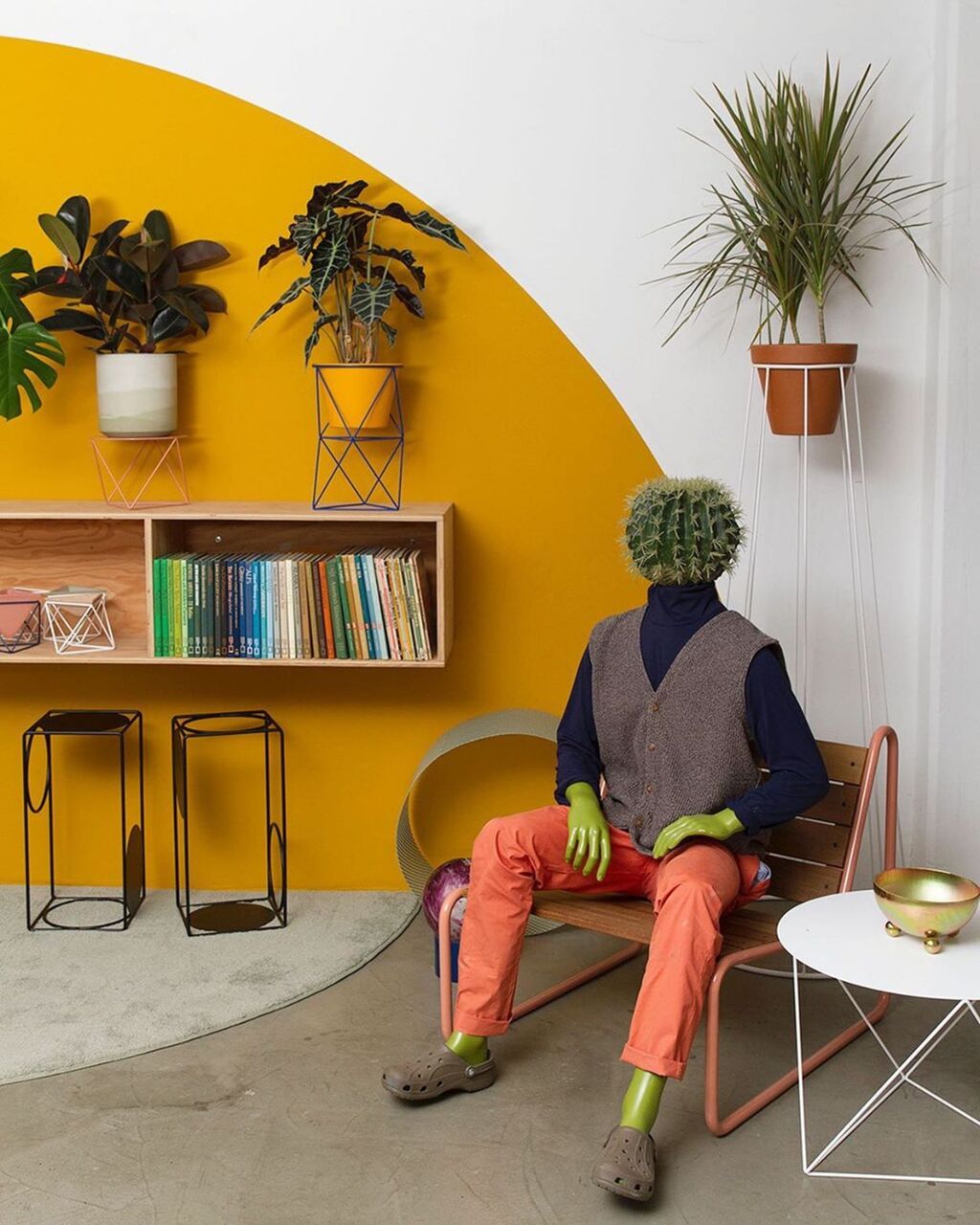 You may have already seen these kinds of book plant stands on Instagram and other social media platforms. To add a pop of color, here books are painted in bright and bold colors. Later they all are glued together to make a sturdy stand. This is such a great idea to make a plant stand from old books.
DIY Piano Stool Stand
Another way to repurpose your old stuff is this idea. If you have an old piano stool, convert it into a stunning plant stand. All you need to do is to put this stool at a good spot and then place a plant over it. Of course, you can give a makeover like painting and decorating if you want.
Copper Plant Stands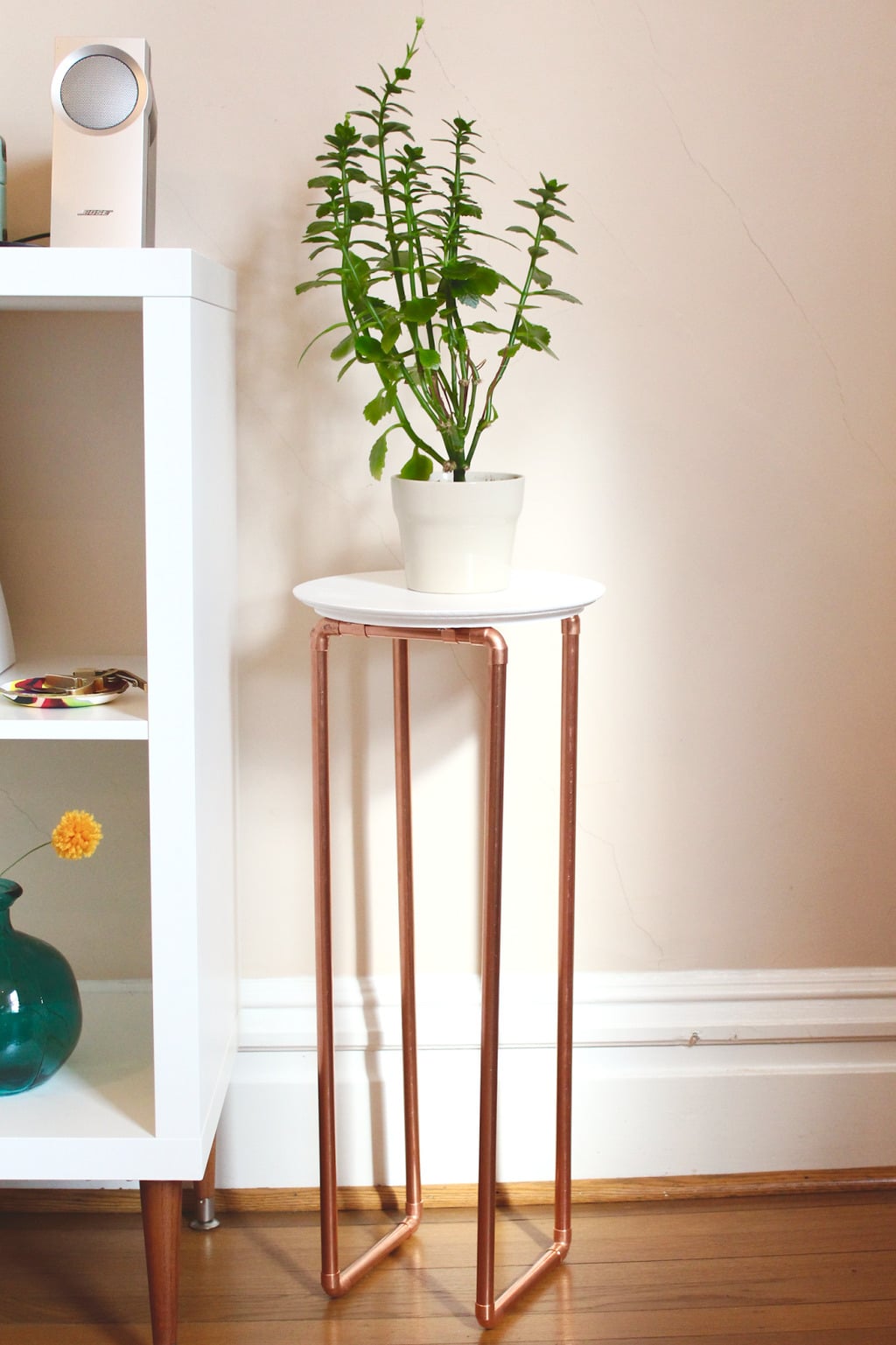 To know more about the latest trends and styles, read our previous blogs on Interior Design Trends and Living Room Trends.
These DIY copper plant stands may look hard to make, but they're super easy to make. First, buy some wire plant stands or make some and later paint them with copper spray paint. Lastly, use some inexpensive cotton rope to cover the top part, and voila! Your luxurious-looking copper stand is ready to be decorated. This stand will perfectly go with both Boho and modern interior designs.
Tiny Desk Plant Stand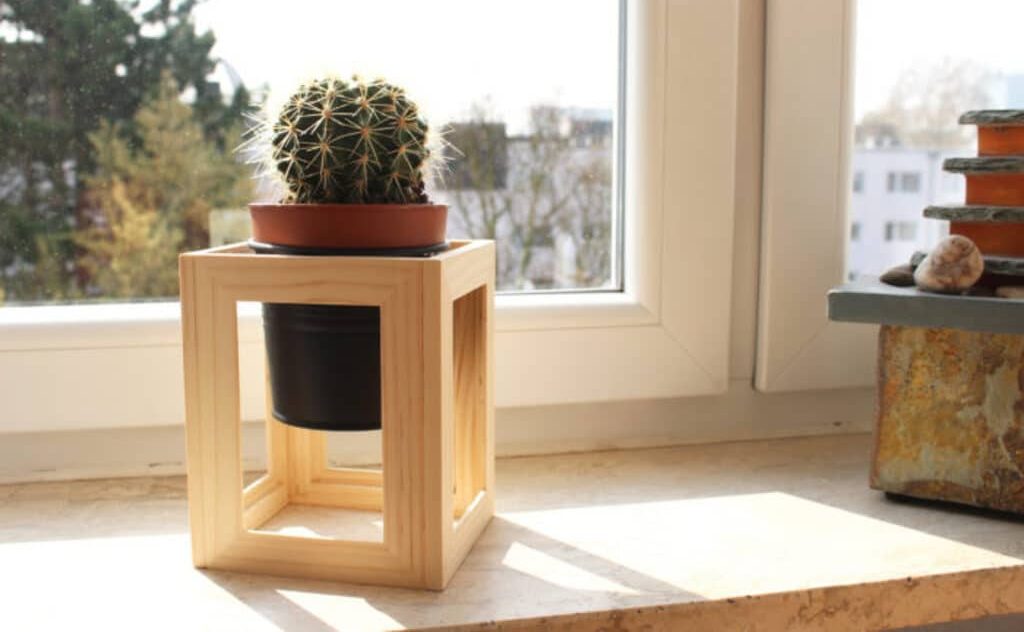 Look how cute this tiny wooden stand is. You can literally make this in a few minutes. All the supplies can easily be available in Target or any local store. If you want, you can also paint them various colors and decorate them on your working desk.
DIY Wire Plant Stand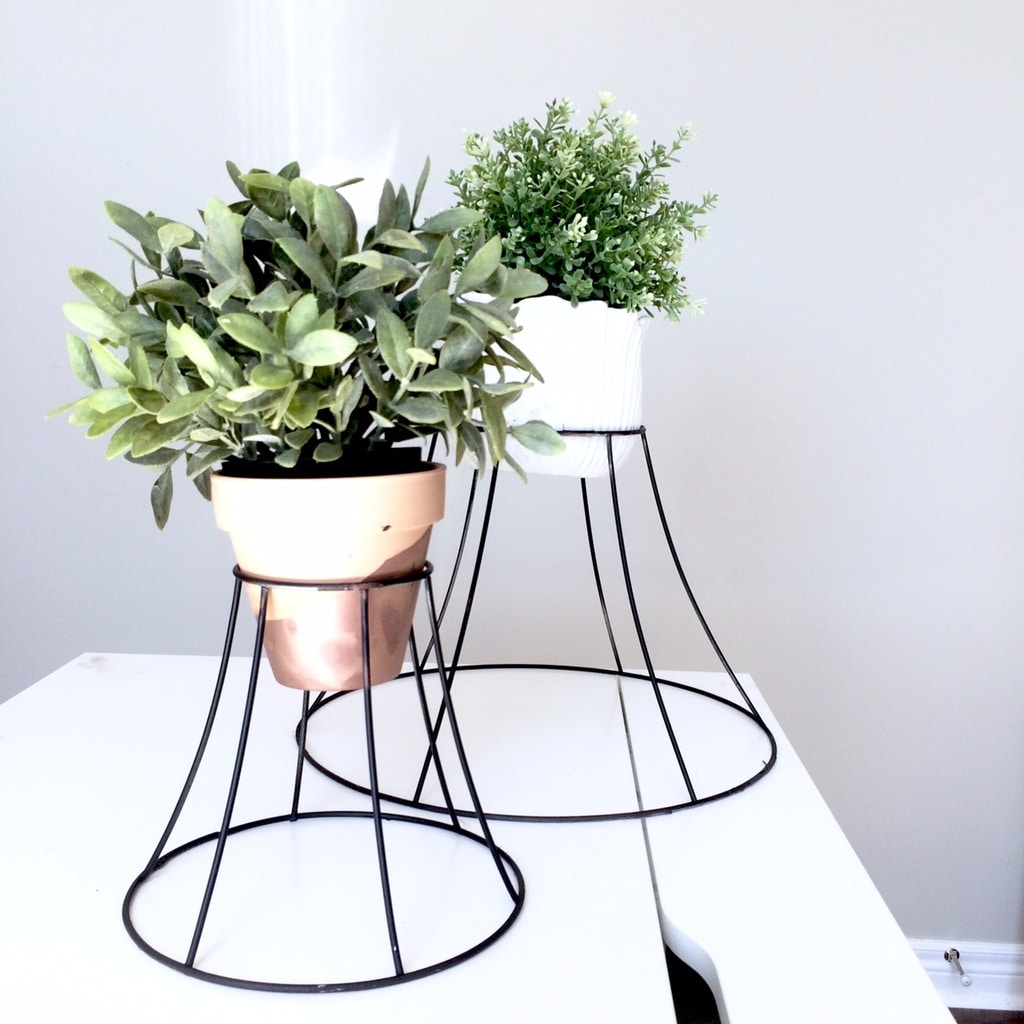 To make these kinds of plant stands, you'll require an old lampshade. Find the one that has wires connecting the top and bottom. That's it! If you want to change the design, you can do that with the help of wire cutters. To make the planter stand out in your interiors, paint them in solid white, matte black, or gold finishes.
Drawer Plant Stand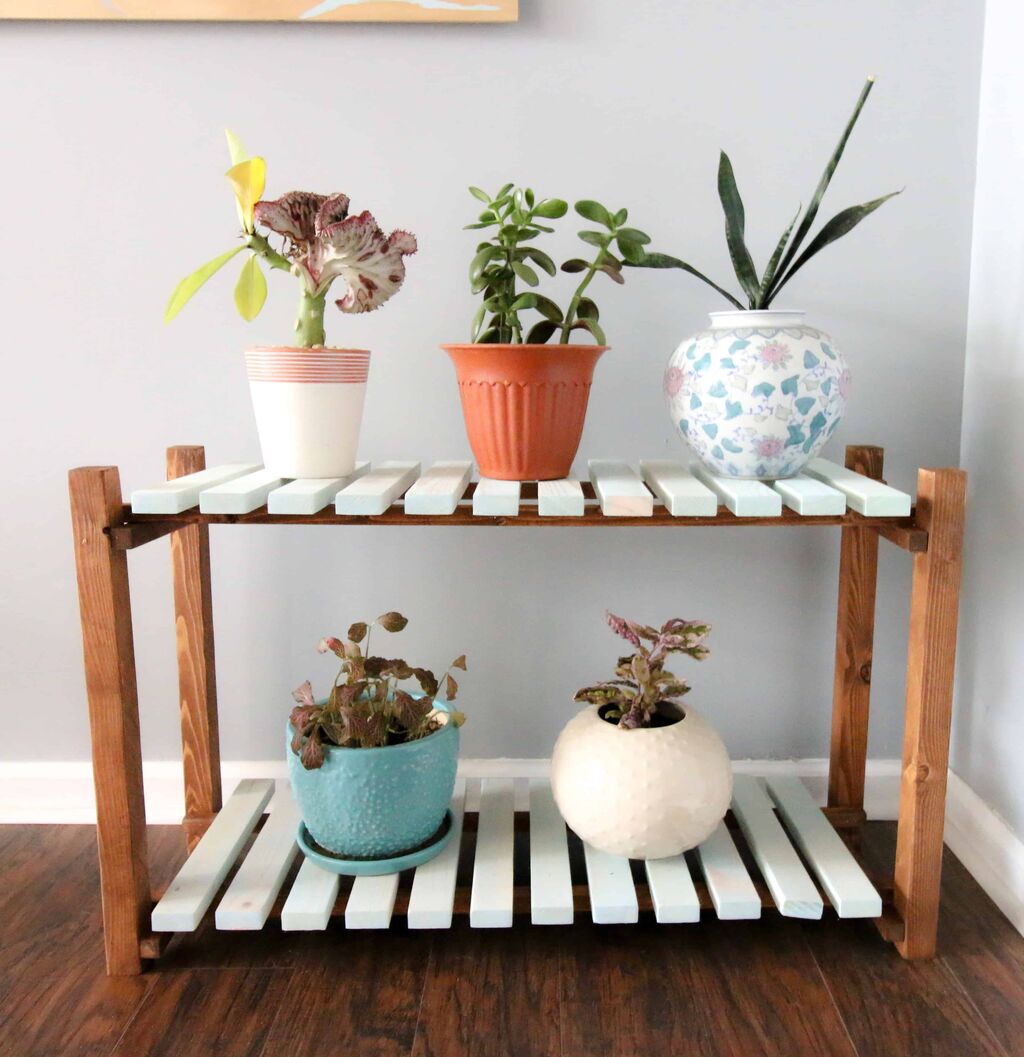 Do you have an old working table? If yes, you can make use of one of its parts, Drawers! Here's a cool idea for you, turn an ordinary-looking drawer into a unique plant stand. This is the perfect way to use the outdated and old furniture that is no longer in use. First, get the drawer out from the table or desk, then clean with sandpaper and add a fresh coat of paint and your stand is ready!
DIY Multi-level Plant Stand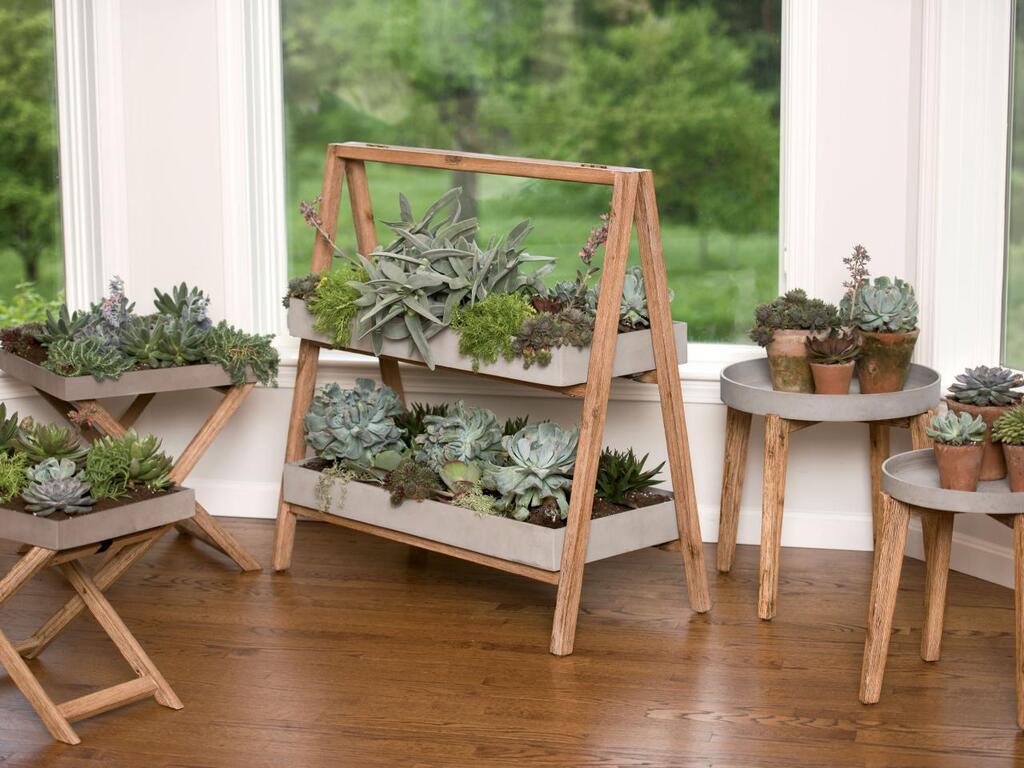 This plant stand idea is perfect for those who live in small spaces or have many plants or both! This DIY multi-level plant stand can hold two small to medium potted plants. It is pretty easy to build and looks modern with decors.
This two-tiered DIY plant stand is tall and has a small platform at the top and a shelf at the lower part. You can display two beautiful planters on it. You can experiment with the design and create unique indoor plant stands for multiple plants.
Low Wooden Plant Stand Bench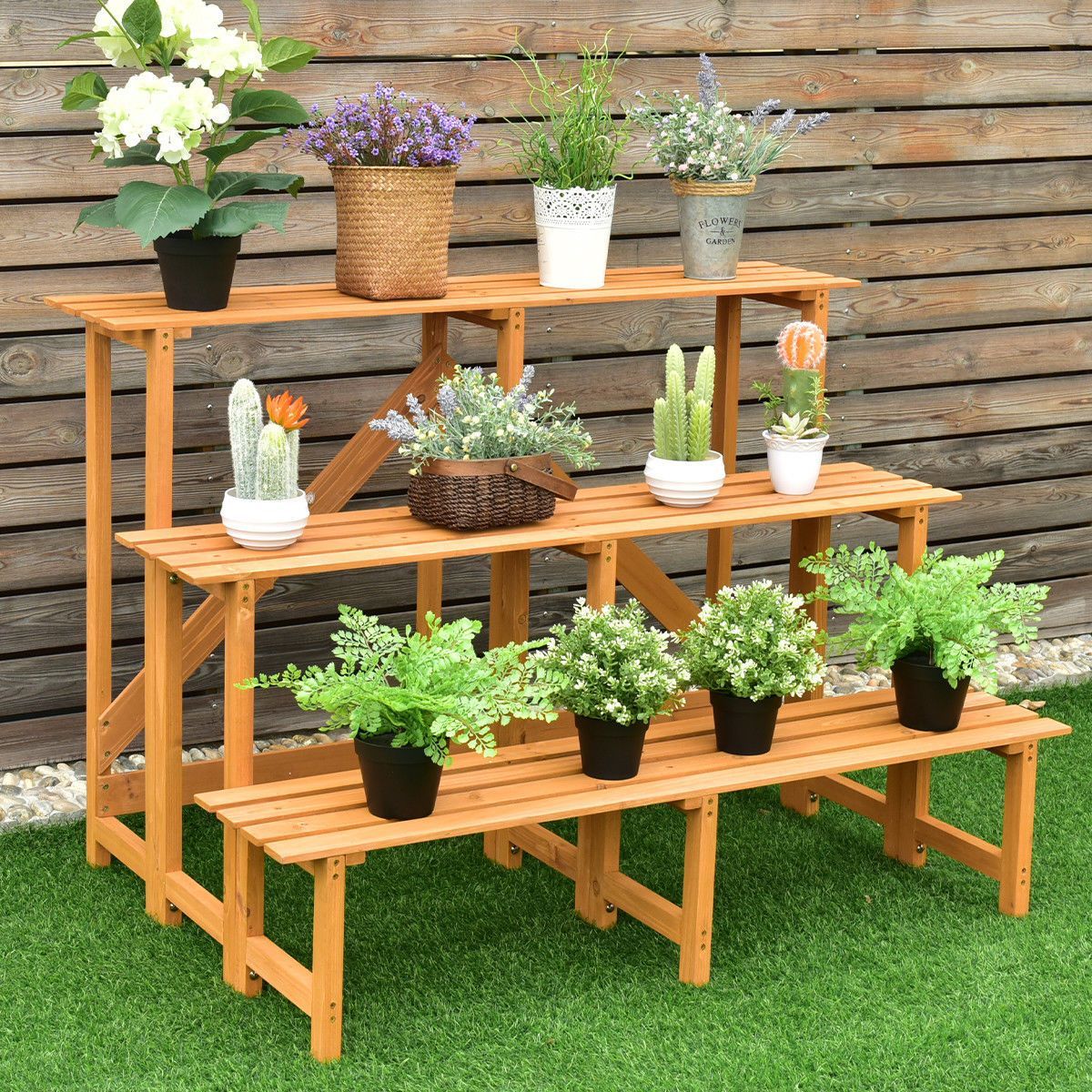 Another great stand idea for your tiny plants is this cute DIY plant stand bench. This low-riding, wooden indoor plant stand can hold all of your plants in one place. This makes the watering process easy as they all are placed on this DIY wood plant stand. You can use this DIY plant stand indoor and outdoor spaces.
Accordeon Plant Stand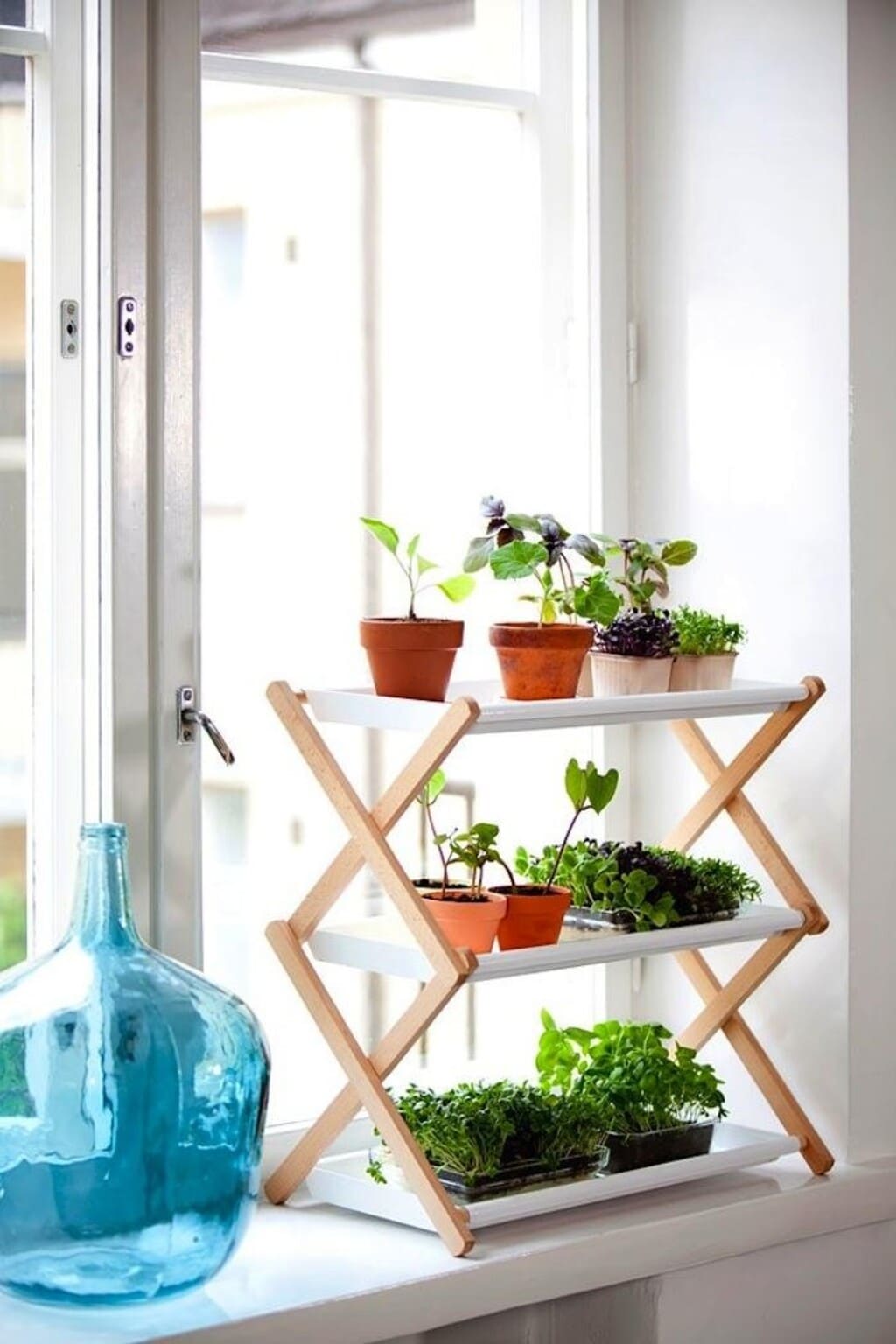 Look at this adorable tiny plant stand. This step ladder-style planter will be perfect for your windowsills. You can add many small planters to this stand and create a beautiful natural look.
DIY Frame Plant Stand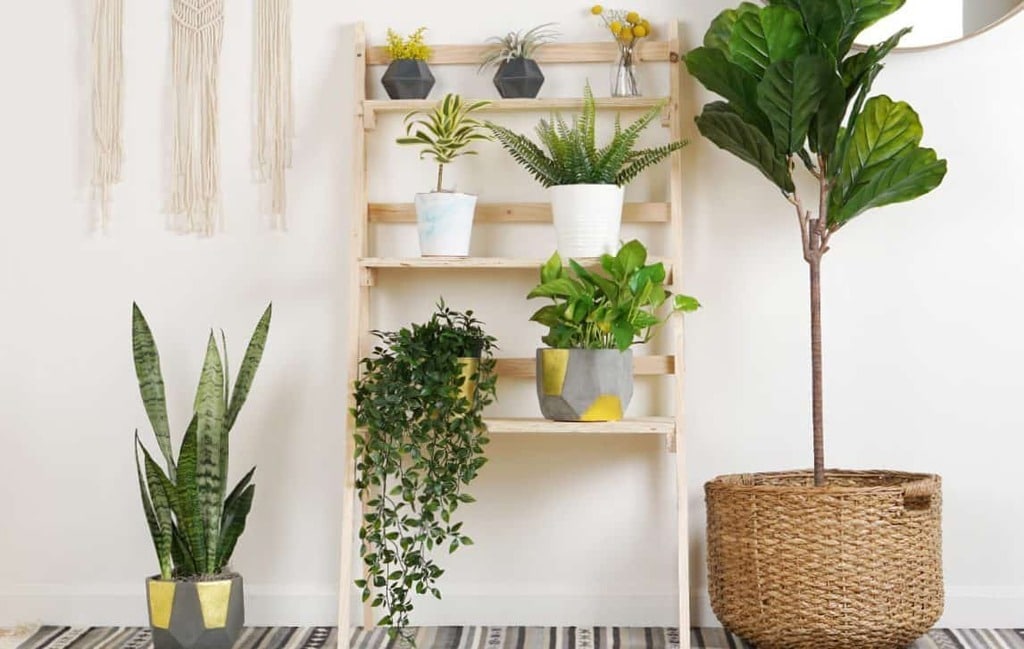 Simple but elegant looking, these modern plant stands are something unique. They'll surely add a certain amount of zest to your classic-looking indoor plants. To make this, you will need some wooden sticks and some nails. All you need to do is to make a square or any shape from the sticks and secure them with nails. These mid-century planter stands will make the ambiance of the space so much more stylish.
DIY Hanging Plant Stand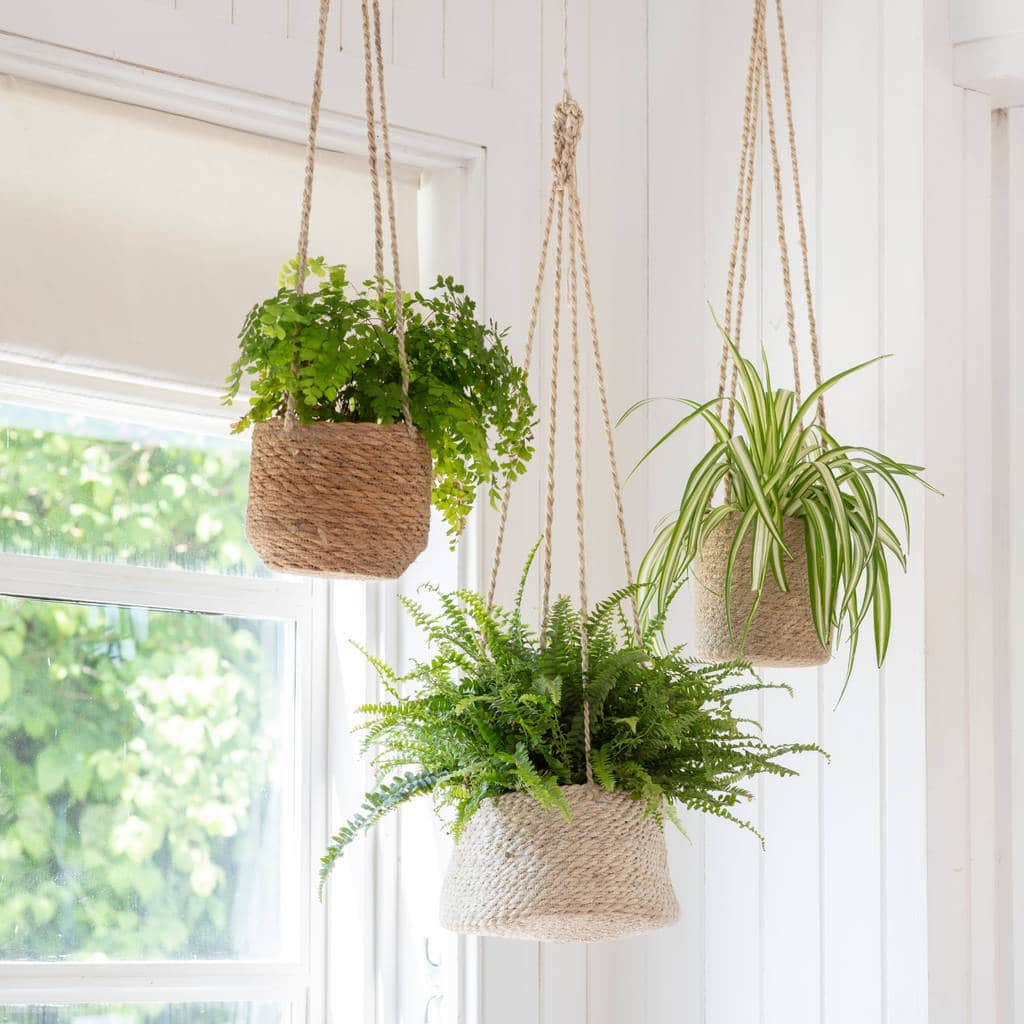 This masterpiece plant stand is so grand and special that it will catch the attention of everyone. It may look a bit challenging to make at first, but it is not. To make this multiple-shelf hanging plant stand, you'll require some cotton ropes, planks, and a bamboo stick. Look at the above picture for reference. You can hang DIY Hanging Plant Stand in your living area, dining area idea, or any part of the house. It will work as an accent decor in the room. 
Here are some more easy DIY plant stand ideas and inspiration for you: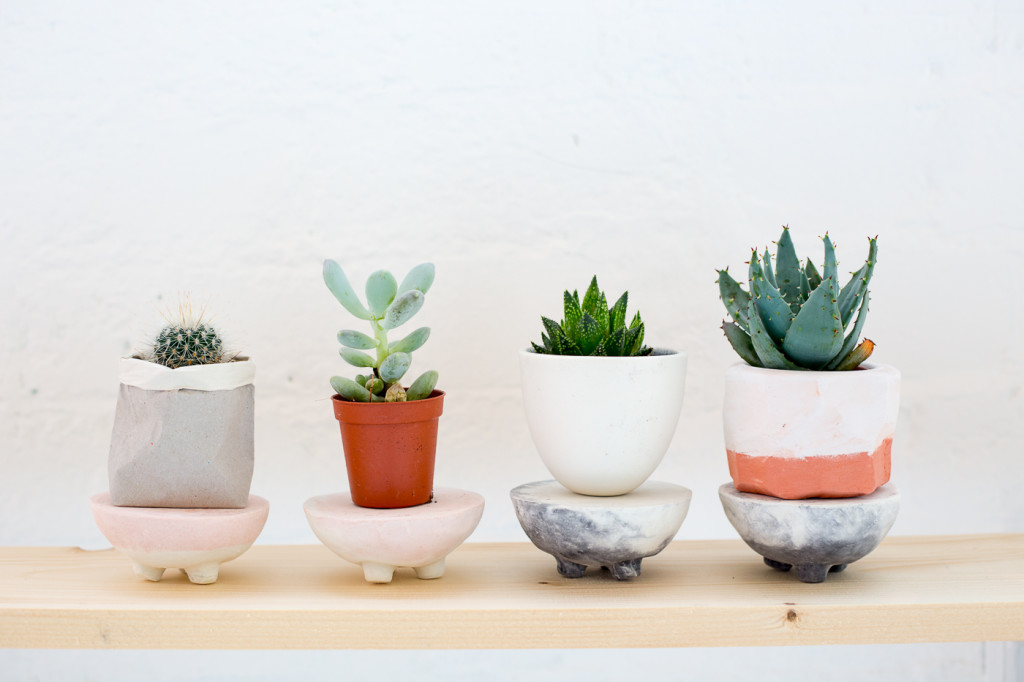 Final Thoughts
So which DIY Plant stand idea do you like the most for your home? Plant lovers always find a way to bring more and more plants to their home, so stands like these that we've mentioned are essential. These DIY plant stands are inexpensive and quite easy to make. You can create one or many according to your plant storage space and the space you have in your home or apartment.
You can repurpose many things to create these indoor plant stands, from old buckets, trash cans to bins and drawers. These cheap indoor plant stand ideas will help you keep order among your plants and also make your house look better.
I hope this blog has helped you to make your own DIY plant stand for your plants. Also, don't forget to share this blog with your friends and family so that they can also make a stand for their plants and decorate their homes.