Top 7 Fun Home Projects That You Can Do Using Glue
There are so many things that you can repair using a hot glue gun. However, what if you were to use this glue gun in some creative DIY home projects instead of repair work? Isn't it an excellent idea? Sometimes we love to try so many DIY projects but we cannot do it because it requires some extraordinary skills or obscure craft materials that we do not have access to. But, don't get upset…
There is an incredibly large number of projects which are creative, easy, and fun to do using your glue gun. 
In this blog, we'll share a few creative home project ideas that you can do using a glue gun to décor your home or most likely to have around your home. These ideas are an awesome way to give your home a refreshing look and make yourself look stunning using some DIY accessories. 
These fun home projects can be a brilliant addition to your home décor literally at no cost at all. 
So, without further ado, let us get started. 
1. Vase Decoration Using Hot Glue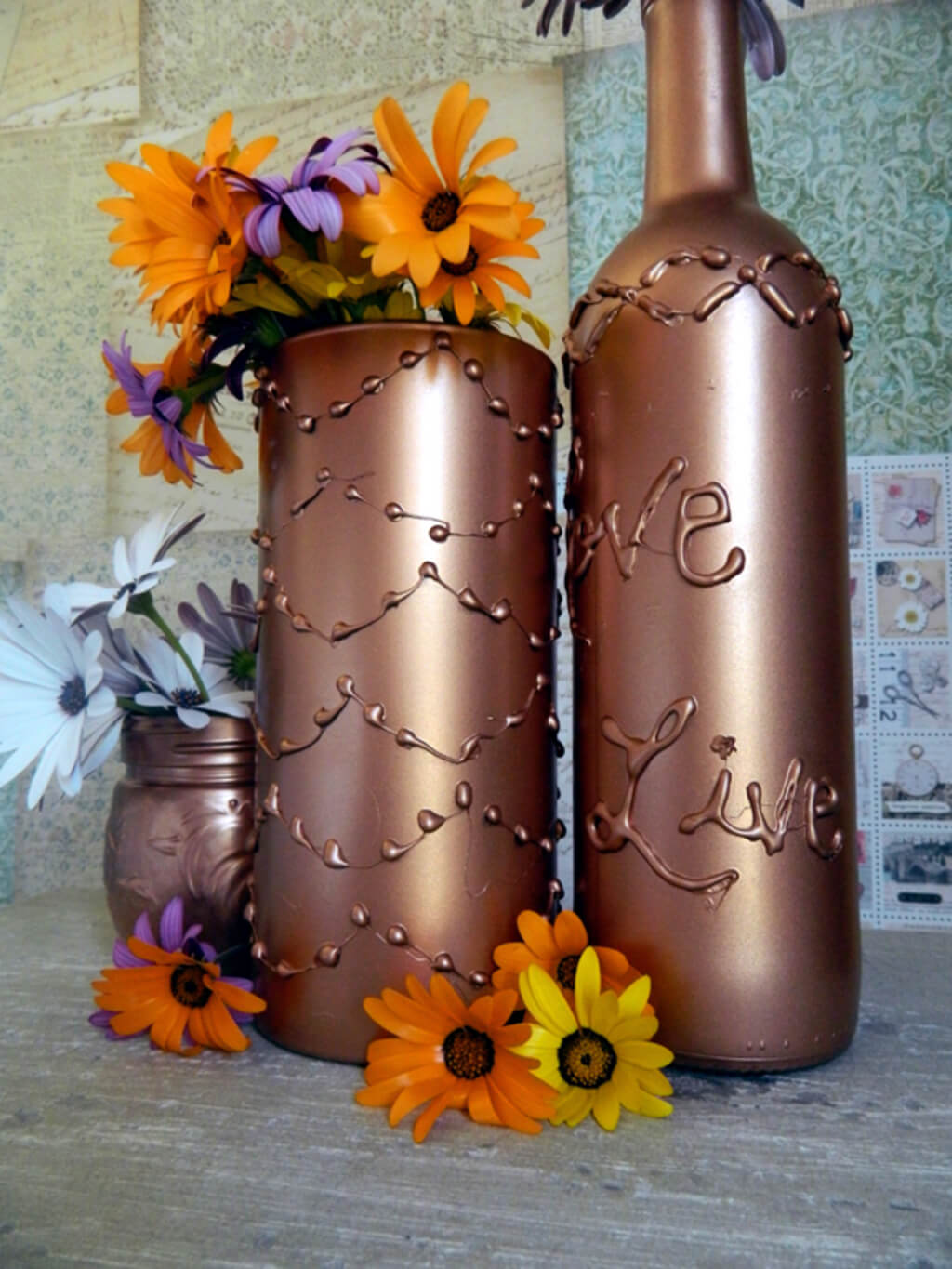 Source: homeheartcraft.com
We usually believe that we can only stick things together using hot glue. But, here we want to stop you and share something interesting with you. You can actually make decorating art with the help of the glue itself. One of the great examples is this super-easy DIY project of a vase decoration using hot glue. 
The interesting thing here is that you can even write with the glue. All you have to do is spray paint over it and the glue looks like it is just part of the vase.
2. Make a Decorative Sign Using Glue Gun
Source: wp.com
The next on the list is a decorative sign using a glue gun. This DIY project will teach you how you can write on wood using hot glue and make an attractive sign for your home. The best thing here is that you can write anything that you want and even add some designs if you want to give this decorative piece a little artistic spark.
3. Make Snowflakes Using Hot Glue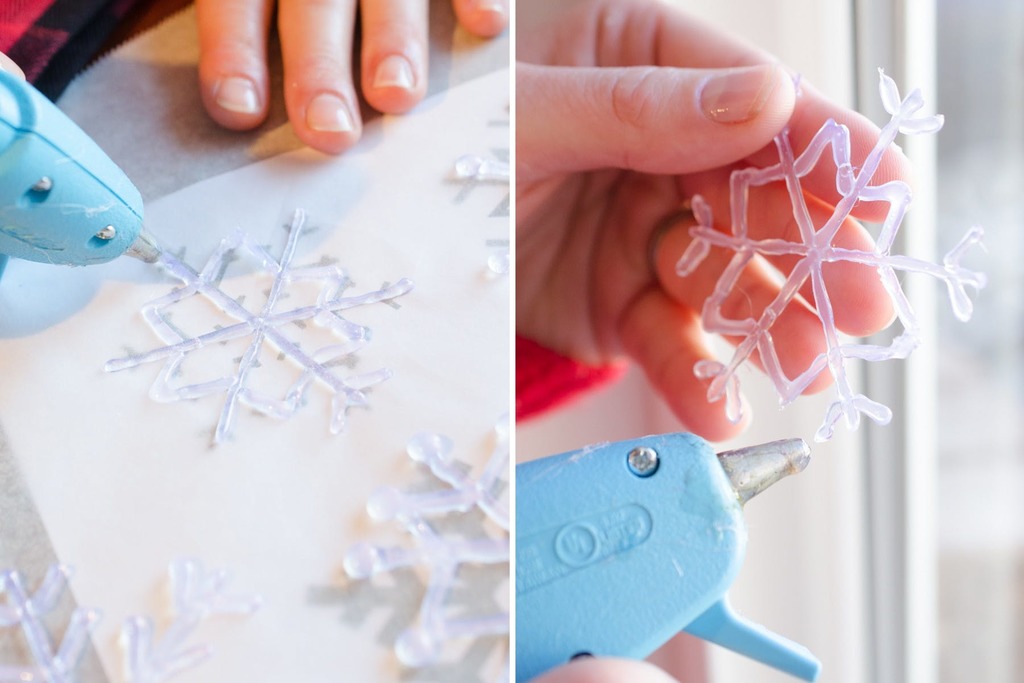 Source: imgix.net
Featured next on the list are DIY snowflakes. This fun DIY home project is similar to making fall leaves. The only difference here is that you will make snowflakes. To make this, you will need a few basic things such as nail polish, parchment paper, and a glue gun. Use your creative thinking and have fun. 😉
4. Make Coasters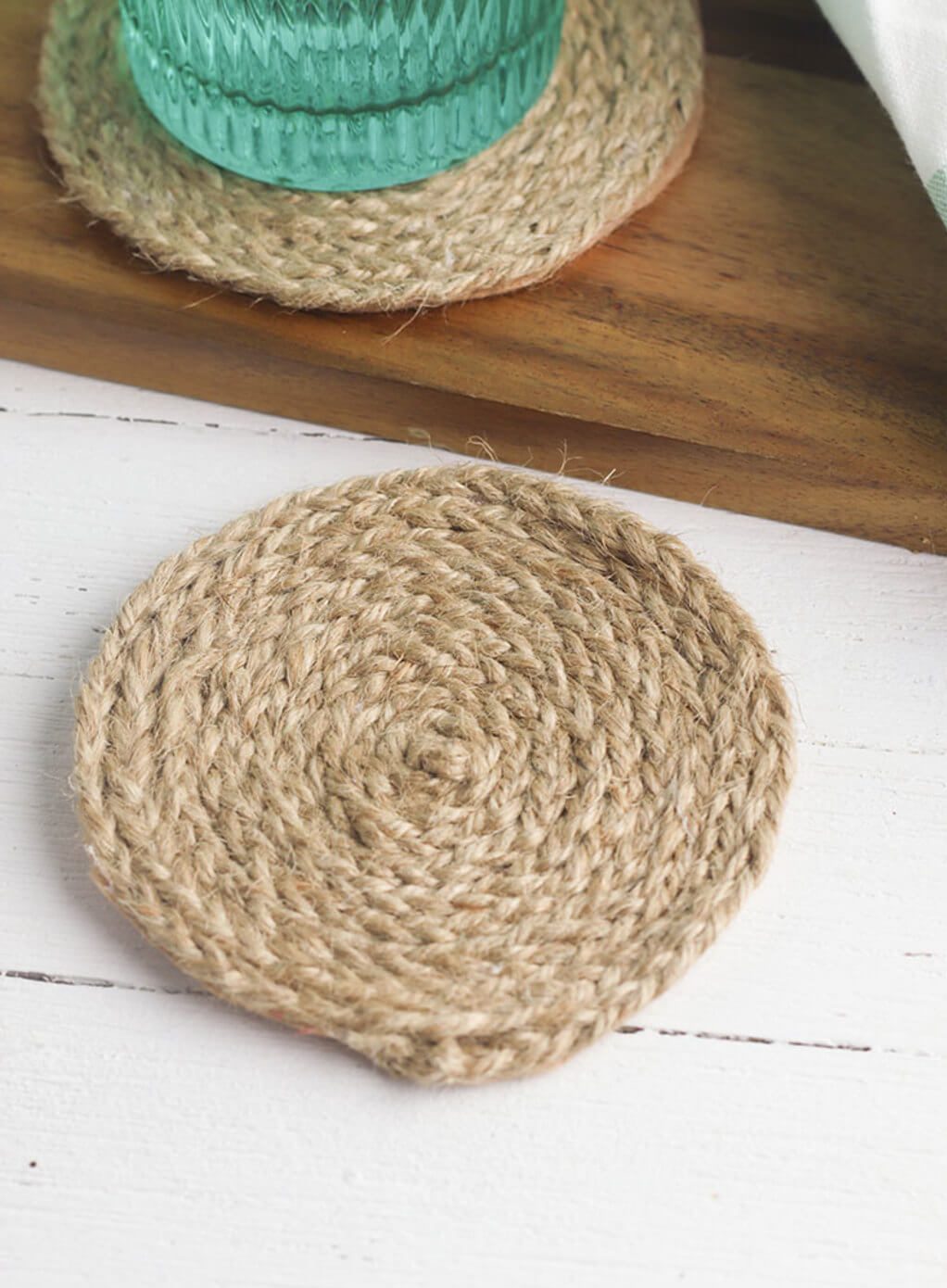 Source: hunnyimhomediy.com
Another super easy DIY project idea is to make coasters. These coasters will look amazing when you throw a party at home. You can even use them as a gift for someone or for your daily life. These coasters are stunning and fully functional. They also give your home a great rustic look. To make this all you need is some twine and hot glue. All you have to do is just wine the twine around and glue as you go. And, it's done. You have coasters perfectly ready for you to use or gift.
5. Make a Coiled Rope Basket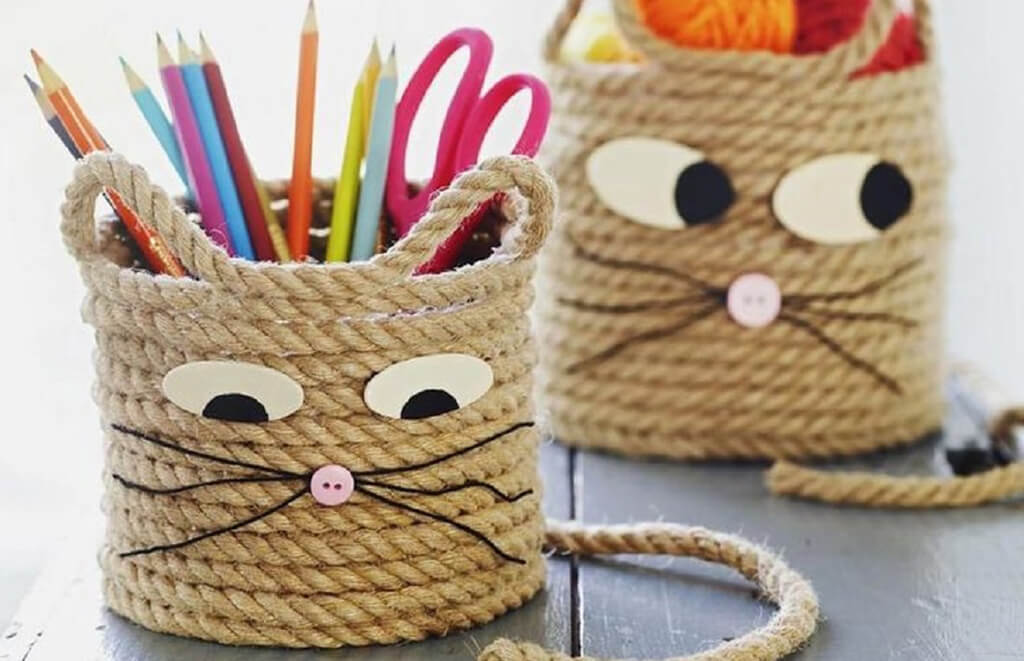 Source: altomindretning.dk
This project is the same as the one above. 
The only difference here is that it is the 3D version of it. Instead of coiling twine while it is lying flat on the table, you will wind rope in an upward direction. 
With this project, the basket shows a hot pink mason line that is included as a decorative element here and there. You can buy rope and line in any color you want and also be some more creative with the designs. 
This project is quite easy-to-do, beautiful, and attractive which could be easy to personalize. You can use it in your daily life or even gift it to your loved ones. 
6. Driftwood Orb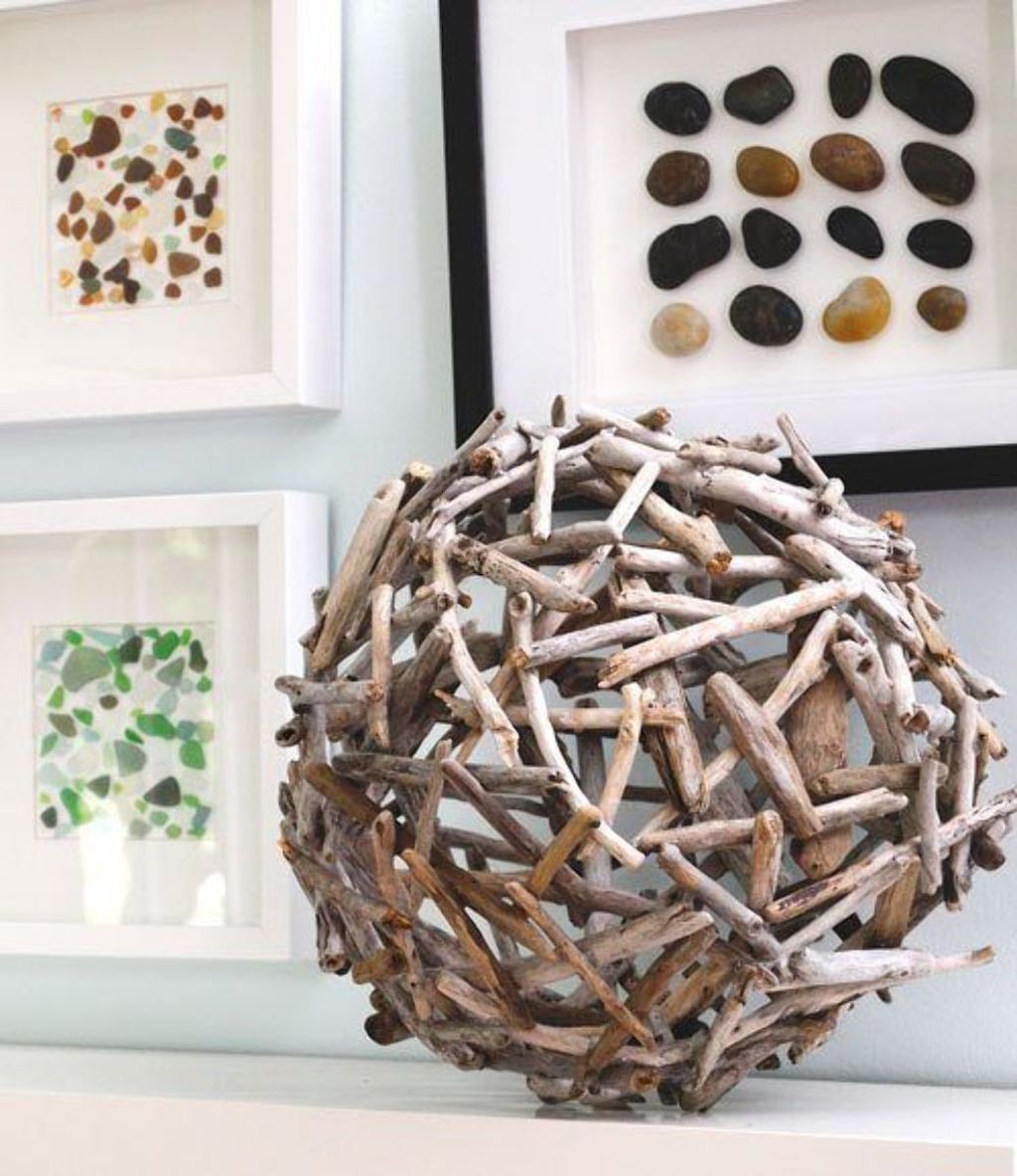 Source: ya-superpuper.com
Up next on the list is driftwood orb. If you are interested in learning something super creative and making something artsy and amazing with hot glue then check out this fun home project to make a driftwood orb. 
When you look at the picture you will feel like it is quite difficult but this is not true. In fact, it is quite an easy-to-do DIY project. To make this all you need to do is pump up a beach ball and start laying pieces down on it. 
Then, you have to glue them together to make a lattice as shown in the picture. Once the entire beach ball is cover and all the driftwood pieces were firmly attached to one another, you have to deflate the ball and pull it out through one of the holes. 
Also Read: Easy And Useful DIY Concrete Crafts Ideas
7. Snowflake Hair Clips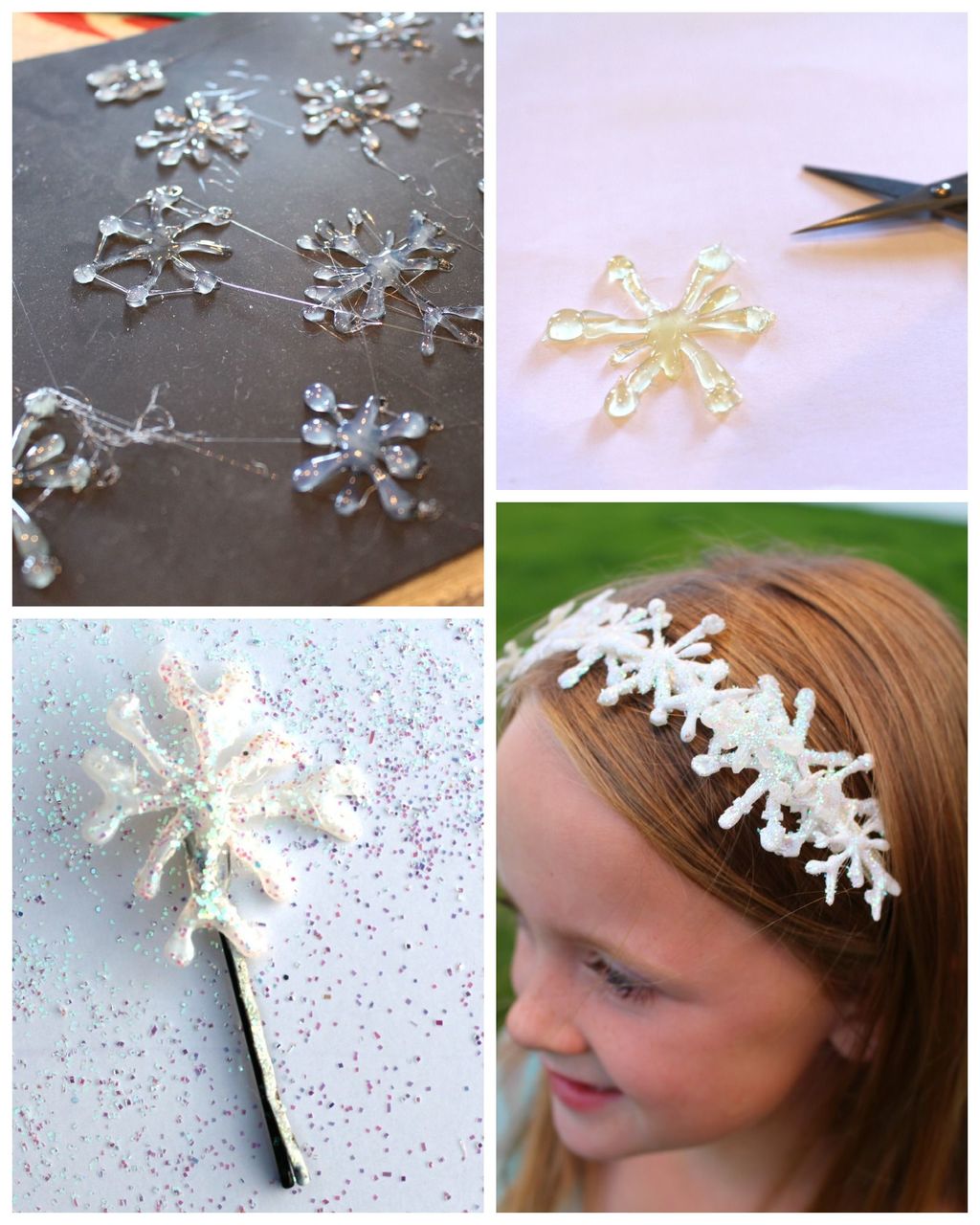 Source: pinimg.com
Remember the hot glue that we made earlier in this list? This DIY idea is just a new twist of that. Instead of using nail polish to make it colorful, you can use glittery spray paint for it. Now, you have to use hot glue to attach bobby pins to the backs so that you can wear this snowflake as a hair clip. 
Don't you think this will add the perfect finishing touch to your costume? 
Wrapping Up
Do you know what is great about DIY projects? Everything. 
When you make anything at yourself, you can select everything about it that suits your taste, craft them in your choice of color, texture, and then use them to your heart's content. 
Whether you want to try it for decoration, fun purpose, or self-sufficiency, you can try the above-listed DIY projects. All you need to try these projects are a mini hot glue gun and you are ready to try these amazing projects. 
Love these ideas? Then, save them on your phone. Try them at your home and share them with your friends. 
If you have any other super creative ideas that you want to share with us and feel that it should be included in the above-discussed list then share with us in a comment section below. We would love to hear it from you.