How to Choose the Best Wood for Kitchen Cabinets
If you're looking to give your kitchen a more unique and distinct look, you might want to go for wooden cabinets. Some people prefer to have wood cabinets in their kitchens because of the natural look, different color variations, and grain patterns that are available while others might choose to have a more predictable look with engineered materials like laminate. When you pick wood cabinets, you're going to want to choose the best wood for kitchen cabinets and this all depends on your style and budget preferences. Here are some to consider: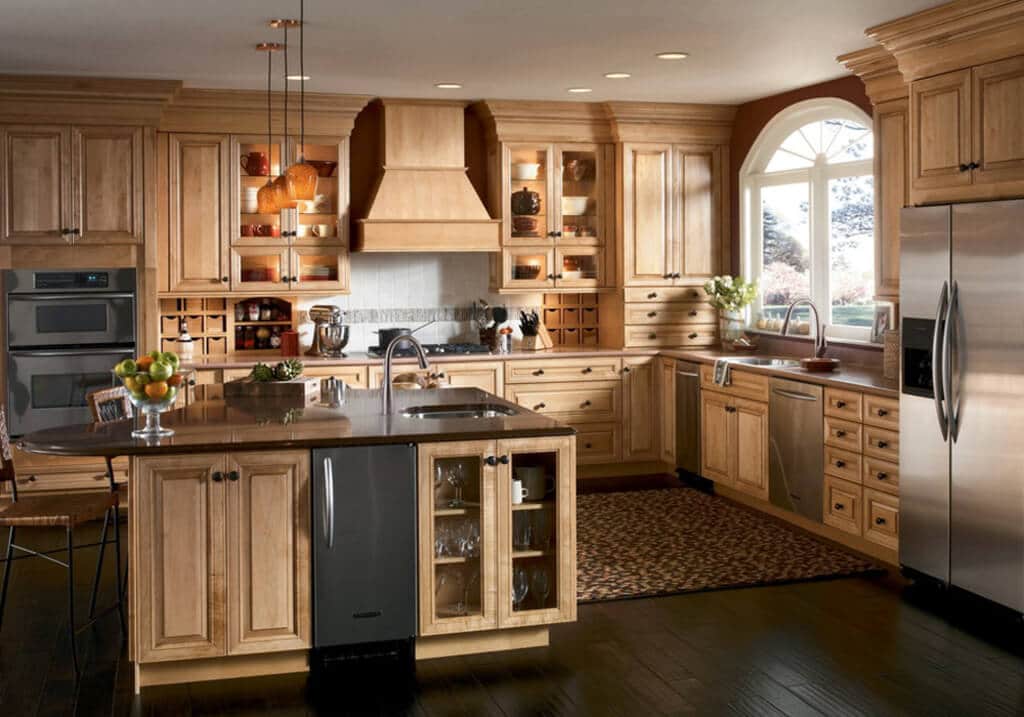 Source: houlivewood.com
1. Maple Wood 
Maple is considered to be hardwood and the color of it can range from an almost true white to a cream-colored look. It's a type of wood for kitchen cabinets that also has a smooth and fine grain. Since it is readily available and pretty easy to work with, it's a popular choice when it comes to kitchen cabinets.
With maple wood, you can go for a modern style, contemporary, transitional designs, and traditional depending on all of the specifics of the cabinet design including the style, finish, and more. 
2. Walnut Wood
Another hardwood is walnut and this type has a more significant grain as well as different color variations of cabinets that can range from a creamy white color to dark brown. It's a premium wood which means that it's not readily available; however, it is easy to work with.
In terms of style options, this wood type works great with contemporary, transitional, and traditional styles. It can be finished in order to bring out the natural colors of the wood and change the look to be more classic. 
3. Clear Alder Wood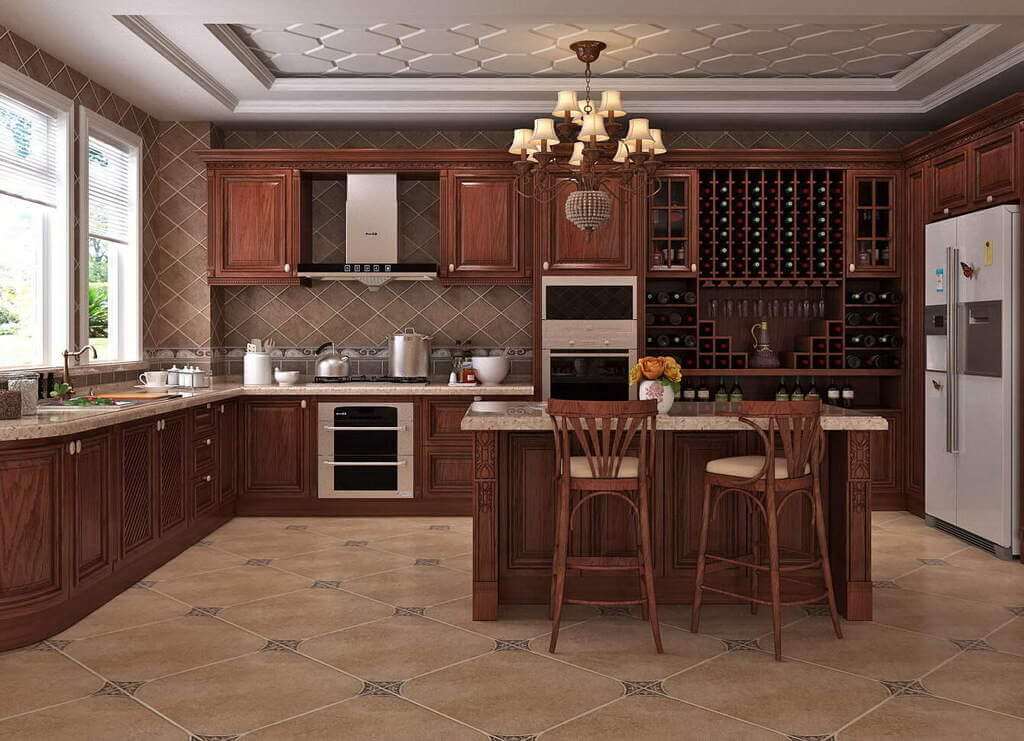 Source: alicdn.com
If you're looking for a relatively soft-wood type, clear alder is right for you. It has a fine and uniform grain and colors that can range from light tan to reddish-brown. It's similar to Cherry wood, but it's a lot softer which means that it can be distressed and finished in different ways.
Clear Alder wood is commonly found in the West and is readily available. You can use it for a distressed farmhouse style or even some traditional and transitional styles. 
4. Knotty Alder
Similar to Clear Alder, Knotty Alder is a soft-wood that has knots throughout. They are a natural feature and the wood itself typically has nicks and dents from the distressing that has accumulated over time. It's a popular choice for a more rustic style or worn finish.
It's readily available and is commonly found in the West. Knotty Alder is one of the best natural wood kitchen cabinets as it's also easy to further distress with stains, glazes, and/or paints. 
5. Cherry Wood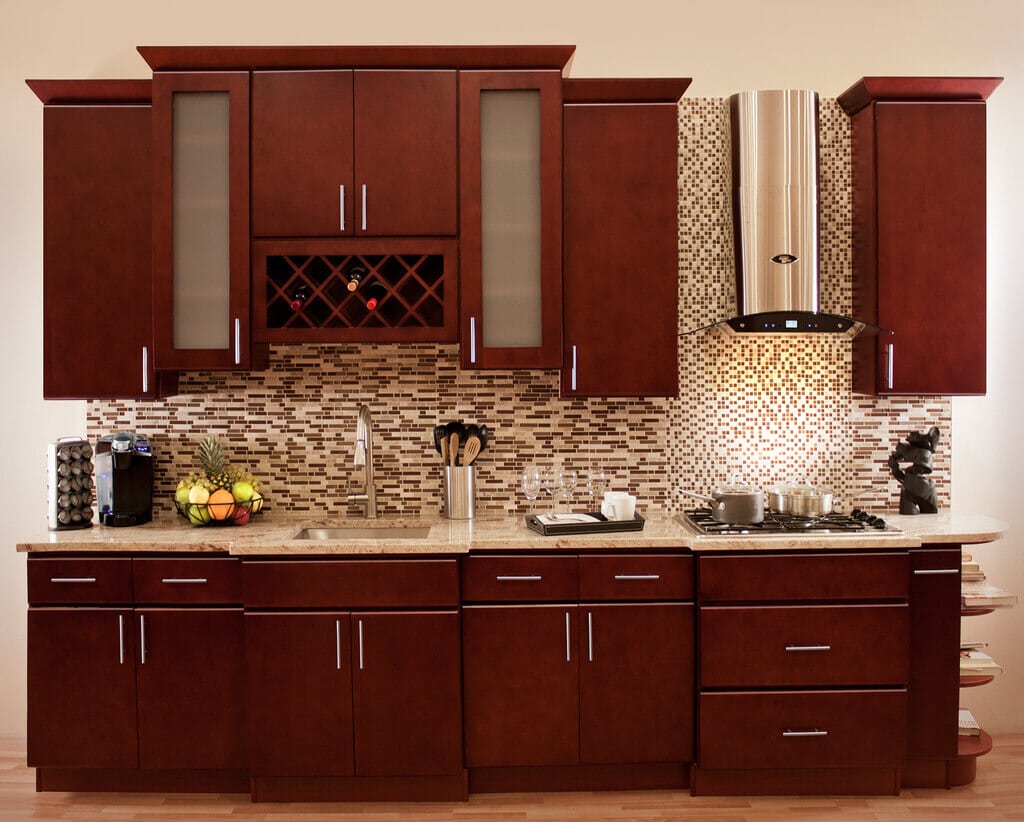 Source: hzcdn.com
While Cherry wood is considered to be a hardwood, it's a lot softer than most that are in that category. With a rich grain and small pin knots and marks, it's commonly associated with high-end woodworking. This kind of wood offers a timeless and classic look that is commonly found in libraries, traditional offices, kitchens, and more. The finishes that are available for Cherry Wood are reddish and brown stains. 
6. Oak Wood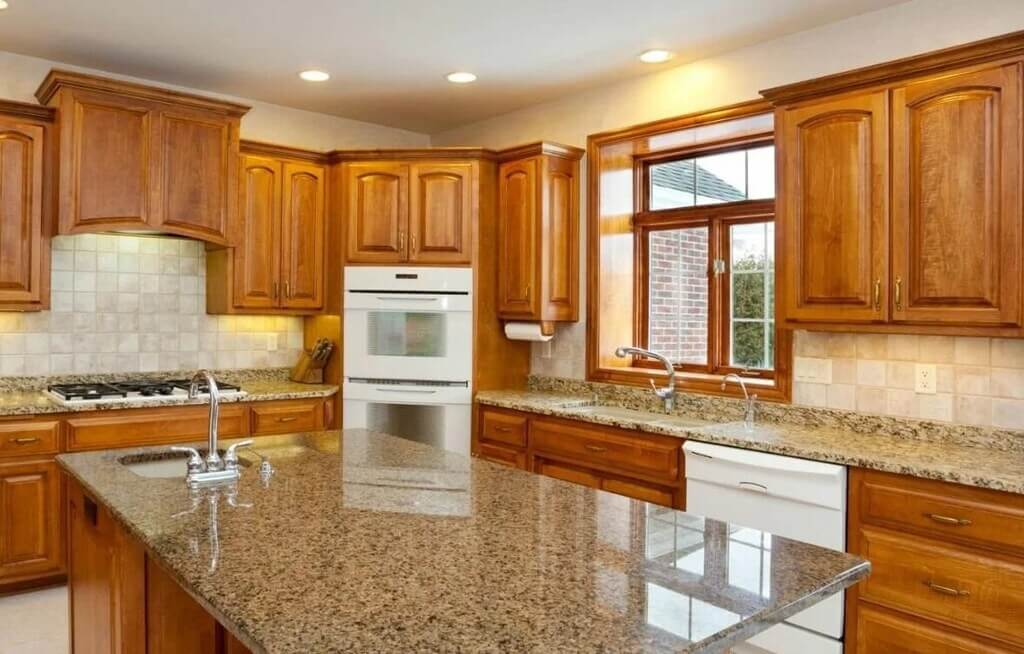 Source: wp.com
If you want to have very hard-wood kitchen cabinets, you're going to want to consider choosing Oak Wood. It comes in light to medium brown shades and has a coarse and uneven grain. Oak Wood is one of the different kinds of wood for kitchen cabinets that are associated with more outdated styles; but with a new finish, you can give the wood a more modern look.