9 Tips For Building The Perfect Home Theater Room
Like every other field, interior design has also revolutionized in the last few decades. House remodeling is a vast field. Modern interior design has a lot of ideas for transforming your ordinary house into a lavish residence.
No doubt, the big screen has a big charm. Building a home theater room can be an excellent addition to your house for experiencing a memorable entertaining time. Designing a home theater room is much more than adding a couch and a screen in a regular room.
You can transform your ordinary room into a perfect home theater room by employing the following tips. Let's get started. 
1. Locate A Dedicated Space For Home Theater Room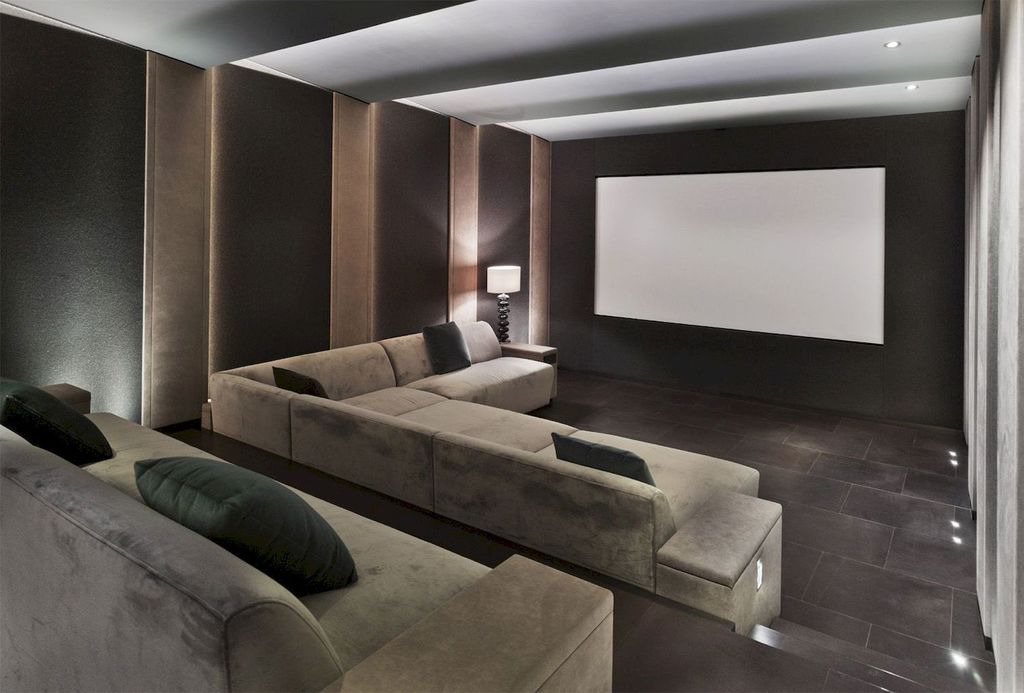 Source: pinimg.com
For enjoying the big screen, the location of the home theater room becomes very important. The home theater room must be solely dedicated to screen-related activities. A separate room away from the other rooms can serve as the best entertainment place.
External interruptions can disturb you while watching a movie or video gaming and lessen the cinematic experience. So, it is necessary to locate it somewhere away from the noise and other household sounds.
Another important thing that one should notice is the space of the room. Your dedicated space must be spacious enough so the viewers could maintain a proper distance from the screen.
Don't forget the natural light in the room while locating your home theater. Your dedicated space must have the least light coming in, so you don't have to spend on minimizing it. 
2. Building An A/V Component Rack
Building an A/V component rack is an essential thing that your cinema space must-have. You can keep all your source components,  like a DVD player, speakers, cable box, and network media box, etc. in one place, manages your source components, and also prevents mess due to the intermingling of wires.
Your A/V component rack should be strong enough to hold all the source components. A metal one would be a better option for keeping heavy equipment.
Don't forget to make your A/V component rack well ventilated. Your source components produce heat that could damage them. Ventilation keeps them cool and prevents thermal damage. You can also purchase a well ventilated A/V component rack, instead of building one.
3. Lighting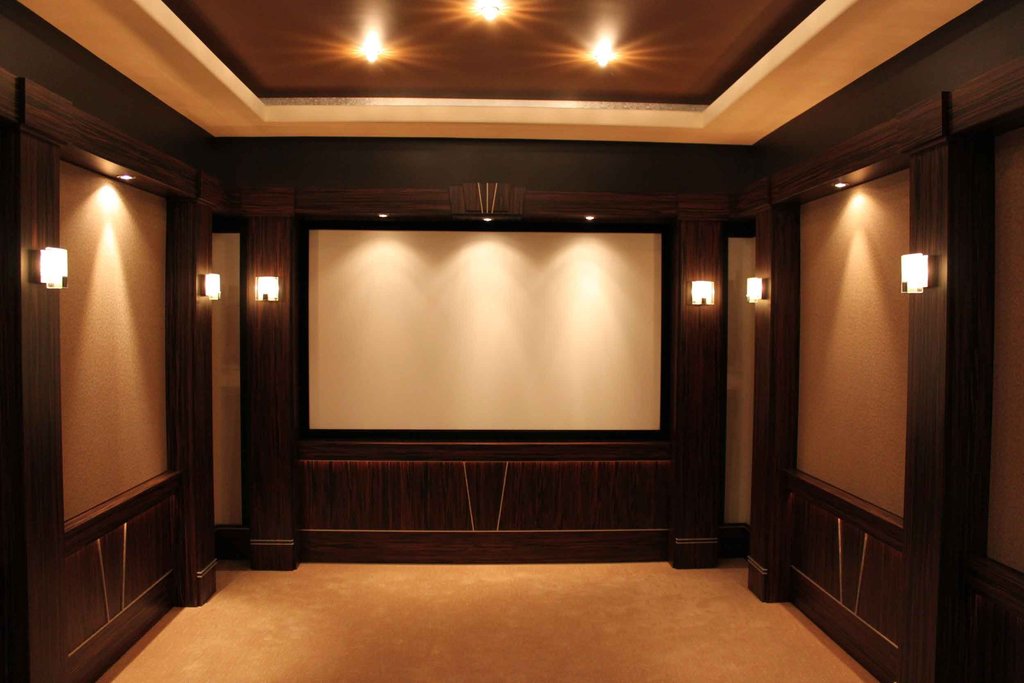 Source: crismatec.com
The Theater lighting system has to be perfect for having an enjoyable experience. The lighting system should have brightness control for adjusting the light.
You can use soffits, rope lights, or recessed lights in your cinema space. Soffits are extensions around the perimeter of the room. They can be decorated with rope lights for illuminating a home theater.
Recessed lights can be installed in the soffits or ceiling of the room for illuminating the space. The lighting must be behind the viewer, so the lights could not disturb your screen experience. 
4. Limiting The Reflecting Objects
Everything with a reflective surface except, your screen should be avoided. Reflecting objects reflects light on your screen and interrupts the image. Shiny paints should be replaced by matte paint to minimize the reflecting effect. Shiny doorknobs, fixtures, and countertops should also be avoided. If you have something reflecting, paint it with a dark-colored matte paint. Limiting the reflecting objects will prevent reflecting light at the viewer.
5. Seating Arrangement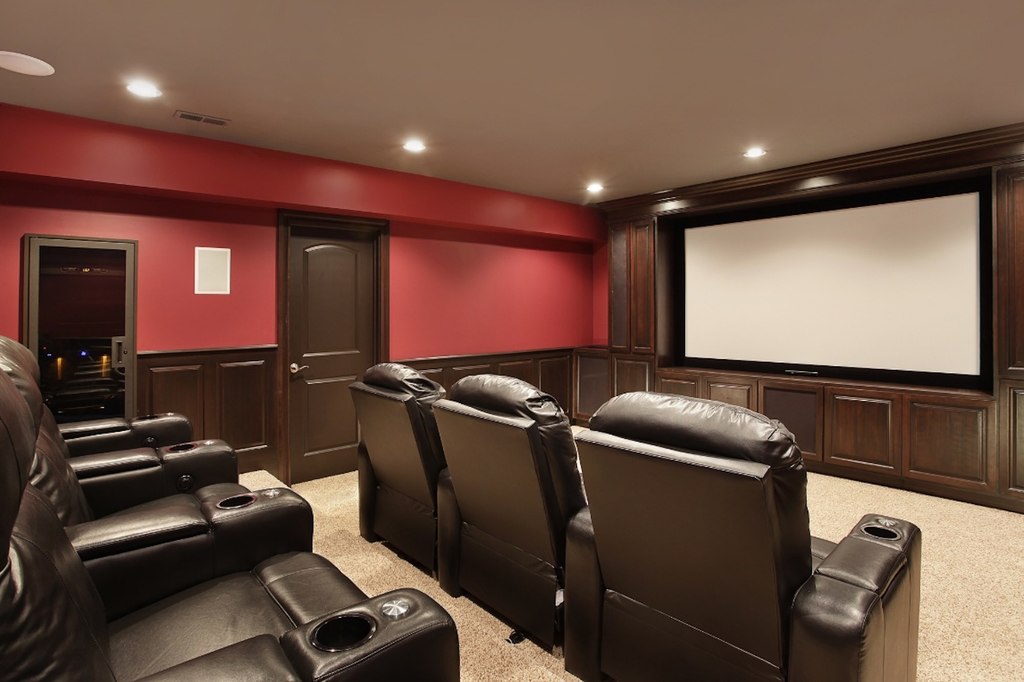 Source: elmens.com
The proper seating arrangement is a notable factor while building a perfect theater space. The seating arrangement should be such that all the viewers could watch the screen conveniently. Tiered seating can give your cinema space a luxurious outlook. Raise the rear seats on a platform, so the viewers on the back could view the screen without blockage. 
When it comes to seats, they should be comfortable. You can place full back lounge chairs or cushioned chairs. Placing sofas could be a better option as they are more comfortable and also give a luxurious outlook.
Remember to keep a proper distance between the screen and the seats. The seats should not be too close or too far from the screen. 
6. Sound Controlling
Ambient sound, as well as unwanted sound from the inner sources both, can disturb our theater audio. 
Ambient sound is the sound from an external source, like dishwashing, kids playing in other rooms, household machinery sound, and all such other noises. In addition to locating your home theater room away from the other rooms, you need some more steps.
Soundproofing the walls can contribute a lot in reducing the ambient sound. For soundproofing, you can add a drywall layer. Sound reducing wallboard can also assist in limiting the ambient sound. 

Installing solid doors, instead of hollow-core doors can also assist in reducing the outside sounds.

Putting curtains on the window absorbs both ambient light and sound.
Audio from the theater room is also reflected from the walls and has to be reduced. 
The best way to control it is to add draperies on the walls of the theater room. 

Adding sound absorbing objects, like rugs, and cushions also help in absorbing the unwanted sound in the room. 
Also Read: Know How To Soundproof Your Home Easily
7. Building Surround Sound System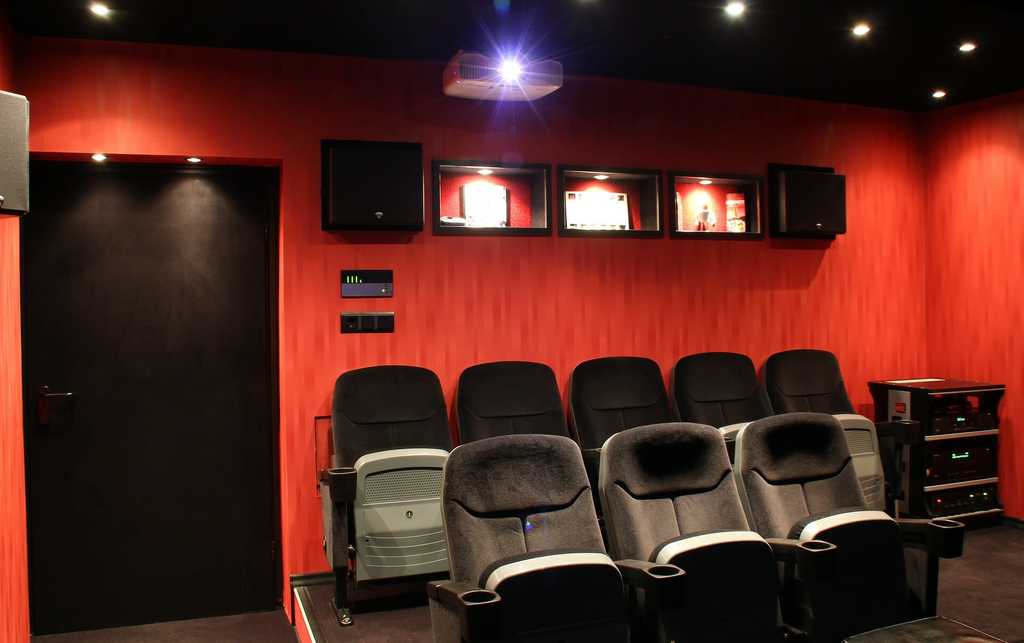 Source: acousticgeometry.com
After cutting the unwanted noise, comes the step of building a perfect surround sound system. Surround sound is a technique to enhance the depth of sound produced by using numerous audio channels from the speakers that surround the listeners. 
Surround sound can be created in two ways:
The easiest way to create a surround sound is by correctly positioning the speakers.
If your room is too spacious, you may need to purchase best high end center channel speaker.
You need to consider the following steps while buying speakers for your home theater:
The frequency range of your speaker should be high.

The speaker should have a high sensitivity to make them sound sharper.

Buy a speaker with low wattage as it would be more efficient with other equipment than the one with high wattage.
8. Selecting An AV Reciever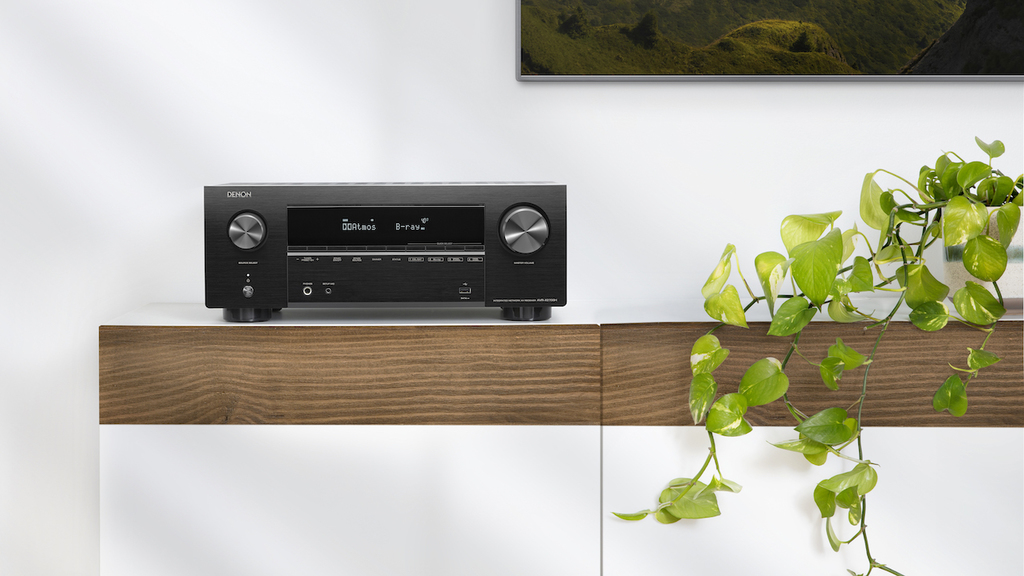 Source: futurecdn.net
Another necessary equipment for your home theater is the AV receiver. It receives the audio and video signals, amplifies them, and send them to speakers or displays.  
You can purchase a Wifi or Bluetooth-enabled receivers for preventing wiring mess. But wireless features can be added by Chromecast. Choose a reliable receiver for your theater space. Consider the following things while choosing a receiver:
Choose the one that has more channels for connecting more devices.

The range of connectivity is also a considerable factor while selecting an AV receiver. Your receiver should be able to connect all your media sources. 

Another spec to consider is the compatibility of the receiver. Your receiver should be compatible with DV, HDR10, and HLG video formats.
9. Screen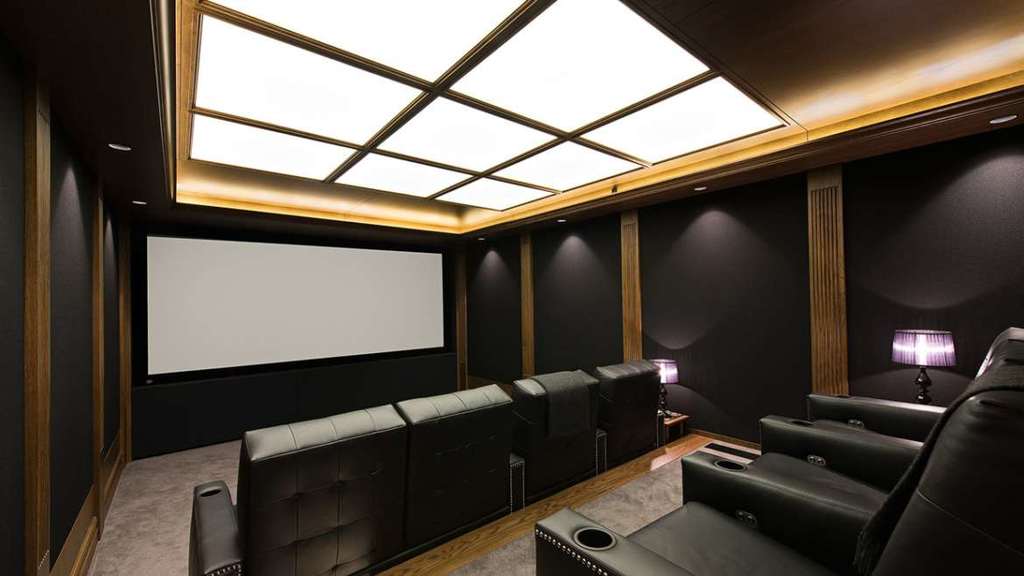 Source: wavetrain.com.au
A nice TV or a projector is the primary thing your theater space must-have. Both the projector and smart TV have some advantages and limitations. 
You can choose a projector as they can be conveniently tucked, after watching. You can raise or lower the screen of the projector according to your need.
A smart TV prevents the hassle of wiring. You only need a fast internet connection for streaming.
You can choose a projector as they can be conveniently tucked, after watching. If you get a motorized projector screen, you can raise or lower the screen of the projector according to your need.
If you are on the way to design the home theater room, don't forget the above tips. They will surely be helpful in your journey to the perfect home theater room.