Owning a luxury home is an exciting undertaking. After all, a home is a significant investment. Fortunately, living large has never been easier than it is today; you can explore options like buying or constructing your luxurious abode from scratch.
So, if you're ready to invest in an extravagant living space, this guide will provide you with all the information and advice you need to make the best decision possible. Whether you're looking to purchase an already-built luxury home or build one by hiring custom home builders in your location, such as Guardian Homes, we'll explore both routes and discuss the advantages and disadvantages of Buying vs. Building A Luxury Home.
Option One: Buying A Luxury Home
Source: .thumbprintbooks.ca
Buying a luxury home can be overwhelming, from searching for a good neighborhood to looking for the right property. So, it's essential to understand the process before embarking on your search. Research, preparation, and local market knowledge are critical in this endeavor. Moreover, when making your selection, knowing what you want and need from such a purchase, for instance, location, size, and amenities are also essential.
With careful planning, buying a luxury home can become a reality for many people. That said, here are some viable reasons for you to buy rather than build a luxury home:
Buy If You Want to Save Money
Buying an already-built luxury home often pays less than building one from scratch. This option can be more cost-efficient, especially since construction is not mostly required and amenities like flooring, fixtures, and paint jobs have already been taken care of. You won't also have to worry about high land costs. On the other hand, it'd still be good to note that you may need to shell out money if you want to renovate your new home's interiors to fit your design preferences.
In addition, if you're buying an existing luxury home, you can better control your budget. You can set a fixed amount of what you're willing to spend for your new home and limit your options within your price range to avoid going over budget. In addition, most sellers are willing to negotiate on price so buyers can find their ideal dream homes without breaking the bank.
Overall, if the price point is priority number one, purchasing rather than building may be best suited for those who want to invest in a luxurious property without extensive upfront costs and additional expenses associated with constructing it themselves.
Buy If You Want a Fast Move In
Buying a luxury home is an excellent option if you want to move in quickly. You can find homes already built and ready for occupancy or ones that need minor cosmetic improvements like painting or new flooring. With buying, there's no waiting around; you can live in your dream home immediately.
Ultimately, purchasing a finished home can provide instant gratification with little hassle. This option is ideal for those with specific requirements who want to ensure their vision is completed on time.
Buy If You Want to Skip Stressful Planning
Designing and planning a custom home can be stressful and time-consuming. So, if you want to skip this step, avoid headaches, and get right into the home of your dreams, buying a luxury home is likely the best option for you.
By opting for this approach, there's no need to wait for design professionals to draft the plans for your luxury home and have building permits approved. Moreover, if you do not intend to have any renovations done, you can move in as soon as possible. The ease of moving into a pre-existing space makes this option appealing for those hoping to experience their dream home quickly and efficiently.
Buy If You Want Fully Maintained Landscaping
Buying might be the best option if you are looking for a luxury home with pre-established landscaping. Most properties will have professionally designed and installed landscaping fully maintained by the homeowner's association or previous owner. This means all the outdoor tasks like mowing the lawn, pruning trees and shrubs, and planting flowers have been taken care of, and all you have to do is to maintain it.
With this in mind, less work is expected from your end, but your home can still have an impressive curb appeal.
Option Two: Building a Luxury Home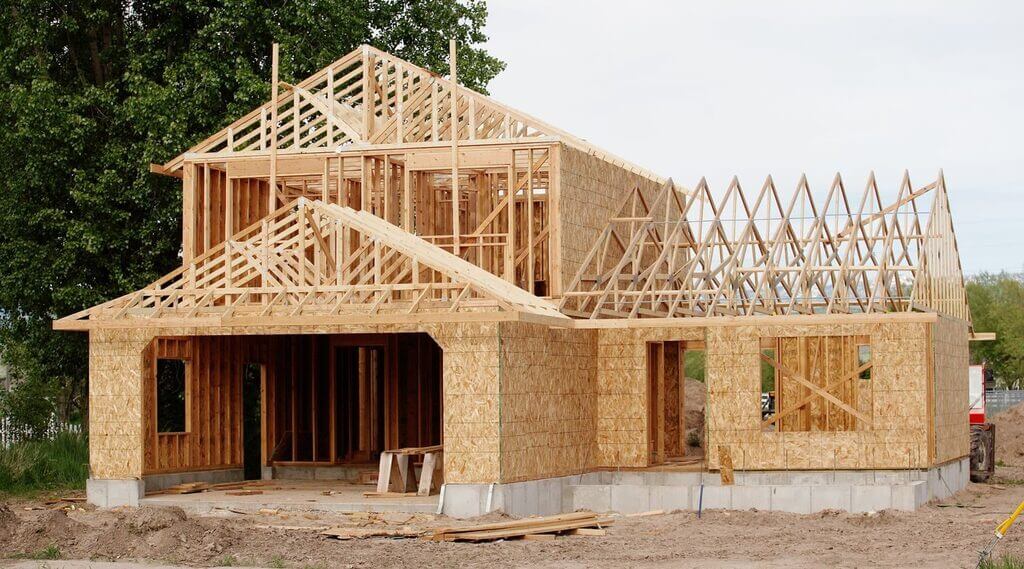 Source: liongatebuilders.com
Building a luxury home from scratch is the perfect way for homeowners to customize and create their dream home. This approach also offers a gratifying experience since you can see your vision come to life with every step.
However, it's essential to understand that building a luxurious property requires a considerable understanding of several factors, such as cost. To help you out, here are reasons why building a luxury home may be the right option for you:
Build If You Want Full Customization
Building a custom home allows homeowners to get what they want from their property and maximize their space for unique needs. As mentioned, building your home from scratch gives you full control over the entire process. This way, you can ensure everything looks as you envisioned. For instance, you can choose materials, finishes, fixtures, appliances, and other details that suit your preferences and lifestyle.
In addition, it also gives you more layout options and floor plans than buying an existing house would provide. It means you can have more freedom regarding the layout of your home and maximize every inch of space. This flexibility also allows you to ensure that all rooms are well-suited for their intended purpose with functional designs and quality materials.
Aside from having a custom home built based on your preferences, your contractors can also ensure that your home meets local codes and regulations so there won't be any issues down the road. Plus, with new construction, you won't need to worry about costly repairs or renovations down the road since everything is up to date.
Build If You Want an Energy-Efficient Home
If you're looking for green features like solar panels or energy-efficient windows and doors, this may be easier to do with a newly constructed home than an existing one. For instance, building your own home can give you complete control over exactly how much insulation you use in walls, ceilings, and floors; what type of windows go into each room; which types of air conditioners or furnaces will be installed; and even what kind of smart appliance technology can help reduce your carbon footprint.
In addition to efficient appliances, plenty of other sustainable construction materials are available for building a luxury home. For example, many builders now opt for low-VOC paints and carpets made from recycled materials. Furthermore, renewable building materials such as bamboo or cork flooring can improve air quality and sound absorption.
With all these options, it's easy to design and build an eco-friendly home with higher performance standards while still making it look luxurious. The possibilities are endless for creating an aesthetically pleasing yet highly functional home that meets green building criteria.
Build If You Are Willing to Take Your Time
Building a luxury home is an investment that requires time and attention. Considering how tedious and time-consuming it can be, this approach is for you if you're not in a rush and are willing to take your time building your home from the ground up, including designing your home with the help of professionals, choosing the right materials and finishes, and waiting for the overall construction process to finish, which could take months.
Moreover, there may be unexpected challenges and setbacks along the way, such as delays in permit approval or material delivery issues, which can impact the timeline and project completion date. But patience and proper planning can result in a custom-built dream home.
Also Read: Modern Mountain Homes: Best Interior and Exterior Ideas
Build If You Are Prepared for Surprise Expenses
When it comes to building a luxury home, surprises are inevitable. While the process may be exciting and rewarding, financial stability is vital. If you decide to build your luxury home rather than buy one already made, there's no telling what unexpected expenses might pop up.
Even if you have all of the finances needed upfront to build what's planned, there may be additional expenses like permits, inspections, and other fees associated with construction. Plus, surprises such as complications or delays due to weather conditions or even unanticipated issues arising from the land itself could run up costs further.
That said, you must plan and understand that building a custom-made house will require extra funds if something goes wrong.
Source: googleusercontent.com
Wrapping Up
Ultimately, buying or building a luxury home is an important decision that requires careful consideration. As a good start, weighing your options and understanding the pros and cons of each can help you make an informed decision that best suits your needs and budget.
Buying a property is worth looking into if you want to save money in the short term and move in immediately. However, building your luxury home from scratch may be the way to go if you want something explicitly tailored to your needs and preferences. Ultimately, it's up to you, as each option has unique benefits and drawbacks.