A bathroom is an intensely personal space and if you have decided to go for some remodeling of your bathroom it is helpful to know exactly what design aesthetic is most appealing to you. Apart from the obvious aesthetic elements, you also need to bear in mind the layout and functionality tailed to your specifications. Here are some design tips to help you master that remodel and have the bathroom of your dreams.
1. Layout and Plan
As any interior decorator will tell you, beauty comes with a plan. Evaluate the space available to you and consider how you would like the layout to look. This depends on how far you are willing to go with the functional aspect as some changes may need new drainage or new wiring for a socket.
Consider what qualities you would like in a bathroom such as whether you want a nice tub to soak in or you value storage space more etc. When you lay down a proper blueprint of what the finished bathroom should look like, you'll be able to see all kinds of possibilities such as vertical storage or chandeliers, or other design elements to achieve the kind of vibe you are going for.
Apart from laying out a plan, it is helpful to decide on the type of bathroom you are interested in. There are standard master bathrooms that usually have a separate shower and tub and can be rather large with luxurious vibes.
Elements like a skylight or more light fixtures can also be incorporated into this design depending on the budget you are going for. You may also choose to have a 'wet' bathroom made in which all elements including the cabinets are waterproofed and there aren't separate cubicles for the shower or toilet.
2. Lighting Makes All the Difference
It is completely true that lighting can completely change the ambiance of any room. If you want your bathroom to be relaxing and comforting you need to pay special attention to the type of bulbs you are going to use; maybe even invest in a dimmer switch.
You can also concentrate light in specific areas such as having vanity lights or a central chandelier or spotlights. In a remodel you may not be able to significantly alter the available natural light but consider doing all you can such as enlarging a window.
In terms of artificial light, consider your comfort level such as installing more spotlights over the bulb in case you like to read in the bathtub. Having a naked bulb or having harsh white clinical-style light is never a recipe for a spa-like atmosphere in the bathroom so steer clear of that.
3. Functional Luxury
Most people want luxury that is practical especially when it comes to the bathroom. If your current bathroom simply opens to reveal the toilet etc, you can attempt to change that after consulting a contractor.
In many cases, you can incorporate a touch of luxury simply by redoing two of the walls with exotic tiles or changing out small items like doorknobs, rails, shower curtains, and faucets. If you are putting in the extra money, consider spending it on getting a heated towel rack, better ventilation, and maybe a heated floor. For storage, you can consider elevated cabinets or stylish racks.
4. Made to Last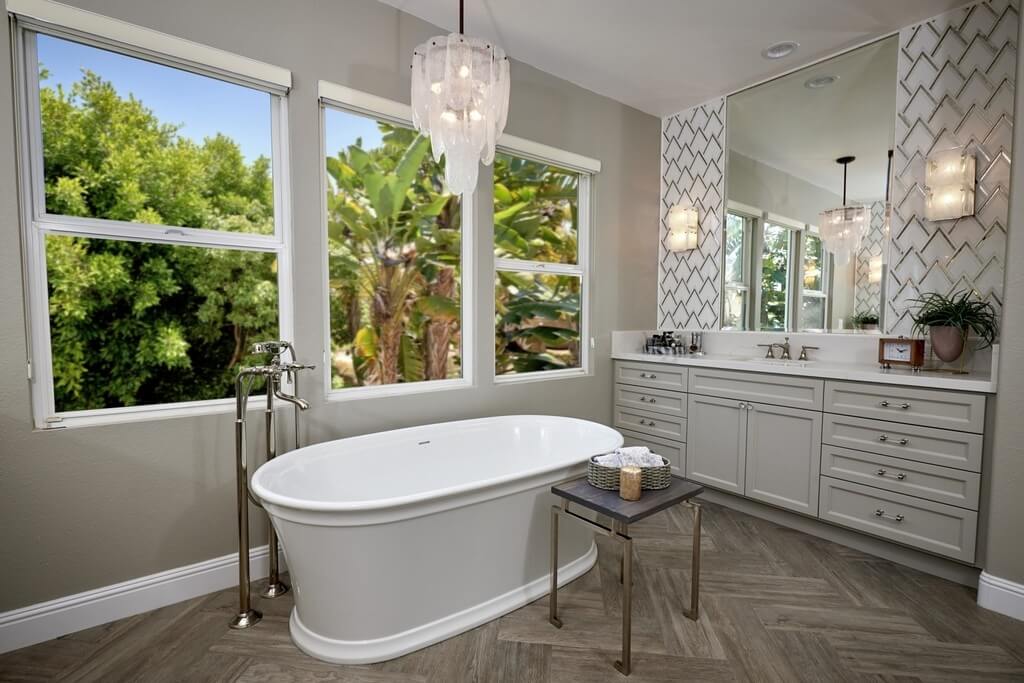 When you're doing a remodel which is not a frequent undertaking, always replace the old items such as faucets, railings, cabinets, etc with high-quality, durable materials. In some cases, you may need custom storage built but make sure you can count on the company to deliver good-quality materials.
Use porcelain tiles, and solid wood instead of particle board, and who said you can't have a copper or cast-iron tub? Get solid plumbing fixtures as well, as these initial investments will pay off not just in terms of aesthetics but also in terms of durability over the years.
5. Is It Accessible?
Bathrooms are first and foremost meant to be as accessible and easy to use as possible and every element of décor should still be a secondary concern. Even if you are not disabled you should still consider adding touches that make your bathroom more accessible for disabled people or the elderly.
Grab rails, walk-in showers, or slip-resistant flooring are all sensible design steps to take to make sure your bathroom is never the site of unfortunate accidents and is a safe, accessible place for anyone to use. Having a walk-in tub can be both a luxury and a way to make your bathroom more accessible!
In case you missed it!