6 Best Above Ground Pools Ideas
If you reside in a location experiencing intense heat during summer, having a space to swim and relax makes the weather tolerable and more enjoyable. So, have you managed to find the best above ground pools to beat the heat? If not, we've got it covered.
In-ground swimming pools are a luxury and expensive to install with heavy maintenance required, however, swimming pools above ground are an easy-to-setup alternative with minimal maintenance required. These can offer the same fun an in-ground pool gives.
Above ground swimming pools offer a space to laugh, chill, and splash your desires. These can be conveniently installed or dismantled as per the weather conditions. The best above ground pools is the one that fits in the yard space with dimensions appropriate to accommodate all the family members. These offer fun moments with friends or family in the summertime.
Above Ground Pools- Types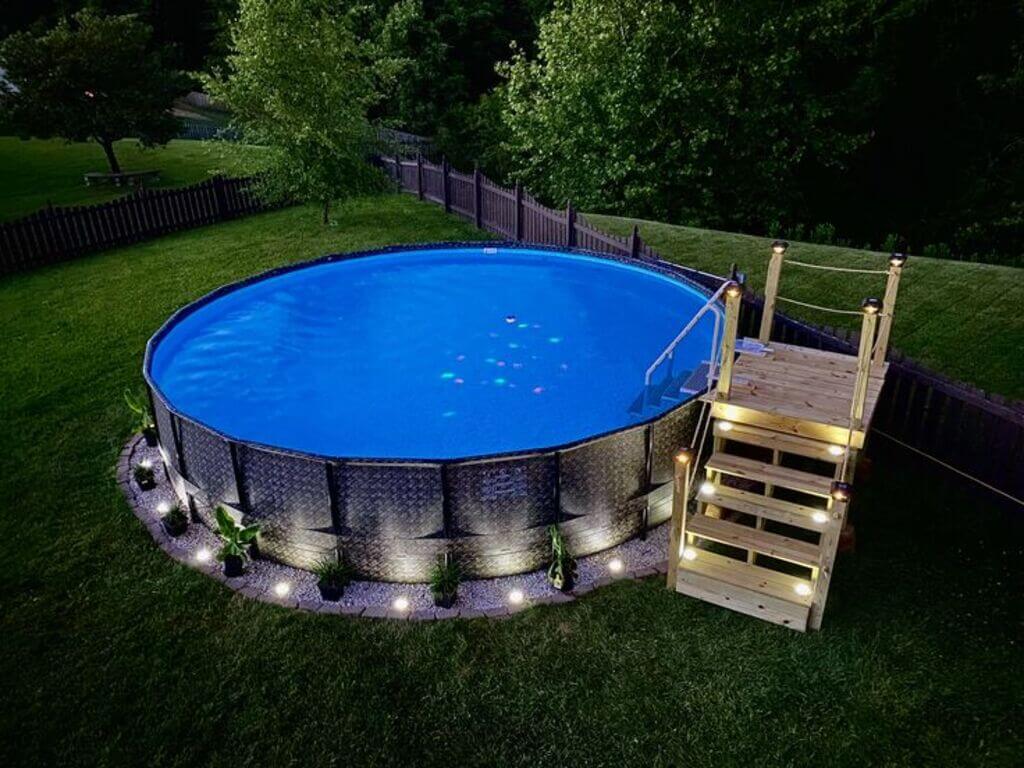 Source: pinimg.com
These swimming pools above ground come in different materials and various organic shapes. The material and size of the pool influence the installation process, strength, and maintenance required. The best above ground pool selected based on the dimensions and other requirements.
The different types of above ground pools available in the market are:
1. Inflatable Pools
These types of above ground swimming pools are most affordable, simple to put up, and require less maintenance. These can be inflated with an air pump, and it'll be all set to use. The setup takes minimal time based on the size of the pool.
Filters or chemicals are not required for their maintenance, however, these need to be cleaned, empties and refilled from time to time. These come in a wide range of sizes that may suit the family's needs.
These are the best above ground pools for a low budget for a fun experience.
2. Steel-framed Pools
As the name suggests, steel frame above ground pools are sturdy and long-lasting. The steel frame is composed of vertical supports with a side railing. The bottom and sidewalls of the swimming pool are composed of PVC, durable plastic, vinyl, or resin.
Steel enables users to go for a larger and deeper pool. These require chemicals to maintain hygiene in the swimming environment. For installation, it requires ground preparation, unlike inflatable pools.
3. Aluminium-framed Pools
Aluminium frame pools, with the amazing properties of aluminium, are strong, durable options that weigh less than a steel pool.
Even though they can resist rust, these pools are prone to oxidation.
4. Resin-framed Pools
Easier to maintain than steel, the resin is a solid, durable plastic material that is light-weighted. What makes a resin pool better than steel or aluminium is its resistance to rust. This is a solid option for the best permanent above ground pool.
A large pool with a resin frame requires a filter to clean the water. These are costlier than the metal frame pools but their durability and sturdiness make it worth the expense.
5. Hybrid Pools
Composed of steel and resin, hybrid pools are strong options to go ahead with. The individual properties of both materials compensate for the drawbacks of each other.
6. Semi-Inground Pools
Commonly known as radiant pools, these swimming pools are cheaper than an all in-ground pool and serve with various personalization options.
These designs are easy to employ on sloped or uneven grounds where a conventional pool is not feasible.
Considerations to Find the Best Above Ground Pool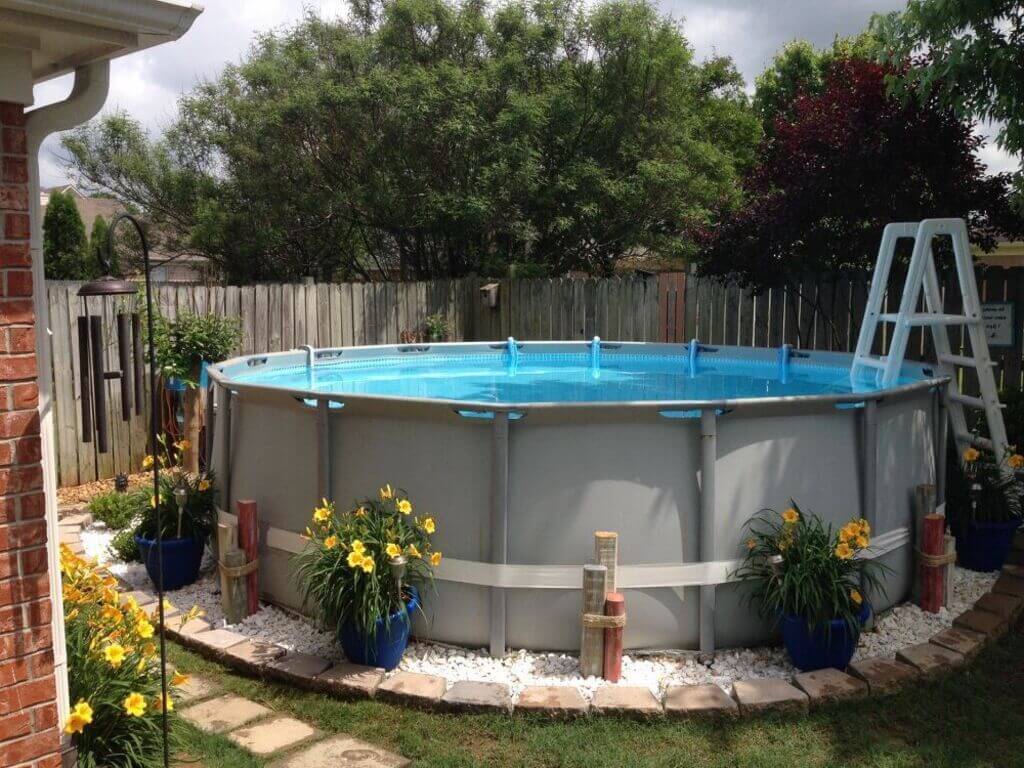 Source: pinimg.com
The location, shape, size, required depth, and type of the pool have a major role to play while selecting the best above ground pool for your house.
There are a few things to consider before making the purchase, these are:
1. Location and Landscaping
The first and foremost thing to consider is the strategic placement of the pool. Generally, locating an above ground pool near power lines, trees, on a concrete floor, or close to other landscaping features is avoided.
It is best suited on flat and even ground as irregularities can cause the water to apply more pressure on various areas that can lead to a weakened structure.
2. Shape and Size
With options of a square, circular, oval, or rectangular, the option should be considered based on the space available to place it. These measurements will lead to the best-suited shape.
Where square and rectangle pools offer more space, curved pools have lesser seams.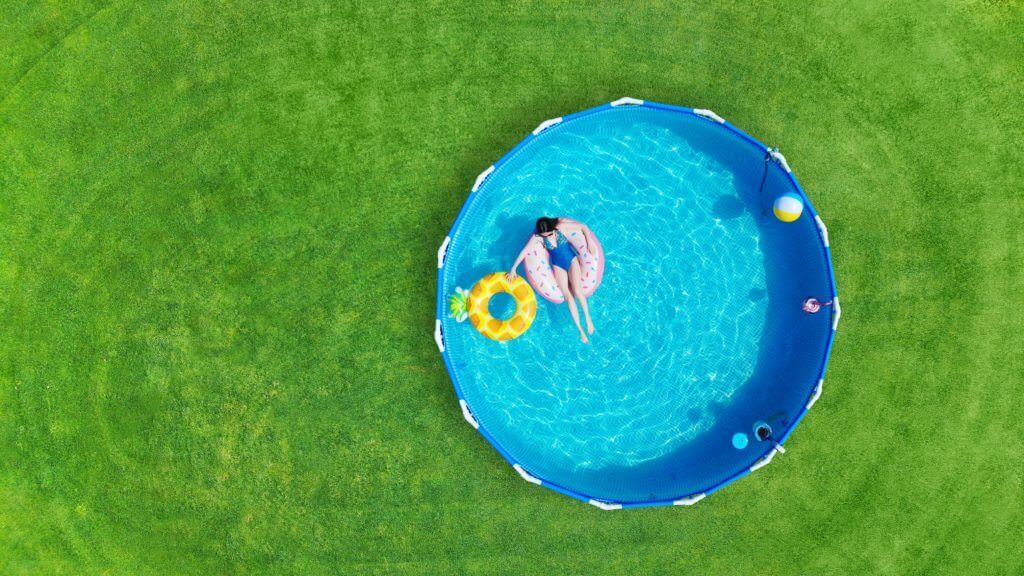 Source: schwimmbad.de
3. Depth of the Pool
The pool should be bought by considering who the users are and what would be the appropriate depth required for them. Pools for kids and young children are with less depth, whereas deeper pools suit the older swimmer the best.
Tall pools have more water holding capacity, but at the same time, they demand frequent filter replacement and removal of extra dirt and debris.
4. Pool Liner and Thickness
A liner is a layer protecting the pool and maintaining its structure. A pool with a flexible liner should be opted to go well with the shape of the pool. These should have enough strength to hold water with manageable thickness.
The thickness of about 20mm keeps a balance between durability, flexibility, weight, and thickness of the pool.
5. Convenience in Installation
The type of pool can be selected based on the efforts in the installation you're ready to put in. Inflatable pools are super easy to install in less time. Whereas, pools with metal or resin frames require a long installation process. 
6. Safety
The safety requirements should be considered before buying the best above ground pool for your yard. In addition to that, regulations and permit requirements should be taken care of.
7. Maintenance
Various models of above ground pools can demand different levels of maintenance. Inflatable pools require minimal maintenance, whereas, other types of pools demand installation of filters to keep the pool clean.
8. Extra Accessories
For additional fun, pools can be accessorized with extra equipment like a ladder, pool lights. Etc.
Apart from the fun stuff, these may also require equipment like a skimmer, chlorine generator for easy maintenance. 
Also Read: Swimming Pool Design Ideas
6 Best Above Ground Pool
In-ground pools come with unavoidable commitments and special attention required for them to sustain. Owing to various above ground pools brands, these offer a cool space to escape from the heat. From huge pools for swimmers, to easily foldable and movable pools, these are the top 6 picks of the best above ground pool available in the market.
1. Intex Ultra XTR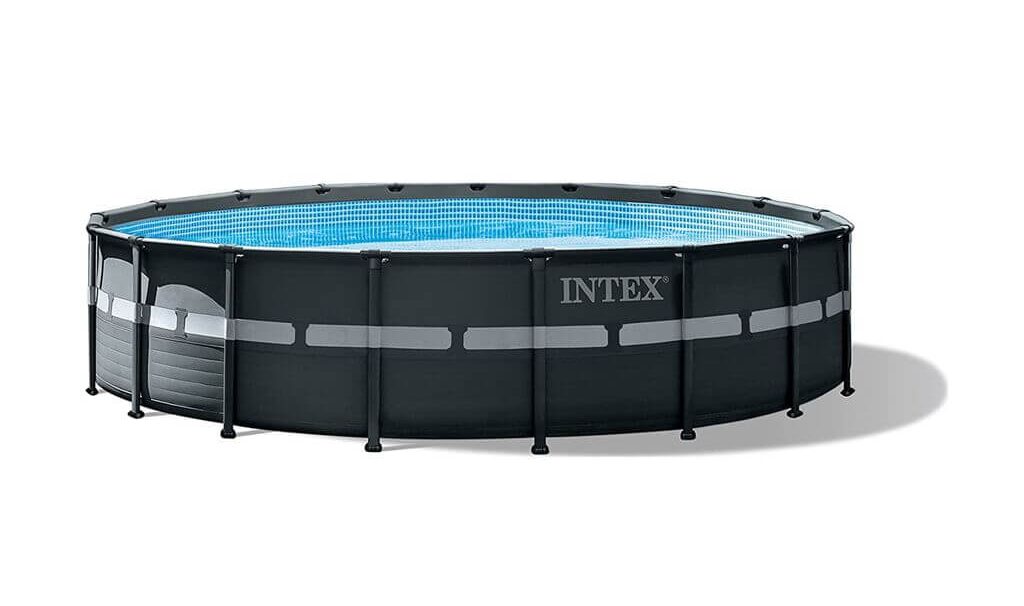 Source: hearstapps.com
The best above ground pool that beats the rest is Intex Ultra XTR Round Pool Set. This pool is offered with pieces of equipment like a ladder with anti-slip steps, sand filter pumps, ground cloth, and pool cover with a rope tie.
The frame of the pool is constructed of galvanized steel that imparts stability and sturdiness to the whole product. It is layered with a protective powder coating on the interior and exterior walls to prevent rusting.
This 52" tall pool with an 18' diameter can be set to splash water within an hour.
2. Intex Ultra XTR Rectangle Pool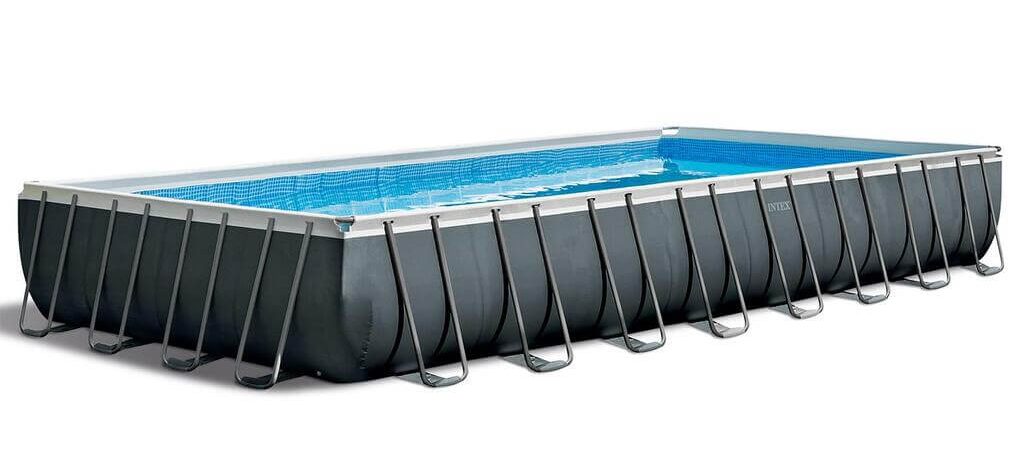 Source: stroyportal.ru
If you're looking for rectangular above ground pools, blindly choose Intex Ultra Frame Rectangular Pool that is 52" deep offered in various sizes. This pool is offered with accessories like ground cloth, debris cover, filter pump, and an anti-slip ladder. The largest pool is equipped with a maintenance kit.
This is a high-quality engineered product that ensures durability and resistance to weather conditions. The triple liner ensures resistance to punctures and the steel frames reinforce the sidewalls of the pool.
The dual suction outlets of the pool allow the water to circulate effectively and keep the pool clean for a long time.
3. Bestway Steel Pro Frame Pool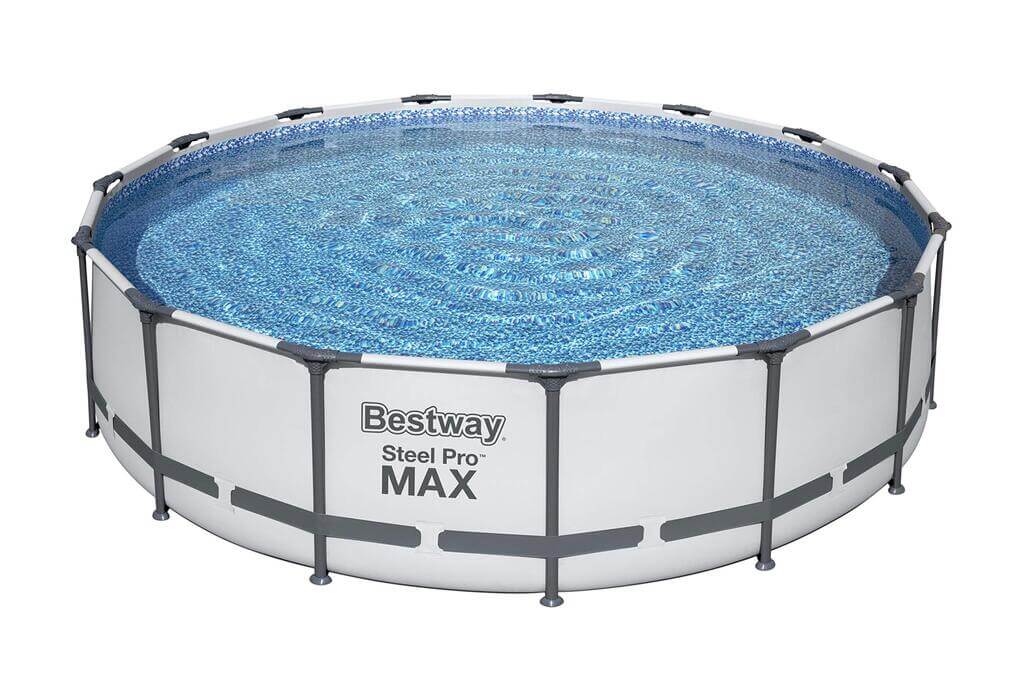 Source: shopify.com
Without demanding extra tools for the setup procedure, this is the best above ground pool that can be considered handy. The features of the pool include an anti-corrosion steel frame and tri-ply liner puncture-resistant liner.
The inclusive filter pumps keep the water clean and hygienic for a better experience.
4. Foldable Pool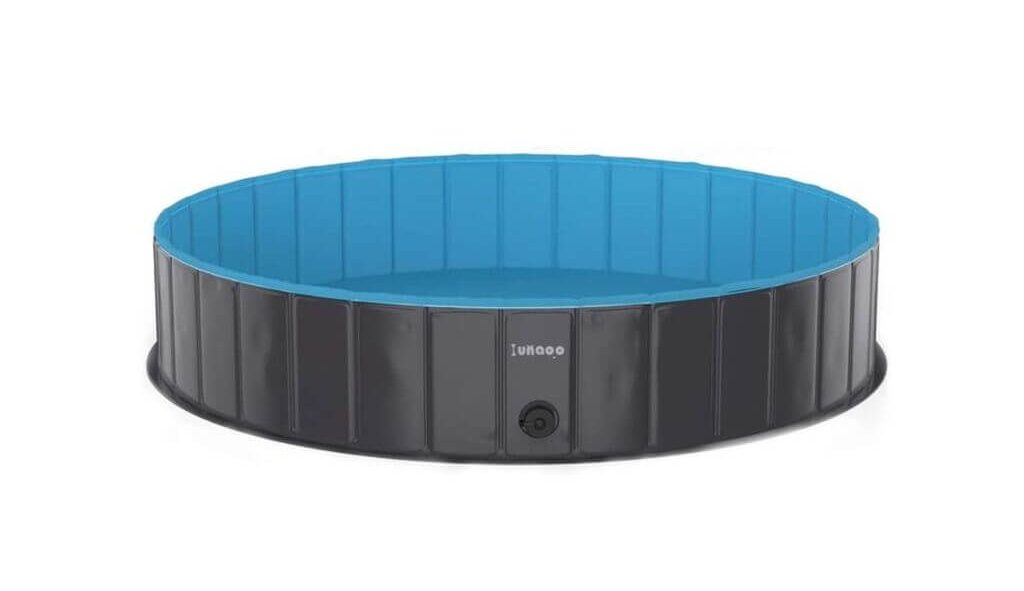 Source: hearstapps.com
Wouldn't it be amazing if you could fold and take your pool with you anywhere?
Well, the dream has come true. Lunaoo's foldable above ground swimming pool is a small, compact pool with portable options.
The circular pool can be easily folded into a small rectangle. This pool can be folded up to add more room when not in use. The reinforced fiberboard walls keep the pool from tearing and the inbuilt drains in the pool make filling up and emptying the pool an easy task.
5. Rainbow Ring Inflatable Play Pool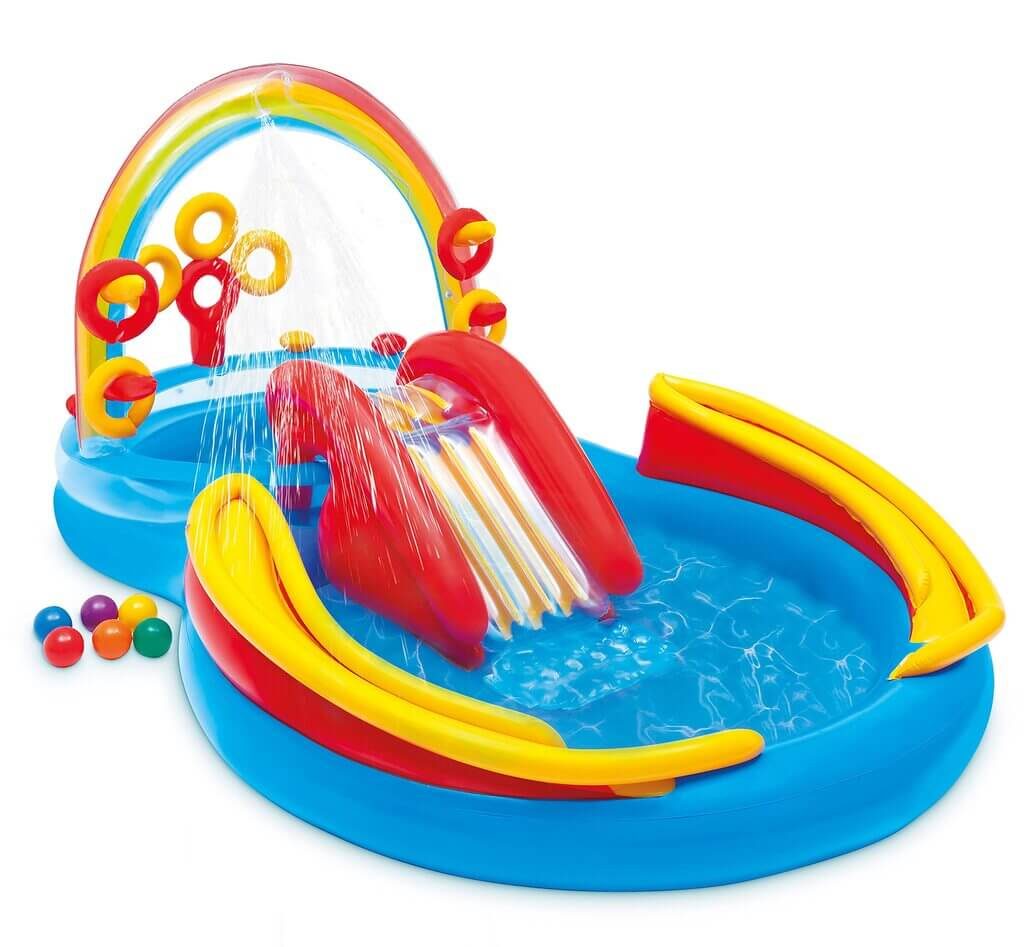 Source: media-amazon.com
Inflatable pools are the best above ground pool options for the little ones in your home. Rainbow ring by Intex is the best kiddie pool that includes an inbuilt water slide, water sprayer, wading pool, and a ring toss game with two pairs of inflatable rings.
This above ground pool with a rainbow theme offers a playing area for kids to simultaneously deal with the heat of summers. 
6. Intex Prism Frame Pool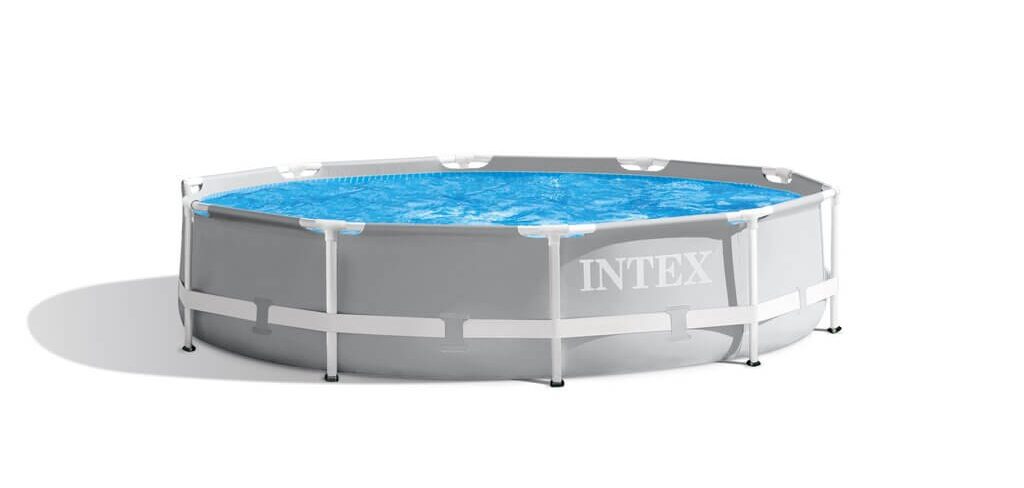 Source: shopify.com
Intex's prism-shaped pool is a strong and affordable option to spruce up your yard with an interesting setup. It is an easy-to-install pool with high quality. The only drawback is to buy an additional filter pump for the pool, otherwise, this is worth considering above ground pool.
Affordable Summer Luxury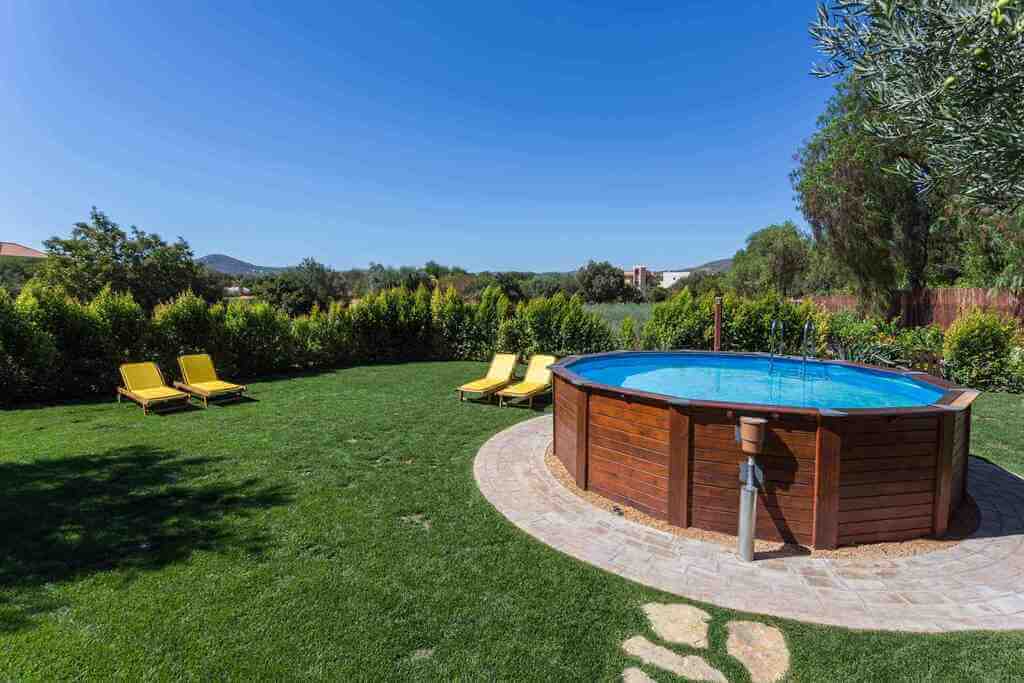 Source: gartenspring.de
Above ground pools offer a luxurious and fun way to relax on a hot summer day. The best part about buying an above ground swimming pool is the easy installation and setup of the whole system without having to spend on professionals. 
With a wide variety to choose from, the best above ground pool for your space will ensure an enhanced summer experience with friends or family. These pools can transform a bland yard into a cool way to escape the heat and can guarantee many years of enjoyment with the durability and strength of the designs.
To know more about cleaning tips, home improvement tips visit Architecturesideas.
For daily updates, follow us on our Instagram page @architectures_idea.