Getting organized is an excellent means to boost your productivity. Time is money. Time spent looking for something for the tenth time is time that is wasted.
This year more than ever, many people are working from home for the first time. People are looking for office organizing tips because many are setting up their first home office.
The good news is that this means you have more control over your workspace. The bad news is you have to take responsibility for all the details. Let's talk about where to start.
How Do I Set Home Office Space?
You need to pick a space in your home that you can dedicate to work. It's great if you can make it a separate room but not everyone can do that. A desk dedicated to nothing else can work well.
Determine how much space you need and also think about things like lighting and access to electrical outlets. If nothing obvious jumps out at you, consider cleaning out a closet. Sometimes, closets can be converted to a home office.
If it is out in the open, get a desk that can be closed up at the end of the day so it looks like a wardrobe. Then you don't have to look at your work constantly.
Of course, people always end up with questions about good and bad places to site a home office. Let's answer one of the most popular such questions next.
Is It Bad to Have Your Office in Your Bedroom?
There is no one right answer to this question. It will depend on a variety of factors, such as:
Do you sleep alone or with a partner?

How noisy is your work?

What kind of hours do you typically keep?
If you type loudly and often work while your spouse is trying to sleep, then having your workspace in the bedroom will lead to a lot of friction. You aren't likely to be productive because you will be fighting instead of working or quitting early to let them sleep.
If you share an apartment with roommates, your bedroom may be the only space you have control over. If so, putting your office in your bedroom may be the best answer. It can also work fine if you happen to live alone. You may enjoy the convenience of having your desk conveniently near your bed. This can let you record thoughts or be ready to work at a moment's notice when you get a phone call at odd hours, which is increasingly common these days.
How Can I Make My Home Office More Efficient?
When outfitting your home office, at a minimum you will need a desk, a good chair, and a computer. You will likely also need other peripherals, such as a printer and a smartphone. These can add up to a tangled mess of cords. This is not only unsightly, it's a potential hazard and a speed bump to productivity.
Ideally, you want to get those cords under control. Go ahead and spend money on inexpensive organizers. It's one of the best office organizing tips around. Whether you get clips to wrangle cables or a desktop file system, buying small organizers for your space can be some of the best money you will ever spend.
How Can I Decorate My Home Office Desk?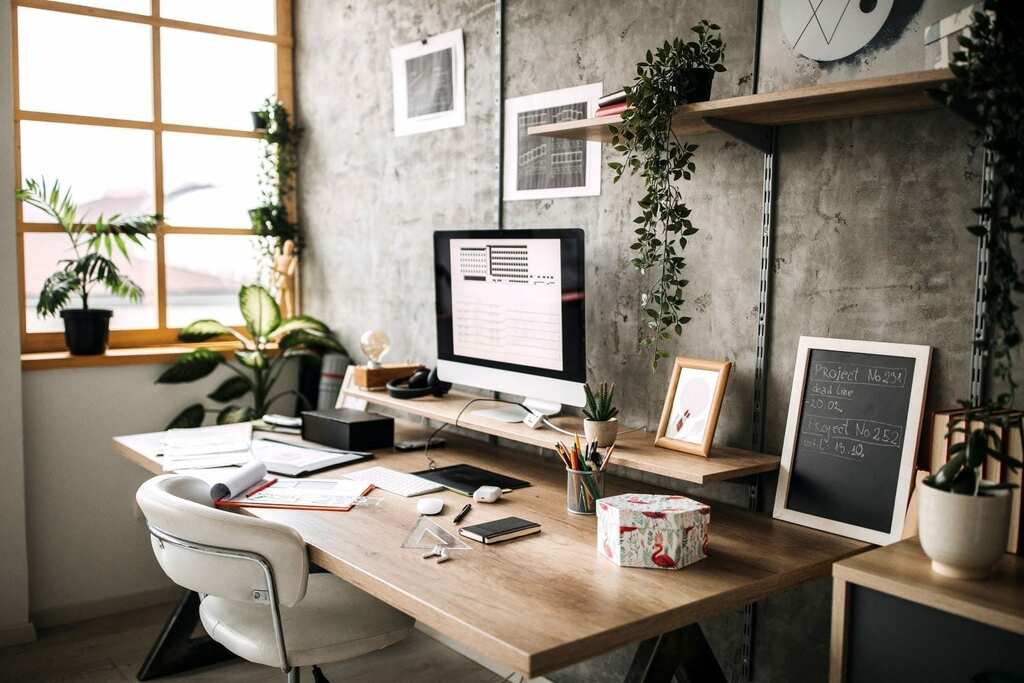 You can decorate your home office desk any way you want, but plants are a great place to start. They do not only help calm people down, but they also improve your air quality.
You should think of home office decor as another means to enhance productivity. A calm, happy space is one where you will be more productive and that can help improve your income or free up time to do other things besides work.
Reducing clutter and choosing calming colors is a good place to start. Then move on to adding art and accessories as you see fit. Do not hesitate to adjust things as needed. If something isn't working for you, you can change it at will at any time. A home office gives you enormous control over your space.
Conclusion
These days, a home office is often an essential part of life. Getting it organized and decorating it is time well spent and an investment in future productivity.
De-cluttering the space should be one of your top priorities. An uncluttered space means you will spend less time looking for things and more time being productive.
Once your home office is set up and organized, add a few plants and some favorite artwork to help set the mood. Personalizing it can make working from home a joy instead of just another chore to do.