20+ Trending Fireplace Tile Ideas to Spruce Up Your Home
Fireplace tile ideas can be used to frame or draw attention to a fireplace, providing an accent. You can effortlessly spruce up your fireplace in a way that will give your space an instant wow effect. Indeed, with the right tile, your fireplace may easily become the focal point of your home.
Whatever room you're looking for fireplace ideas for, there's a tile that'll fit just perfectly. What is the best piece of advice, you ask? Choose a tile that represents the style of your home, if not its period or the trend everyone's following. We've compiled a list of the top fireplace tile ideas selections that can fit anyone's taste.
1. Timeless White Subway Tile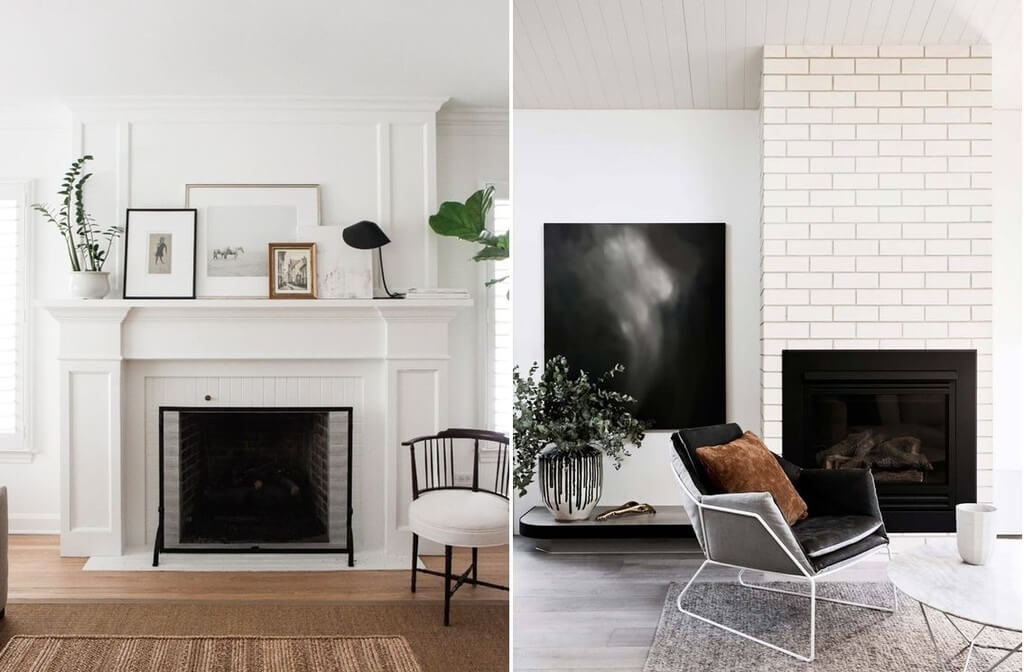 Source: homedit.com
This one tops the fireplace tile ideas list! Whether you're updating your old fireplace or redesigning a new one, a few easy touch-ups with the subway tiles will bring it up to match the trends. The white-on-white subway tile can look great in any contemporary themed house.
To scale more on the modern-looking houses, pair the white subway tiles with glass fireplace doors. Additionally, these white tiles make your space appear larger while being forgiving to stains and ash marks from the fireplace.
2. Fireplace Tile Ideas: Mix-and-Match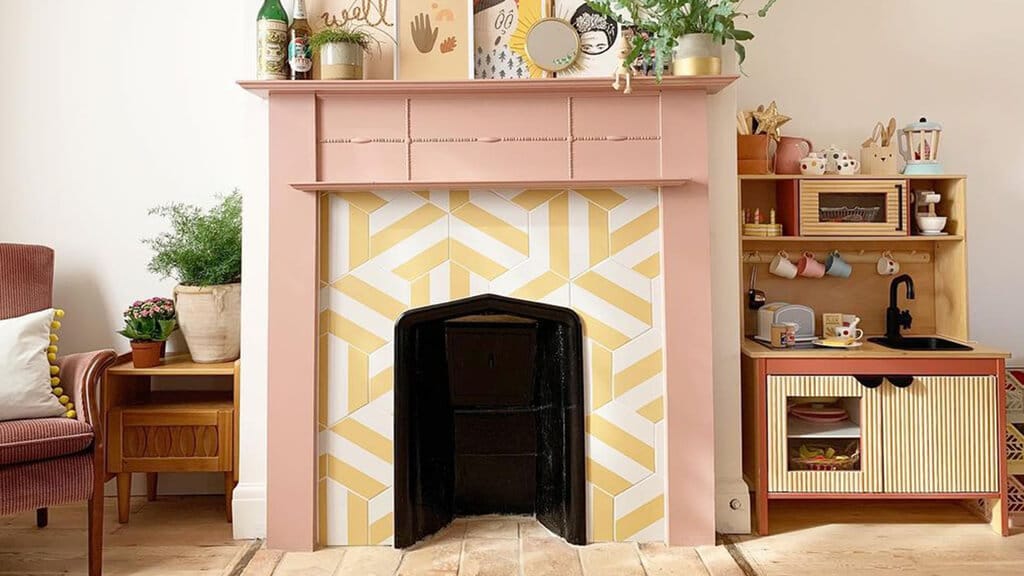 Source: futurecdn.net
Looking for an eccentric fireplace design? Your hunt ends here, get creative by mixing and matching the same pattern of tiles in various hues and patterns. With its alternate color patterns of tiles, these tiles for around the fireplace can perfectly stand out and could charm your guests. With a few candles over the mantle, delicate monochrome cutouts, and classic ornaments setting, you're done!  
3. Mimicking Natural-Stone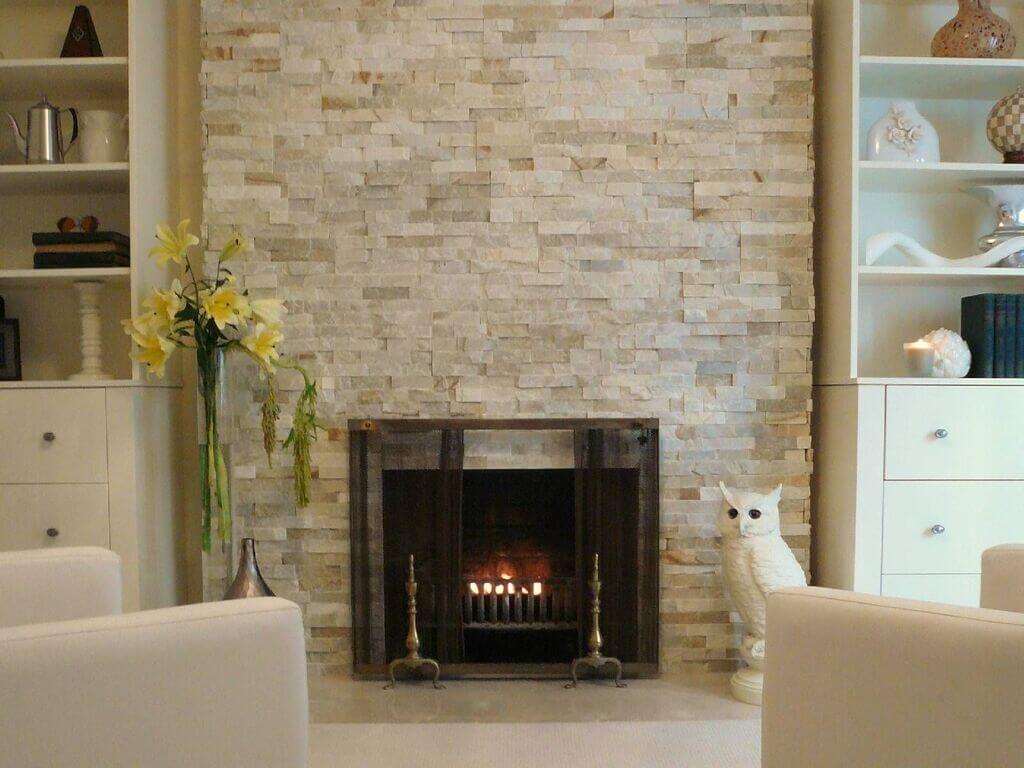 Source: teahub.io
Who doesn't enjoy the subtle sound of a crackling fire while sitting around an authentic stone fireplace? This traditional style still has its place in fireplace tile ideas 2022. This look can be easily achieved with tiles that depict natural stone, it looks so real that one might have to come close to touch it to differentiate. This regal ambiance will set the tone and instantly adds age and character to your fireplace 
4. Fireplace Tile Ideas: Glass Tiles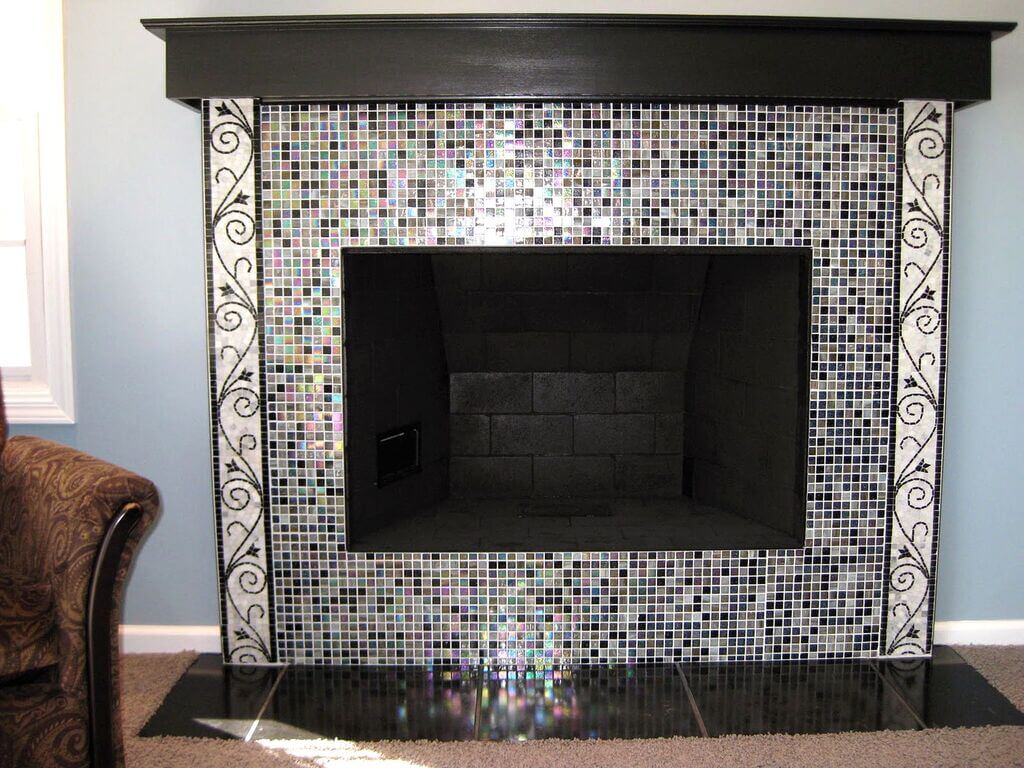 Source: pinimg.com
When you want to add some extra gloss or shine to your fireplace, glass tiles are a fantastic way. Glass tiles around the fireplace reflect both natural sunshine and beautiful flames, there's no settling with these tiles. If you want to see the beauty of flashing light all across the room, glass tiling the entire mantel can be something to think about. As the glass tiles become a subtle background, your fireplace can easily become the focal point. 
5. The Marble Show!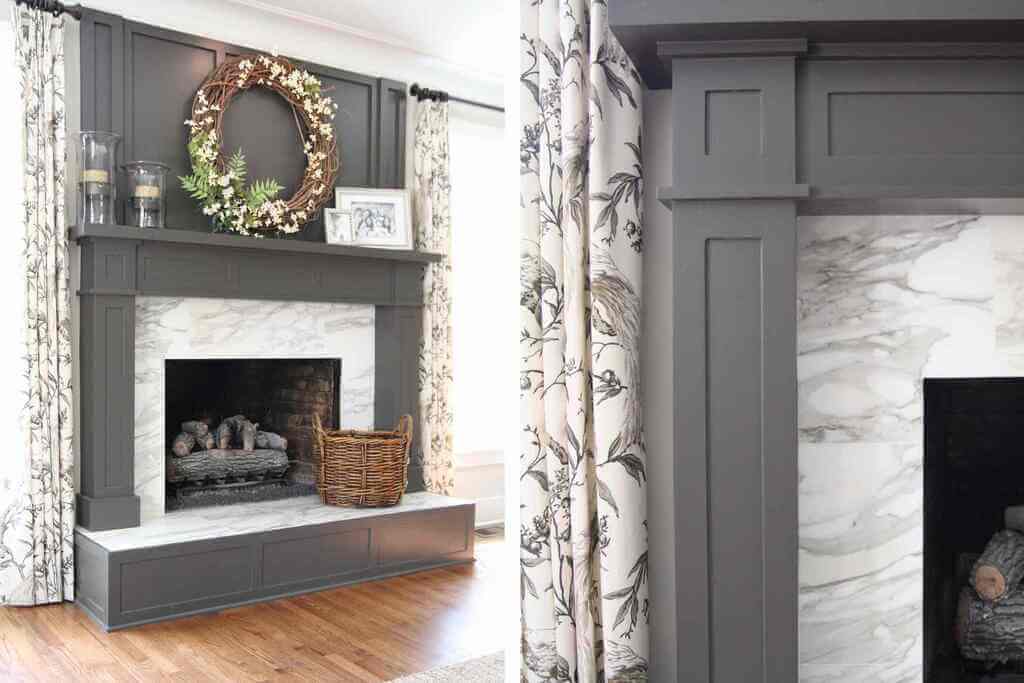 Source: thespruce.com
You've probably seen marble floors, but what about marble hearth walls? The marble's simplicity adds beauty to the space and makes it a standout feature in your home. But we all know it comes with its cost and more than that it's maintenance, also, marble may show cracks when exposed to extreme heat. This isn't the case with tiles. With technological advancement in the tile industry, it's super easy to get a tile that replicates marble without burning holes in your pockets. 
6. Terracotta for the Win!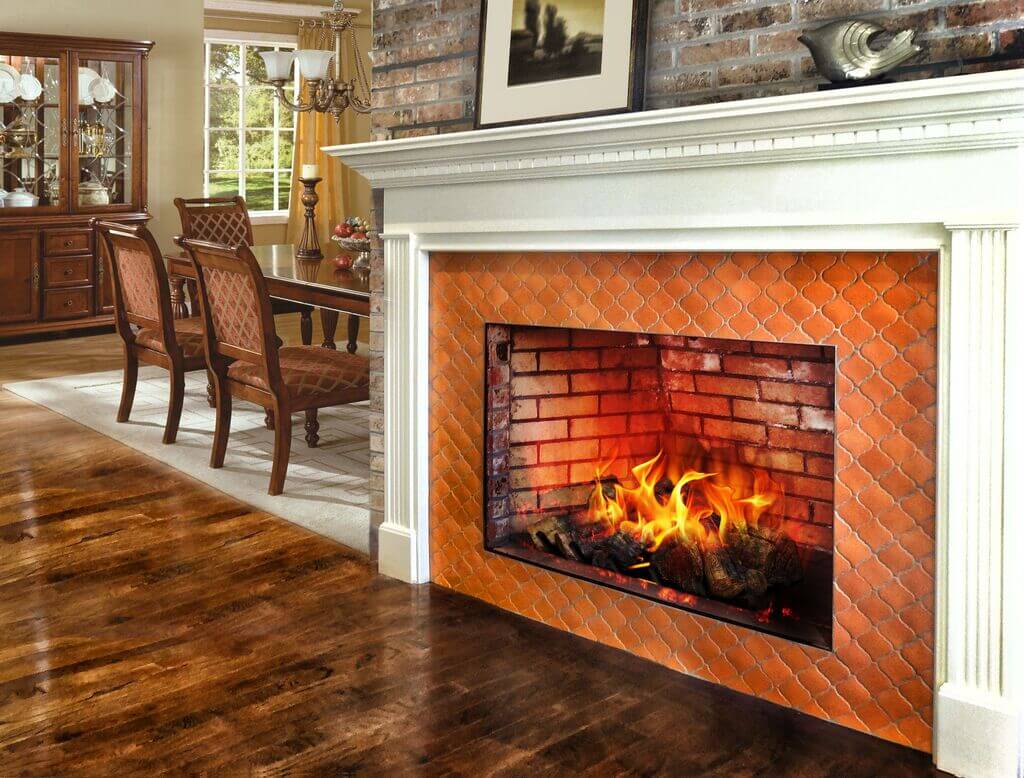 Source: pinimg.com
Who says terracotta is only limited to the exteriors of the house? It's 2022 and we have enough safety nets to experiment with whatever material we like, in this case–terracotta The terracotta tiles will look wonderful for both contemporary and modern themed fireplaces. They have a hacienda feel about them, but they can also be used with a more rustic, earthy design.
7. Fireplace Tile Ideas: Colorful Tiles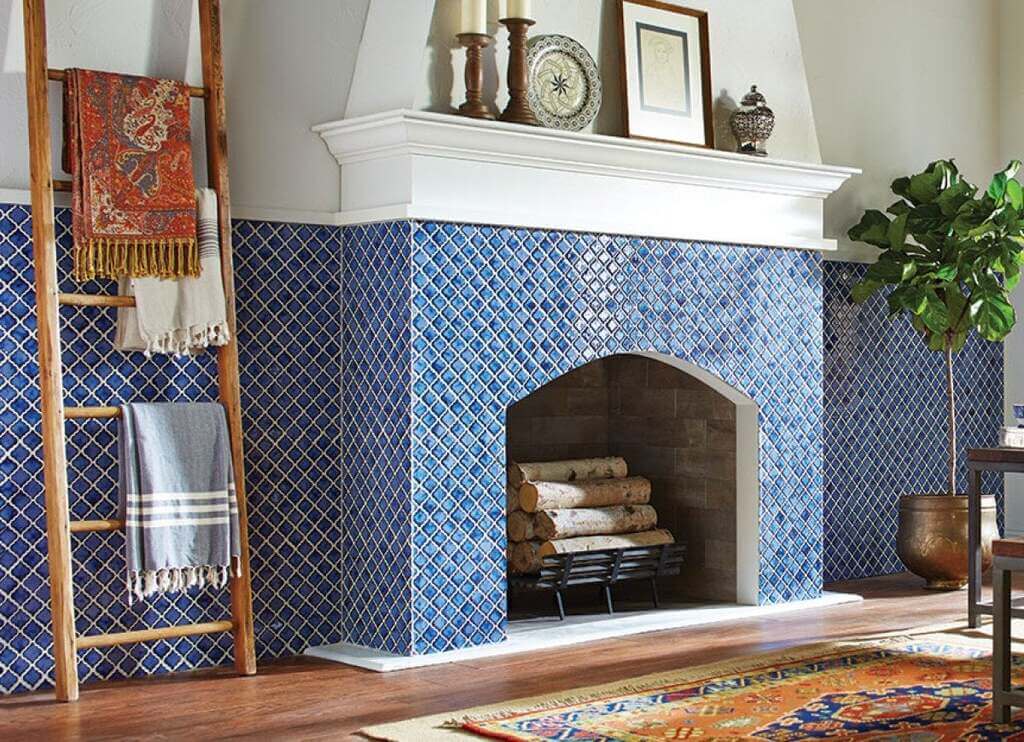 Source: bobvila.com
We can't make a list of tile fireplace ideas and not mention the diversity of colors tiles can offer! Cover the walls around the fireplace with bright colorful tiles. You can also add some attractive home décor items and a painting to the shelf over the fireplace. Adding these pops of color can help it stand out even more, especially if you use bold colors that don't shy away.
8. Fireplace Tile Ideas: Stunning Contrast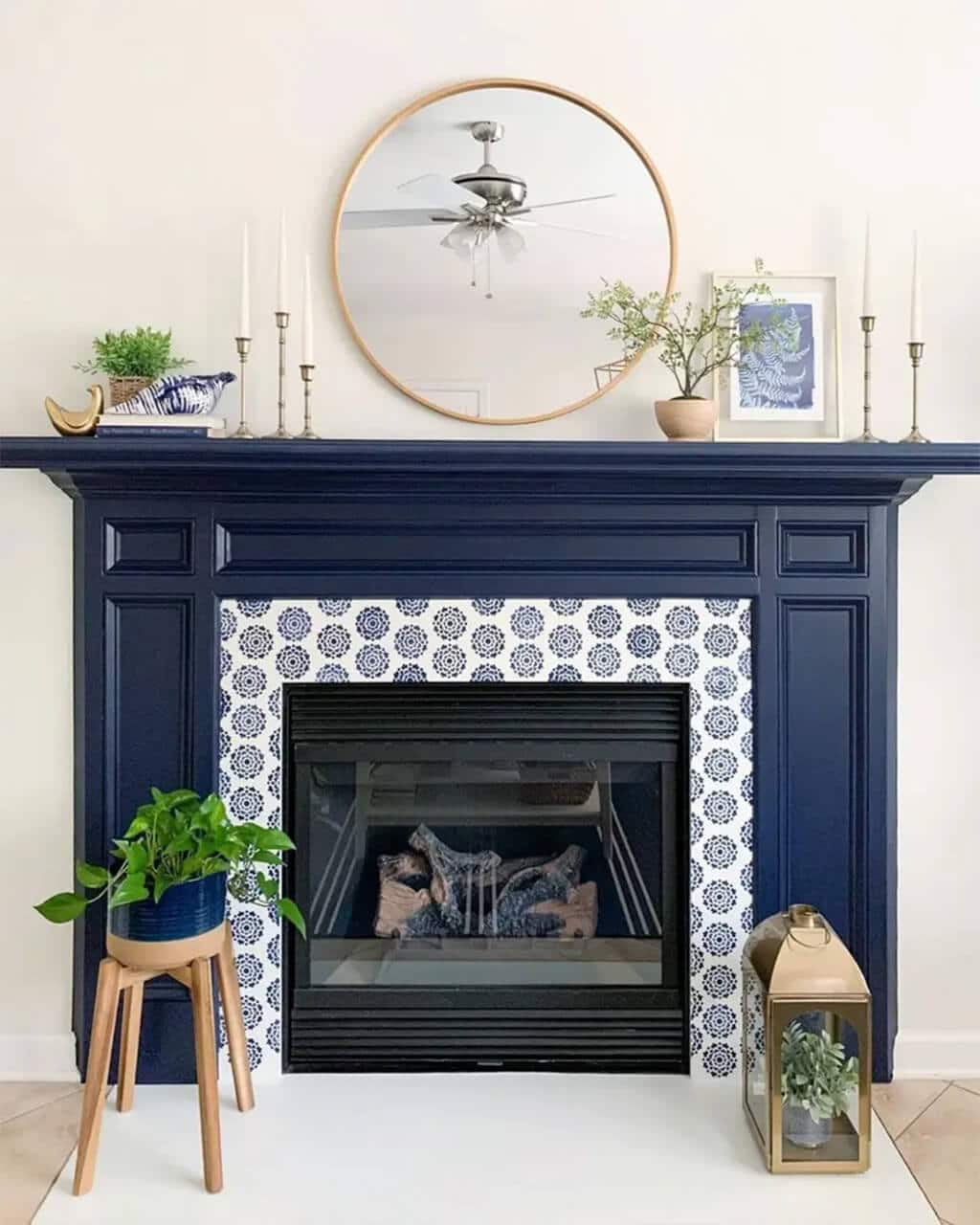 Source: mydecorative.com
One of the best fireplace tile ideas If you choose dramatic contrast between your tiles for your fireplace, a classic black mantel around the fireplace, set against a simple white background, will create striking contrast in your space. You may also add a touch of zen by placing your black and white photo frames around it.
9. Fireplace Tile Ideas: Eccentric Patterns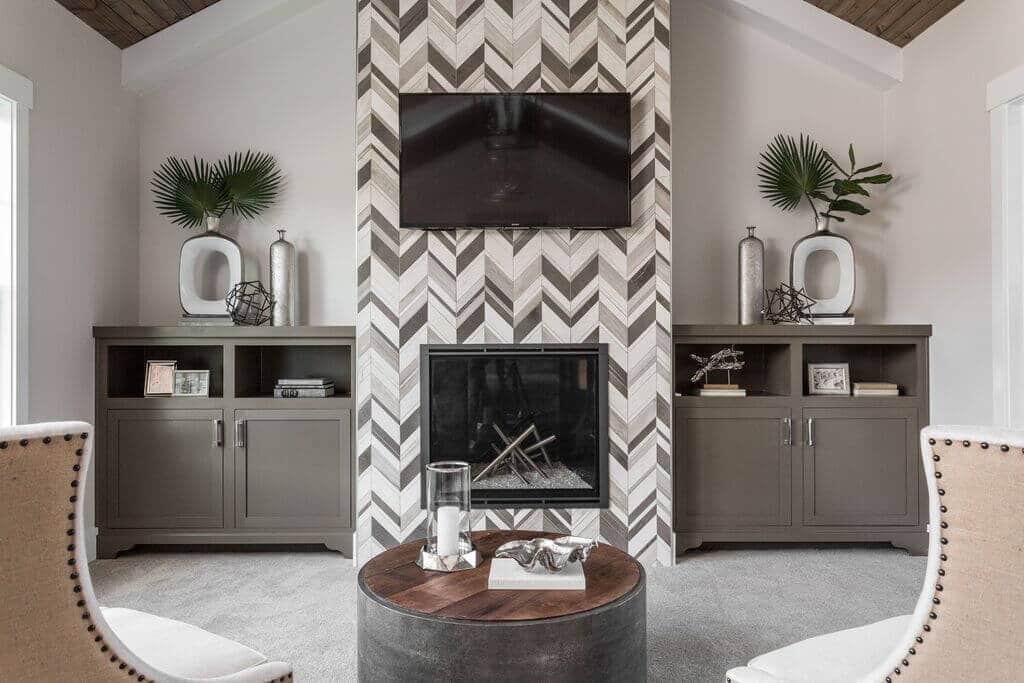 Source: pinimg.com
Are you tired of your old fireplace and searching for modern fireplace tile ideas? Perhaps it's time to go a little off the track and experiment with some unique patterns to attract some attention. Even the most basic tiles with different patterns like zigzags can be a smart way to dress up a fireplace while being inexpensive. Ideally, you should start experimenting with a smaller patch and then go all the way in and fix with the permanent pattern. 
10. Fake the Wooden Look!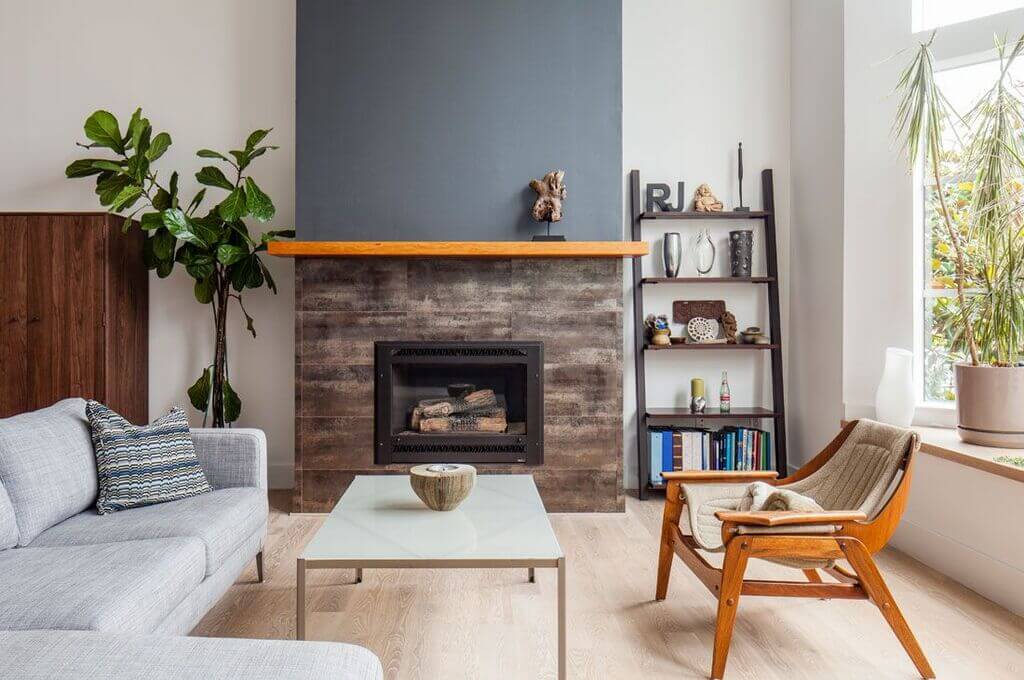 Source: thearchdigest.com
Tile can now be found in a variety of textures, patterns, and prints, so much so that you can get a feel like you're in a forest! all thanks to modern design technologies. This forest feel can be achieved with a faux wood design on tile, for the best illusion, opt for larger slabs of tiles. This would help express the fake knots and swirls of the wood without any compromise. It's no surprise that ranks in the top 10 for fireplace tile ideas! 
11. Fireplace Tile Ideas: Matte Stones on Tile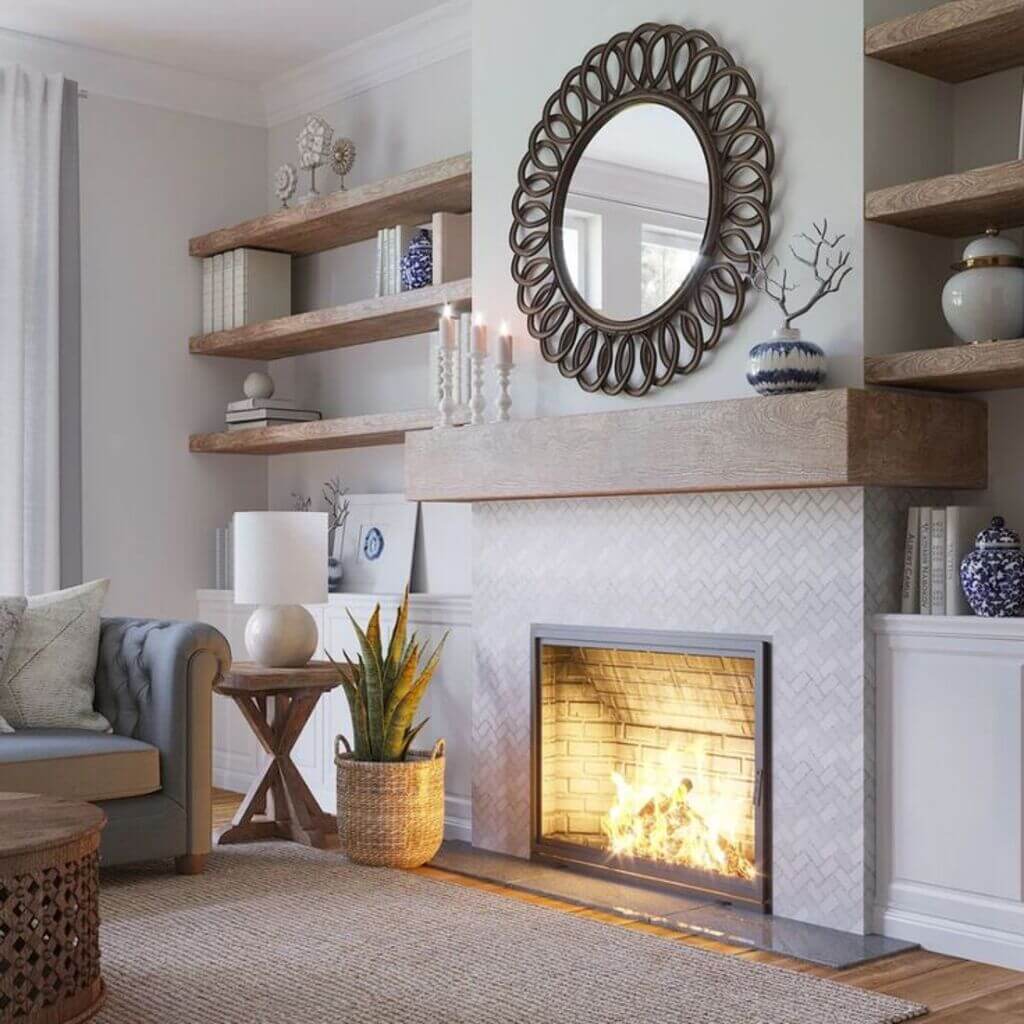 Source: pinimg.com
While many people want their tile fireplaces to be often associated with modern homes, this tiles for around fireplace idea stands tall on the classic traditional side. Matte stones on tile around the fireplace prove that the clean, stone aesthetic can be enjoyed in a variety of contexts. This luxurious combination also has an old-world cottage feel to it, which is not only timeless but quite rare too.
12. The Perfect Traditional Brick Touch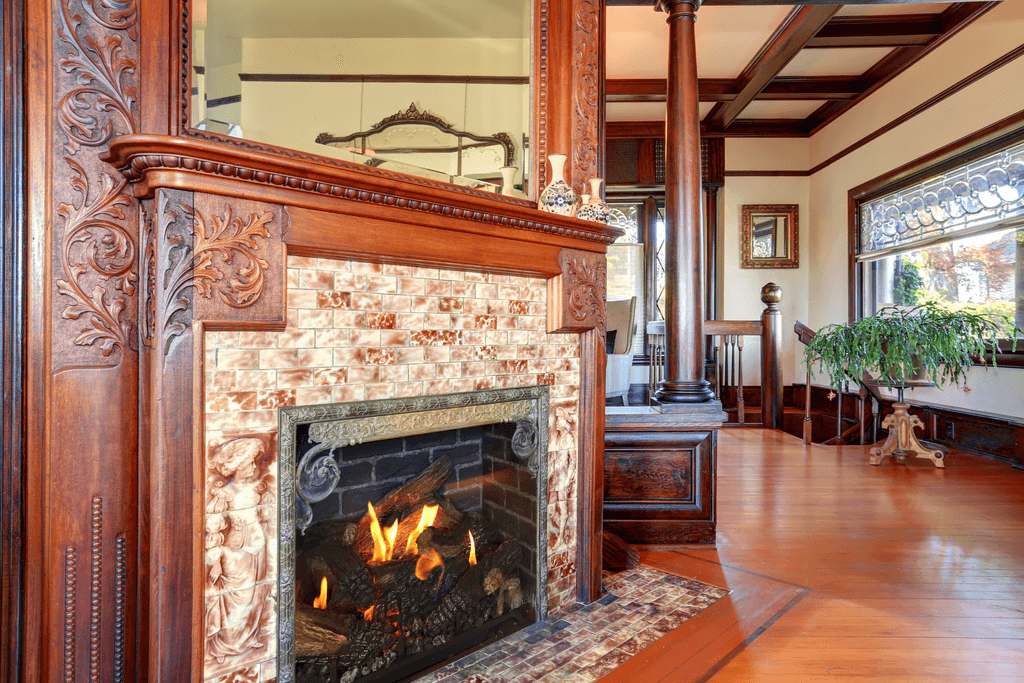 Source: amazonaws.com
It's no surprise when most people think of a fireplace, they envision one with a traditional brick finish that gives a craftsman house vibe. As exposed bricks are quite hard to maintain but with today's technology, there are many alternatives like using brick-style tiles that maintain the original aesthetic. Installing these tiles with gleaming accessories above the fireplace is the perfect way to make a style statement in your home.
13. Fireplace Tile Ideas: Hues of Beige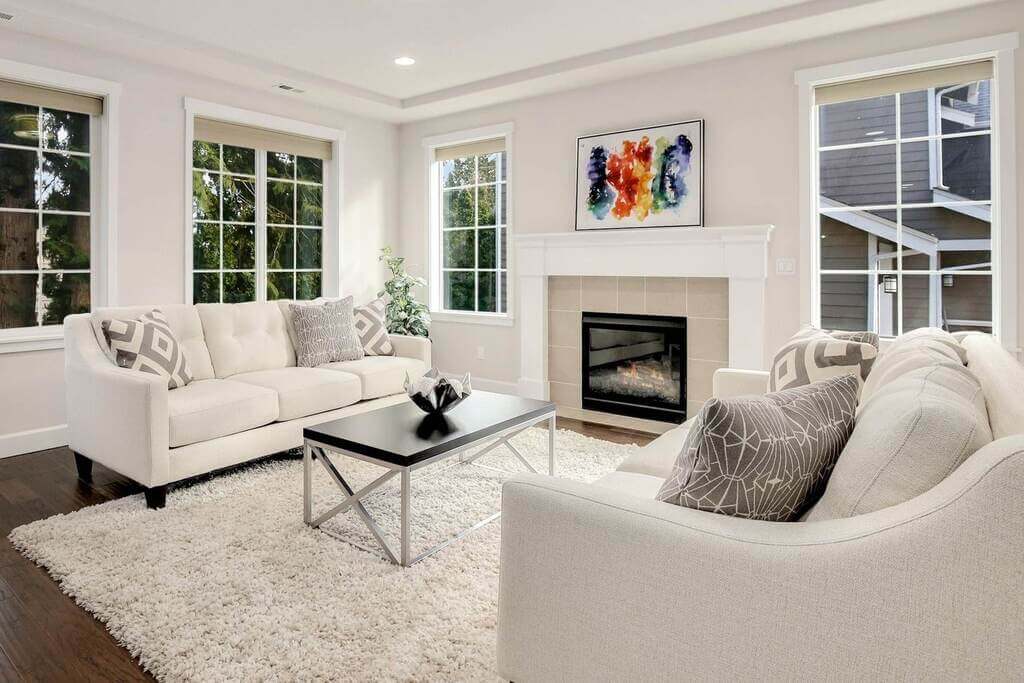 Source: hzcdn.com
Anyone who's been looking for farmhouse fireplace tile ideas, this is it! Beige tile can add an 'old world' traditional appeal to your space but an aesthetic in the present. Beige has always been a preferred material for fireplace tile surrounds because of its ageless and exquisite appearance. It's an excellent choice for traditionalists who want their design to last a lifetime. It also creates the perfect backdrop for any color décor above the mantel to pop and make a bold statement. 
14. Ceramic Tiles with a Pearly Finish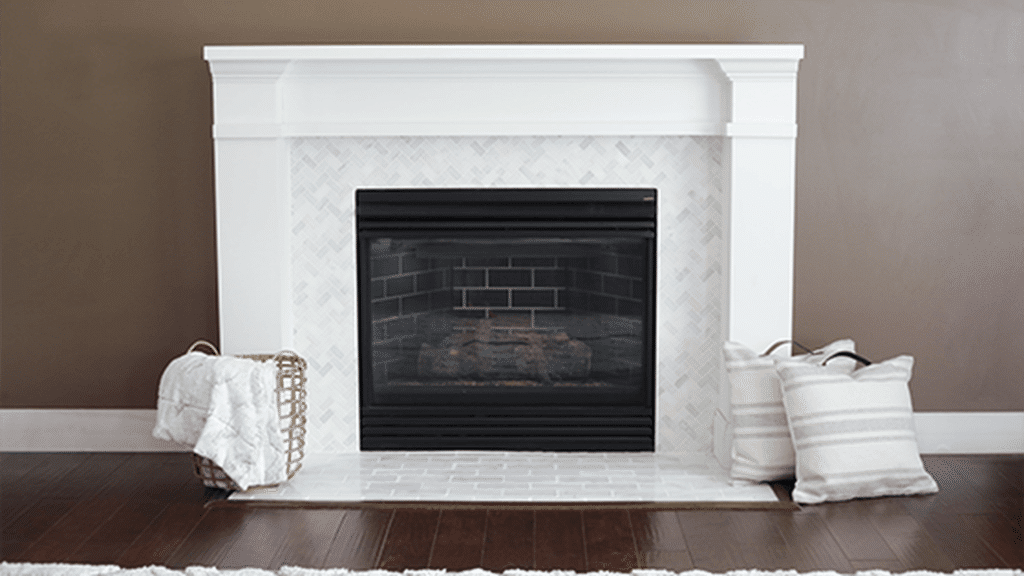 Source: vox-cdn.com
The pearly ceramic tiles around your fireplace can offer a stunning sheen that contrasts beautifully with the warm flames. Furthermore, it can incorporate soft and sandy tones throughout the room without overshadowing or overpowering the elements and décor in the space. 
15. Fireplace Tile Ideas: Vintage Square Tiles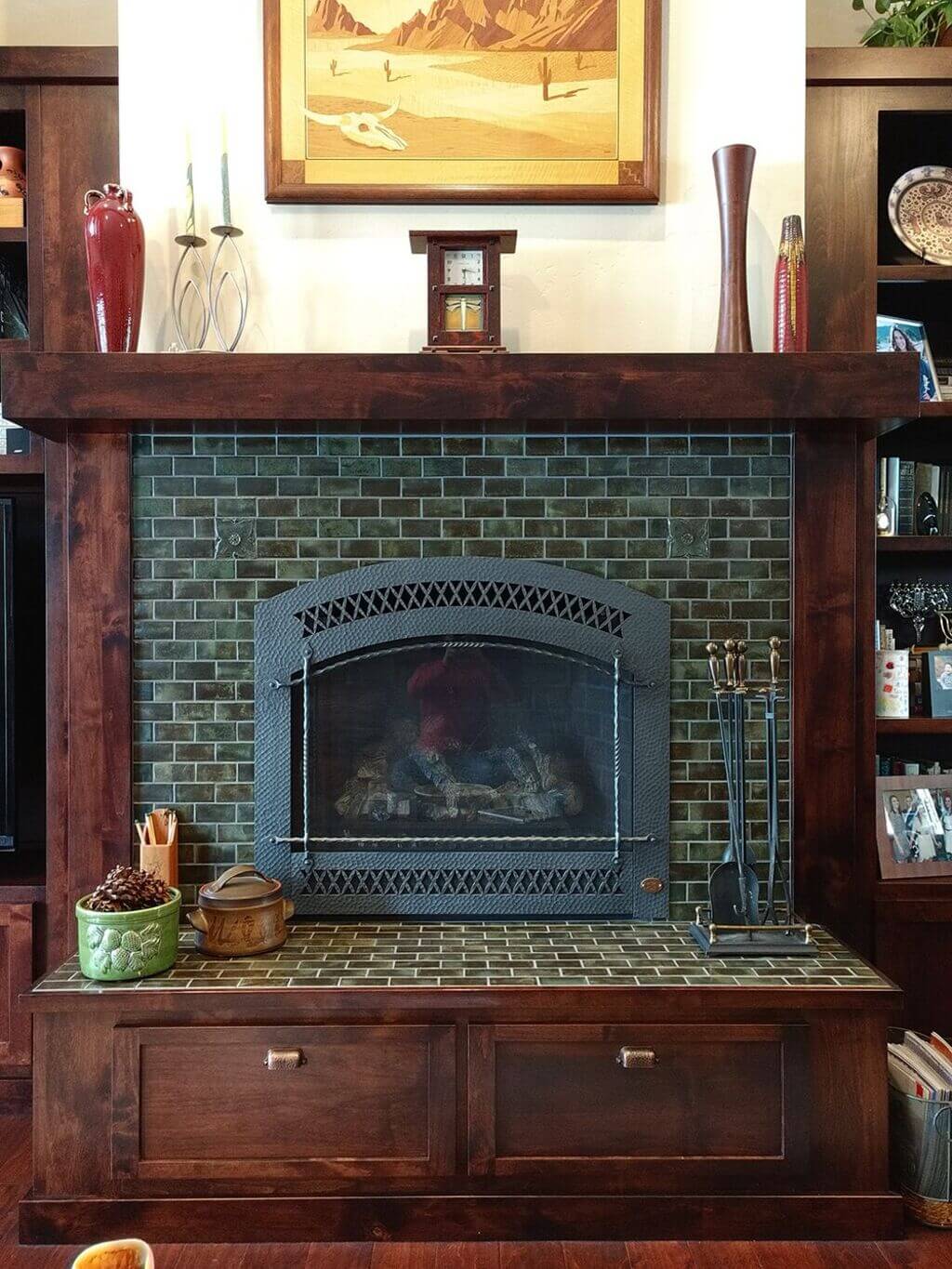 Source: pinimg.com
The iconic vintage square tiles are proof that brand new isn't the only beautiful option for best fireplace tile ideas. Whether you're working with existing tiles that simply need a little touch-up here and there or sourcing old tiles for a new restoration, a vintage squared tile seamlessly fits anywhere! 
16. Charms from Countryside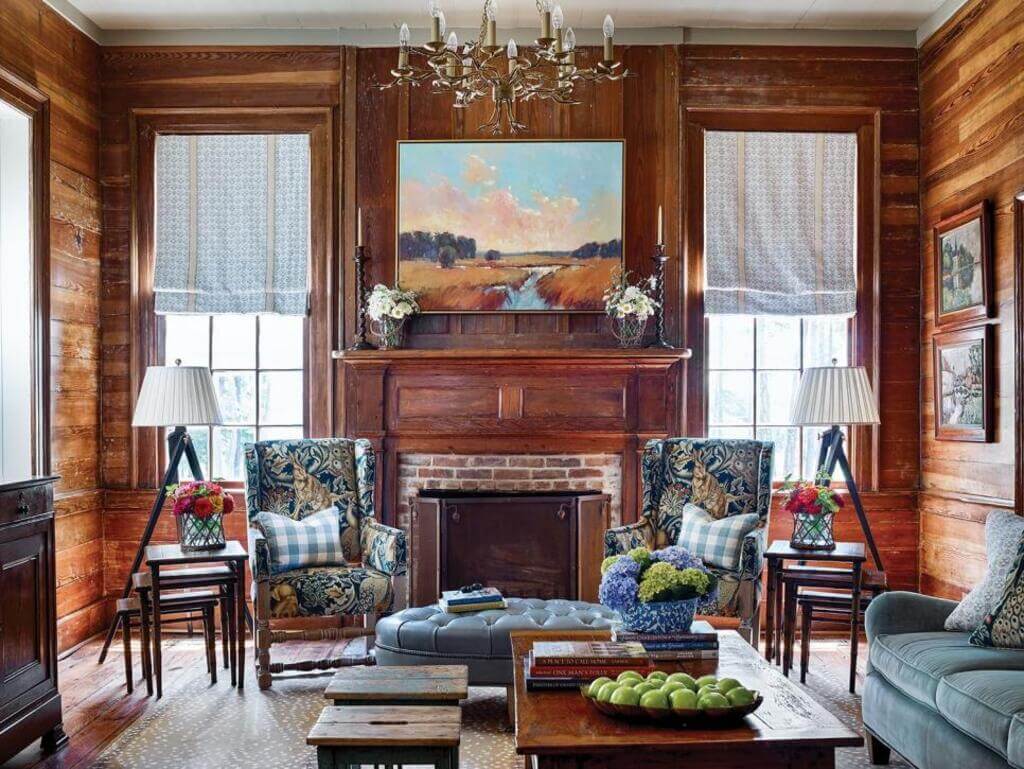 Source: sndimg.com
When it comes to designing smaller spaces, most people go for subtle and lighter shades. But having a great mix of textures is just as important as in a larger space. This can be achieved with tiles that give a rustic material look without dominating or making a space appear smaller. The rustic patterns like lumber and rattan from tiles offer a striking visual and physical contrast when designed with the fireplace.
17. Fireplace Tile Ideas: Go Boho!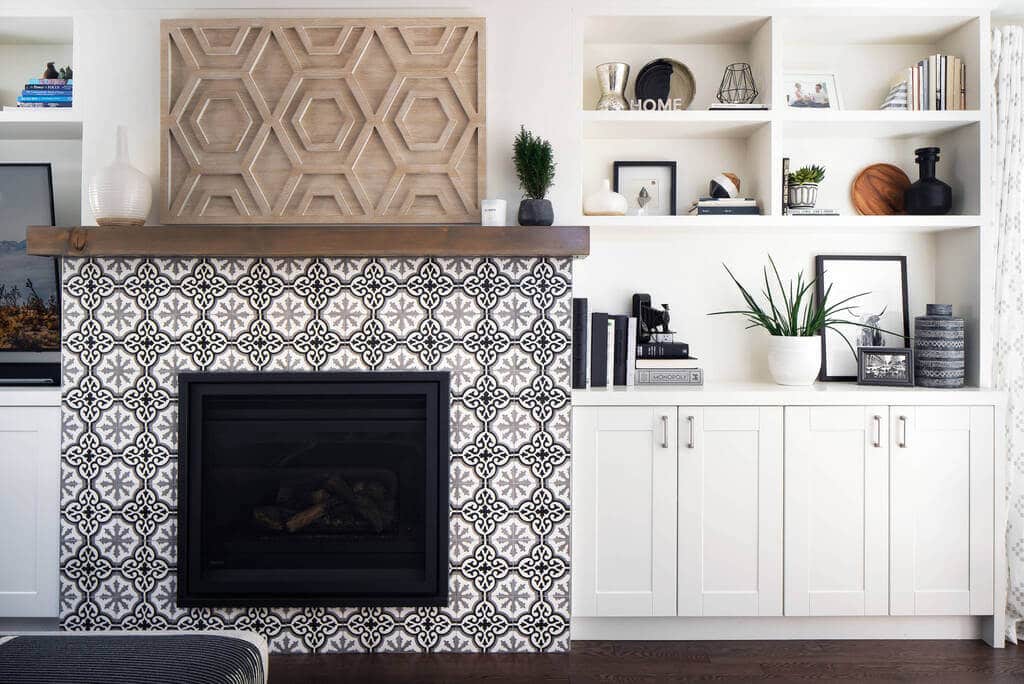 Source: hzcdn.com
This fireplace tile idea is just like your favorite patterned rug has been transformed into a fireplace tile, already loving the imagined idea? Choose a light color, like blue, if you don't want it to overshadow your space. Furthermore, you can also enhance the overall boho theme with layers of windchimes, dreamcatchers and your fav travel find to form a cohesive look.
18. Fireplace Tile Ideas: Cool and Coastal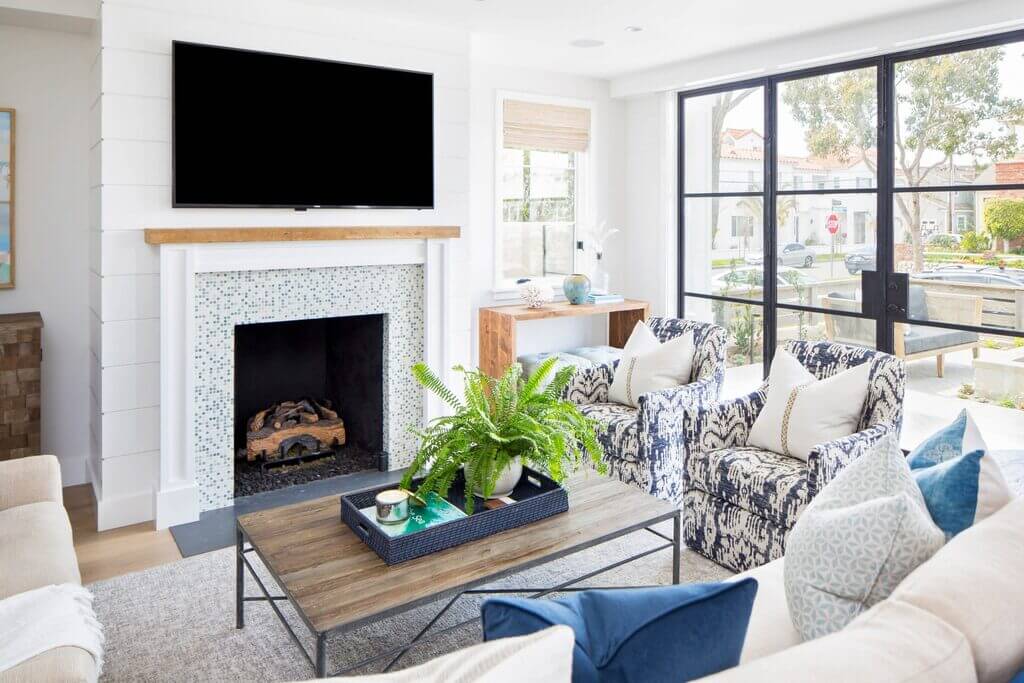 Source: fireplaceremodelguy.com
This modern fireplace tile idea is for all beach babies! If you have a beach property, you should attempt tiling your fireplace in a coastal theme, aligning with the beach surrounding. Even if you don't have a property you can still opt for this theme by simply opting for tile hues in blue and white. Furthermore, go all out, add shelves to the top of your mantel to hang your beach caps and shades!
19. Fireplace Tile Ideas: Animal Prints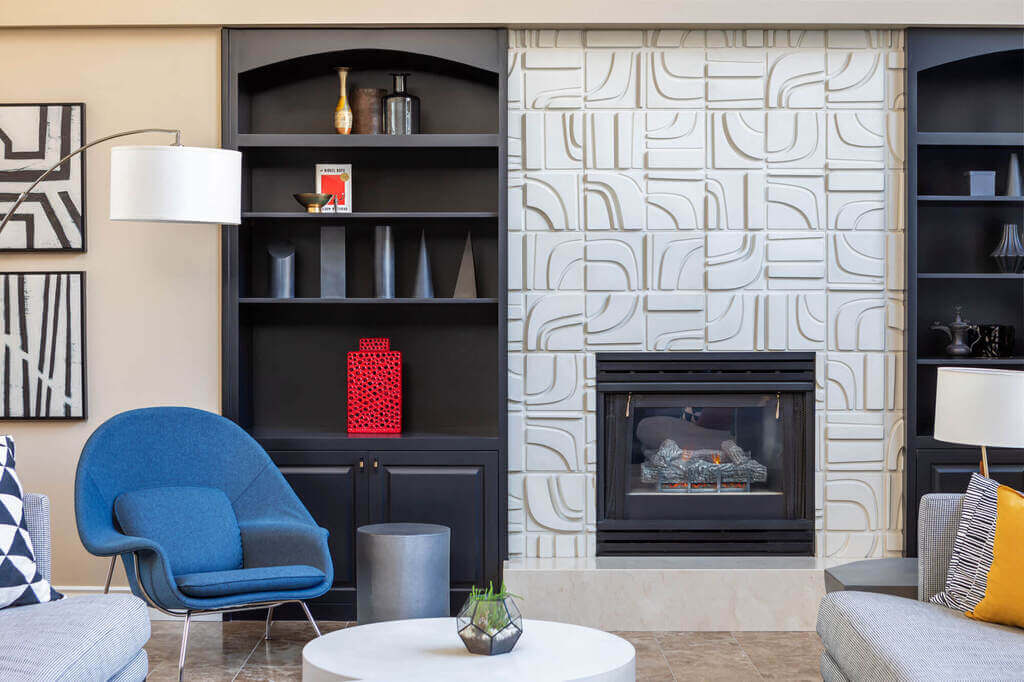 Source: netdna-ssl.com
Animal designs are always debatable in terms when it comes to home decor, on the one hand, they are timeless, but on the other hand, they might be "too much". But hey! a fireplace with bold tiles that has animal paintings also gives a unique ranch feel, so why shy away? To keep the motif going, use woods and natural textures.
20. The Failproof Black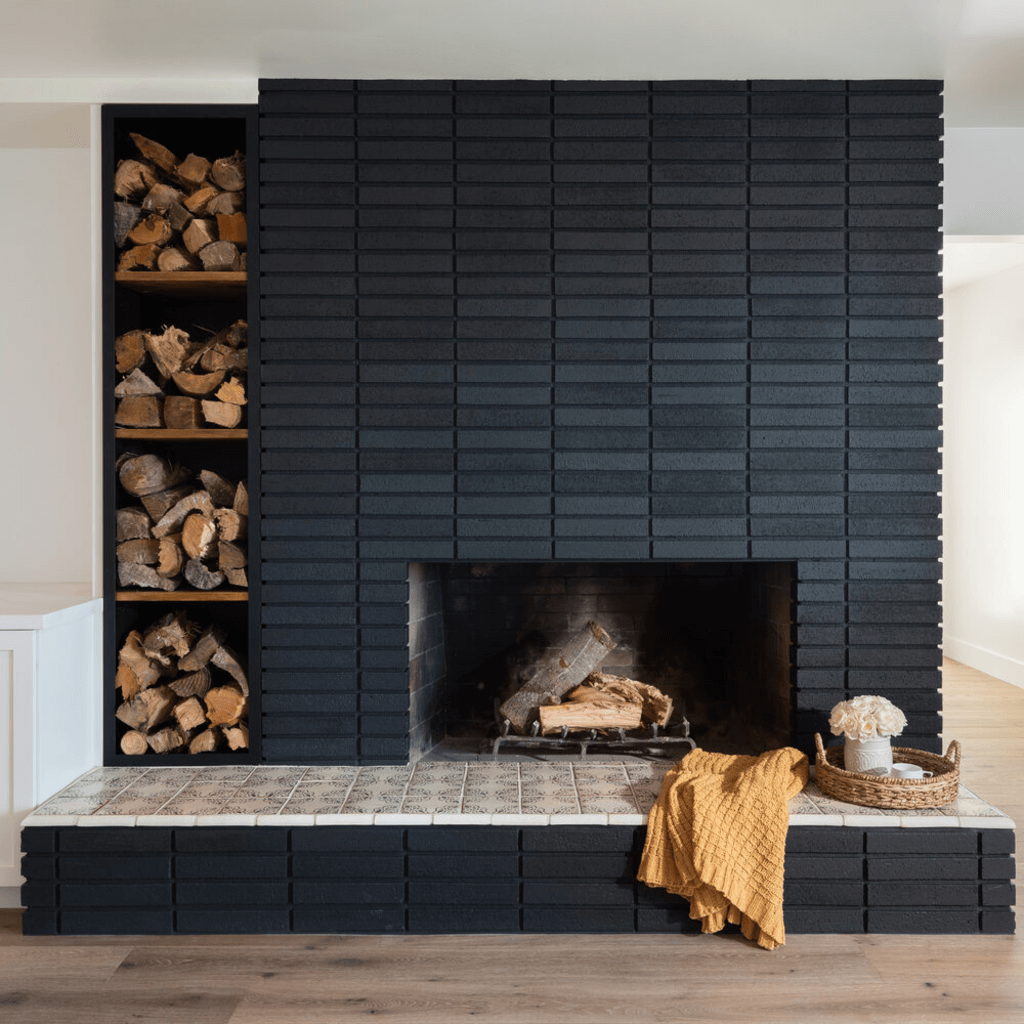 Source: pinimg.com
An otherwise light and airy area is grounded by a black tiled fireplace. But we understand if the color black makes you uncomfortable, or makes the whole space gloomy you don't have to avoid it entirely. Keep the fireplace white and only tile the small portion in black. 
4 Tips to Create an On-Trend Fireplace for Your Homes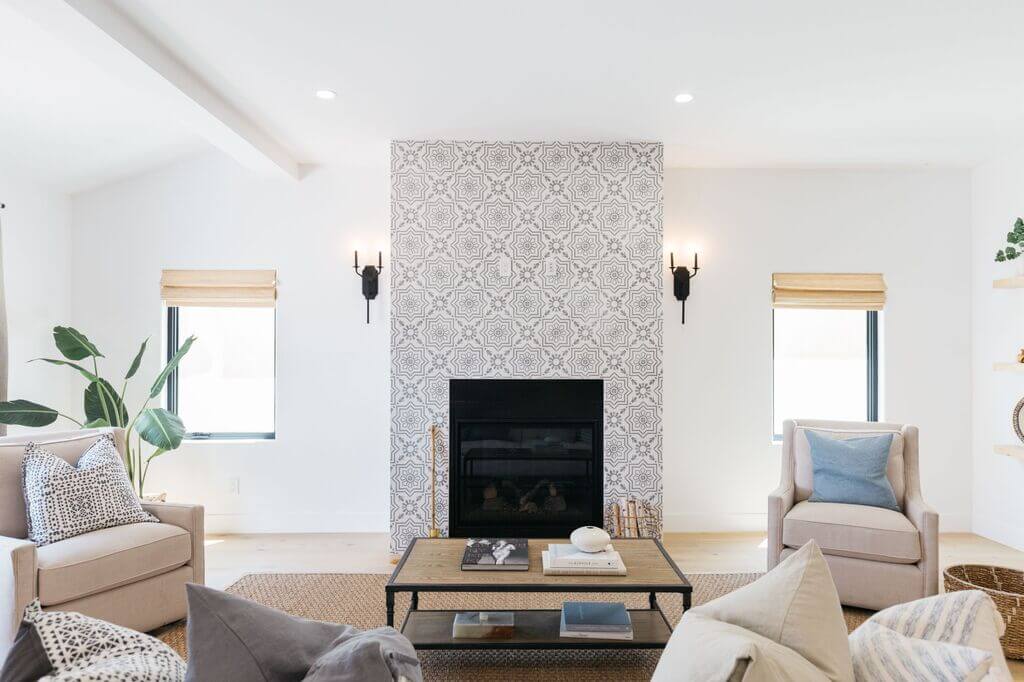 Source: pinimg.com
When choosing a color for your fireplace tile, you have the option of matching your existing decor or making a bold statement. Add a pop of color that contrasts with your walls, or complement your trim with a tile that complements your room's color scheme. 

When decorating a room with a fireplace, treat it like any other element in the space, such as lighting or paint color, because the size, shape, and finish will all affect the overall look and feel of the area.

If you've chosen tiles with a polished finish for your fireplace, make sure to seal them if necessary. The manufacturer's instructions will state whether or not the tiles should be sealed.

Grout joints, like tile surfaces, are susceptible to staining and discoloration from ash and other material associated with open fires, so it's always a good idea to prevent them.
It's Time to Get Experimental! 
While we still admire the beauty of expensive marble and the craftsmanship of an intricate hardwood mantle, tiled fireplaces are quickly becoming the go-to material for upgrading a tired-looking fireplace. We hope one of our fireplace makeover ideas has sparked your imagination and inspired you to update your fireplace with one of the above fireplace tile ideas.
FAQs
1. Is It Possible to Tile Inside the Fireplace?
Any fireplace can be tiled provided the walls are flat and sound and can support the weight of the chosen tiles, but you must consider the type of tile and the distance between the heat source and said tiles.
2. Can Tile Withstand Heat?
Although most tiles are heat resistant, it's better to keep them away from direct heat sources because they can break and, more typically, discolor over time if they're too close to it. A tile 14cm away from the heat source is recommended.
3. In a Fireplace, What Type of Tile Can Be Used?
Most varieties of tiles are safe to use if the heat source is more than 20cm away, although porcelain is recommended. Due to its density, this material works similarly to fire-resistant bricks in that it absorbs heat without transferring it to the surrounding environment.
To know more about Home improvement ideas, Cleaning and decoration tips visit ArchitecturesIdeas.
For daily updates, follow us on our Instagram page @architectures_idea.