Who doesn't love working from home? Everybody wants to work from home, but that's not possible for every company. Due to pandemic COVID 19, the majority parts of the world are in complete lockdown. The government gives orders like Social distancing and working from home to decrease the spread of the virus. 
From factories to restaurants and even any kind of office, all are closed. Because of this, authorities told people to-do office work from home, if possible. And because of this, people are realizing the necessity of establishing a work-from-home office in their house.
A dedicated space for office in the house results in high productivity, and it also helps in remaining motivated and focused on work. So, if you are looking for some home office layout and design ideas, then you are in the right place.
Today we bring 7 unconventional and unique home office layout ideas for you. From regular desk to L-shaped, this list includes every type of layout so that later you can decide and style your home office according to your place and requirements.
So, here is the list begins,
Idea #1: Use the Corner Space
Key Features: Inspiration boards, pretty decors and side racks for storage
Are you living in a studio apartment and searching for a space to make your office in it? It is quite common these days. People prefer to live in these kinda apartments. Living in these places has many benefits such as low rent, less cleaning, and many other things. But living in a small space also means that you'll have less space for everything. So, it is quite hard to make an area for doing office work, right?
What you can do is- use the corner spaces. Yes, you can put a study desk or a regular table to create an awesome home office area. This way, you can create a separate space in your existing room.
Layout:
Idea #2: Office in Dining Area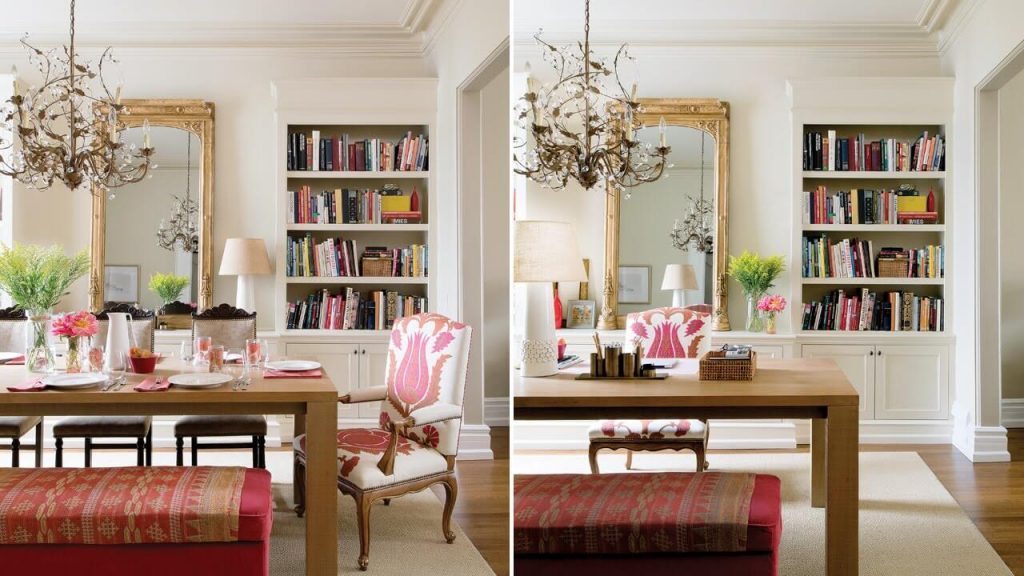 Key Features: Multifunctional space and cute decors
Another great idea to tuck a home office space into your home is the dining room. What?? Maybe this is your reaction, but first, take a look at the above image. How beautiful it blends both the things!!
This way you can give accompaniment to your children when they are eating and with that, you can do your work without any disturbance. Just place a small desk and some other office furnishings, and you're good to go. 
Layout:
Idea #3: The Classic L- shaped
Key Features: Long galley desks, whiteboards, and pops of color
If you're working with someone else, then an L-shaped home office layout is perfect for you. Just buy an L-shaped desk and place in the corner and jazz it up with some furnishings, and you're done! This way each of you will get some privacy, and if you want to share something, there is also a margin for that. Isn't it Best of both worlds?
Layout:
Idea #4: Bedroom/ Office Room
Key Features: Minimalistic and Perfect for small studio apartments
Some people prefer to do the work on their bed. But career advisors told people not to work activities on the bed. They advised keeping relaxation and the workplace separate from each other. But people who are living in small apartments or houses face a problem of space. 
The solution is- Use this layout. It has a bedroom desk or a working table just a few feet away from the bed. So that you can focus on work perfectly and when you want to rest you could relax in bed. You can also use dividers and room partitions to create a separation between the spaces. 
Layout:
Idea #5: Stick to the Wall
Key Features: This home office is flooded with synthetic, natural light and has a lot of storage space for books
Are you working with a team and your office is in your home? No problem, try this layout. In this, a long and large desk is placed on one side of the wall. At first glance, it may look that this layout doesn't make the most of the available space. But it has many benefits such as it is a great option if you're working with a team of 4-5 people and it looks less clutter than any other layout.
If you need a place to store your books and files, utilize the area above your desk. you can construct or place some cupboards and bookshelves to store all this stuff. This will provide additional storage space for your office supplies and paperwork.
Layout:
Idea #6: Take a U-turn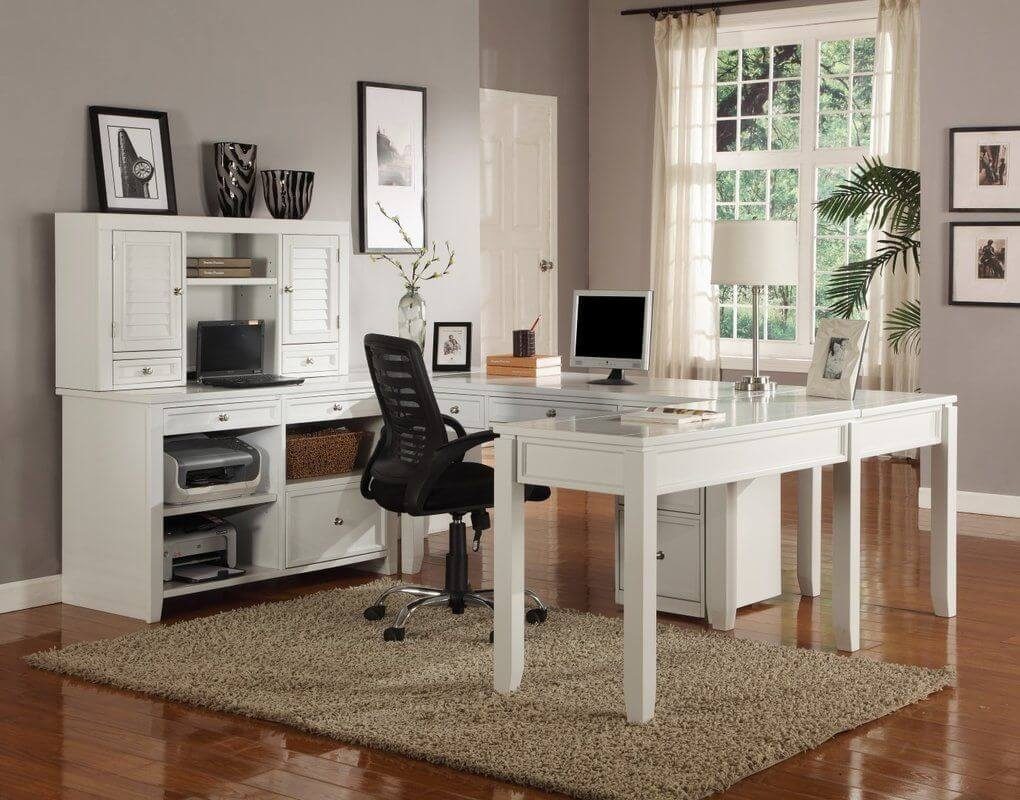 Key Features: Lots of storage space, Many people can work together and desks arranged to encourage face-to-face interactions
Take a U-turn means using a U shaped layout!! This layout uses every inch of the available space. We know it takes most of the space, but it also gives you more working space, right? Still, if you need more storage space, then you can also use hutches for additional storage. The best thing about this type of layout is that they will easily work in both small and large rooms.
You can create this style by combining various desks in U- shape or just buy a whole furniture unit from some furniture stores. Here you can work with more than 5 people at the same time (depending upon the size of the desk).
Layout:
Idea #7: Play with Unusual Room Shapes
Key features: Flexible seating, floating shelves, and a window for natural lighting
Does your apartment is in an irregular or unusual shape? Sometimes your house or apartment may not be in the perfect square or rectangle shape. It is quite challenging to design layouts like this. No, this is just in your mind. Actually, you can easily style these uneven shapes just by showing some creativity.
For example, if your room has alcove or inset spaces, you can use them for storing files and books. Place the furniture according to the floor space and shape of your room.
Layout:
Working from home can be tricky as we tend to become lazy and uninspired. But when you have a dedicated and separate working space in your house, you will be able to give more focus on your work. After styling your home office, don't forget to clean it regularly. A beautiful and clean space inspires you to create some awesome things, and you also feel motivated all the time. Take inspiration from the above home office layouts and create a fantastic workplace for you.