Most people associate wood paneling with outdated living rooms, with shag carpeting and groovy furniture. Wood wall panels definitely faded from interior design trends in the last half of the twentieth century. But wood wall paneling sheets are making a comeback, with many modern homes installing them on walls and ceilings. In addition to the traditional wood planks, decorative wood wall panels are up and coming.
Wood has been a classic design element in our homes for ages. Designers are now inventing creative solutions with wood wall panels, turning classic wood panels into contemporary decor.
Consequently, you should consider decorative wood panels for your next interior design project. And their aesthetic quality isn't the only benefit to decorative peel and stick panels – there are plenty of reasons to incorporate these panels into your design. Our team at the Wood Veneer Hub created this list of six reasons to choose decorative wood wall panels: 
1) Trendy timber feature walls
2) Increased insulation
3) Better sound absorption
4) Design versatility
5) Durability
6) Easy installation
Trendy Timber Feature Walls
The first reason to consider decorative wood panels is, of course, their attractive style. A timber feature wall – an accent wall or piece composed only of wood – can transform your space. Installing wood paneling around the fireplace in the living room can draw the eye and make it stand out. You can install paneling on the wall behind your bed as well, to fashion an elegant headboard.
Decorative wood feature walls also help segment rooms in your house. If you have a small home or open floor plan, adding wood paneling features can demarcate the living area from a home office for example. Wood paneling accomplishes a starker contrast than just painting an accent wall since the wood changes up the texture. 
Increased Insulation
Wood paneling can be more than decorative as well. Wood is considered by builders and designers to be a natural insulator. It has a higher R-value than other building materials, meaning that it has better insulating power. Wood absorbs almost double the amount of heat as aluminum or concrete as well.
Investing in decorative wood paneling is choosing better energy efficiency. By trapping more heat inside, wood paneling allows homeowners to reduce their use of gas or electric heating systems. This cuts down on energy costs and promotes sustainability.
Better Sound Absorption
Wood panels also enable better acoustics. Ever wonder why wood is so often used in concert halls? The panels can trap sound waves, preventing echoes. Once the sound waves are trapped, they're converted to heat. As we already mentioned, wood is excellent at absorbing heat.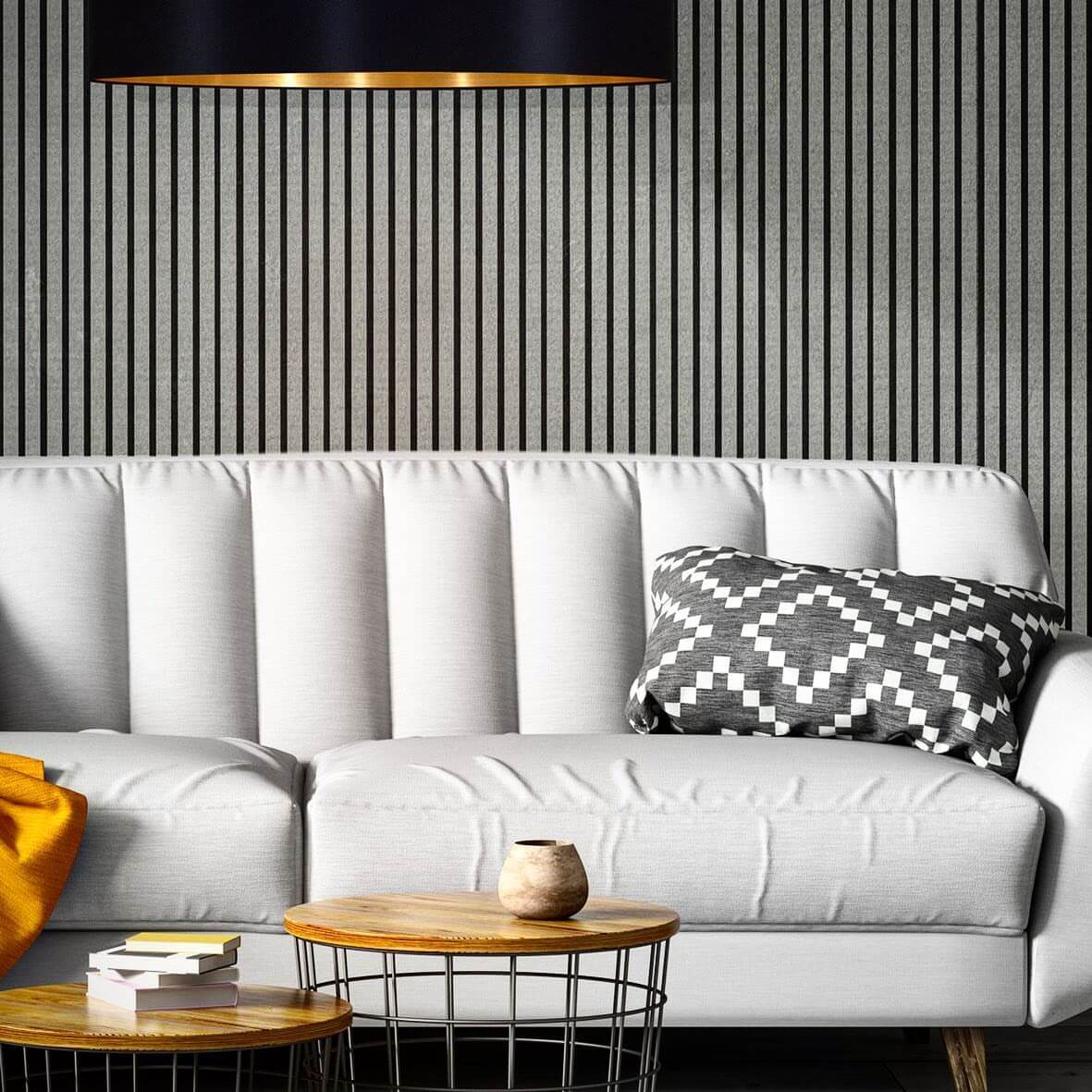 Thanks to these absorption properties, wood paneling is an ideal choice for soundproofing. With decorative wood on your walls or ceilings, you create a warm, quiet environment. Most high-quality wood panels today are constructed with top-of-the-line sound absorption materials.
Design Versatility
Wood panels are making a design comeback because they're being used in new and creative ways. Rather than apply wood panels in the traditional way, designers are cutting the planks into thin strips to hone a more modern look.
Another contemporary take on wood panels is creating geometric patterns on floors, walls, and ceilings. Playing with size, direction, and angles when applying decorative wood panels allows designers and homeowners to create ultra-modern spaces. Some have taken this trend even further with three-dimensional geometric wood paneling. Raising a few panels above the main backdrop is funky and innovative, especially since there are no limits on how you can design it.
Durability
With the proper care and maintenance, wood panels can last a long time. By applying the right seals and finishes to the wood, you protect it from damage and slow down natural deterioration. You can even choose to repaint or restain it if you want a new look.
With so many finishes and stains available, you can keep your decorative wood panels looking brand new, adding charm to your home for many years.
Easy Installation
The final reason you should consider decorative wood panels for your interiors is their ease of application. Wood paneling doesn't take much time or effort to install, especially if you opt for peel and stick models. Because wood panels are so simple to install, you can easily realize your designs and quickly finish your project.
Final Thoughts on Decorative Wood Panels for Your Next Design Project
There are plenty of benefits to wood paneling that should make you consider using it in your next project. Whether you're giving your living room a makeover, updating a bathroom, or finishing an outdoor space, decorative wood paneling might be the best design solution for you.