Wood is a versatile material that brings a harming and cozy vibe into a space. It has always been a part of house interiors, be it in the form of furniture or full-length accent walls featuring different types of wood paneling.
Available in a myriad of different types, wood panels are known to make a space sophisticated and stylish. They add depth and drama to a space. The rich wooden texture makes the space visually rich. Plus, the sumptuous natural texture of the wood makes one feel close to nature.
But, how can one import this natural rustic wooden look in a simple space? The answer is, by incorporating wood paneling into the interiors. There are numerous types of wood paneling to choose from. We've curated a comprehensive list of the top 20 wood paneling types that can make your spaces edgy.
What is Wood Paneling?
Wood paneling is used as a wall treatment that accentuates the surface of the wall. It comprises wooden panels that are arranged to create patterns that make a space visually striking. These panels can be of different sizes and can be arranged differently.
They, many times have grooves in between that create a sense of direction for the design of the accent wall. Different types of wood paneling have been in trend and several modern adaptations of them are now making a comeback in the interior decor scene. The wood panels are not necessarily made of authentic wood. Today, cdx plywood, MDF, and blockboards are extensively used to create wood panels that look like classics.
Our Top 20 Types of Wood Paneling  
1. Shiplap
Shiplap is a great type of wood paneling for a classic look. Inspired by the farmhouse aesthetic, shiplap is known for its snug fit and timeless appearance. Originally used as an exterior cladding material, it is making its way into modern interiors thanks to Joanna Gaines who made it popular through the show. Shiplap is identified by its L-shaped notch that forms the groove between two planks.
One part of this panel has a rabbet on the front and the other side is at the back. Two planks when placed adjacent to one another, the rear rabbet overlaps with the front rabbet creating a notch that runs along the length of the shiplap. The tight fit of the planks creates an opaque surface that prevents the elements from passing through the paneling.
2. Chevron-Style Wood Paneling
Thick or thin wood panels laid in a chevron pattern look simply spectacular. The dynamic pattern creates a stylish statement with its chic and dramatic look. Different colored panels can be arranged in an artistic collage-like chevron pattern to make an artistic statement with wood paneling.
This is an unconventional type of wood paneling that is becoming trending because of its alluring appeal. Many different patterns and types of wood can be used to accentuate chevron-style wood paneling. This wood paneling type looks great on the wall and the floor, alike.
3. Beadboard Wood Paneling
Beadboard wood paneling is a type of wood paneling that is front-patterned. It looks sleek and aesthetic and gives a sophisticated appearance to the surface. Wood planks are placed adjacent to one another and have grooves in between. It is similar to the tongue and groove wood paneling, except that it is easier to assemble and curate.
These panels are cut in a slightly different manner and can be used as panels or individual wood pieces that are collected to clad a surface. These wooden wall panels can also be used on ceilings giving a collected look and striking aesthetic.
4. Board and Batten
A board and batten wall is simply unbeatable! When it comes to styling a wall with unique wall cladding designs, this wood panel wall aces the game. Battens are arranged in a grid on board to create a framed wall. Traditionally, boards used to be adorned in thinner battens creating a wainscoting-like pattern. 
The modern adaptation of this wood paneling type uses thicker battens that change the grid as per the scale of the space. It renders the space looking charming and composed. The depth added by the wood panels makes the space visually interesting. This resulting grid formed by the battens can be either square or rectangular depending on the surface area.
5. Barn Wood Herringbone Panels
Similar to the chevron-style wood paneling, the herringbone pattern wall panels are also pretty chic. Their stunning look amps up the space with an elegant charming aesthetic. Broad wood panels arranged in a crisscrossed diagonal pattern to create the chevron style look can be of several different types.
A painted herringbone patterned wall looks as good as this barn wood herringbone wall. This gives a rustic and charmingly stylized timeless appeal to the space. The wall acts as a perfect accent wall for the dining room and has been stylized in rough textured wood panels.
6. Reclaimed Wood Planks
Yet another rustic-looking accent wall is the one here, which uses reclaimed wood planks. Laid horizontally to create a flat wall, this sustainable idea repurposes salvaged wood from old furniture. The planks of varying textures and colors collectively create an assorted collage that becomes a highlighting feature in the living room.
The simple yet stylish wall can be easily assembled as a weekend DIY project that'll completely transform the space. It brings a warm, and cozy cabin vibe to the space. This type of wood paneling looks great on the ceiling and floors as well. Or, one can opt for lighter tones of wood paneling for floors, to create a complementing feature that makes the space look holistic.
7. Tongue and Groove Planks
One of the oldest and the most used joinery in traditional carpentry is the tongue and groove joinery. This can be used as wood paneling for interior walls. The planks are similar to the shiplap, however, on one end they have a protrusion and on the other, there is a groove. When placed together, these panels fit into one another creating a tight packing.
This makes it an ideal choice for spaces that require a non-invasive enclosure. The panels fitting into one another look almost seamless with just a line that is visible between the two. Different types of wood can be used to make tongue and groove paneling.
This kind of wood paneling does however require skilled craftsmanship to create. Or, one can opt for prefabricated pieces that can be assembled to create simplistic and elegant wood paneling.
8. Raised Wood Paneling
Raised wood paneling is a type of wood paneling that is elevated from the floor level onwards. Typically, they're around 3-4 feet high and comprise panels that are adorned with rails and moldings. It has been a staple of most country-style homes and thus, is known to give the space a classic and timeless look.
Elaborate molding patterns could be used to make decorative wood panels for walls, giving the space an extravagant royal look. Different custom patterns could be created on panels to match the established style of the space. This type of paneling is known to bind the space when used continuously throughout the space, making it appear holistic.
9. Diagonal Slats Wood Paneling
Slats look chic on walls, more so when they're stylized creatively. Diagonal slat wood paneling is a great way to beautify a space. Placing slats diagonally gives the space a playful edge, compared to straight streamlined paneling which makes a space look sophisticated.
When painted and used holistically all over the walls, like it is here, the resulting aesthetic oozes grace. The white makes it appear soothing yet dynamic at the same time. Continuing the same patterned panels on the ceiling further accentuates the appearance and the relaxing feel of the space.
10. Pallet Wood Panels
If you're looking at recreating the rustic charm of a Barnhouse or want to repurpose pieces of wood lying around, this wood paneling type is the ticket. Pallet wood paneling is a type of paneling that creates a collected collage accent wall. It uses several pieces of wood that are placed together to create a captivating wall feature.
Different sizes, colors, and types of wood are welcome. The base of the wall could be painted in tones similar to the wood over which these pieces of wood are assembled. This wall panel option is best suited for artrooms or workshops to create an eclectic rugged aesthetic.
11. Knotty Pine Cabin Panels
The perfect way to spice up your home with a cozy-cabin aesthetic is by adding knotty pine wood paneling. This enticing type of wood paneling uses wood planks that are spaced with a grooved molding detail.
They add a rich textural appeal to the space and are nostalgic and reminiscent of a classic lakehouse vacation. They make for spectacular accent walls that amp up the space in a charming cabin vibe. Warm-toned wood variants work best for creating this wood paneling type.
12. Natural Wood Panels
A slightly streamlined version of the pallet wood panels could be this natural wood block paneling. This type of wood paneling uses smaller panels of different types of wood that are used in conjunction to create a 3D mural wall.
These diverse panels are alternatively recessing and protruding from the surface to give a sense of depth within the space. This piece of wood panel wall decor makes a space visually interesting and gives it a rugged look. The varied rich wooden textures create a rich rustic aesthetic for the space.
13. Seamless Natural Wood Panels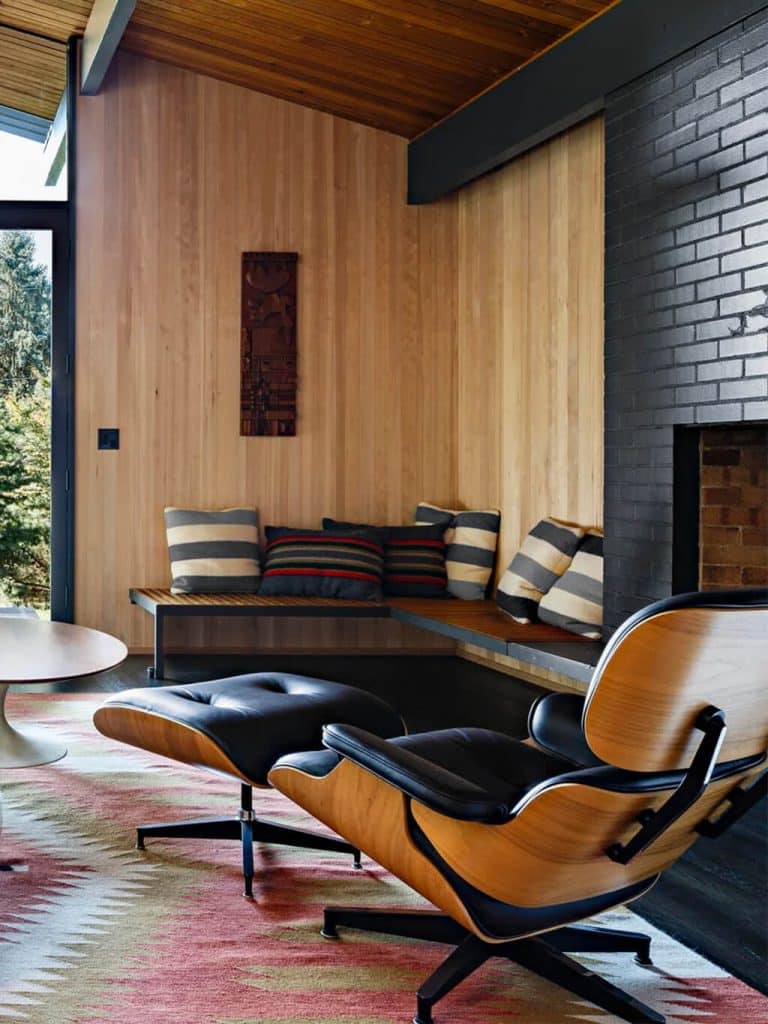 One of the simplest ways of adorning your space with a charming wooden aesthetic is by adding seamless natural wood panels. This type of wood paneling takes a minimalistic approach with its structure. The panel joints are skillfully flushed with one another creating a holistically stylized space.
The classic wooden texture is displayed in its full glory, cutting all the unnecessary jazz. The mid-century modern style made this wood paneling popular. Its simple stylistic look is ideal for any and every space. It also suits well on the walls, floors, and ceiling alike.
14. Sleek Vertical Wood Slat Panels
A contemporary trend that has become a rage is the use of sleek vertical wood panels. The thin and long strips of wood placed at a distance from one another create a groove that looks chic. They amp up the space giving it an enticing aesthetic.
Numerous kinds of wood can be used to create this stylish wood paneling accent. Individual pieces can be cut to assemble manually as per the spatial requirements. Or, one could opt for panel sheets that have the pattern embedded. This wood panel wall is often used for media units or feature walls in all kinds of spaces.
15. Flat Wood Panels
An alternative to the seamless natural wood wall paneling is this flat wood paneling. It retains the natural graphics and texture of the wood and breaks down the large panel into smaller ones. This adds to the visual composition of the space making it look sophisticated and charming.
The panels can be of various sizes and shapes. The grid can be manipulated as desired, there are no rules here. These panels can be created using any type and color of wood desired. Flat wooden wall panels are apt for creating accent walls.
16. Wainscoting
A type of raised board wood paneling, wainscoting ideas includes a board over which moldings are carved or created. Starting from the floor, this type of paneling is generally elevated up to a height of 32 inches.
This is an age-old paneling type that is seeing a resurgence in interior design recently. The modern version does not necessarily stick to the norm of starting at the floor level. However, the principle of a panel and molding remains the same.
The central panel is often adorned in thin strips or battens that create grid-like patterns on the surface. One can go wild with the patterns, but they must be angled at 90 degrees forming a square or rectangle. The molding can be ornate and used in conjunction with artworks to create a gallery-like uber-chic wall decor.
17. Chair Rails
Another type of cladding that is often used as raised board wood paneling is chair rails. This is typically done along the bottom third half of the wall, at the skirting level. A staple of classic architecture, its primary purpose was to protect walls from getting hampered due to nicks or dings while furniture shifting.
The groove-like molding looks elaborate and ornate. It gives the space a timeless classic aesthetic. This is often used alongside wainscoting for a dramatic classic effect. Even without wainscoting, it serves as a stylish type of wooden skirting that binds the space as one.
18. Vertical Grooved Wood Panels
Similar to the contemporary sleek wood panels for walls, this type of paneling elongates the space making its height seem taller. The space ends up looking more spacious and attention is bought to its vertical dimension.
Vertical wall panels could be of any width and height, and their joints can be either concealed or exposed to create grooves for added visual interest. This type of wood paneling is one of the most common and timelessly popular. Its simplistic appearance makes the space enticing and renders it an alluring aesthetic.
19. Horizontal Wood Plank Wall
Horizontal wood planks can become a striking feature in a space that adds visual interest and also makes it look spacious. Large light-toned wooden wall panels can make the space seem larger than it is and amp up its look. The uniform distribution of planks with groves creates visually composed accent walls that act as the focal element in design.
Dark-toned wood or painted wood, on the other hand, creates a statement in a space. These are meant to set the tone of the space, where all the other elements in the room are in accordance with the theme set.
20. Natural Rustic Wood Panels
A combination of different types of rustic wood panels can be used to create the perfect rustic cabin-like aesthetic. Here, the horizontal rustic wood panels are used as wall paneling, and extruding slat panels are used for the ceiling paneling.
Both these panels have a rough rugged texture that creates a cozy cabin-like aesthetic. Different types and tones of wood panels can be used to create this assorted look.
A Plethora of Types of Wood Paneling Can Be Used…
The choice of the right wood paneling for your space depends on the type of space, your design sense, and your available budget. One can opt for the extravagant wood panel having ornate moldings like chair rails or wainscoting. Or, for a simple natural look one can go with seamless flat panels.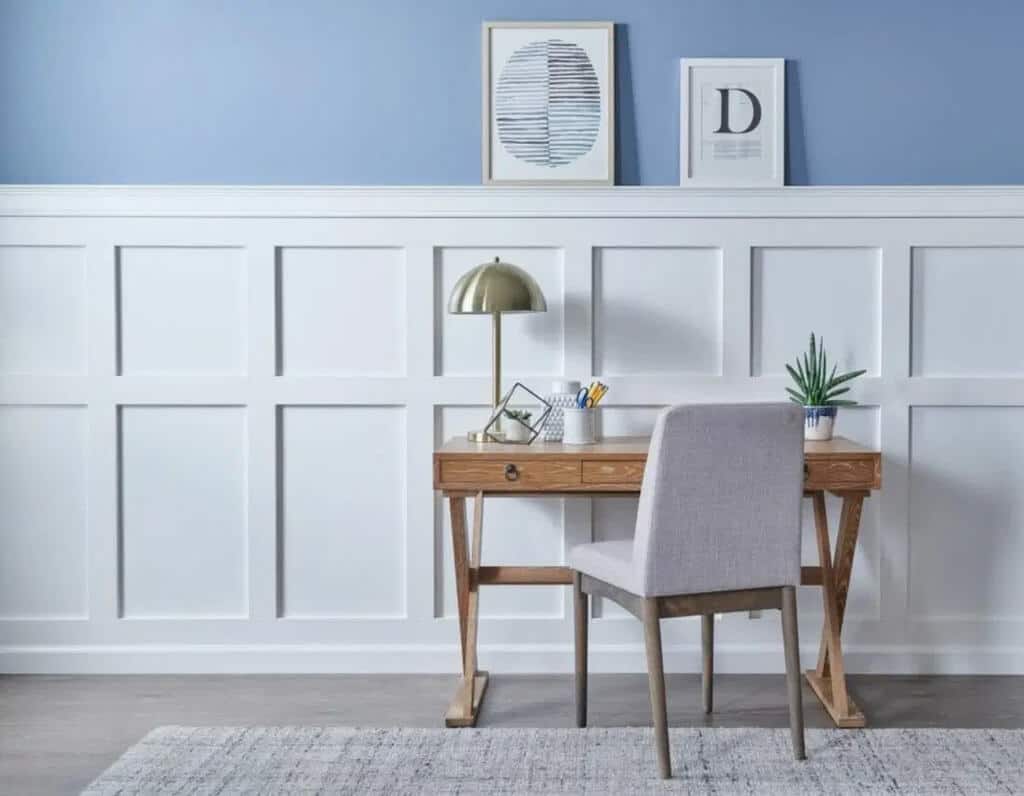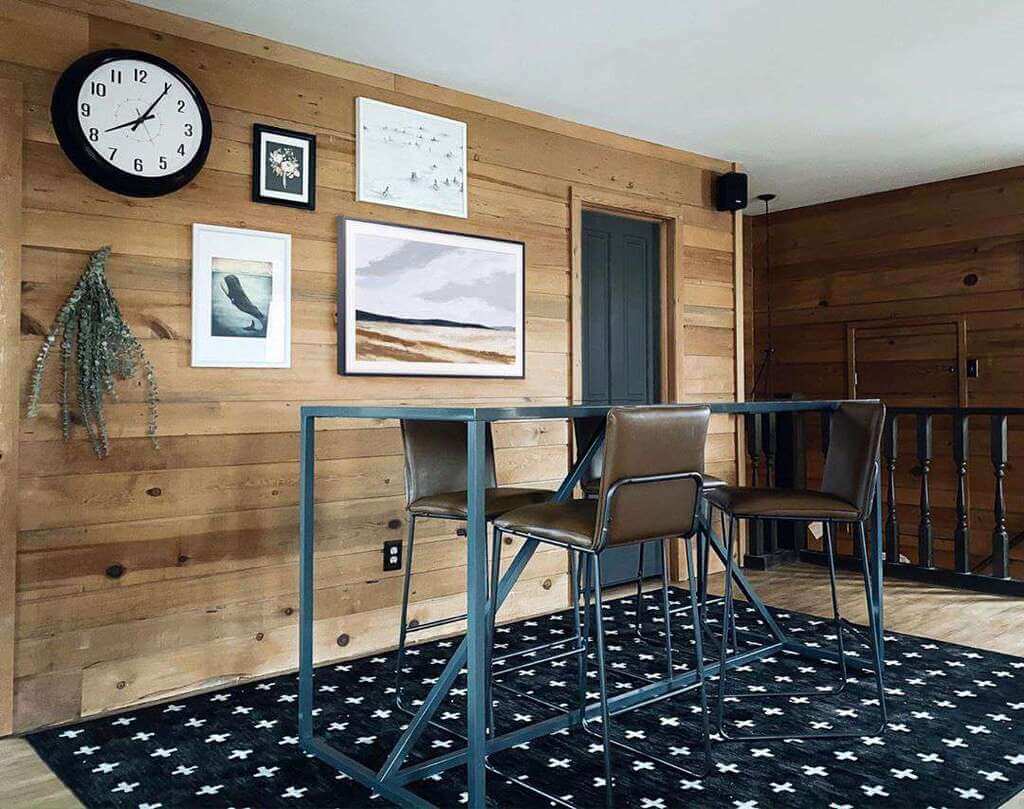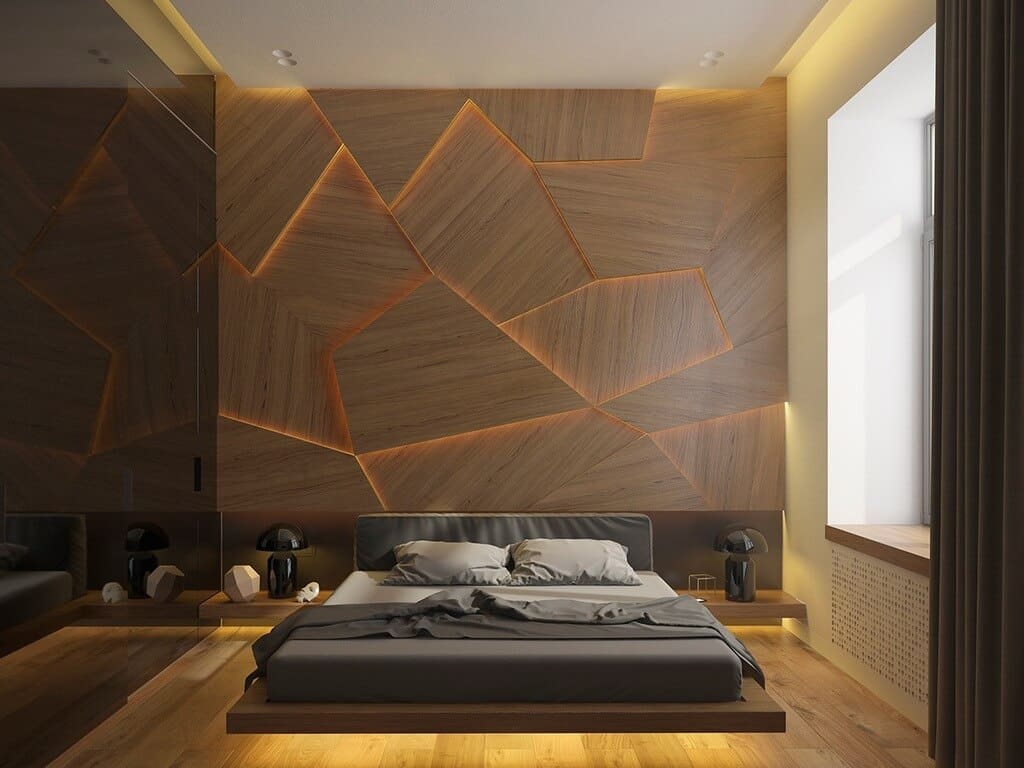 FAQs:
1. What Are the Different Types of Wood Paneling?
Shiplap, slat panels, beadboard, and flat panels are a few common examples of wood paneling.
2. What Type of Wood Is Used for Wall Paneling?
Cedar and pine types of wood are commonly used for wall paneling. Nowadays, MDF is also commonly used to make wall paneling.
3. How Many Types of Paneling Are There?
There are over twenty types of wood wall paneling. A few of them include wainscoting, wood planks, slat panels, etc.
4. Which Wall Panel Is Best?
A wood wall panel is the best to create a charming aesthetic accent wall.
5. Is Wall Paneling Outdated?
Wall paneling has never gone out of style. It has changed its face, yet has continued to remain relevant over the centuries.
6. Does Paneling Make a Room Look Bigger or Smaller?
This depends on the color and type of paneling you go for. Sleek thin and long panels can make your space look bigger. Whereas, smaller dark-colored block panels can make a space look smaller.