Accent Wall Ideas: Top Ways to Add Interest to Your Walls
One of the easiest and most popular ways to make any room look boring to wow is the accent wall. Yes, just one wall either painted or decorated with some elements can entirely change the overall outlook of the space. So if you're also planning to change the interiors of your space or just want to give a makeover to your living room, you should definitely try the best accent wall ideas!
This is also a perfect idea for those who are scared to paint their walls completely in bright colors or any color. Also, if you don't like the idea of wallpapering your entire home or room, you can go with this one-wall concept.
As soon as people heard the words "accent wall," they started to think about a single painted wall, such as a wall in bright red or yellow. These were old traditional ways to create accent walls. Nowadays, there are so many modern ways from which you can fantastically transform your walls. Plus, you don't need a huge budget as many of the ideas are easy, and you can even DIY them. 
Today in this blog, we've gathered up some of the latest and best accent wall ideas of 2022. The key to getting the perfect accent wall is to know about interiors. First, select a theme and pick the decors and elements accordingly. You can also go with a bold theme to make a statement or go with minimal decoration to create a serene ambiance. 
So basically an accent wall is something in which instead of working with all the walls, you've to work with a single wall. This creates a focal point in the room without looking too distracting or overwhelming. From materials, colors to design and elements, you can experiment with various things and create something unique that's personal to you and your space. The best thing about an accent wall is that you can change the look of your room without changing the foundation of the room. So, let's get started.
10+ Modern & Trendy Accent Wall Ideas in 2022
Whether it is the plain blank living room wall, dining area, staircase area, or a small balcony nook, you can literally transform any space with these accent wall ideas. 
From the creative game accent walls to cool tile accent walls and simple accent walls, we've included every type of accent wall idea for you. So whether you like the bold ideas or the minimalist ones, you can definitely find the one in the below list. 
Take a look at the stylish accent wall designs for your home and office: 
1. Chalkboard Paint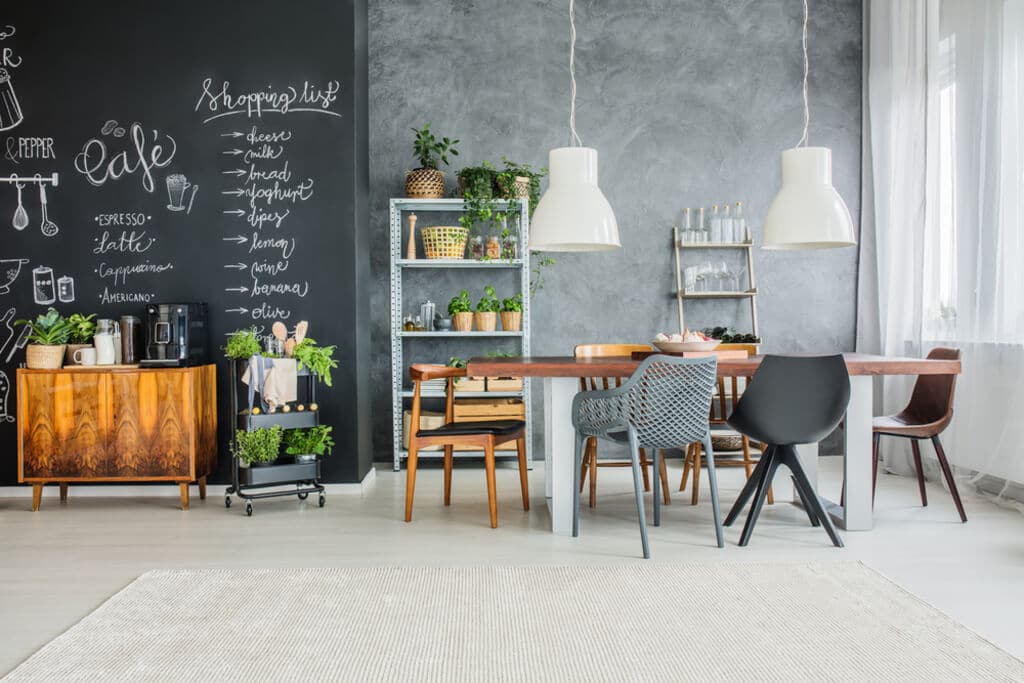 Source: cloudfront.net
Do you want something different for your home? If yes, try this idea. It is a chalkboard accent wall. From bedrooms, living rooms to kitchens, you can literally use this accent wall anywhere in your home. 
Kids are a ball of fun, and they literally draw, scribble on anything they find, including walls. This chalkboard accent wall is the perfect idea for your home.
If your family includes kids, this wall will be a perfect idea. This will act as an accent wall and a canvas for your kids to scribble on the wall. Look at the above pictures and see how creatively homeowners have used chalkboard accent walls in two different areas of the house.
2. Temporary Wallpaper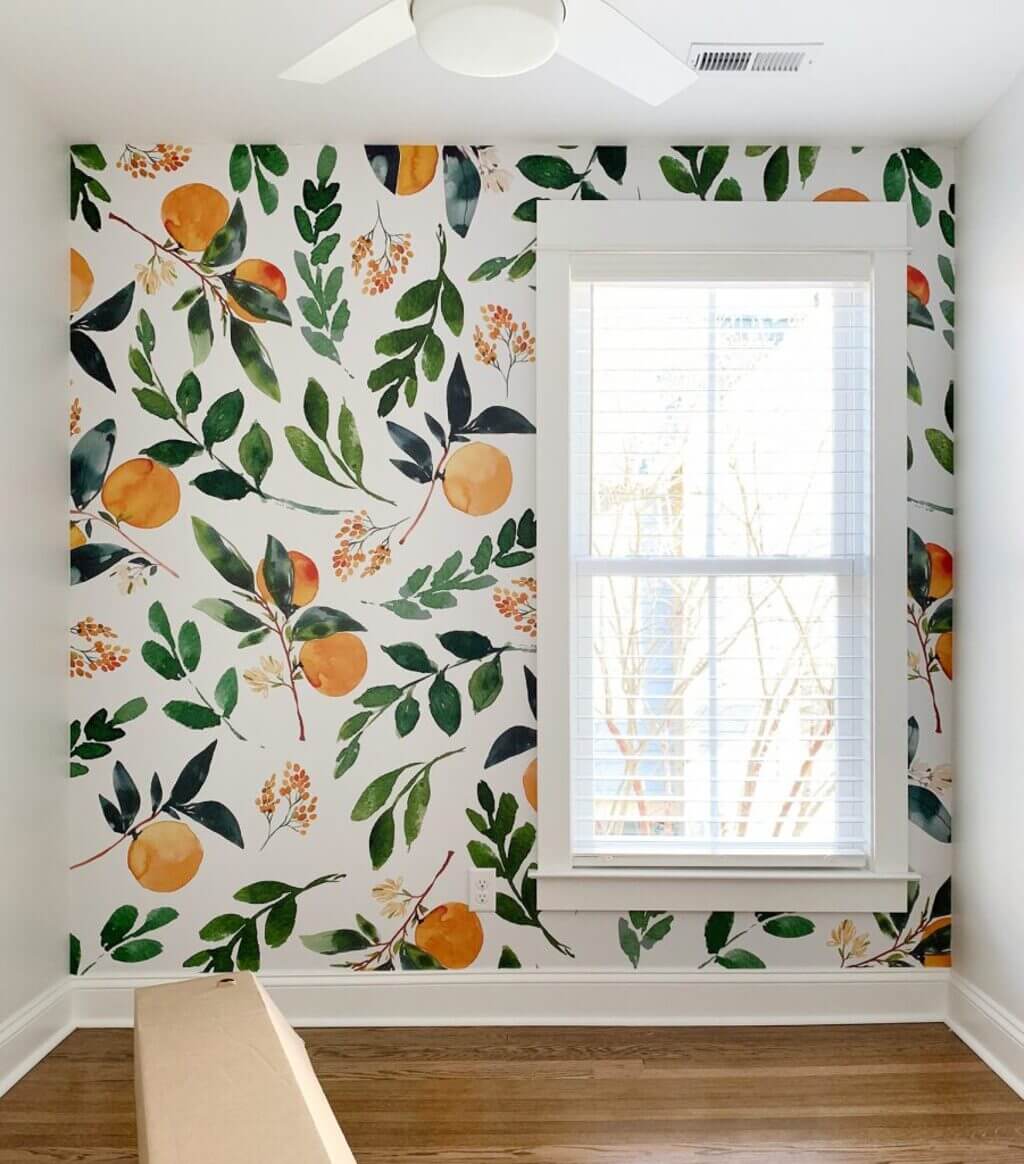 Source: younghouselove.com
Do you live in a rented apartment or college dorm? If yes, there is no way that you can paint or do crazy decorations as this is not allowed. So in that condition, what you can do is to use wallpapers! We're talking about the renter's wallpapers! Yes, there are so many removal wallpapers available in the market that you can use. From floral designs to simple, minimalistic ones and anime ones, wallpapers come in so many different designs and patterns. 
The best thing is that these removal or temporary wallpapers don't require any kind of paste or water. You can experiment with many colors and patterns according to your space and personal taste and space. And when you're leaving the house, you can easily remove them, and the walls will not get damaged.
Whether you're decorating your bedroom, living room, or any other space, you can use them. These beautiful wallpapers will instantly make your space gorgeous and also make it appear larger than it actually is.
3. Wood Accent Wall Ideas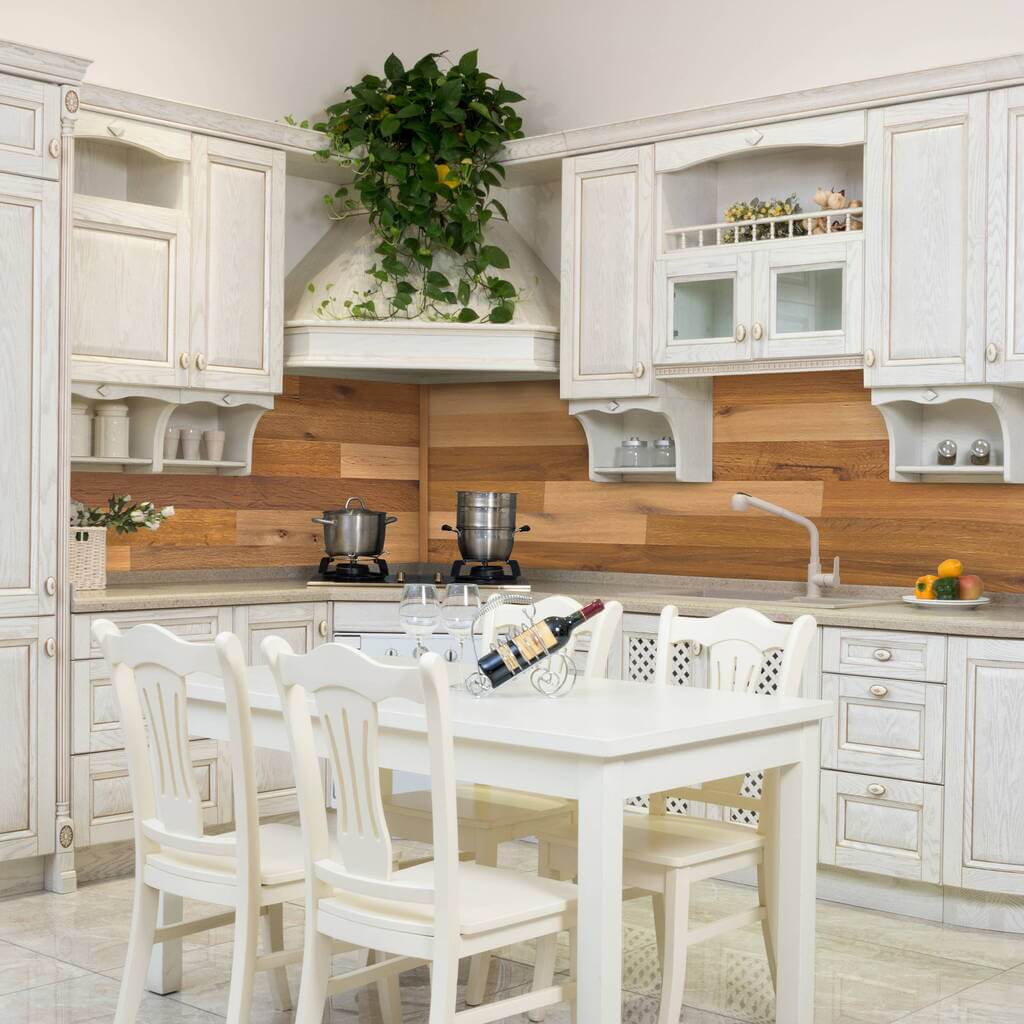 Source: shgcdn.com
Another fantastic idea to make any room from boring to amazing is the wooden wall panels. Whether you've modern, traditional, or rustic interiors, these wooden planks will pop in the home decors. They create an aesthetic vibe in the space, and they are available at a very affordable price range. You can either buy the reclaimed wood planks or paint them according to your room's theme. 
Not only bedrooms, but you can also use them in your kitchen. Look at the above pictures, see how creatively designers have placed the wood planks as the kitchen backsplash. You can buy these peel-and-stick wood panels from Home Depot or any local hardware shop. So add some warmth to your space with these stylish wood planks. 
4. Fun Accent Wall Ideas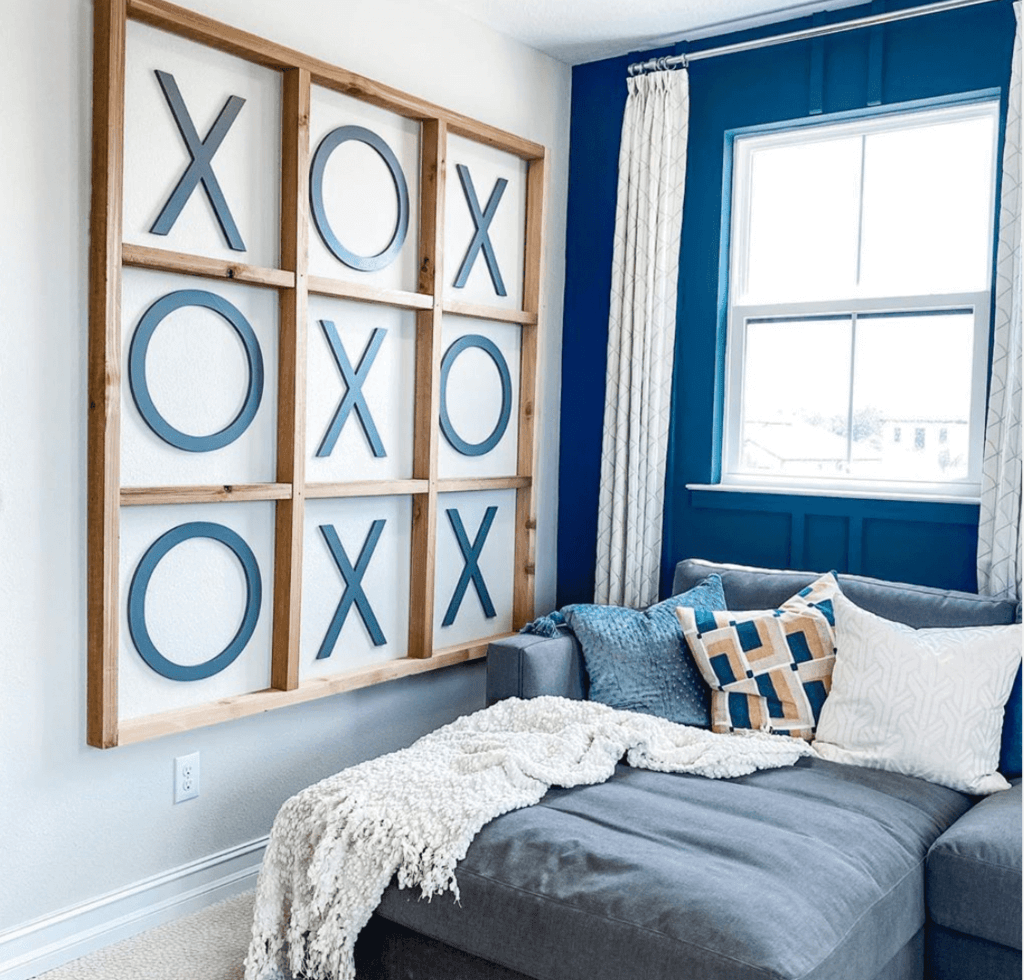 Source: thespruce.com
Add fun to your living room walls by creating this really cool accent wall idea. It is a perfect idea for a baby nursery, kids' bedroom, or even for the family room. Here the Tic-tac-toe game is placed in a wooden frame as an art piece. 
You can also put this type of game in the form of painting or even a real board game to make it easier for the children to play with them. This type of interactive accent wall idea brings a kind of fun and child-like vibes to the space. 
5. Simple Geometric Wall Art
Source: thespruce.com
Are you looking for some simple but attractive accent wall ideas? Try this wall art idea! Here the paint is used to create some geometric shapes on the wells. This is actually a creative way to add a contemporary look to your home without looking too distracting. 
So if you're looking for something minimalistic, pick the neutral or pastel color palette. Try to use the base shades of your room with some pop of color to create this instant art piece. You can create accent wall paint pattern ideas on plain walls, including corners and other areas of your house. These types of DIY accent wall ideas are pocket-friendly and super easy to create. 
6. Dark Accent Wall Ideas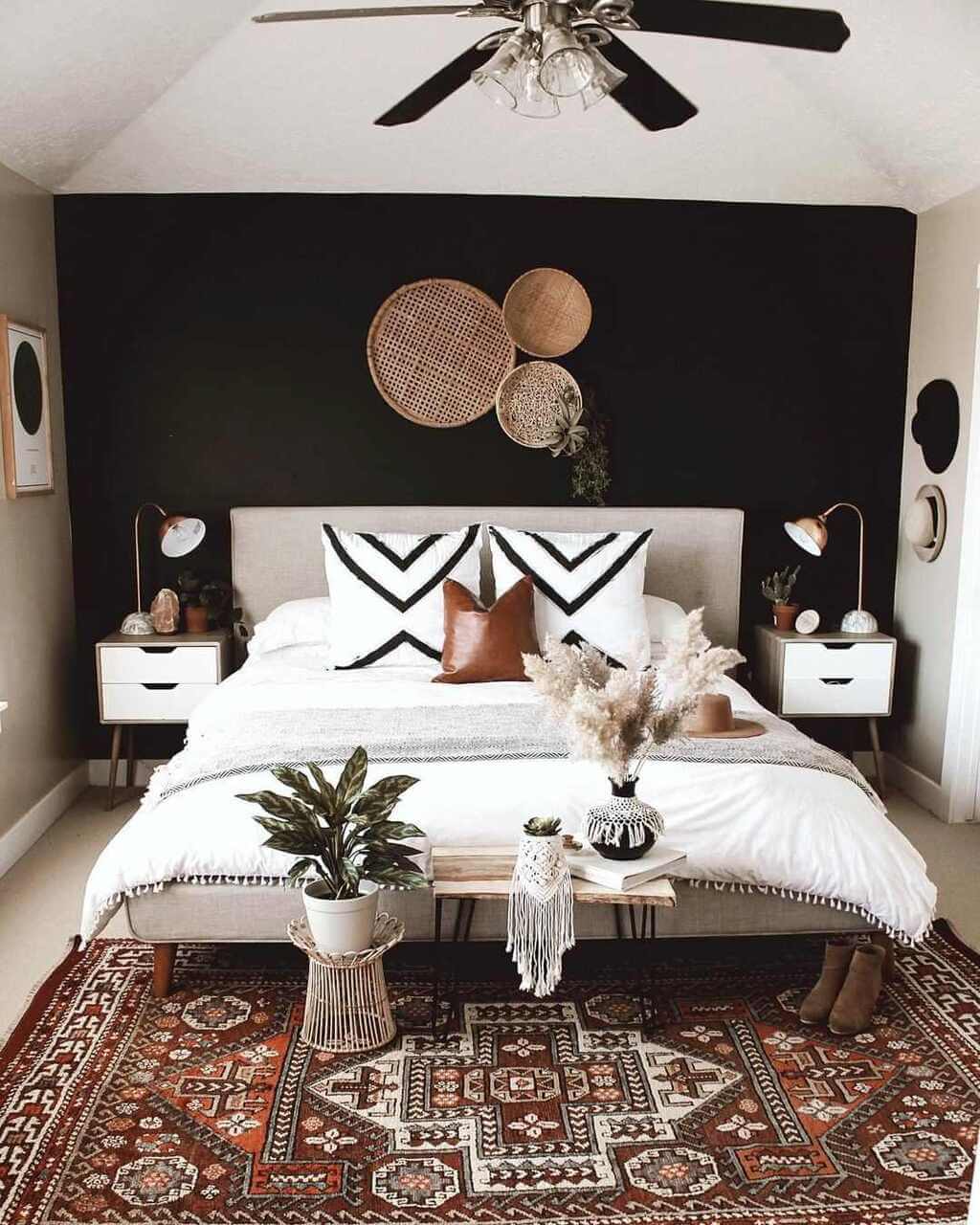 Source: homedit.com
When it comes to accent colors, people love to use black as accents and decors as a pop of color. However, have you ever thought about having a big accent wall painted in pitch black? Probably not! Many people were scared of this idea because they thought it would make the room look smaller and congested. However, that's not true! 
Look at the above pictures and see how beautiful these black walls look. If your room is small, you can use the contrasting theme to balance the black. For example, use white beddings and decors with the black accent wall. Also, make sure that you have a good amount of natural lighting in the space. 
7. Stylish Tile Accent Wall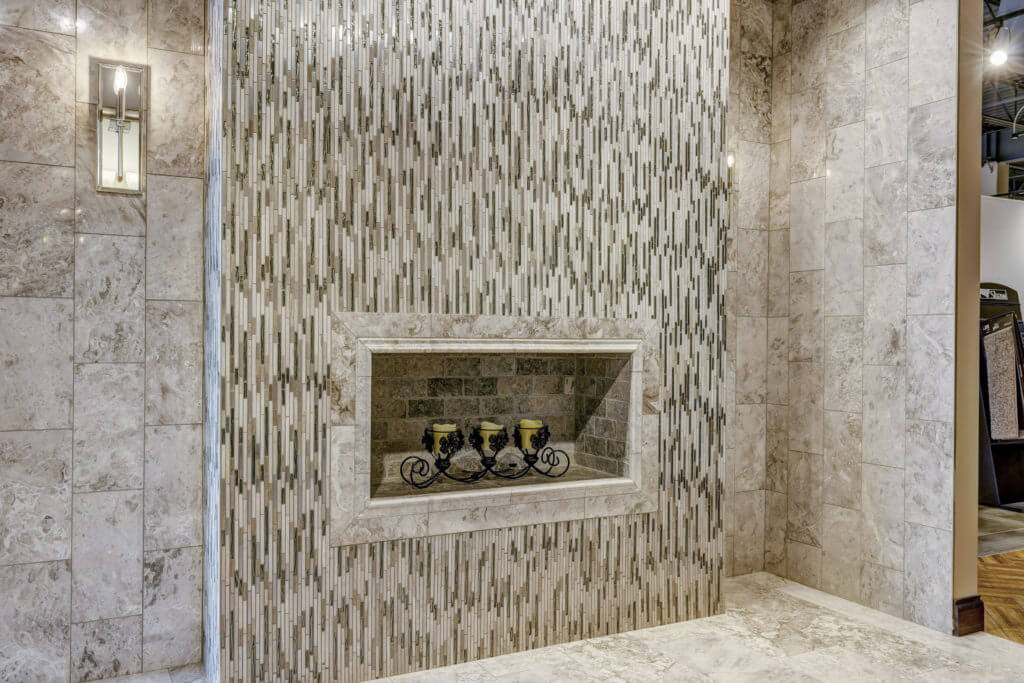 Source: stlouistileco.com
Add a glamorous and luxurious touch to your space with these gorgeous glass tiles. This is one of the popular bedroom accent wall ideas because it stunningly transform your room without much effort. From mosaics to giant tiles, you can go with anyone according to your liking. Put it in a small area on the wall or fill the entire wall with these shimmering tiles; the choice is yours!
This high-end look will be so different and unique that it immediately catches everybody's attention. For a dramatic look, you can opt for colorful tiles with glitters or do the opposite if you want something subtle. Don't get worried about the time to complete this project as there is peel and stick tiles are available in the market. With these tiles, all you need is to peel and directly stick them on the wall that you want to create the accent wall. 
8. Accent Wall With Built-Ins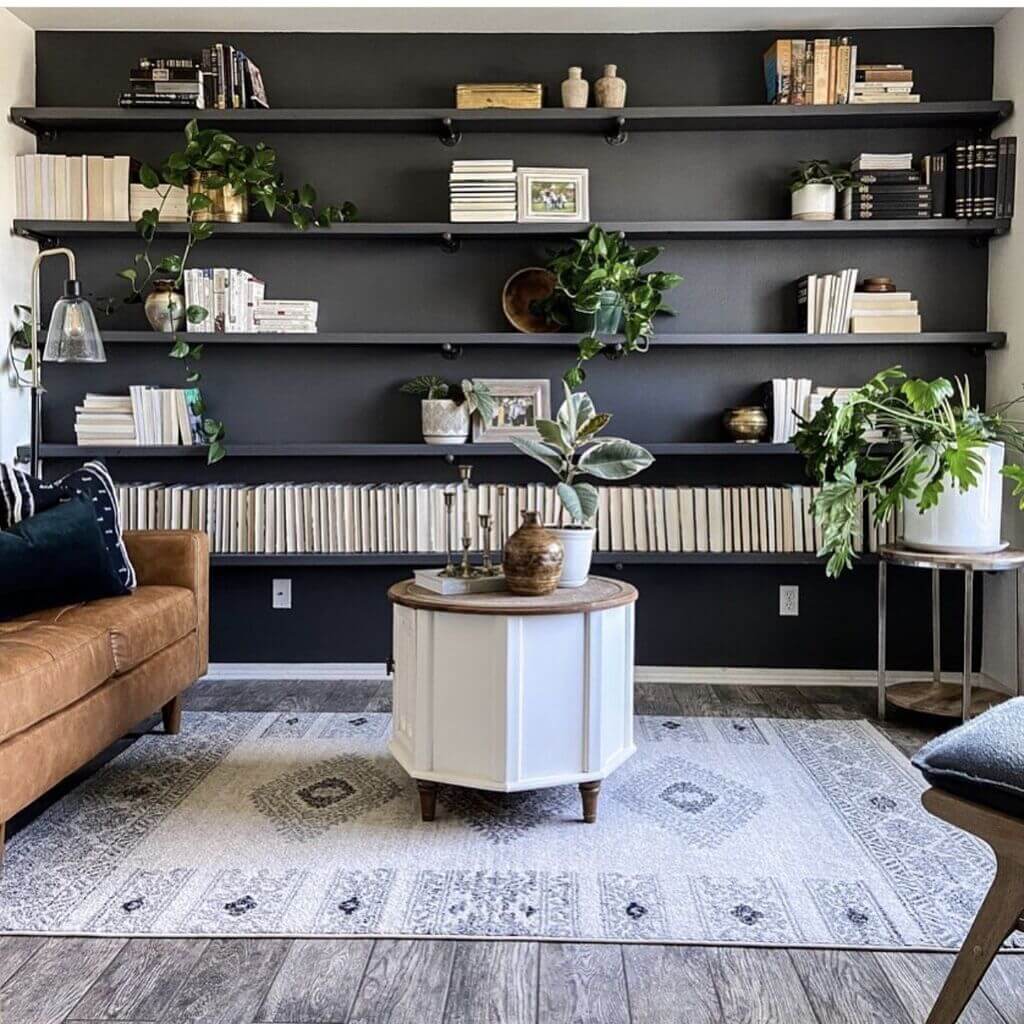 Source: pinimg.com
Try these living room accent wall ideas! It is perfect for those who are looking for some storage ideas to store more things. This 2 in 1 idea functions as a double wall as an accent wall and provides extra storage space. You can either have a few floating shelves or get the wooden shelves custom-made for your entire wall. 
You can put anything on these shelves. For example, if you love to read books, you can display your book collection here or make it your hobby corner, or you can also put your kid's toys or anything else. 
Also Read: Various Options in Drywall Ceiling Textures That is Good For Walls Too
9. Textured Accent Wall Ideas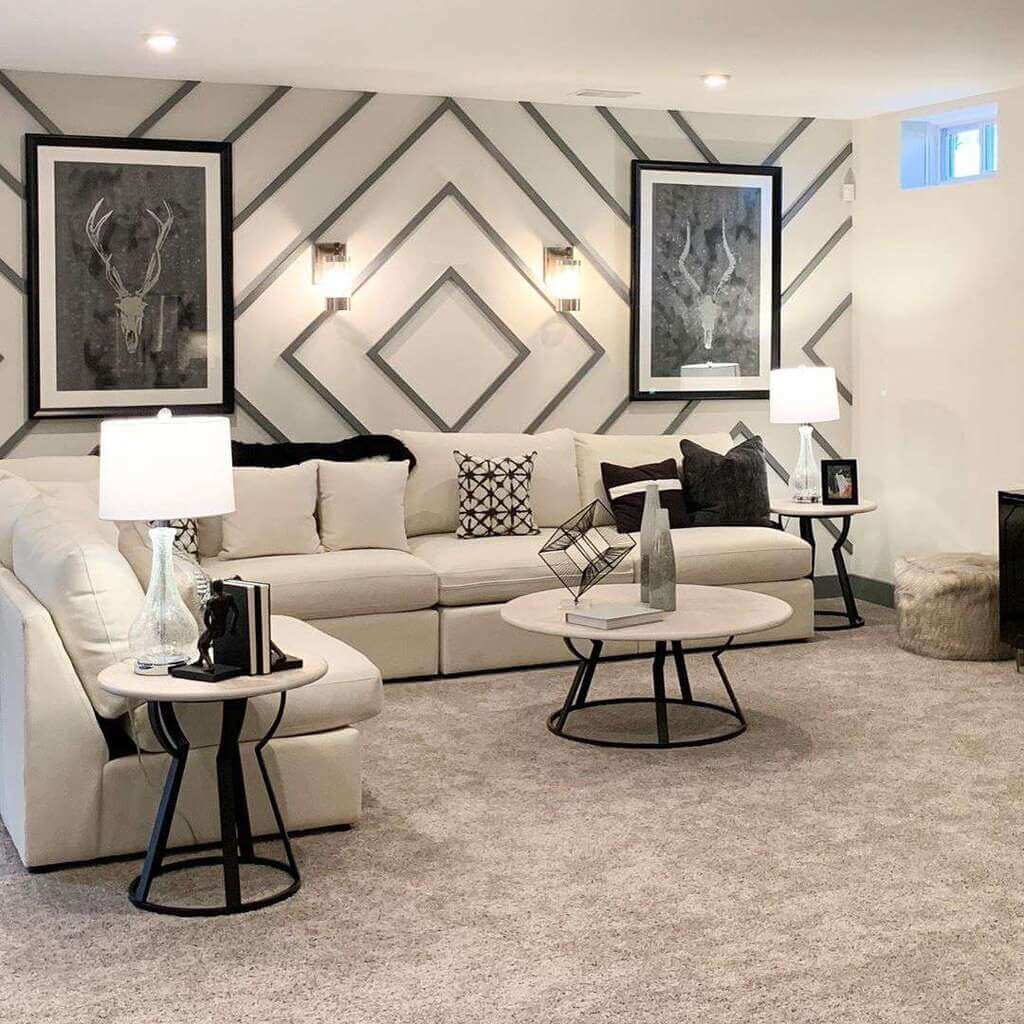 Source: cutewallpaper.org
Try this accent wall idea to add some texture and character to your space. Here wooden sticks or frames have been used to make geometric shapes on the wall. You can either keep these frames in their original color or just paint the same as the wall you're putting on the wall. 
Take a glance at the above pictures and see how the homeowners have put these wooden sticks or frames and created a small panelling. You can create various shapes and different widths of the frames to create a modern yet elegant ambiance. Those who even know little woodworking can also do this easy DIY accent wall project idea.
10. Accent Wall with a Hidden Door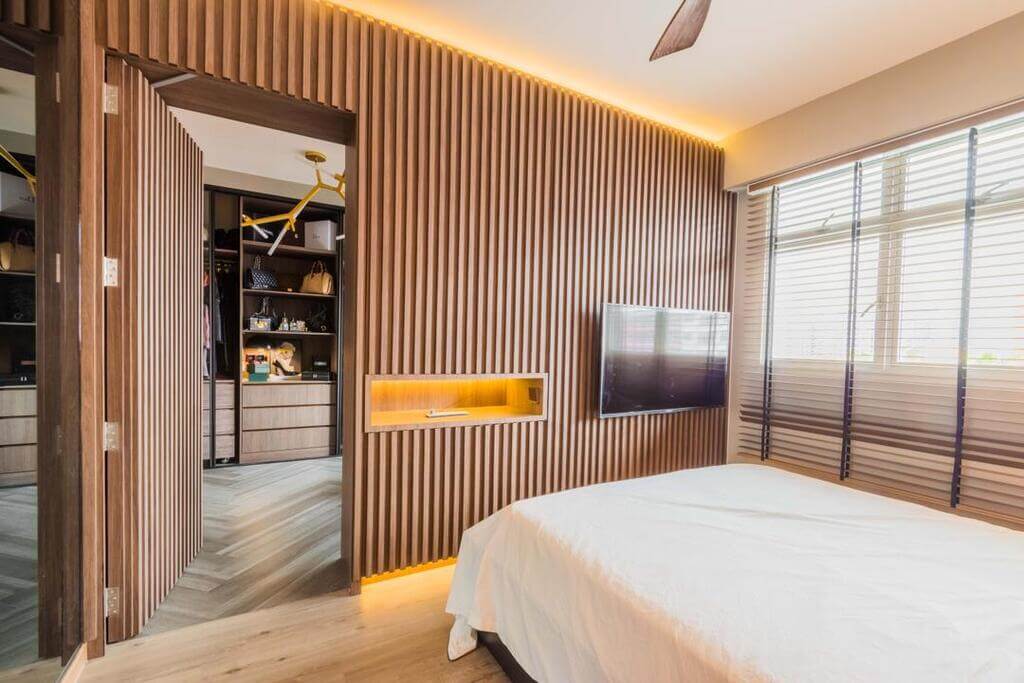 Source: asiaone.com
Do you remember that Monica (From FRIENDS) had a messy closet that she hid from everyone? We all have some corners or some areas in our homes filled with a lot of random stuff that looks so unorganized. We all want to hide it from our guests, right? Here's the perfect solution for that: Accent wall with a hidden door. 
Look at the above house; here, homeowners had reused the space under the stairs by placing a jib door. It seamlessly blended with the baby blue panelling and created an uninterrupted visual flow. This not only provides extra storage space and covers the clutter but also offers a nice space to sit. This continuous form of the accent wall will offer a more clean and minimalistic look to the space. You can also try this idea to make all those corners of your home pretty by placing an attractive wall.
11. Paint an Accent Wall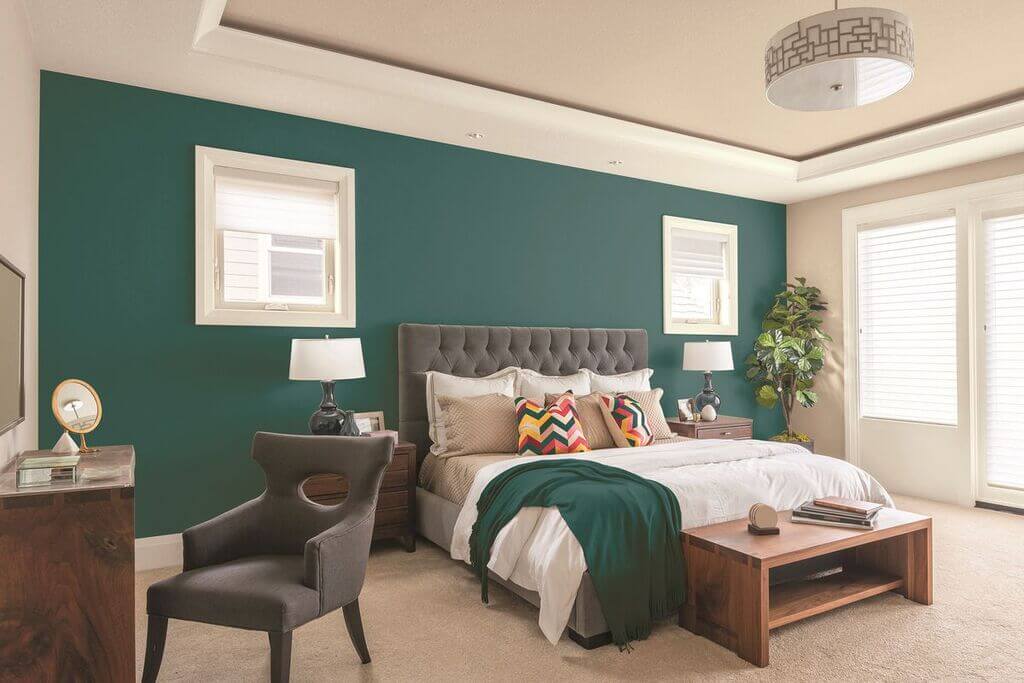 Source: vox-cdn.com
One of the simplest and easiest accent wall ideas is this paint accent wall! For this, you don't need any wooden frames, panels or tiles, or wallpapers; all you need is a gallon of paint! 
Perfect for those people who like minimal interiors and decors. You can just paint one part of the wall or one entire wall in a single color. This saves not only your time but also your money. Try the tone-on-tone coloring technique or pick a color that suits well with your other colors in the room. For example, if your space has warm interiors, go with try accent wall paint ideas like rust, orange, red and yellow.
If you want, you can also add metallic details or glitter paints or use stencils to paint a motif. This will add a striking statement to the accent walls. You can take help from professionals and get the best paint for your room.
Here are some more modern accent wall ideas for you: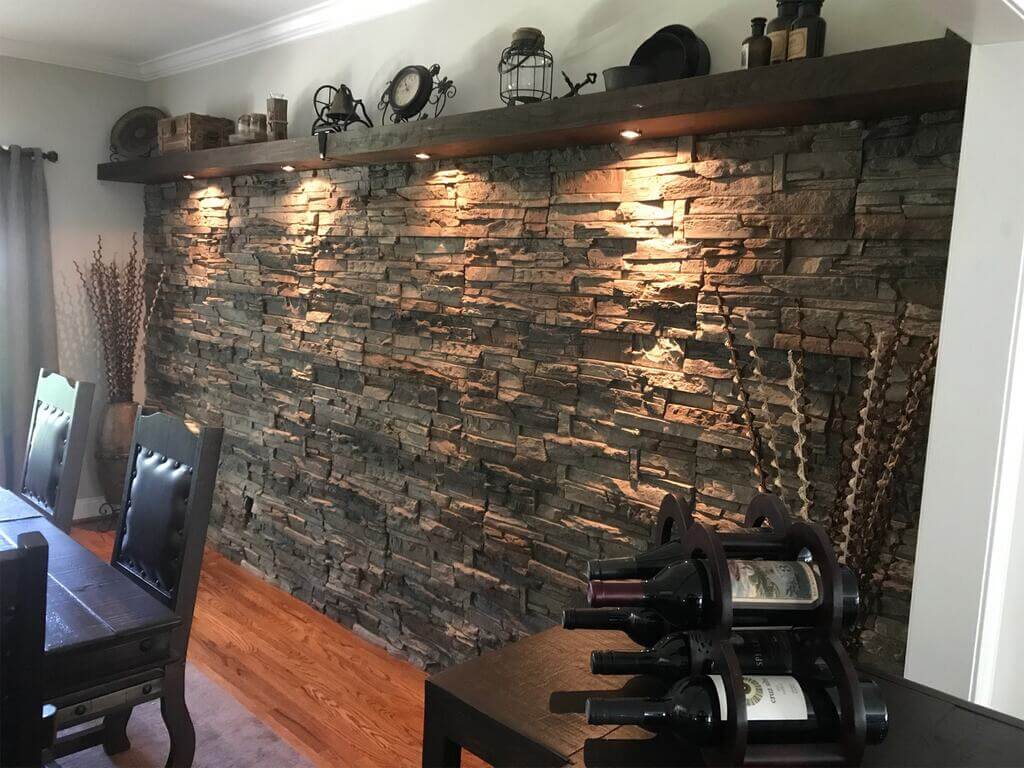 Source: genstone.com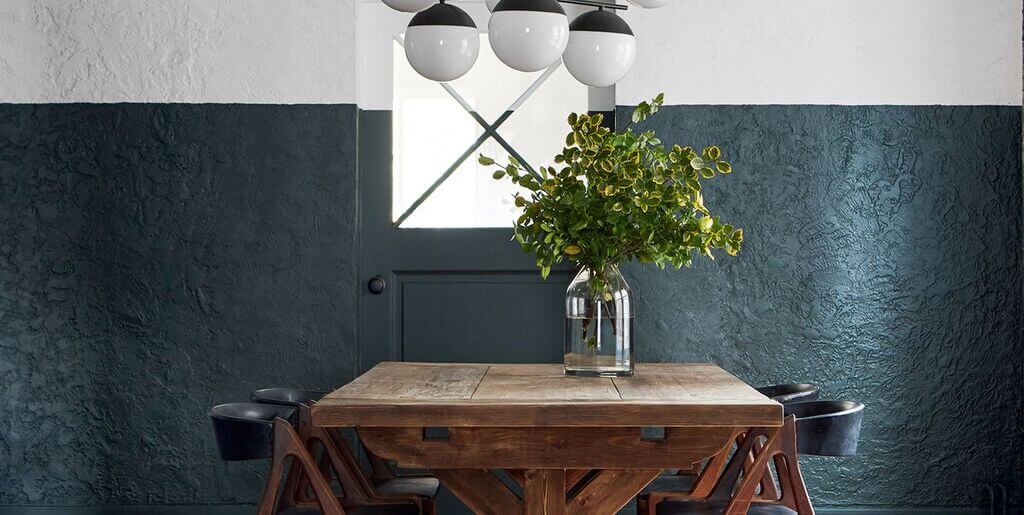 Source: hearstapps.com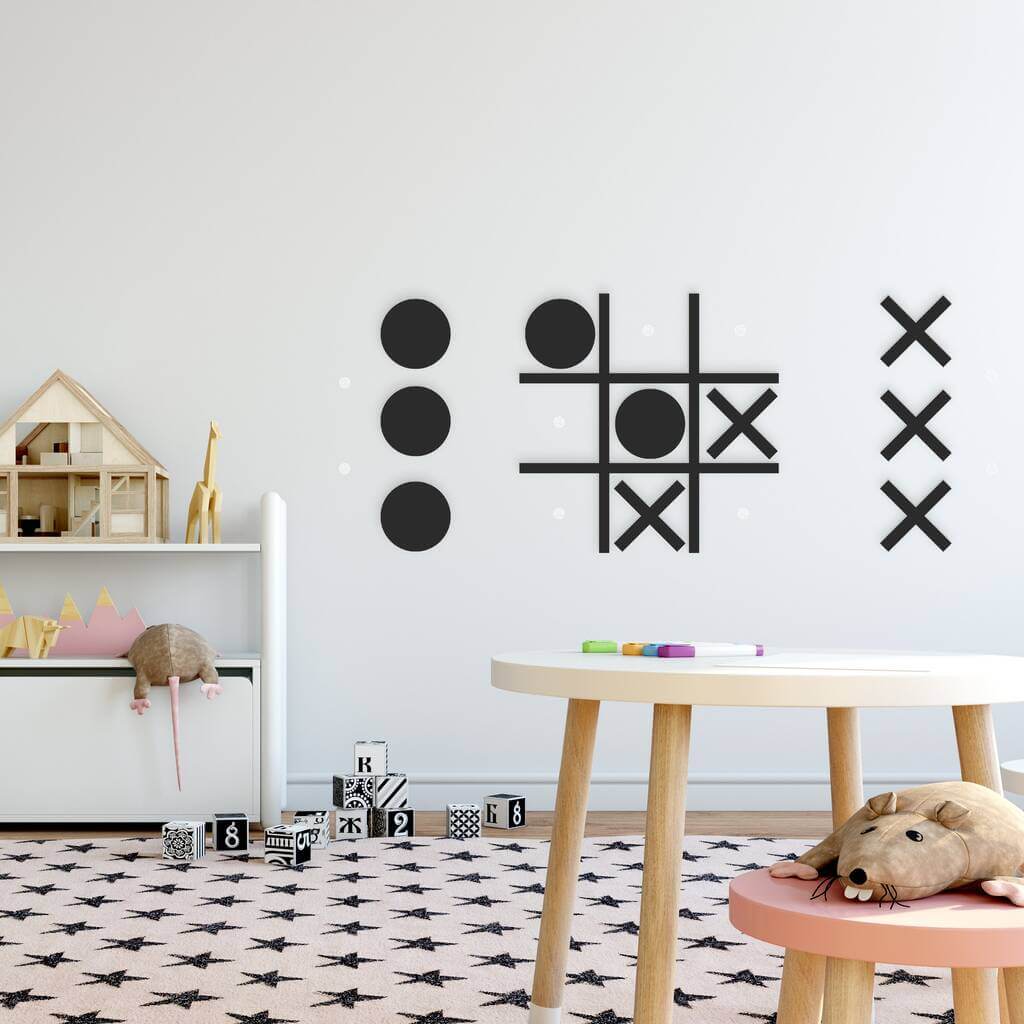 Image Source: etsystatic.com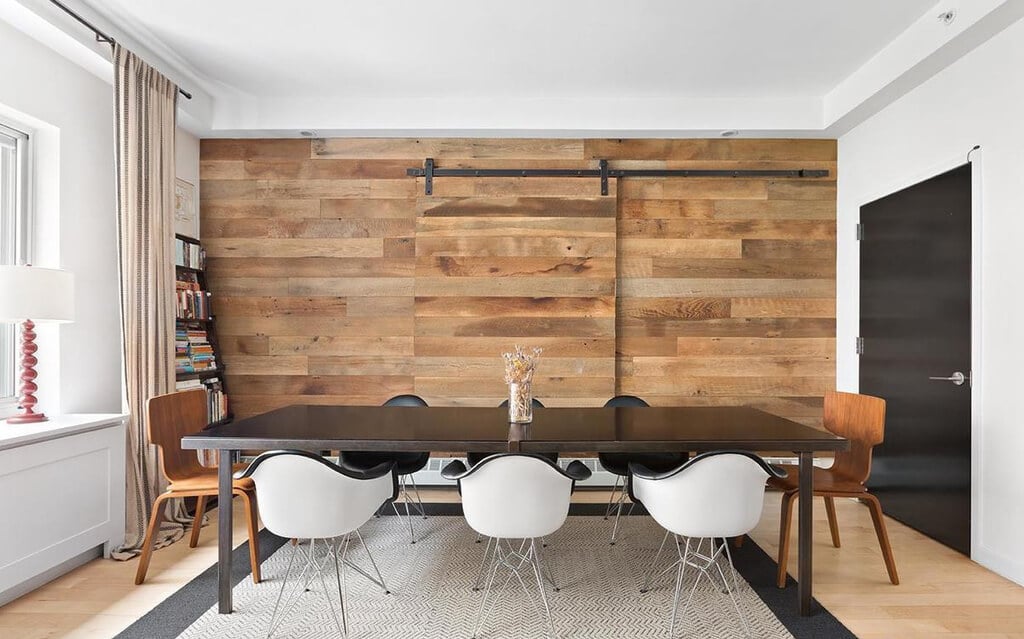 Source: zillowstatic.com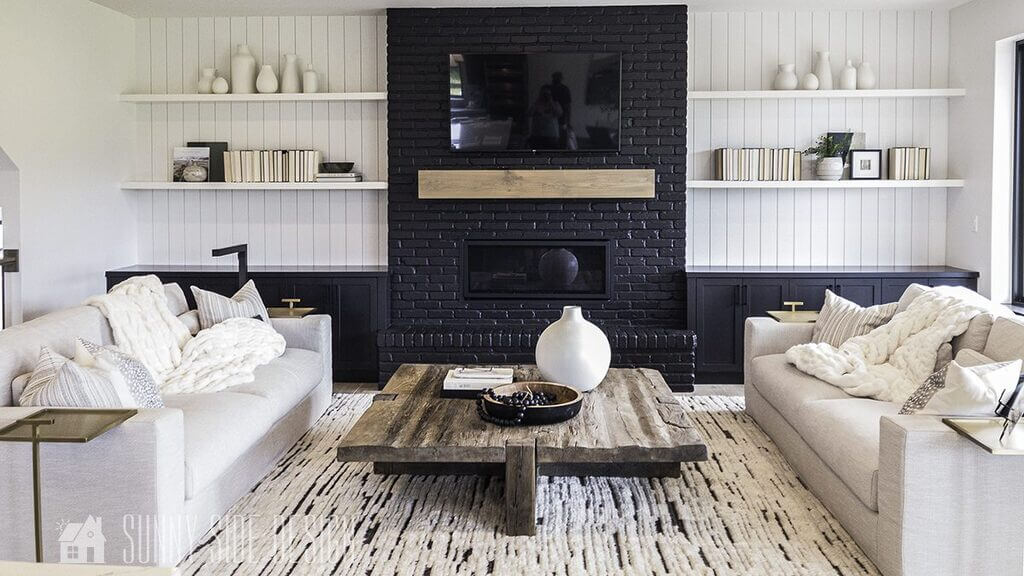 Source: 2thesunnyside.com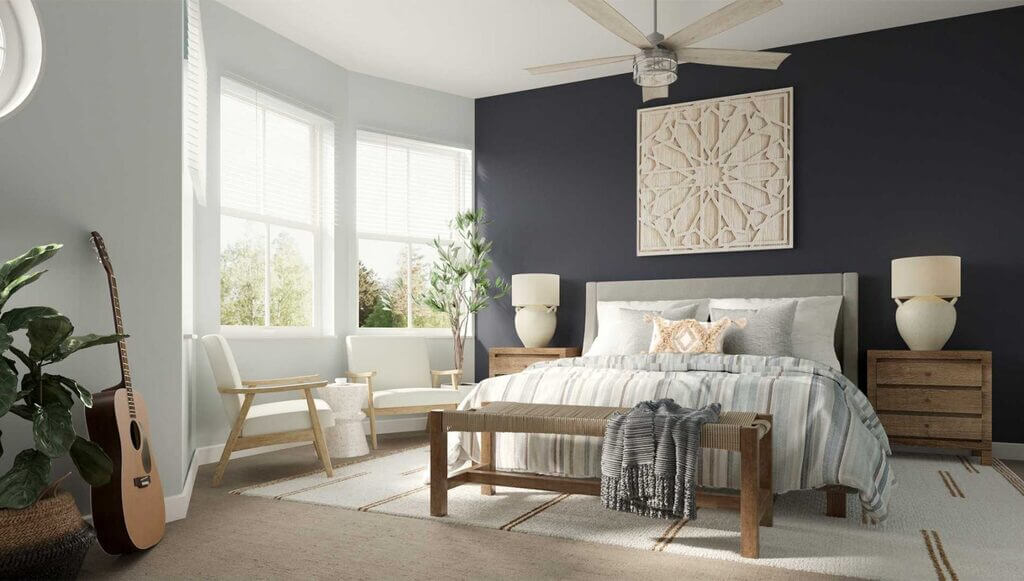 Image Source: havenly.com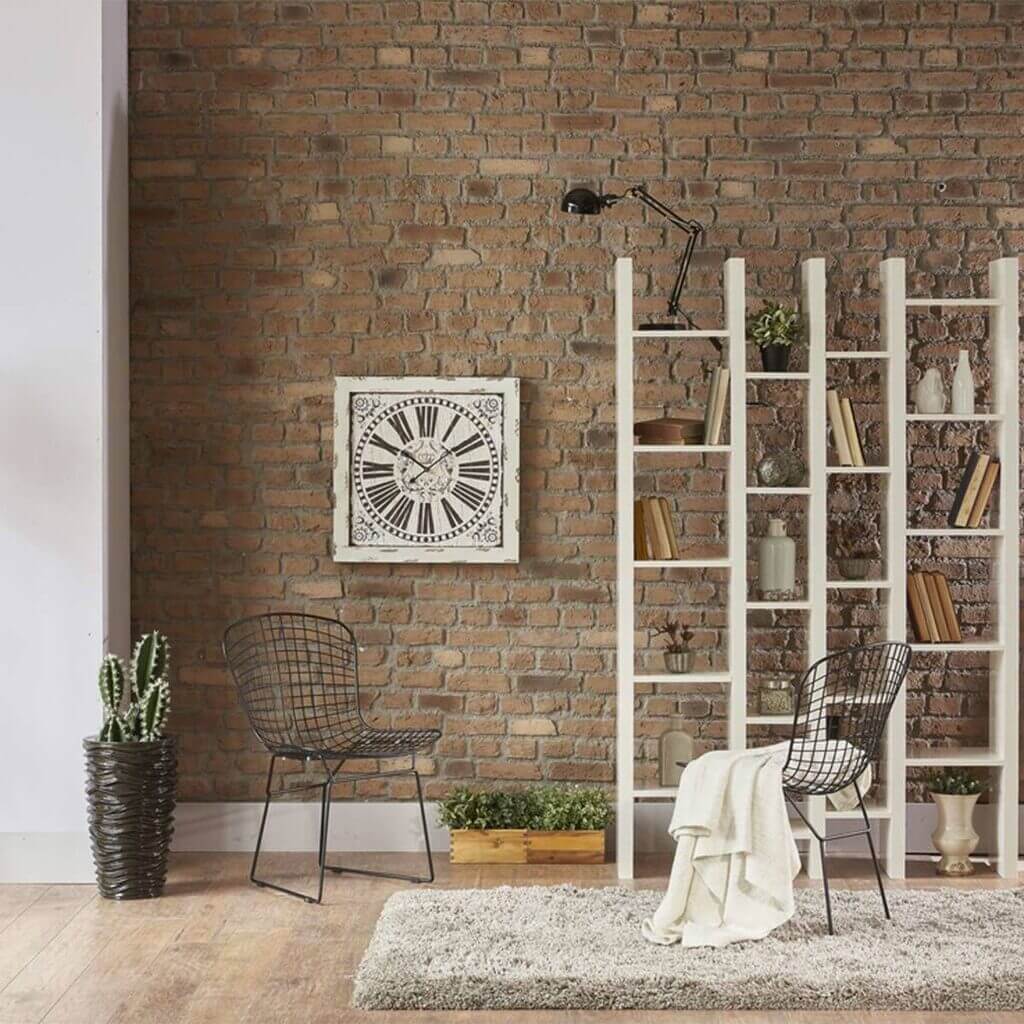 Source: familyhandyman.com
Source: futurecdn.net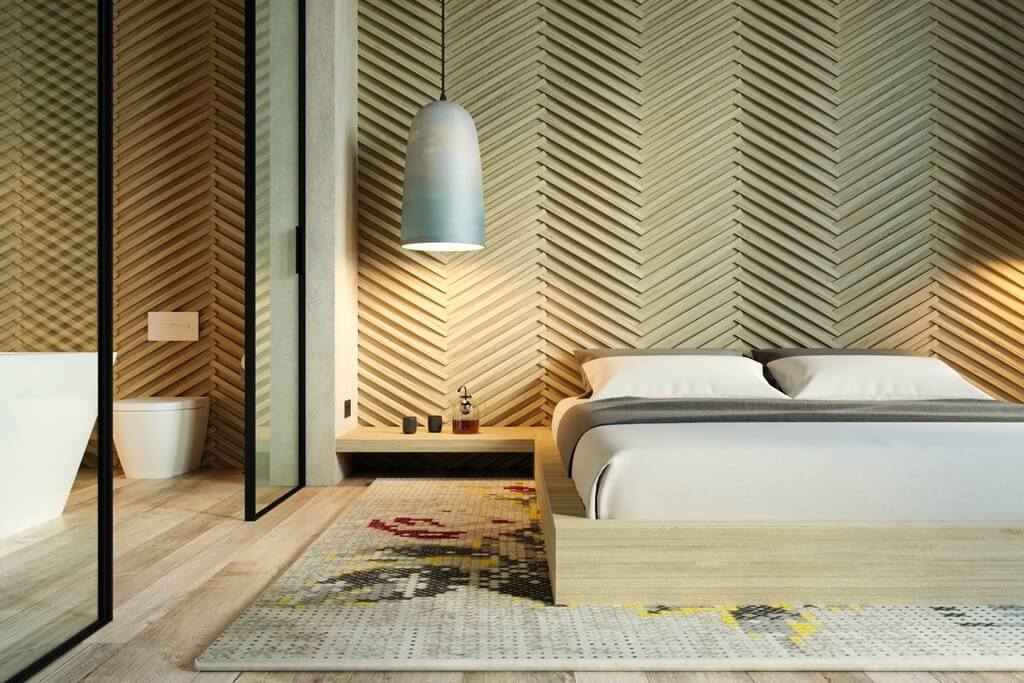 Image Source: home-designing.com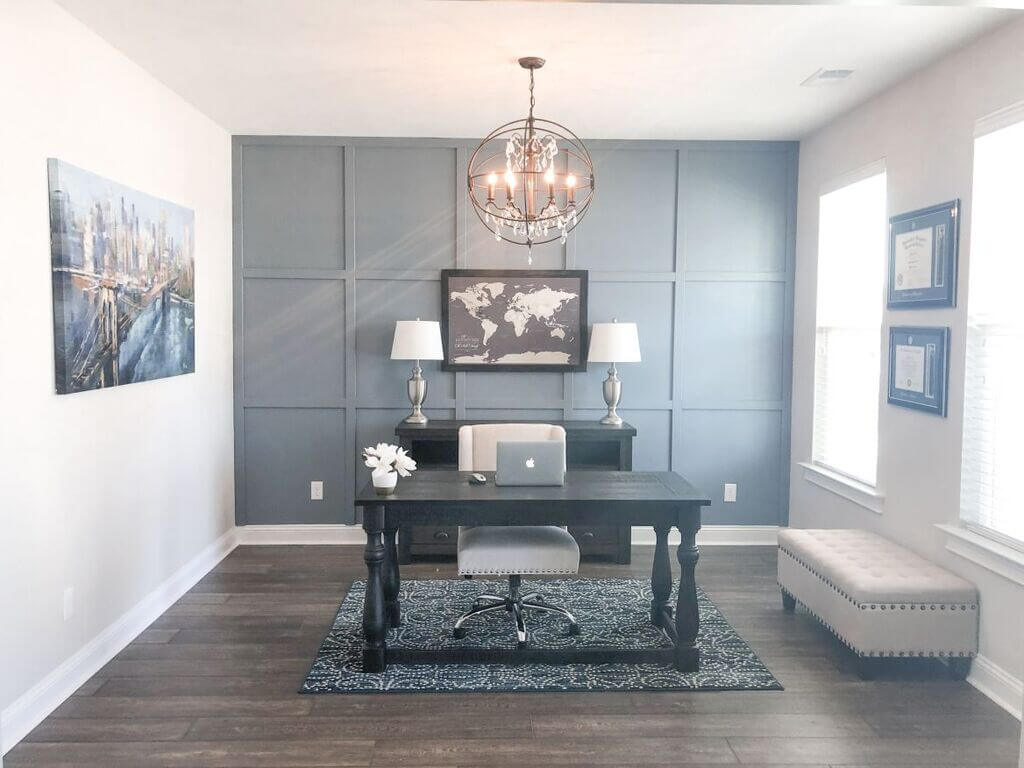 Source: pinimg.com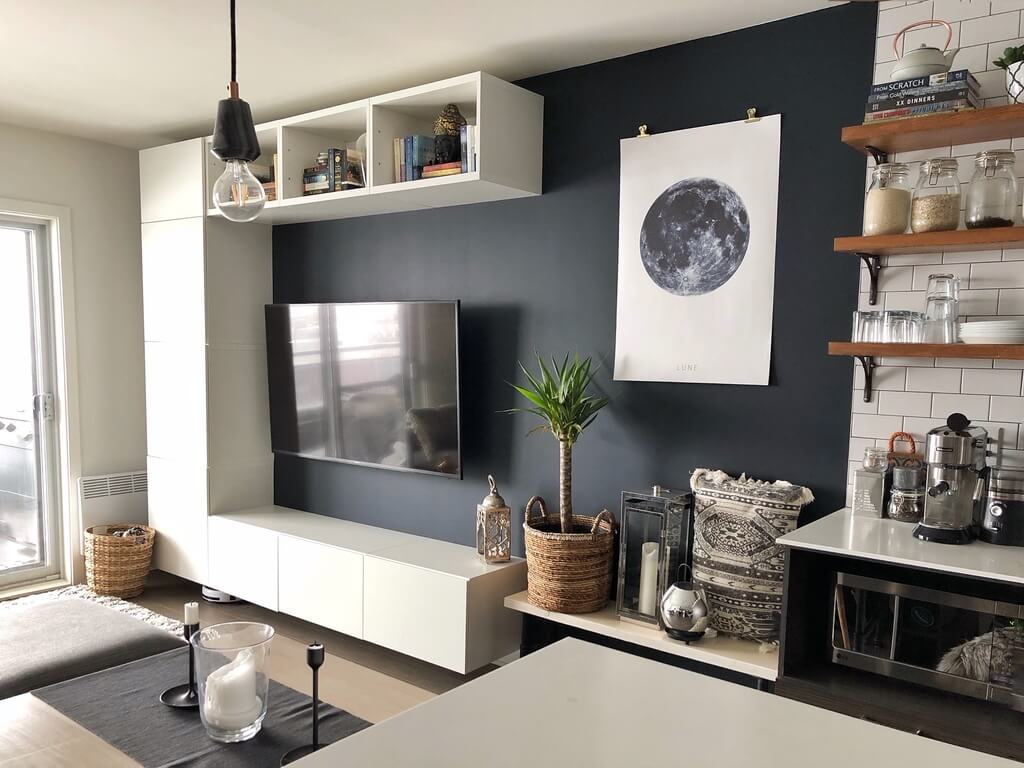 Image Source: smallspacedesigner.com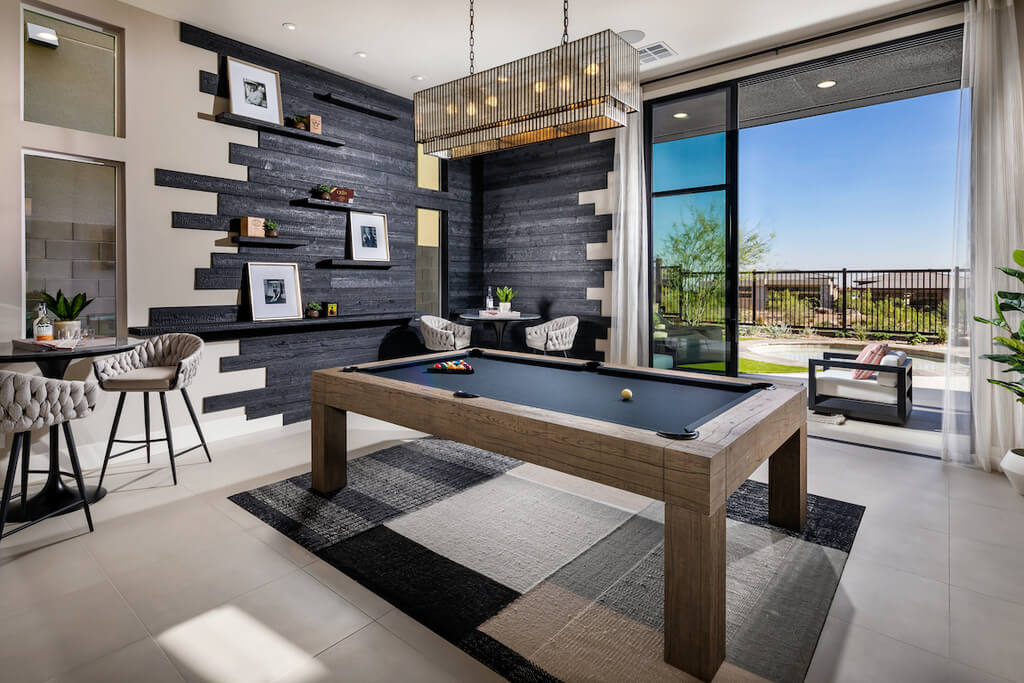 Source: tollbrothers.com
Source: shopify.com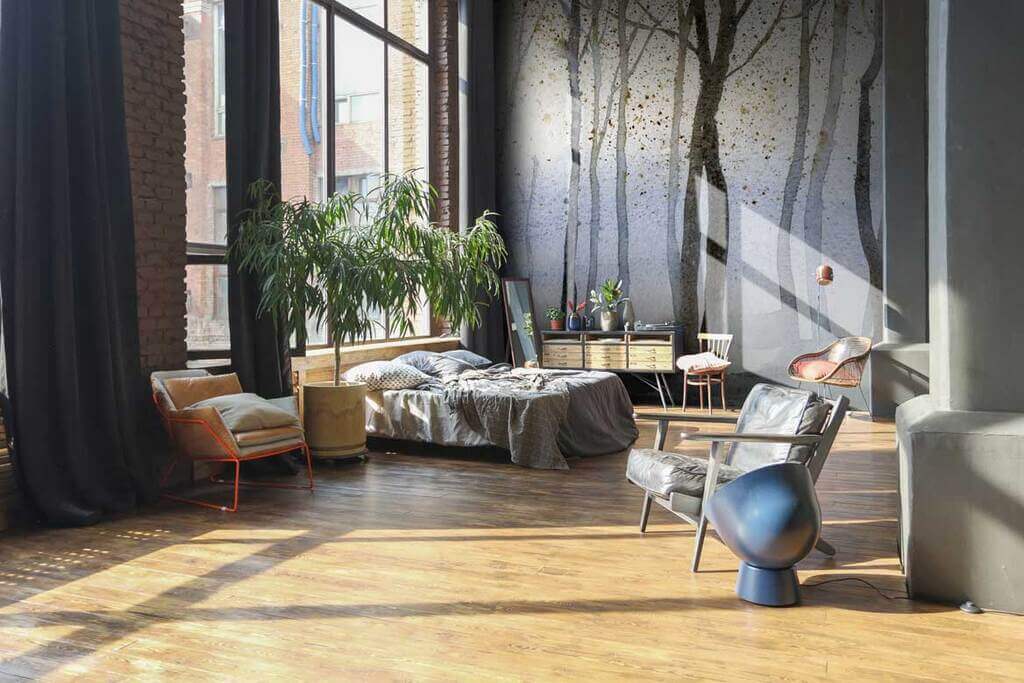 Image Source: feathr.com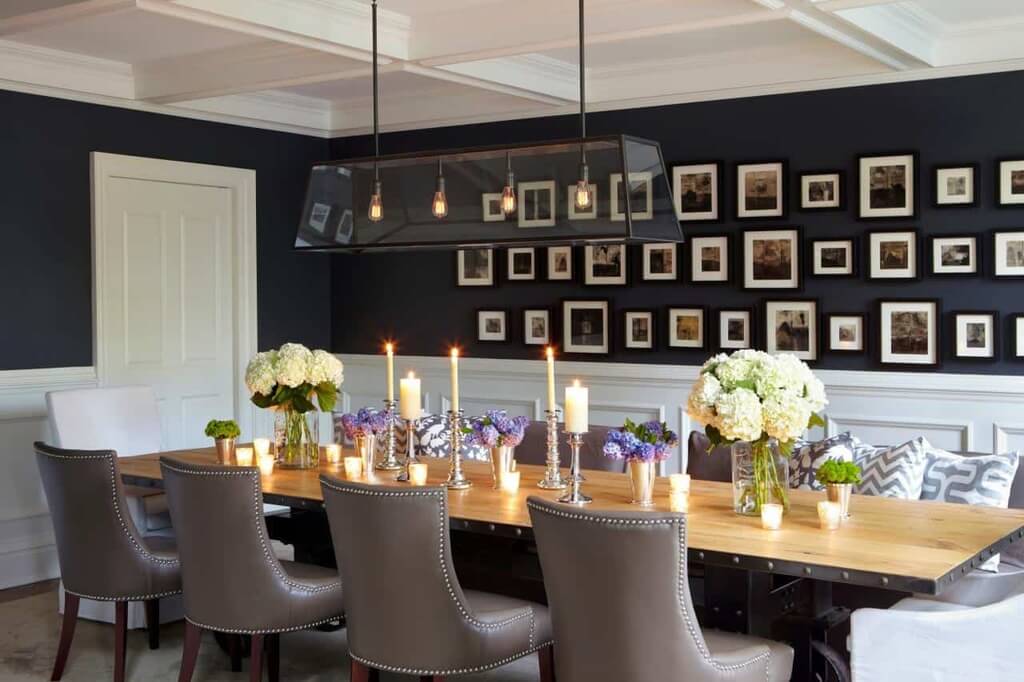 Source: trendir.com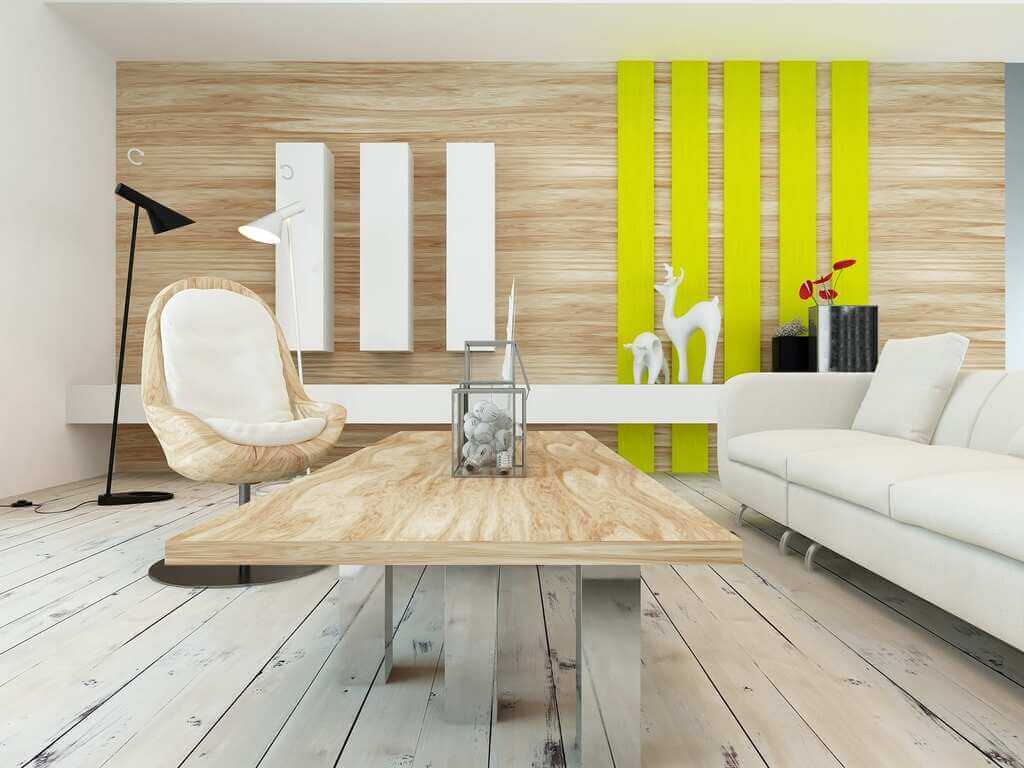 Source: eagleofpa.com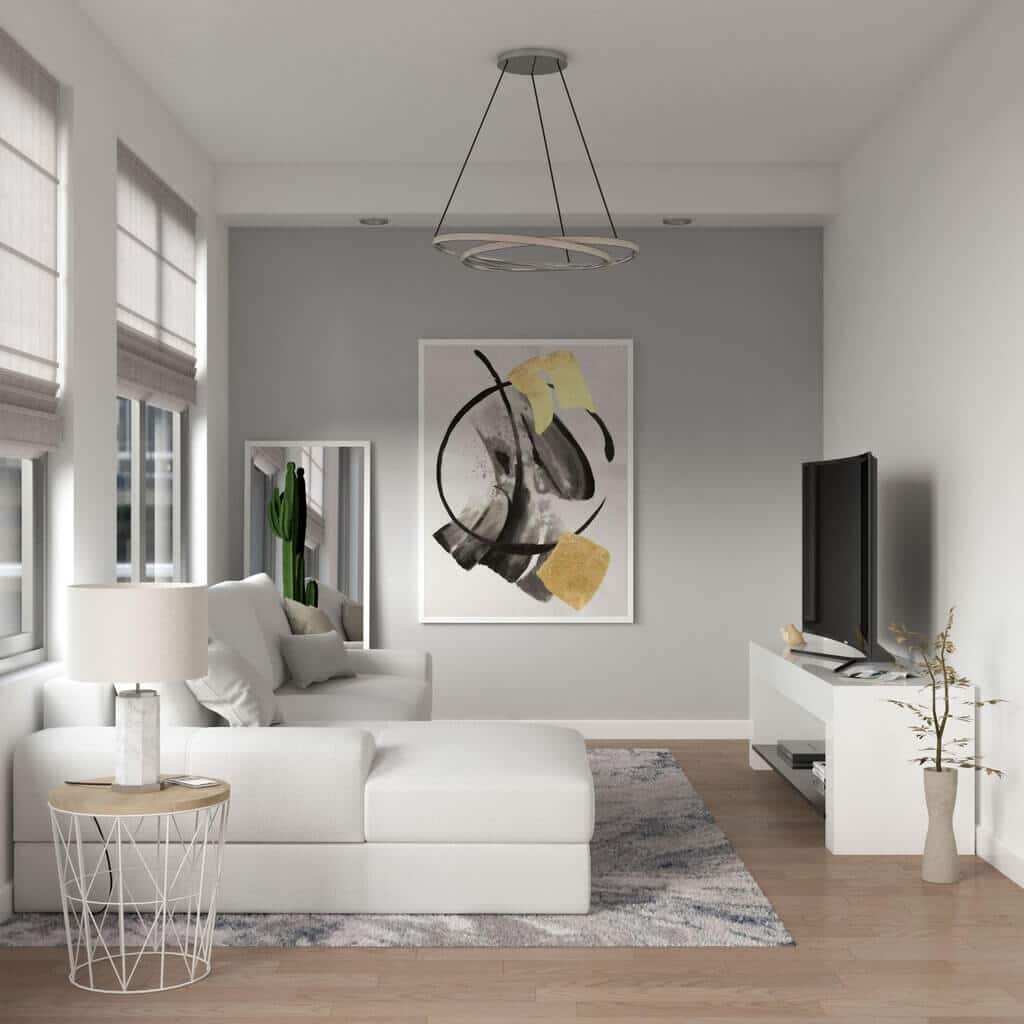 Image Source: roomdsign.com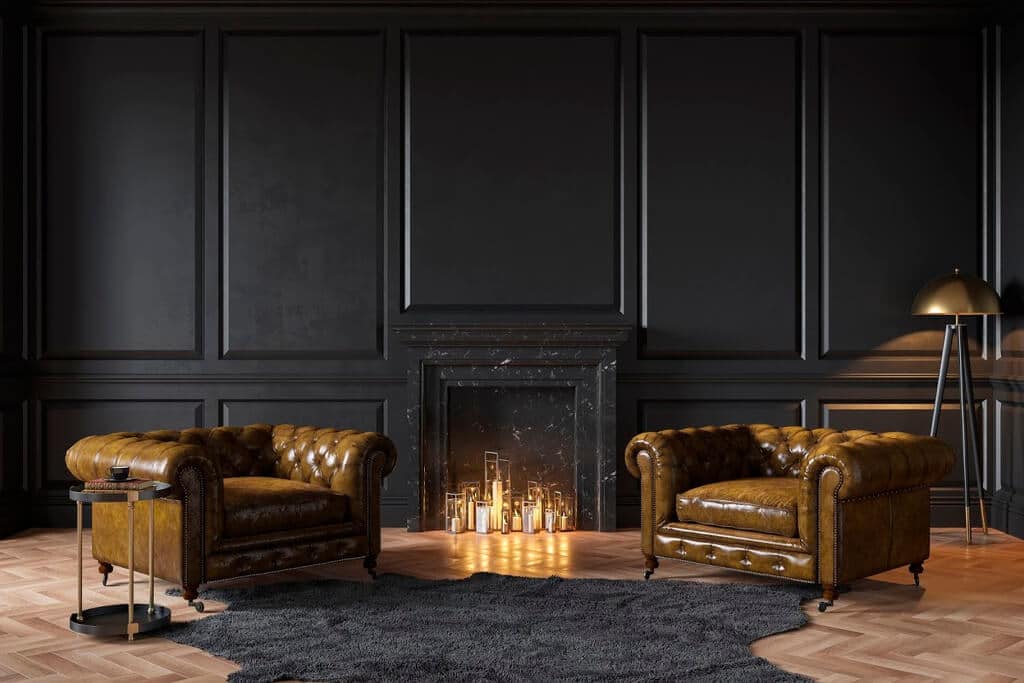 Source: amazonaws.com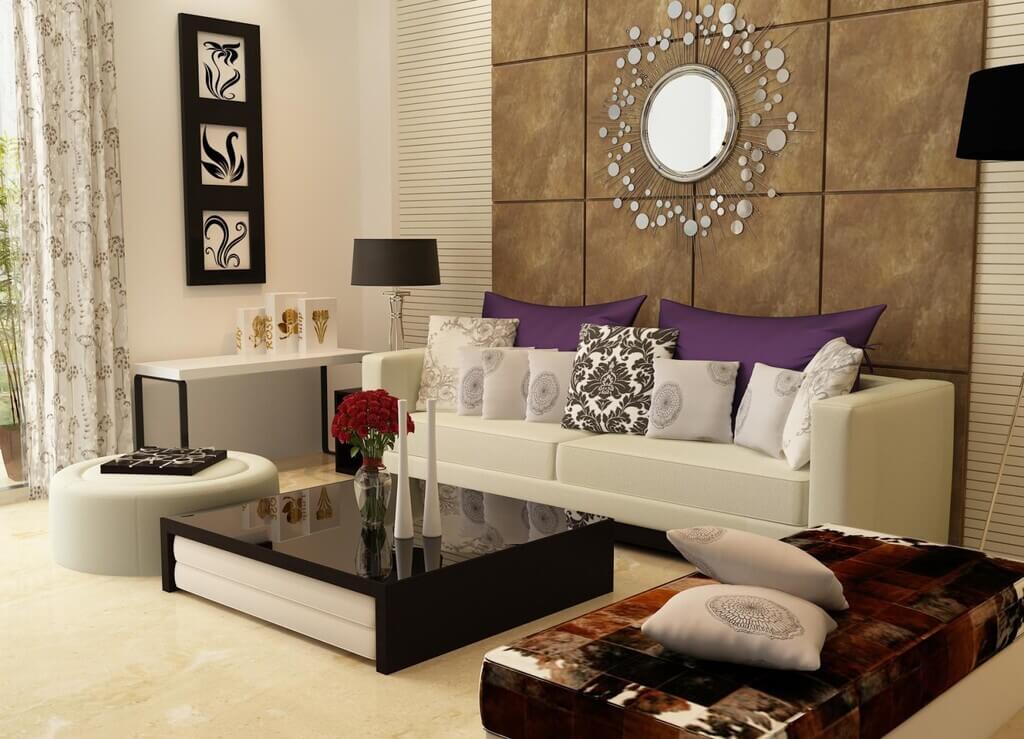 Source: amazonaws.com
The Bottom Line
So, which accent wall idea do you like the most for your home? From cool wallpapers to glamorous tiles and paints, there are so many ways and things to create an accent wall. Don't think much and experiment with various elements and decorations to create something unique and personal.
So, this is all about the accent wall ideas and designs. I hope this blog gives you some inspiration about creating an accent wall in your home.
For more interesting home and workplace improvement and styling ideas, explore Architecturessideas.
Follow us on our Instagram page architectures_idea for daily architectural information and updates.