Ideas to Incorporate Interior Plantscapes
When you are thinking about the concept of landscaping, you might think of the outdoors. You will take the existing land and start making changes. By adding flowers, plants, and different structures, you can enhance the look of the outdoor space. On the other side, you need to do the same things in indoor landscaping but inside the house. It is also known as plantscaping or interiorscaping.
You will be familiar that, like the outdoors, your indoor spaces also have plains, angles, and horizons. Therefore, you need to alter and enhance it to create an actual work of art. Plants are the most crucial element in biophilic interior designs. It would be best to incorporate as many plants into the space to make it look fresh and serene. Continue reading and know how to integrate interior plantscapes in your room.
Who Uses Interior Plantscapes?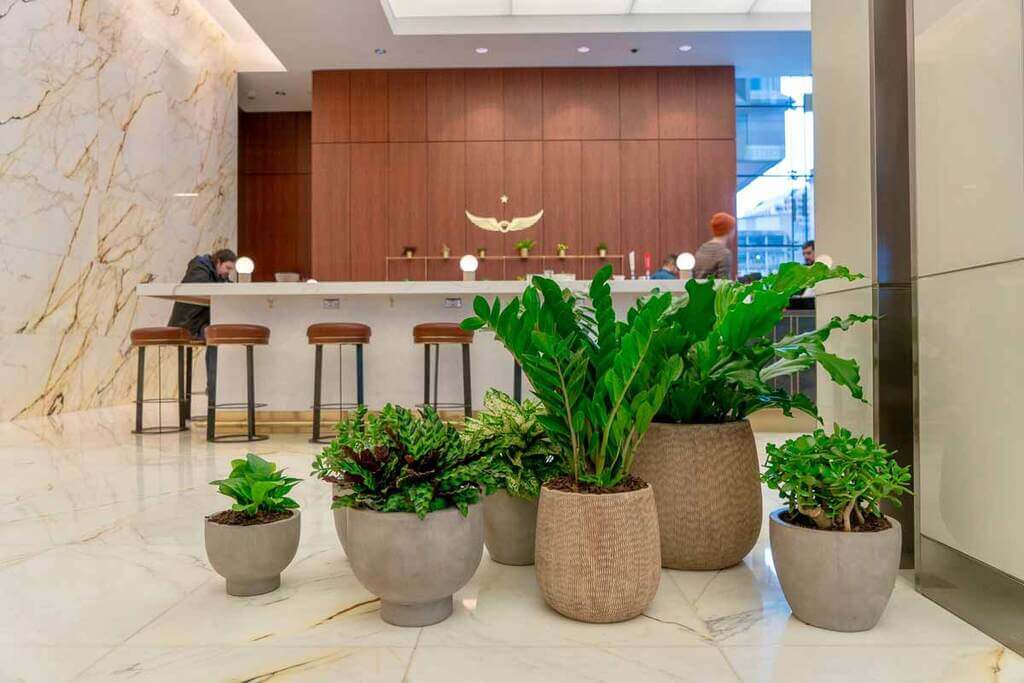 Source: bostoncityscapes.com
We all know that people find nature to be serene and visually pleasing. Therefore, you need to bring that serenity inside. The usage of living plants will do the work. The plants can create a natural and feel-good environment. It will appeal to the senses and add aesthetic value to the space.
However, to enjoy the richness and full bloom of flowers, you need to take proper care of them. You should give at least thirty minutes daily to nurture your plants. Many in the market may offer you Interior Plant Service.  
Also, look around in an atrium, mall, hotel lobby, or office building, and notice the décor and greenery present in the area. Interior landscape is an idea that enhances a business' brand and also adds personality to the space. You can also have different colors and textures in the room. 
Some Great Ideas to Decorate with Plants
You can easily include plants in your house or apartment. Plants and flowers are simple elements that add so much character and texture to a room. They brighten a space, and you get many different plants and flowers.
However, when you become a plant parent, it is your responsibility to take proper care of them. Here are some fantastic interior plantscape ideas for you:
Play with Vines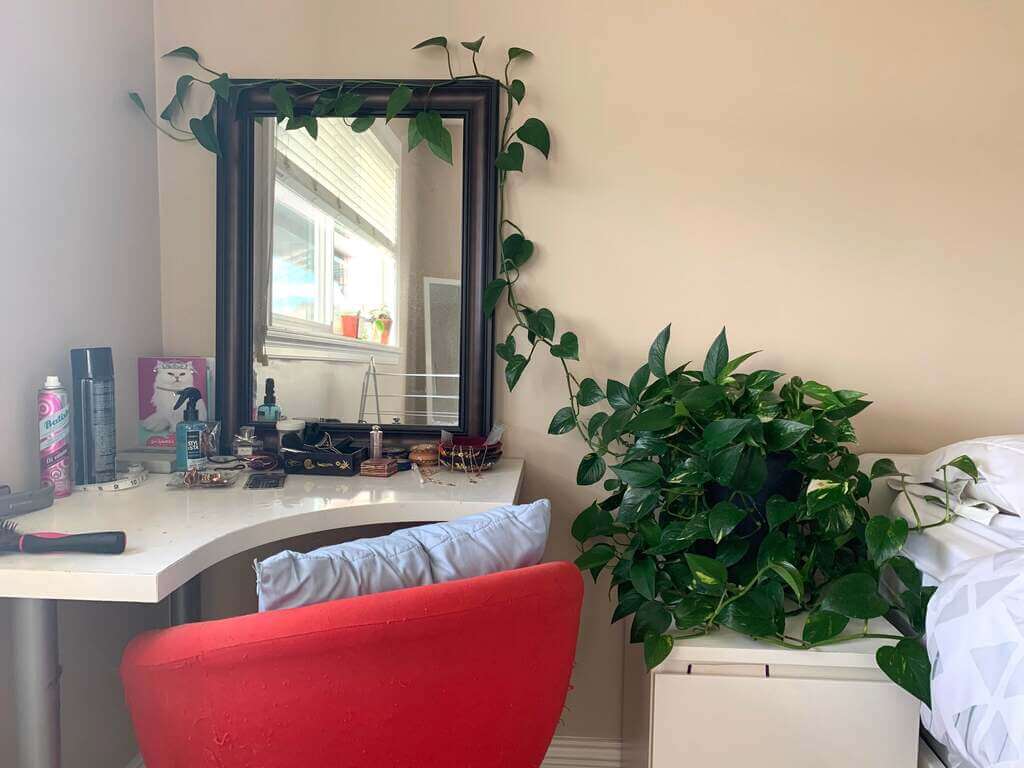 Source: redd.it
If you have a small mirror area in the room, use this fantastic interior plant idea. Hand a mirror on the wall and shape your vines all around the mirror. It would be best if you wrapped the vines around a mirror.
It is the perfect idea to keep the dangling leaves off the floor. You can also use this idea in a living room or hallway. You were adding vines to the mirror and pep to your front hall. Keep a small bench in front of it. You can also add a few more plant vases if you want to. Moreover, don't forget to place a brown rug under the bench. The carpet will create a cozy atmosphere.
Transform a Bar Cart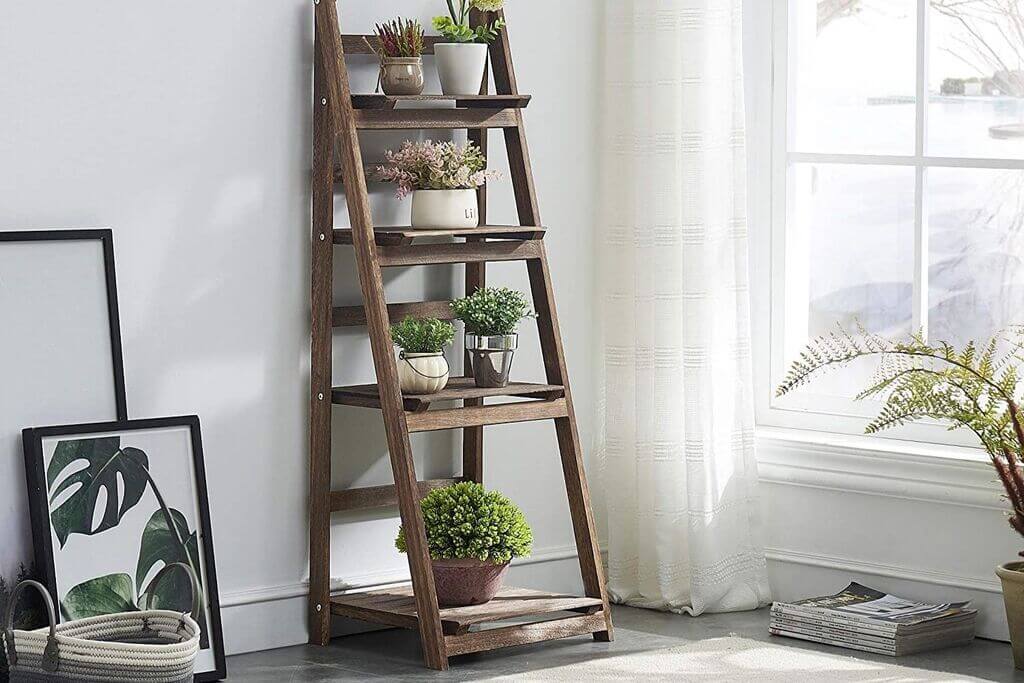 Source: bobvila.com
If you are not a cocktail person and own a bar cart, you can quickly transform it into a movable plant house. It would be best to use an empty bar cart. Place all your plants on it and create a plant stand.
Also, surround the cart with some vines to make it look attractive. Wheels make the moving job easy throughout the house. If you notice signs of too much sun in your plants, you can roll your plant cart away from the window. Also, it looks pretty in every space.
Use Terracotta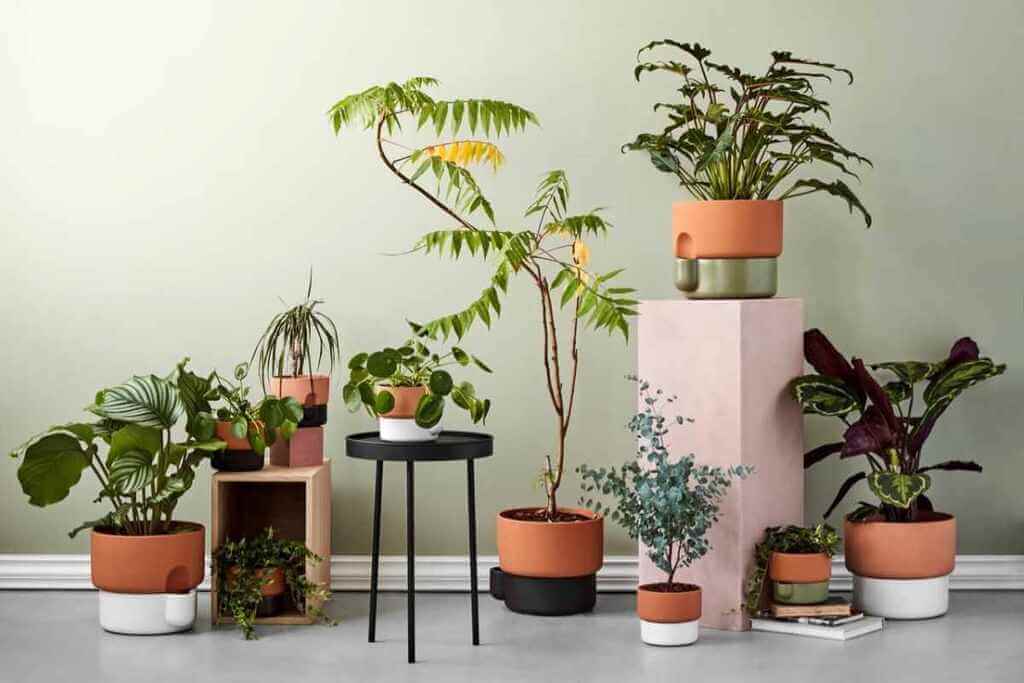 Source: wp.com
When you want to style your space with plants, you should also have fun. You need to be creative and try new things. However, while decorating, you need to understand what your plant needs to thrive. Also, it would help if you noticed the signs your plants are giving you.
Be creative with the plants and hang some of them on the walls. You can also mount them on the shelves. Use terracotta pots to add different textures and designs to your room. You can place many terracotta pots on one side of the room. Hang different sizes of mirrors on the wall behind these pots. It will create a fantastic look. You can also place two or three chairs near them for seating.
Interior Bathroom Plantscape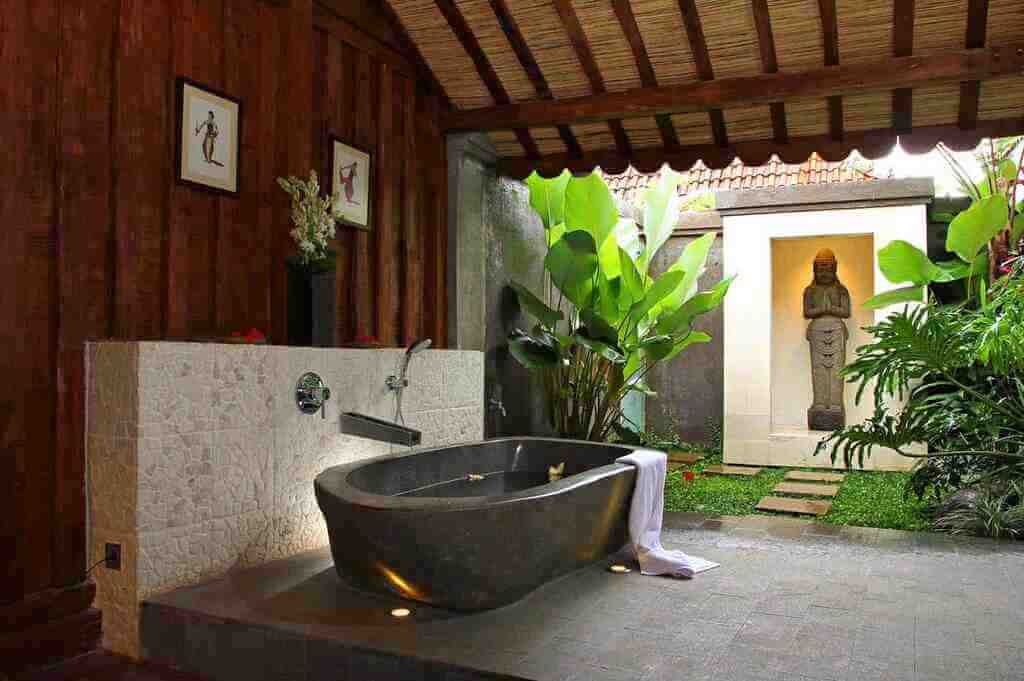 Source: onekindesign.com
If you think plants are only for living space, you are wrong. You can use plants for decorating any room, which also includes your bathroom. By adding plants and flowers in the bathroom, your bubble bath can feel even more refreshing. It will create a vibe of your favorite tropical spa.
Install a wooden wall right next to your shower area. Add different pots of plants near it. You can also hang some greenery above the tub. Add a multi-colored rug and place a small side table on it.
Decorate Your Hutch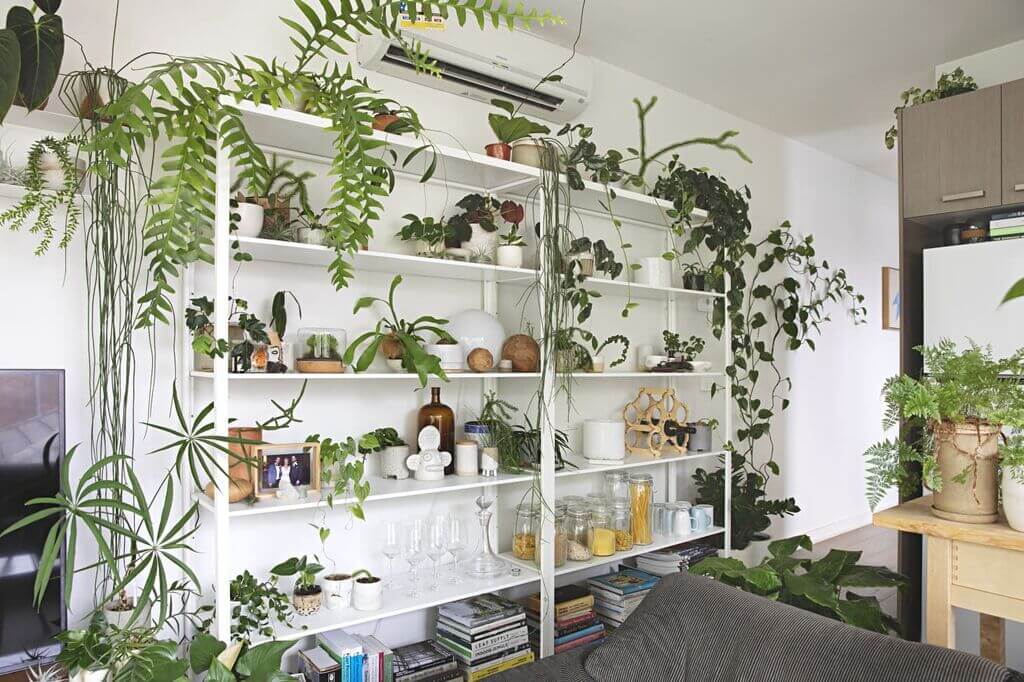 Source: pinimg.com
Change your boring cabinet into a modern plant storage system. You have to fill the shelves with different sizes of different pots. It is a perfect method to showcase your plant collection. Also, don't worry if it begins to overflow a little bit. The more plants, the more eye-catching it will get.
However, you can disperse your plants around the home. In this way, you can see them in every nook. But if you want to group them, you should use a cabinet. Use a white cabinet and start placing your plants on it. Place your plant cabinet in a living room or any other room you like. It is a fresh idea that will enhance the freshness of the space.
The Indoor Plant Maintenance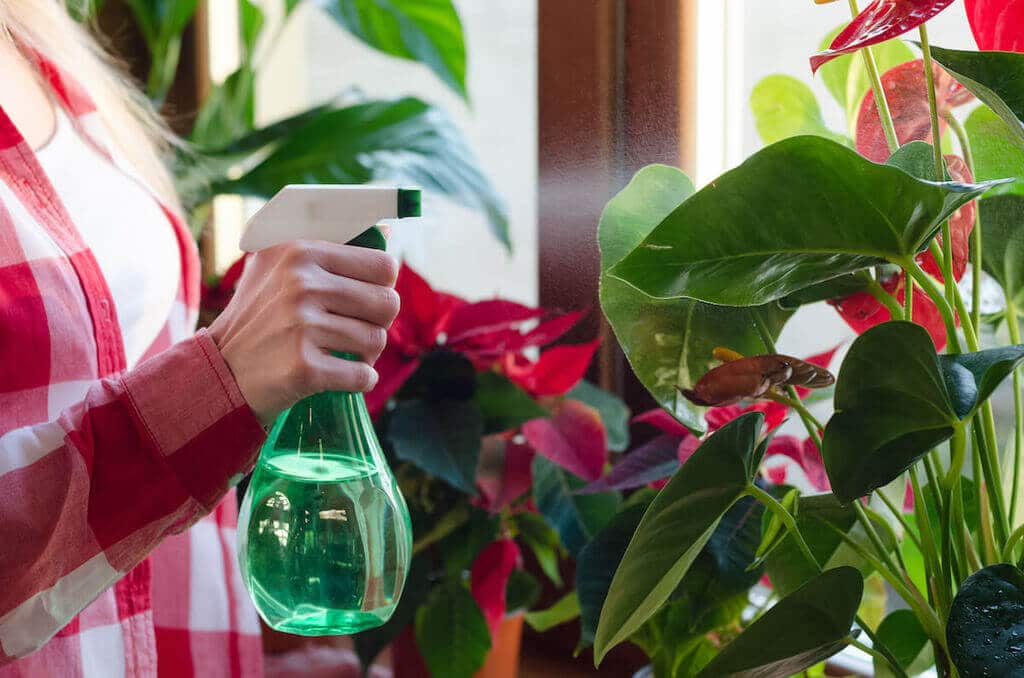 Source: amazonaws.com
When you have a beautiful indoor plant view, you need to take care of them. It would be best if you were sure that your plants are growing correctly and meeting all their requirements. You get different plant care specialists that can help you maintain the plantscape.
Interior plant maintenance experts help you know about your plant's irrigation, fertilization, and cleanness. At last, your ultimate goal needs to be sure that your plants are always looking vibrant, healthy, and pleasing.
Conclusion
Interior plantscapes are perfect when you want a biophilic look. It is a design that brings peace and calmness to the room. You must also consider various Plant Maintenance Services to enjoy plants and flowers' full bloom and beauty. Hopefully, you have some inspiration for your next room transformation project with this article.