How To Plumb Dual Shower Heads
134 views
Installing dual shower heads creates quite a pleasant experience, especially for couples. Sometimes called "his and hers," the twin showers heads can operate on the same valve or work independently. However, there can be a loss of water pressure when being used simultaneously. It's quite easy to fix this problem once it's source can be ascertained.
Before Plumbing your dual shower heads, you should observe the following.
How to Work Dual Shower Heads
Upgrade Your Water Sources
In most modern societies, cities supply water to residential apartments, while many in rural and countryside communities, wells are usually the primary source of water. Wells often have a GPM of around five compared to urban water supply with enormous and sustained pressure. 
An average head of shower issues about five gallons of water every minute, with two heads reducing the pressure to about 2.5 GPM for each shower head. To avoid this, it is necessary to add a storage tank at home or upgrade the good pump to increase the Gallons per minute capacity to around 10.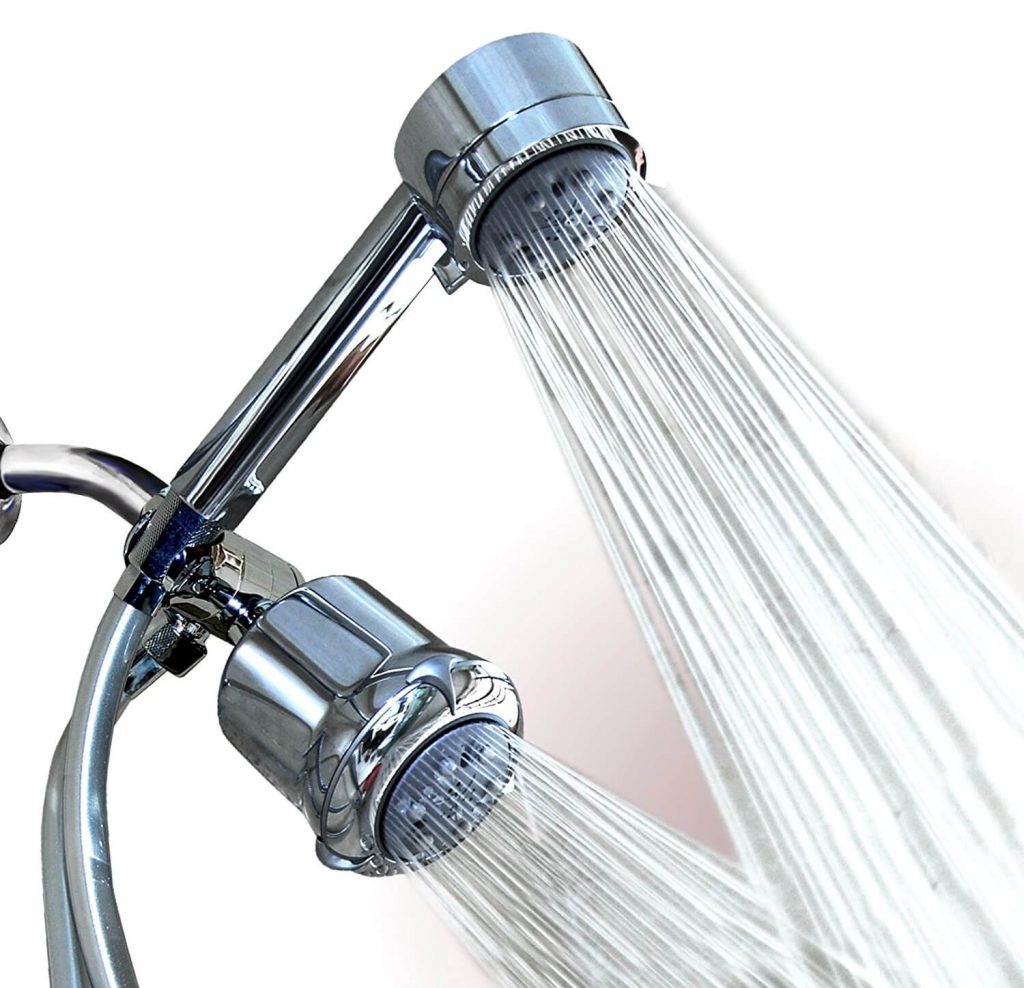 source: beyondshower.com
Enhance Your Internal Plumbing Pipe Size
Pipes come in different sizes. While the water entering your house may be coming through 3/4 or 1-inch plumbing pipes, the frequency usually shrinks to half-inch pipes when it enters the house. The drop in capacity can cause over 70 percent loss in water volume and pressure. 
To ensure your enough pressure and water volume, you should upgrade the pipes that lead to your bathroom to a minimum of 3/4 inch to ensure sustained pressure in dual showers heads. You should also change the valves of the shower to a 3/4 inch supply.
Also Read: An Overview Of The Best Handheld Showers
Change to Thermostatic Shower System
Shower valves come in two main types; thermostatic and pressure balance valves. Twin showers heads running from the same pipe are usually of the pressure balance system. This system would lead to loss of pressure as its valve tries to sustain pressure going through both heads, especially when there is no need for both heads simultaneously.
A thermostatic valve comes with individual volume control for each of the twin showerheads. This allows you to decrease or increase the volume of water that goes out of every shower head, increasing the pressure and volume to each. The thermostatic valve also allows the shutting off of a shower head that is not needed, increasing the amount of pressure going to the other one.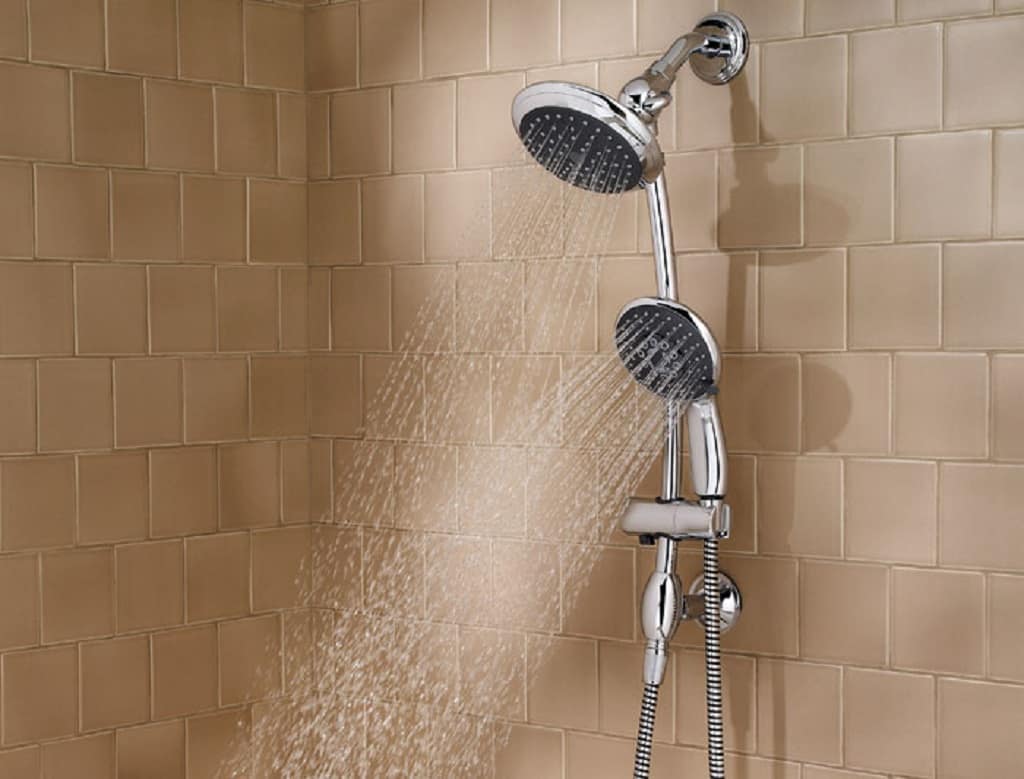 source: homeviable.com
Use Low-Pressure Shower Heads
Showerheads come in various kinds and sizes. GPM is one major measure of the heads. Some showerheads can use up to 10GPM but quite low water pressure. 
How to Install Dual Shower Heads
This guide refers to two shower heads linked with the same pipe connector. These are heads that can be used alone or together.
Dual head showers always come with a built-in valve, which lets you control whether the two should work at the same time or just a single one.
Always start by shutting off the water

Use pliers to hold the arm and a wrench – turn the showerhead while doing this.

After removing the old showerhead, get rid of all plumber's tape leftovers to make the arm threads clean and easy for connecting with the new shower head. Ensure you remove all rust that could have developed around the pipe.

The first thing to put in place is the base valve. This small piece that looks like a rectangle will connect to both the removable shower and main heads. It also houses the switching valve. To prevent leaks, wrap the connecting thread of the shoulder arm with a new plumbing seal.

Now wrap the threads of the valve in a tape and to the major shower head. Ensure you are tightening it with a plier and a cloth to serve as a scratch-resistant barrier. Ensure you clean everything before continuing with the process.

After that, link the remaining shower head by tightening in the rope pipe and secure onto it, the wand shower. There must be the right size of the plumber's tape wrapped on every encountered connecting thread.

Switch on the water and check the shower heads to ensure leaks are not present.
If you see any leak, remove the particular area, use more plumber's tape to wrap and tighten it down again. For full installation process of best dual showerhead check this guide.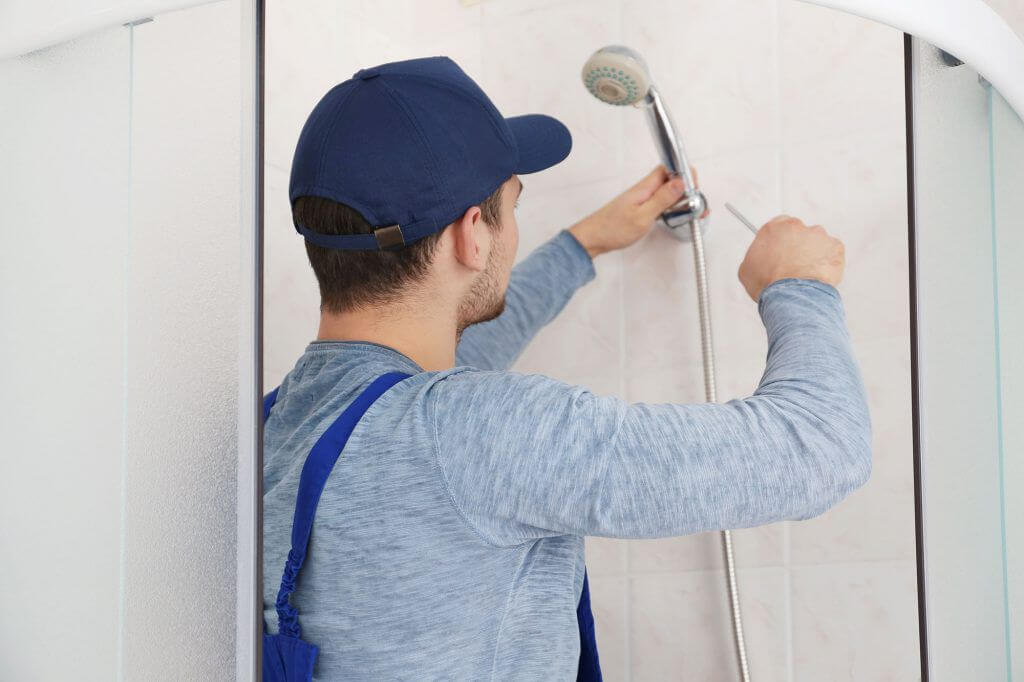 source: actionplumbing.net
Benefits of Dual Showers Heads
To get a view of the advantages of double shower heads, various benefits have been pictured in the next paragraphs.
Amazing showering experience
Sometimes a single showerhead might not be enough, and this would mean more comfort when you make use of double showerheads. There is a larger spray from the increased water flow. With this, you can shower together with your better half.
Ease of use
When you take a bath under one shower head, you sometimes have trouble getting water to the unreachable body parts. Dual shower heads fix this issue as you can easily adjust one of the heads to focus the water on that particular area of your body. 
Saves time
One other benefit is that partners or children don't need to wait for someone to finish before taking their bath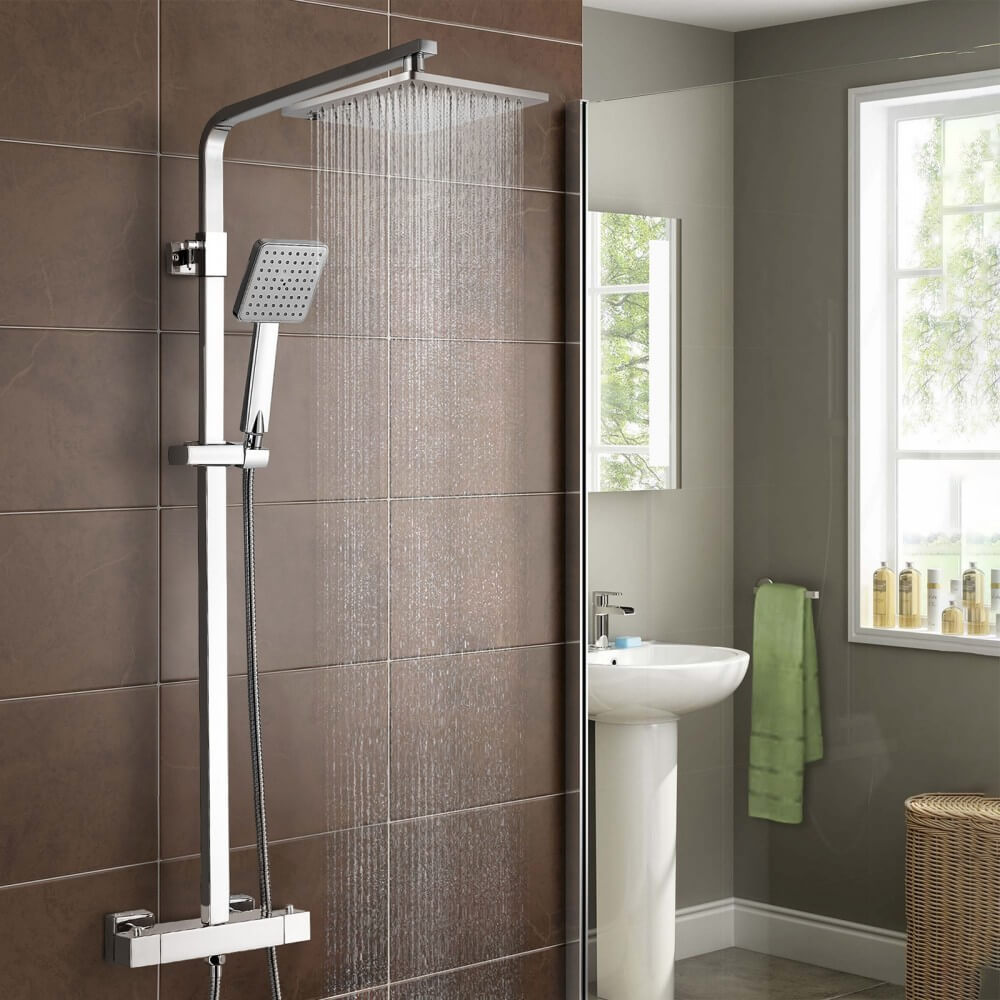 source: bathroomrepublic.co.uk
Beneficial to disabled persons
Showering for disabled persons is usually tricky with one shower head. This is due to the restriction of movement, making the process harrowing. Dual showerheads make showering efficient and easy for people with special needs as it has a more extensive spray coverage.