How to Use Drywall Anchors to Hang Heavy Stuff on Your Walls
Do you want to hang your favorite picture frame? The best way is to hang it with the help of nails or screws directly on a drywall surface. However, things might often slip out or damage the delicate material if they're not correctly hanged. Are you also worried about falling off your decorative pieces from the walls? Don't get too stressed you just need to know how to use drywall anchors. Yes, they are the best way to hang anything. No matter how heavy the item is; these anchors will take care of everything.
How to Use Drywall Anchors
Don't know how to use drywall anchors? Keep reading this blog. Today we're going to tell you all about drywall anchors. From what is a drywall anchor, its types to how to select the one, and how to insert drywall anchors, we've covered everything in detail.
What Is a Drywall Anchor?

       

Source: mtcopeland.com
Usually, we hang things from the walls by using the studs as the anchor. What if there is no stud at the exact location where you want to hang something? Here comes the role of anchor. It goes directly between the screw and the drywall and makes the holding strength more strong so everything stays in place. 
There are different types and sizes of wall anchors available in the market. They can use to support different weights. Some types of anchors are specifically designed for different locations, such as walls or ceilings or different materials, including drywall or masonry.   
You can select the one according to your requirements or the things you're hanging or mounting on the wall. Drywall anchors are designed in such a way that they provide a strong and secure connection when using screws to hang items such as pictures, mirrors, clocks, or any other decorative pieces. 
Types of Drywall Anchors
There are various types of anchors available in the market. Here we've listed some of the most common types of drywall anchors:           
1. Hollow-Wall Anchors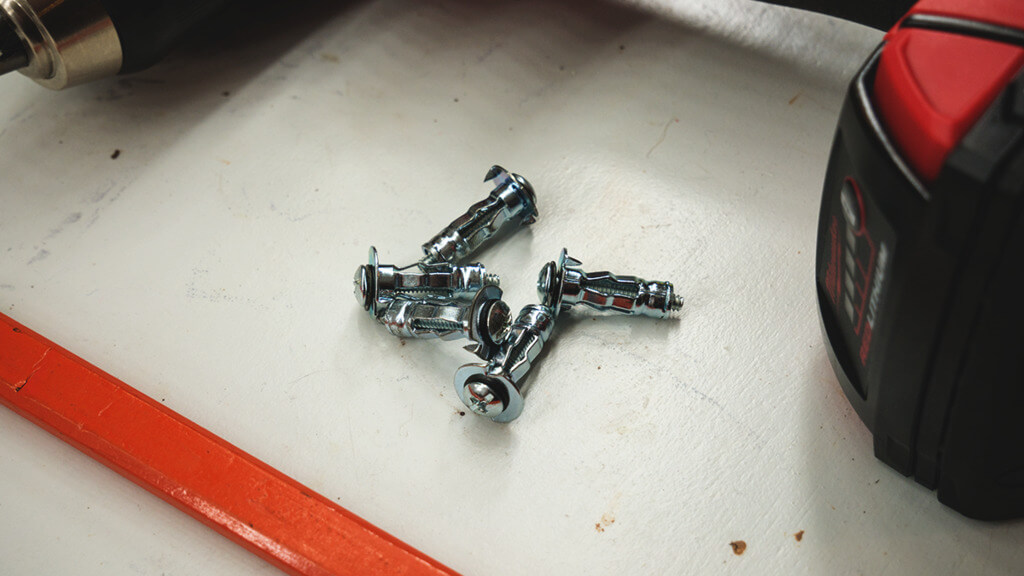 Source: utilitywallet.com
Hollow-wall anchors are also known as molly bolts. They have a sturdy bullet design body. They have a screw and a pointed metal body with a spiked collar. They require a pilot hole, and once you insert this into the hole, the spikes on the collar will hold the anchor in place. 
It has a screw that securely gets placed by extending the flanges against the back of the wallboard. They also come in plastic versions with the same operation. 
2. Expansion Anchors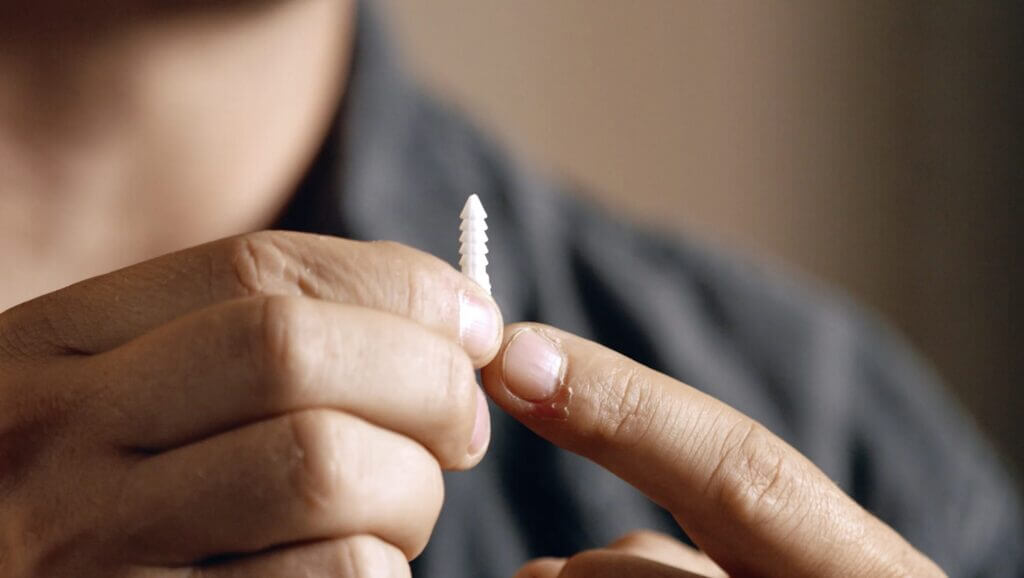 Source: mtcopeland.com
Expansion anchors are generally made of plastic and usually come in a conical shape. They also have raised rings or barbs along their body to improve grip. When you drive a screw into this anchor, the shank of the anchor splits. Later it will expand into flanges or wings that will grip the interior of the drywall. This will help in securing the anchor, and it will not pull out easily.
3. Toggle Anchors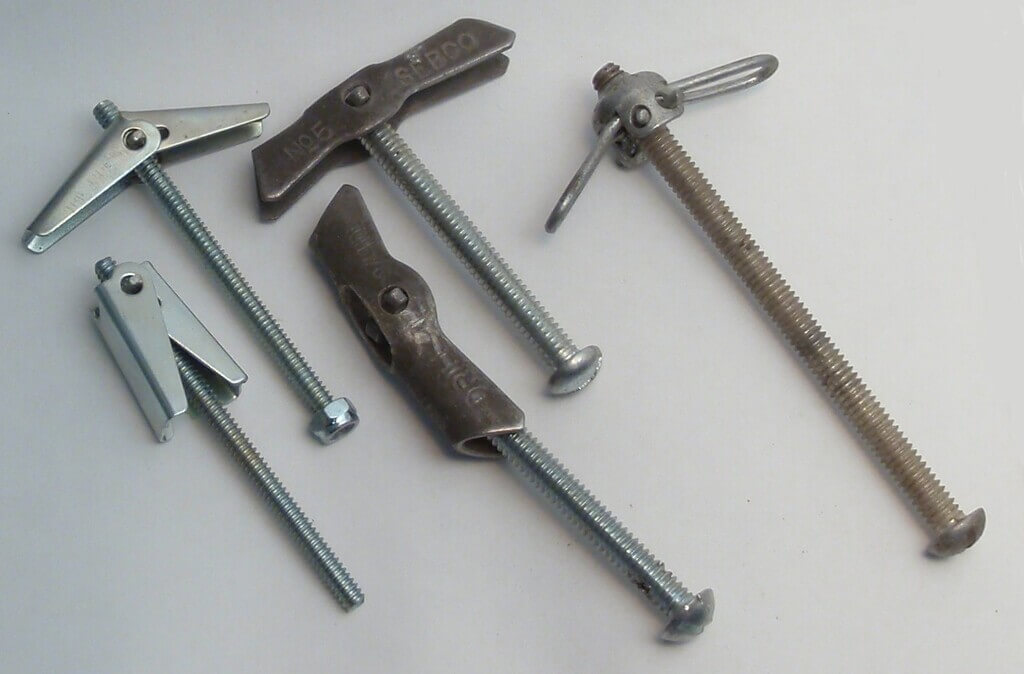 Source: wikimedia.org
Toggle anchors are also known as Toggle Bolt. They commonly come in two types of variations: Strap and Screw. Both have a similar principle in which the toggle (anchoring element) gets inserted in a pilot hole. 
In comparison to strap anchors, Screw-style toggles require a larger pilot hole because they have a spring-loaded toggle.
4. Self-Drilling Anchors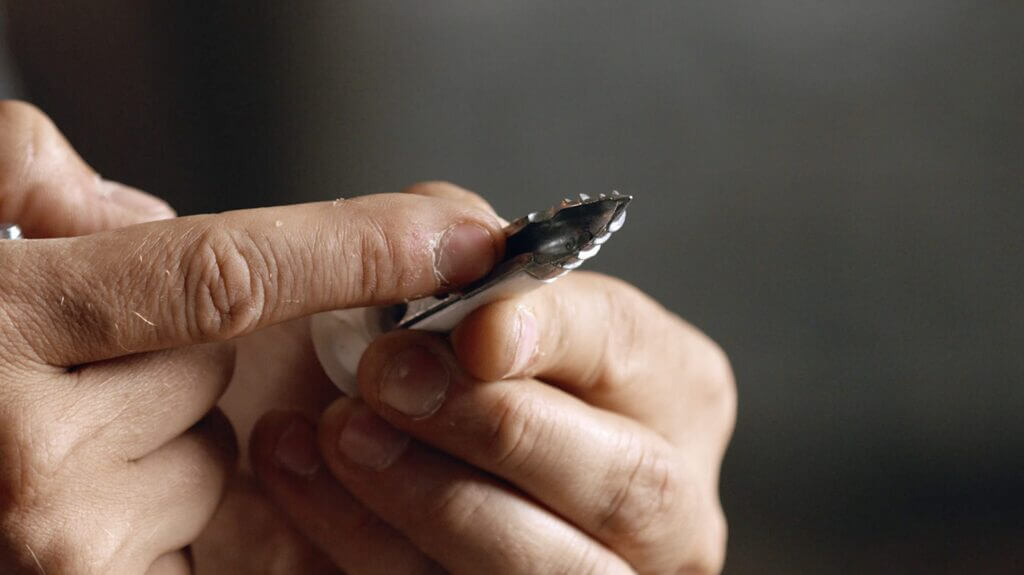 Source: mtcopeland.com
Self-Drilling Anchors come in a conical shape but with threads. These threads help them to function as screw-in anchors and also provide additional holding power. Their working principle is pretty much similar to the expansion anchors. 
This is because when you drive a screw, the anchor splits the body so that it will get a stronghold against the drywall. They also come in metal versions, so you can select the one according to your requirements. 
Now the question is how to select the right drywall anchors? This totally depends on the item that you're hanging or mounting. Most of the time, it is related to weight. So here's the small weight guide for you: 
Less than 10 lbs: plastic sleeve anchor

10 to 25 lbs: self-drilling threaded drywall anchors

25 to 50 lbs: Snaptoggle, molly bolts, or traditional toggle bolts

Over 50 lbs: Snaptoggle, toggle bolts, or screw into an actual stud
There are drywall anchors for heavy items available in the market that can hold more than 100 pounds. However, it is advisable to do a test before hanging expensive items.
How to Put Anchors into Drywall: The Easy Way!
Before you start with the procedure, here's the list of items that you'll need: 
Materials & Tools
Drywall Anchors

Drill/Driver

Drill Bits

Driver Bits

Screwdriver

Hammer
Step 1: Choose the Right Drywall Anchor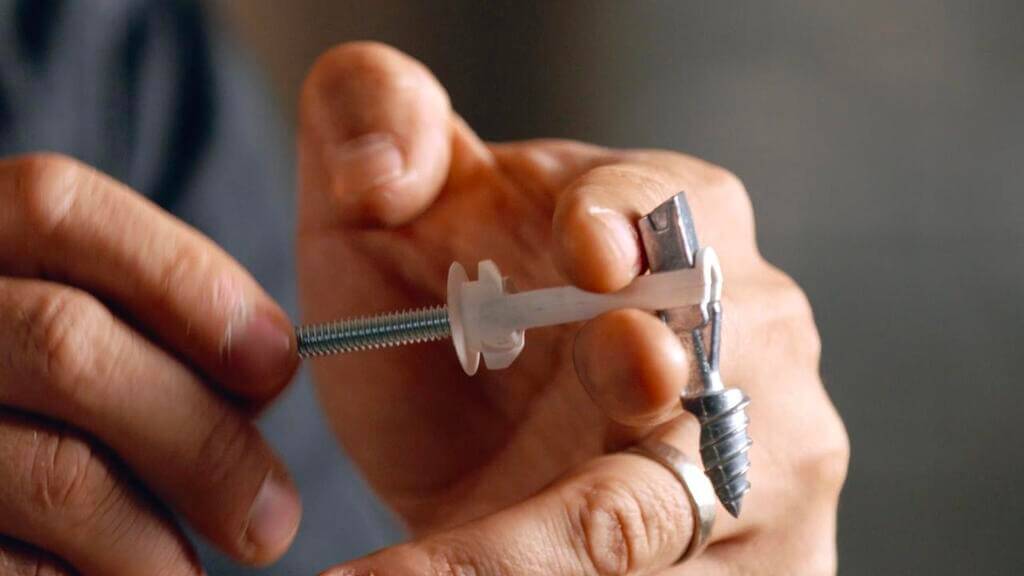 Source: fastly.net
Selecting the right type anchor is as important as drilling it into the drywall. You can pick your anchors based on the weight and size of the item you're installing. We've already explained in the previous parts of this blog how to determine the right drywall anchors according to weight.
Make sure that your drywall anchor is rated for the amount of weight you'll be putting on it. To be on the safe side, you can go with the ones that are rated more than the item's actual weight. You can also use multiple anchors for things like shelves or closet accessories. 
Step 2: Measure and Mark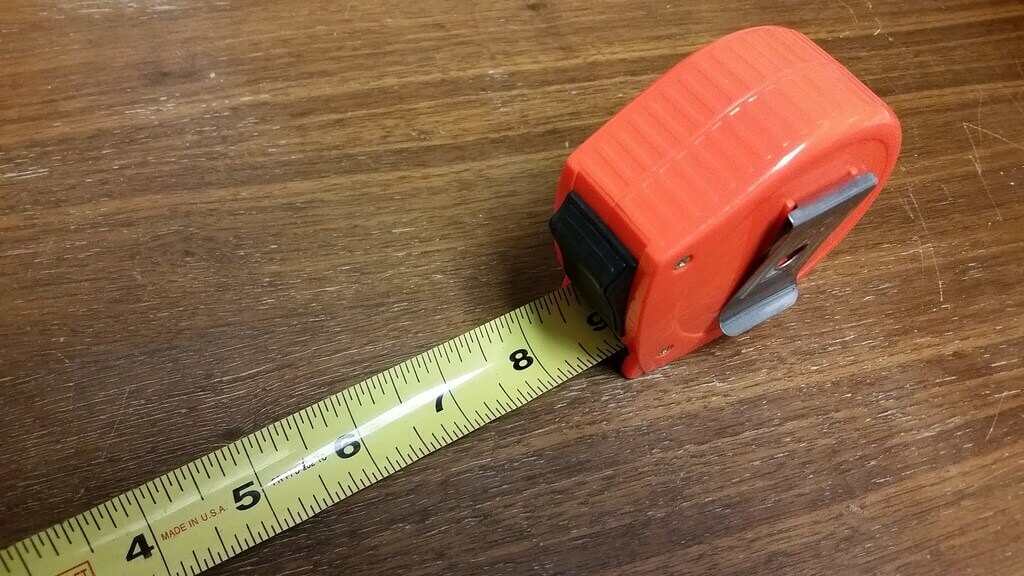 Source: townsquare.media
When you are ready with your anchors, it's time to proceed with the next steps. First, you have to decide where you want to install your anchors. Then measure and mark that specific location properly. This will help you to drill the holes correctly where you have marked them.          
Step 3: Twist Anchor Lightly & Insert It Inside the Wall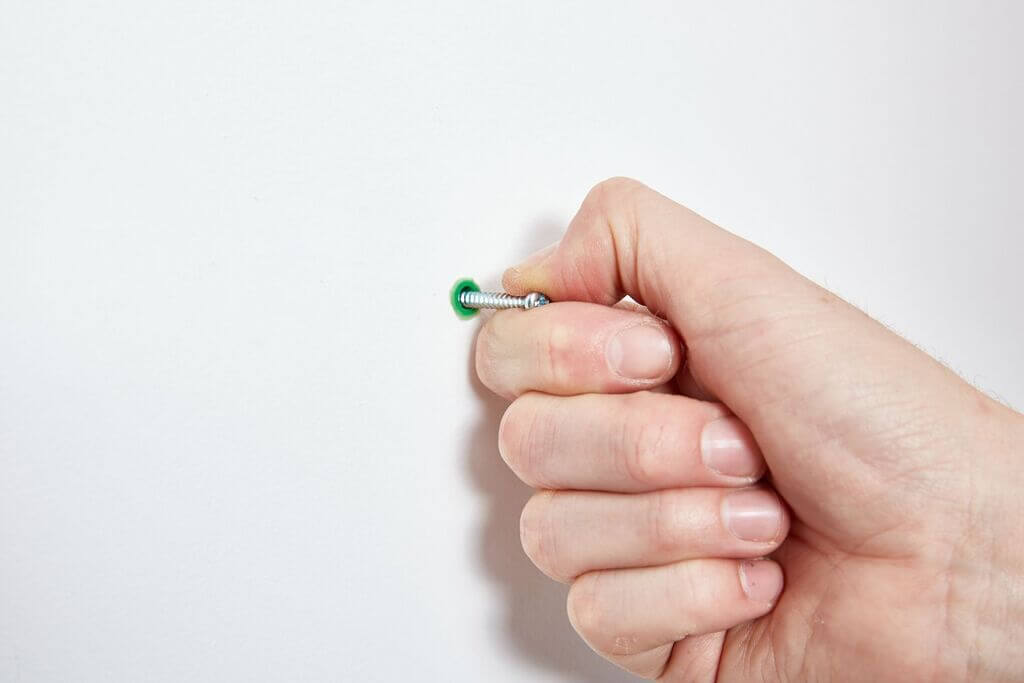 Source: thespruce.com
After you drill the hole in the wall, put the anchor inside the hole. Never apply too much pressure on it. Start with slightly twisting the ancho while applying moderate pressure. Slowly it will go inside the wall. 
You can also take the help of a screwdriver to install threaded drywall anchors or self-drilling wall anchors. When it will slowly get inside the wall, apply some more pressure so that it will not spin in the hole and dig out the drywall.
NOTE:            
Always try to drill a smaller hole than you think it should be. If it is too small, you can always enlarge it. However, if it becomes too large, you simply can't reduce its size. You have to drill another hole somewhere else.  
Step 4: Keep Inserting the Anchor Until It Sets Properly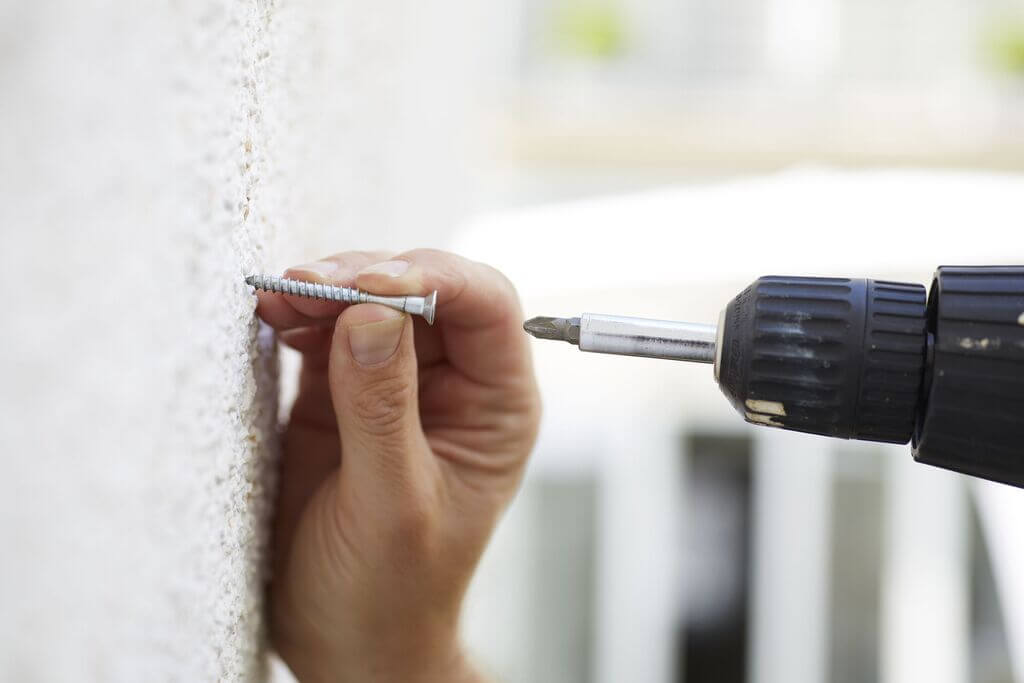 Source: hearstapps.com
When the anchor goes into the wall, don't think your work is done. You have to keep inserting the anchor into the drywall until it is set properly. Keep applying the pressure until the lip is flush with the wall or it goes inside of the wall. Take a look at the above picture; your anchor should look like the above anchor. 
This is an important step because when the anchor is correctly and deeply inserted into the wall, it will give you proper security. The loose or unfitted anchors may rip out when you hang heavy things. As a result, it can damage the object as well as the walls. 
Also Read: Various Options in Drywall Ceiling Textures That is Good For Walls Too
Step 5: Conceal It with a Screw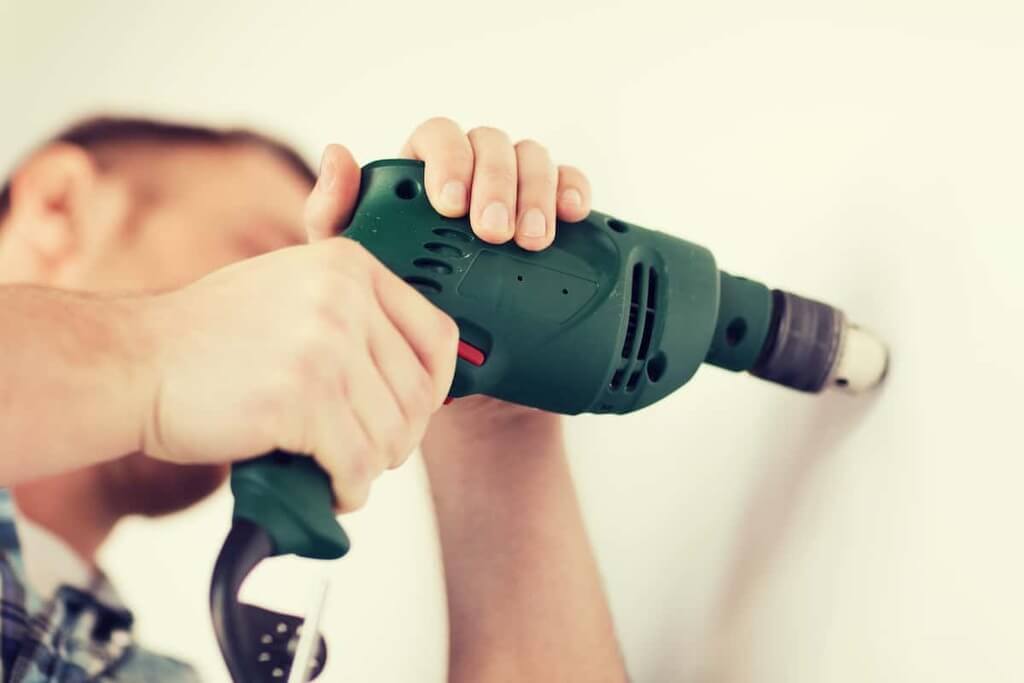 Source: rent.com
When you're done with the above four steps, it's time to conceal your anchors. First, put the screw through the hole of the decor piece you're installing to the wall. After this, put it on the hole of the anchor and secure it tightly.
The wide threads of the anchors will grab the screw. Also, check the direction of the drywall anchors before you put the screw on them. You can also use brackets to support the screws if you want. Concealing is essential because it will ensure that your stuff will securely install on the wall, no matter how heavy it is.              
NOTE:
If you're planning to install a heavy item or more than one piece, it is good to use multiple anchors. They will distribute the weight and help prevent the fasteners from pulling out of the wall. Also, if you're using large drywall anchors, then you'll need bigger screws. 
The Bottom Line
Now you know how to use a wall anchor in drywall. So, select the right type of anchors and follow the above steps, and you're ready to hang your favorite decor pieces, shelves, or anything.
I hope you find this step-by-step tutorial on how to use drywall anchors helpful and useful. Please share this blog with your friends and family who need a detailed drywall anchors installation guide.  
For more how-to blogs and guides and other home improvement ideas, keep coming to Architecturesideas.
For the latest daily updates, follow us on our Instagram page @architectures_idea.