Hardscaping bridges the interior comforts of your home with the openness and serenity of the outside world. Think about lounging on your patio with a good book as a light breeze blows, or grilling up lunch at your outdoor kitchen station while the kids splash in the pool. Hardscaping brings new comfort, utility, and appeal to any landscape.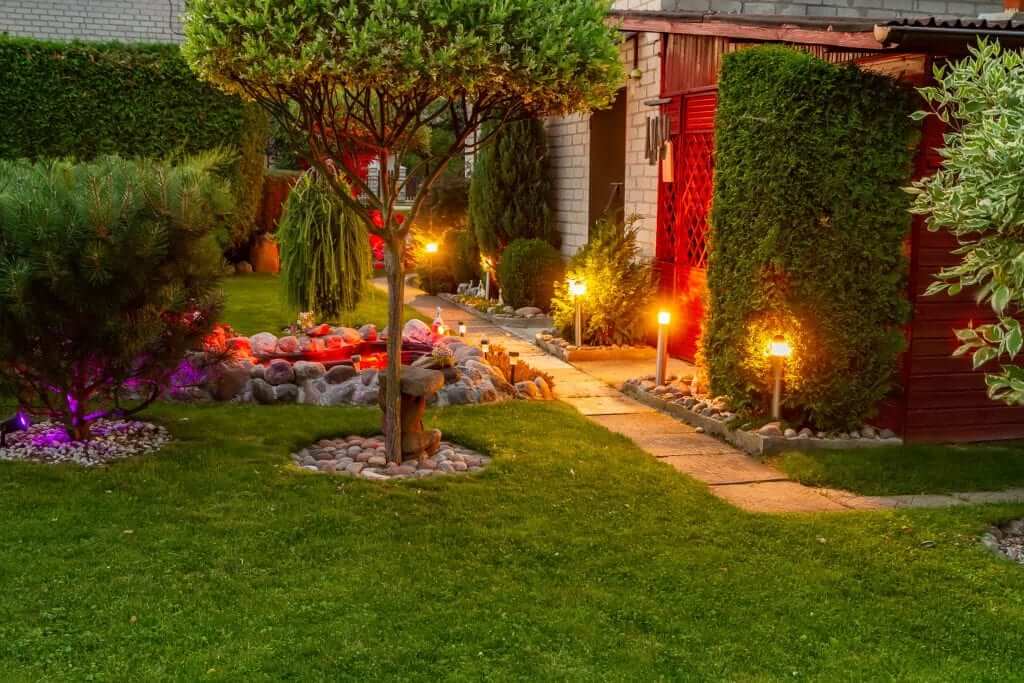 Without proper hardscape lighting, all these benefits disappear when the sun goes down. Turning on the backyard floodlight or lighting a dozen tiki torches just doesn't offer the same ambiance as strategic outdoor lighting that's integrated with your hardscape.
A Look at Hardscape Lighting
To understand the value of integrated hardscape lighting, look past traditional concepts. Today's modern landscape accent lighting is more than gaudy walkway lamps or imposing floodlights—it's a nuanced part of the hardscape. It's purposeful, delicate, and multifaceted.
Ledge and well lighting bring safety and ambiance to flatwork and hardscaping at night. Sconces, post caps, and bollard lighting illuminate vertical hardscaping, for depth and dimension. Even LED water feature lighting and outdoor living space accents contribute to dynamic property appeal after hours.
Integrated correctly, hardscape lighting today contributes to a property's ambiance, safety, and enjoyability when the sun goes down.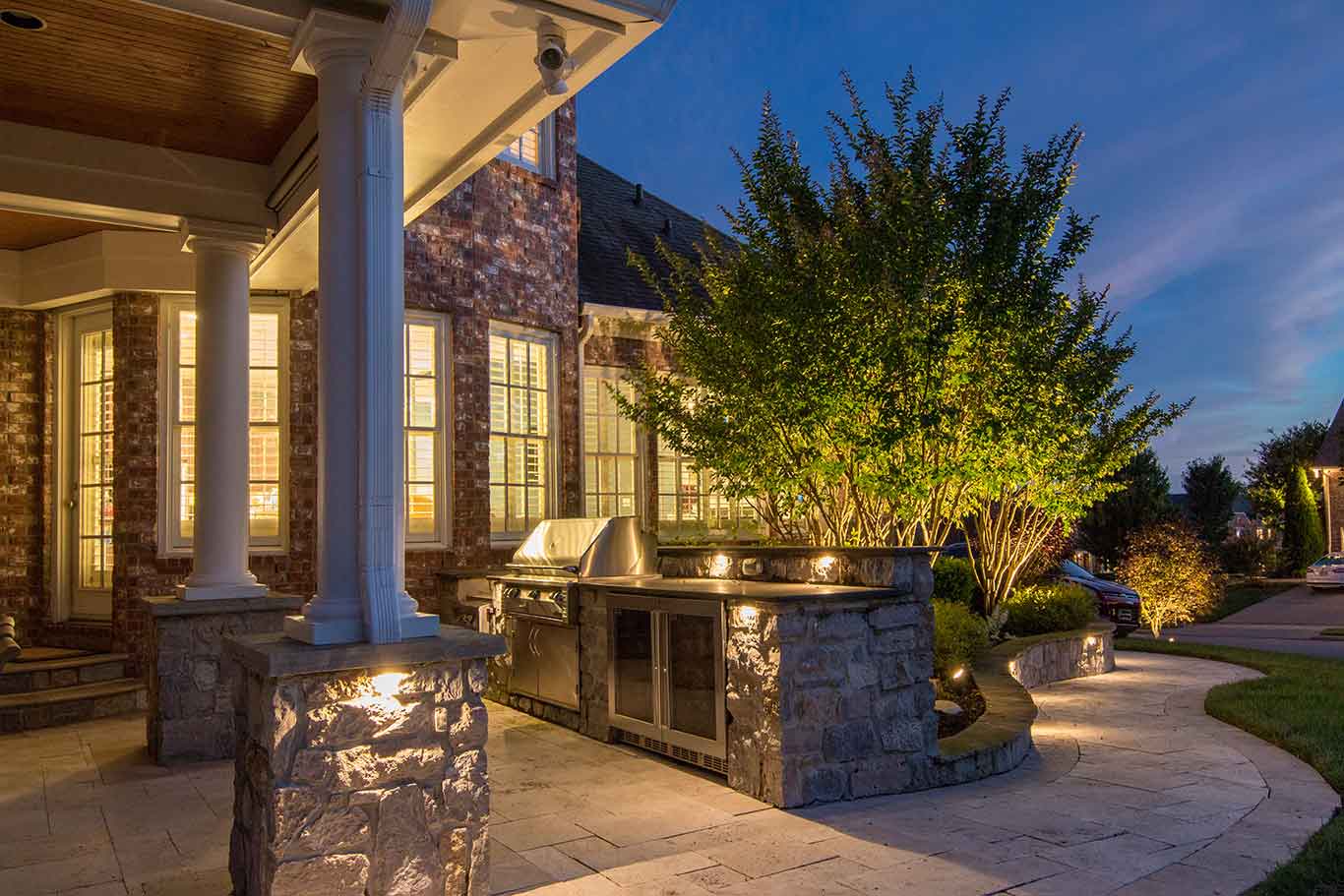 Accent Lighting for Ambiance and Atmosphere
Imagine sitting outside after dark, stargazing. It's a clear night and you can pick out the constellations above, as easily as you can look over at your partner and see their smiling face. That's the power of hardscape lighting for ambiance.
Gentle well, ledge, and bollard lighting are great opportunities to keep your outdoor spaces available after dark, without detracting from the natural mood. These lighting installations fall to the lowest points in a person's field of vision. As a result, everything level and above are still beholden to the night. The moon and stars are visible; the romance of nighttime preserved.
Remember the purpose of "accent" lighting. The goal isn't to bathe your hardscapes in a blinding light—it's to soften the darkness without dispelling it.
Safety and Utility Make Hardscape Lighting Worth It
While good accent lighting creates a natural ambiance, purposeful hardscape lighting also has utility. The last thing you want is to step blindly off a step and twist your ankle or lean back in your chair unaware of the paved fireplace behind you. Imagine plodding into the pool!
Rather than illuminate the features of your hardscape with broad lighting, simple accent lighting will suffice. Tasteful up lighting is great for large features, while path lighting and simple ledge lighting identify thoroughfares. Consider strategically-placed lighting solutions for safety—near steps, water features, or anywhere there's terrain changes or obstructions.
Consider form and function when placing lighting. First, decide where it's most practical, then find ways to integrate it beautifully.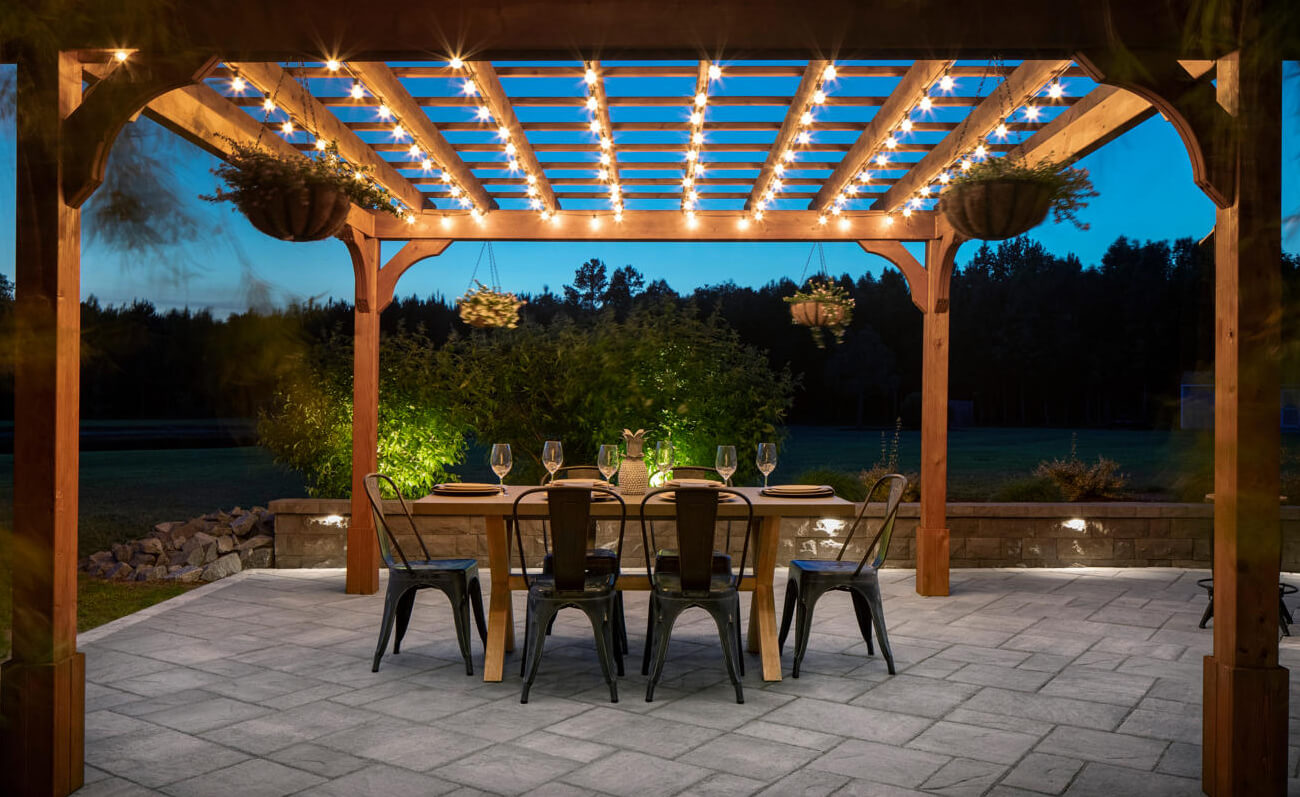 Simple ideas for Integrated Hardscape Lighting
The best part about modern hardscape lighting is its simplicity. You don't need ornate lighting to get the benefits—you just need vision. Take a look at some simple ideas for integrated hardscape lighting:
Paver path and patio lighting: Stake in a small LED lamp every six to eight feet along a pathway for gentle illumination. Then, use well lighting to distinguish the perimeter of your patio.
Outdoor kitchen lighting: Use sconce lighting behind your cooktop and prep station to cast practical light on usable areas. Rely on bollard lights around the area to avoid the glare of harsh floodlighting or impractical good lighting underfoot.
Lighting for pools and water features: Cast broad light on larger water features using strategic uplighting. For smaller features, use water-safe LEDs or submersibles for definition.
Firepit accent lighting: Ledge lighting around the perimeter of a fire pit enclosure creates comfort and safety, and won't detract from the ambiance of a roaring fire. Alternatively, well lighting around the pit itself lends utility.
Thanks to the many types and styles of outdoor lighting, it's easier than ever to outfit your hardscape with appropriate illumination. Consider different lighting combinations or various outdoor light circuits and the possibilities grow even larger. Circuit A is for minimal lighting; Circuit B sheds additional light, for when you're entertaining. Even solar lighting makes it simple to effectively light your hardscape without any effort.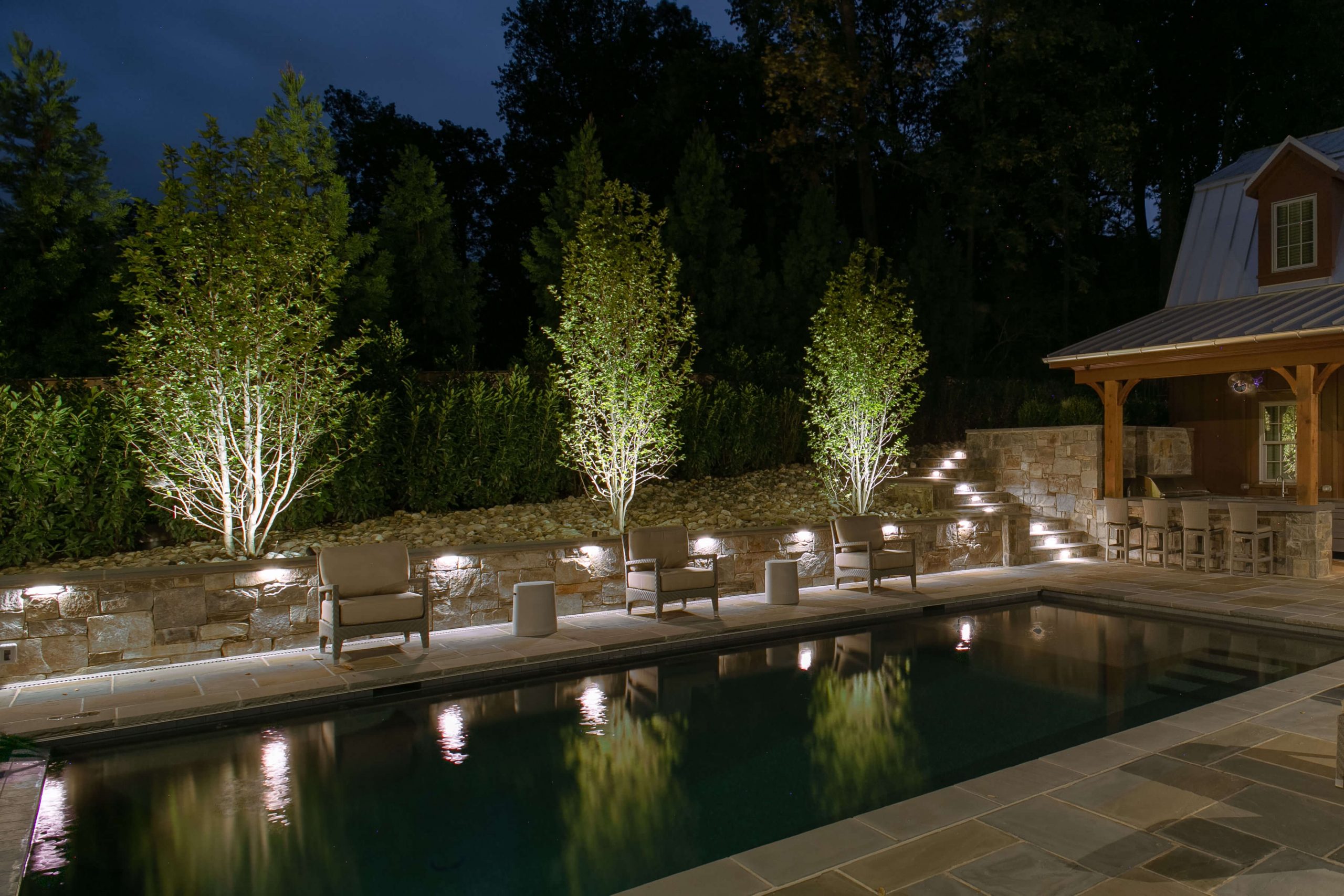 No Unlit Hardscape is Complete
Integrated accent lighting for hardscapes is a must-have to complete any outdoor space. Not only does it add regal appeal and a sense of completeness to hardscapes, but it also ensures the utility and enjoyability of your space long after the sun goes down.
Take in the stars without a backdrop of blinding floodlights. Give yourself peace of mind that every step is on solid ground. Light the path back to your home in an unobtrusive way. Lighting is such a simple addition to any hardscape design, and one with limitless possibilities and benefits.
In case you missed it!