The kitchen is the place where you spend most of your time, right? From morning breakfast to the late-night snacks, we all love to spend our time making delicious food recipes."The kitchen is not only the heart of a home, but it is a perfect place to make a vibrant style statement." So true!! If you're thinking of renovation or remodeling of your old cooking place in your Los Angeles home but have no idea where to start and whom to contact? Don't worry, read this article to know all the new ways to renovate your kitchen. We have also listed up the famous houses in the Los Angeles area where the expert interior designers innovatively remodel the kitchen along with other parts of the house.
You can actually contact many companies who are experts in interior design. It is always best to hire a professional to do this task as we all are not aware of each & every aspect of designing, right? Whether you want a sleek modern looking kitchen or the classy contemporary one, You can tell them your requirements, and they will design accordingly.
So, if you're living in Los Angeles and looking for a company, you can contact H&A MY DESIGN. They're well known for their kitchen remodeling in Agoura Hills & other parts of LA. They remodel the kitchen as per your specific needs and turn your dream into reality!!
Still, confused with the style and designs? Check out these insanely beautiful and popular kitchen interiors in Los Angeles and get some inspiration:
1. Spanish Colonial House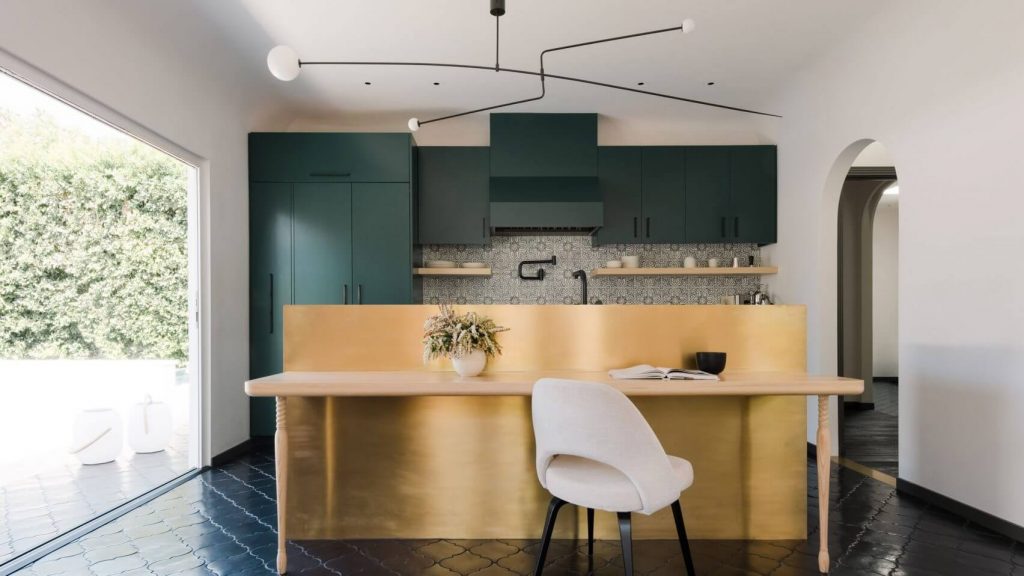 Architect: Síol Studios
Area: 1,848 square feet (172 square meters)
Síol Studios designed this beautiful project for Sonya Yu and Zack Lara. The family of four, living in San Francisco. They wanted a second home in LA with the traditional looking but with contemporary detailing. Every part of the residence is crafted beautifully, mainly the cooking area. It is located in the rear of the house, so the architect placed a huge glass door that also provides a seamless connection to the backyard.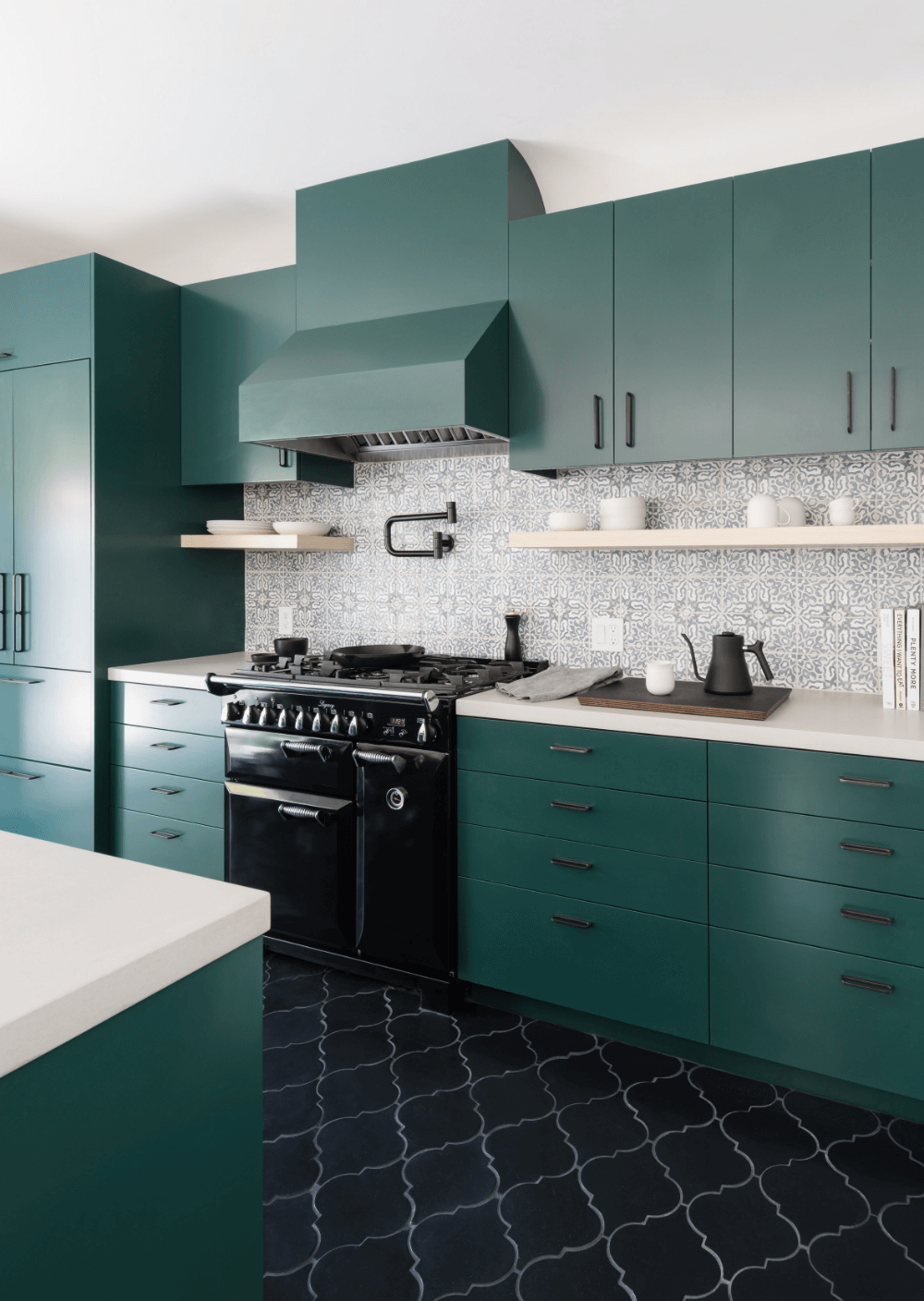 All the cabinets are kept in classic green color, and flooring is done with terra-cotta tiles with an arabesque motif. A patterned backsplash is used against the white countertops, which gives a fantastic contrast between the two. The most usual yet gorgeous thing in this kitchen is the bronze partition! It smoothly merges with a bar made of ash. The whole area is embellished with a structural lighting fixture.
2. Stephen Kenn Loft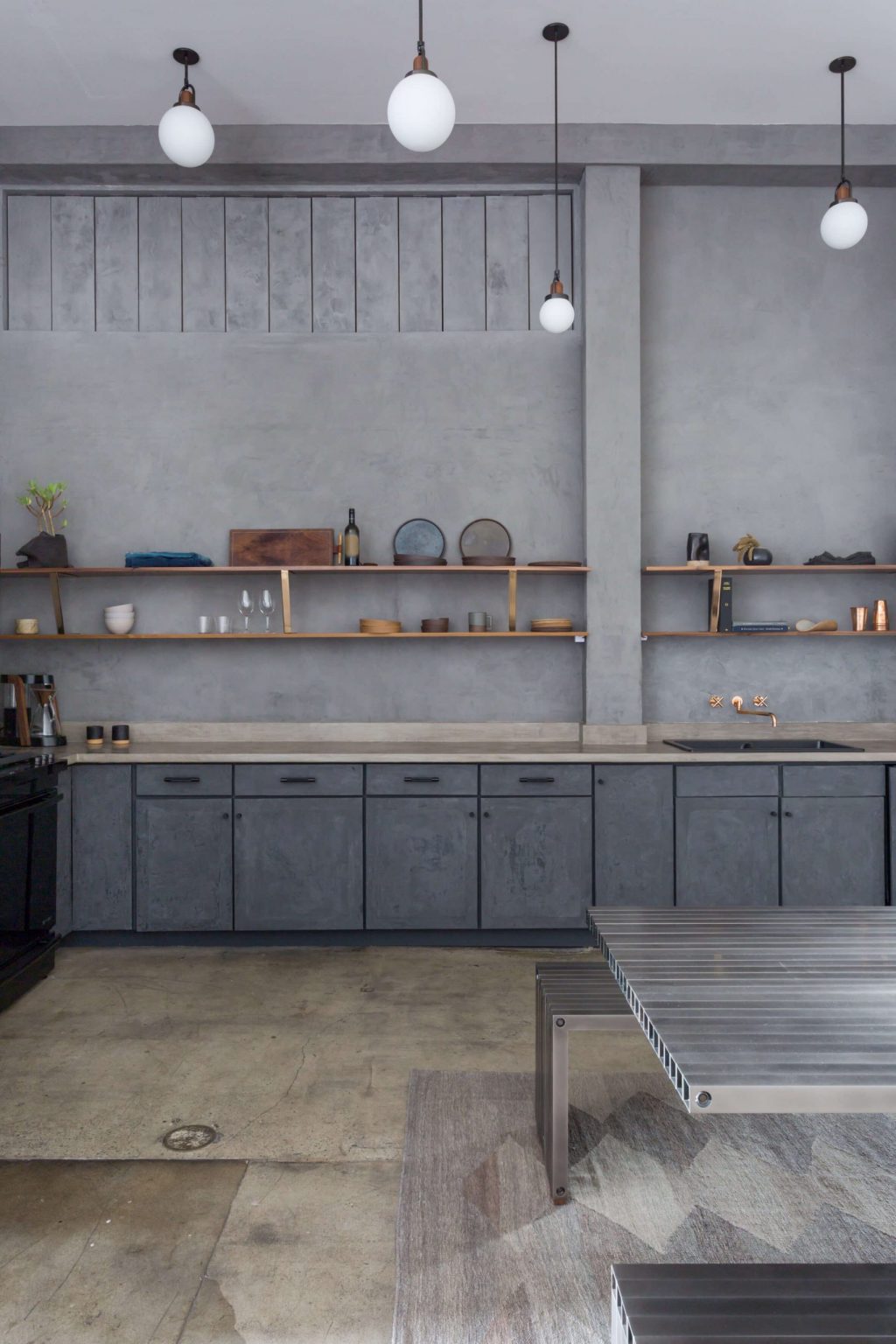 Architect: Stephen Kenn Studio
Area: 1,600-square-foot (149-square-metre)
The minds behind this brilliant project are designers Stephen Kenn and Beks Opperman. The Stephen Kenn Loft is actually a rental unit that is also available to rent for cocktail parties, art shows, and overnight stays. Stephen Kenn Studio transforms an apartment into an "Airbnb-style rental or micro-hotel," where guests can try & buy the furniture.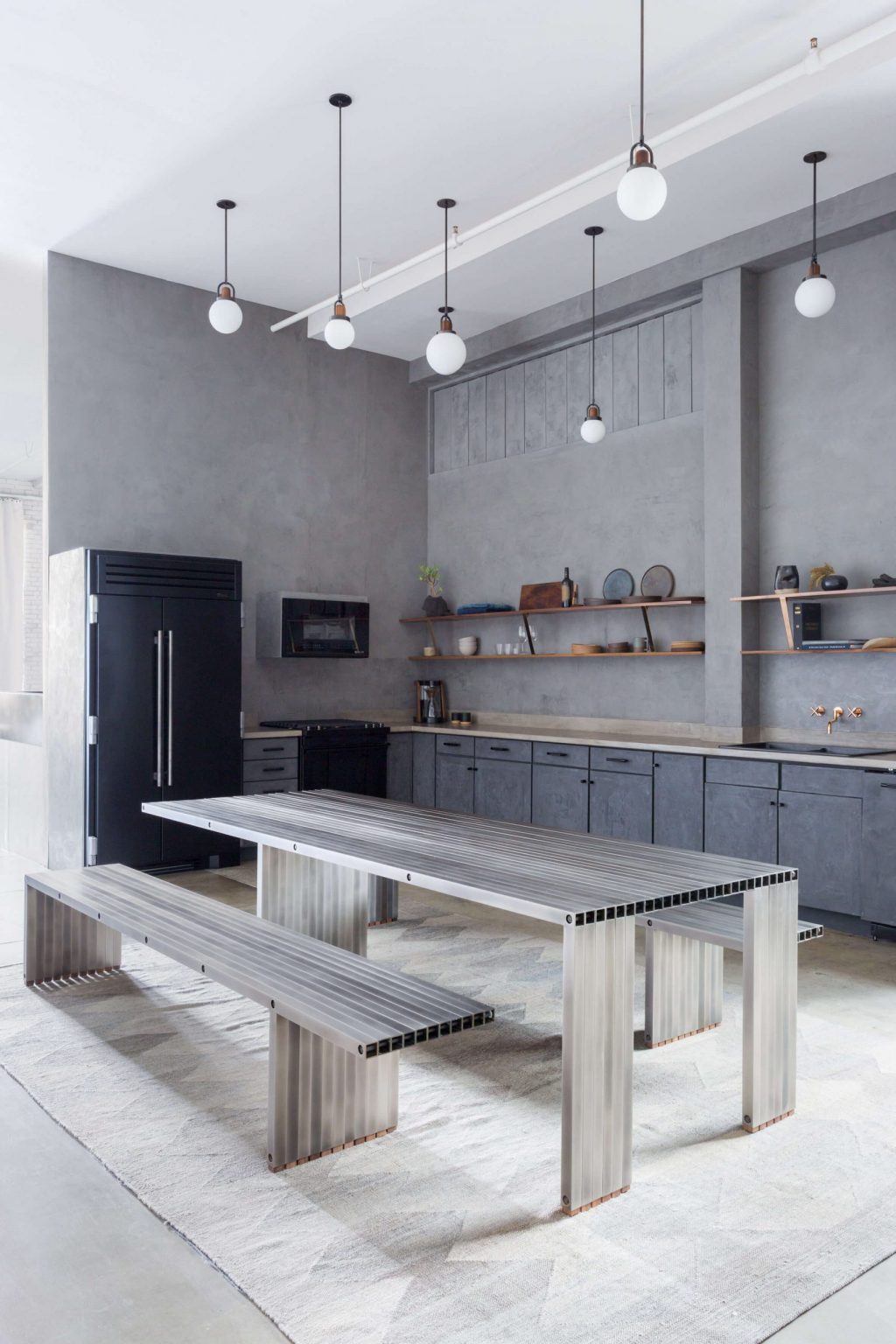 This 149-square-meter residence consists of a bedroom, bathroom, gym, kitchen, and dining area. There is also an additional loft with a meditation space. The overall theme of the apartment is Industrial. It has 14-foot-high (4.2-meter) concrete ceilings with large factory windows. This house also features an L-shaped kitchen with concrete countertops and wooden cabinetry. There is also a large dining table made of aluminum and plated nickel and an elongated sofa with ivory-colored upholstery. The light fixtures were also placed with the industrial theme in mind, as you can see the beautiful globe-shaped pendant lights, Well pendants, and Contour wall lamps everywhere in the house.
3. Manola Court Apartments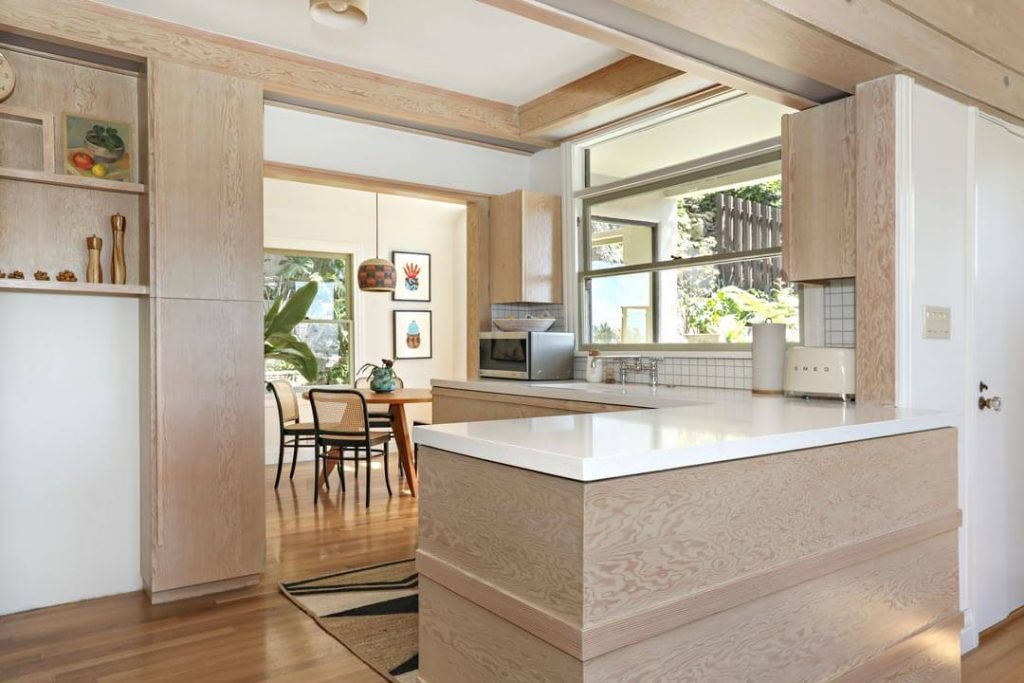 Architect: Rudolph Schindler
Year: 1887–1953
Manola Court is a sixteen unit apartment property located in the Silver Lake neighborhood of Los Angeles. Rudolph Schindler built this unit for his friend, Romanian-born artist Herman Sachs (that's why it is also known as Sachs Apartments). The whole building is designed to keep California's hot climate in mind. It features concrete construction, outdoor patios & walkways, and many other custom details.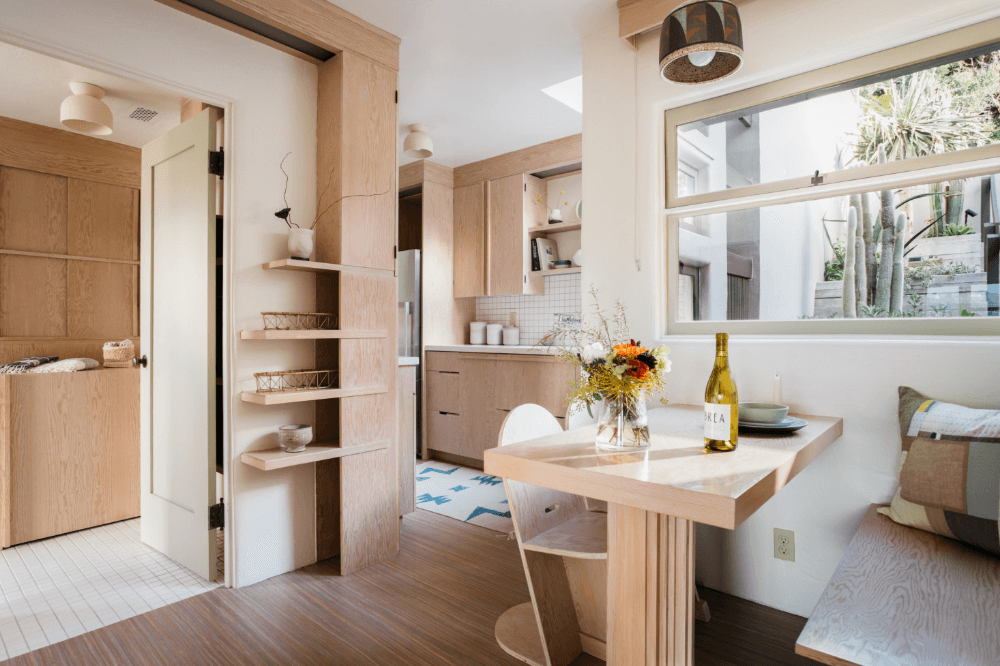 Each unit is designed in a unique way and with different floor plans, including the materials and other design elements. Like this fully-furnished two-bedroom apartment, features wood-paneled ceilings with large windows, hardwood floors, etc. You can actually spend hours just looking at the details and the amazing Silver Lake hillside's views.
In the living room, Dark wood beams are placed while the lightwood is used in kitchen cabinets and cupboards. This was an old building, but after renovation, the whole look of it got changed. Now, it has all the modern furniture like a couch, hexagon seater & stools. The grand kitchen can also be used for events such as dinner parties, pop up events, exhibitions, and even for concerts & performances.
Definitely, after reading this blog, you have got some awesome kitchen remodeling ideas, right? With the help of experts, you can also easily transform your boring looking kitchen into a fun, interesting one!! Whether you are looking to transform your existing kitchen to match your home décor or wish to expand the space by adding new elements, choosing a Los Angeles kitchen remodeling expert is the first step.
No matter what kind of design elements you want, or what shape you want for your kitchen, these interior design Professionals will surely fulfill your every demand. Hope this article gives you some inspirational ideas and also helps you in finding the perfect style and design elements that you're looking for.