Everything is costly in today's world economics– food, transport, healthcare, utilities, and even accommodation. If you're a working professional it's not uncommon to choose a small home/apartment for living to maximize your savings. However, small houses often mean a tiny laundry room or, sometimes, none.
For those who must carry their dirty clothes to a Laundromat, having a designated laundry room seems exciting, regardless of size. In reality, it isn't.
A tiny laundry room space makes cleaning challenging; it can make doing laundry your least favorite chore. It isn't easy to sort clothes, and there isn't much space to accommodate a washing machine and other necessities.
Fortunately, there are ways around it. Here are some design considerations for small laundry areas.
Make Use of Doors
Many homeowners overlook doors, unaware they can expand storage space in their tiny laundry rooms. Doors are more than entryways – you can transform them into storage solutions by adding a few hooks, racks, and hanging rails. They are useful for storing cleaning essentials like detergents, sponges, and brushes.
Add More Shelves
If you have front-loading washing machines, their tops will likely be empty and dusty. You can transform this emptiness into a usable space by installing shelves across the tops. These shelves will provide room for storing dirty clothes or organizing cleaning equipment.
Use Space-Conscious Door Designs
The most significant disadvantage of hinged doors is space consumption. Although cheap, hinged doors require a lot of room for opening and closing, making them unsuitable for tiny laundry areas. Luckily, you can choose among several space-conscious alternatives.
Bi-fold doors also called concertina, save space by folding when not in use. Once folded, you can stack them in a drawer with your clothes.
Sliding doors are a great space-saving option. Unlike hinged doors, the panels slide over each other, leaving enough room for movement. Nowadays, homeowners prefer cavity sliders, the new iteration of sliding doors. They function like traditional sliding units – however, the panel slides into a cavity inside the wall.
Make Use of the Ceiling
Another overlooked laundry room part is the ceiling. Using the ceiling to hang dry clothes makes sense if you're running out of room. Remember, dry clothes get dirty faster if they're closer to the floor. Even worse, they make the room stuffy.
You can create additional storage space by attaching wooden racks to the ceiling. Please avoid metal, as its weight can damage your ceiling.
Keep Clutter Away
Small laundry rooms get messy quickly. For this reason, it helps to keep clutter away. You can do this by arranging your dirty outfits in labeled containers.
For instance, more oversized garments can go inside baskets, while accessories go into small trays. Besides decluttering your laundry room, these containers can add colour and vibrancy to your indoor space.
Install a Drying Rod
Don't have enough space for drying clothes? No worries hang a drying rod instead of going for a rack. This will give you great space for drying clothes and save plenty of floor space.
You can install a clothing rod above a sink or in a corner to maximize your laundry space. Plus, this will keep your clothes in tip-top shape without taking up too much space.
Stack Your Machines
One of the brilliant ways to save your laundry space is to stack your washing machine and drying unit on top of each other. You can go for a built-in design to get a clean and sleek look.
You can also add open shelving for baskets and narrow cubbies to hold up things and stuff.
Install an Ironing Board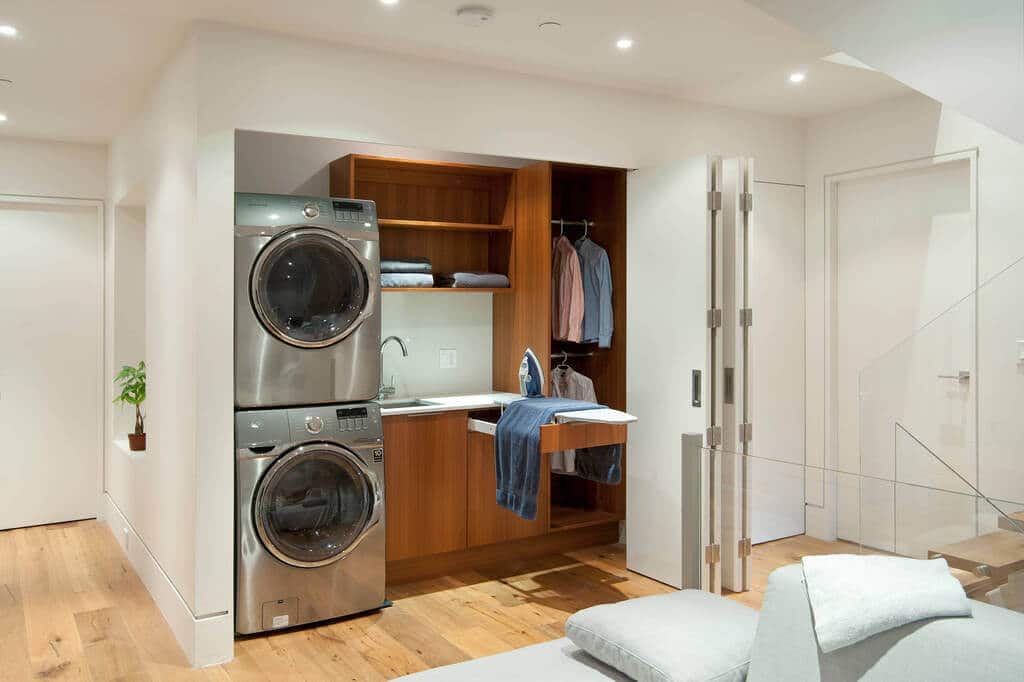 Ironing boards can be eyesores if they're placed in the wrong places. So, tuck your ironing board in a cabinet neatly. A pull-out board will be great for small spaces as you can slide them away or store them when you're not using them.
Use a Free-Standing Shelving System
Dump the ordinary idea of having heavy cupboards built-in to store all your clothes and laundry essentials. Go for a free-standing shelving system! These types of shelving systems can keep many things all at one time. From laundry supplies to detergents, and dirty or clean clothes, there is plenty of storage space to put everything.
Wrapping Up
A tiny laundry room shouldn't stress or limit you. Implementing the few tricks mentioned above is enough to add breathing space in a cramped area. When the room is less chaotic, you'll have an easier time cleaning your clothes. More importantly, laundry will no longer be an undesirable chore.