25 Incredible Modern Mansions for Luxury Living Space
Don't we all dream of living in luxury modern mansions? From French-style mansions to futuristic designs, the creativity that goes into designing these modern mansions is unmatched. One can truly experience the comfort of living along with the one-of-its-kind design sensibilities.
A big modern house offers an experience of a 5-star hotel that comes with nothing less than a personalized retreat experience. There's much more than glass, concrete, and wood that goes into building these mansions. What defines them is the sense of elegance and luxury that's exuded within the built environment. Let's look into the most outstanding modern mansions from around the world.
25 Inspirationally Big Modern Mansions
1. 9945 Beverly Grove Drive– Beverly Hills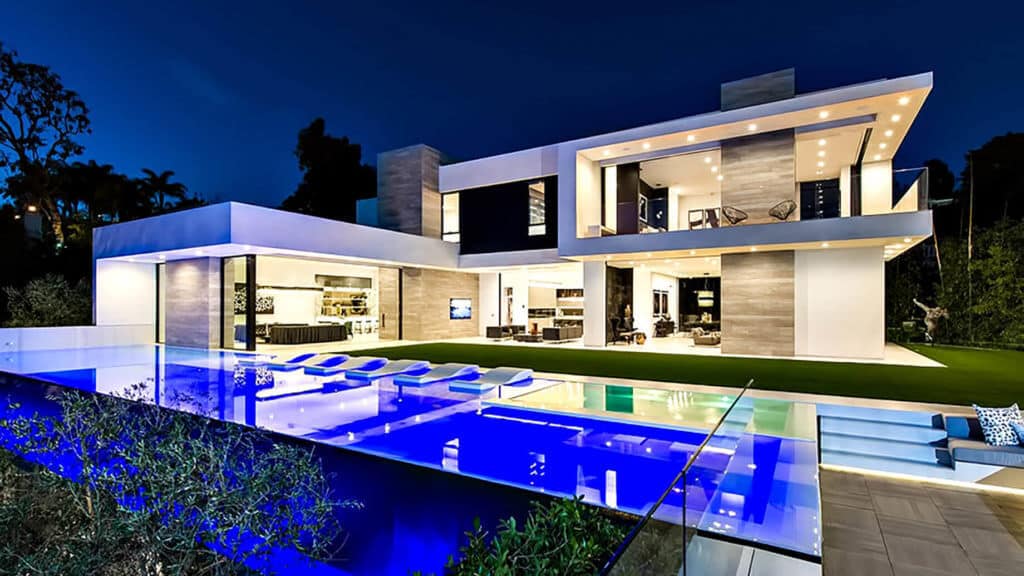 Source: architecturesstyle.com
Beverly Hills is known for its futuristic mansions and big modern homes. One such home offering the best vibes and utmost comfort is 9945 designed by Shelly and Avi Osadon. The key feature of this mansion is the 36-feet high ceiling that adds to the grandeur of the house along with the glittering chandelier. There's a lush outdoor area with an infinity pool that lets the residents take a dip into the oasis of calmness. Apart from the pool, this home also features a 12-person spa along with a bar and fireplace. 
2. 1201 Laurel Way– Beverly Hills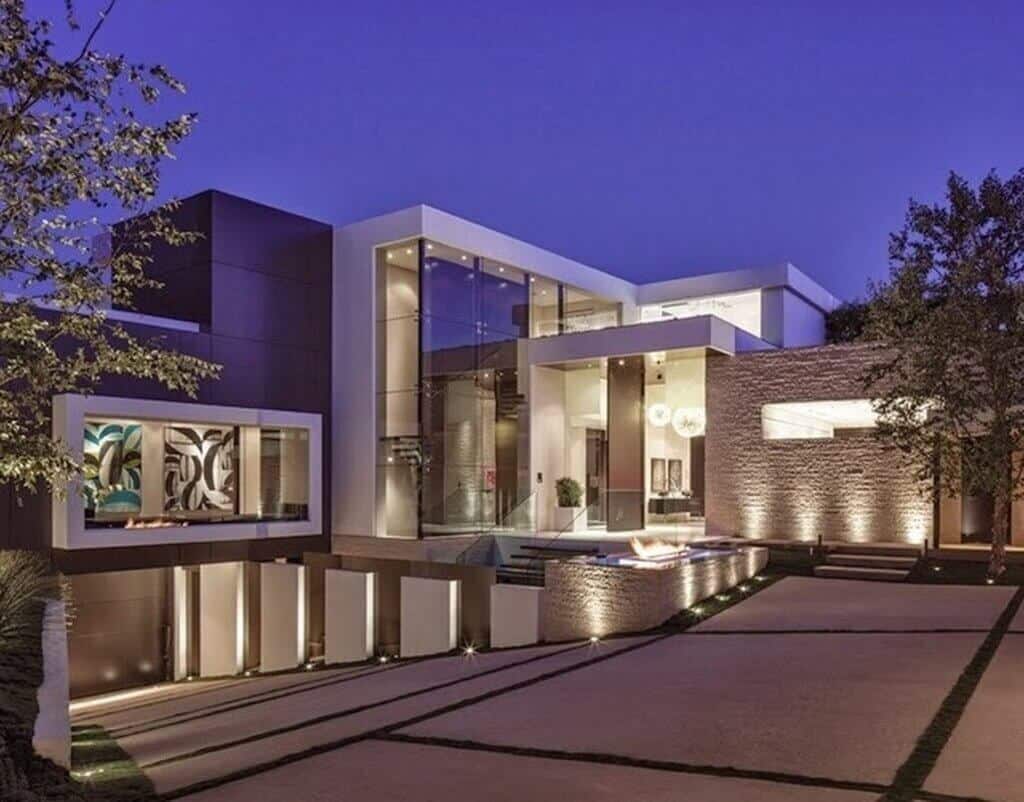 Source: justlanded.com
While it may seem like a normal house, 1201 Laurel Way is one of the greatest modern mansions that speaks a unique language of aesthetics. The entire mansion seems to be islanded within a water body. From its exteriors to interiors, the home speaks a spectacular design language and is nestled within three-leveled greenery. The luxurious interiors and architecture of the home costs around $36 million. 
3. Bridge House– Malibu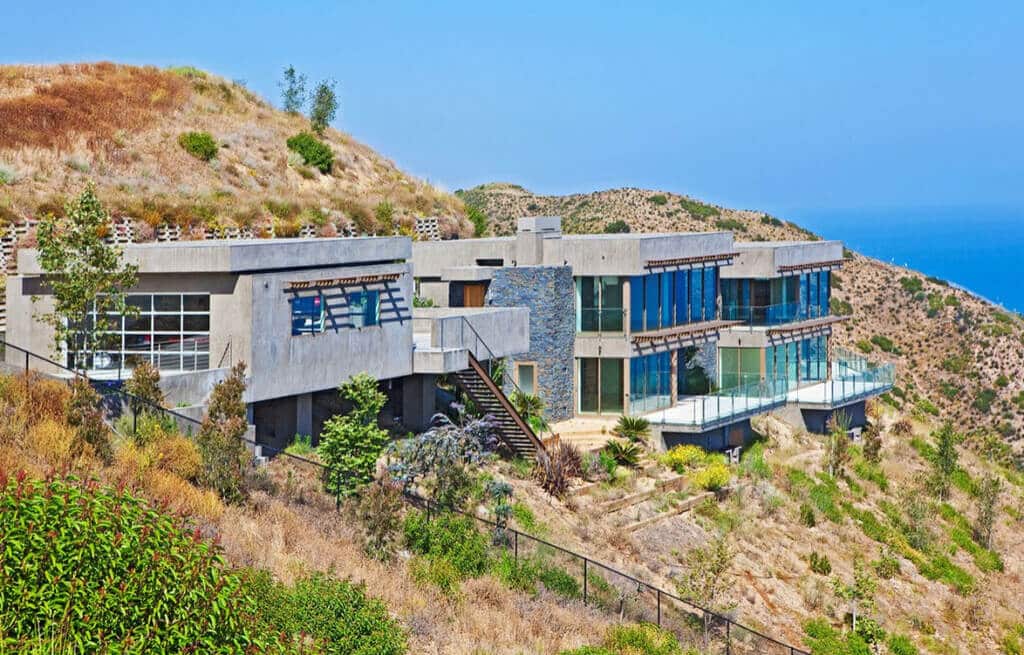 Source: hzcdn.com
The Bridge House is composed of glass and concrete which is comparatively simpler than the design of most modern mansions. The concrete blocks impart rustic aesthetics to the structure along with the metallic accents. Its architecture and mood board makes the home stand out in its setting. 
4. 5685 Anchorage Terrace– Queensland, Australia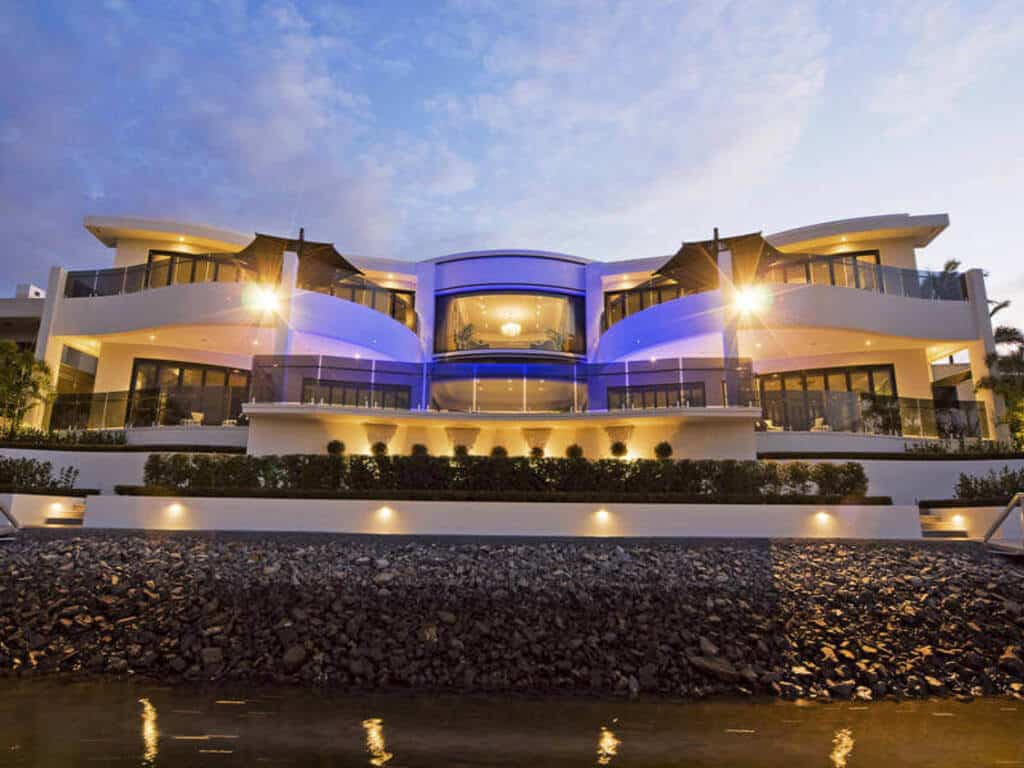 Source: trendir.com
Big modern mansions are all about their luxury features and unparalleled aesthetics. This home features 5 bedrooms along with 7 bathrooms, a home theatre, and a garage with the capacity of 12 cars. The dual balconies in this modern mansion offer spectacular views of the entire neighborhood and the curvilinear form makes this mansion a highlight in its neighboring context. 
5. Mummy Mountain– Paradise Valley, Arizona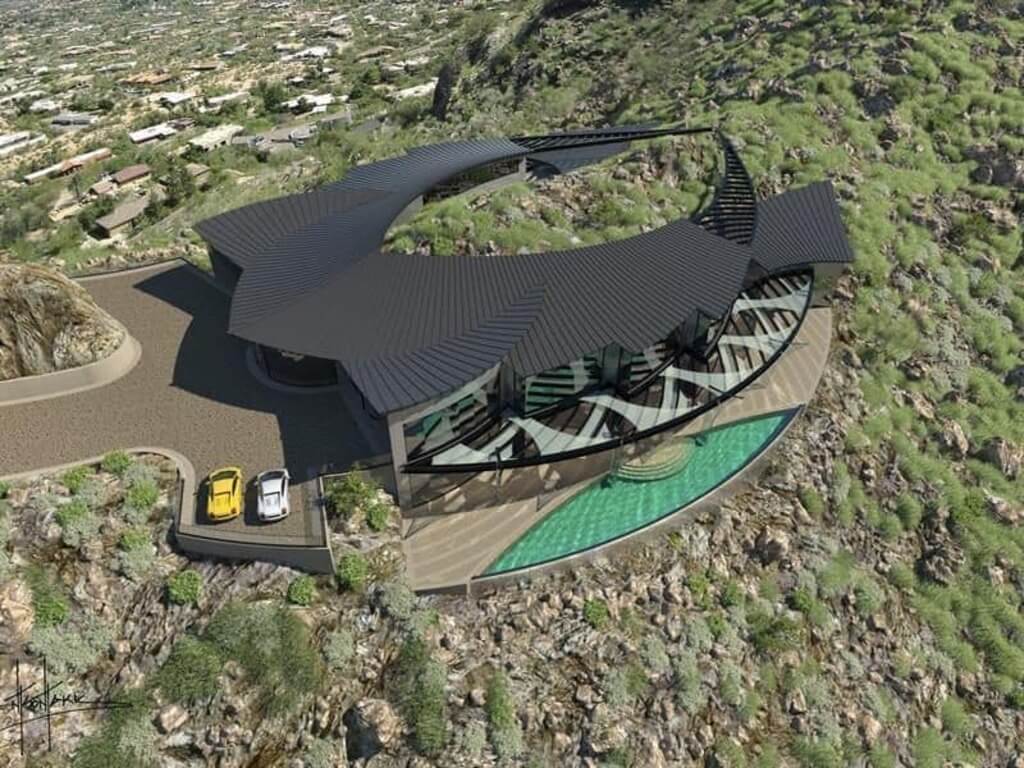 Source: architecturesstyle.com
One of the architectural marvels is the big modern house in Arizona– Mummy House. The design has a futuristic appeal to it with its diamond-shaped pool. The house accommodates 6 bedrooms and 8 bathrooms and is nestled on an area of 16370 sq. ft. The most eye-catchy feature of the project is its roof inspired by the superhero stories and costumes. 
6. Maciej Grelewicz– London, United Kingdom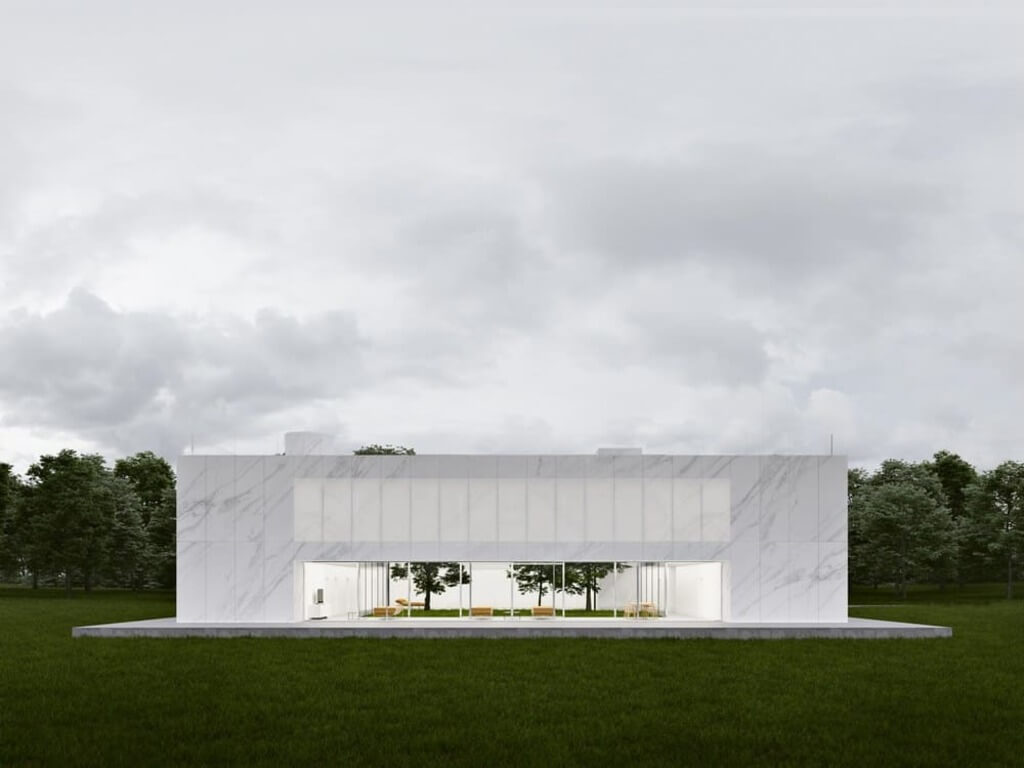 Source: luxatic.com
The magnificent mansion was proposed for a competition but the real idea is grand in terms of its context that is composed of sleek lines nestled within a green setting. The use of elegant marble and contemporary aesthetics offer a timeless look to this modern mansion. It can be considered one of the futuristic mansions with its unusual appearance and inbuilt features. 
7. House E16– South Africa
Source: luxatic.com
Designed by Wessels Joyce Associates, House E16 has its own set of unique modern aesthetics. The irregularly shaped glass clads the different tiers of the house and complements the uneven topography of the site. The luxury mansion modern has a swimming pool in a distinct shape with perfect lighting and a deck to set the mood. The deck enveloping the structure serves as the perfect chilling spot. 
8. The Quedjinup Project– Australia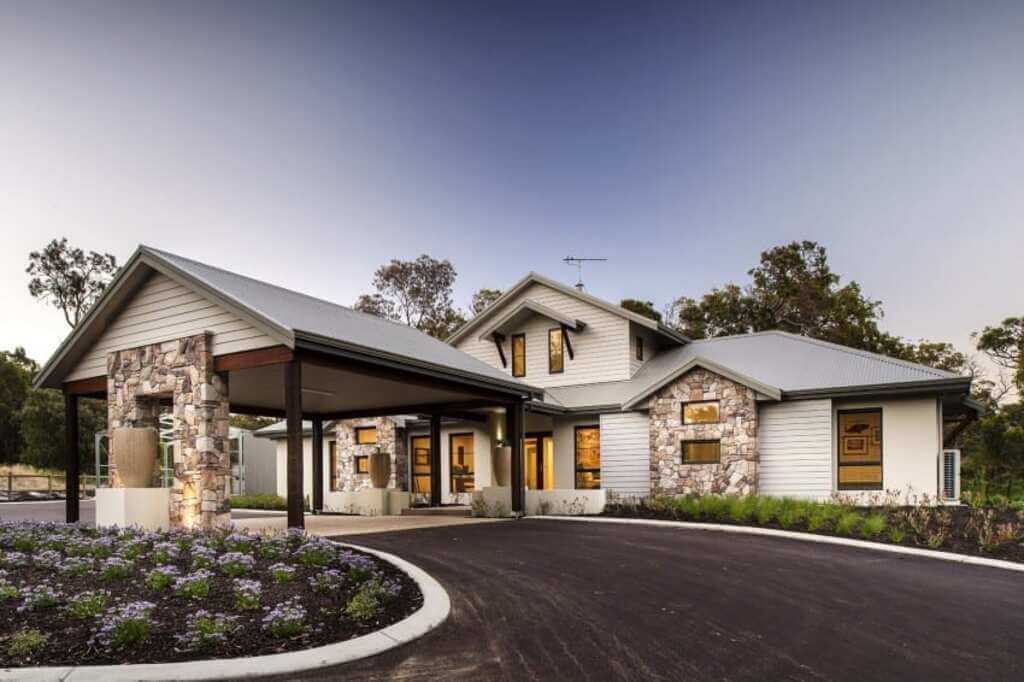 Source: trendir.com
The Qedjinup by Jodie Cooper is one of the big modern mansions that establishes a relationship between the old and new. The design comes from the conventional building style and is adorned with contemporary aesthetic features like loft levels and golden glass. The blend of the two extreme styles makes this mansion a comfy and cozy place to reside in. 
9. The Farm– McCauley Butte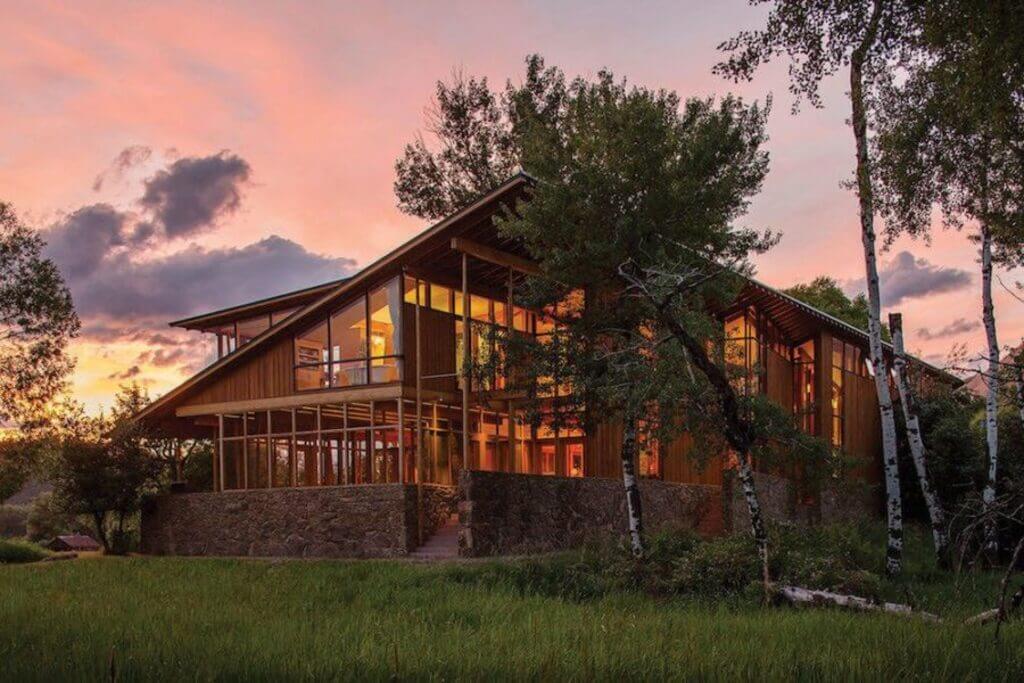 Source: trendir.com
Who said a modern mansion can't follow country language? The Farm has its own magnificence with the country-style design language that knits both styles with wood and glass. This modern mansion is truly one of its kind and features a sloping roof. Built near a natural pond, this home has its own unique charm.
10. The Xanadu 2.0– Medina, Washington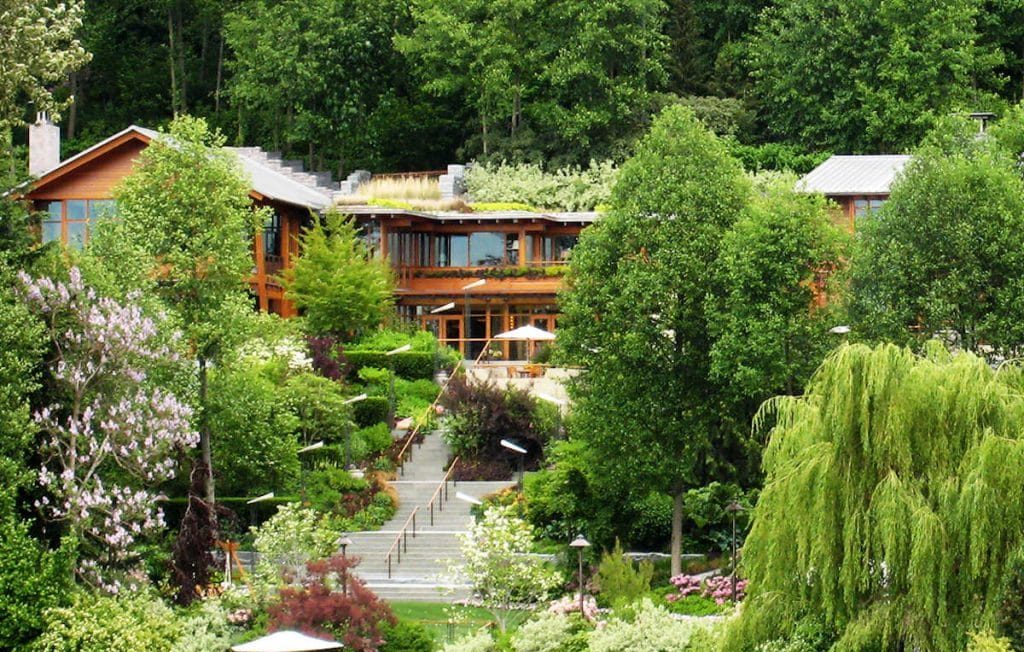 Source: nanova.org
The Xanadu belongs to one of the most renowned personalities in the world– Bill Gates. The lavish mansion took seven years to get renovated and is nothing less than perfection with its design and amenities. Designed with Pacific lodge sensibilities makes it a perfect fit in the site setting.
The bizarre home has an underwater music system along with a private library. There's an unparalleled comfort within the home with its heated flooring in the dining room and an estate-wide server. 
11. Water Cleaning Station Conversion– Villefranche sur Mer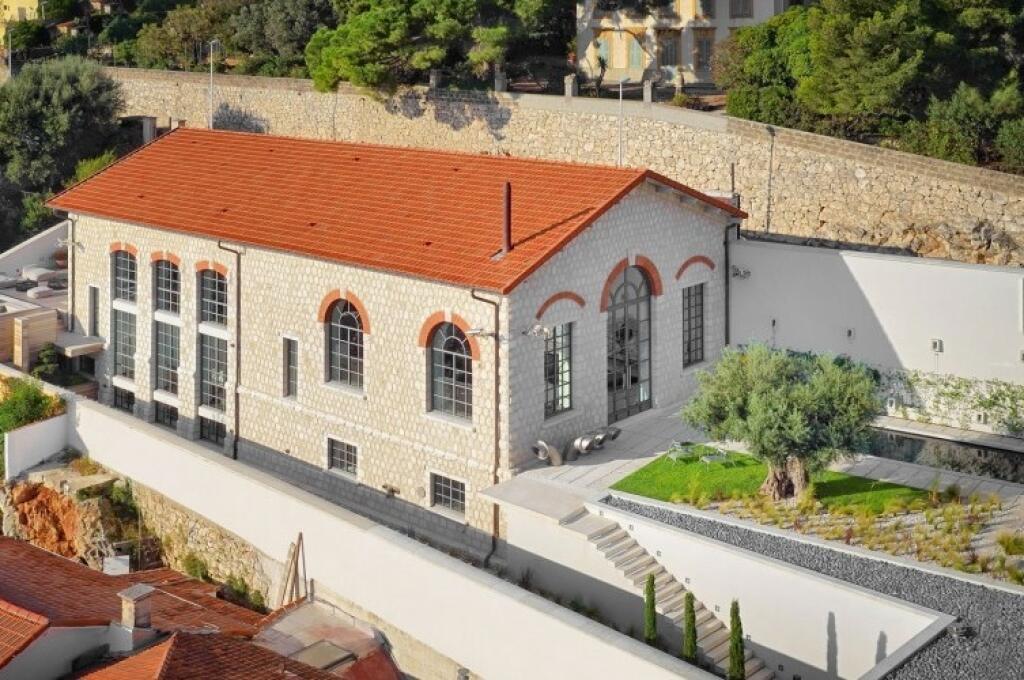 Source: myfancyhouse.com
While the look of this mansion seems a bit retro, the interiors are extremely modern. It is one of the modern mansions derived from an old water cleaning building. Although the exteriors stay true to their authenticity, the interiors speak a new language and the confluence of both conjures up a sense of extreme comfort. 
12. 15210 Antelo PI, Los Angeles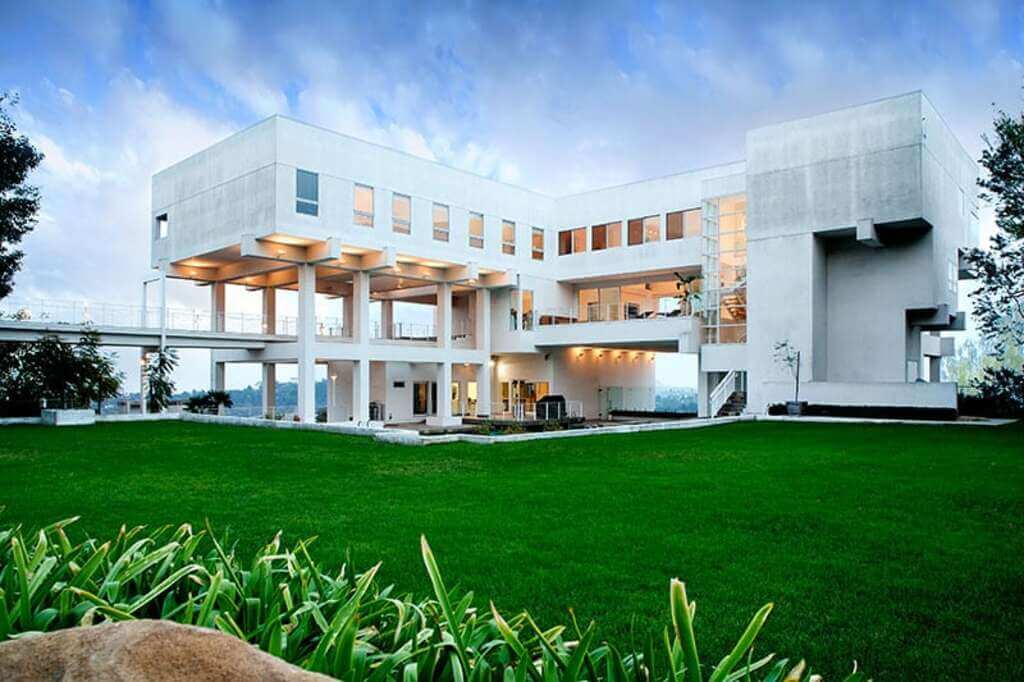 Source: trendir.com
Amongst the top futuristic mansions is 15210 with its ultra-modern design sensibilities. This design is driven by a futuristic approach although it was renovated in the year 2008. The big mansion sprawls across an area of 3.2 acres and overlooks the beautiful cityscape of Los Angeles and the ocean. 
13. A Luxury Modern Mansion– Johannesburg, South Africa
Source: trendir.com
Harrow mansion is a 5-bedroom luxury house sprawled across an area of 19500 sq. ft. The house speaks an informally formal language with its living room, home office, dining area, and gourmet kitchen. All these spaces conjure up to compose luxury living. The design follows an eclectic architectural language that redefines the modern design sensibilities and offers a new set of aesthetics to the home. 
14. 6th 1448 Houghton– Johannesburg, South Africa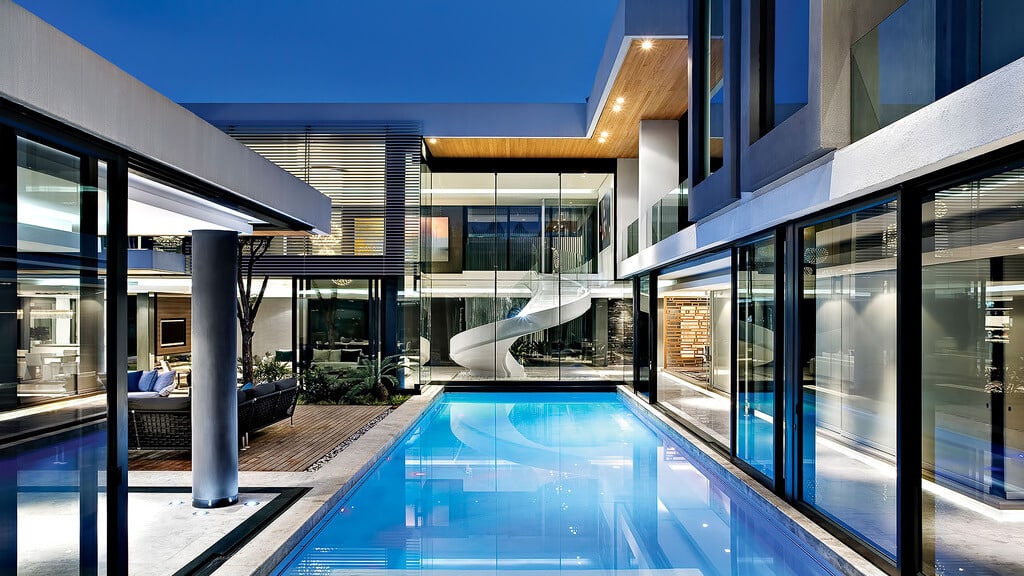 Source: thepinnaclelist.com
One of the extremely modern mansions is this design by SAOTA which features a unique facade. The elevation is a composition of geometric patterns and plays with different materials to compose an interesting form. The entire mansion is composed of embellishments in the form of complex layers.
15. 1800s Chicago Dairy Barn Transformation– Chicago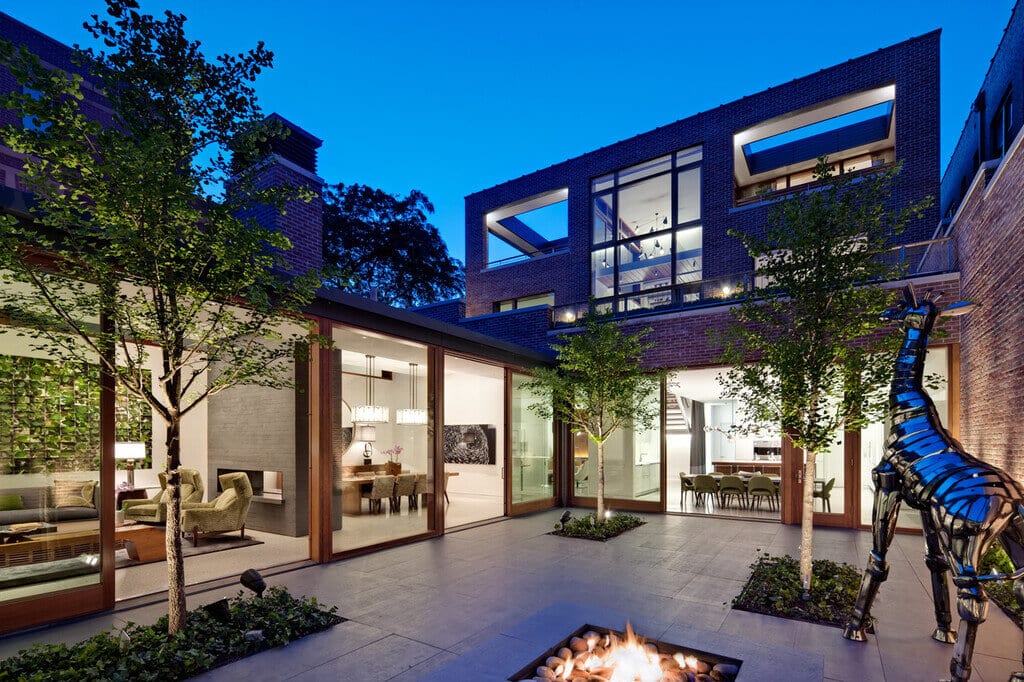 Source: wsj.net
While modern mansions are a bit complex in terms of their construction, the transformation of a building into a big house could be an easier task. One such fine example is the Chicago dairy barn that has been converted into a huge modern mansion comprised of courtyards and glass facades. 
16. Glass Modern Mansion– Alta Ski Area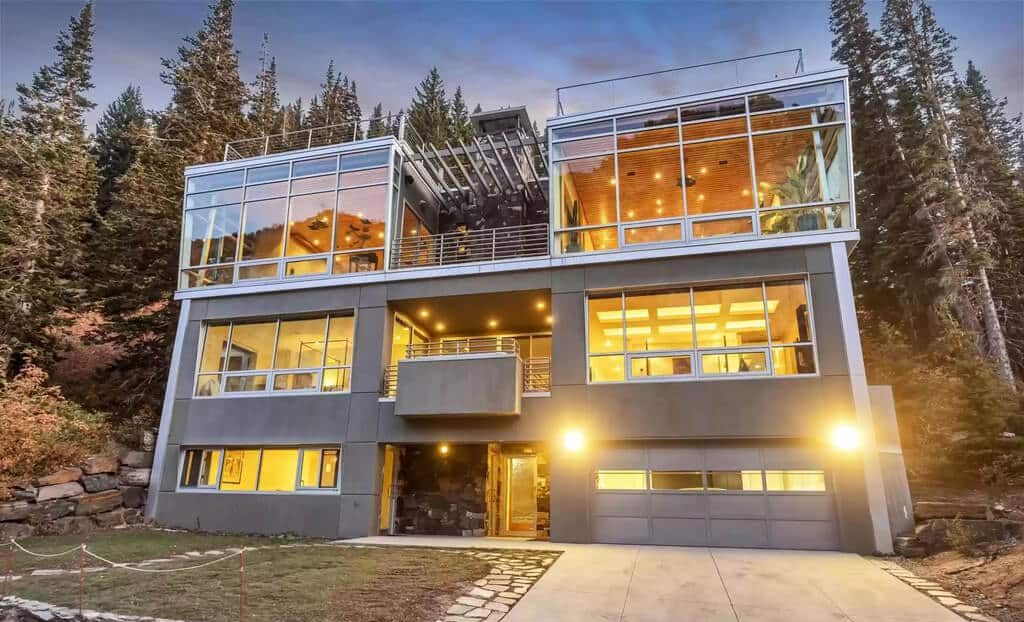 Source: rdcpix.com
The glass modern mansion hints subtly at the contemporary design sensibilities with its glass facade. The home is nestled within two ski areas of Utah and accommodates 5 bedrooms along with 6 bathrooms. What makes it stand apart is the 3 fireplaces along with a hot tub, breakfast bar, and a manager's private apartment. 
17. Mar de Luz– Peru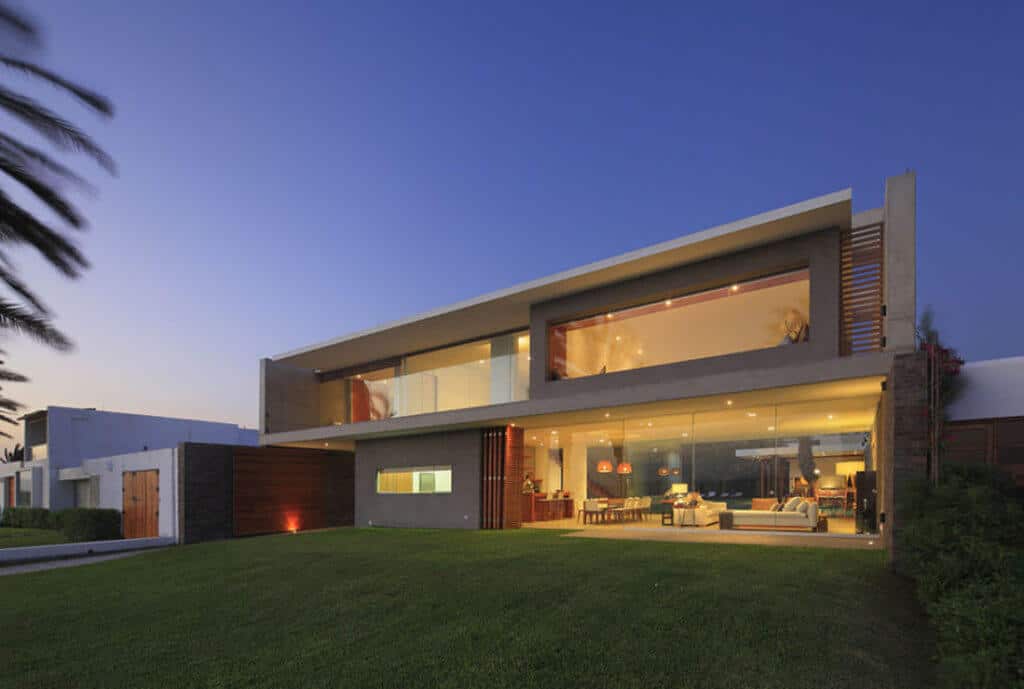 Source: trendir.com
Having a sleek look, this modern mansion designed by Oscar Gonzalez Moix is nestled over an area of 8374 sq. ft. The design of this big modern house is curated in a rectangular form which rests on two parallel walls. The entire composition seems to be balanced and has a sense of openness with its glass facade. The site is nestled across a waterfront and accommodates a swimming pool of its own along with inner courtyards. 
18. The One-Bel-Air– California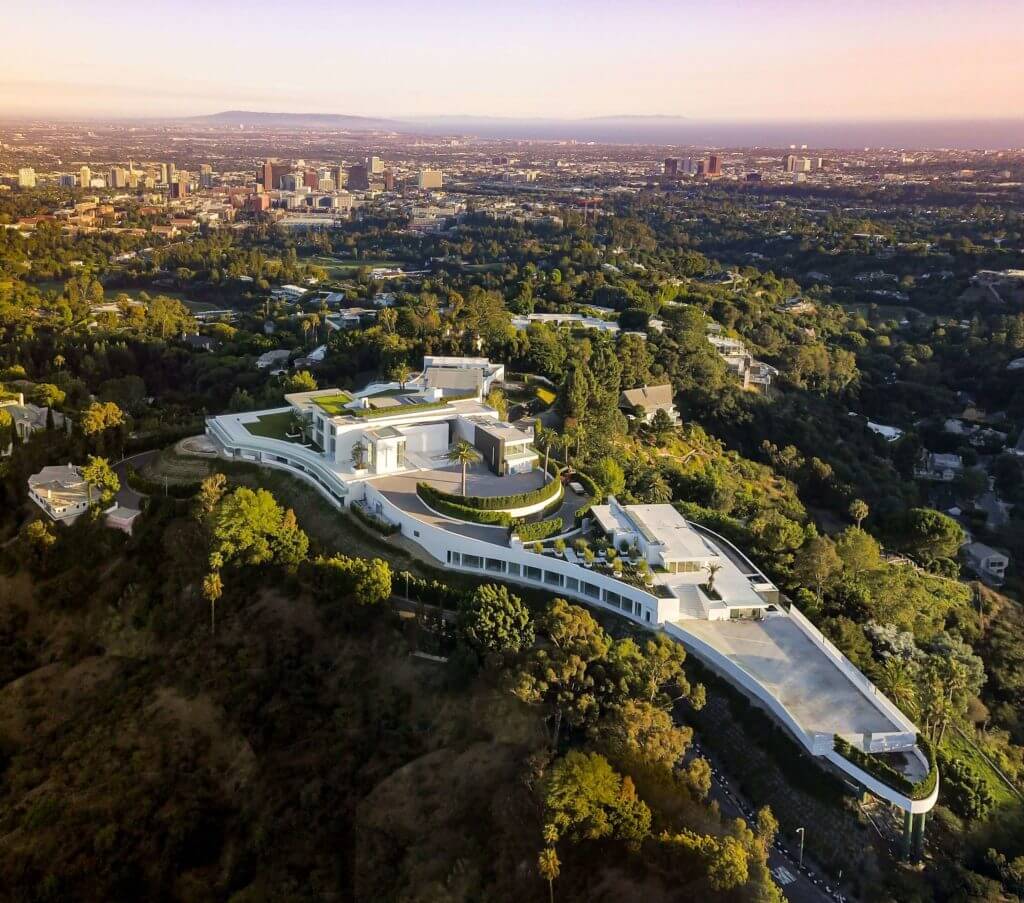 Source: architecturesstyle.com
Designed by Paul McClean, this $500 million, this mansion is the dreamhouse of a film producer Nile Niami who's also into the real estate business. The entire project was envisioned by him and named The One! Which is a one-of-its-kind home with all the luxury amenities.
This home is amongst the huge modern mansions of the United States. One of the dreamiest features? It has not a single but four swimming pools along with an Imax theatre. 
19. La Perla Del– Mediterranean Pearl
Source: trendir.com
A truly beautiful modern mansion designed by Carlos Gilardi is situated on a cliff that looks upon the magnificent views of the sea. The crisp white architecture of the home complements the site setting and the contrasting backdrop imparts stunning aesthetics to the entire composition with a clean facade on rocky terrain.
20. 301 N Carolwood Drive– Los Angeles, CA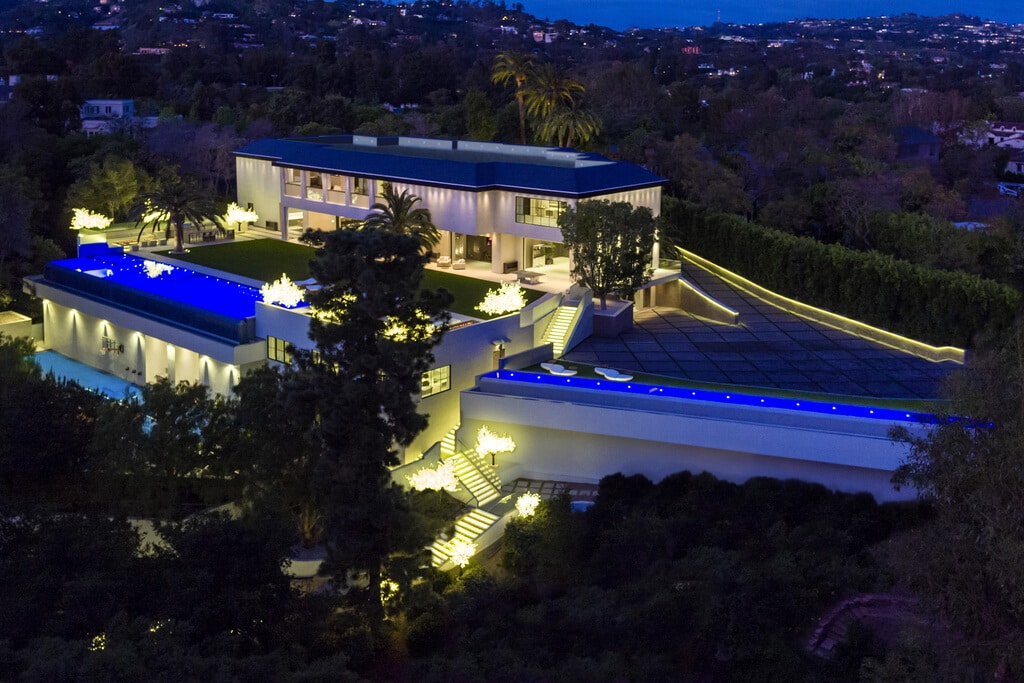 Source: cbhomes.com
Amongst the costliest properties is Carolwood Drive which isn't only spread on a large area of land but also has hotel-like amenities and a casino built within the property. The structure has a retreating spa, baths, wine room, theatre, and a master suite along with a heated patio. 
21. Palazzo di Amore– Beverly Hills, California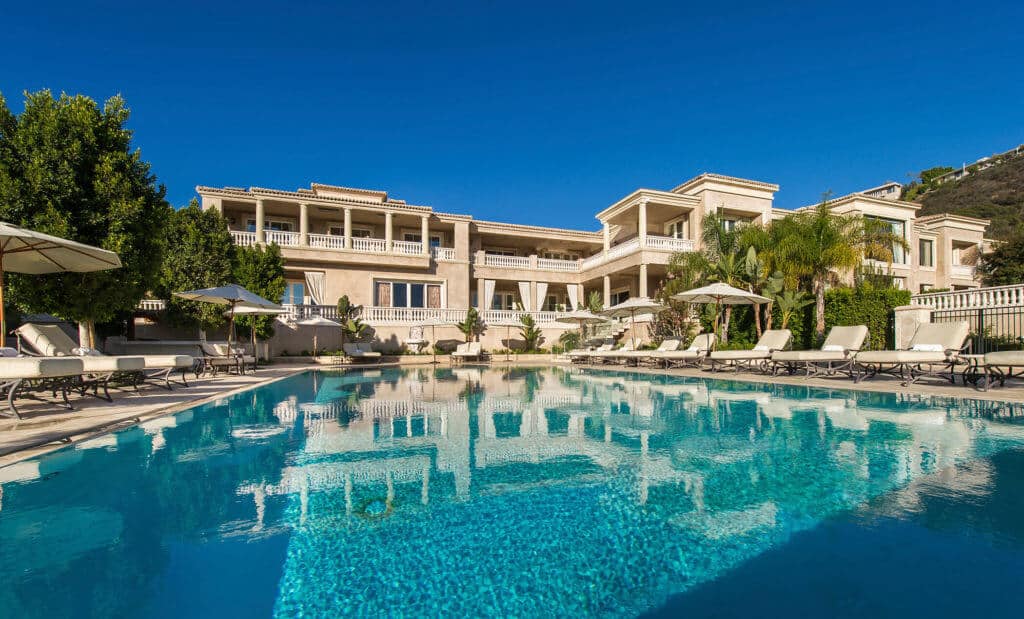 Source: architecturesstyle.com
The $195 million modern mansion is sure to steal your heart away with its Mediterranean-style design language that's followed from the inside out. Nestled across an area of 53000 sq.ft., this luxury modern mansion can accommodate a total of 1000 people. Apart from the living spaces, this home also has entertainment zones that include a ballroom, tennis court, a bowling alley, and a theater. One of the most mesmerizing features of this house is a waterfall built within the structure.
22. Mega House– Europe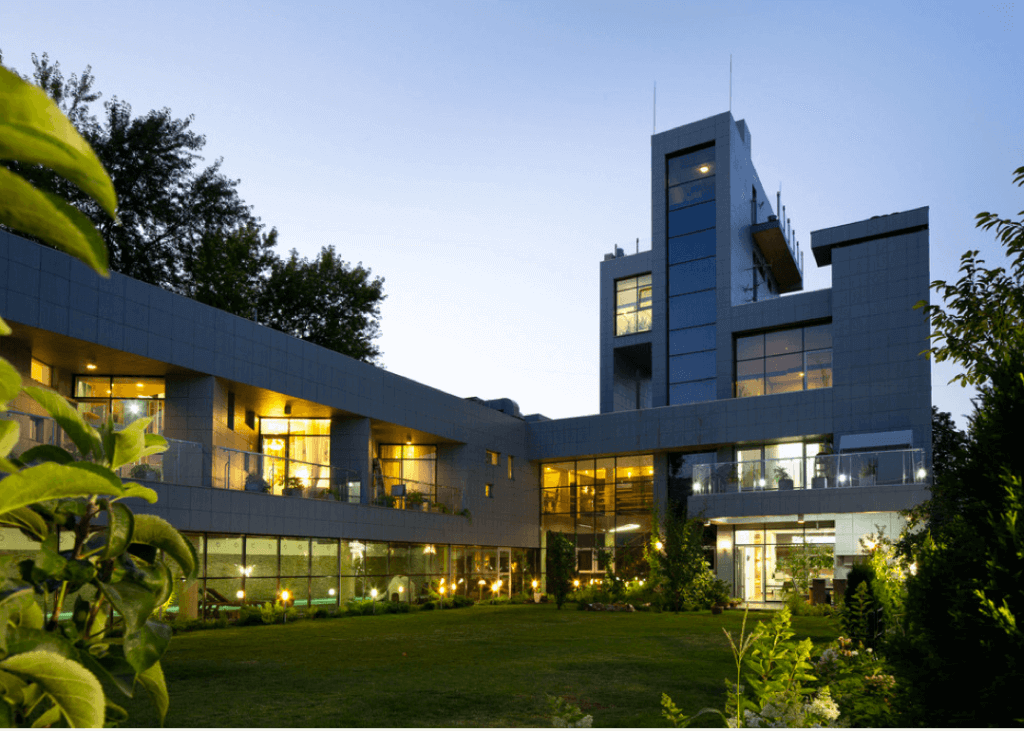 Source: architecturesstyle.com
As the name suggests, Mega House is one of the big modern mansions constructed in the French design language which stands out from the rest of the mansions built across the globe. This $127 million home is composed in modern form and design with a mood board of dark-tinted glass.
The double-story home has a living room along with four double-height kids' rooms. The blend of courtyards and enclosures makes the design stand out from a typical residence design. 
23. 2966 Sunridge Court– Westwood Plateau. Coquitlam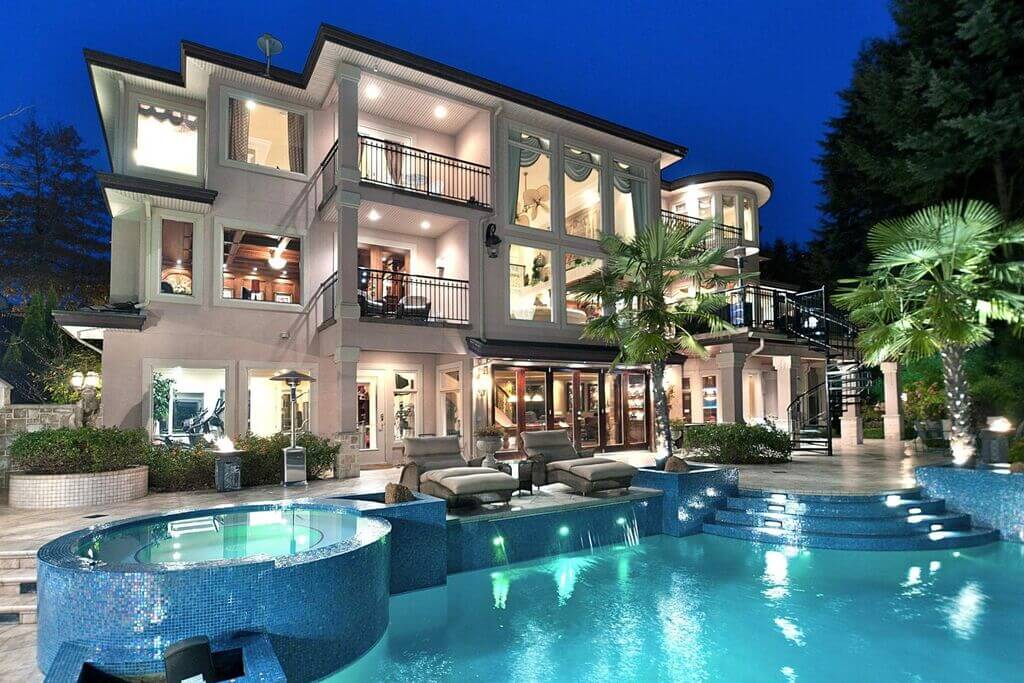 Source: pinimg.com
Another impressive modern mansion is the Sunridge court. The design features 5 bedrooms along with a 4-car garage. A grand staircase takes you to different levels and the interiors are embellished in traditional ornamentation from the inside to its exteriors. 
24. 4 Buccaneer Way– Coronado, CA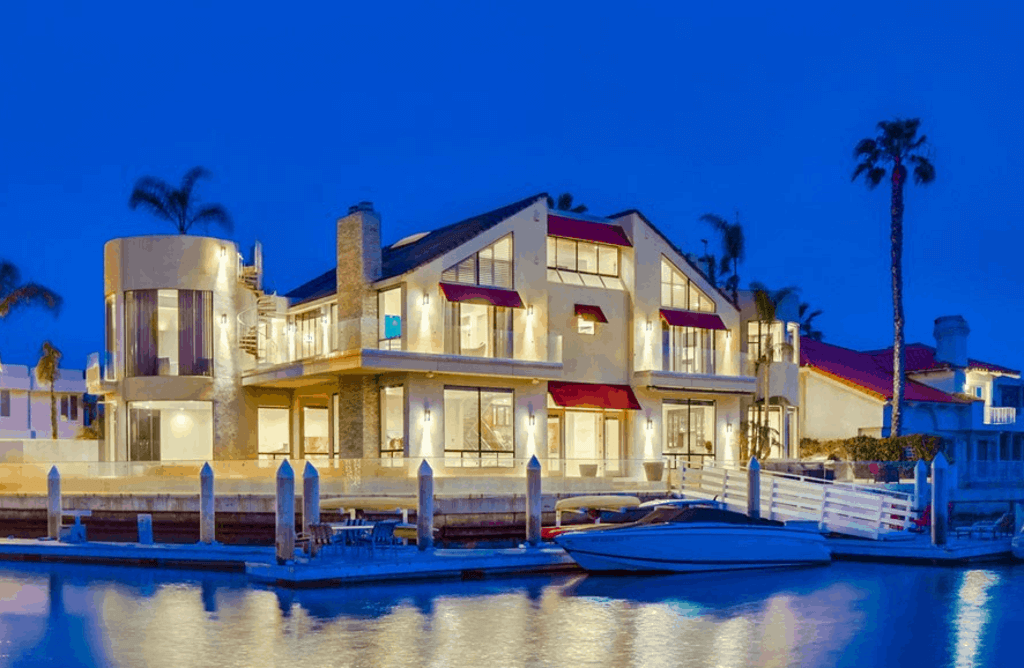 Source: trendir.com
There's nothing more amusing than a big modern house along the waterfront. This modern mansion in Coronado is at a distance of 160 feet from the ocean and boasts a lovely rooftop terrace along with the luxury amenities of having its own dock and a swimming pool with a jacuzzi. 
25. Antilia– Mumbai, India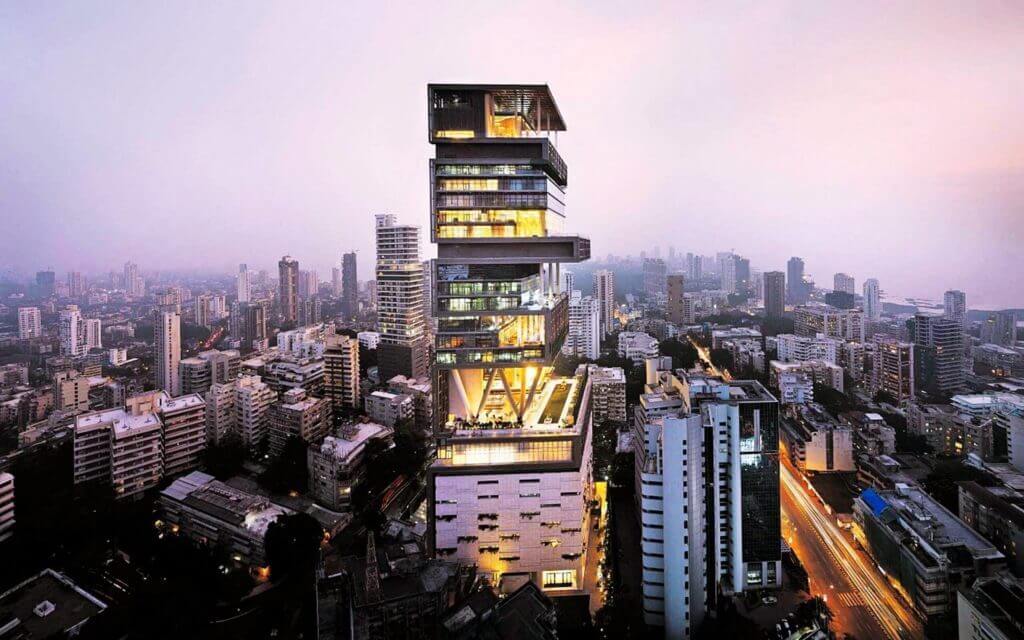 Source: architecturesstyle.com
One of the greatest modern mansions is the house of Indian business tycoon– Mukesh Ambani. The mansion is leveled across 27 floors and reaches 173m in its height. This private mansion is everything one dreams of with literally every posh amenity present inside the house.
Apart from the private spaces, this big house also accommodates a home theatre, 3 helipads, spa, temple, and terrace gardens. It is the biggest and costliest luxury modern mansion across the globe.
Also Read: 5 Best As Well As Most Beautiful Mid Century Modern Homes That You Need To Check Out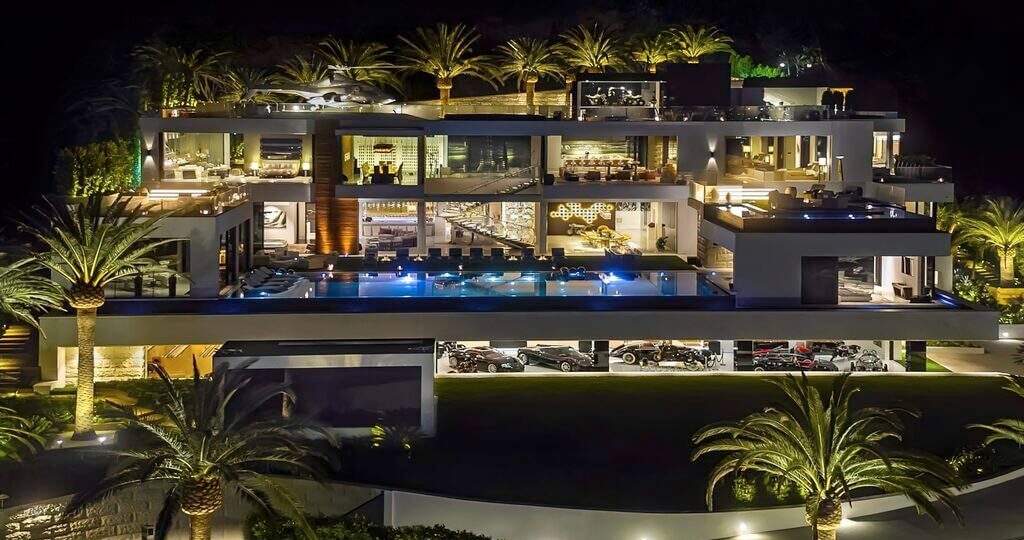 Source: merlaine.net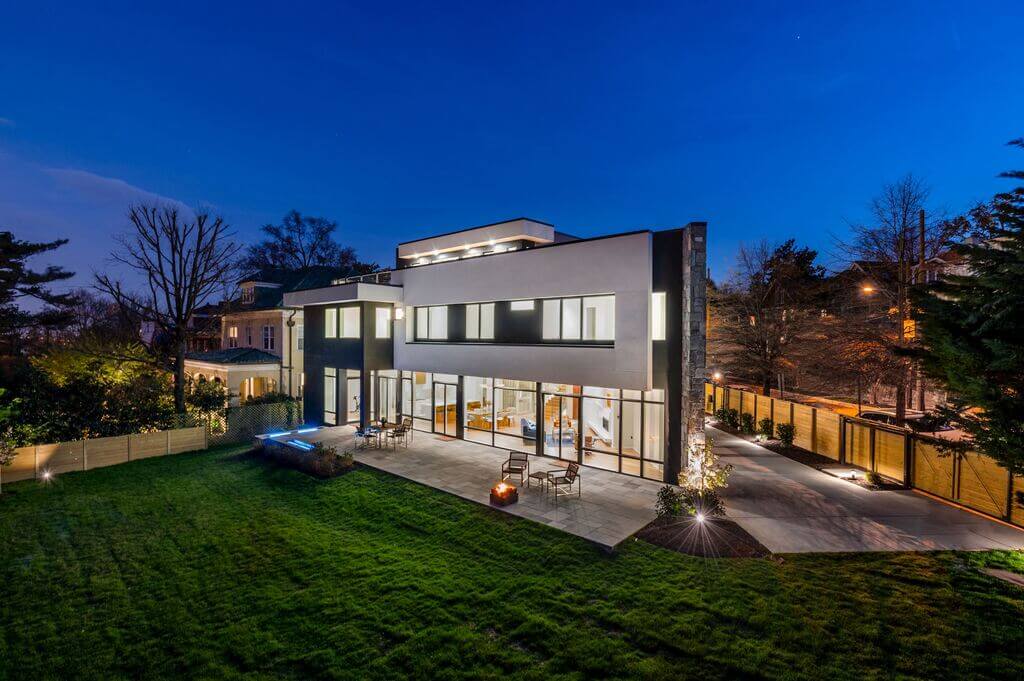 Source: amazonaws.com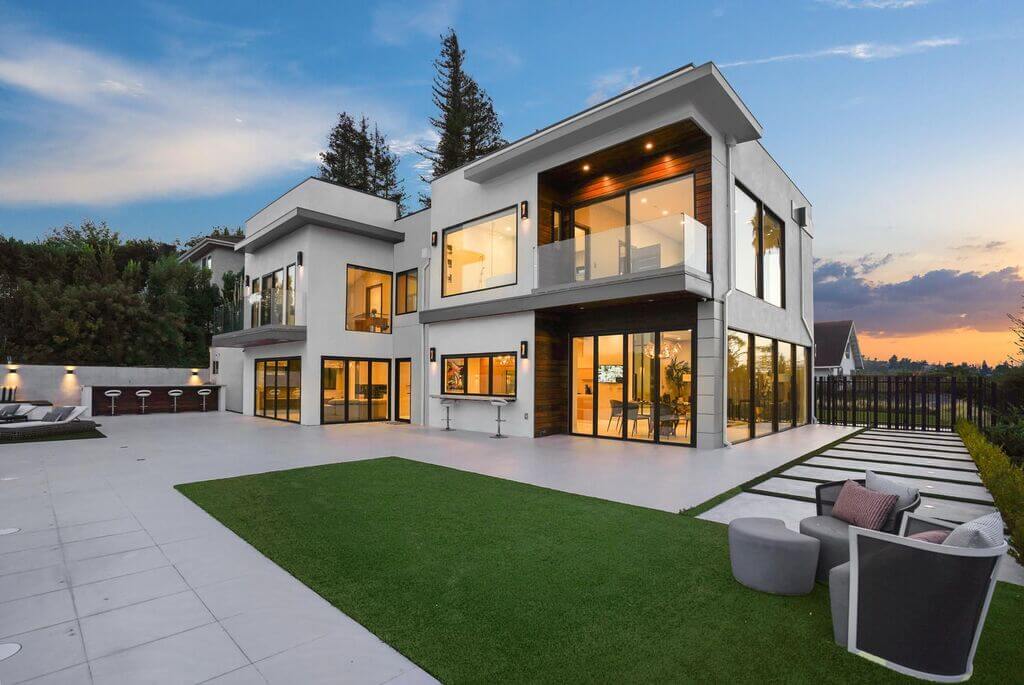 Source: netdna-ssl.com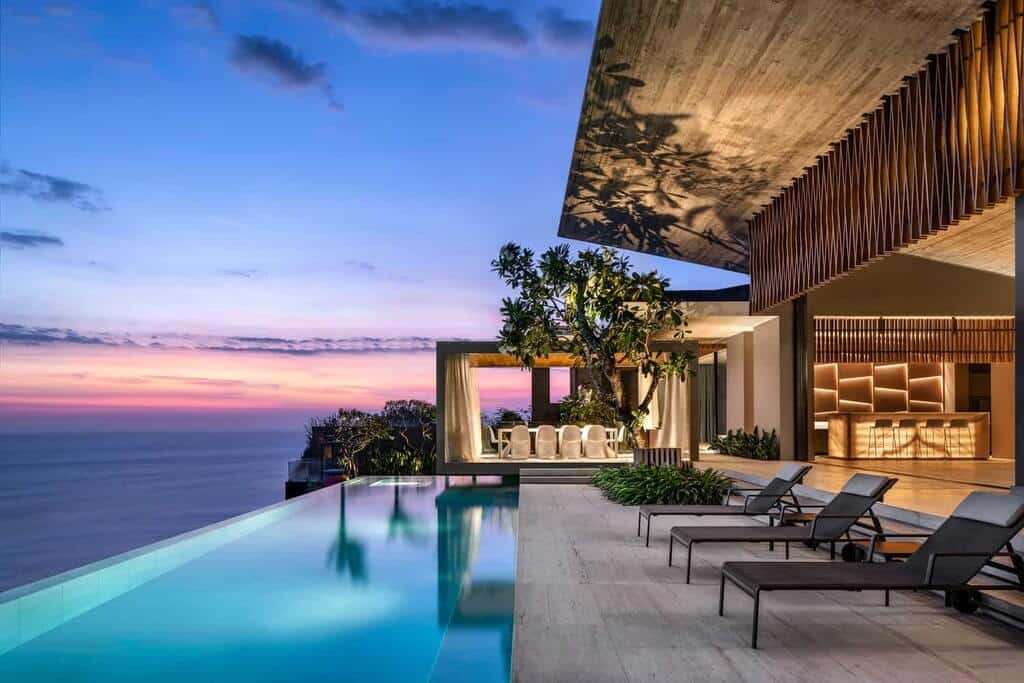 Source: luxatic.com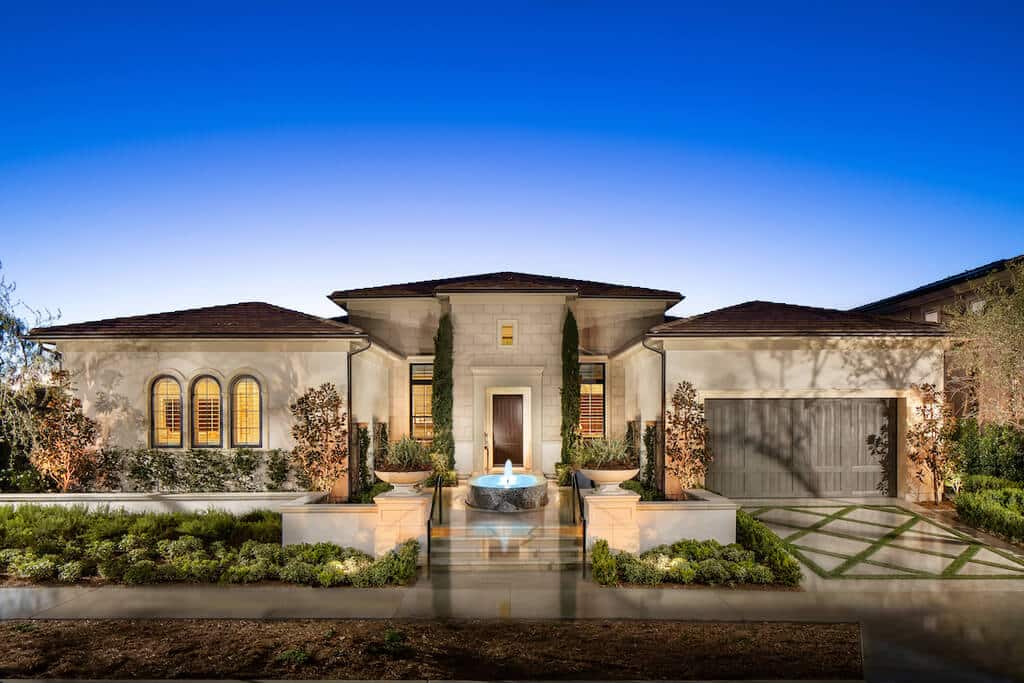 Source: tollbrothers.com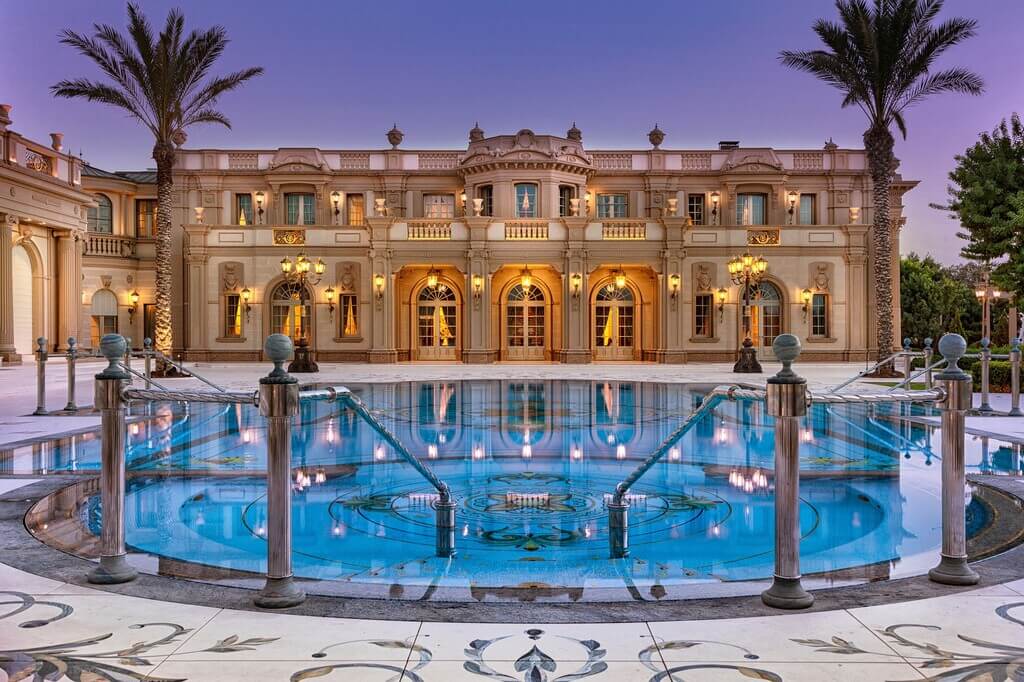 Source: jamesedition.com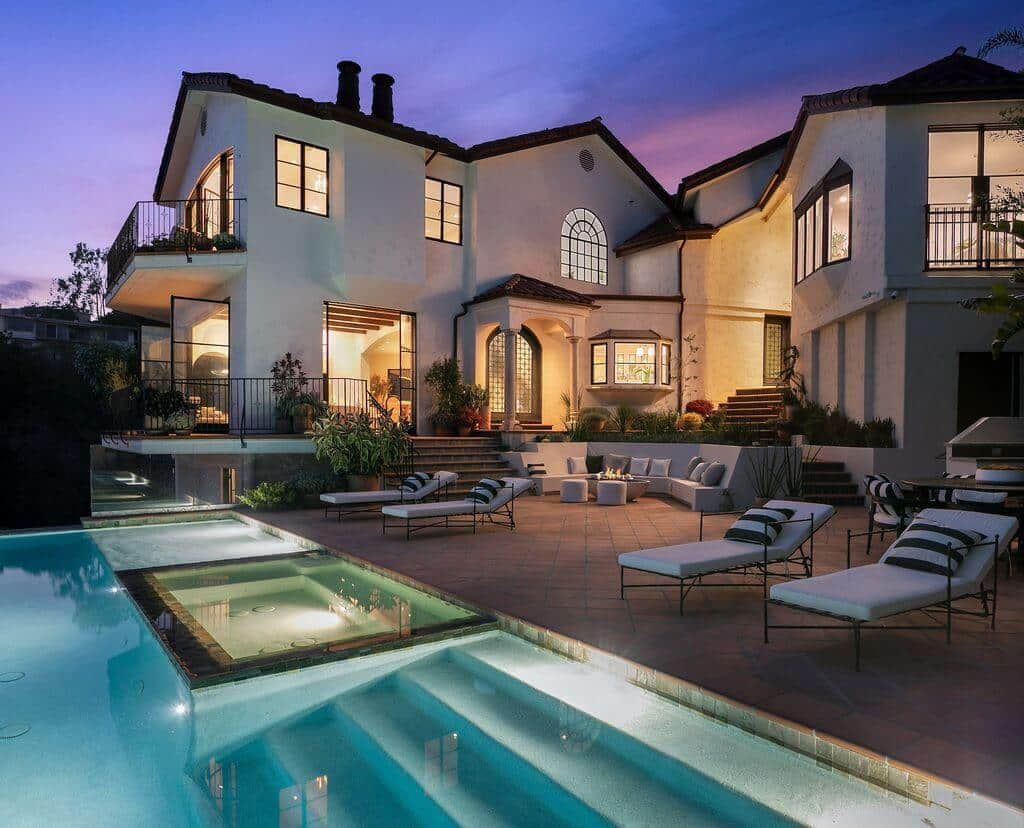 Source: luxury-houses.net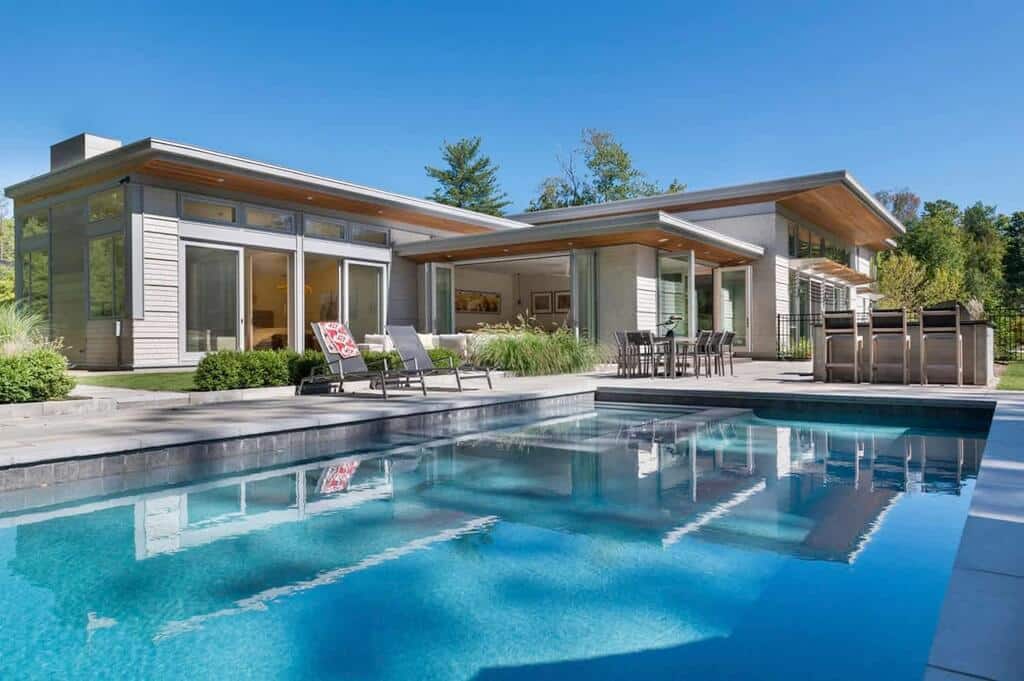 Source: onekindesign.com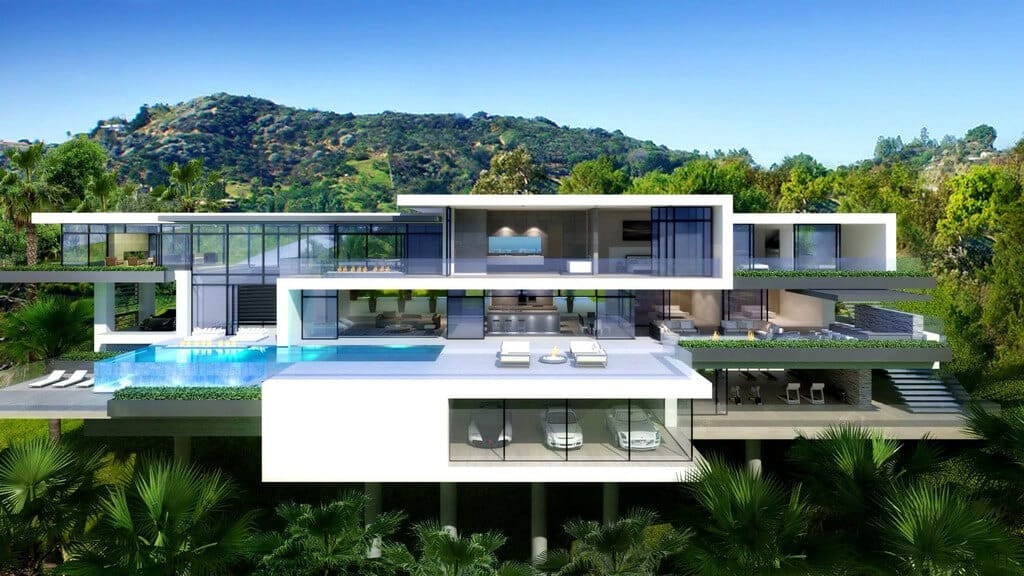 Source: wallpaperaccess.com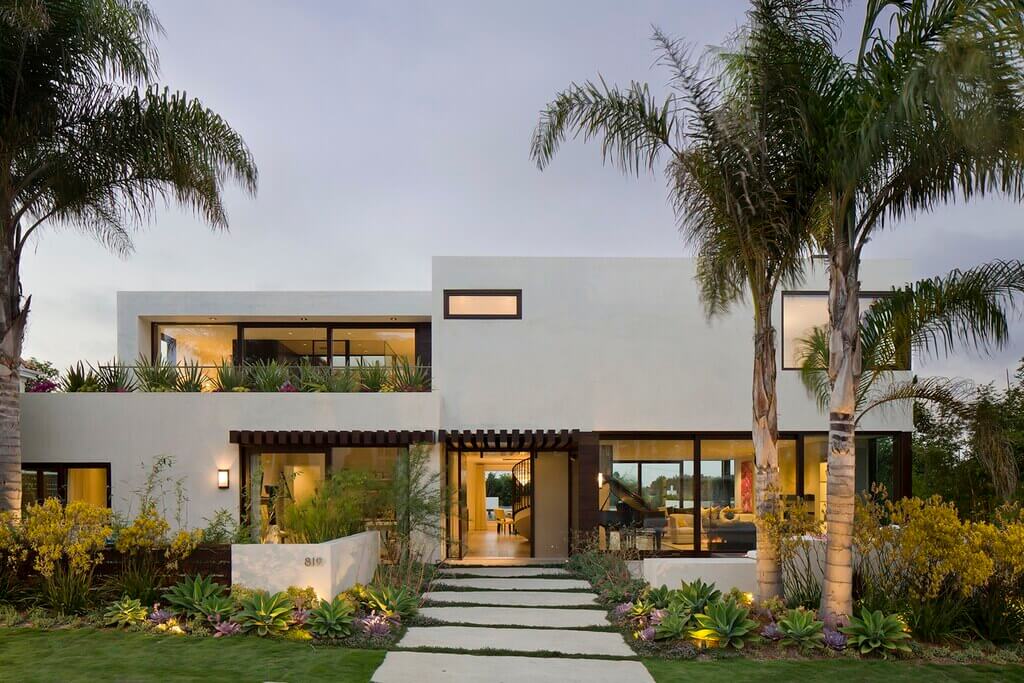 Source: luxxu.net
Source: squarespace-cdn.com
Lavishly Comforting Modern Mansions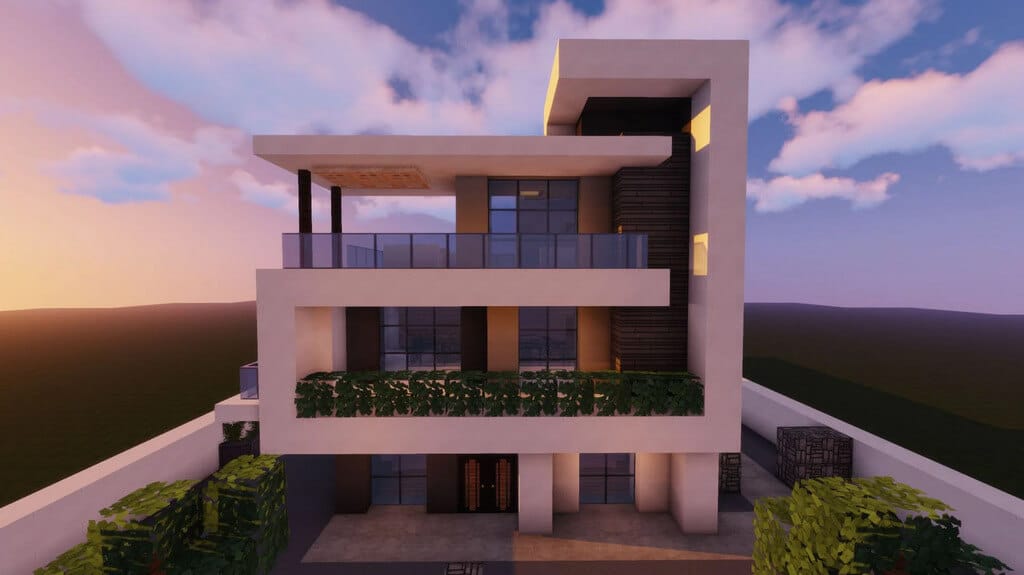 Source: sportskeeda.com
From a streamlined look to extravagant facades, the essence of beauty and comfort that nestles within modern mansions is unmatched. Each of the listed mansions is unique in its own sense and gives a new definition to architecture with vibrancy and thoughtfulness in their styles. 
To know more about Home improvement ideas, Cleaning and decoration tips visit ArchitecturesIdeas.
For daily updates, follow us on our Instagram page @architectures_idea.