Ever since we can remember, people have had a fixed idea of wealth. Natural stone such as marble and other types of stone adorned the castles of our most wealthy lords, and it made every bathroom seem nice and elegant.
In time, tile became the more popular option, as it is less expensive and much easier to install. Plus, you can find it in different colors, offering you some variety as well. However, we can't deny the fact that stone gives off a different vibe.
Depending on the type of stone that you use, a bathroom can be made to look rustic or royal quite easily. It also delivers a bold statement, particularly if you use it efficiently. Here are some ideas for you to use stone if you are planning a new bathroom renovation.
Limestone Tiles in Shower Area
Limestone has that way of looking elegant and modern while providing a spa-like, organic vibe. Plus, since it is quite a soft stone, you may easily model it so that it fits your shower area perfectly. Limestone tiles are generally the most popular, as they are quite easy to install – mostly because they have already been pre-cut.
Bear in mind that for the same reason, you might want to clean the area of soap residue by using stone-specific cleaners. Due to the consistency of the stone, normal cleaners may be rather caustic and acidic – causing etch and discoloration to appear on the surface of the limestone.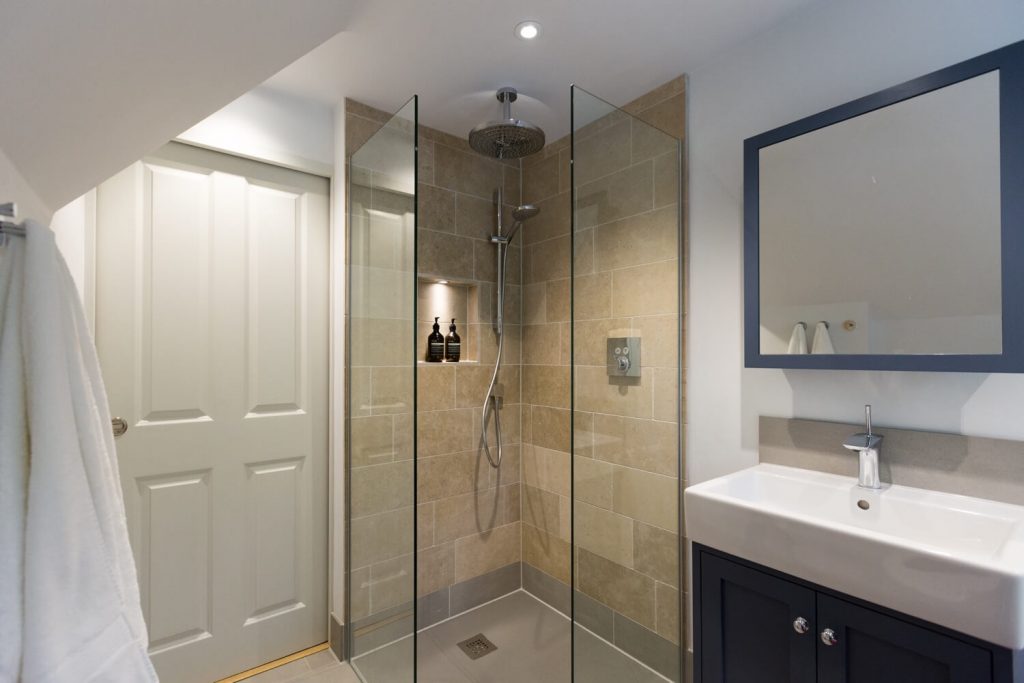 Mosaic on Walls
No one says that stone needs to take the shape of solid slabs in the bathroom. If anything, we appreciate the fact that stone gives us the freedom to be creative. For this reason, you might want to use slabs with delicate patterns or some interesting mosaics that you may combine yourself. Not only may it look pretty on a counted-mounted basin, but it will also give your bathroom a more personal touch.
Flagstone Floors
Flagstone is not necessarily only to decorate the patio or an outdoor place. Due to the strength and durability of the stone, it is perfect for the bathroom as well. This particularly applies if you want to get that rustic yet modern vibe – and it is also the perfect complementary design to make a freestanding steel bath look great.
Add some antique-looking bathroom furniture in the mix, and you will feel as if you just walked into a spa. Also, if you are putting the stone on the floors, make sure that you don't pick something that is slippery when wet. After all, you want to keep all your bones intact.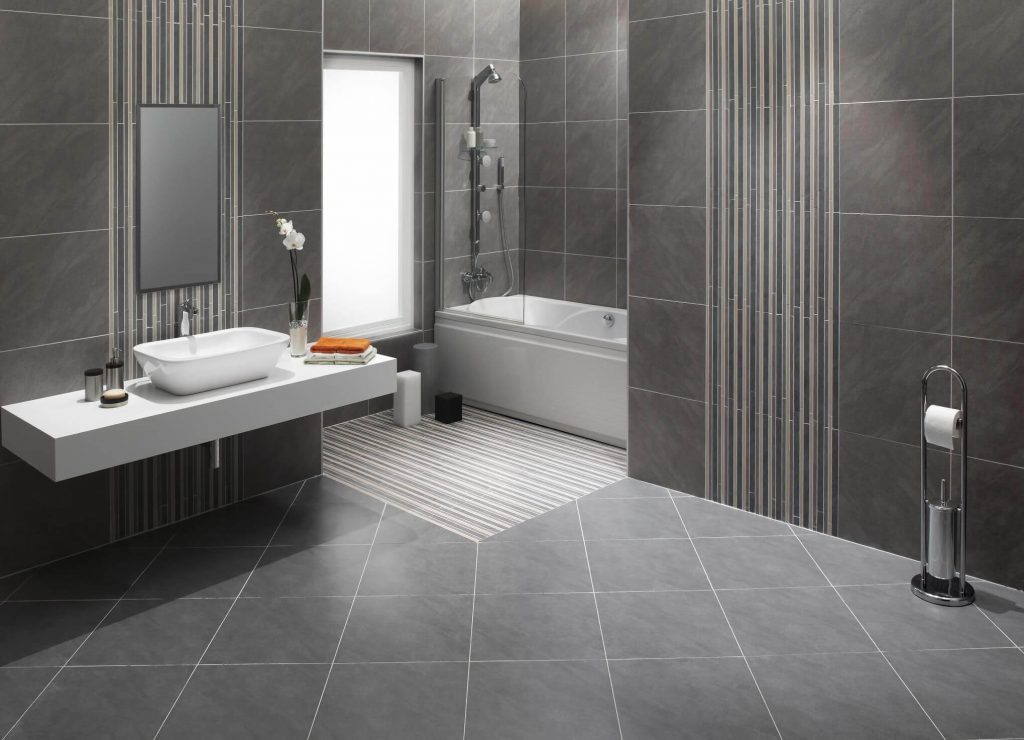 Natural Stone Walls and Pillars
The mix of stone and wood has always managed to give off that chic yet eclectic look, making you feel like you are taking a shower in the outdoors when in truth, you are privately tucked in your own bathroom. A good way to compliment your stone walls is to install some pillars – but also try to surround the bathtub with a light wood frame. This way, you should be able to obtain that modern yet traditional look that you have been yearning for. For more detail regarding cabinet ideas visit RTA Cabinet Supply LLC.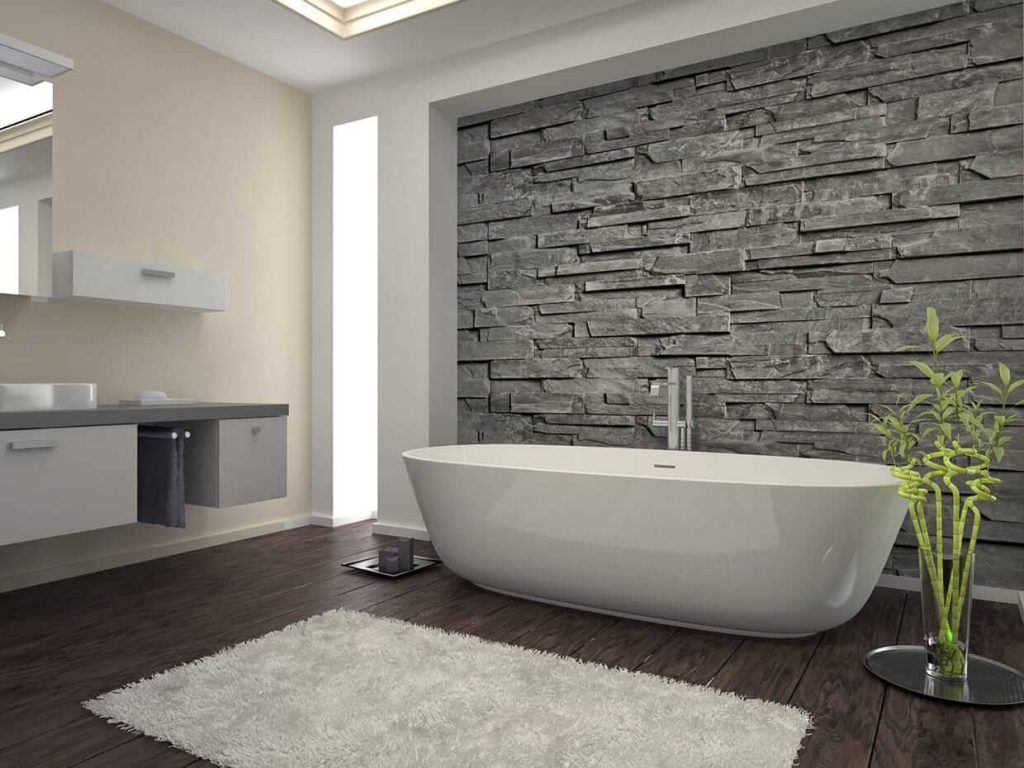 Colored Mosaic Stone
In most cases, we see stone bathrooms with walls all in the same color – the typical warm maroon that all stones seem to have. However, if you want to obtain a more contemporary design, you might want to opt for colored natural stones instead. Home depots nowadays sell stone in a variety of colors – mostly earthy but still featuring some quite interesting shades.
As a result, you may easily pick some stained wall stones in various colors (say, blue, brown, and cream) and mix them beautifully on the walls of your bathroom. Match them with some traditional wooden floors, and you'll have the perfect rustic setting where you can take a nice bath. Bear in mind that the wood will need to be protected so that it's not damaged by moisture.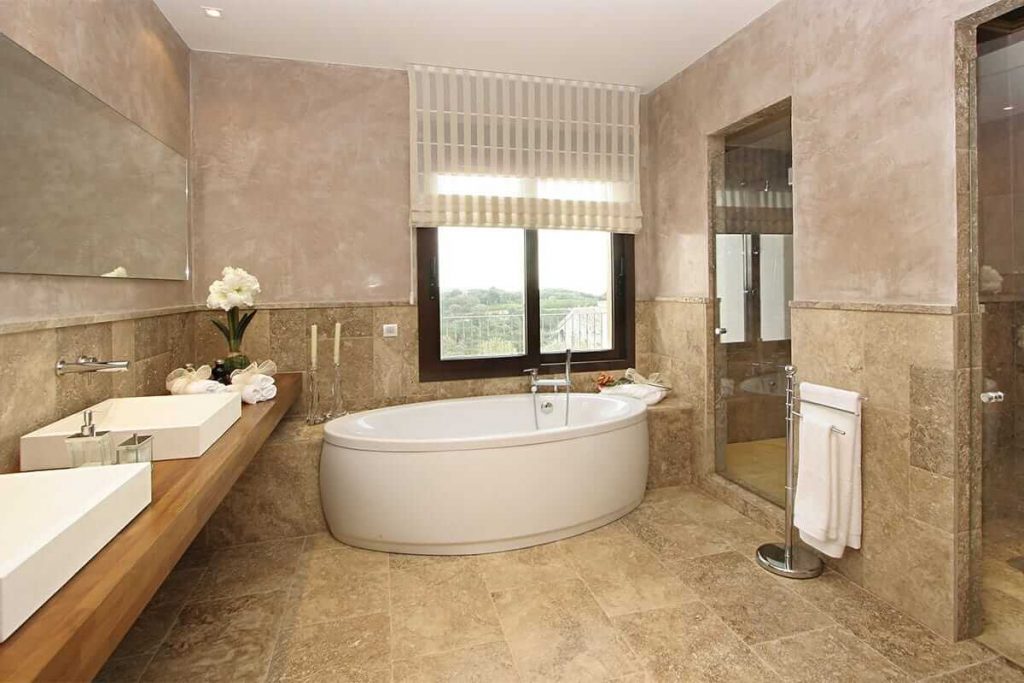 Final Thoughts
Stone is quite an attractive addition to any bathroom. Not only is it durable, but it also has that sense of elegance that tile does not usually have. With a little bit of creativity, every bathroom can look amazing using stone.