The Ultimate Styling Guide For Sideboards And Buffet Tables
A house may never have enough storage, and as a result, you may need to find creative ways of incorporating them seamlessly. One of the great ways of having additional storage in the dining room is by adding a sideboard and buffet tables that will store formal dishes, flatware, and linens meant for special occasions.
Some dining tables may come with side tables to match, but if yours didn't, you might need to find one that will create a cohesive look with your dining room theme. The sideboard should also be similar to your dining table in style and finish, or close enough. 
The main challenge is styling your sideboards and buffet tables to match your theme and look great without the busy look and feel. Read more to know how to style them.
Consider a Design Concept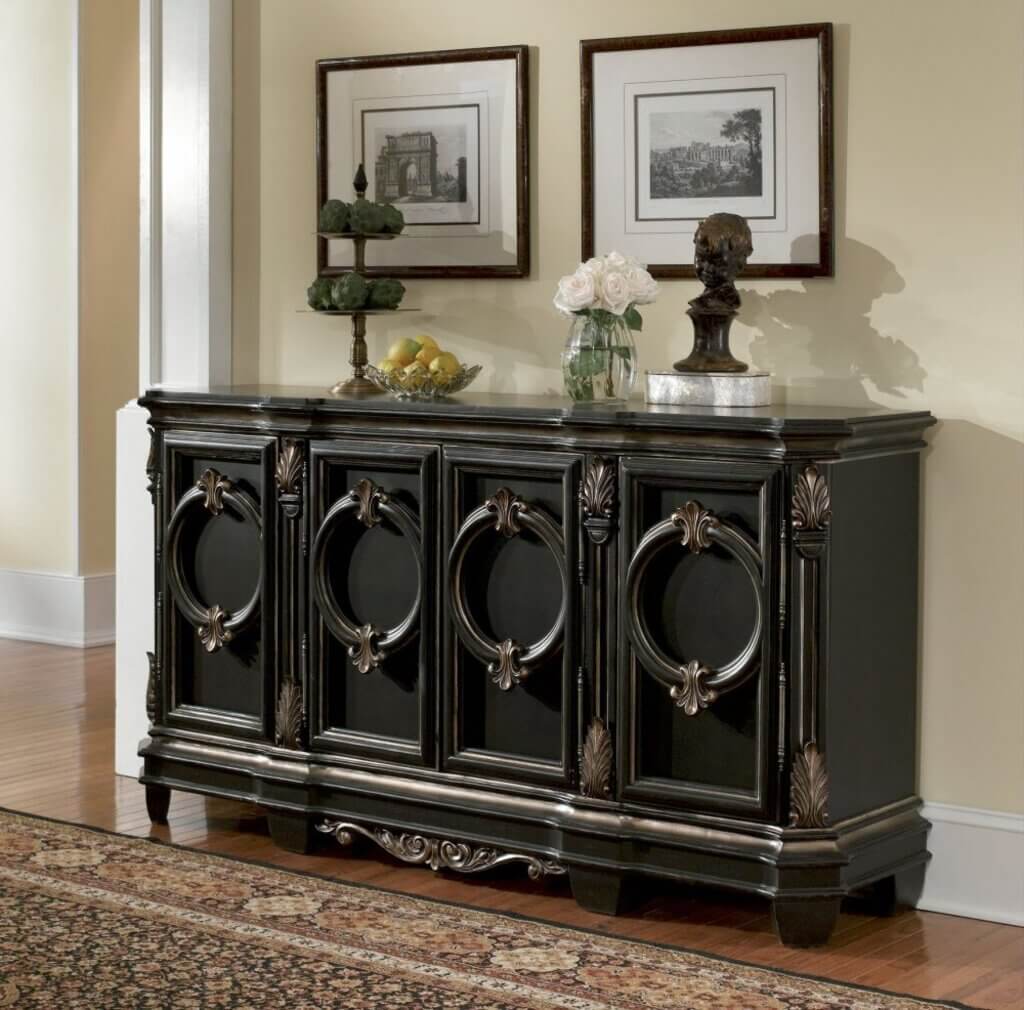 Source: thearchitecturedesigns.com
You can base your sideboard design on your dining table to ensure the end look doesn't crash. The height will also impact the outcome, and as a result, it should be made to look proportional and fit with your dining table.
The recommended height is the same as a kitchen counter that's 36 inches long and can comfortably serve from its top. As for the depth, 20 to 22 inches will be appropriate as it isn't too deep and allows comfortable circulation. 
The best length should be close to 60 inches depending on the length of your dining table. For instance, if your dining table seats four people, a 60-inch sideboard may overpower it. You can always research more on the sideboard and buffet table buying guide to avoid getting the wrong size.
Settle On Color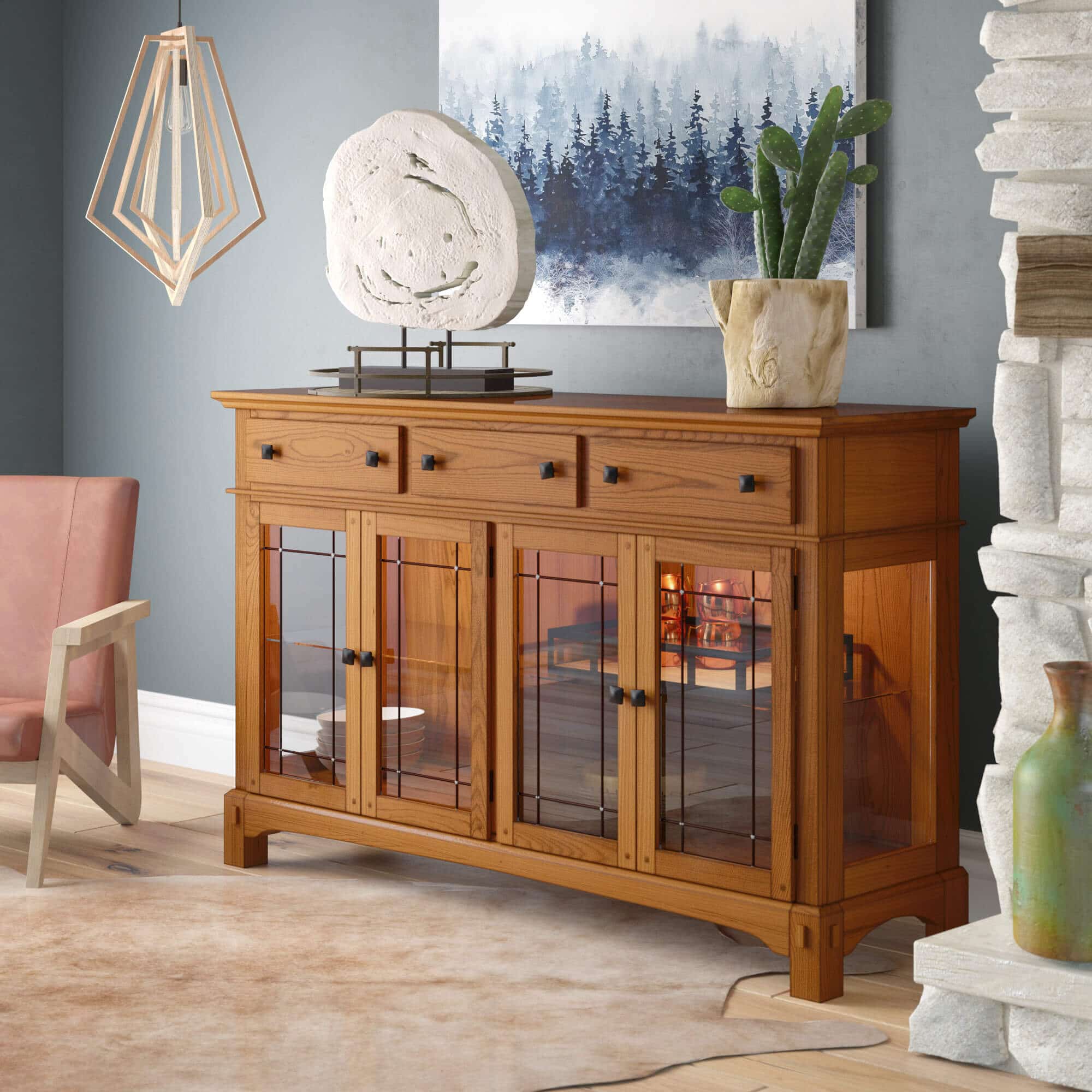 Source: visualhunt.com
Color is a powerful tool that can improve a space, especially the dining room area where families meet and sit down after a long day. Moreover, your sideboard doesn't necessarily have to match your dining table. You can go for a lighter color that still matches the room theme if you feel adventurous. Get waterproof paint as the chances of spillage on the sideboard can be high.
Add Statement Pieces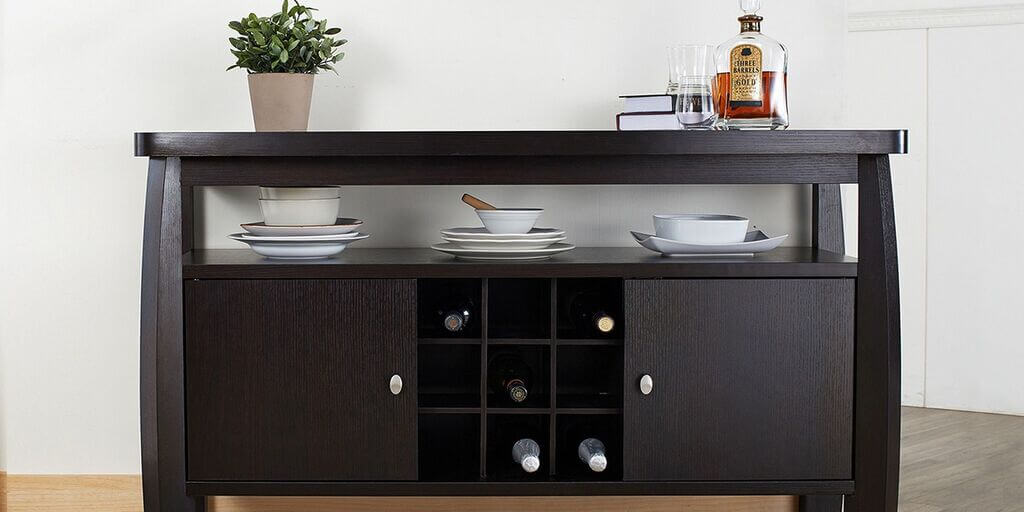 Source: hearstapps.com
When you get to the dining area, a statement piece on the sideboard or buffet table should be able to draw your attention to it. As a result, you may need to add some statement pieces to create a focal point. 
For instance, an eye-catching framed photograph hanging on the wall above the buffet table would be a perfect fit. Before getting a statement piece, consider its scale by using the length of the sideboard as a reference. 
Your statement piece should be able to bring fun into space, and you can choose to be adventurous with it. If your dining room has warm neutral tones, you can use a pop of color for your statement piece. Remember that your statement piece doesn't have to be a single item, as you can use three different items to come up with one statement piece. 
Use Decorative Objects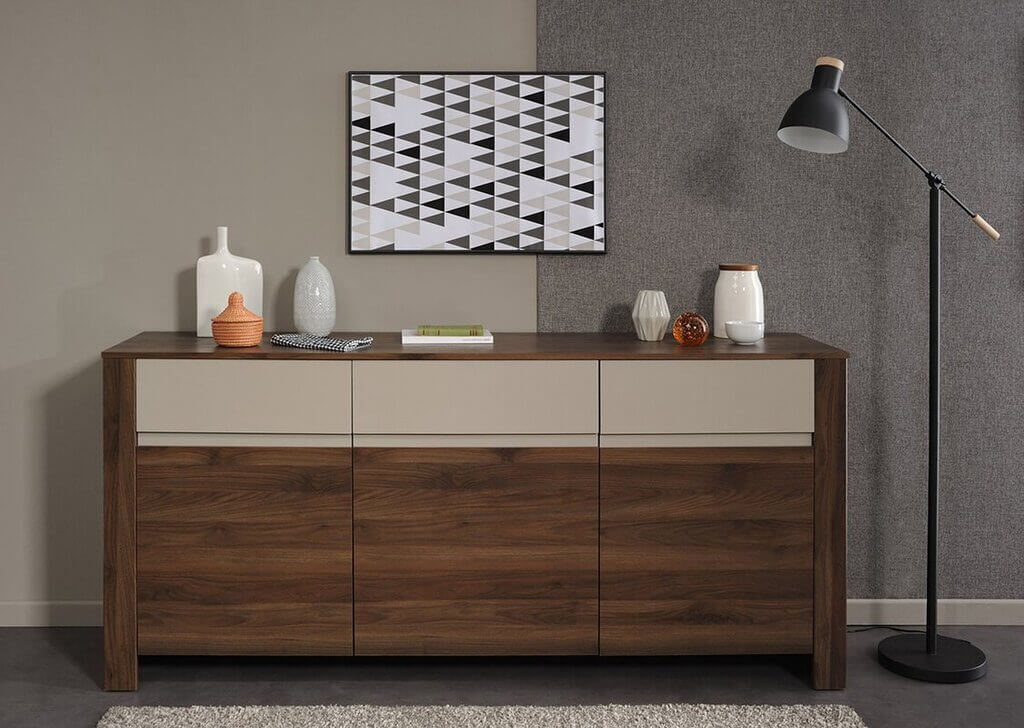 Source: thearchitecturedesigns.com
Sideboards offer the perfect chance to add decorative pieces to add flair to the space. You may add softer details to tone down the bold sideboards look. These softer objects will improve the look for the sideboard to shine. 
Remember to keep these additional objects subtle without going overboard. You may use items such as glass ornaments, vases, dried flowers, and candles. Ensure you keep the symmetry of the object placement in mind for it to seem balanced. If your sideboard is made of wood, you can use neutral decorative objects to create a clean and striking look. You can also add a pop of color with faux flowers to match the room's theme. 
Incorporate the Rule of Three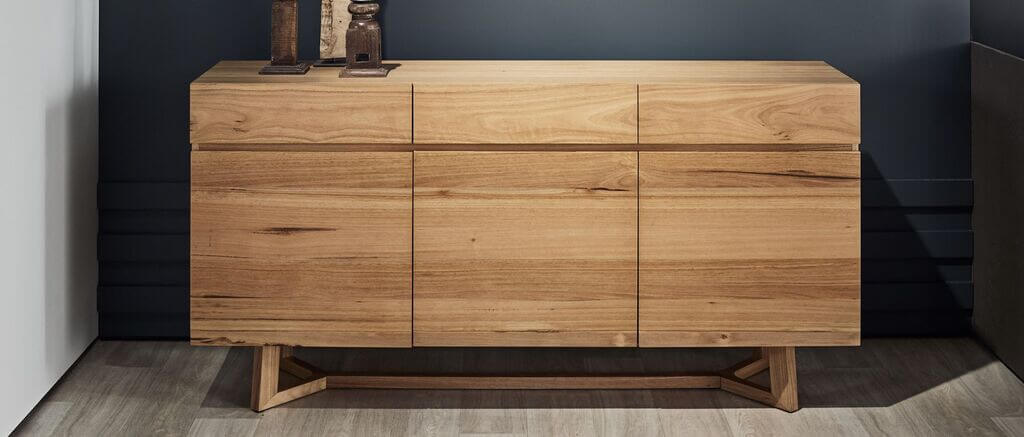 Source: nickscali.com
This odd number is the least amount that can form a pattern when used as a decorative piece. Hence, you can use this when organizing objects on your sideboard. To begin, find three objects that vary in size and height. 
For example, you may use items such as a vase designs, which can be the tallest, followed by a mid-height object and a lower one. These objects can also vary in colors of the same tones to harmonize with the sideboards. In addition, you can also have objects in three different textures that will offer a visual warmth. 
Bottom Line
When styling a sideboard, the main aim is to create a balance with the rest of the room, especially the dining table. The side table is a storage space that's versatile enough to provide a chance to decorate it.  Don't be afraid to mix it up by settling on a statement piece that's bold enough to add depth to the space. Take the chance to incorporate different design styles and symmetry into mind to spruce up the space.