Styling Outdoors & Boosting Visual Appeal
Whether you are designing a new outdoor space or revamping the existing décor, outdoor furniture and accessories play a vital role in this aspect. As you look forward to spending your relaxing "me-time" in your backyards, make sure that it is well-decorated with functional outdoor furniture and other accessories to enhance the overall experience. When you have an inviting outdoor space, it offers you a great opportunity to host barbecues and throw parties for friends and family.
While you might want an inviting outdoor space, it is not necessarily easy to design or cheap either. By combining the essence of a few attractive outdoor furniture pieces, you can transform the outdoor décor space effortlessly.
Choosing the Right Pieces and Accessories for the Wow Factor
When you're selecting the best outdoor accessories, it is recommended that you set your priorities first and then consider choosing outdoor furniture based on your budget. In addition to the existing space, other vital factors that you need to consider are the weather conditions of the area and how many people you regularly entertain. You can easily come across cost-effective outdoor furniture and accessories that survive all types of weather conditions. 
Before selecting the right pieces for your backyard, it is important to come up with a detailed plan on how you wish the existing space to look like. You get to choose from a variety of outdoor items that can help in personalizing your space. At the same time, these accessories can also help in bringing the much-needed comfort and ambiance to a superior level. 
Some Simple Ways to Boost Your Outdoor Entertaining Area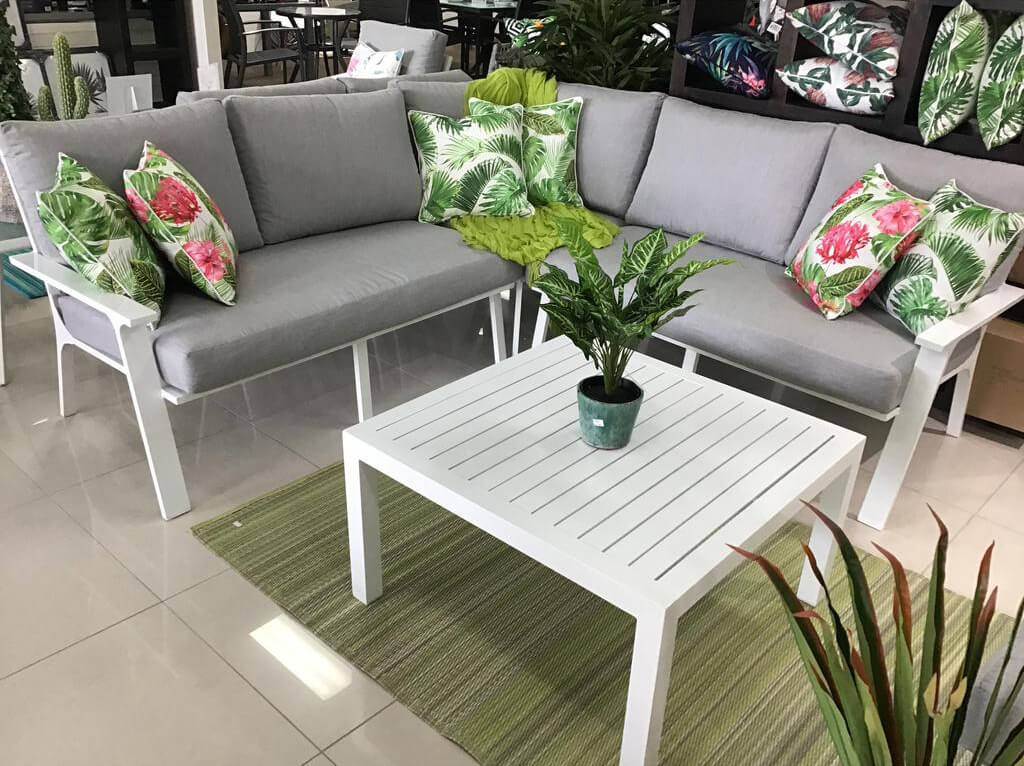 Source: shopify.com
Cushion It Up
You can consider placing stylish cushions across outdoor furniture for spicing up the look of the furniture items like lounges, dining chairs, and pod chairs. The given small decorative pieces have the power to make even the blandest areas feel extremely stylish and cozy throughout. We've found some incredible pieces at OFO Outdoor Furniture to check out.
All-natural
Including planters all around the outdoor seating area can help you in feeling more relaxed and natural. If you are a nature-lover, you can include attractive planters featuring beautiful flowers to give the area a natural boost. It is recommended that you should choose the planters carefully for complementing the existing design scheme. It can help in creating a positive vibe throughout. 
Intimate Setting
Transform your outdoor space for creating an intimate setting for personal and entertaining use. Think of the given area as a room not having any walls. Analyze how each decorative piece is going to complement the outdoor environment as a whole. The arrangement of your outdoor space should never get in the way of functionality. 
Choose a Proper Color Palette
Think about the specific color palette that you would like to incorporate for the outdoor setting. Neutral sand tones and bright whites are perfect for the creation of an outdoor oasis as they contribute to the overall tranquil feeling. Nothing can beat the beauty of the mesmerizing sunlight spilling all over the fresh coat of white patio and across the garden area. This is particularly popular right now with the craze around 'hamptons' and 'coastal' styling.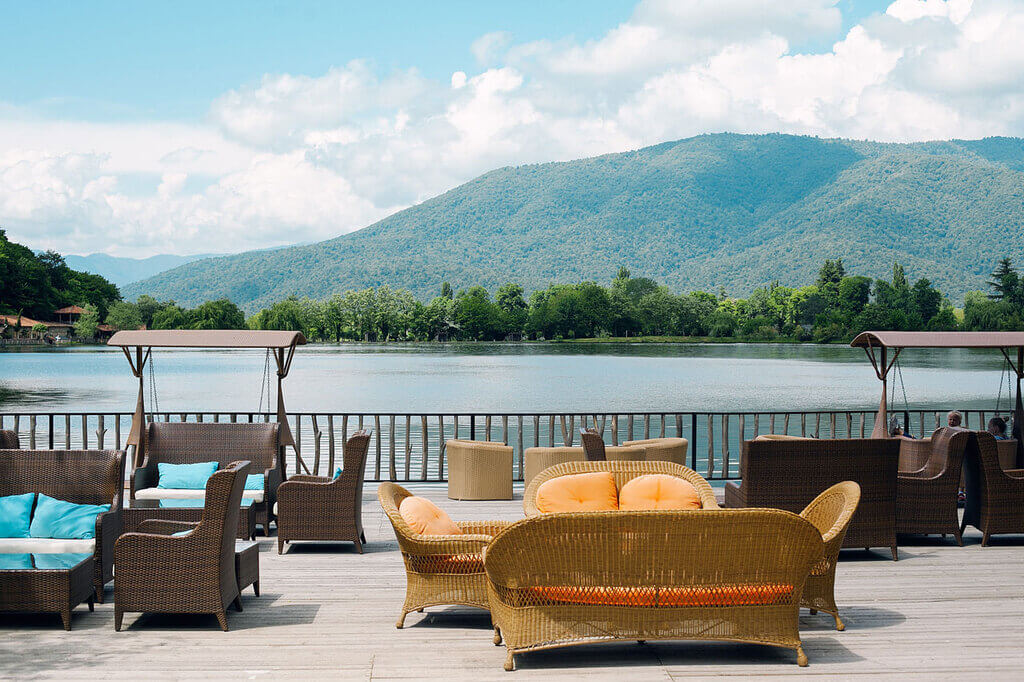 Source: qigongsenteretibergen.no
Install a Daybed
Out of all the outdoor furniture options available out there, daybeds are highly functional as well as aesthetically beautiful. Not only will a daybed look great, it's a great way to relieve stress and relax after a big week. Along with adding a hammock, you can also consider installing a cozy daybed for enjoying time outdoors. Right from taking outdoor naps to enjoying your favorite drinks, reading books, and so more –there are endless opportunities with an attractive daybed in the outdoor area. 
Also Read: 5 Simple Ways to Give an Outdoor Space Some Style
Lanterns & Outdoor Lighting
Lanterns can help in serving as a playful addition to the backyard setting. The lit home decor helps in adding light as well as interest to the existing space. Things having form and function are great home accessories. To top it all off, when you include pretty lights across the fence or outdoor patio, it helps in creating a highly cozy and inviting space. 
Dining Alfresco
As you will most likely be dining outdoors with friends & family, it is recommended to go for a sturdy base for your table, while investing in top-quality coverings to protect the furniture from stains and fading. Of course, once you have a stunning outdoor dining area, you'll want to make it a point to utilize the space and organize frequent get-togethers.
Make the most of the outdoor space in your house by decorating it beautifully with essential outdoor furniture and accessories. Thankfully, you can easily come across top-quality outdoor essentials that suit your preference, style, and budget. If you wish to give your architecture a boost in the overall value and aesthetics, installing attractive outdoor furniture should be your topmost priority.