Thanksgiving is just right around the corner. Thanksgiving means sharing your meals with family and friends you love. Since dinner is the main focus of this festival, so, except for your turkey, the dining table should also look beautiful and impressive. So, if you are not started with the decorations, let's begin together. Here we are providing Thanksgiving dinner table decorations, that'll surely help you out.
How you want your dining table looks– Plain and boring or full of creative and exciting things? You know that delicious food that serves in a creative and innovative way makes thanksgiving more special and memorable for you. You don't need to buy whole new things and make a burden on your pocket. What you really need is creative thinking and little planning.
On Thanksgiving, our families and friends came together and celebrated with a fancy dinner. And before we start eating we all pray and thanks for all the things in our life. "There is always, always something to be thankful for" right..? So this year make your thanksgiving more special, by adding some decorations to the dinner table.
Here are fifteen thanksgiving dinner table decorations:
1. Centerpiece
A centerpiece on a table not only creates a focus but also adds a wow factor to the whole area. You can go for any centerpiece or specially designed for thanksgiving. It could be anything from Confetti-Stuffed Turkey Centerpiece, mason jars, and gold pumpkins to wheat and flower bouquets.
2. Wreaths
Yes, wreaths… they are not only for door decorations but also you can adorn your dining space. Make cute little wreaths and tie them on the back of the chair. It looks gorgeous and unique.
3. Greetings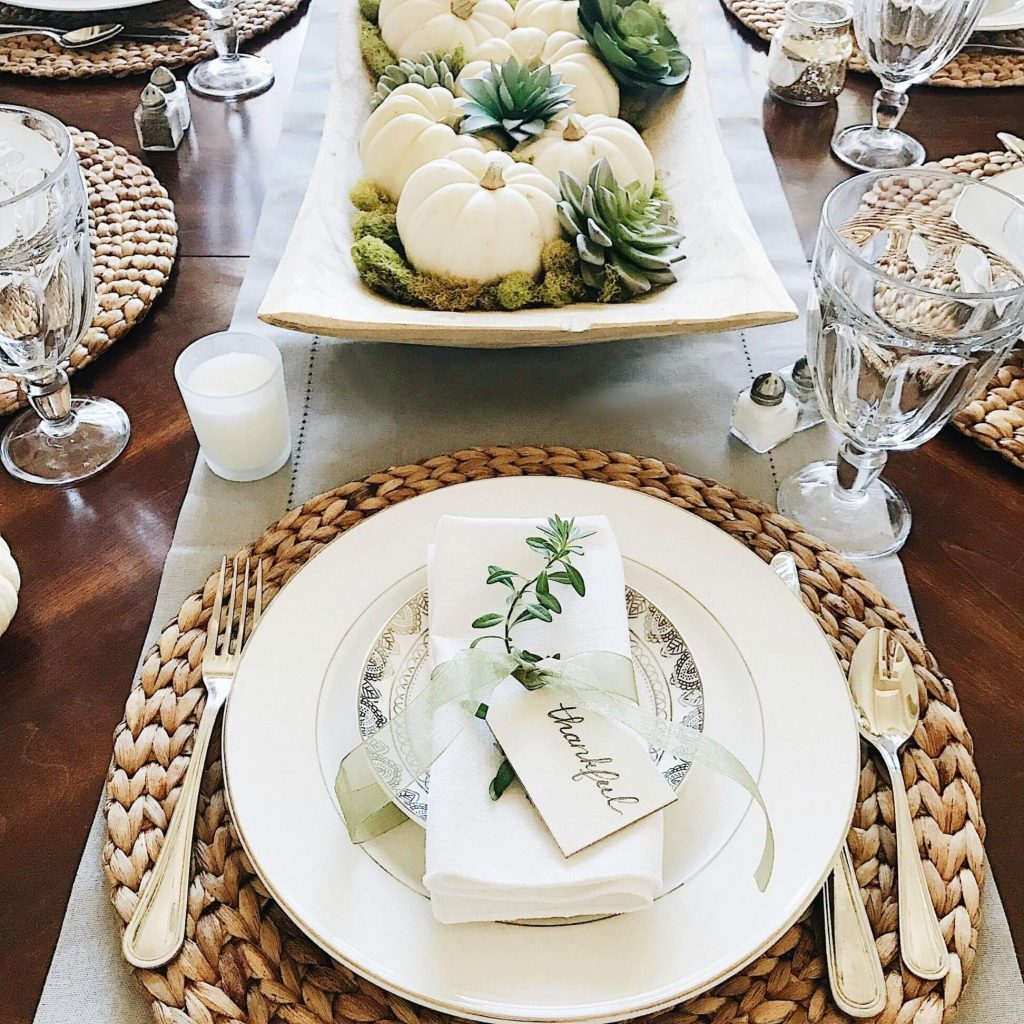 What is better than cards to show your gratitude towards your family and friends. Write your feelings on these little but adorable place cards and put them on the table. You can also write welcome notes on these.
4. Tablecloth
Change the dull and boring tablecloth into a contrasting festive one. By this, you'll immediately saw a change in your dining area. Colors bring joy and happiness to any place. So, feel the holiday season with vibrant colors like red, blue and orange.
5. Candleholders
To really give your dining table a fall treatment, add funky candleholders. From votive copper holders to edible apple holders. Anything could be used as a candleholder, but make sure that they are going with the rest of the pieces.
6. Pumpkin Menu
What do you think about placing a Pumpkin menu on the table? A Pumpkin looks great on the table and is also an innovative idea to represent your recipes. Not only kids but also adults find this funny and creative. Just take an ordinary big pumpkin, write all the dishes' names on it, and place it at one corner of the table.
7. Plaids
Plaids are evergreen and almost work with every decor. So try out layering different printed plaids in napkins, placemats, and tablecloths. They bring extra texture and character to space. This thanksgiving provides an extreme dose of plaid by matching your outfit with the table decorations.
8. Candles
To make your dining area more warm and cozy, place some scented candles and sticks. They will be the perfect decor for your table. You can also wrap simple plain candles in beautiful candle wraps. This festive season style your dining place by fragrance.
9. Gratitude Signs
This thanksgiving shows your gratitude to your family and friends by signs and boards. Place a chalkboard near the table and write beautiful gratitude quotes such as " Be thankful for the blessings of the little things, even when you don't get what you expect."
10. Personalized Tea Towels
Personalized tea towels..!! Sounds fun and artistic right..? You can custom-make the napkins and towels to add a personal touch to the dining space. So include some printed towels in thanksgiving dinner decorations.
11. Table Setting
You can also change the setting of the dining. Choose the area (either outdoor or indoor) according to the family numbers and their choices. Outdoor settings are best for large family gatherings. Decorate the outdoor space with string lights and festive decor pieces.
12. Flowers
Flowers are the simplest way to bring beauty from outside to inside. Buy some flowers (real or artificial) from the supermarket and embellish your dining room. Two-toned flower arrangements will tie up the whole fall decoration.
13. Coasters
Coasters are another way to bring fall vibes to the dining table. Change the ordinary ones from the fall-themed ones. You can easily find cute and spooky ones in a dollar store.
14. Table Runners
When you change your table cloth, change the runners also. Cut the pieces from the velvet fabric or felt and place it on the table. You've got the runner and protection from the hot plates. A centerpiece on it will add more beauty to the whole look.
15. Themes
There are multiple themes for thanksgiving. From rustic decoration, and fall to vintage and garden-inspired, you can choose any theme. Just mix and match different patterns with textures to create a totally unique and customized theme.
For some people, Thanksgiving is turkey day. They enjoy eating turkey with their loved ones. With these ideas, impress your guests with your extraordinary decoration skills. And last, don't forget to thank and appreciate everyone who came to your party. After all, Thanksgiving is all about being thankful for all the things you have..!!
Read More:-