Throwing a Halloween party this fall season? If yes, then you're definitely looking for cool and creative table decorations. After all, this is the only time of the year, where we celebrate festivals with our family and friends. So, what's the key to hosting a successful and entertaining party? Two things: Delicious Food and Outstanding Decorations! Halloween table decorations and centerpieces will make your party an unforgettable evening.
From festive cocktails, scary good treats to terrifying Halloween decorations, don't forget to decorate your Halloween dining table with delightful meals and some over the top table decors. Make sure that this Halloween, your guests will get surprised by your creatively creepy decorations.
To help you out, we have gathered seventeen best Halloween table decor that'll surely elevate your Halloween party. From unconventional color combos and witchy plating to spooky surprises, these traffic-stopping but-on theme
17 Cute & Creepy Halloween Table Decorations
We know that traditional orange-and-black decorations are always festive, but these days light color palette is the new trend, and as well as looks really appealing. So, check out these spooktacular Halloween centerpieces to help you deck out your dining table:
1. Pretty but Deadly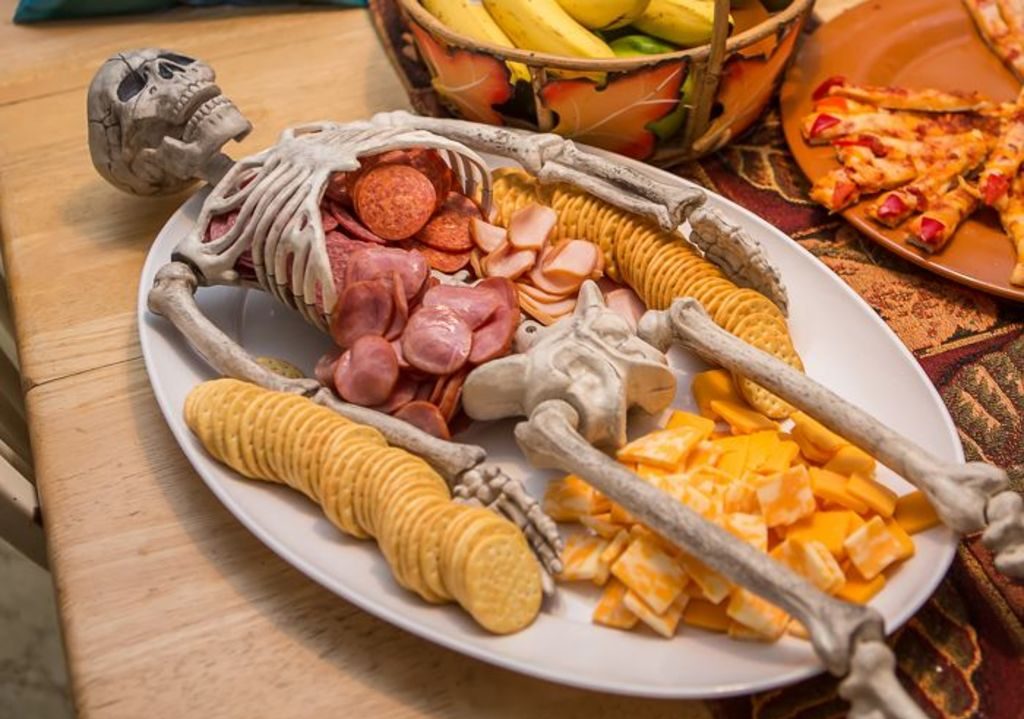 Source: pinimg.com
You can spice up your Halloween table decor by placing a prop skeleton on your table as a centerpiece. But to soften up the whole look, don't forget to put flowers. These lovely bouquets and (poisoned) apples will surely haunt your guests.
2. An Eerie Buffet
Image Source: hearstapps.com
The secret of a successful Halloween party is to have a great decoration and great food! Use tiny but detailed decors like this one to impress your guests. Here the platter has a scarecrow, who is watching everyone with his evil eyes.
3. A Bloody Vampire Themed Dinner Party
Source: pinimg.com
What do you think about a bloody vampire-themed Halloween table decoration? Black velvet tablecloth linens, blood-red cloth napkins, red drip candles on top of antique black candleholders, and a mirror on the table to reflect the eerie candles, all these decor items are perfect for achieving a vampire theme.
4. Faux Crawly Cobweb Tablecloth
Image Source: smartcanucks.ca
Instead of using a regular runner or tablecloth, cover your dining table with faux cobwebs. It will give you instant Halloween aesthetics.
5. Glowy Gold & Dark Flowers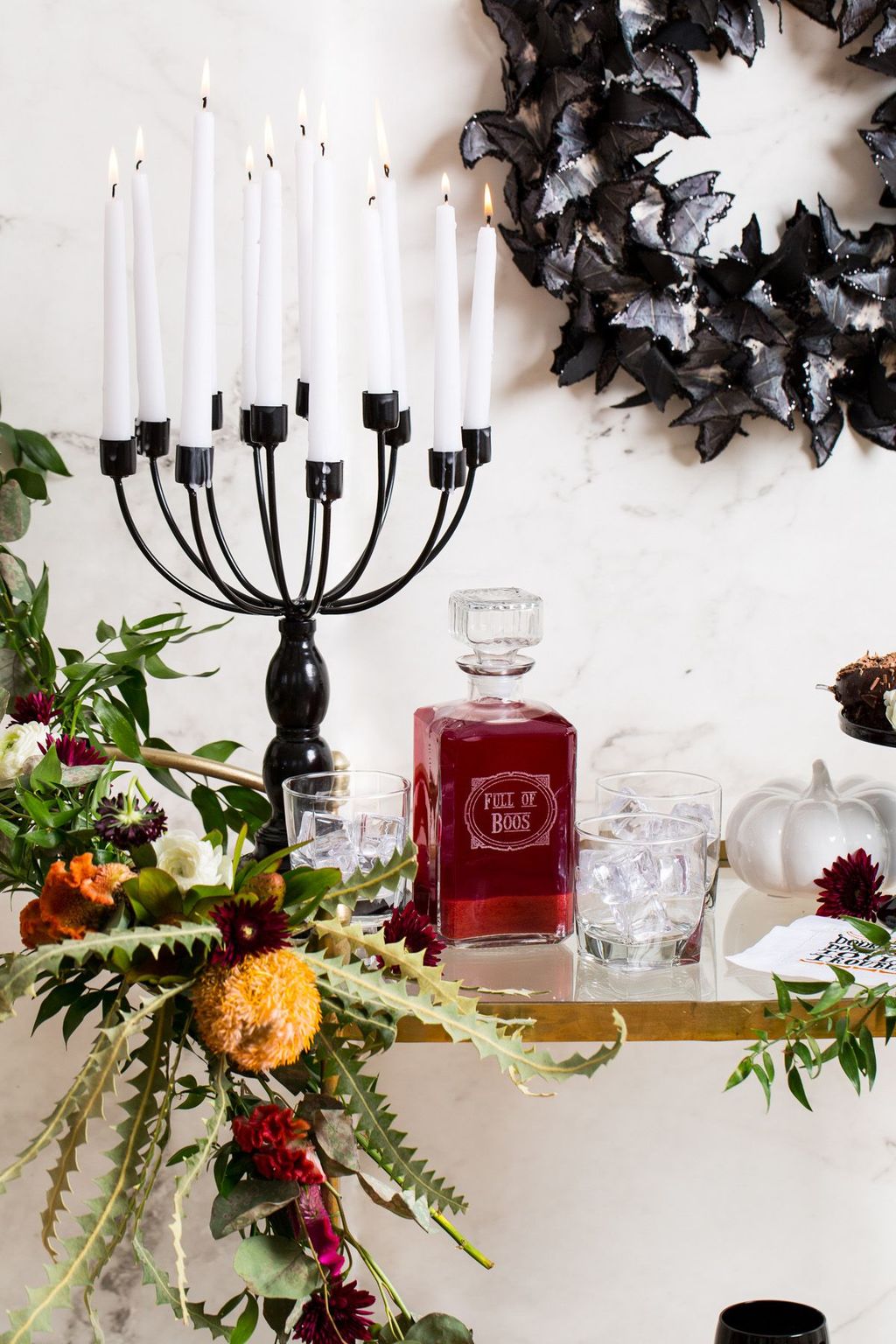 Source: z-designz.com
Fill your whole table with colorful or dark flowers to celebrate the Halloween party with your family. Finish the look with some white candlesticks and some touches of gold.
6. Rustic Yet Classy Table Decor
Image Source: hearstapps.com
Look at these gorgeous rustic-themed Halloween table decorations. With mismatched chairs, a dramatic floral centerpiece, and candle holders are perfect classy decors.
7. Glamorous Midnight In The Garden
Source: hearstapps.com
Lush greenery and small detailings can add a great spooky forestlike element to your party. The dark tablescape and jeweled spiders that are both creepy and glamorous decors.
8. A Formal Halloween Party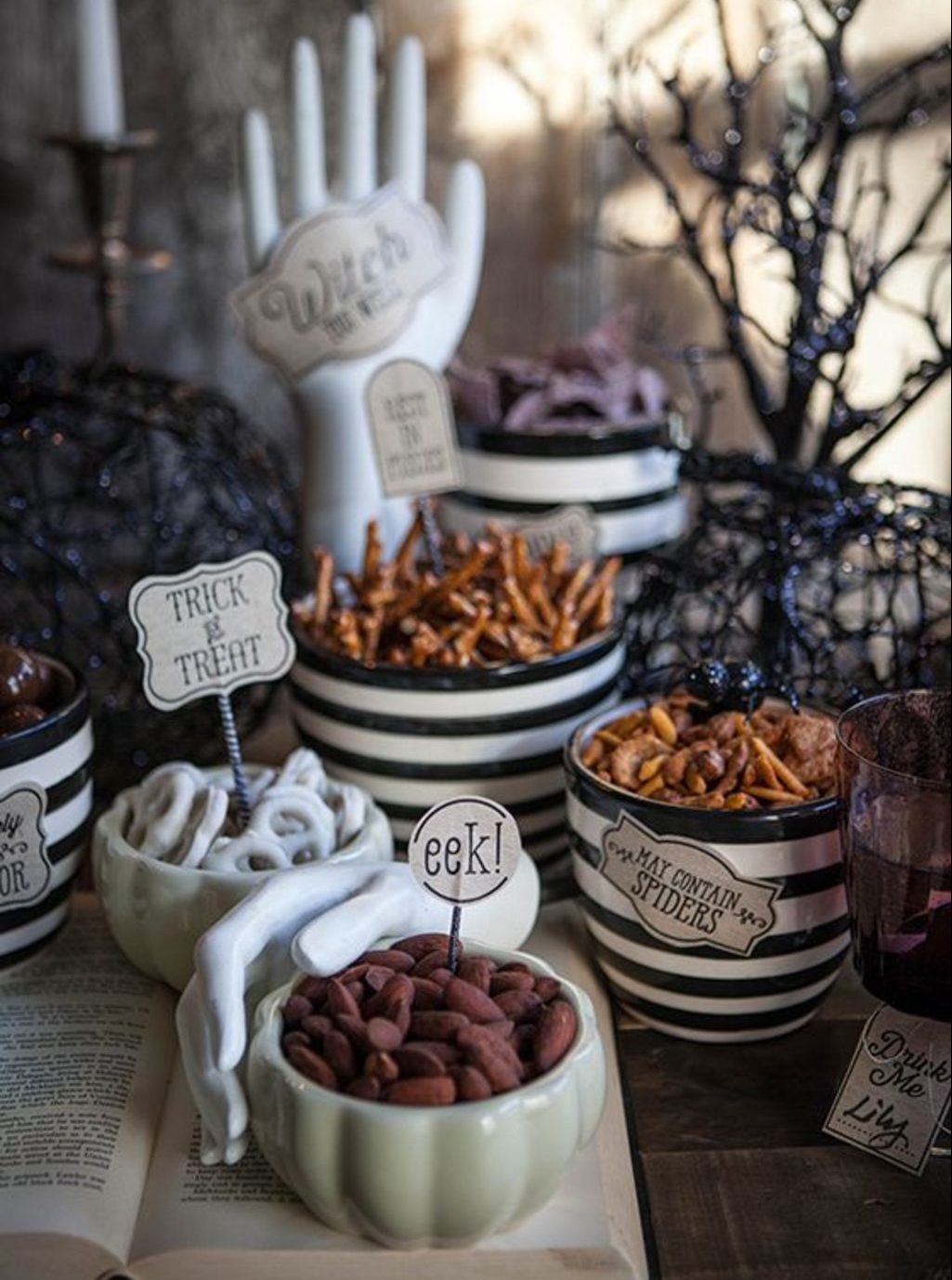 Image Source: hearstapps.com
This decor will be perfect for a more casual Halloween affair. You can still impress your guests without having too creepy or fancy centerpieces.
9. Crazy Broomstick Chandelier
Source: pinimg.com
This is probably the most epic and crazy Halloween table decor you have seen in your life! From the fancy broomstick & black cat chandelier to the black fringed tablecloth, gourds, and black candlesticks, this dining room is fully filled with awesome decors. Everything is balanced out with beautiful and romantic pink and contrasting red centerpieces.
10. Black & White Spirited Halloween Table
Image Source: pinimg.com
Nothing too dramatic, this is a monochromatic classic themed table decor. Here the dinnerware, pumpkins, and candles all are black and white color.
11. Wickedly Stylish Decor
Source: behance.net
There is absolutely no rule that you have to include an orange color palette in your Halloween decors. Even an all-black table decor can also look sophisticated. Here dark and mysterious flora, eerie candlelight, and plenty of black table decor are used for the decorations.
12. Fancy Skull Theme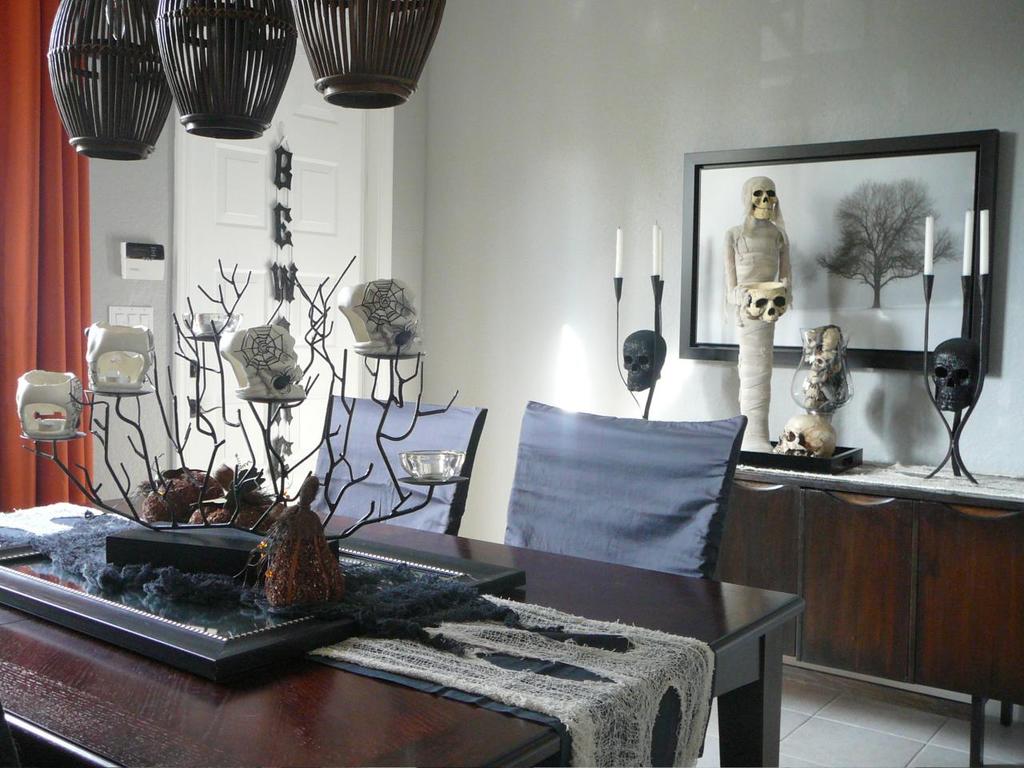 Image Source: sndimg.com
What's better than a skull to get the pure Halloween vibes? Nothing, right! Here the owner decorates her table with a gauze table runner with a delicate branch centerpiece that holds skull tea lights. The skull theme also includes black candelabras and a mummy skeleton.
13. Harry Potter Themed Halloween Table Decor
Source: pinimg.com
This table includes all the decor inspired by the famous movie Harry Potter. From DIY lace candle holders, a birdcage to the spell books, it is the decor of true witchcraft.
Also Read: Best Architect Halloween Costume Ideas That You Must Try
14. Unexpected Halloween Hues
Image Source: pinimg.com
This is another option from the traditional orange and black Halloween decor. You can fill your table with white pumpkins, black flatware, and brown goblets. Play with subtle gray plates, and you can also put flowers in both reds and purples shades to elevate your decor to the next level.
15. Luxe Mercury Glass Pumpkin Centerpiece Display
Image Source: pinimg.com
Bring some luxury to the table by placing these cute but luxurious mercury glass pumpkins and black-and-orange decors. 
16. DIY Candlestick Branch Display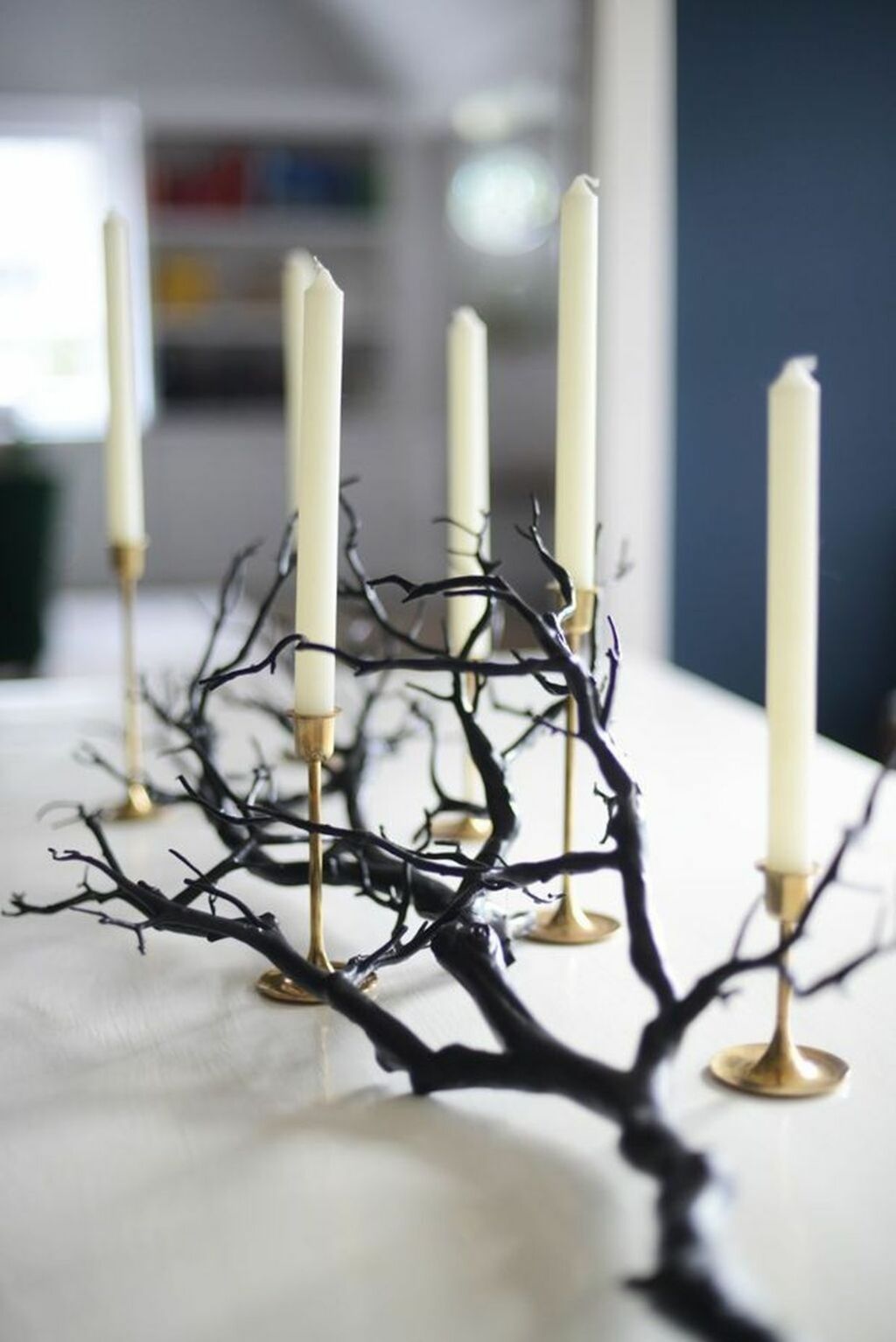 Source: archidea.com.ua
Want to DIY your Halloween table decorations? This will be an easy but really great decor idea. To create this gothic-style centerpiece, just place some gold candlesticks in-between its branches.
17. Keep It Light
Image Source: hearstapps.com
We always see and hear about the doom and gloomy Halloween decors, but for creating creepy decorations, it doesn't have to be in dark colors! Look at this table decors. The whole setup is set in a cornfield with the most unexpected pastel candles and centerpieces. You can also do something like that and surprise your guest with your creative decors.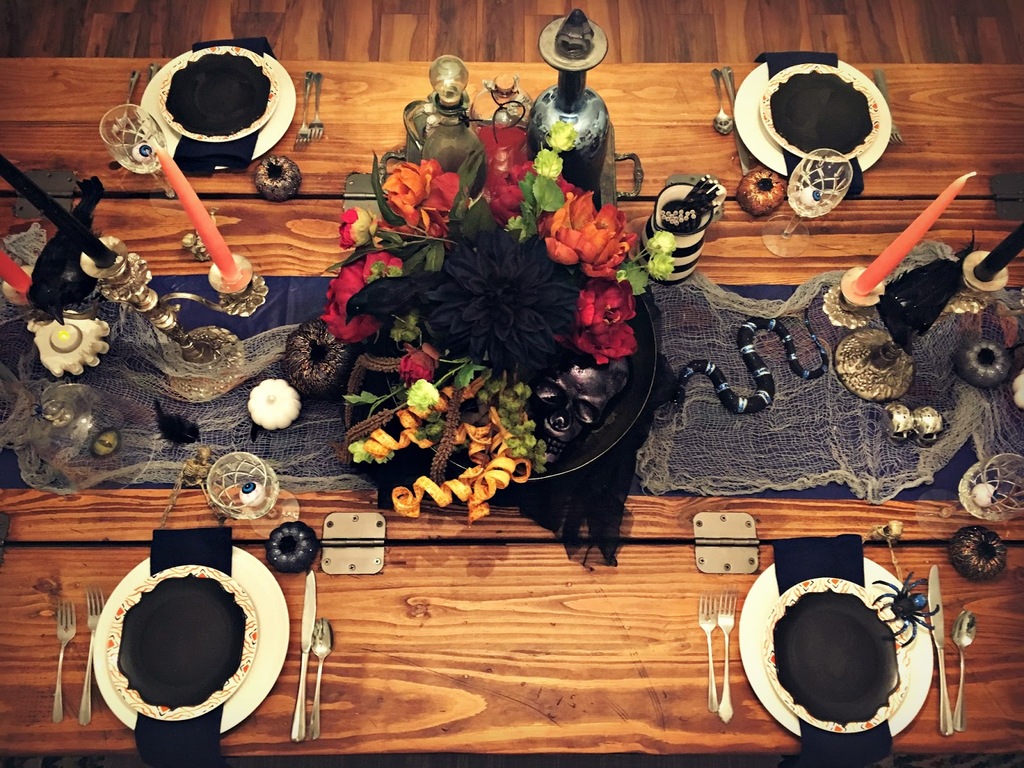 Source: blogspot.com
Image Source: my100yearoldhome.com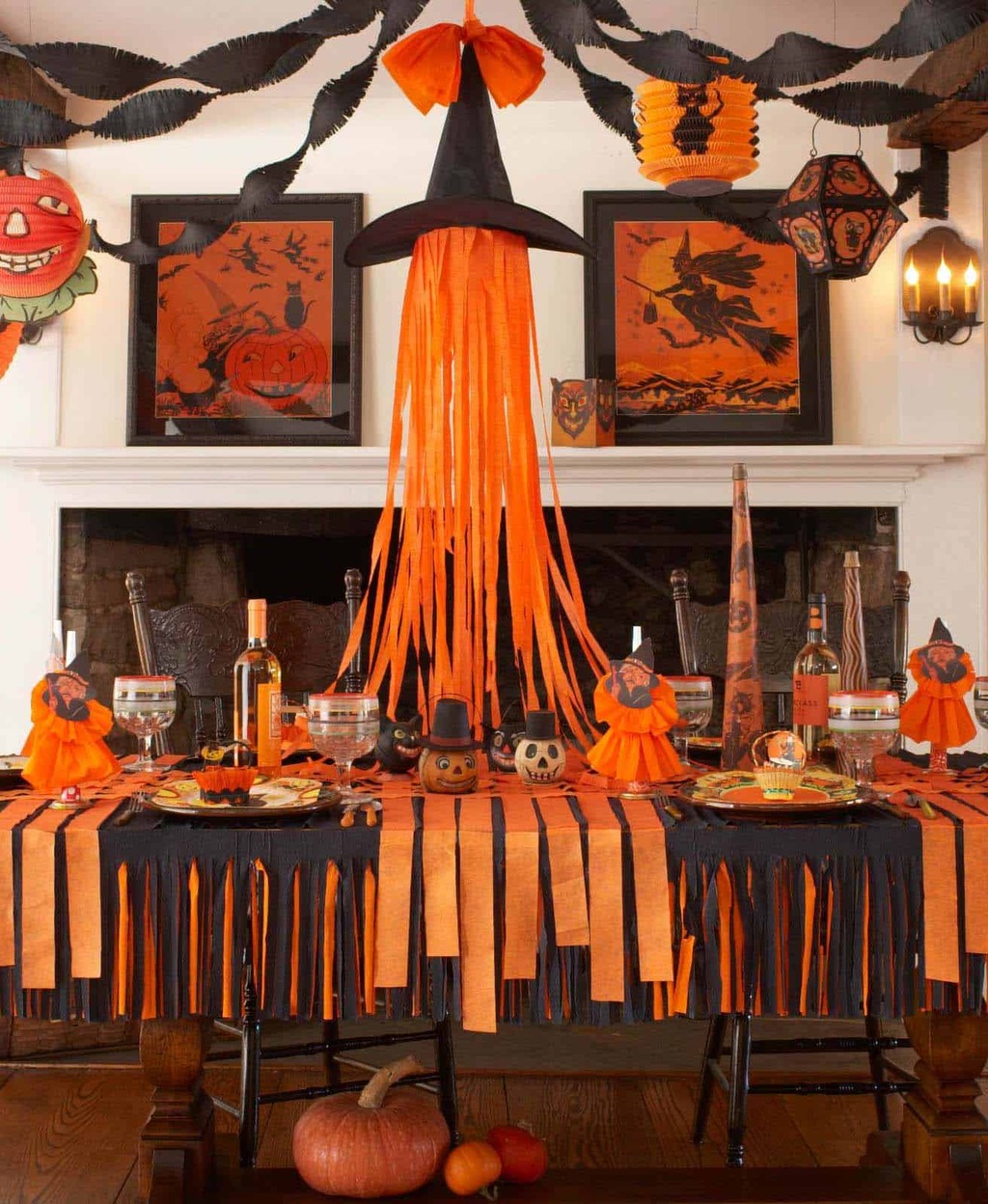 Source: onekindesign.com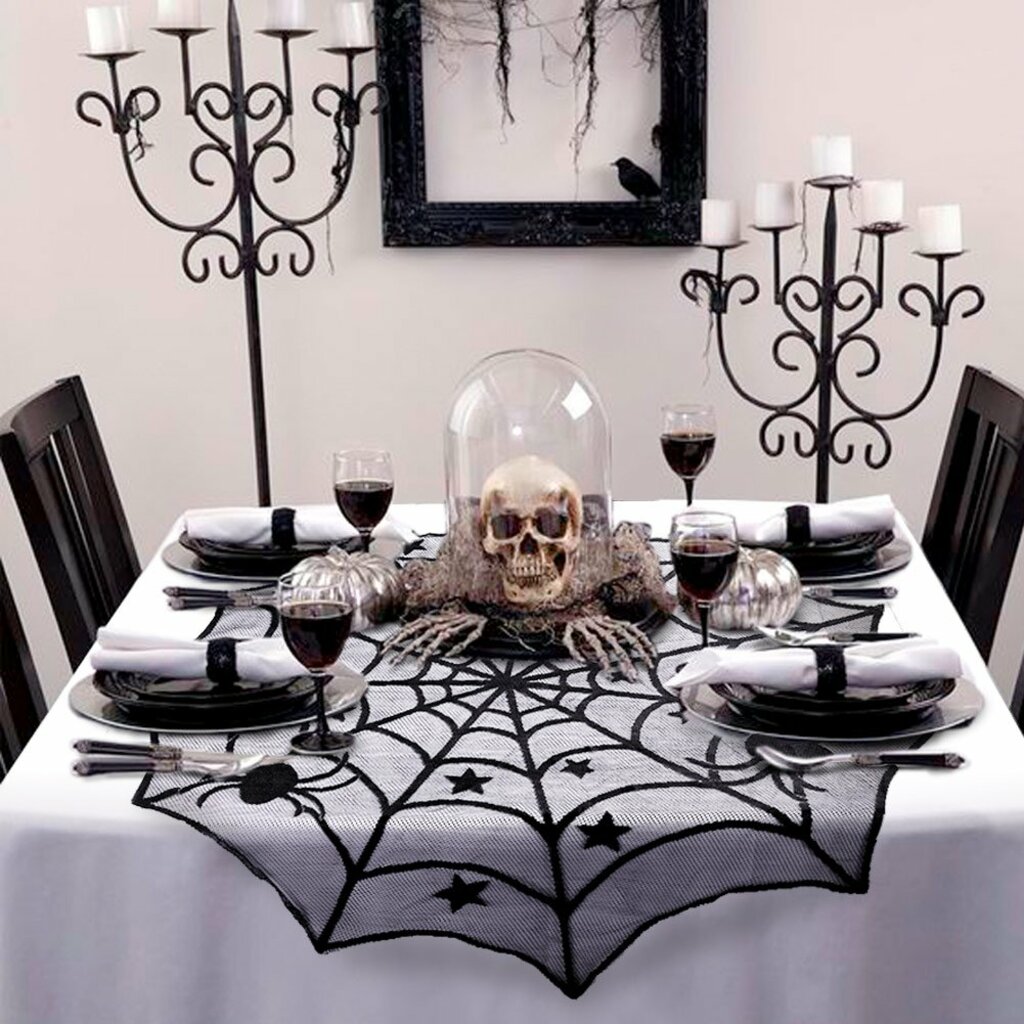 Image Source: ssl-images-amazon.com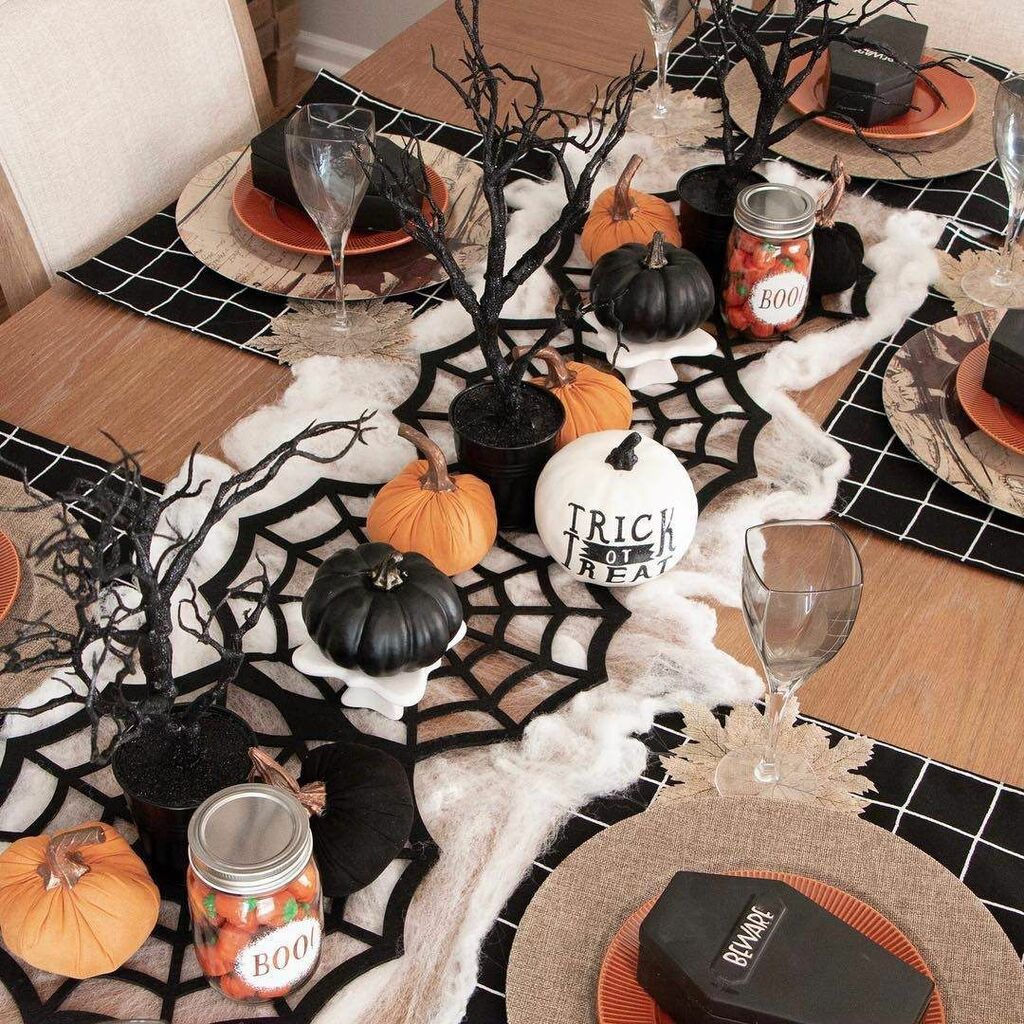 Source: pinimg.com
Image Source: media-amazon.com
Source: wordpress.com
Image Source: thehopelesshousewife.com
Source: pinimg.com
Image Source: hearstapps.com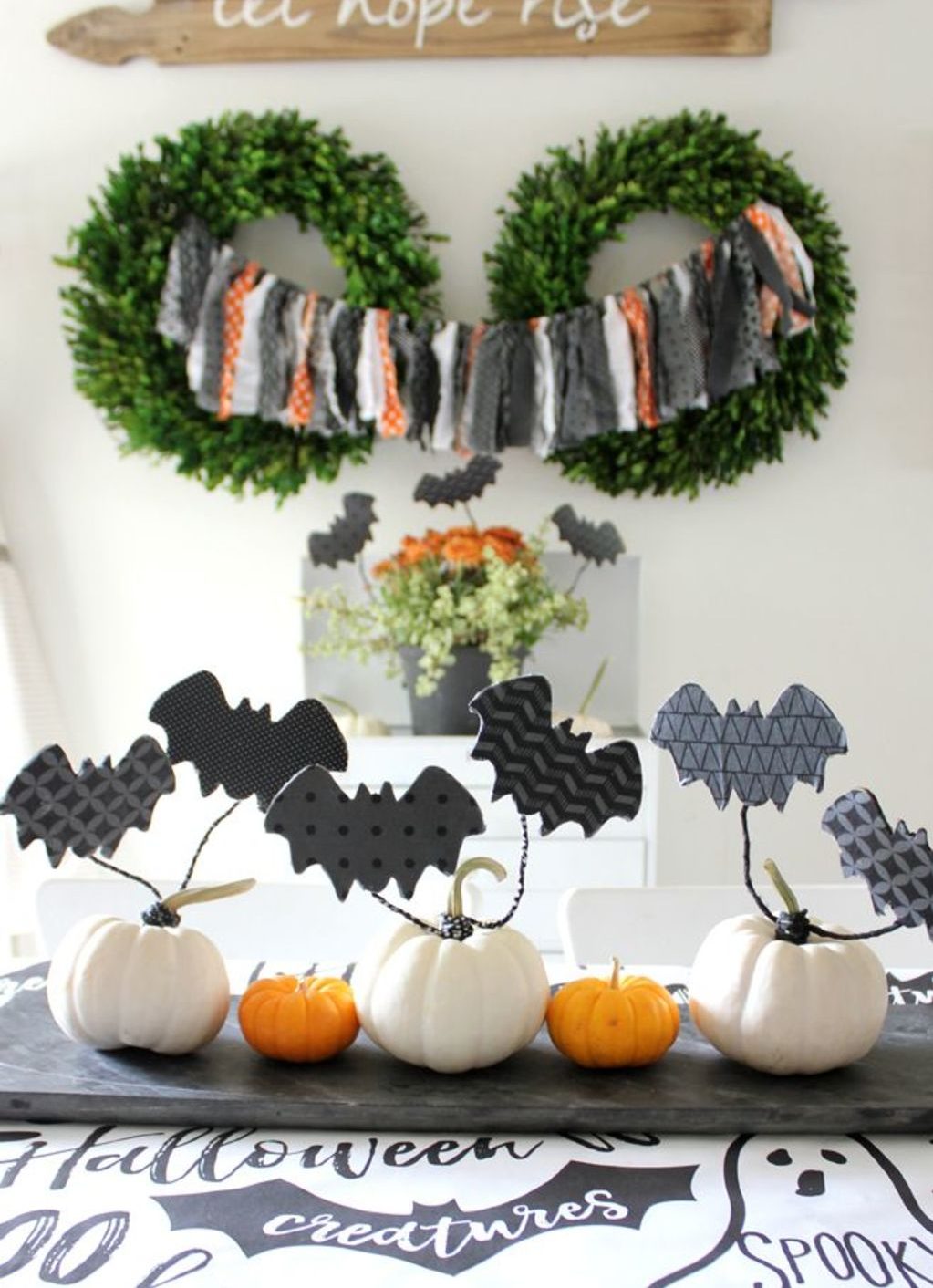 Source: hearstapps.com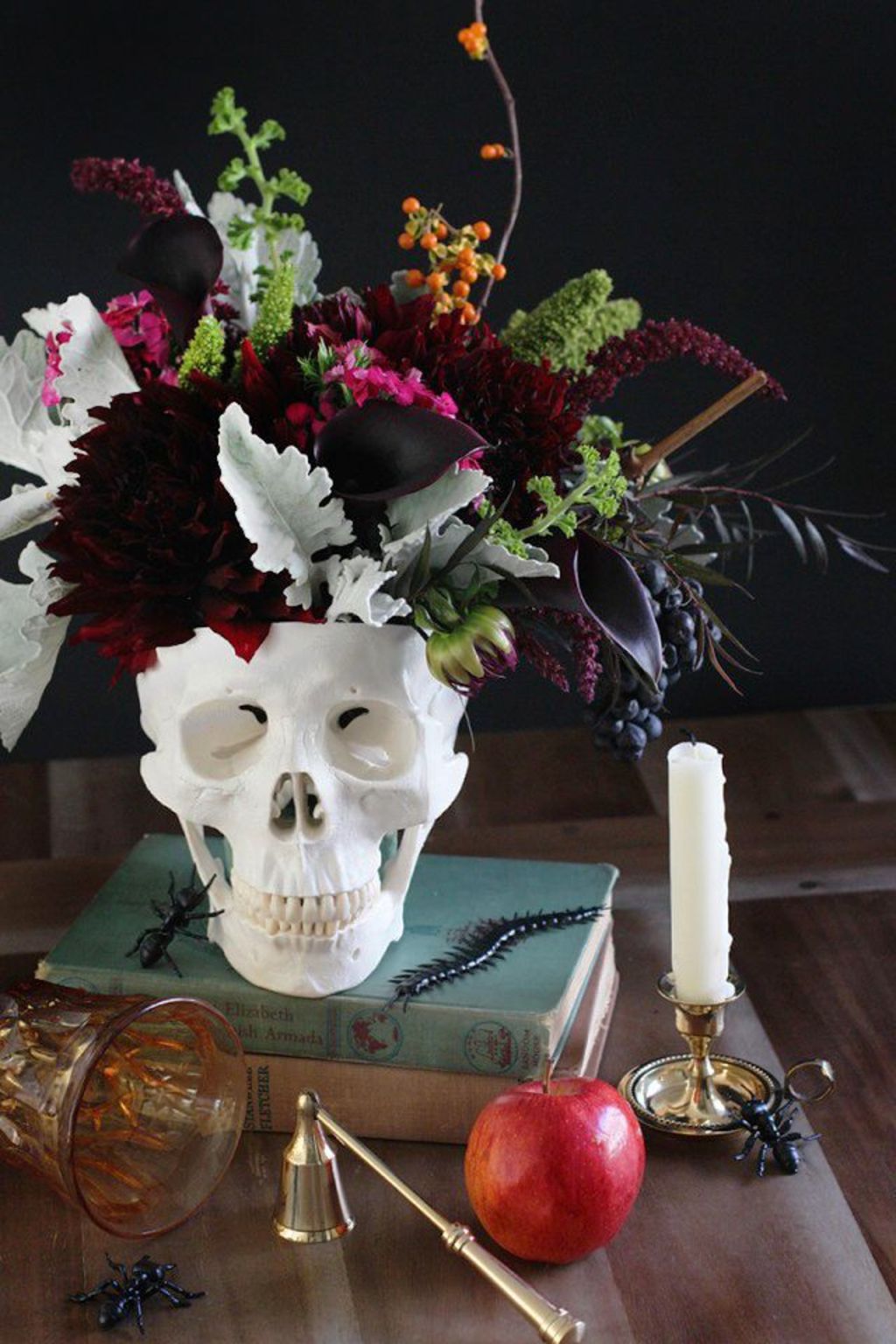 Image Source: hearstapps.com
Eat, Drink, and Be Scary!
As there is a saying," Where there is no imagination, there is no horror," so use your imaginative and creative powers and create bootiful Halloween table decors. Just make sure that your home is festive and fun ready for the holidays.
Once you're ready with the ultimate  Halloween tablescape, spruce up your front door with some of these outdoor Halloween decorations. Read our blog on spooky Halloween House decorations.