How to Pick the Right Tile Over Shower Niches for Your Newly Renovated Bathrooms
A shower adds functionality to your bathroom. However, you can also make the space look great with a tiled shower niche. But choosing the right tile during a bathroom renovation is crucial as a wrong choice hampers the overall appearance of your space. So, how to choose the right tile over shower niches for your newly renovated bathrooms?  
Consider the following things:
Safety
Many people have suffered injuries in the bathroom, mainly because of falls. Ceramic tile is available in a variety of options with slip resistance in dry and wet states. Go for mosaic tiles as they are smaller with grout lines and add more traction. 
Pick a curbless shower with a slip-resistant mosaic tile floor for optimum shower safety. Curbless showers are without stepping over a threshold and thus are more accessible than traditional shower basins. If you use wheelchairs when taking a bath, mosaic tile over curbless shower niches can be a perfect choice. 
To enhance the visual appeal of your shower area, install ceramic tile. 
Water Exposure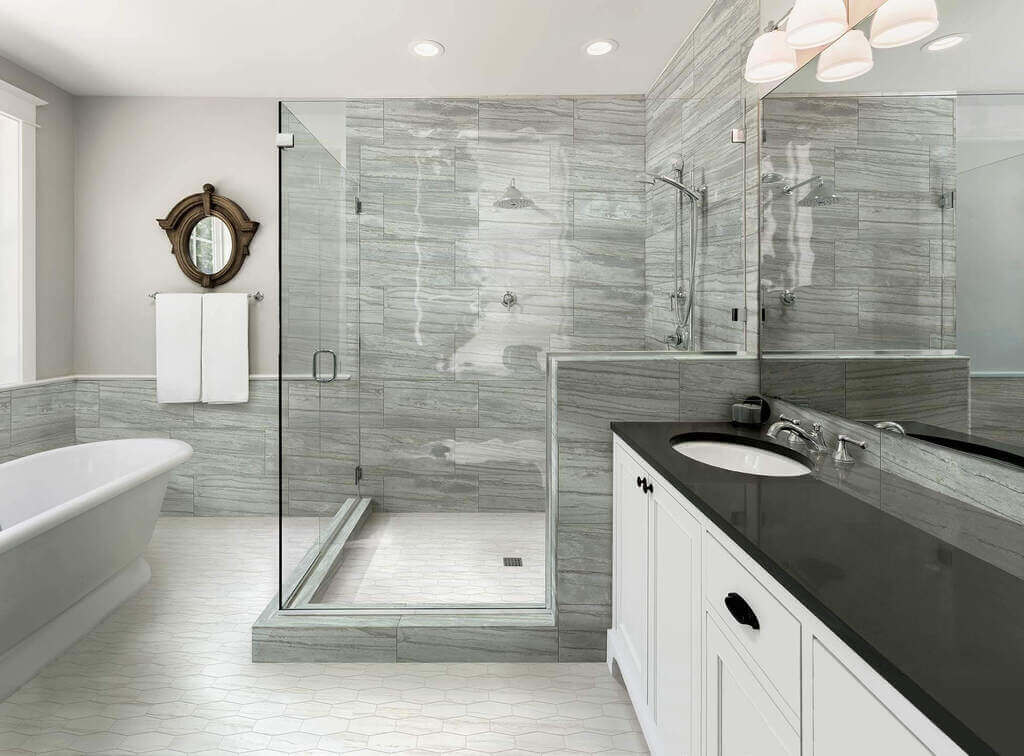 Source: charbhujatiles.com
Water exposure in your bathroom can cause severe accidents. Pick quarry, porcelain, and ceramic tiles for areas exposed to water as that would help to keep your bathroom water-proof. You need to protect your bathroom from water to keep the underlying construction intact. 
So, install one of these tile options to trap moisture and prevent residues from damaging the construction. 
Healthy Environment
Moisture-rich areas inside your bathroom attract mold and bacteria. As ceramic tiles have antimicrobial characteristics, they can combat the spread and even destroy hazardous microorganisms such as viruses, bacteria, fungi, and mold. With the installation of ceramic tile over shower niches, you can build a healthy ambiance.
Ceramic tile surface does not attract dust mites and contains volatile organic compounds (VOCs) which prevent throat, eye, and nose irritation. It also does not contain formaldehyde which causes asthma and other respiratory diseases. 
Ceramic tile is 100% PVC-free, does not contain plastic, and causes health/environmental issues. If you want to maintain a healthy environment after a bathroom renovation, install ceramic tile in your shower area. 
Cleaning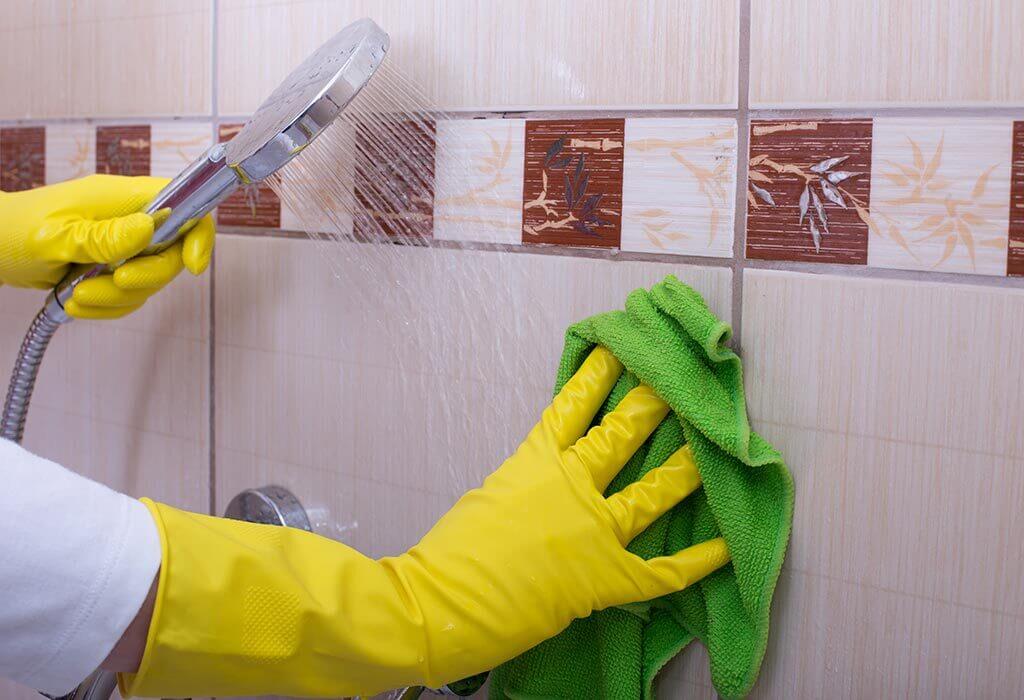 Source: cdnparenting.com
Bathrooms, including tile over shower niches, should be neat and clean. Ceramic tile is easy to clean as it is difficult to stain, and you can clean it with little water and soap without using rough chemicals. A low-maintenance shower helps to keep your entire bathroom clean. 
If you want to spend the least time and effort on maintenance, pick the ceramic tile. 
Perfect Setup
As ceramic tile is available in a wide variety of colors, patterns, and shapes, you can create an ideal shower setup. You can build a personal space for relaxation with the perfect combination of tiles. 
When it comes to decorating your shower floor, check the texture below your feet. The variety of ceramic tile finishes is smoother or rougher than other options. Choose tile for your shower surface, considering your touch preferences. Any texture goes well with ceramic tile, including natural materials like river rocks. 
Small-size tiles with more grouts add a different texture than bigger tiles. So, choose the size of tile depending on the texture you want. 
Purpose
Before choosing the tile type, always think about the purpose of your shower niches. Ceramic tile can create a unique design and any required niches. 
You can build a double niche for hair products, a curbless/doorless shower, or a private/open shower. Ceramic tile can fulfill all your requirements.
Coordination
When choosing tiles for your shower niche, you can go for more than one style. Three types of tiles can look great together. You can use a large tile for walls, mosaic tile for the floor, and a coordinating design for your shower niche. 
By installing tile in the shower space, you can transform the look of your bathroom. Your shower walls, backsplash, and floor may look the same. But the tile for shower niche maintaining coordination can attract eyeballs. 
Also Read: Top 12 Best Bathroom Wall Decor Ideas To Check Out
Customization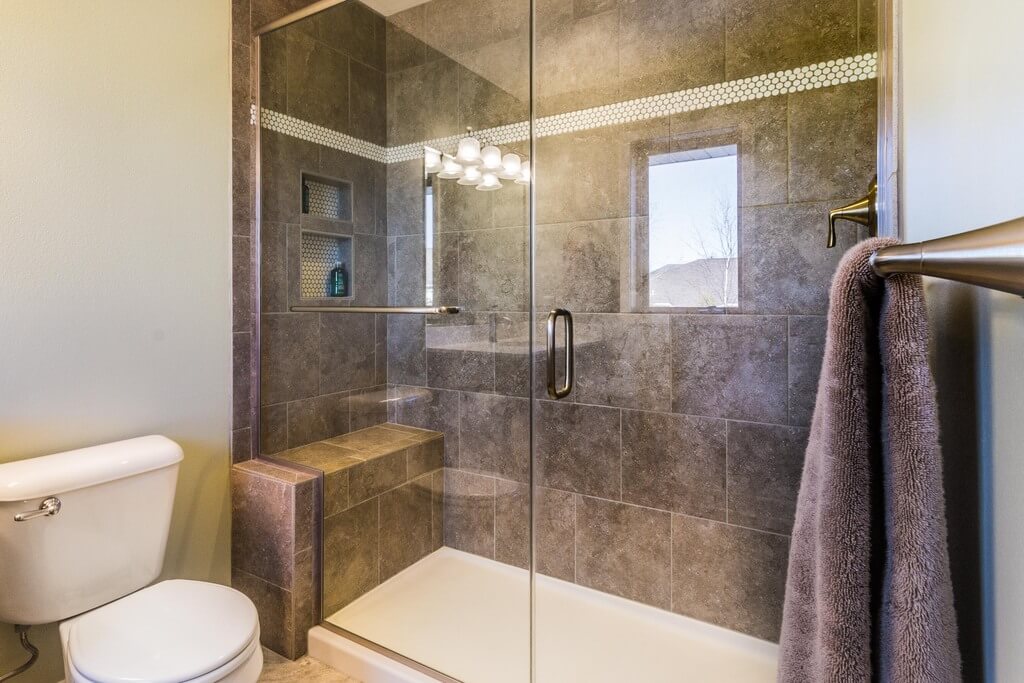 Source: squarespace-cdn.com
As ceramic tiles are available in various textures, shapes, finishes, and sizes, you can customize your shower niche to go well with the rest of the bathroom design and give a perfect look to that space. 
Besides the shower, you can use ceramic tile for the ceiling, walls, floor, and backsplash. Pick a matching pattern and color for the entire bathroom, or you may add a contrasting tint or layout to your shower niche. The versatility of ceramic tile offers you to make your shower area and entire bathroom look the way you want. 
Bottom Line
A shower is an integral part of your bathroom. Thus, when you renovate your bathroom, you can install tile over shower niches. The wide availability of diverse titles in the marketplace tends to confuse you. But if you keep the discussed things in this post in your mind, you can always make the right choice.