Five Popular Types of Commercial Floorings to Pick for Your Space
Every commercial space is built differently to provide the best experience for the people who will be occupying them, whether they're only visiting for 30 minutes or spending their entire day there. One of the ways to accommodate your visitors and tenants is to find flooring material that is most suitable for the type of business you are running. With that in mind, these are the five types of commercial floorings that have remained the all-time favorite for many commercial spaces – and perhaps you'll find one here that is also suitable for you.
Vinyl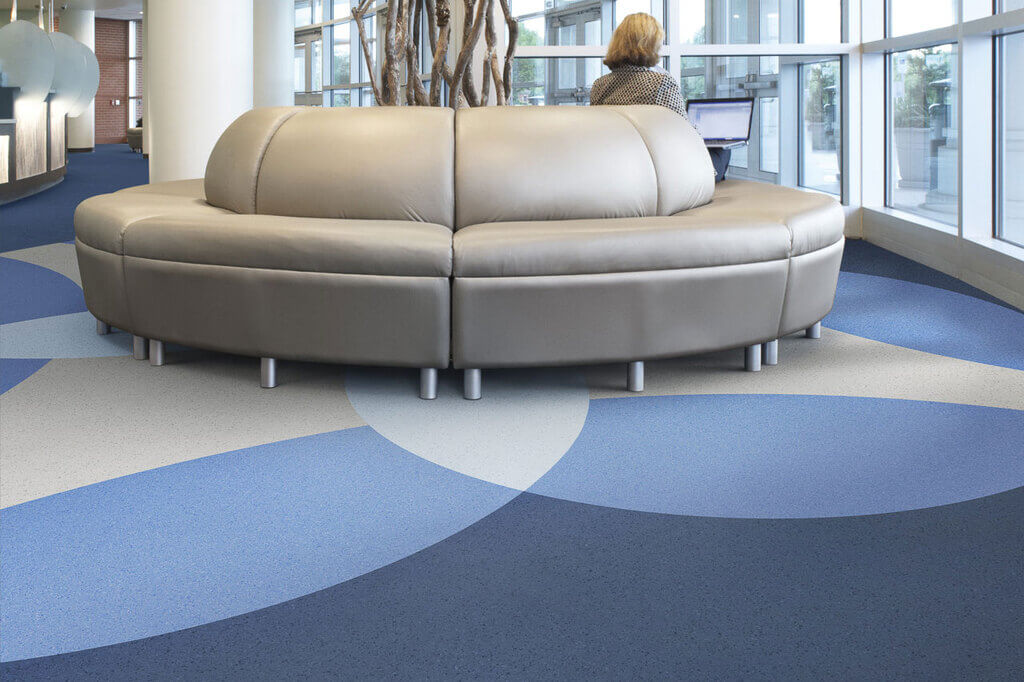 Source: wordpress.com
This Vinyl flooring is perfect if you're looking to find a flooring material that is both durable and looks pleasing to the eye. These floors can handle foot traffic that commonly encounters in offices and schools, but they can also use in areas that require sturdier materials, providing additional coatings are applying to protect the material from scuffing and marks.
Vinyl floors are also low-maintenance since they tend to be water-resistant, and installing this type of flooring tends to take much less time in comparison to other flooring materials that offer similar advantages.
Carpet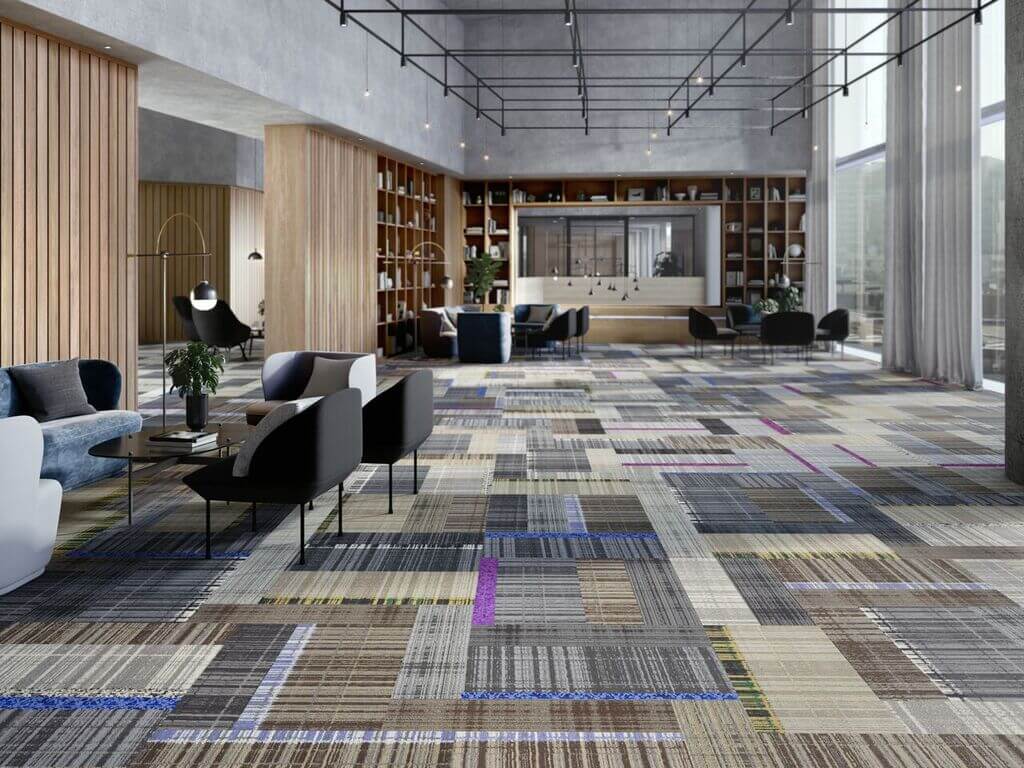 Source: contractdesign.com
Carpet flooring can be suitable for some types of commercial spaces, especially ones that want to offer a luxurious feel to their visitors. An added benefit of these floors is their noise absorption capabilities. So, if you're planning to operate a commercial space where you'd like to avoid creating too much noise from high foot traffic, such as open-space offices and banks, carpet flooring can be an excellent option to choose from.
Although people tend to think that carpet designs can be quite dull and outdating, many of the ones common in use nowadays can adjust to any interior design style, even ones like minimalism or industrial. Carpet flooring can also mimic the look of other flooring types, such as tiles.
Concrete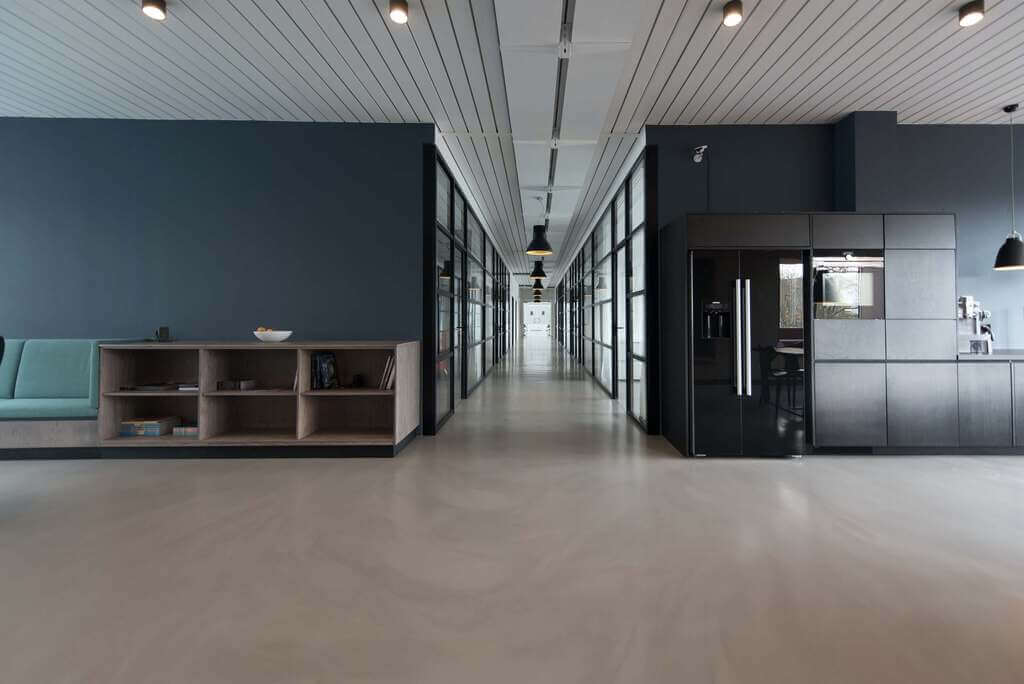 Source: webflow.com
If you're looking for something that is sturdy and affordable, concrete base flooring may be the right choice for you. There are several types of concrete-based flooring, such as quartz concrete floors, epoxy concrete floors, and polished concrete floors. From these three, polished concrete floors usually provide the best value for money.
However, if you're looking for concrete material and finishing that can handle industrial-level spills or handle changing temperatures well, you may be better off investing in quartz concrete floors. This flooring type is very suitable for kitchen or indoor parking areas.
Laminates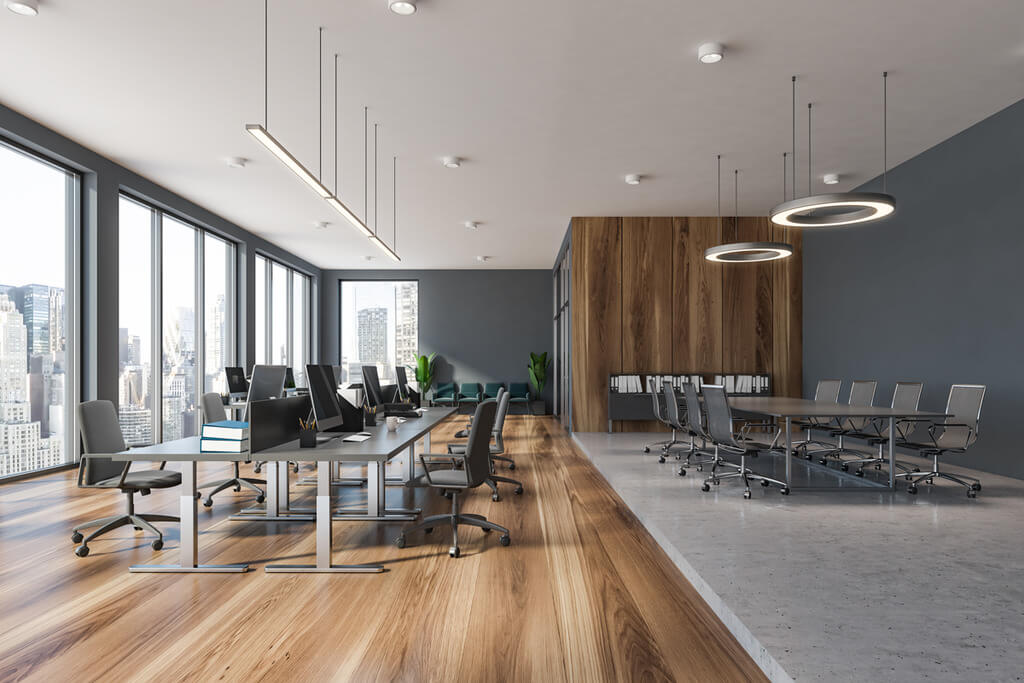 Source: securityinstrument.com
What are laminates, and how are they different from vinyl? Well, according to The Spruce, one of its major differences lies in the material – while vinyl tends to be made from synthetic materials, laminates are wood-based. This difference does have an implication on laminates' durability.
Since they are not naturally water-resistant, you should avoid using this type of material for commercial spaces where liquid base spillage is likely to occur, such as in schools or factories However, since laminates are genuine wood-based products, they can a great alternative to hardwood floors if you're looking for something that is easy to install, low-cost, and relatively low maintenance.
Also Read: Flooring Trends for 2021: What's In & What's Out? (A Complete Styling Guide!)
Hardwood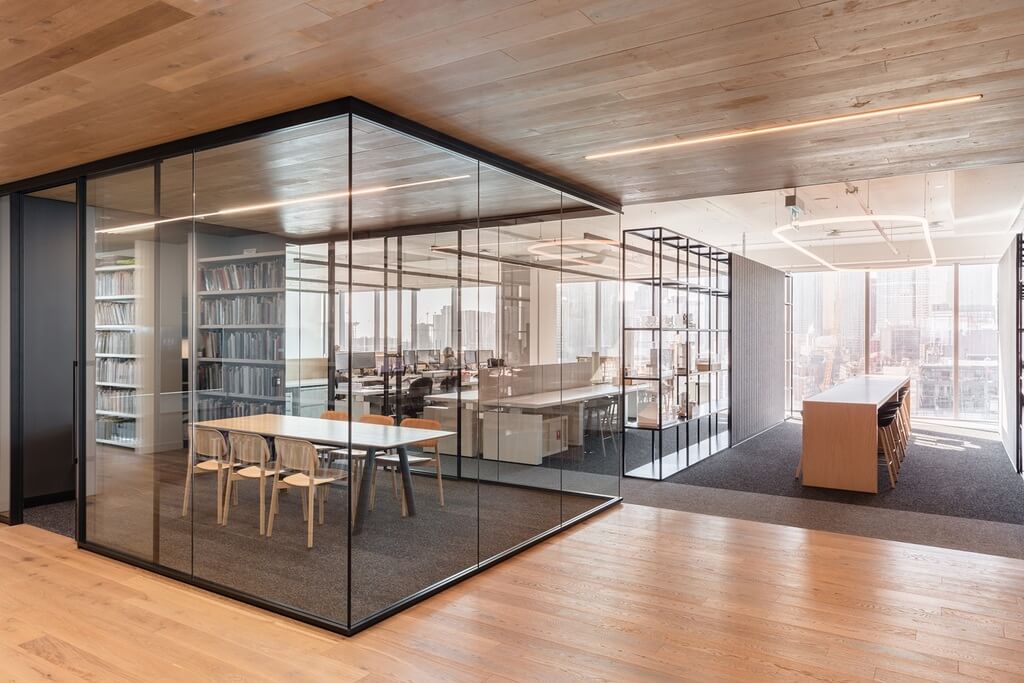 Source: hubblehq.com
Using hardwood floors in your commercial space can really impress your visitors since it tends to give both a warm yet also upscale impression. However, as you can probably guess, hardwood floors can be pretty costly and are not the easiest to install in comparison to the other types of flooring materials on this list.
But if you're planning to operate a space that is both high-traffic and requires the vibe that hardwood floors tend to give off, installing them can be a great investment for your business. Although hardwood floors can be expensive, they are very durable nonetheless and are relatively easy to maintain on a day-to-day basis.
Classic Architecture says "Many of us tend to focus on creating beautiful spaces and not pay as much attention to making sure they also provide the best function. Flooring materials are especially prone to overlook since we tend to focus more on what they look like instead of what they're made of, even though nowadays, almost all flooring materials can design the way you want them to look. "
The reason why the above five materials are very popular is that they can usually tailor according to your specifications. You just make sure to choose the right flooring based on what your commercial space would be used for.