8 Tips for Keeping Your Apartment Clean
To keep your home clean required you to take time out of your busy schedule. But apart from taking our time, you need two more things to get ahead with the cleaning task-pure impulse and some handy tips. Although it might seem overwhelming, it is a pertinent part of living to keep us healthy. 
If you plan to clean your apartment, give this article a good read to get some valuable tips for keeping your apartment clean.
Scheduling is the best way to ensure the timely completion of every task. Although it might feel a bit weird, trust me, everything seems more approachable when you set a timer. You can simply set a timer for simple routine tasks and finish them within the stipulated time. 
The tip works wonders for those who want to clean their apartment but find it hard to take some time. 
However, if you plan to give your apartment a deep cleanse, scheduling or setting up a timer won't help. 
Investing In Storage
How often do you postpone throwing away unnecessary junk to make space? If you are like me, you are most likely to save things for future purposes that never serve-unfortunately. But the redundant waste ends up getting accumulated in our homes. To avoid such a situation, you can prudently invest in storage items. 
Shop some storage boxes to dump the junk in them for safely putting them away. The storage products can also ease your organizing skills by offering excellent storage and organization options for clothes, books, and bathroom accessories. 
Prioritize Everything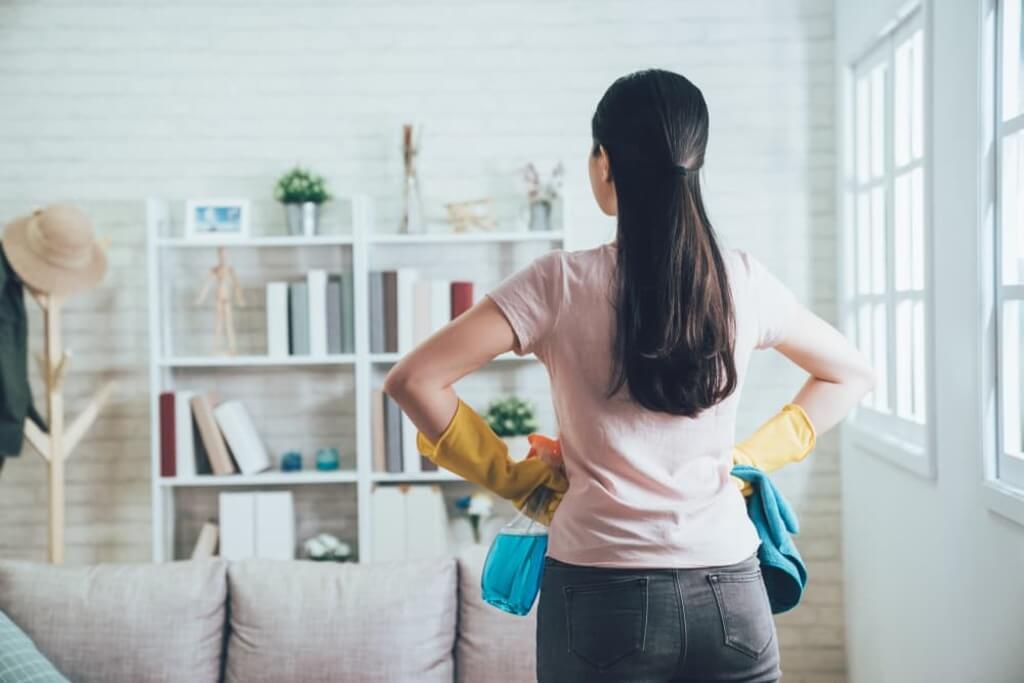 Source: cleaningallstars.com
Overestimation is the biggest mistake we all make while cleaning our apartments. Although cleaning the apartment is not that hectic, it surely needs time and effort. So instead of taking on everything at once, try to prioritize important tasks first. 
Create a list, enlist all the cleaning tasks according to the priority, and then cross the job once done. 
Adopting Habits
Cleaning requires utter motivation; as we have mentioned above, it demands certain lifestyle changes to adjust cleaning time in your schedule. Adoption of new habits will let you achieve your cleaning goals more conveniently. 
For example, after waking up, take out few minutes to make your bed. Also, wash your utensils right after use to avoid cluttering the kitchen sink. Plus, make a habit of throwing used clothes in laundry baskets to prevent piles of clothes around the apartment. 
Get Enough Cleaning Supplies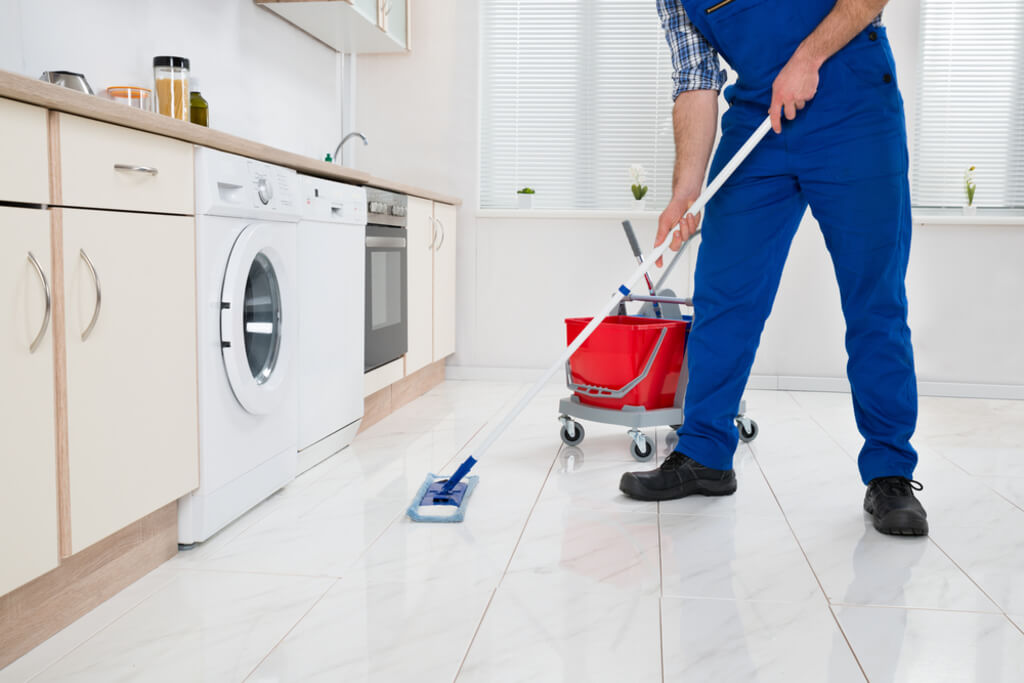 Source: cloudfront.net
Having enough cleaning supplies is the biggest hindrance in taking on any cleaning endeavor within your apartment. So make a list of all the cleaning supplies you might need and buy them all. But buying them is not the only task; you have to store them properly to avoid cluttering. 
There Is No Such Thing as Perfect Daily Cleaning
Even if you are a stay-at-home parent or work from home due to the current pandemic, cleaning your apartment daily is not plausible. While tidying up, if you do not have enough time, you can skip one or two things. Instead of cleaning your apartment perfectly once a week, you can clean 80% of your apartment daily. 
Ask For Help
If you live with your partner or family, it's better to ask for participation in tidying up your apartment. Cleaning the entire place might feel overwhelming, and you will definitely end up getting tired and skipping the next day.
Cleaning project. But when you ask everyone to be on board, it will take less effort and time to complete the desired task.
Also Read: How to Take Care of Your Floors: 8 Effective Tips
Opt for Deep Cleaning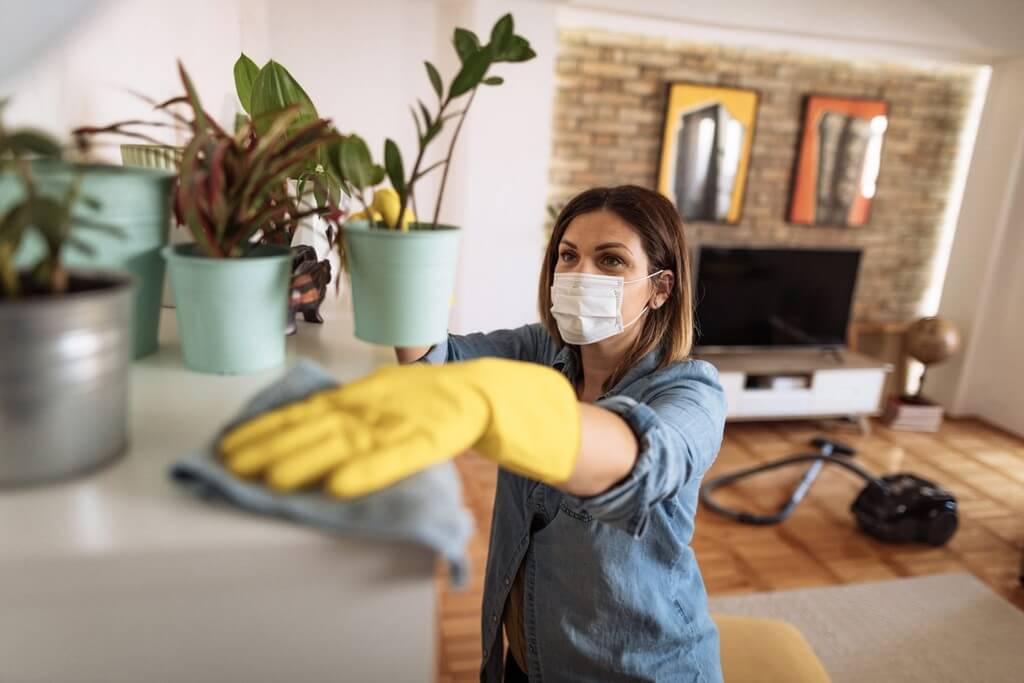 Source: care.com
A pro tip is to clean your apartment deeply whenever you find some time. Deep cleaning the apartment twice a month will help you keep it organized and free from clutter and reduce cleaning time. 
Cleaning is an essential practice that helps you develop healthy habits and ultimately a healthy lifestyle. Even if you are dealing with stress and anxiety, try cleaning your living area to make it more airy, breathable, and clean for overall mood improvement. 
Cleaning Your Mattress—A Pro Tip
While getting on with your deep cleaning task, we often neglect the mattress, the only place in our home where we can shed off the tiredness of a long day. Do you know we shed dead skin while sleeping, which end up getting accumulated on our mattress? Thus, it is pertinent to give it nice cleaning at regular intervals.
Here is how to clean your mattress for a fresh, clean, and hygienic sleeping experience.
Strip It
First, you must Strip the mattress of all the sheets, covers, and blankets to recover the mattress beneath.
Sunbath
Deodorize your mattress by putting it in direct sunlight for a few hours. Sunlight is a great source to eliminate all the germs and doors.
Deodorizing the Mattress
Take some baking soda and stiff it on the mattress using a strainer to eliminate the foul smell. 
Add Essential Oil
Before stiffing baking soda on your mattress, you must add 15-20 drops of any essential oil to give your mattress a soothing fresh fragrance. My recommendation is to use lavender essential oil to remove stress and give you a relaxing feeling. 
Sprinkle the Soda
Spread the baking soda evenly on the mattress with a stiff and leave it for a few hours.
Vacuum Clean the Mattress
Take out your vacuum cleaner and brush in all the baking soda, leaving a deodorized and fresh-smelling mattress behind.
Final Thoughts
You don't need much time or effort; instead, it only requires some fully functional tips and pure motivation. Give all the tips mentioned above a try, and do let us know how it turns out for you.