Sustainable Architecture: The Industrial Design Revolution
Centuries after the Industrial Revolution, we are facing a new revolution: sustainable architecture. The need for sustainable approaches to the design and construction of buildings for the industry cannot be stated enough. The construction industry has a significant impact on our planet.
It uses huge amounts of resources, materials, energy, and water, all of which can have a negative impact on the earth. The impact is worsened by inefficient production processes, the production of excessive waste, and the considerable displacement of supplies. There are many different ways to make the construction industry more sustainable. Here is a look at how architects can play their part.
The Circular Economy Concept
Source: srednja.hr
Quite simply, humanity has no choice but to make changes in how resources are used. Environmental resources are not infinite, after all. Humanity also needs to dramatically reduce the amount of waste it produces if we want a green and clean future. Becoming more efficient with the use of resources is one way that can help sustainability in the construction industry.
That involves having less demand for energy and resources and reducing waste generation. At the heart of the industrial design revolution of sustainability is what is known as the Circular Economy. Inspired by natural mechanisms, the concept works in a continual process of production, resorption, and recycling.
It is a self-managing system where waste is using for the production of new items, thereby significantly reducing the amount of waste sent to landfills. Furthermore, the Circular Economy concept reduces inefficiencies in the lifecycle of a product.
Rethinking Design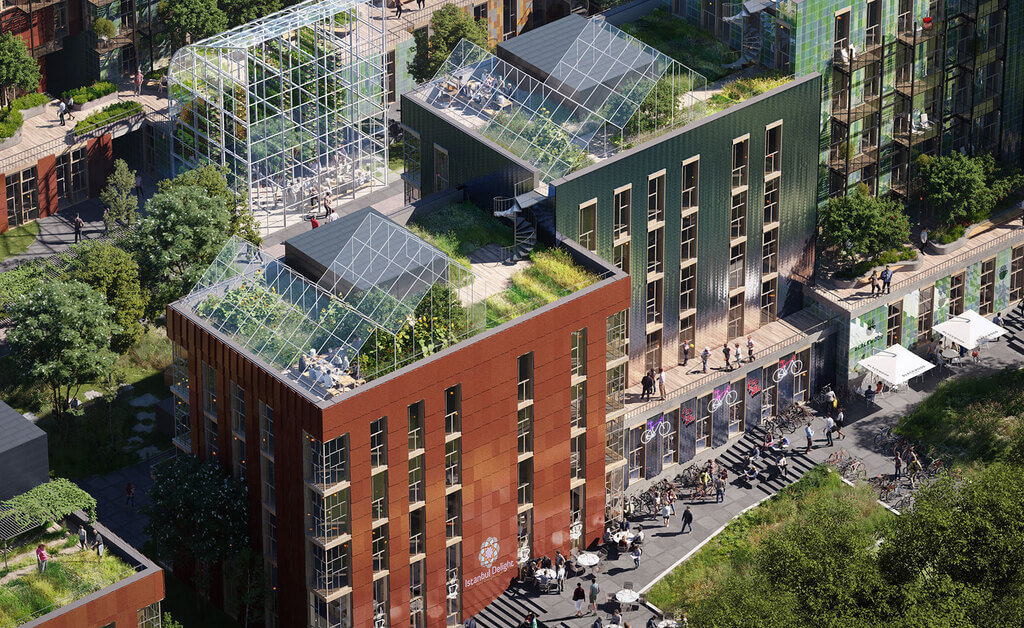 Source: wallpaper.com
There are many ways the construction industry can become more sustainable, from recycling waste to checking that the machinery purchase from a used process equipment dealer is in full working order and not accidentally causing environmental harm.
When it comes to the architectural designs used in the construction industry, the first thing a modern architect needs to do is carefully consider things like the best materials to use and how to best optimize sustainable solutions. Architects need to break paradigms and think outside the box. Things to consider include working with local materials and understanding diverse design constraints.
​​Reducing
Reducing is about doing things like decreasing the amount of concrete using in a structure by resizing it and designing lightweight systems that use fewer resources and raw materials. Reducing is also about reducing the waste production.
That could be achieved via dry building systems. Cooling and heating systems need to consider too. Architects also need to think about the lifespan of materials and "Where would it end up after its life is over?" Using longer-lasting materials is often the best answer.
Reusing
As you would expect, the term "reusing" in sustainable architecture refers to reusing materials. That could be solid wood, structural metal parts, glass, coatings, partition walls, and so on. Architects need to work out how best to reuse materials before demolishing one structure and building another.
That will save a lot of waste going to landfill. Again, architects who are working toward creating greater sustainability need to be clever and shrewd in how they approach their designs to maximize the reusing of materials.
Also Read: 16 Myths about Sustainable Architecture
Recycling
Reusing is about repurposing a material. Recycling is about harnessing waste to create other products. Those products could or could not have similar characteristics and use. Recycling stops materials from being discarded and ending up in environmentally damaging landfill sites.
A Waste Management Program
Architects may also need to come up with an effective waste management program. They will have to think about adding recycling stations and how to reduce contamination as part of a standardized program. There are various resources that architects can use to learn how to design excellent recycling and waste management program. Check out these eight best resources for architects and designers.
Final Thoughts
The construction industry is rapidly adopting sustainable approaches, so expect to see big changes in the coming years. Many people in all sorts of fields are contributing to making the planet more sustainable and greener, and architects are doing their bit in the industrial design revolution.