Best Ways to Make Your Kitchen Look More Inviting
You love to cook and view the kitchen as the hub of your home, but you sometimes feel that it's a stark, cold place where people don't feel comfortable spending a long time. And you're sad because you'd love for your family or guests to join you while cooking because it'll make the experience more enjoyable. 
Since you spend a good deal of your time in the room, it makes sense that you want to upgrade it and make it more welcoming. If your kitchen is gloomy, you're probably planning the upgrade for a while now because you want everyone who steps in the room to feel at ease and comfortable. 
The good news is you can quickly transform an easy kitchen into a cozy space that encourages intimate and fun interactions. 
Here are some simple and best ways to make your kitchen look more inviting.
Update the Wall Paint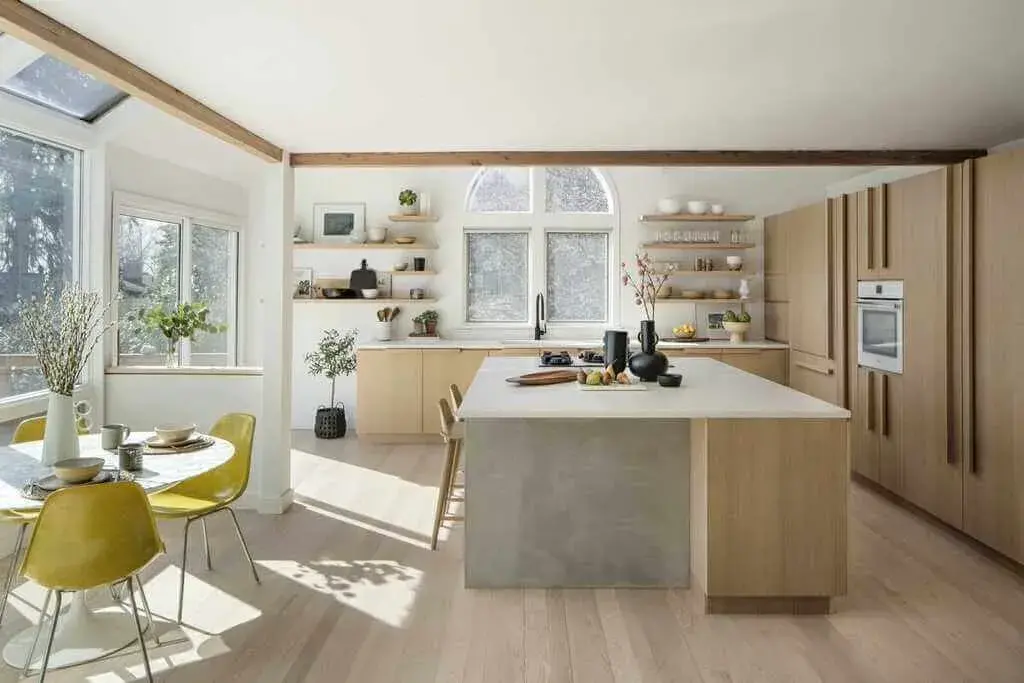 Source: decorilla.com
Maybe the kitchen walls have a dull hue, or the paint is outdated. Regardless you aren't happy with the vibe you get when you enter the room and feel like you could swap it with a more attractive colour.
However, before heading to the local store to purchase paint, think carefully about the overall house style and the atmosphere you want to create. Do you want to cook in a boho kitchen? Do you prefer a more sophisticated cooking space? Does your house sport a vintage design? Neutral hues are subtle and would match any home design style; however, if you want to make a statement, you could go for a bold shade like blue or yellow. 
Repainting the walls is the ideal solution if you want to renovate the kitchen but have a small budget because new paint livens up a tired space. 
Clean the Space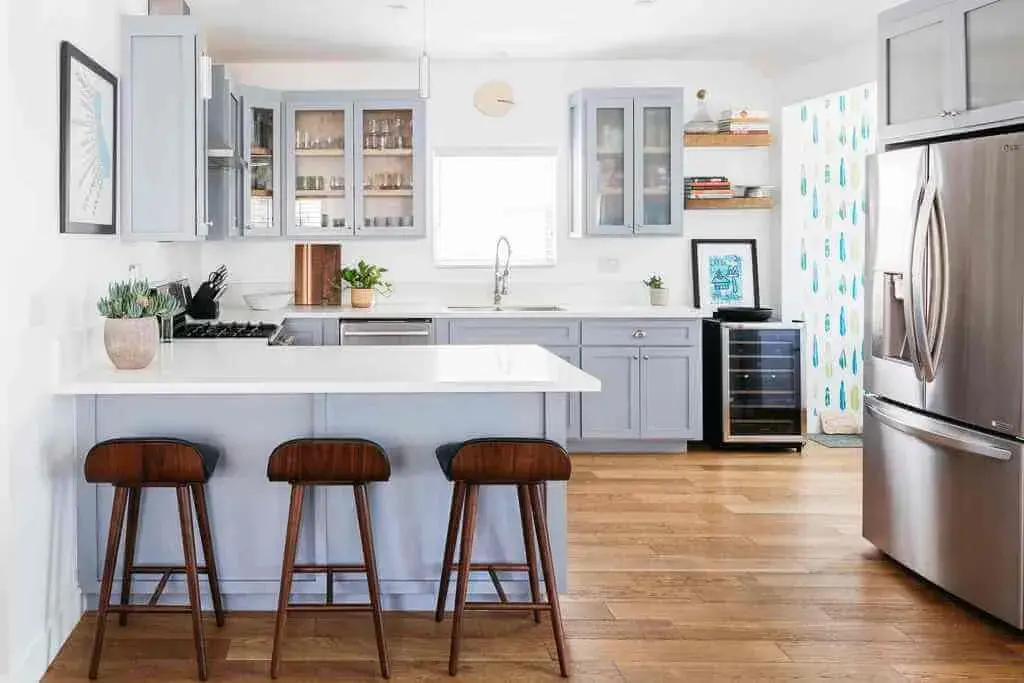 Source: thespruce.com
Keeping the kitchen clean is challenging, especially when you have children and spend several hours cooking. You might even get the kids to do their homework in the kitchen where you can supervise them, and they wreak havoc on the counters because they spread all their belongings around. However, a sticky, swarming with insects and the smelly room would make everyone feel uncomfortable, and you need to take action. 
Focus on what someone who enters the the first time in the kitchen would see and touch. Wipe down the kitchen cabinets, countertops, appliances, and floors. Open the windows regularly, and light a candle before welcoming guests to freshen up the air. 
Choose High Gloss Cabinetry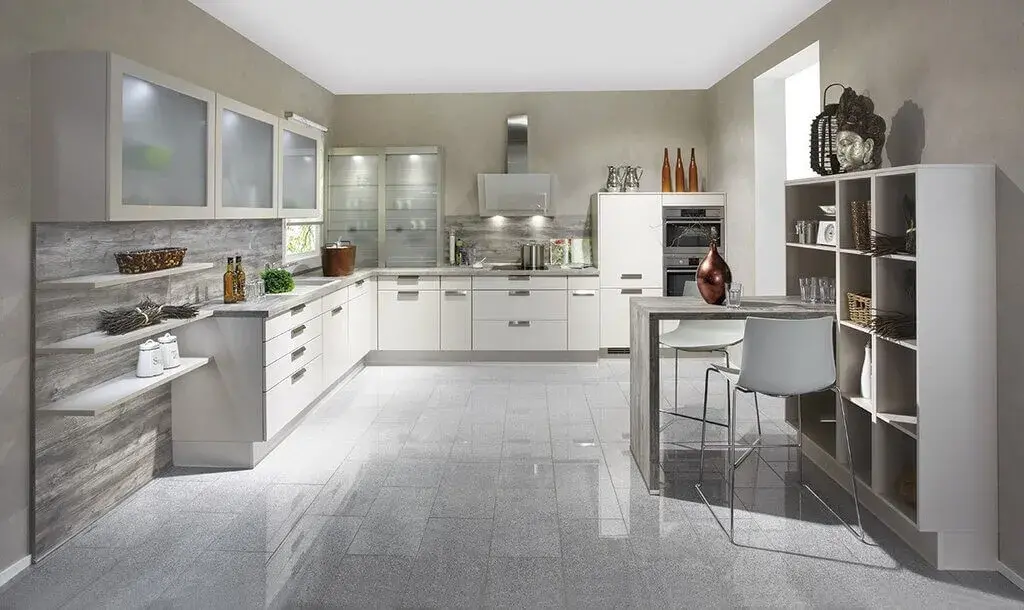 Source: solsticekitchens.co.uk
You can add a touch of style to the kitchen if you use high gloss panels for the cabinetry. If you plan to change the cabinets, purchasing high gloss kitchen units might be the ideal choice because they reflect light and make the room feel bigger and more open that it actually is. Gloss-finish kitchen furniture is also the best option for a family with children because it's easy to clean.  
Upgrade the Lighting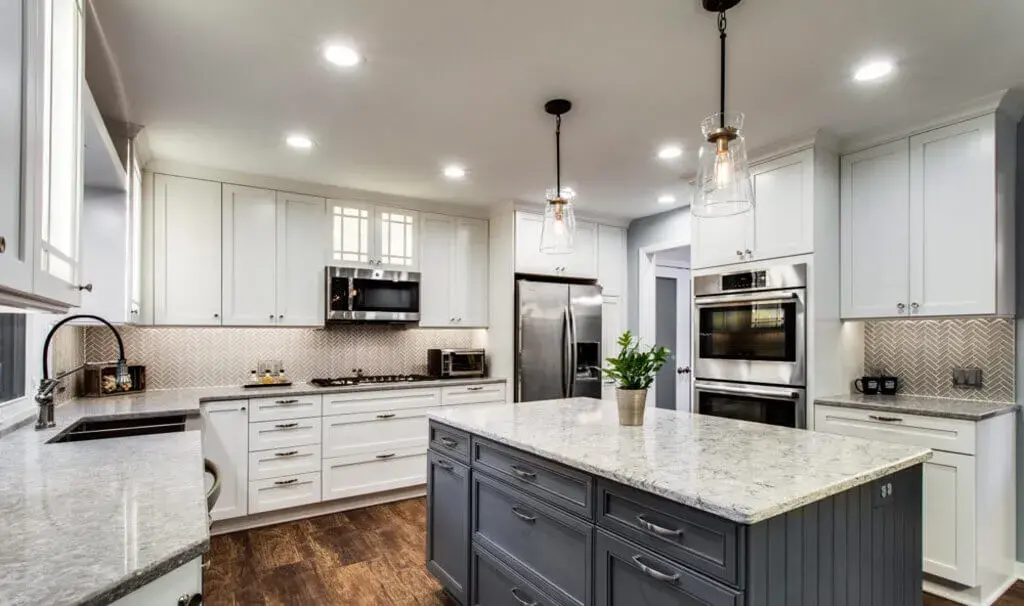 Source: recessedlightspro.com
You hate to cook under harsh fluorescent light because it gives you headaches. Studies show that LED lighting can boost productivity in comparison to fluorescent bulbs. The lighting makes a huge difference in how you feel when entering a room; therefore rethink the entire lighting scheme. 
Install under-cabinet lighting to make the space look cozier and provide a better view of the countertops' content. Recessed lighting can brighten up the room during the gloomy days of winter.
If there are any darker areas around the kitchen, install LED lighting to brighten them up and enhance the overall kitchen atmosphere. Pedant lights can add a touch of style to the room, especially if you install them above the island. 
Create an Inviting Sitting Space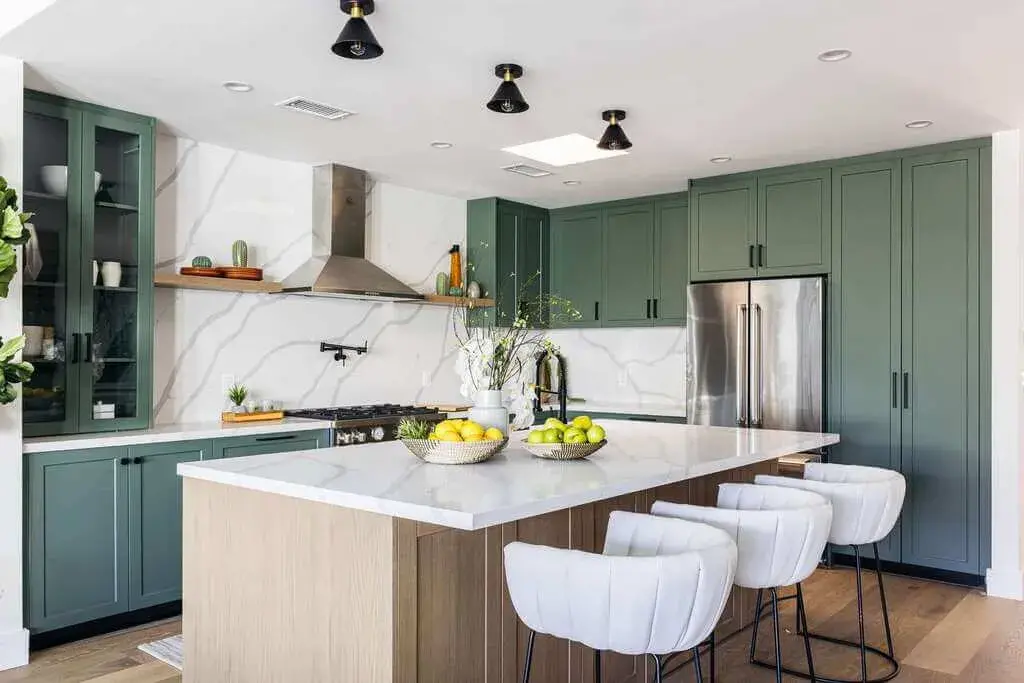 Source: thespruce.com
It's hard for your guests to feel welcome in your kitchen when they have nowhere to sit. If you want to make them feel at home:
Create an area where they can sit relaxed and comfortably.

If you already have a kitchen island that you intend to also use as a table, bring some chairs and bar stools inside.

Suppose your kitchen's size allows, you can also add a high-boy table to create more seating options when you host larger groups. 
Avoid installing harsh lighting above the sitting space, and bring in some décor elements like flowers and photos to make your guests feel drawn to it. The seating area is ideal for your guests to assist you while you cook. 
Also Read: The 6 Gorgeous Wall Decor Ideas for Your Kitchen in 2023
Add Some Pops of Colour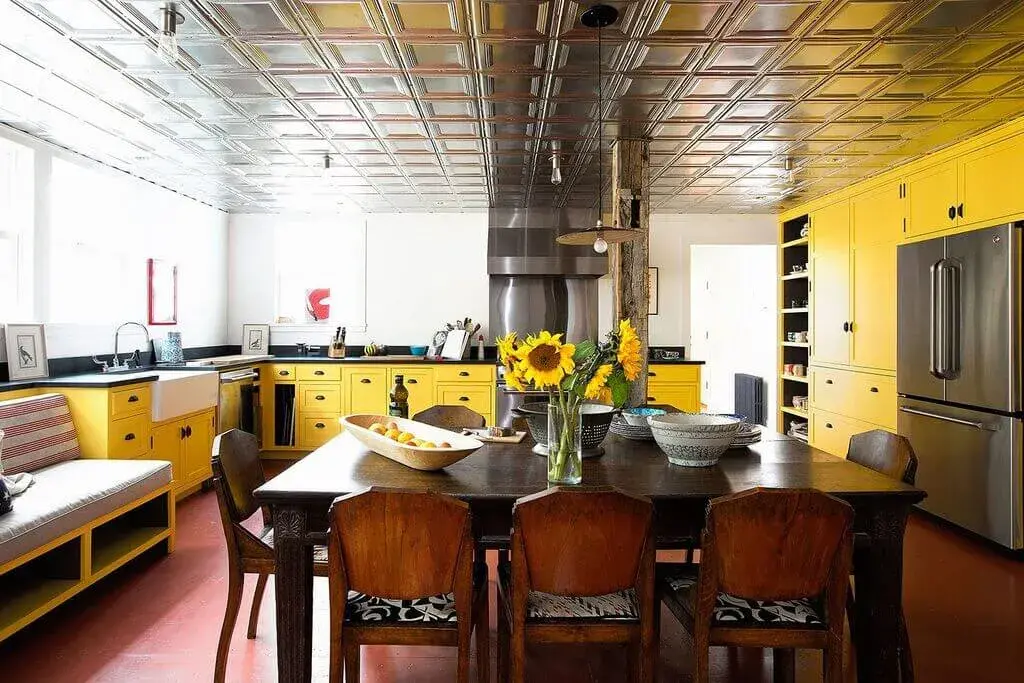 Source: hearstapps.com
Homeowners usually prefer nude hues because they make it easy to coordinate elements. If you repainted the walls in neutral shades, you might want to bring some pops of colour to make the space feel more personal. Adding the colours of the rainbow in the kitchen makes the room feel less austere and livens it up. 
Pick one or two colours that compliment the look of the kitchen. Blues and yellows are common, but if you prefer other hues, go for them. You can bring pops of colour into the kitchen by buying brightly coloured mugs, candles, curtains, jars, kitchen tools, photo frames, cushions, storage containers, rugs, or placemats. 
The great thing about these elements is that you can change them anytime with new items; suppose you no longer like the pop of colour you first selected. Go bright green for the spring and candy pink for the summer. 
Welcome Nature Inside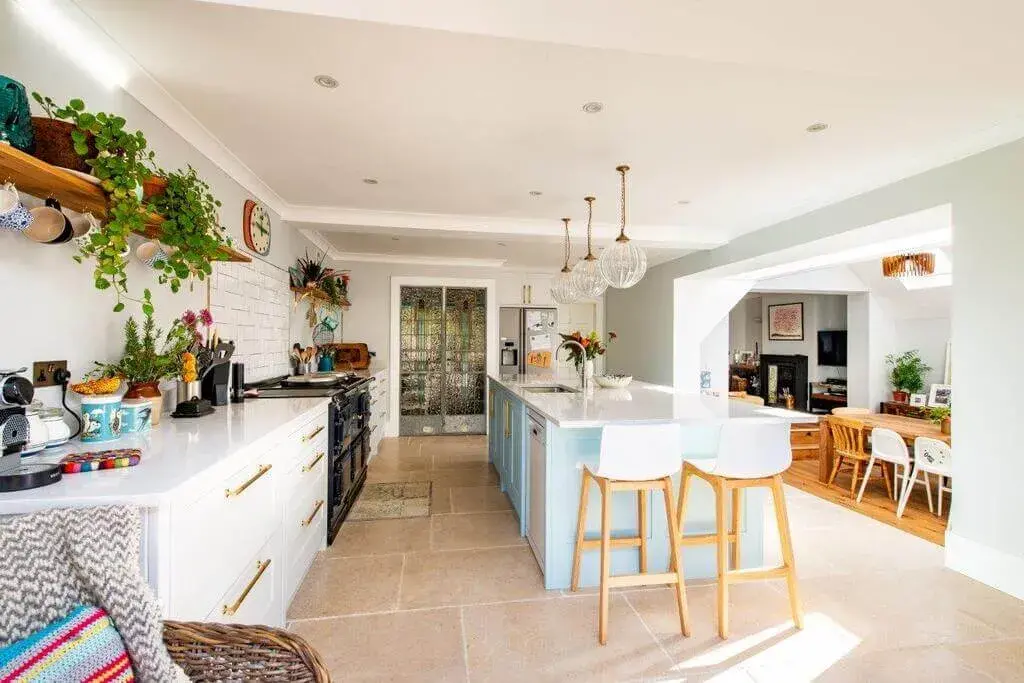 Source: squarespace-cdn.com
If you want to liven up the kitchen, buy houseplants that thrive in the type of environment it provides. Your kitchen, hallway, and home office are examples of spaces that could use plants to look more welcoming. There are several ways to bring plants into the cooking room; you can display succulents and cacti on the windowsill, place a vase on the countertop, or plant herbs in pots to use for seasoning. 
You might think it's a small thing, but some small pots can make the area look more inviting. 
Add Personal Touches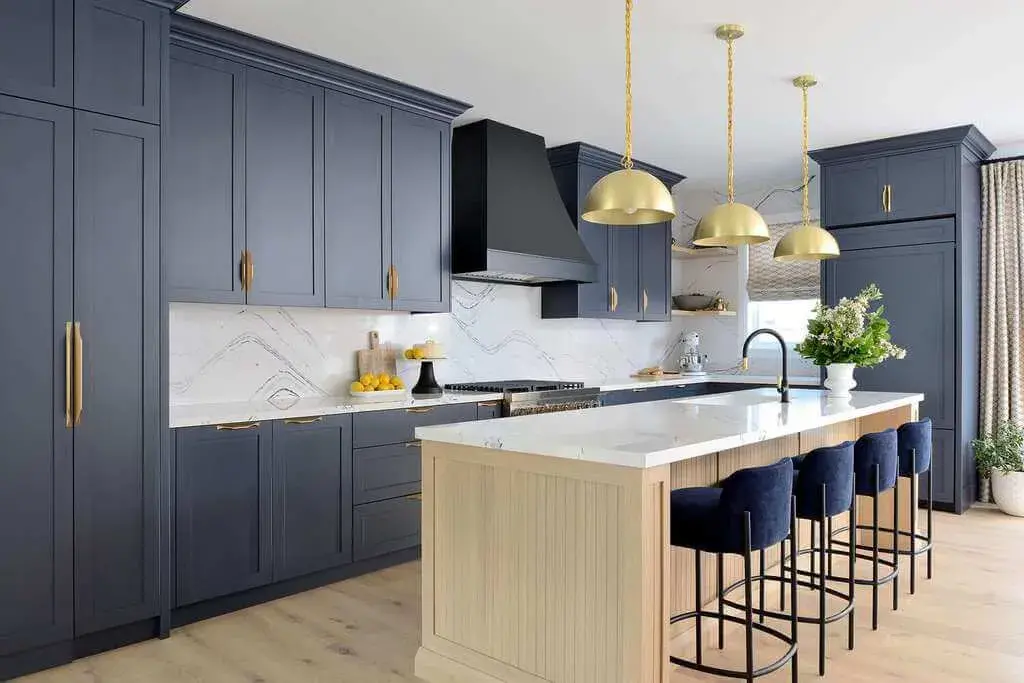 Source: thespruce.com
Only because the kitchen is a functional space doesn't mean you cannot bring some personal touches and decorative elements inside to make it look cozier. Hang family pictures on the fridge, place some small decorations on the kitchen island, and plant some herbs in pots on the windowsill or above the sink.