2023 Wine Rack Plans: 21+ Creative Ways to Store Your Wine Collection!
Just grab a glass of wine, and everything will be fine!!Check out best wine rack plans for 2023.
Whether it be a celebration or breakup, wine is a must, right? These days storing wines is pretty common. You can see beautiful wine holders and bars everywhere. So are you planning to buy one? Wait… why spend time and money on buying when you can make yourself one for you. 
Why DIY a wine rack when you can just buy it? This is a pretty common question that people often have in their minds. There are many benefits to it, such as you can easily customize it according to your space, and most importantly, they'll be inexpensive. So why spend a fortune on buying these expensive wine racks. Just DIY it, right! 
Building a wine rack is a super easy project that you can be completed in a day or two. (depending on how large you want to be a rack). This is the only place where you'll come back to over and over again to grab a drink. Today, we have made a list of some creative and unusual shaped wine rack ideas to get you started. All the projects we've compiled here are as stylish as they are functional and practical.
So, whether you drink super-fancy $100 wine or just $5 one, these wonderful racks will keep all your wine bottles in order (and at the ready). So check them out. 
21+ Brilliant Wine Rack Design Ideas
All the racks in the below list have different shapes and styles, so be sure to check every wine rack idea. There are vertical, horizontal, wall-mountable; some can hold 6-bottles of wine, whereas some of them can hold dozens.so just take a look and pick the one that suited best for your style and your space.
1. DIY Simple Wine Rack Plan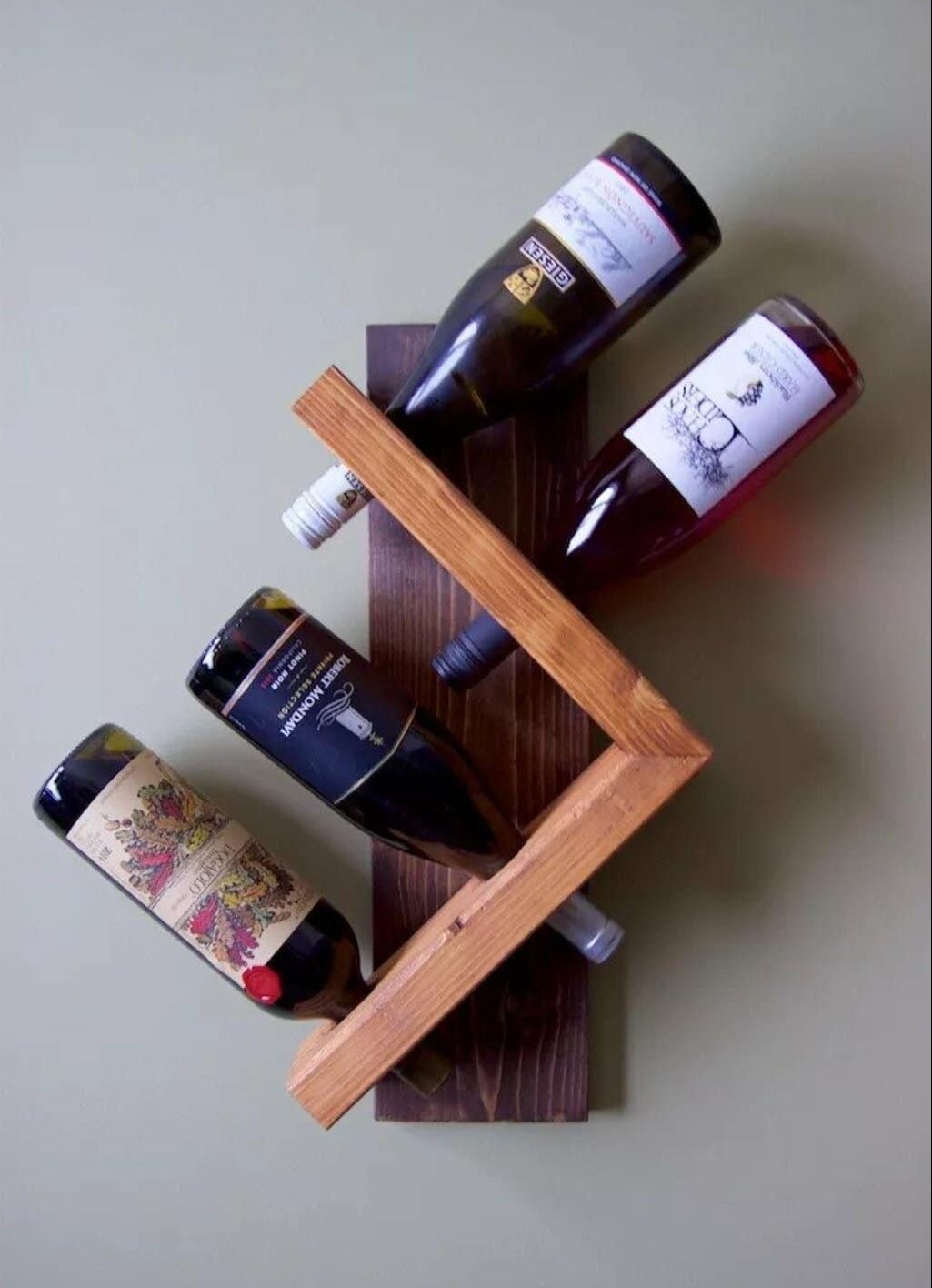 Source: thesprucecrafts.com
Simple but edgy, this wine rack plan is perfect for those who have less number of wine bottles, but still, they want to show them. The finished rack can hold four bottles of wine, and it will just take you only an hour to build it. Whether your home decor is modern and traditional, it'll look good with both styles. 
2. Fixer Upper Style Wine Rack Designs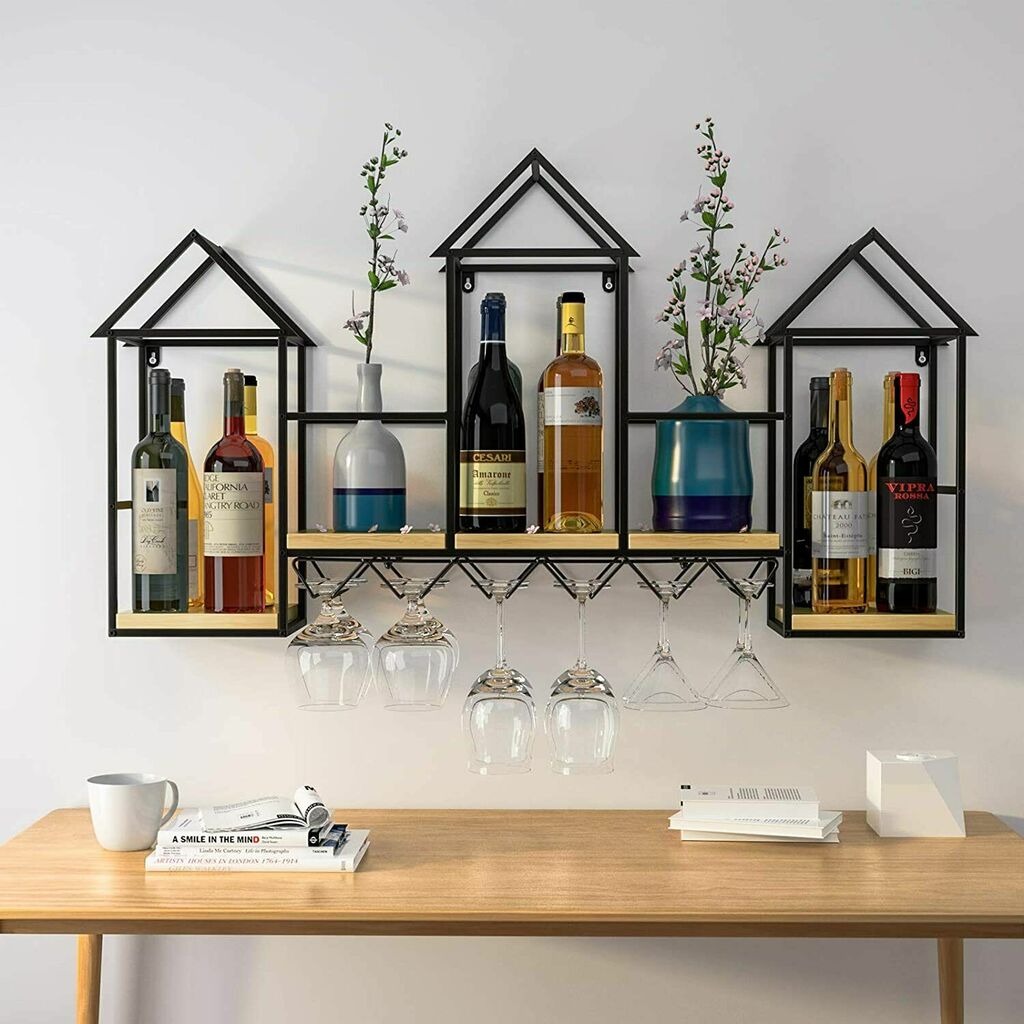 Source: ebayimg.com
This wall-mounted wine bar has Magnolia vibes all over it, and it also features hanging storage underneath for wine glasses. If you love to entertain, but don't want to spend a lot on wine racks, this setup is perfect for you. 
3. Ladder Rack For Wine Storage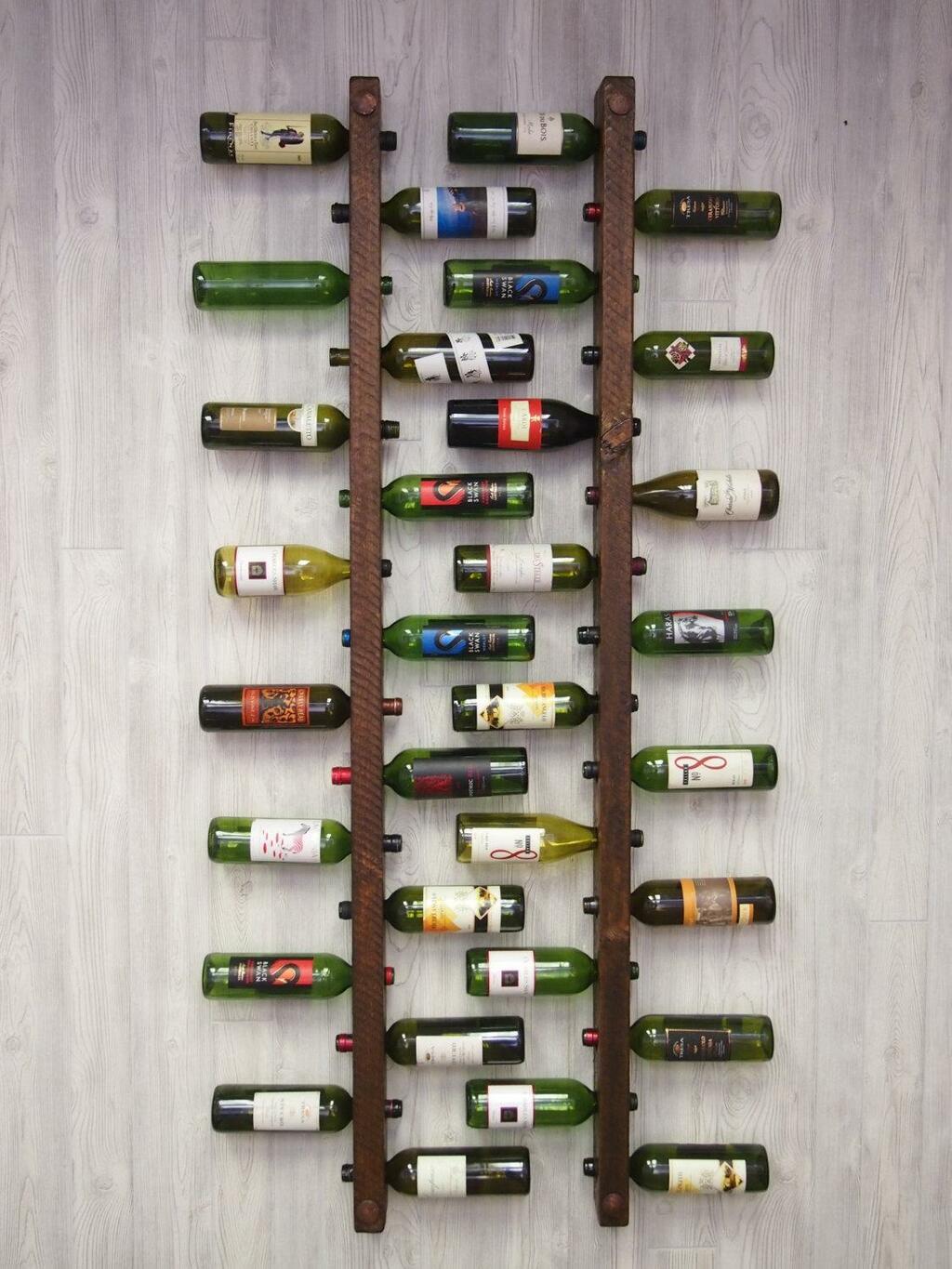 Source: lovities.com
What do you think about this wine storage? For those who want to show their wine collection! Check out wall wine rack ideas, so it is quite strong and sturdy and looks absolutely gorgeous. 
4. DIY Circular Wine Rack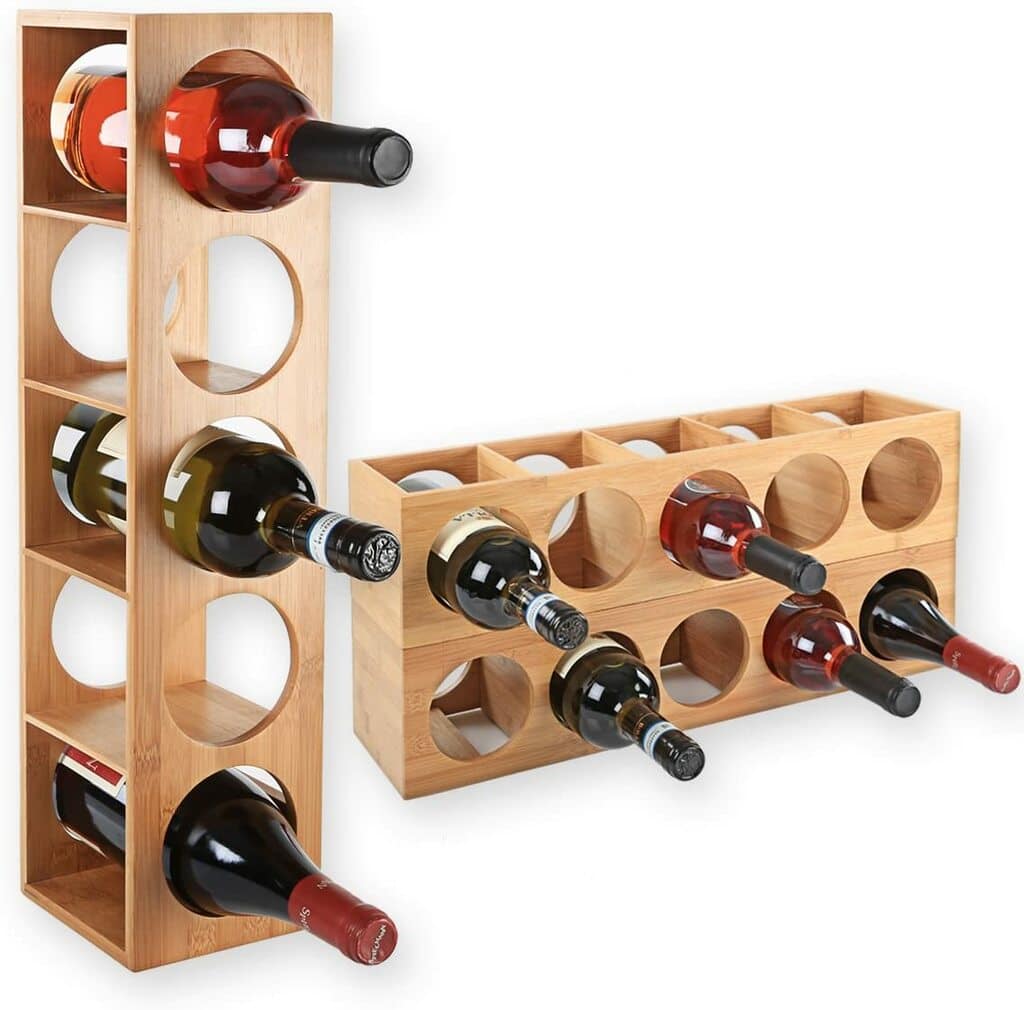 Source: amazon.com
This wine rack is stylish and functional at the same time. When your guests see this rack with circular inserts for bottles of wine, they will definitely get surprised!
5. Wall Mount DIY Wine Rack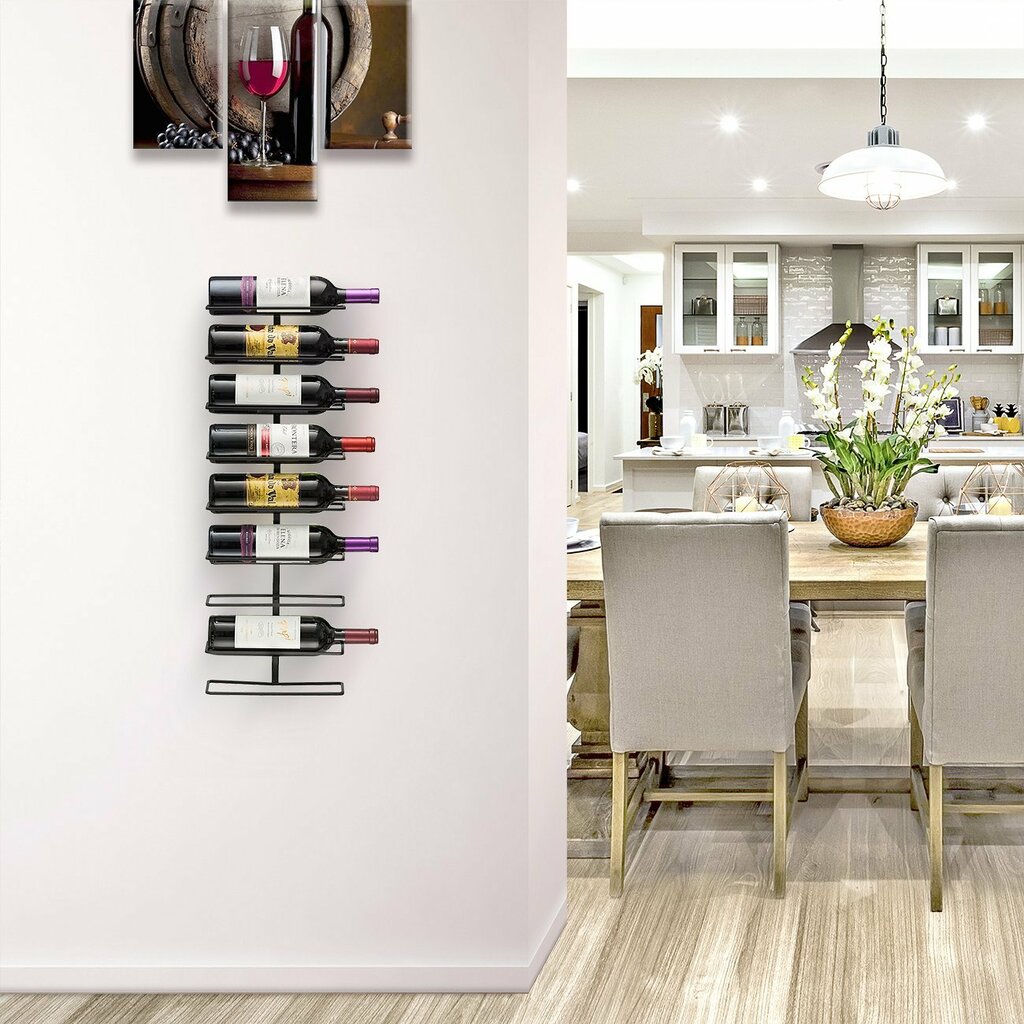 Source: walmartimages.com
Not storing the wine properly: This is the most common wine mistake that people make. This nine-bottle rack, which can be mounted directly and conveniently onto your wall, fixes this problem. How? It will store bottles horizontally, which will keep the cork moist, so your wine stays fresher for a longer period.
6. Wine Bottles + Glasses Rack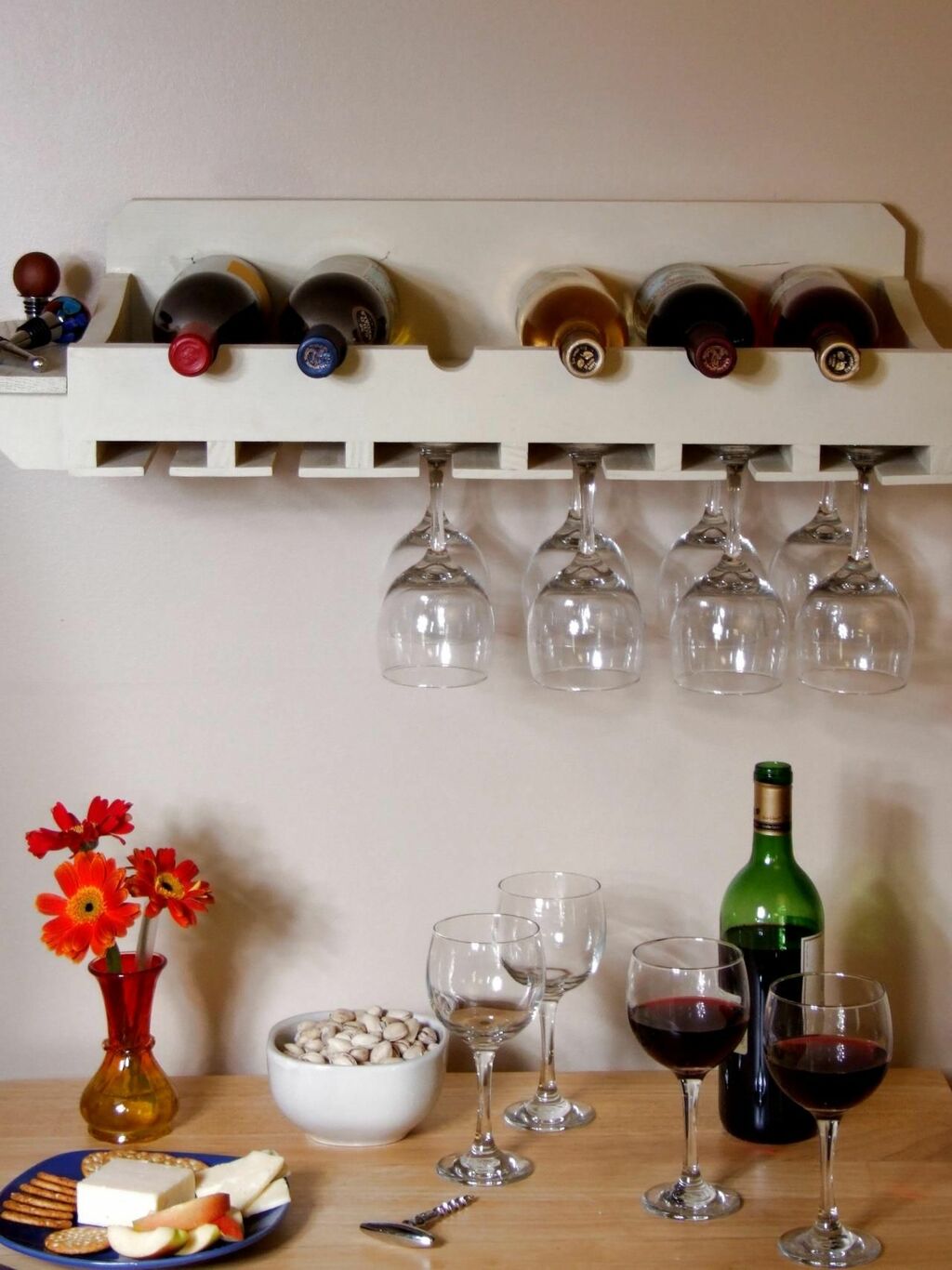 Source: pinimg.com
Placing the wine bottles and glass at different places might be a little inconvenient for you and your guests. So, build something like this; it will gracefully hold all your bottles and glasses simultaneously.
7. DIY Chest Wine Rack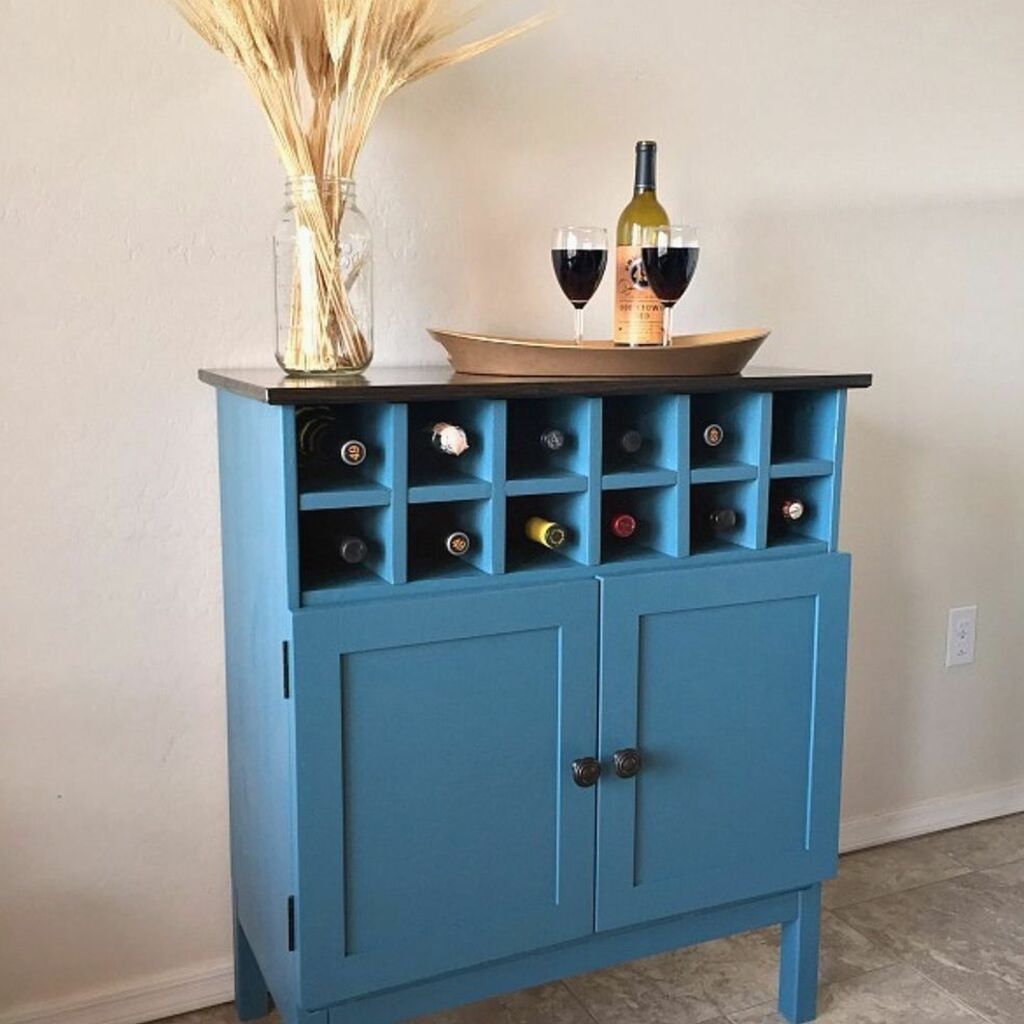 Source: pinimg.com
Looking for a chest wine storage? Take a look at this cute and glamorous blue three drawer chest. You can also simply create it from any old drawer that you already have. 
8. Luxurious Wine Bar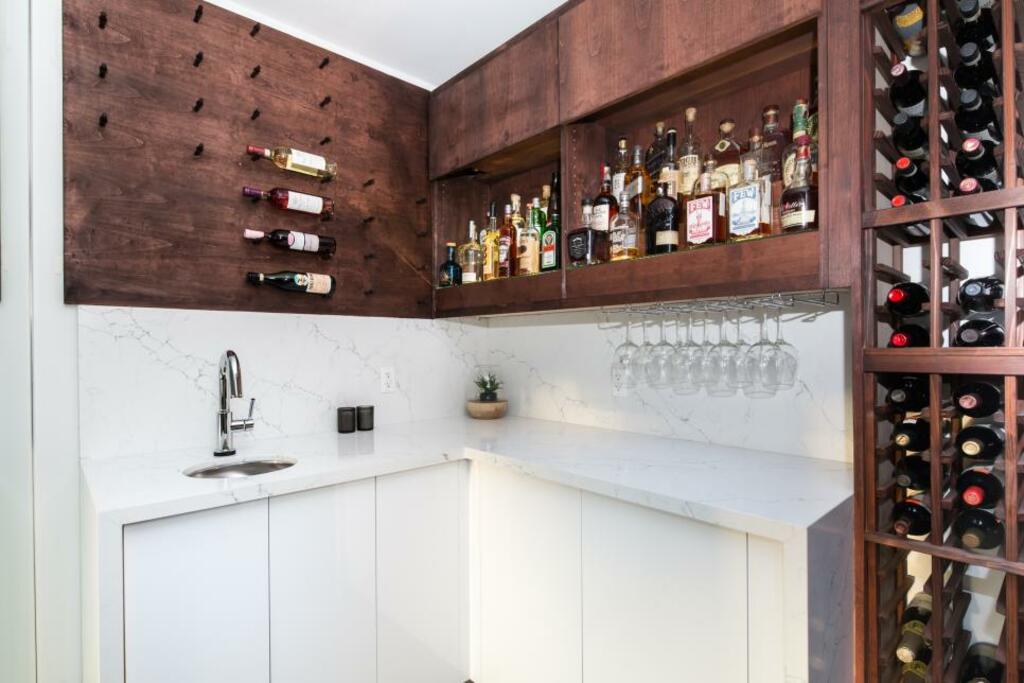 Source: sndimg.com
If you're lucky enough to have an additional kitchen or extra space in your home, convert it into classy wine storage. This Luxurious wet bar features impressive, glass-enclosed liquor and wine storage. 
Here the placement of wine holders on the left really catches my eyes. The homeowners cleverly created a minimal-style grid that gives the impression that bottles are floating.
9. Minimalist Vertical Bottle Holder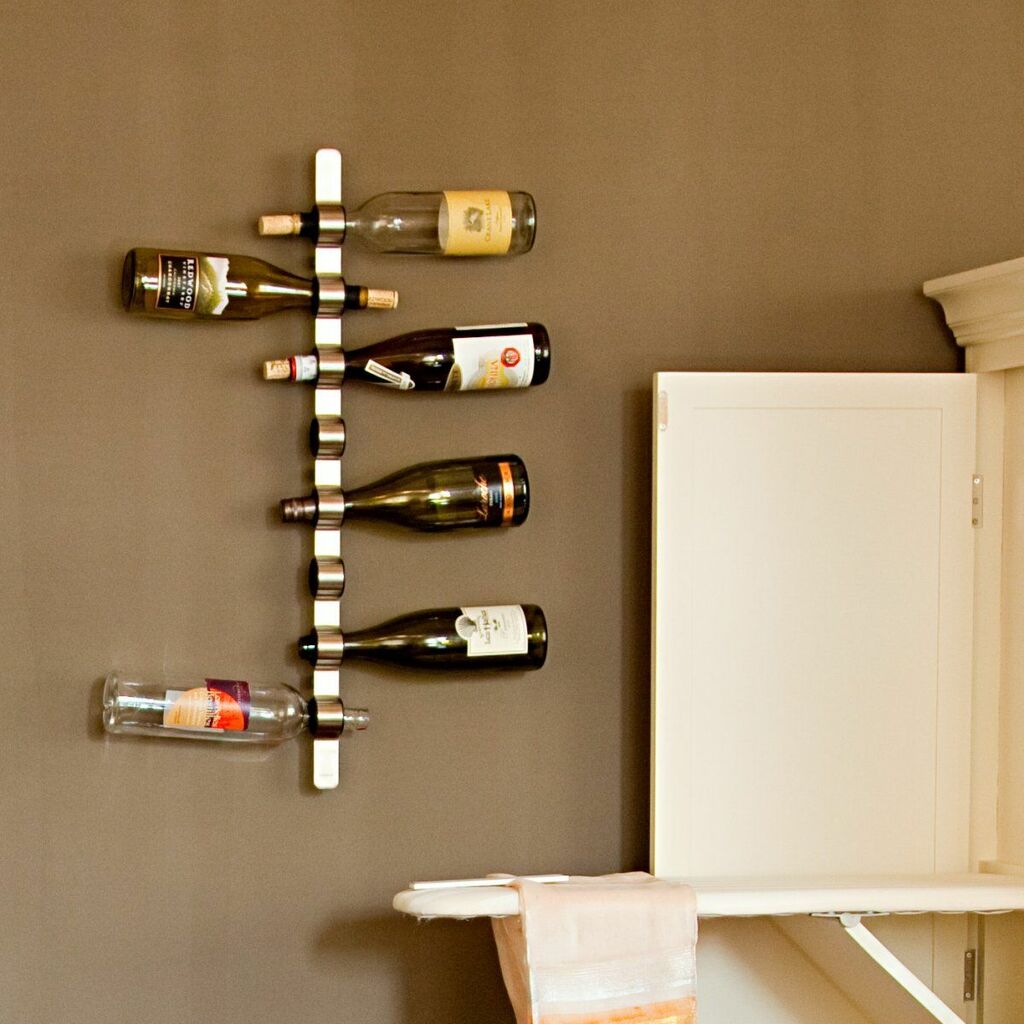 Source: pinimg.com
Short on space but want wine storage? Grab this idea, where there is a vertical holder that beautifully stores all the bottles without taking much space. This idea will work for even the tiniest kitchen. 
10. Countertop Wine Rack Plan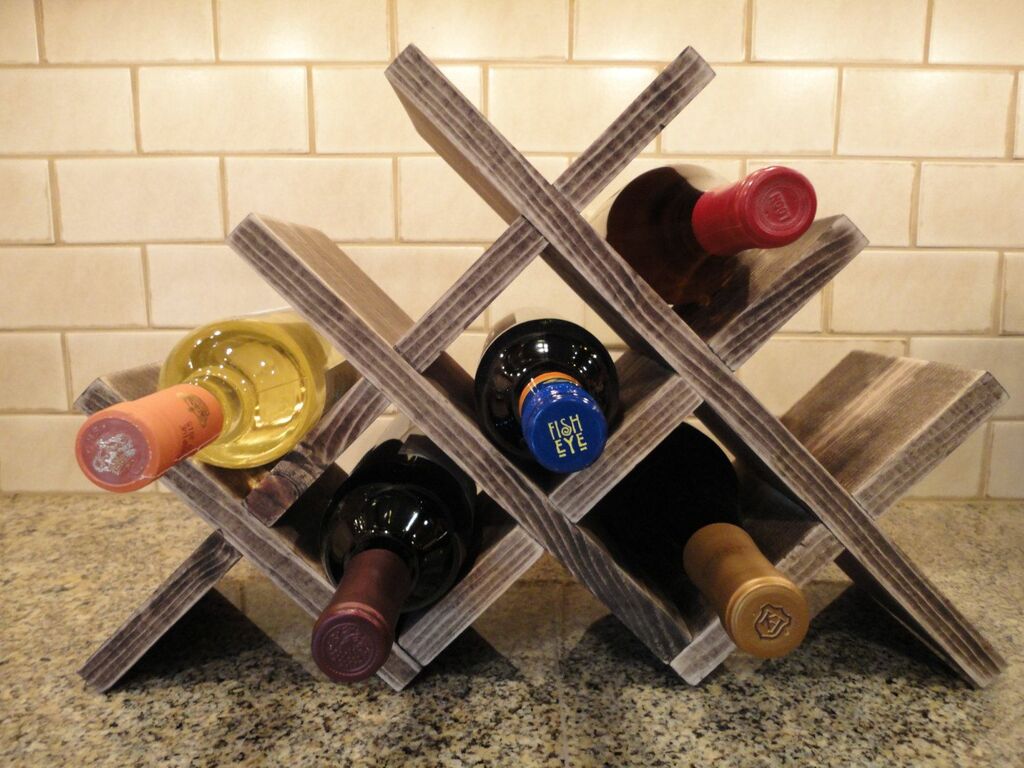 Source: pinimg.com
This wine rack plan is easy to build and looks like a piece of art. Place on your countertop and enjoy hosting the coming festive parties. The best thing about this is that it can be finished in just a few hours for less than $20. 
11. Classy Copper Pipe Wine Rack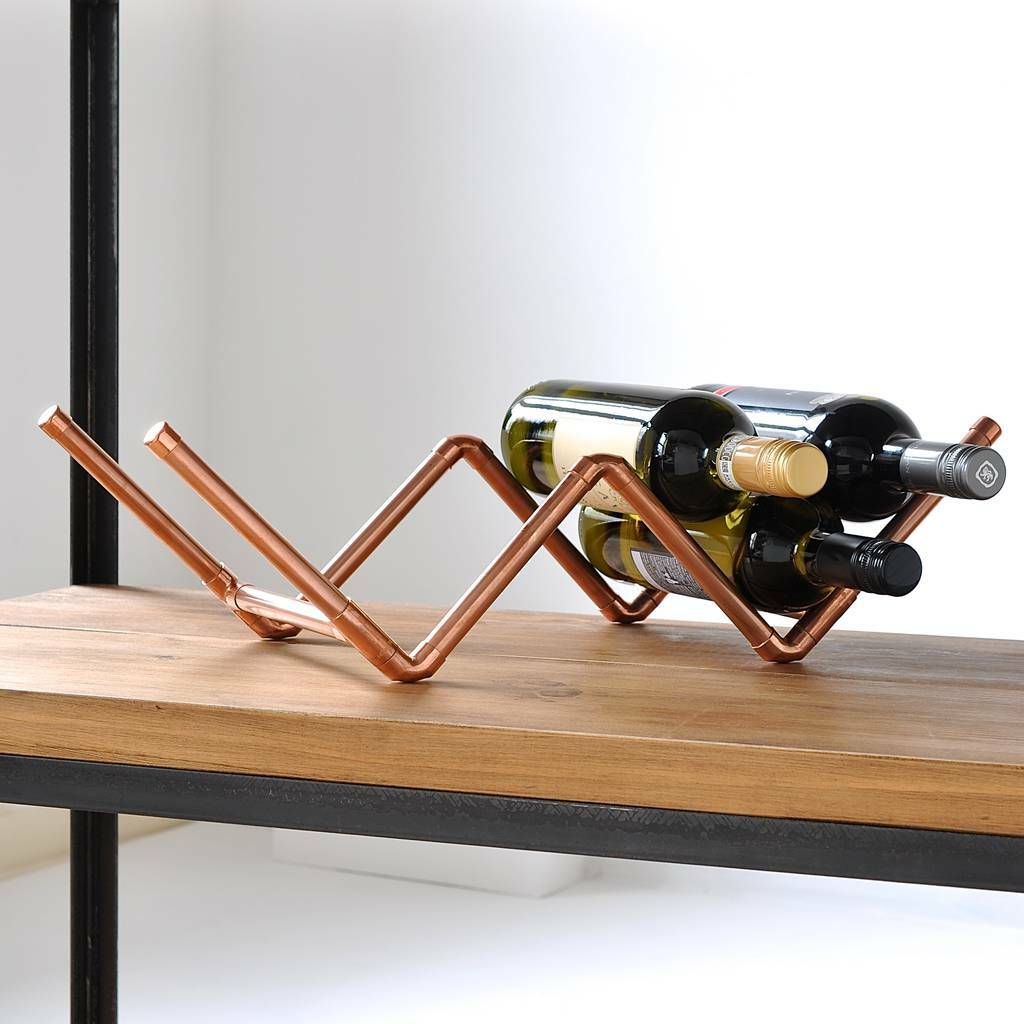 Source: notonthehighstreet.com
Do you believe that you can build this in just a few dollars? Yes, you can buy these types of copper pipes from any nearby hardware store for very low prices. 
12. Metal Wine Rack Under The Stairsmage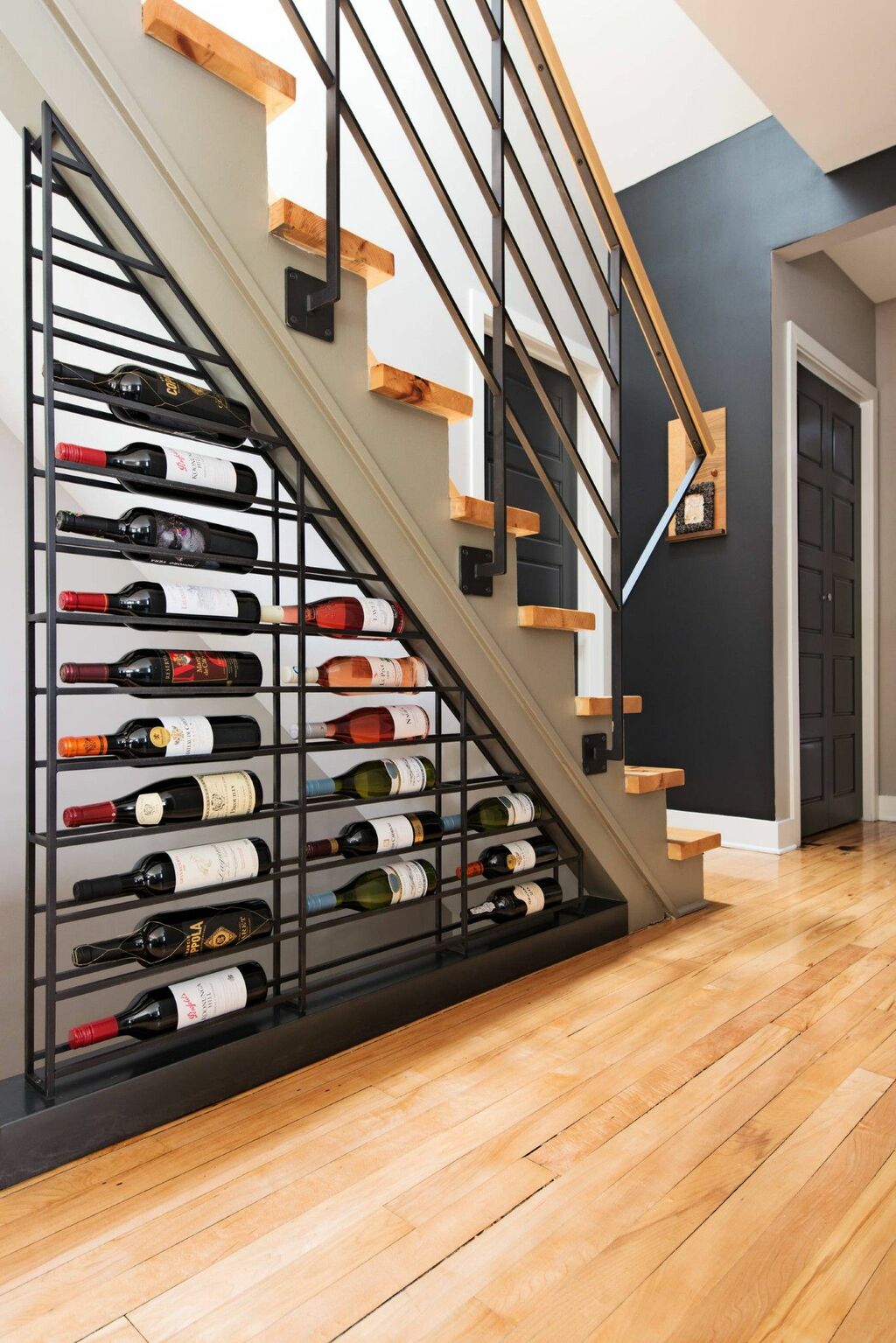 Source: pinimg.com
Another great space-efficient wine rack is this one. Made from iron bars and that too under stairs, it will save a lot of space. Quite modern looking, this contemporary wine rack will surely be the point of attraction in your home
13. Modernized Heirloom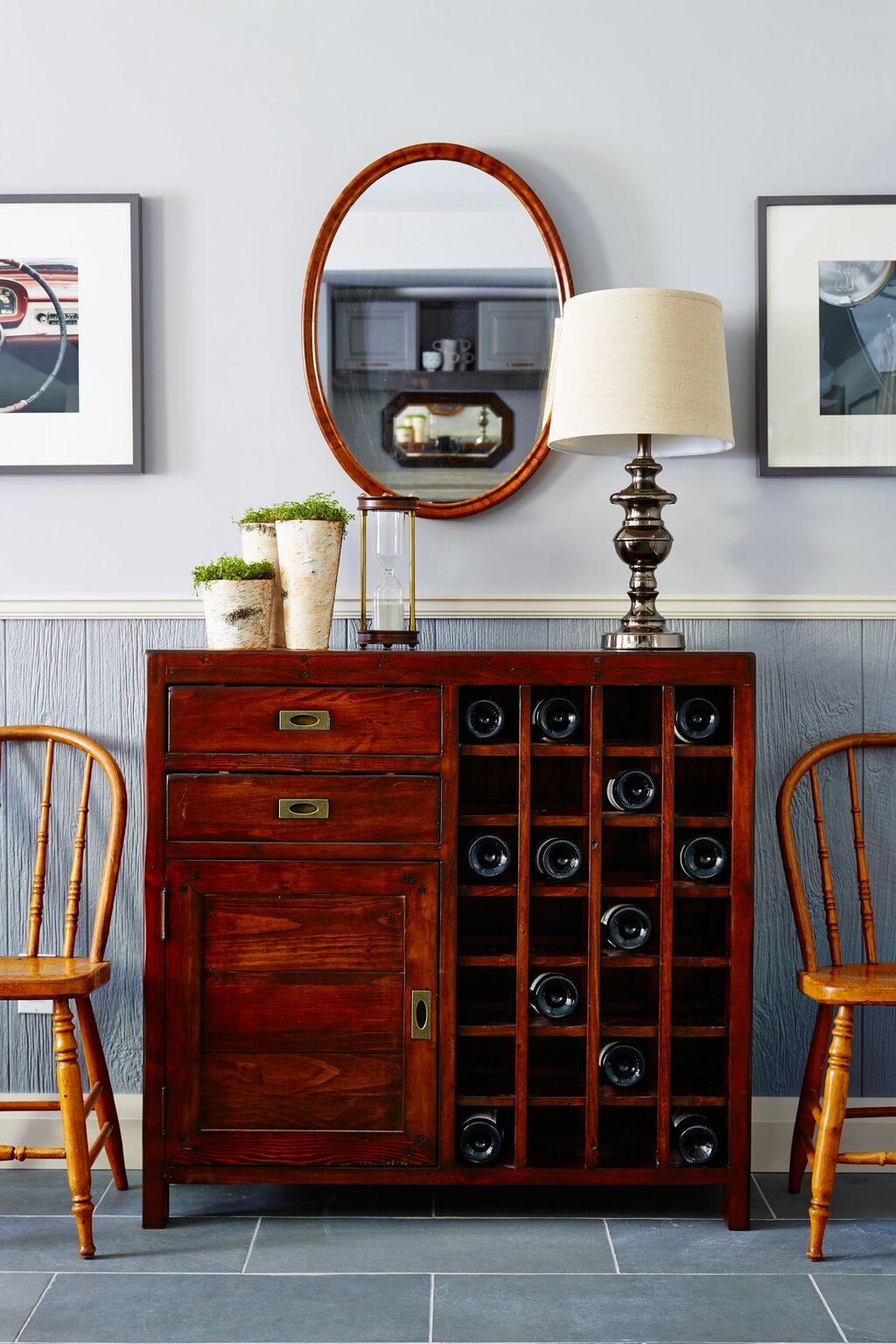 Source: sarahrichardsondesign.com
We all want to treasure our family furniture, right? But the right way to do this by reusing them instead of placing them in the storeroom. If you also have a big antique buffet or chest of drawers like this, turn it into a wine bottle cubbies.
14. Industrial Wine Rack Plan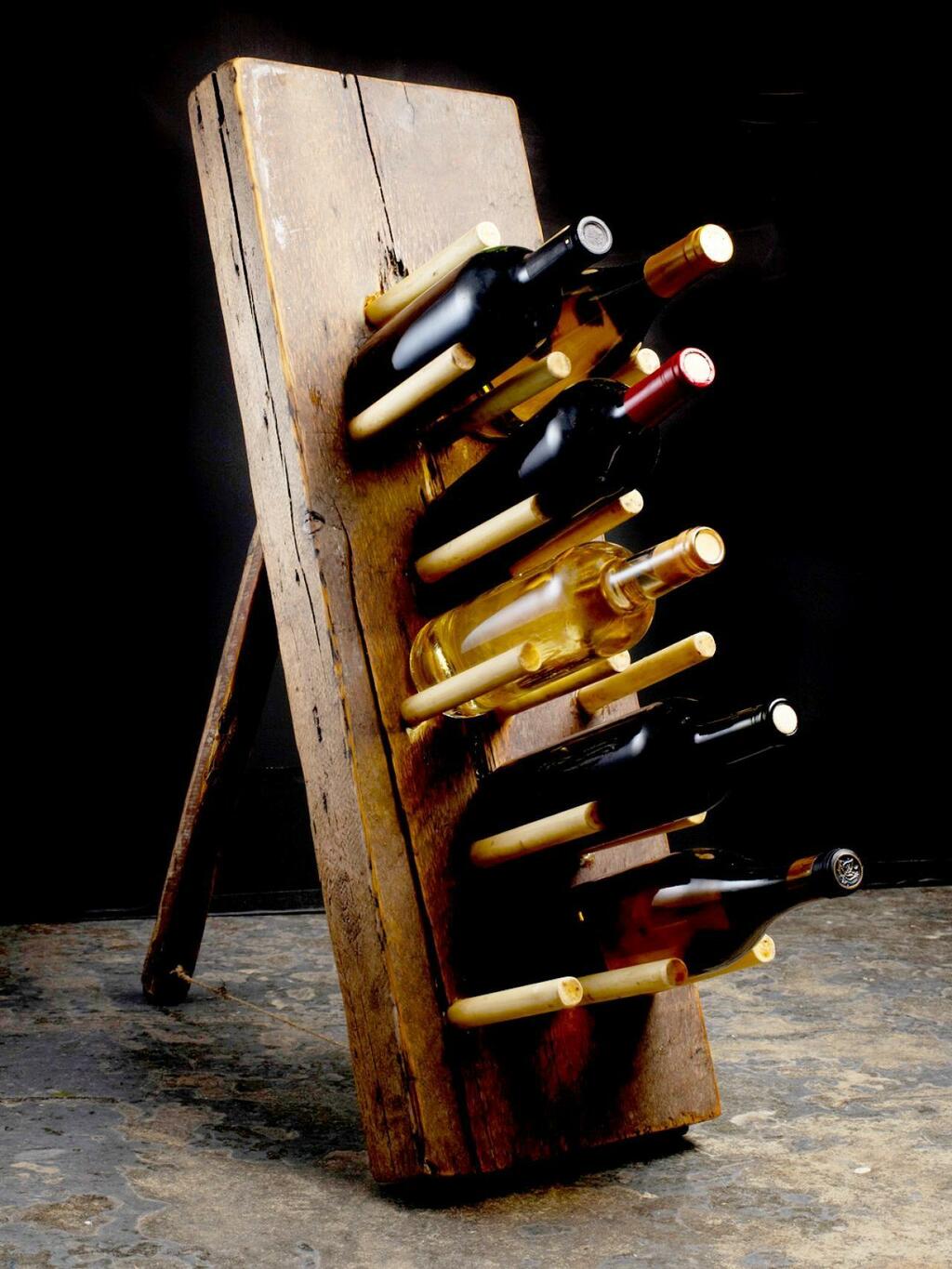 Source: decoratorist.com
Isn't this looks super unique and unusual? To build this wine rack plan, all you need is reclaimed lumber and wooden dowels. 
15. Secret Wine Storage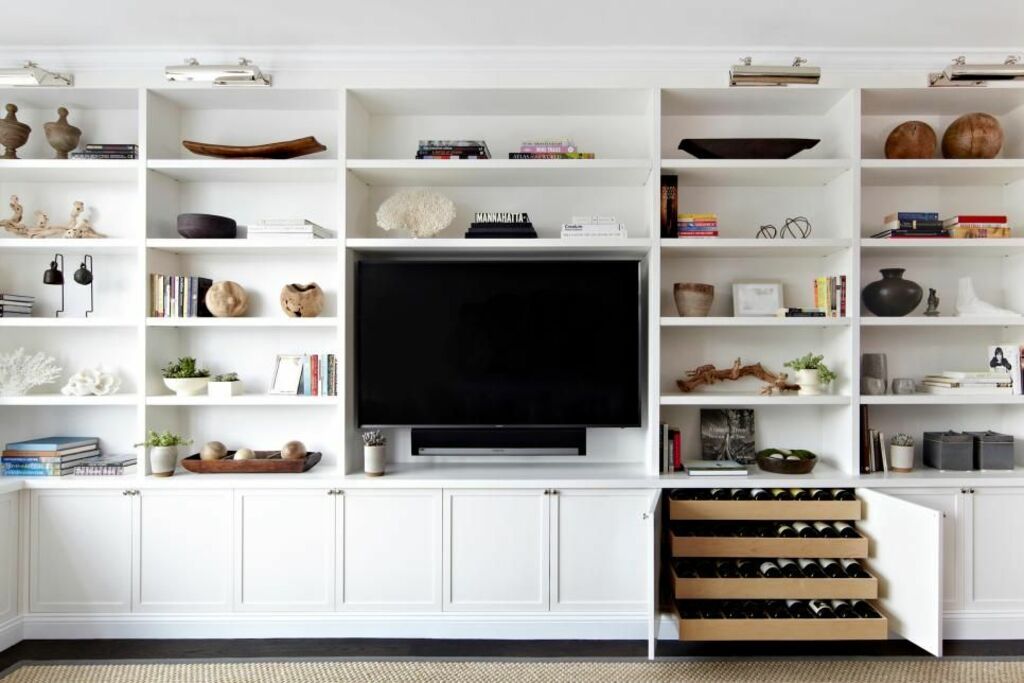 Source: pinimg.com
Make this Halloween party a little more fun by hiding your wines. Here the homeowner created a secret area in their media room built-in just for wine. Cool, right! Your guests never are able to find this hidden wine storage until you tell them! 
16. Vertical Wine Storage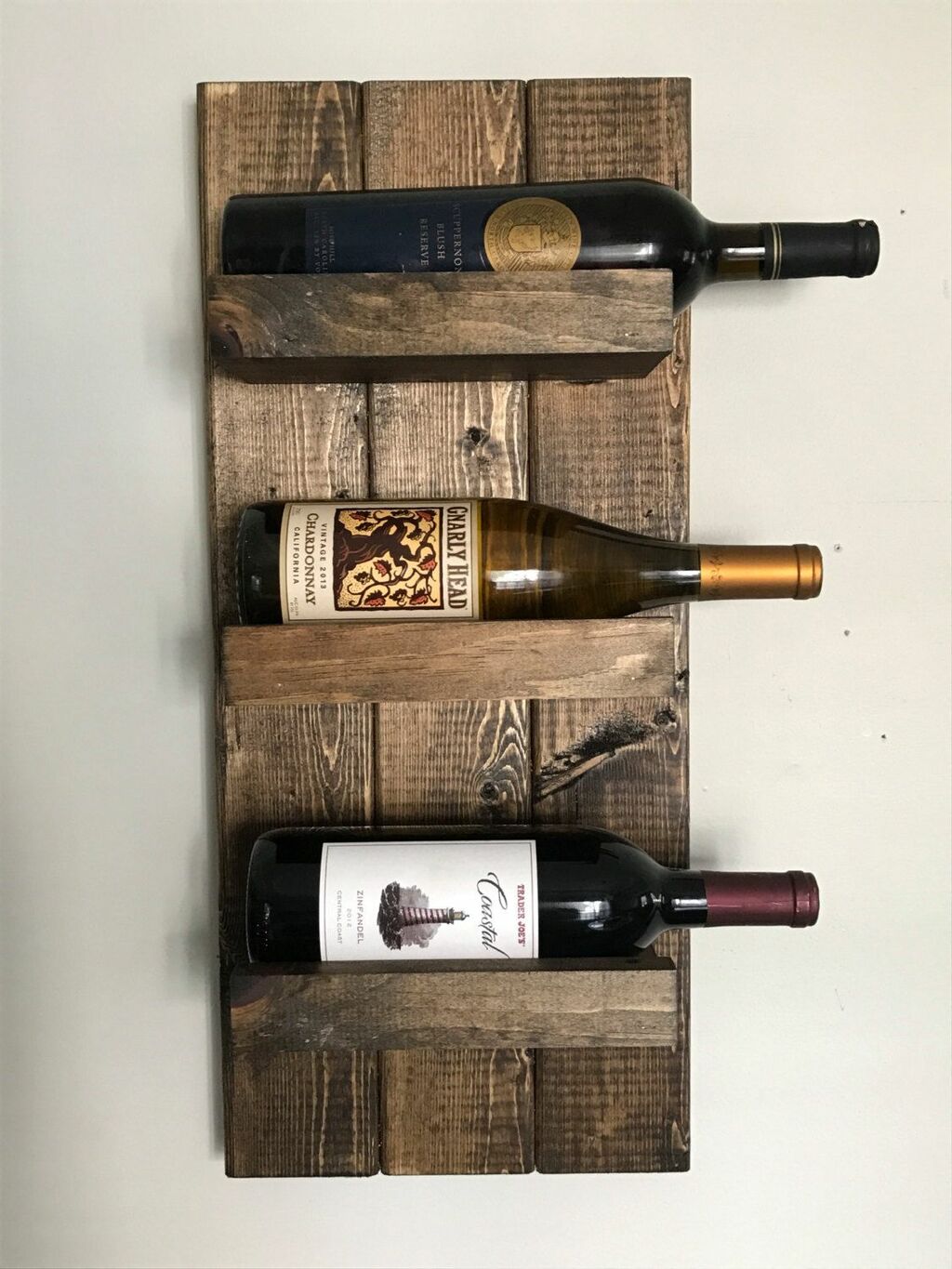 Source: pinimg.com
This is another true DIY easy 6-bottle wine rack plan that you can build it in no time. 
17. DIY Dowel Wine Rack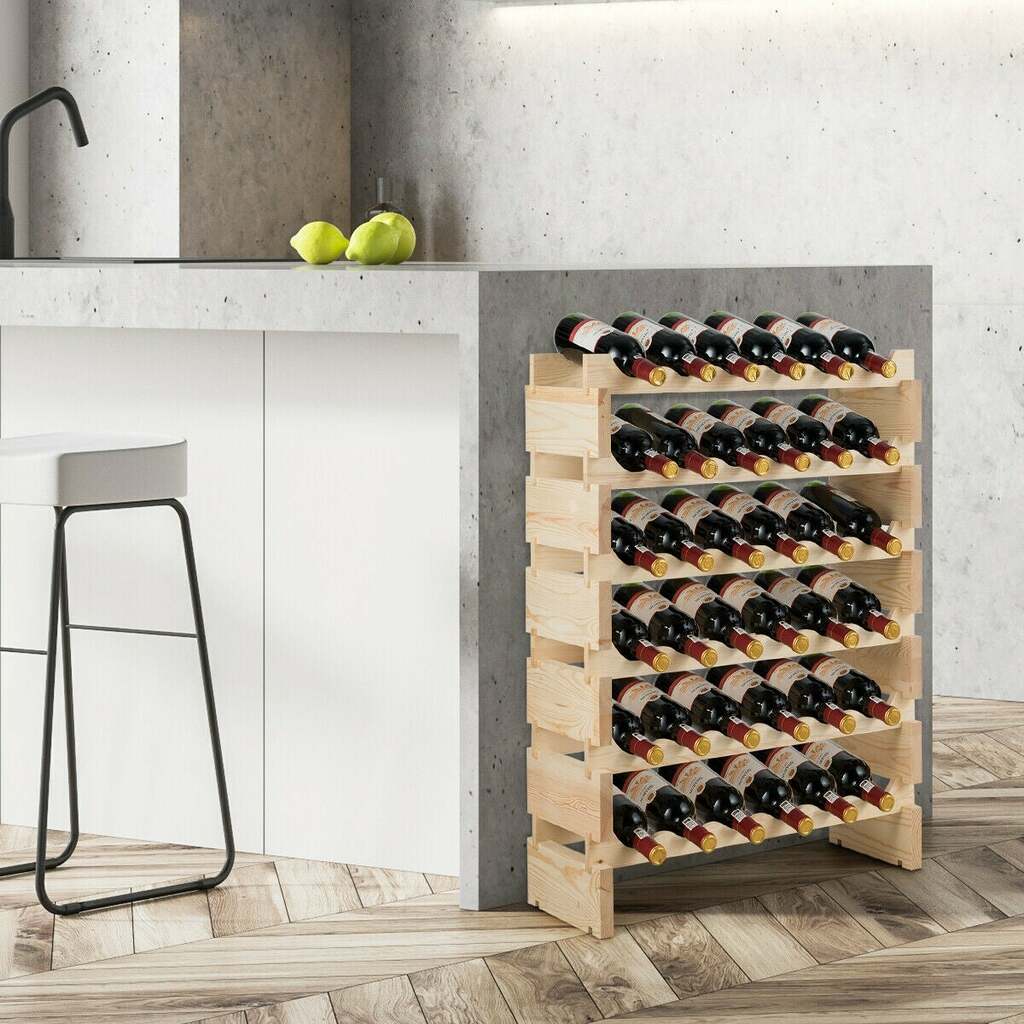 Source: ostkcdn.com
Sometimes your wine collection requires a 4-foot-long DIY wine rack. To build something like this one for you! 
18. DIY Vintage Wine Rack Plan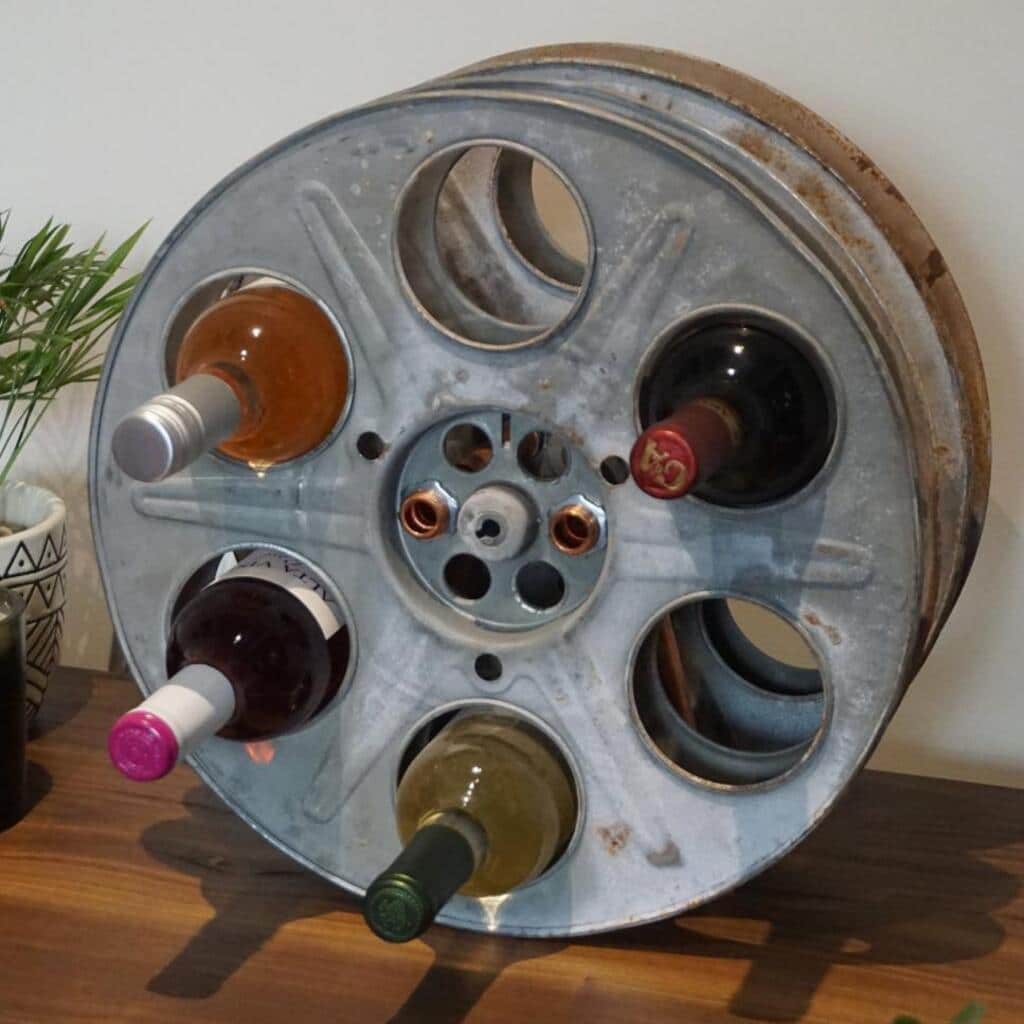 Source: sndimg.com
For our next DIY, you have to do some recycling. If something like this already is in your garage, then bring it out and reuse it. You can even paint it your desired color, and this old movie reel will become your wine storage rack. 
Also Read: Goodbye To All Expensive Racks with These DIY Shoe Rack Ideas
19. DIY A-Frame Wine Rack Plan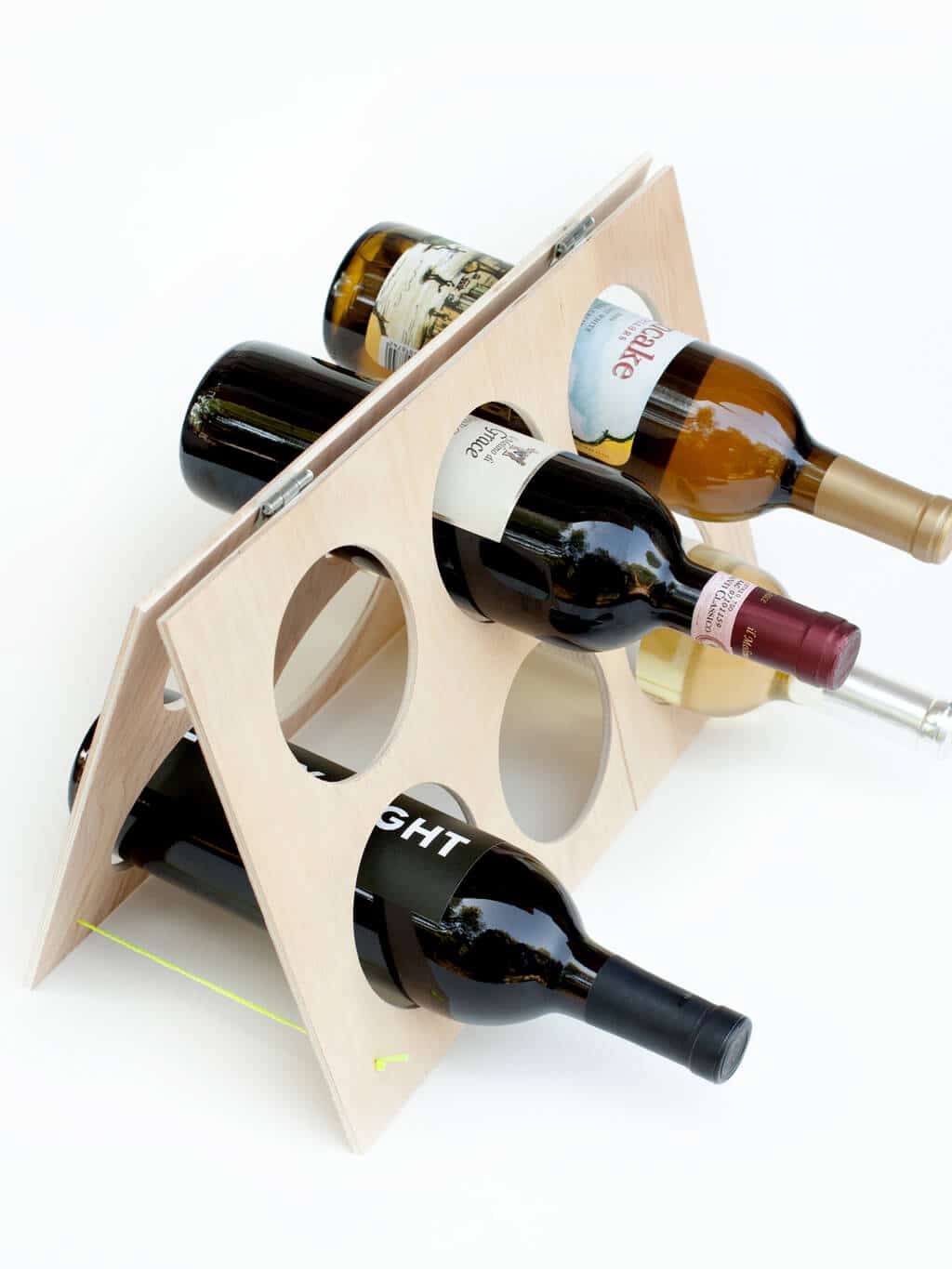 Source: sndimg.com
This A-frame wine rack that holds 6-bottles can be made in under 20 minutes. All you need is two plywood pieces and some metal brackets. First, make six holes in them and then join them securely with metal brackets or screws. 
20. Picket Fence Wine Rack Plan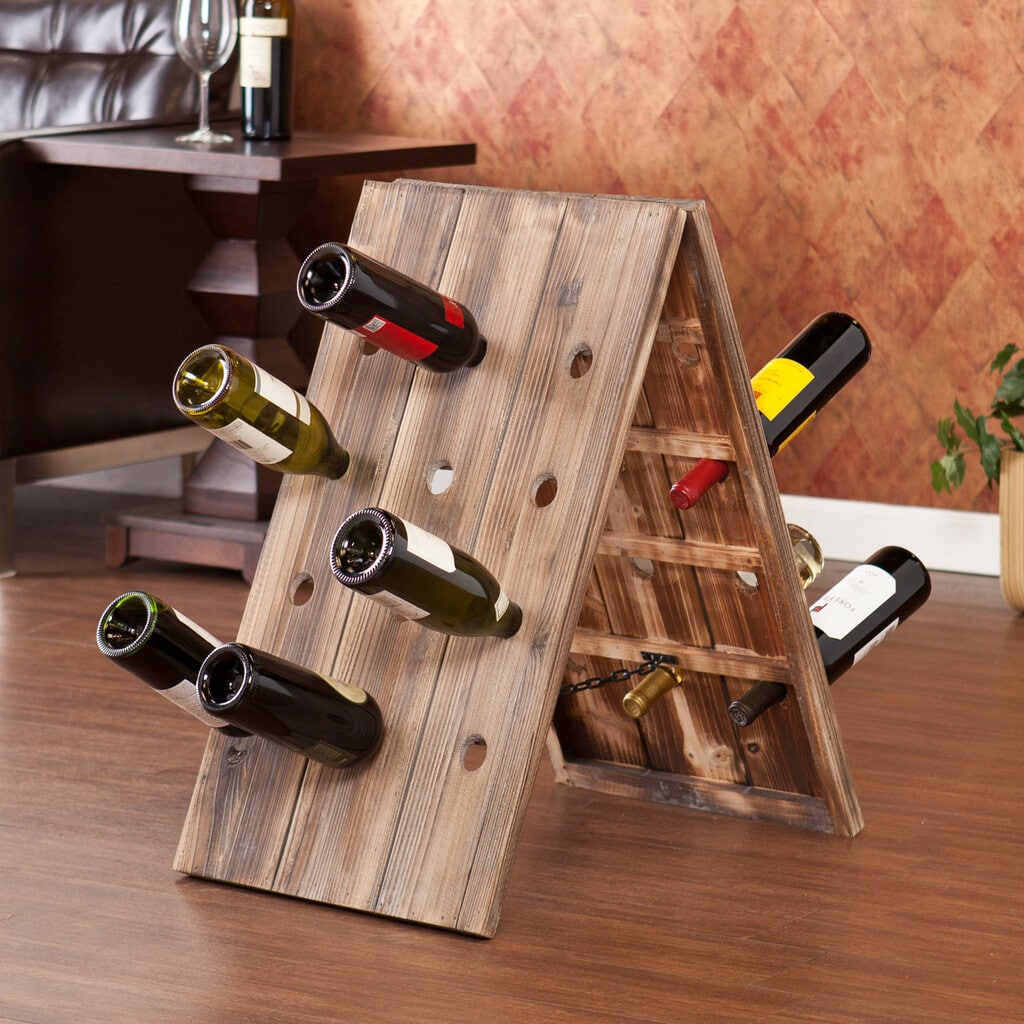 Source: wordpress.com
This picket fence wine rack is a perfect addition to your home decor. Put this "happily ever after"rack to your outdoor parties. 
21. Chic Wine Cart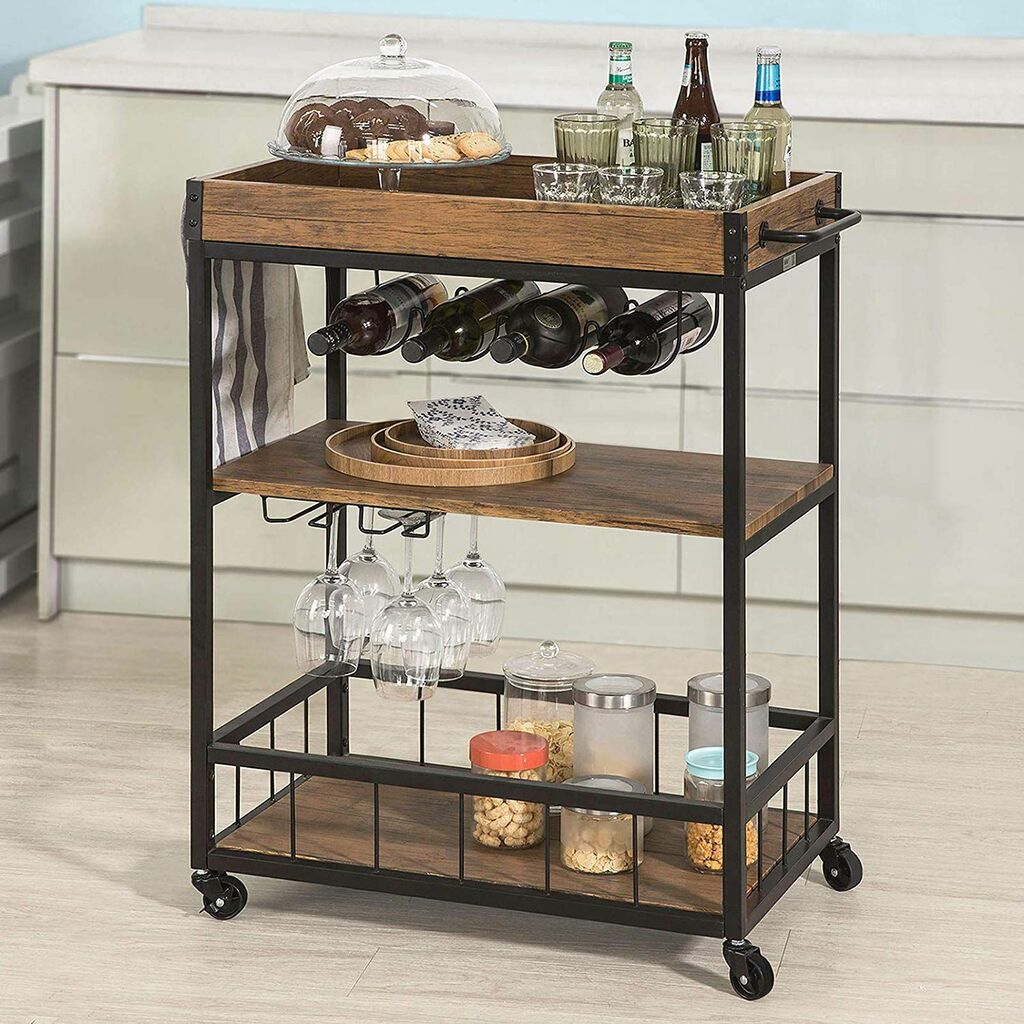 Source: thespruce.com
Transform an ordinary table with pallet wood or any other aged wood into a lovely mini wine bar cart. 
22. Industrial Tabletop Wine display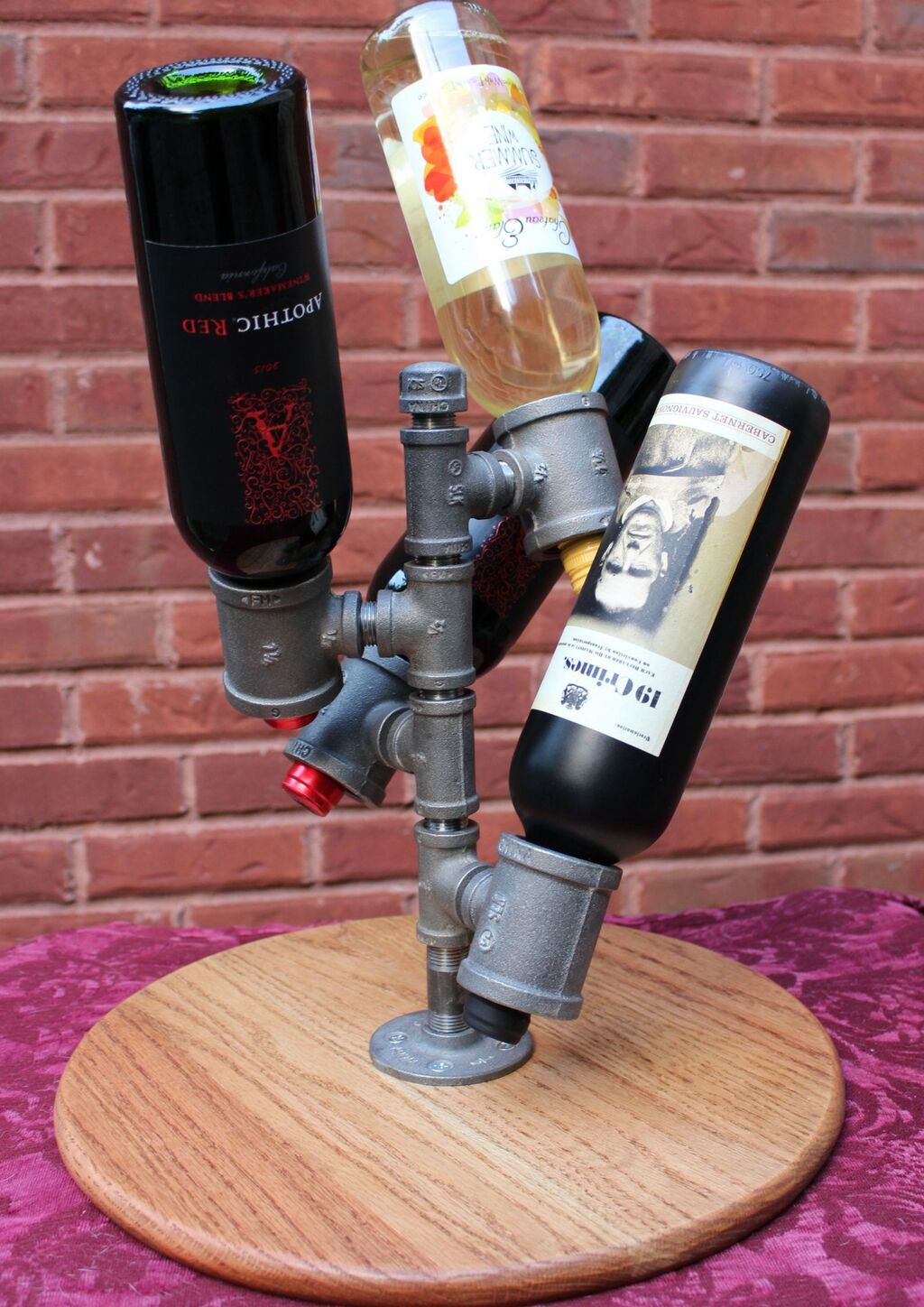 Source: pinimg.com
This edgy looking industrial pipe wine bar will be perfect for your table. You buy these pipes from any hardware shop and create this fine wine display.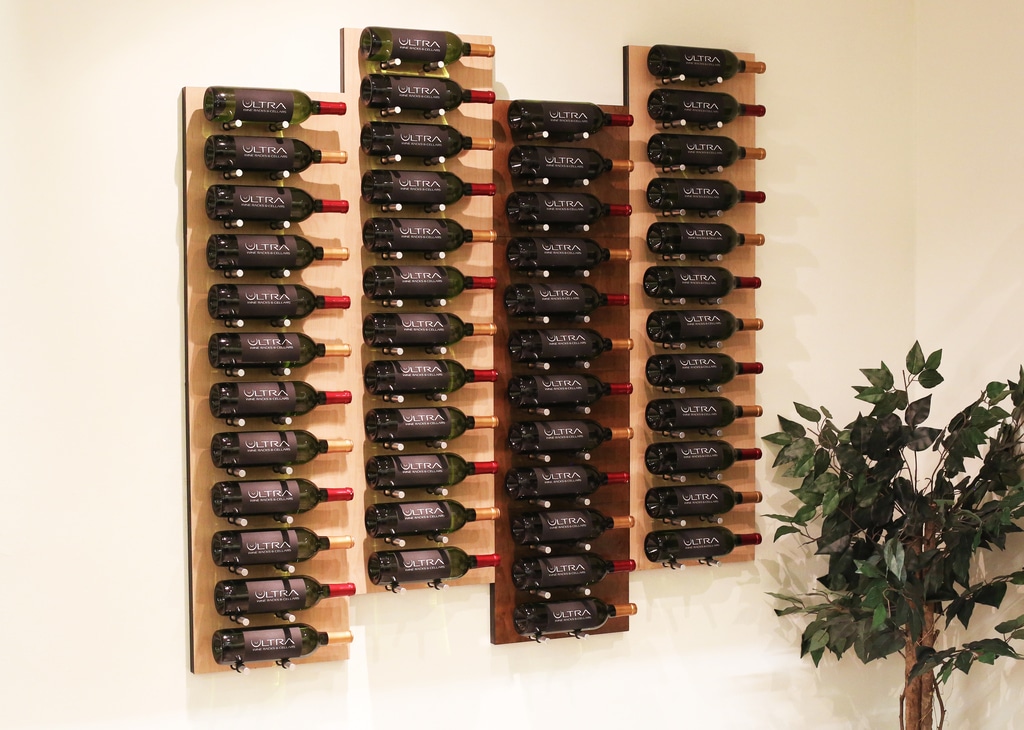 Source: ultrawineracks.com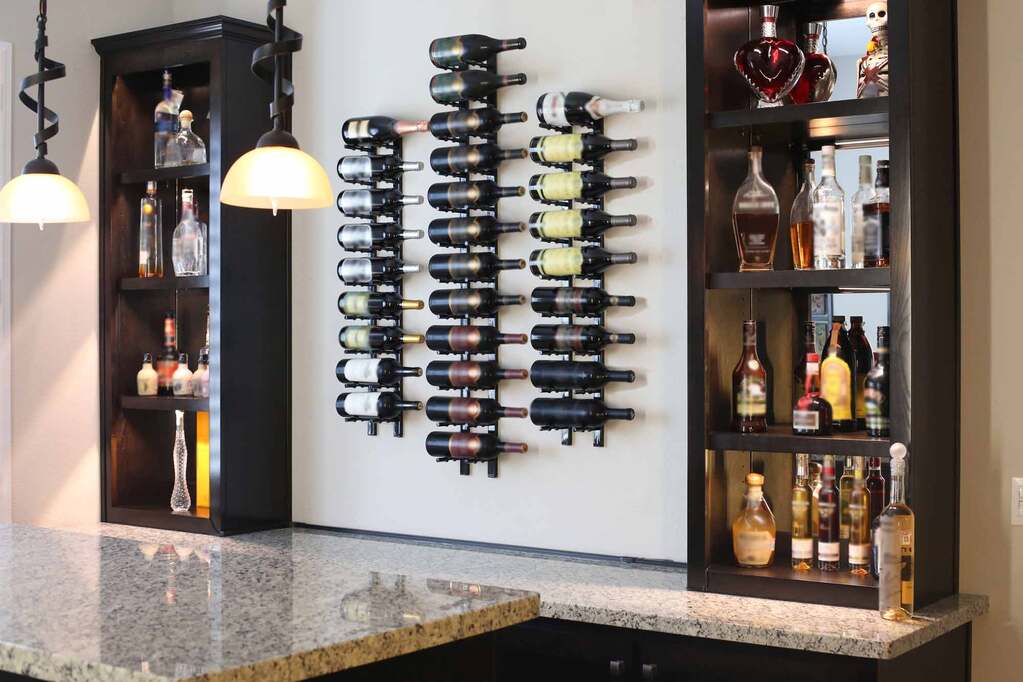 Source: twimg.com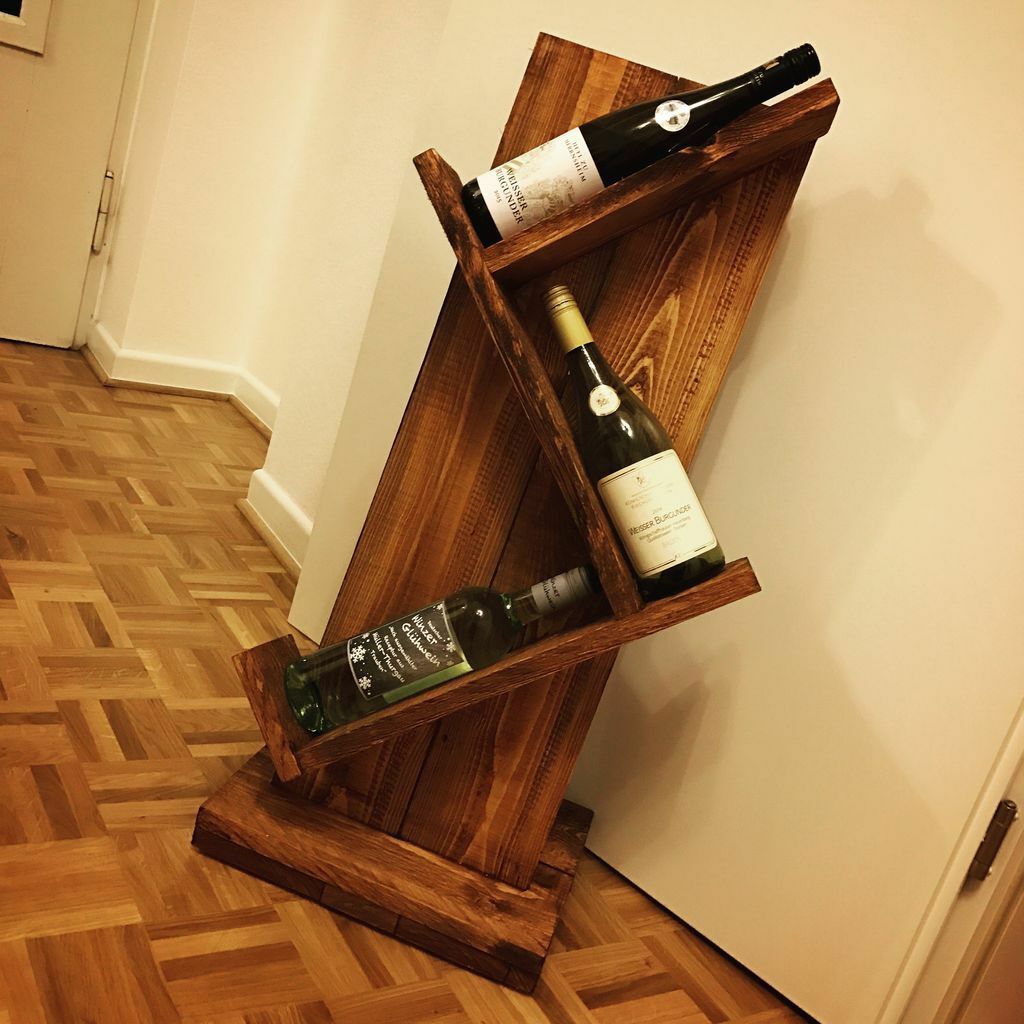 Source: homedit.com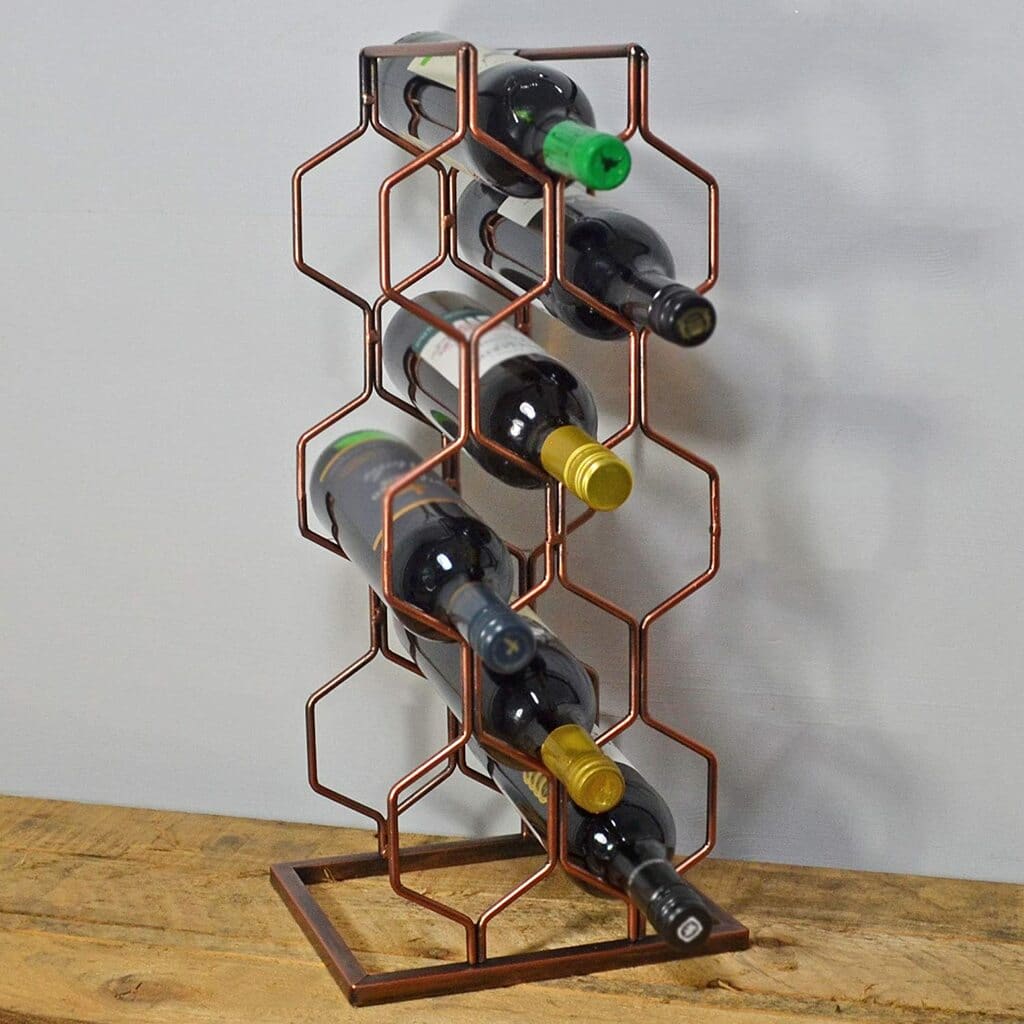 Source: amazon.com
Source: procuracolombia.com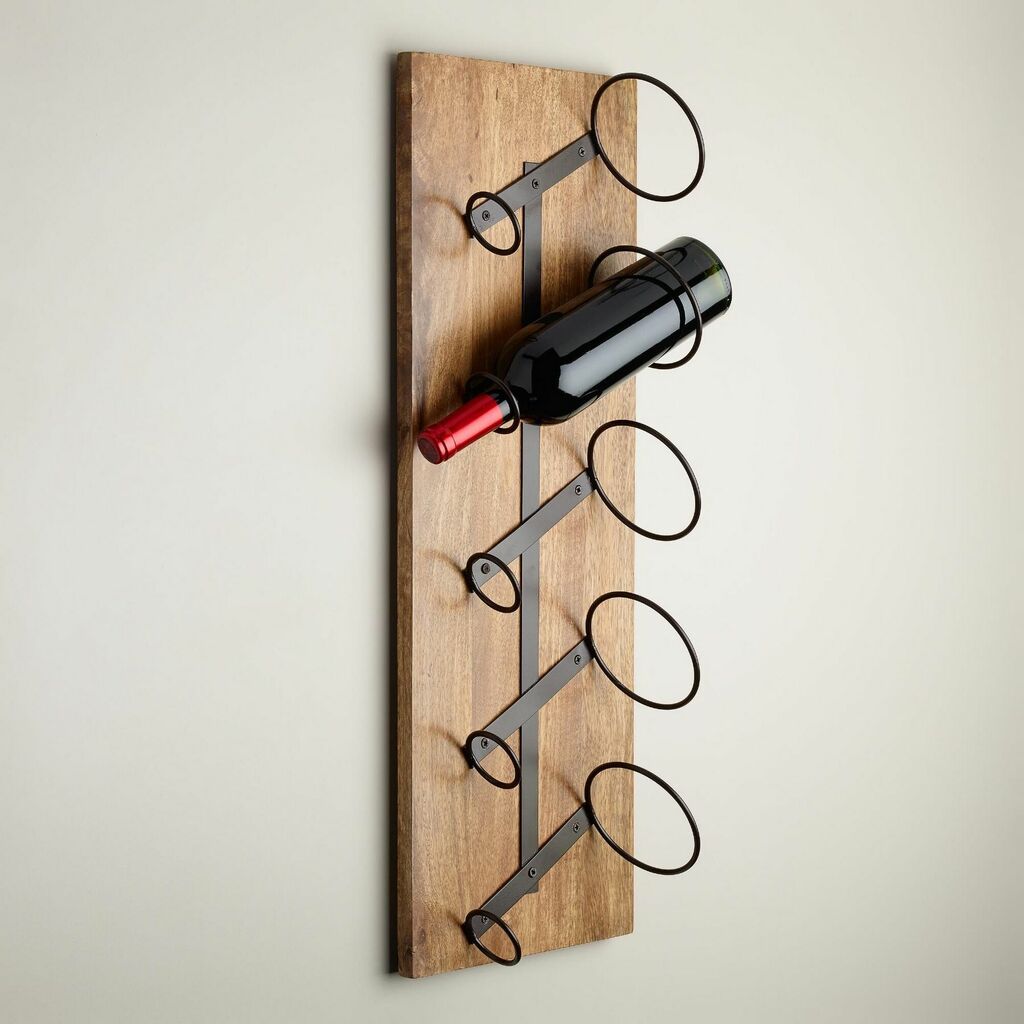 Source: wp.com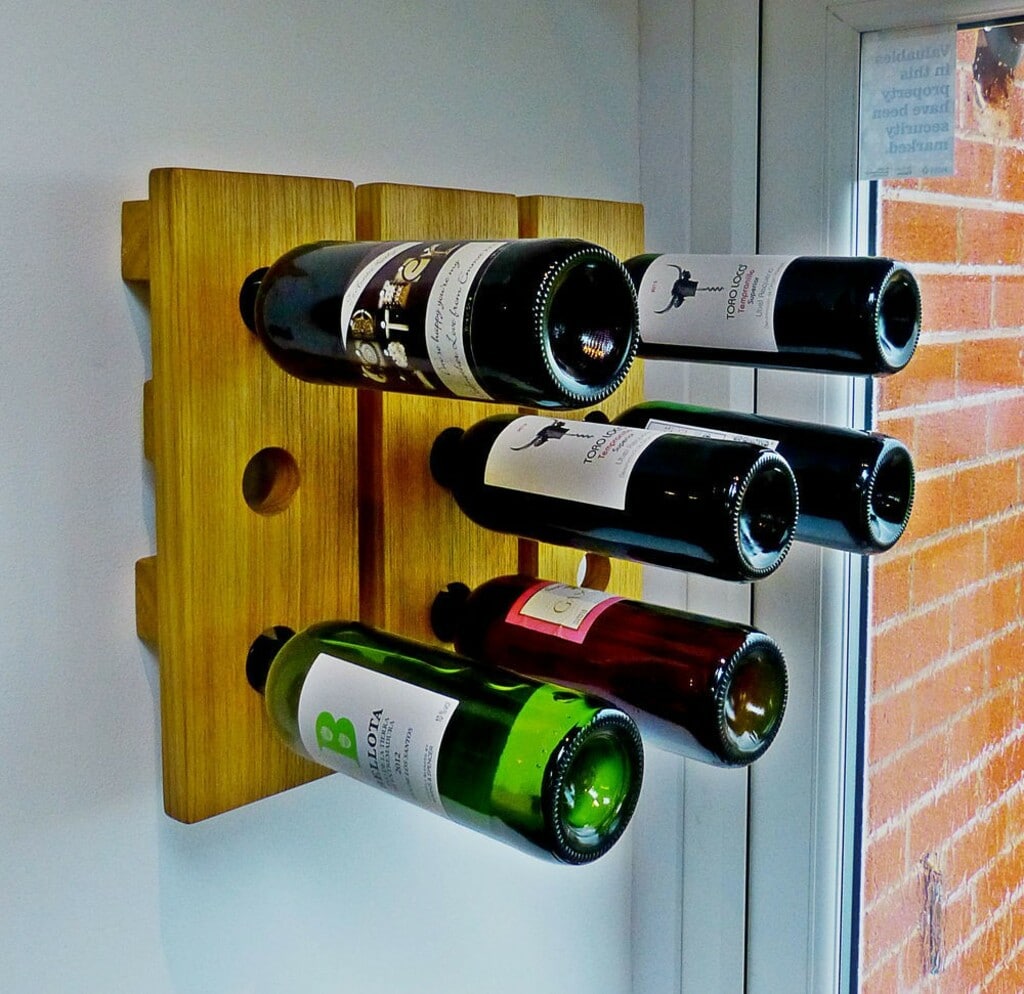 Source: unemamancreative.com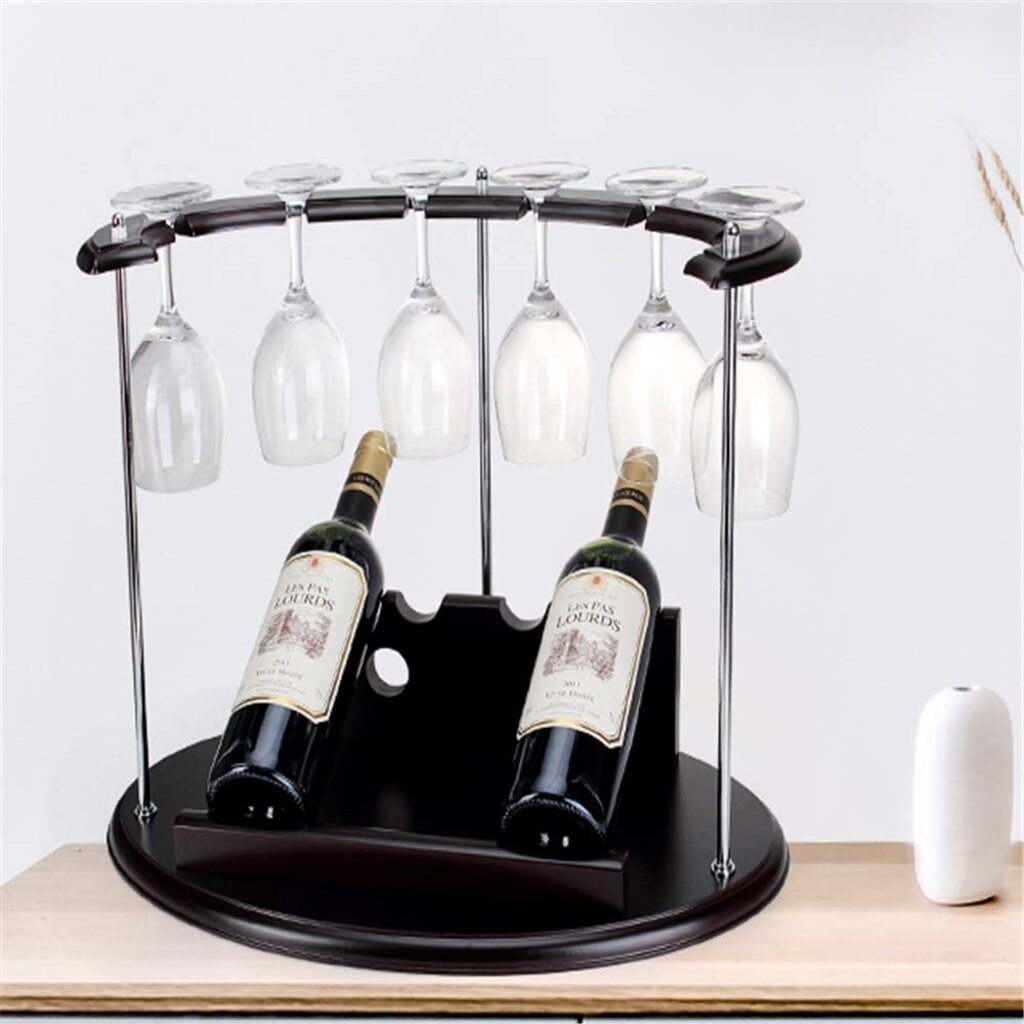 Source: amazon.com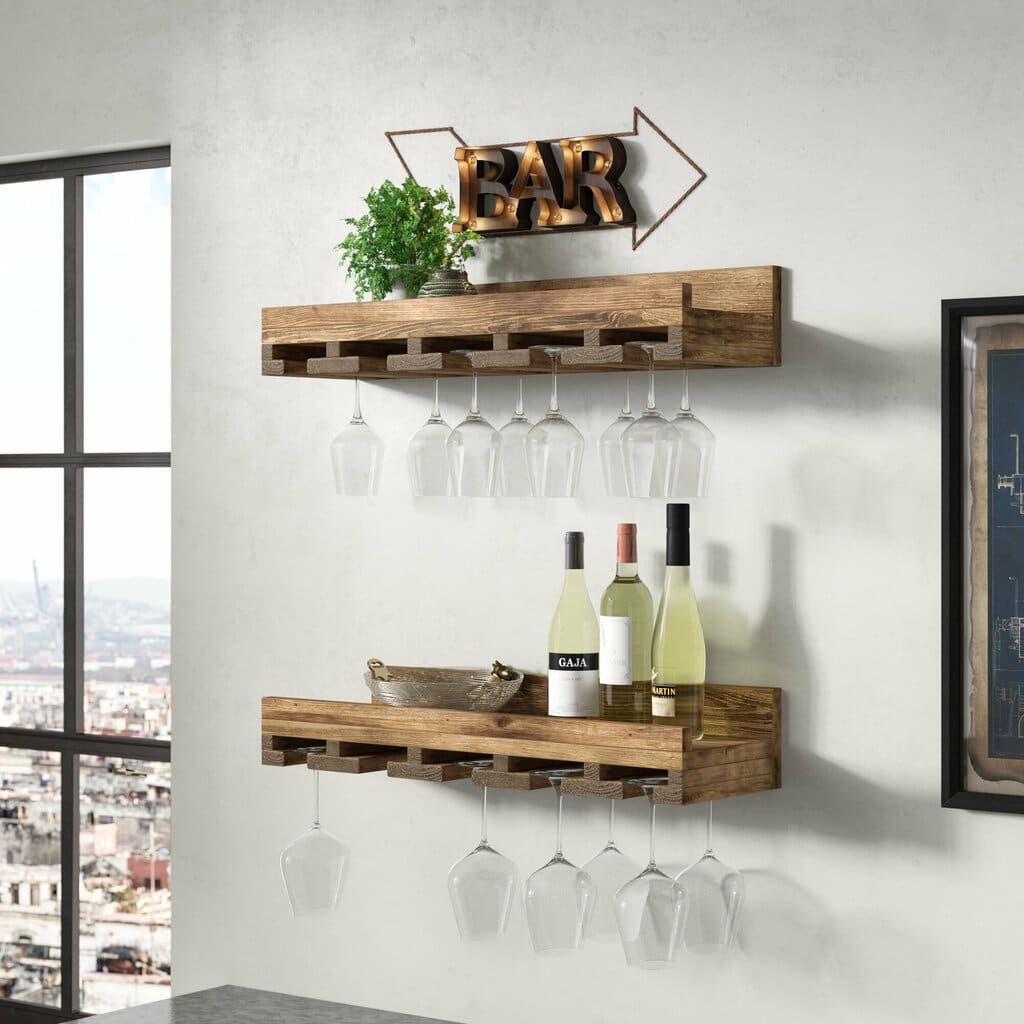 Source: wfcdn.com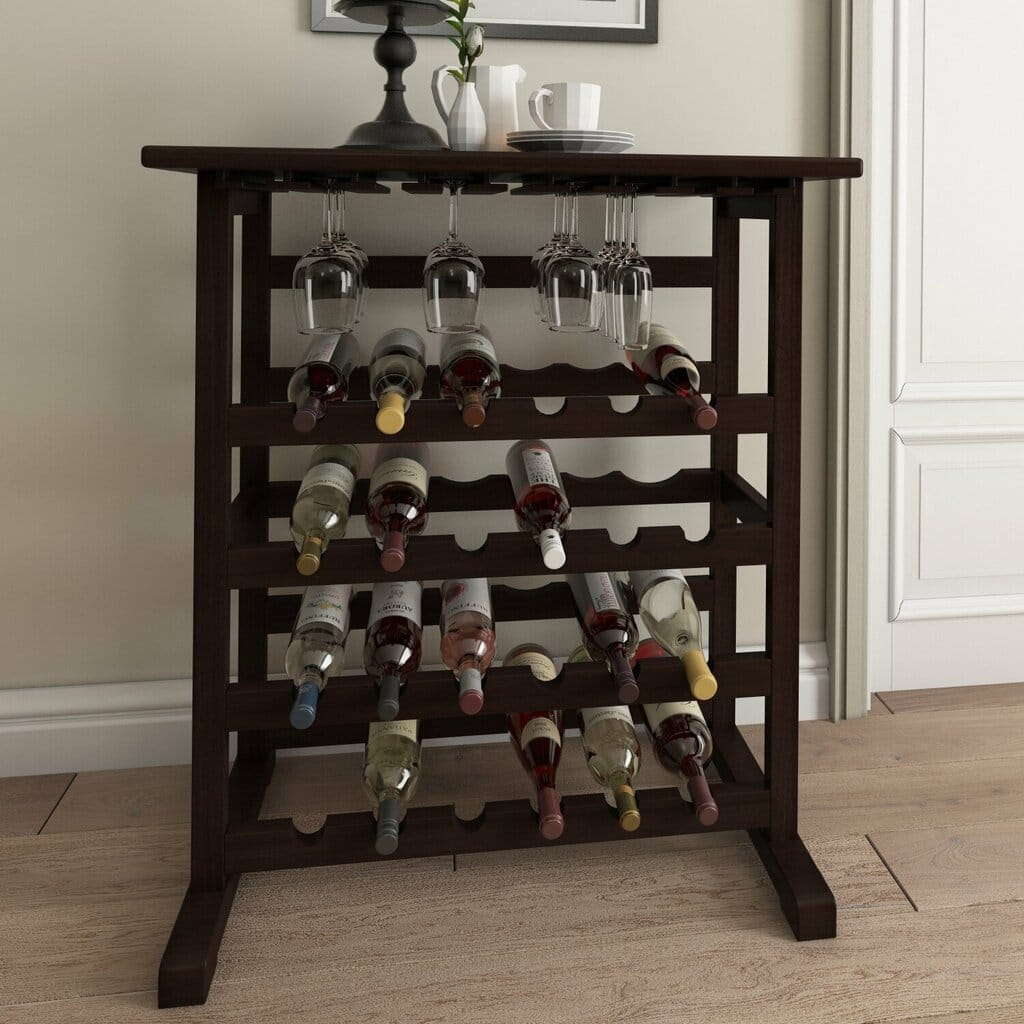 Source: wfcdn.com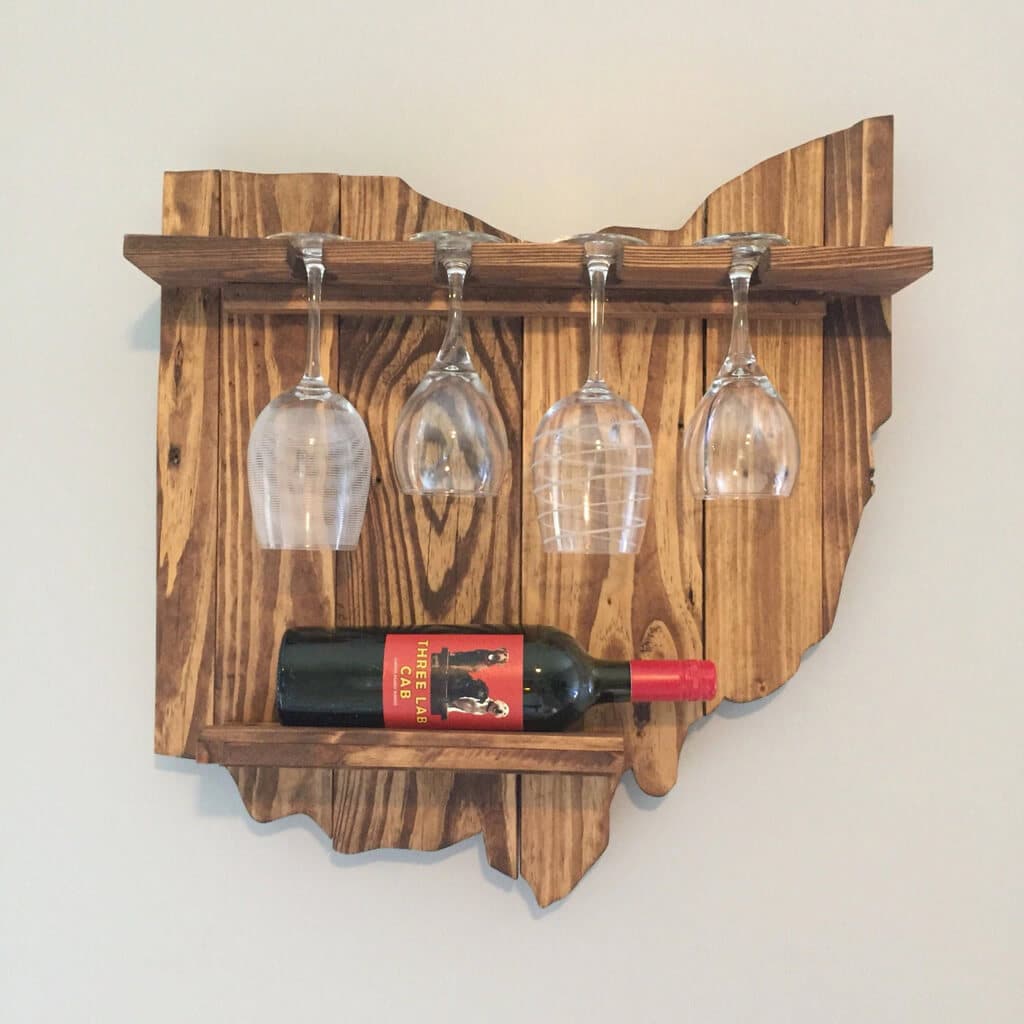 Source: procuracolombia.com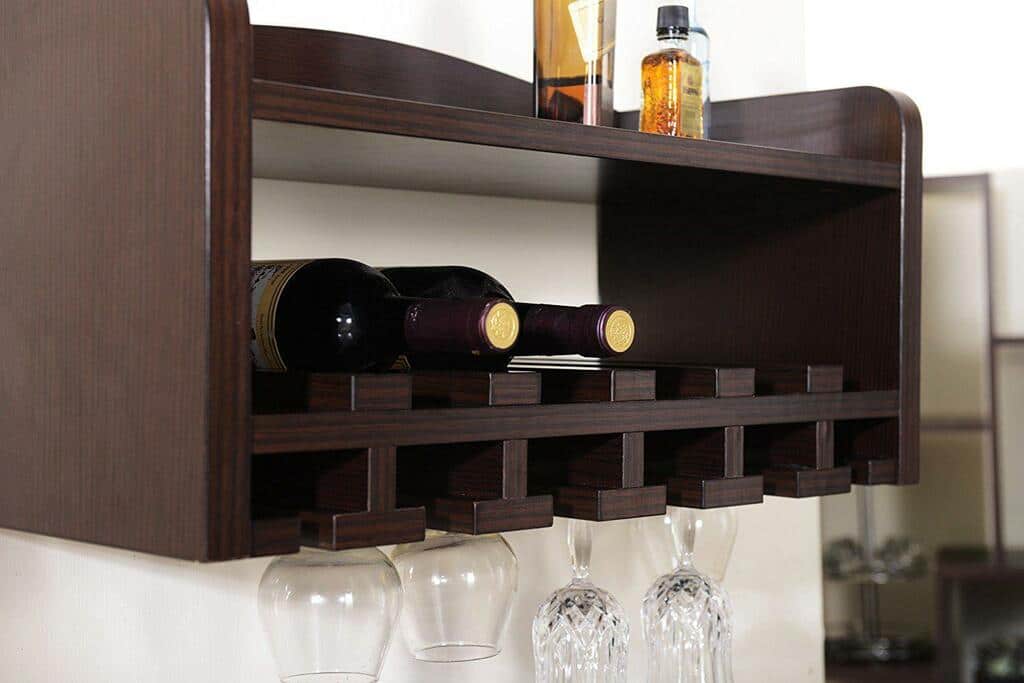 Source: flutternyc.com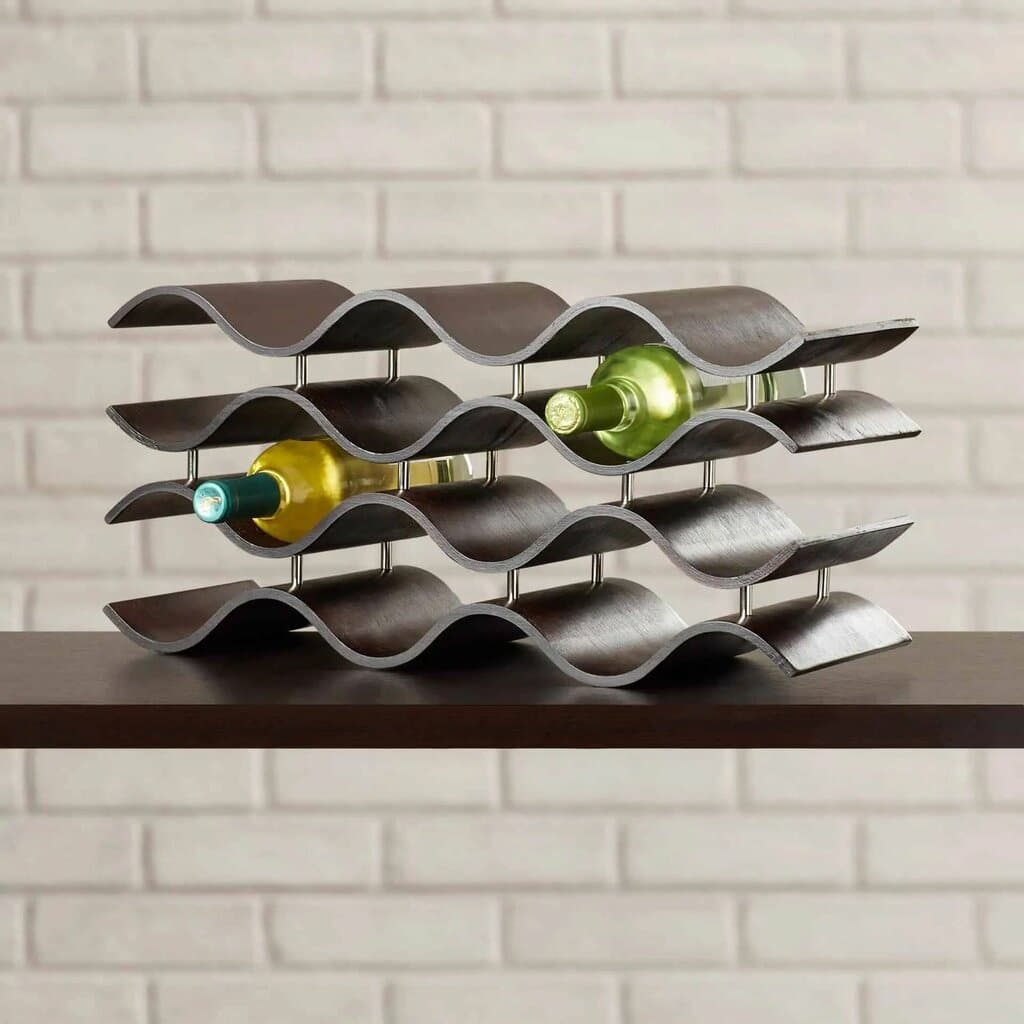 Source: decorsnob.com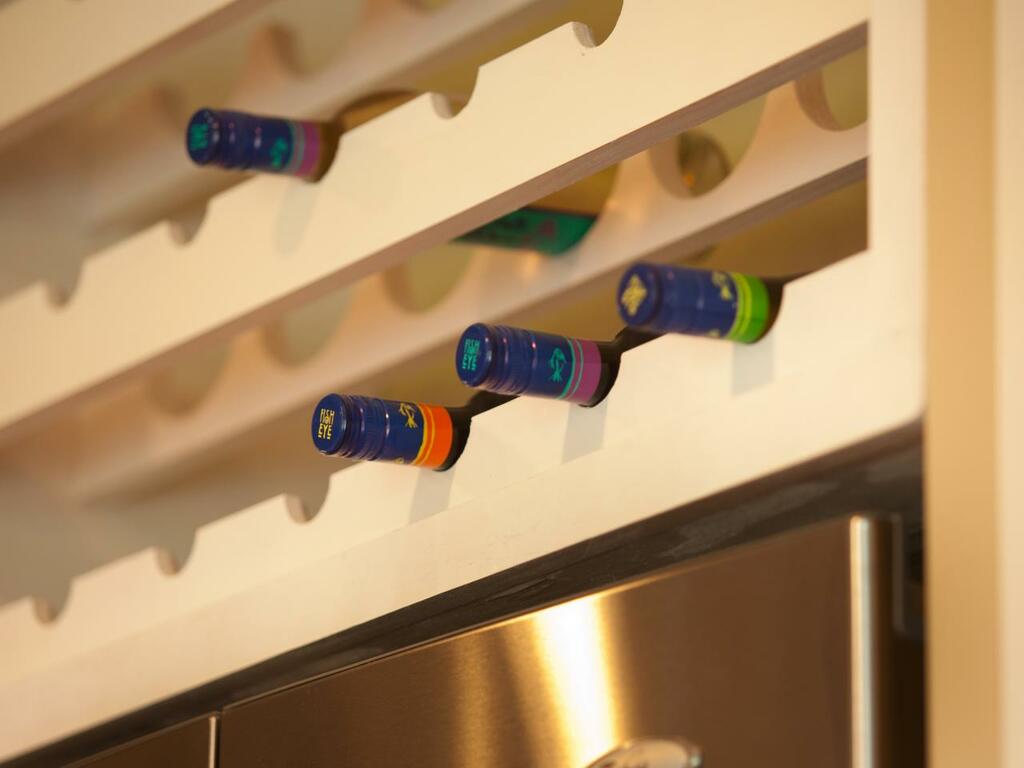 Source: sndimg.com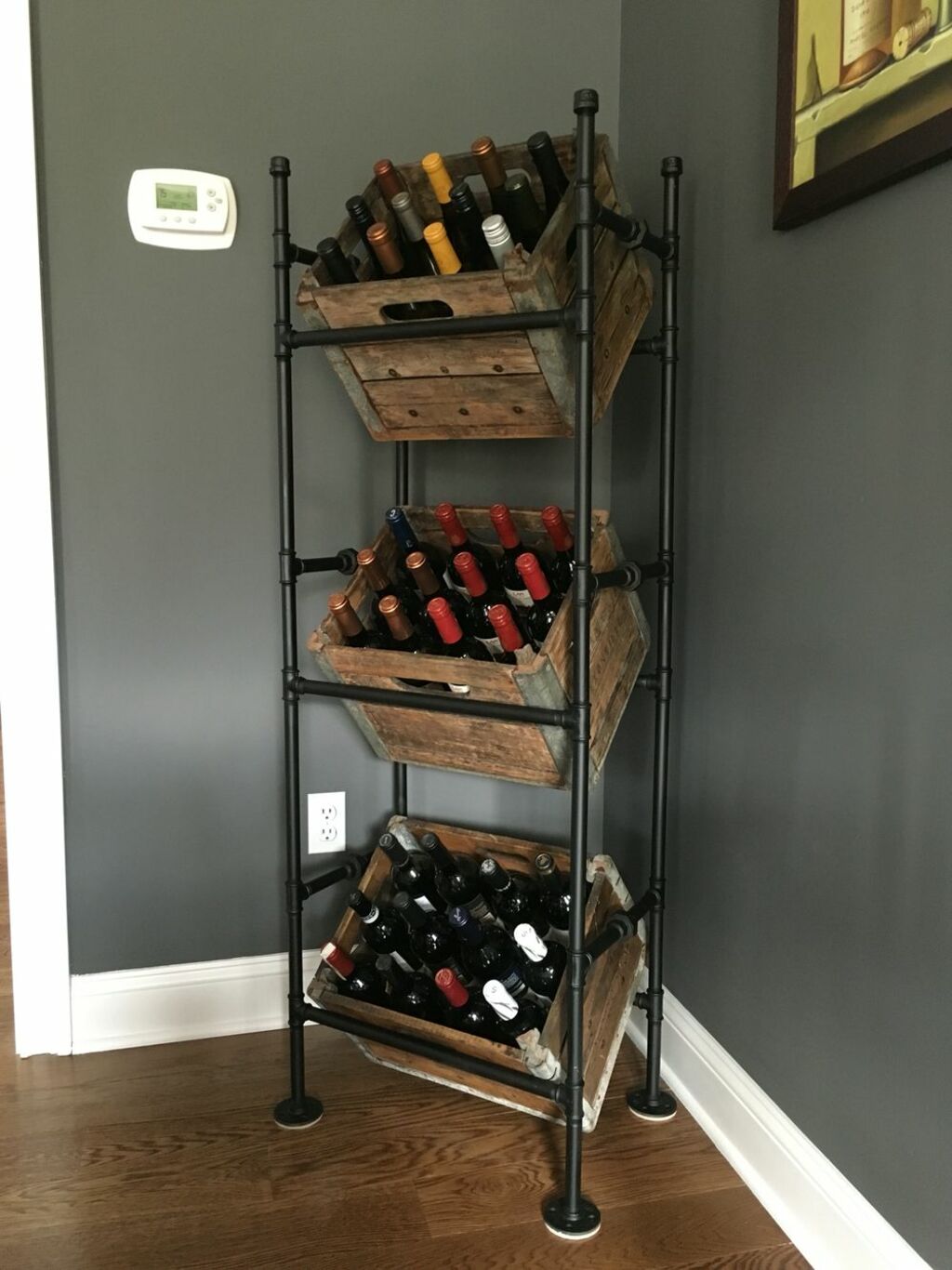 Source: pinimg.com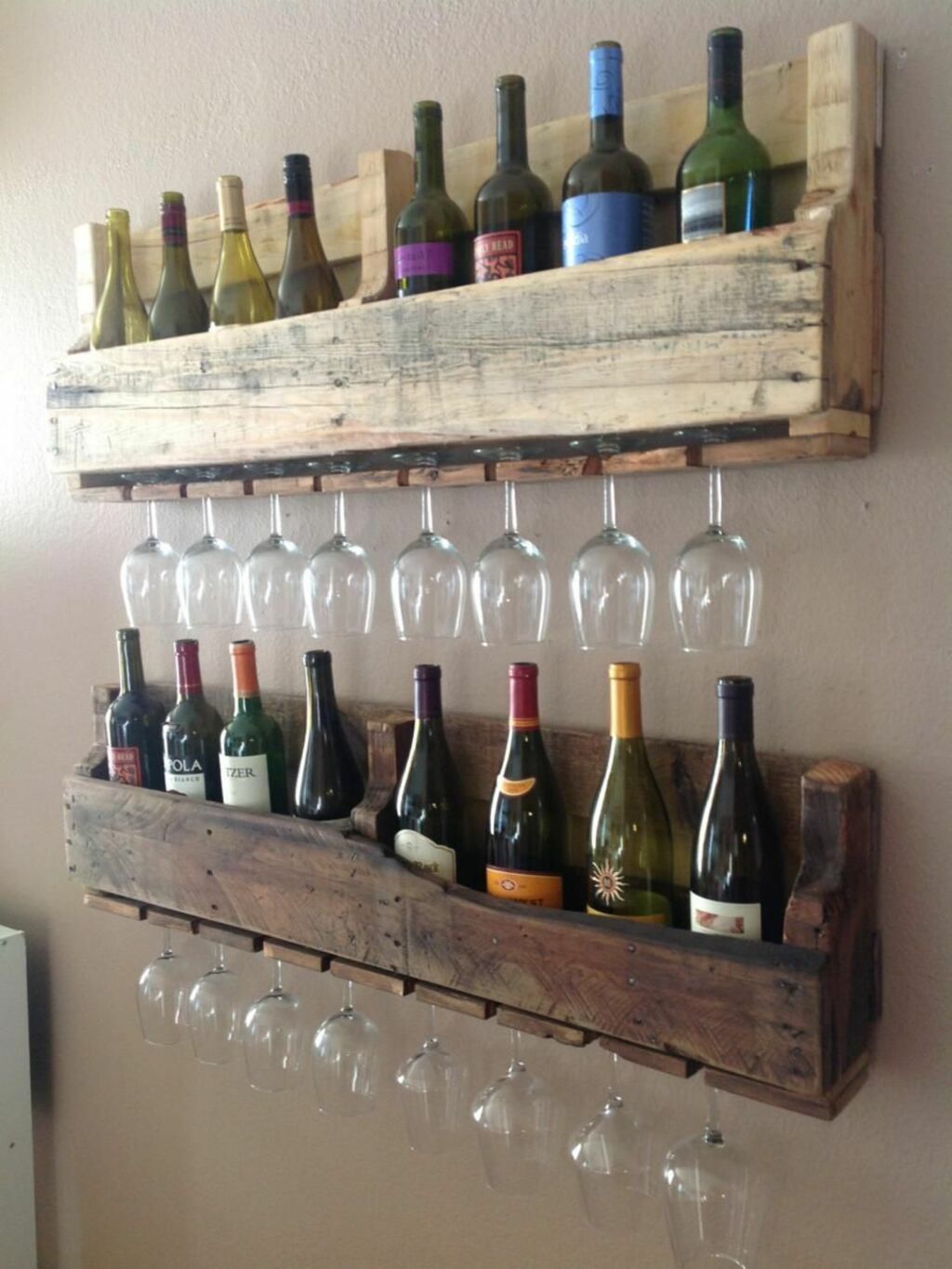 Source: pinimg.com
The Bottom Line
So which wine rack plans is your favorite? I know it's hard to pick one from all these pretty ones. But my advice to you is that always select the one according to your wine collection and space. For example, if you only have a few wine bottles, there is no sense in building large rack ideas. Go with the six-bottle rack or tabletop ones, as they occupy less space and also look great. 
I hope you liked all these attractive wine rack plans; if you do, don't forget to share these amazing ideas with your family and friends. Keep coming to Architecturesideas for more interesting blogs.