How to Choose the Right Dining Table for Your Home in Singapore
A dining table is not just where the family gathers to enjoy meals. It serves as the focal point of the dining room, and as such, a lot of thought must be put into choosing the right dining table for your home in Singapore. 
Whether you're purchasing a dining table for a new home or replacing an old one, it's always better to know what your options are. For this guide, we're focusing on wooden table Singapore as these are the most common and the favorite among Singaporeans.
Wooden Dining Tables in Singapore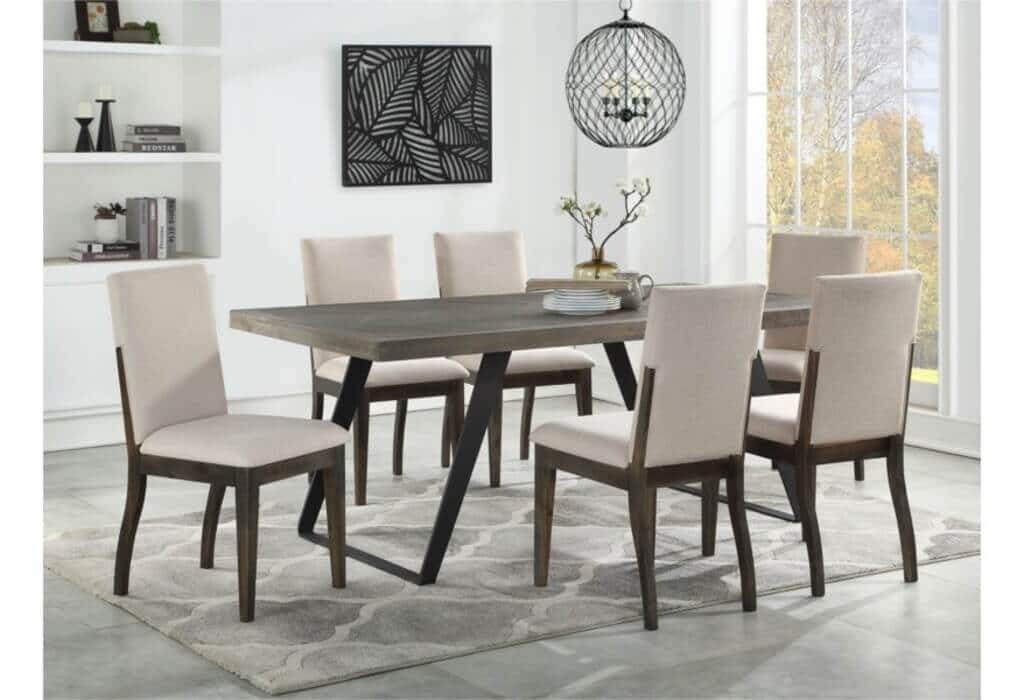 Source: furnituredealer.net
Buying wooden furniture in Singapore can be tricky. The country has hot, humid weather and abundant rainfall that can cause damage to wooden furniture. 
When exposed to an excessive amount of humidity (most especially during the months of November to December), furniture made of wood can expand and begin to deteriorate. Wood finishes can go dull, surfaces can crack, and the wood grain can raise or stick out.
Wood tables and other furniture made of wood may even grow mold, which not only discolors and harms wood surfaces but can also cause health problems.
This is why you need to be extra mindful of the kind of wood used and how it's been treated or finished. Most wood species sold locally are well-suited to Singapore's weather when used indoors, but some types of wood are better than others.
In general, hardwood species like maple, oak, and teak are suitable for dining room tables. Sure, another hardwood type, would need to be dried properly and given the right finishing for it to withstand local conditions.
Softwood species such as cedar and pine are not recommended for outdoor use as these are more susceptible to damage in Singapore's humid weather. While you may choose a more economical cedar or pine dining room table, it's hard to say if it will be able to last as long as you would like—so better stick to hardwood.
5 Factors to Consider When Choosing a Dining Table in Singapore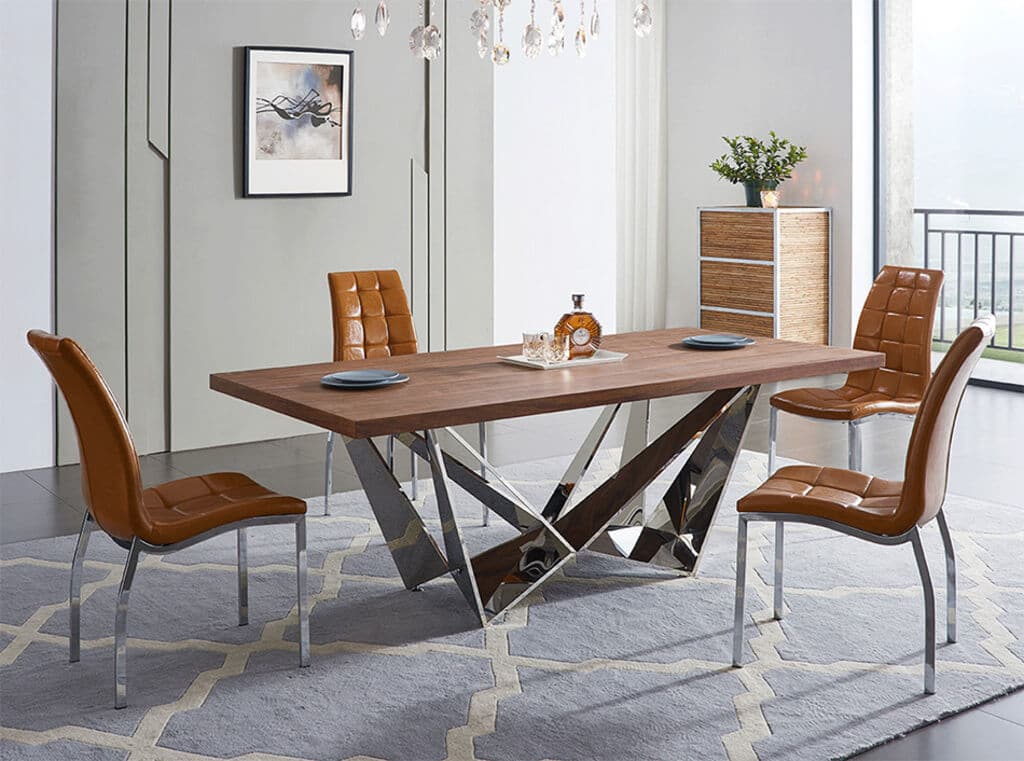 Source: modern1furniture.com
The following are the main factors to take into account when selecting a dining table that would be the best fit for your home in Singapore:
Dining Table Size
The general rule when choosing a dining table is to have a minimum 3-foot space around the proximity of the table. If you have a small dining area, make sure the table you choose leaves enough room for the chairs to be pushed back and for people to sit and move around the table. 
Dining Table Shape
Dining room tables in Singapore typically come in rectangular, square, or round shapes. Rectangular and round tables are the most common. Selecting a table based on its shape would require you to consider the space and layout of the dining room. If the room is elongated, a rectangular table would be ideal. If you have a small space, a round table may be more suitable.
Dining Table Style
Wooden dining tables come in two major styles: classic/traditional and modern/sleek. It would be good to choose a style that works with the rest of your home so you can create a cohesive interior design. This goes for the dining chairs too–the chairs should match the table or your dining room's theme.
Dining Table Usage
For many homes in Singapore, the dining table serves a variety of functions. It's used as a meal preparation table, a place for kids to do their homework, a crafts table, and so on. When choosing a table, think about the other uses it can serve in your home. You may be a family of three but would need a large table for a variety of chores and other activities.
Dining Table Seating
The table you choose should be able to accommodate the number of people who will sit around it in your home. It's ideal to have at least 24 inches of space per person. If you want more space for food or more elbow room, go for a longer or wider table.
Tips to Choose a Wooden Dining Table in Singapore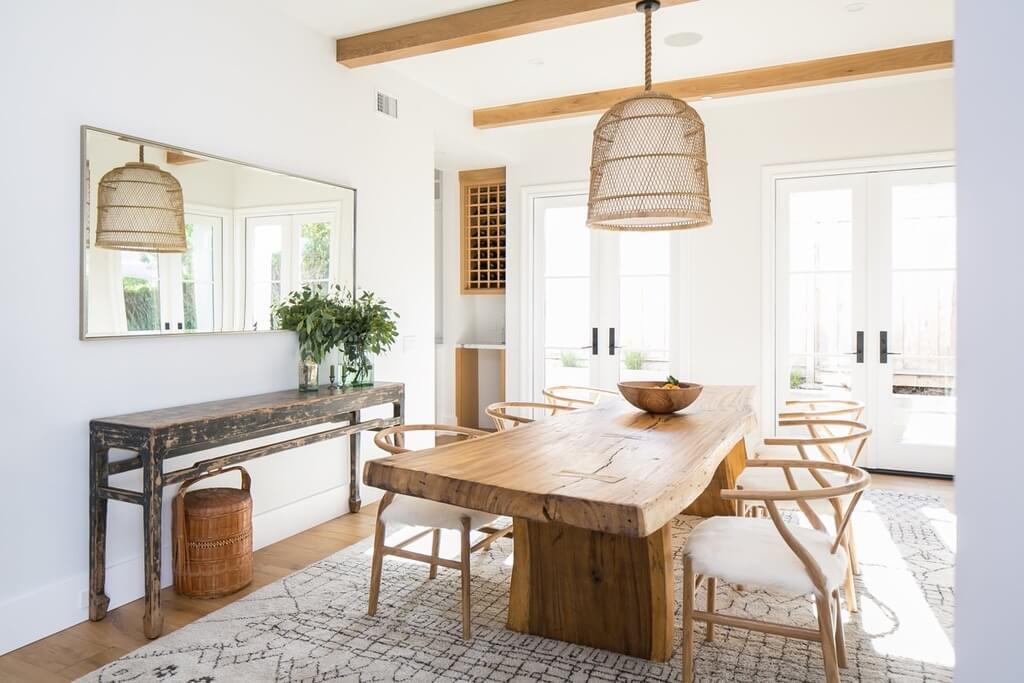 Source: designing.com
Check the quality of the wood used for the table. For dining tables, solid hardwood slabs are better and more durable than plywood or timber veneer. Natural hardwood is also very heavy and dense, and more resistant to termites.

Make sure the table is well-balanced in terms of weight, is not wobbly, and all the hardware parts are installed properly.

The best wooden dining tables should be made with proper wood joinery techniques, so inspect the table's different parts carefully. Pay special attention to the underframe, which connects the top of the table to the legs.
Is Custom-Made Furniture More Expensive in Singapore?
Custom-made furniture, especially those made of wood, tends to be more expensive than mass-produced pieces for a number of reasons. Custom pieces of furniture demand a high degree of craftsmanship, effort, and weeks of labor. 
Each piece is unique, as each client's needs are unique. If you have a custom-made table, you can take pride in the fact that there is no one else in the world that has the same table as you, unlike with commercial options.
A custom-made dining table set is created using high-quality materials that add to the cost. Custom furniture makers need to source wood species that can withstand years of wear and tear and do not bend or break easily (usually solid hardwood) and use hardware that does not easily break.
Furthermore, each custom-made piece undergoes strict quality control standards before it finds its way to your home. 
Custom furniture may come with a higher price tag than commercial furniture, but when you think about their value and quality, you'll find they are actually not that expensive. 
Custom pieces are made to stand the test of time and are considered a wise investment, especially when these custom builds become heirloom pieces your family can treasure for generations to come.
How Do You Protect a Wooden Dining Room Table in Singapore?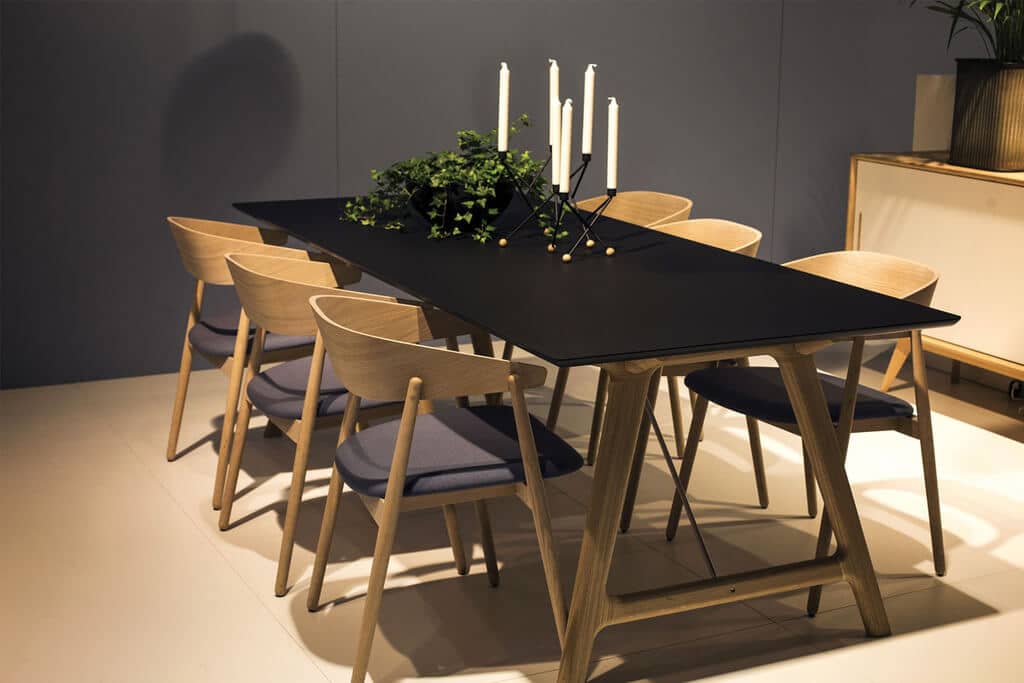 Source: pelikano.com
Wooden dining tables in Singapore can be prone to damage if not maintained properly. Among the most common damage to wooden furniture are the following mold growth from excessive moisture and insect infestation by wood-burrowing beetles and termites.
This happens when the wood is not finished properly and when the finishing on the wood begins to wear off over the years. You can protect your wooden dining table and keep it in top shape by following these tips.
Cleaning Tips for Wooden Dining Table
Clean your wooden dining table with a dry or mildly damp cloth. Use soft cotton or better yet, a microfiber cloth to remove any crumbs, dust, and grime that may have built up.

If there is grime or a sticky part on the surface due to spilled food or drink, you can clean the table using a mixture of water and dishwashing soap. Gently rub the cleaning solution onto the affected area. Avoid using harsh chemical cleaners and abrasive cloth on the wood surface.

To get rid of water, tea, or coffee rings on the surface of your wooden dining room table, mix up equal parts vinegar and olive oil. You can also mix a tablespoon of kitchen salt and a few drops of water to form a paste. Use a soft cloth to gently apply the mixture to the ring. 

After cleaning, use a clean, dry cloth to dry and buff your dining table.
Also Read: Top 9 Most Easiest and Coolest Round Dining Table Design Ideas
Protection Tips for Wooden Dining Table
Use table runners, placemats, coasters, and pot trivets to protect the surface of the table from moisture, water/tea/coffee rings, and food spills. Wipe away water or spills immediately. 

You can use heat-resistant placemats for hot pans or serving dishes to prevent burn marks.

Keep the dining table away from windows and doors leading to outside areas so it is not exposed to direct sunlight and rain. Wood finishes and coatings tend to wear off more quickly over time when constantly exposed to moisture and direct sunlight.

Avoid placing your wooden dining table close to the stove, as the heat from it could warp or split the wood.

Use a waterproof table cover when you anticipate the table will be subjected to mess and spills (for example, during parties or when it's used as a desk for art projects).
Maintenance Tips for Wooden Dining Table
Apply wood wax or wood protecting oil (teak oil, Danish oil, and tung oil are the most common) every year, or twice a year if the table is exposed to moisture often (for example, if you use it to prepare food and you wipe it down constantly).

Use furniture wax such as natural beeswax and carnauba wax to polish your wooden dining room table. Use two pieces of soft, lint-free cloth: One for applying the wax and the other for polishing. Wipe in the direction of the wood grain.

Dust your wooden dining table regularly. Small dust particles may seem harmless at first, but these can build up and scratch the table's finish. Use soft cloth (an old t-shirt will do great) to get rid of the dust. You can dampen the cloth slightly with water to clean off the dust particles. Microfiber cloth also works wonders.

Consider getting a dehumidifier for your home, especially if you have a lot of wooden furniture. It's also recommended to ventilate your home at least once a day to prevent indoor humidity from building up.

If you have pets that love scratching or chewing on the legs of your dining room table, it would be a good idea to buy a separate scratch post or chew toys for them. 

If the wood finishing or lacquer on the surface of the table has almost worn off, you can reapply a clear furniture coating. When in doubt about which coating to use, consult a professional.
We hope this guide gives you a better grasp of the things you need to think about and what to look for when choosing the best solid wood table for your home in Singapore. Good luck and happy hunting!