Choosing a Property in Dubai
If you are considering whether to buy a house in Dubai, you may want to compare this option to purchasing an apartment in one of its numerous residential communities. Here are a few essential factors to take into account before you make the final decision
Price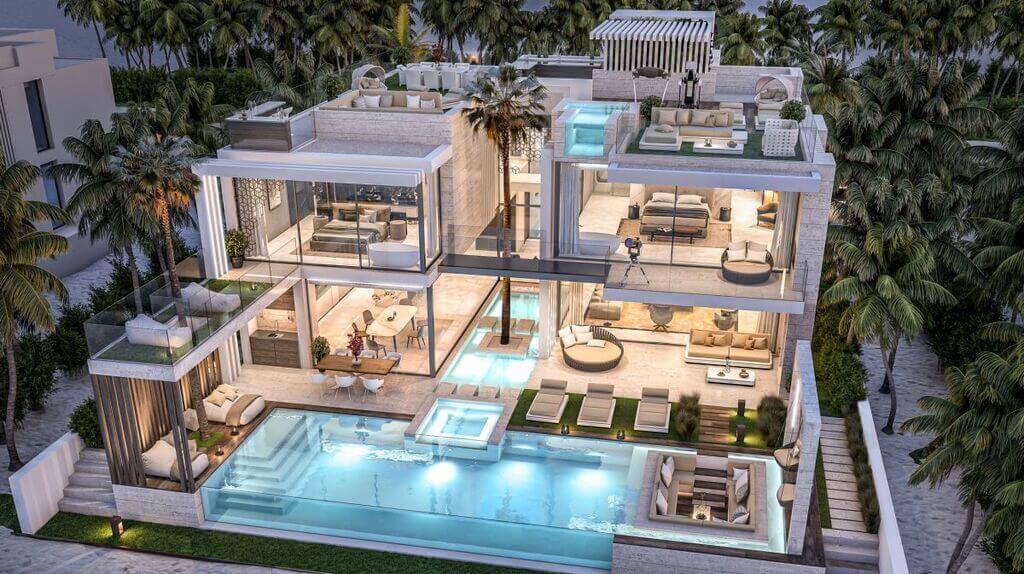 The value of the real estate in the UAE varies greatly depending on the floor area, the number of rooms, location, community, amenities, and so on. Understandably, villas are generally more expensive. Here are a few examples of such properties listed on the official website Emirates. Estate with an extensive catalog of offerings from developers and real estate agencies:
There are, however, cheaper villa communities in Dubai, so it makes sense to check for budget-friendly options in Arabic real estate even if you are on a tight budget.
Prices of apartments, on the other hand, start at AED 240,000 (USD 65,300), although sumptuous properties in fashionable in-demand districts can be worth AED 5 million (USD 1.3 million) and more.
Location and Lifestyle
Another thing to consider when choosing a buy-to-rent or buy-to-live property in Dubai is your preferred lifestyle, which determines the choice of community. If you are after relaxed, serene seaside living with a white-sand beach on your doorstep, your viable options could be limited to high-end waterfront communities, such as Palm Jumeirah or Reem.
Some of them consist exclusively of villas. Other districts, such as Dubai Silicon Oasis or Jumeirah Village Circle, offer both snug studios or apartments and more spacious and expensive villas.
If you enjoy driving, villa communities are a great choice because it usually takes a few minutes to reach all the necessary amenities, such as supermarkets, schools, hospitals, restaurants, and entertainment venues.
If, however, you would like to get around by public transit, apartment blocks are a safer bet, as most such communities are built near metro lines and bus stops.
Families with children might opt for greater privacy and security in a gated community, in which case villas or other types of detached houses are the right options.
They also usually feature the best backyard, where playgrounds and other facilities for children can be equipped. Villa communities, such as Arabian Ranches, accommodate educational establishments – schools and kindergartens.
High-rise apartment buildings, on the other hand, are usually located in central districts, closer to the buzzing nightlife and the beating heart of the city. Single professionals often prefer to have nightclubs and various entertainment venues close by.
However, districts like Silicon Oasis and Sports City have a combination of residential and commercial properties, with schools and other necessities nearby.
Surroundings
Practical considerations are not the only factors that should drive the choice of residence. It is almost equally important to enjoy the views from your windows. More expensive apartments in Dubai skyscrapers offer staggering views of the Persian Gulf (in Jumeirah Beach Residence) or the iconic skyline (Dubai Downtown).
Buyers of villas in high-end communities, on the other hand, might be able to take in the sweeping green lawns of golf clubs with lakes, hills, and landscaping, or parks in the middle of the desert.
If having a supermarket, a café, a beauty parlor, and other such amenities on the ground floor of your home matters to you, you should opt for an apartment tower. Many of these also offer communal facilities, such as a swimming pool, children's playgrounds, an equipped gym, etc.
In a villa neighborhood, you usually have to drive a short distance to the nearest shop, but if you purchase a property in an affluent, high-end neighborhood, you can have the use of jogging tracks, footpaths laid across landscaped green areas, tennis, and basketball courts, and so on.
Maintenance
You should be prepared for the expenses of maintaining a villa and the grounds, which often include a beautiful private garden and a swimming pool that need cleaning. This is definitely higher than the cost of living in a flat in downtown Dubai.
Your utility bills will also be higher if you own a villa, especially if you factor in the water required to water the plants in the garden and fill the pool.
The costs of purchasing furniture, accessories, and décor elements are obviously lower in a smaller apartment.
Buying a Villa in Dubai
If, upon proper consideration, you decide to invest in a villa in Dubai and relocate for permanent residence, start looking for a suitable property today, as prices of real estate in the United Arab Emirates grow consistently.