Dubai Hills: Why You Should Invest in This Chic Area of Dubai
Dubai Hills, built by Emaar, is becoming increasingly popular among potential investors. It is located next to Al-Hai Road and offers ready-made real estate, but there are also quite a few projects under construction. Absolutely all the development projects are modern real estate for high living comfort! If you are looking to buy real estate in Dubai Hills, we suggest that you take a closer look at the possibilities of this area. Find out the most popular communities for buying apartments and villas in Dubai Hills.
Dubai Hills: Review
As it is located a few minutes from the center of Dubai, Dubai Hills offers everything that families can wish for a luxurious life. A notable feature of the area is Dubai Hills Park is a lush green oasis, which is 4 times larger than Charles de Gaulle Square in Paris.
With an excellent 18-hole golf course, luxurious amenities and an ideal location close to major road arteries, Dubai Hills is ideal for both those who want to invest with long-term prospects in mind.
Investors can find modern apartments for sale in Dubai Hills, which will be a good option for you if you are interested in an efficient space that will not be difficult to look after. For those buyers who are looking for more privacy, we advise you to explore the segment of villas in the Dubai Hills area.  
Dubai Hills: Where to Buy a Villa
Dubai Hills sales trends collected by Bayut experts show that villas are in high demand among potential buyers in the area. We suggest reading about several popular communities with villas for sale in Dubai Hills Estate, which you can pay attention to.
Sidra Villas
Source: buyproperty.ae
Sidra Villas is the most popular area among real estate seekers looking to buy villas in Dubai Hills. There is a good selection of tasteful houses in the area. There are running tracks, bike paths, supermarkets, kindergartens, and medical facilities nearby, so this area is an ideal option for living with a family.
The houses for sale in Sidra Villas are available in various layouts (from three to five bedrooms). The villas with three bedrooms are presented for AED 3,520,000. Those buyers who are looking for more spacious apartments can choose villas with four or five bedrooms for AED 4,230,000 and AED 5,560,000.
Investors will be pleased to know that Sidra Villas offers an average ROI of 4.7%.
Maple Dubai Hills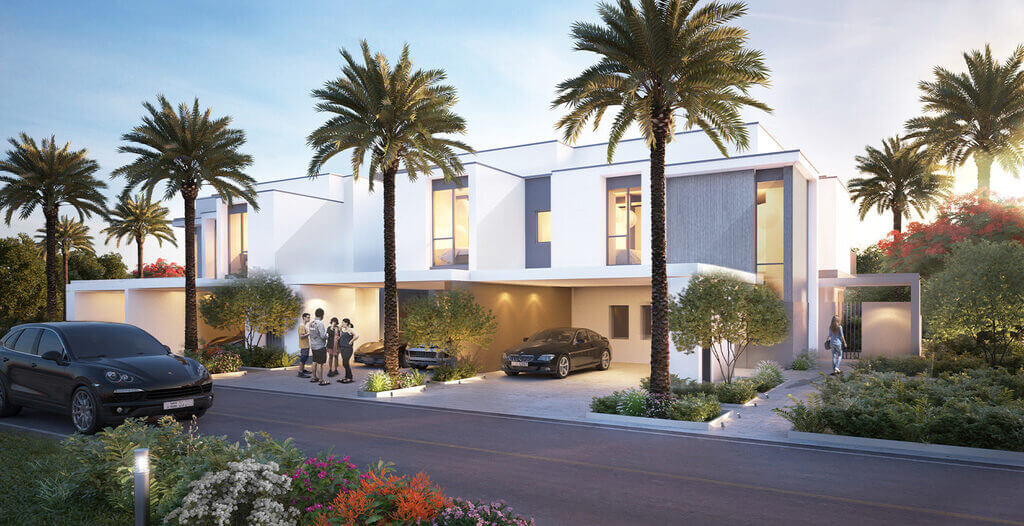 Source: emaar.com
Maple Dubai Hills ranks second in the popularity ranking. Every house in this community has a wide yard and private parking for two cars. Most of the houses have cozy gardens, which allow residents to enjoy the luxury and privacy of outdoor space. In addition, residents have access to nearby educational institutions, banks, retail and commercial centers, which makes this area an ideal place for families with children growing up.
Are you interested in buying a villa in Maple? Then you should know that the average price for a four-bedroom house is AED 3,840,000. In addition, investors can expect a good return on investment of 4.9%.
Also Read: List of Architecture Firms In Dubai
Golf Place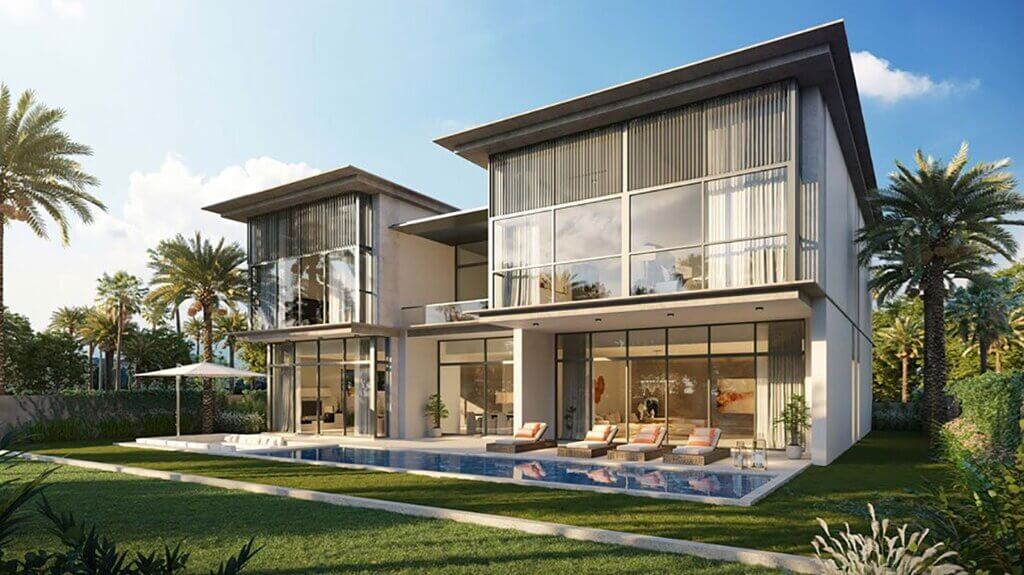 Source: edgerealty.ae
Golf Place sub-community is located on the southern edge of Dubai Hills. In a gated residential area with round-the-clock security, residents of Golf Place enjoy all the advantages of city life: nearby there are some large business centers, supermarkets, and well-known educational institutions, including GEMS Wellington Academy, which can be an excellent option for schoolchildren. As the name suggests, Golf Place The villas are located close to the golf course, and their windows offer breathtaking views of the beautiful green field.
Are you looking for a suitable villa for sale in Golf Place? The subcommunity is popular among those looking for spacious homes. As for the price, the average price for a five-bedroom house is AED 7,900,000.
Club Villas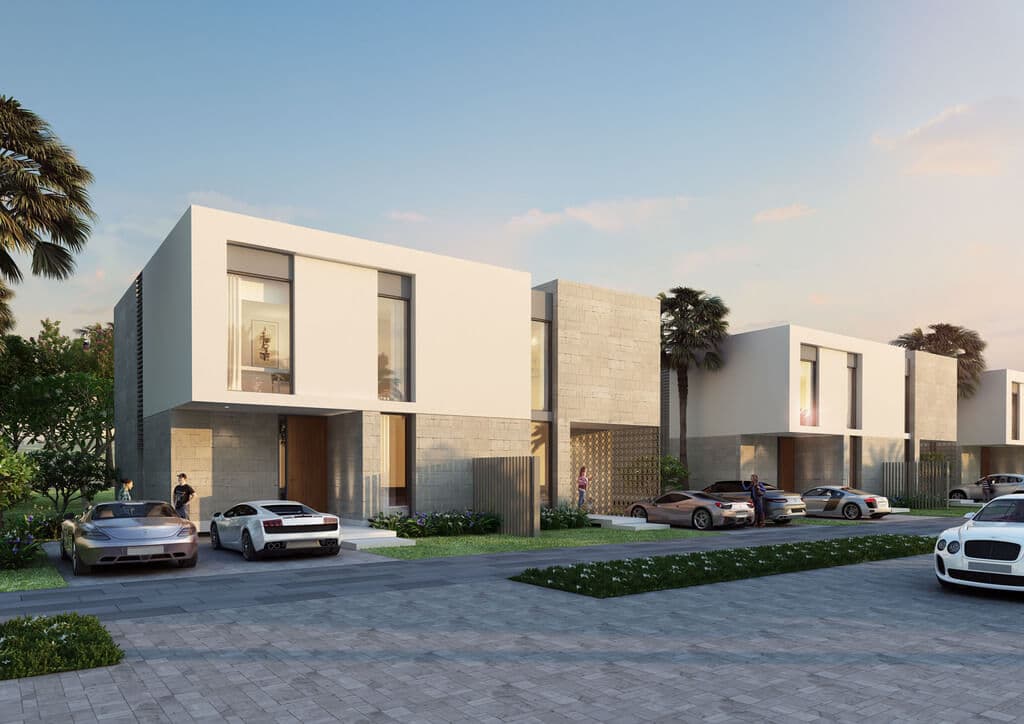 Source: intl.com
The next area where you can buy a villa in Dubai Hills is Club Villas. The subcommunity offers houses with three-four bedrooms in five unique styles: minimalism, international, modern, and cubism. It is located next to an 18-hole golf course where championships are held. The villas are ideal for families involved in this sport. 
Investors will find in Club Villas a wide selection of villas for every taste. The price for villas in Club Villas is AED 3,500,000 for a three-room and AED 4,700,000 for a four-bedroom house. Investors can expect 5% of ROI from these high-end villas.
Fairways Vistas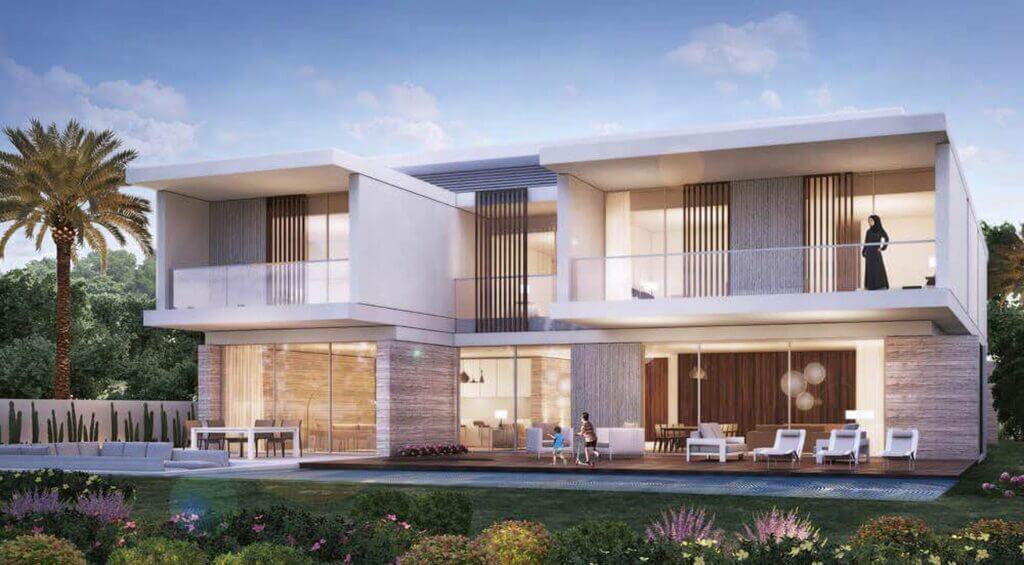 Source: propertynetwork.ae
Fairways Villas can also be a good option for those who want to purchase a luxury villa in Dubai Hills. An exclusive collection of 60 villas decorated in a modern Arabic style is presented in the residential area. The houses have spacious balconies, private gardens, and much more. 
The villas in this area are ideal for families who want the highest level of comfort, luxury, and convenience. Currently, the price for six-room villas in this area is AED 13,300,000, and the ROI is about 5.8%.
Dubai Hills: Where to Buy an Apartment
In addition to the popular communities for buying villas, Dubai Hills also has several apartment complexes. According to Bayut experts, investors and homebuyers are most interested in apartments in Park Heights, followed by Park Point, followed by Collective. If you are interested in buying an apartment in Dubai Hills, start searching in these communities.
Park Heights
Park Heights offers excellent conditions for potential investors interested in buying apartments in Dubai Hills. Due to its strategic location near the entrance to the community, an apartment in Park Heights can be a good investment for rent. 
Here you can find apartments with one, two and three bedrooms. One-bedroom apartments cost about AED 892,000, and a two-bedroom apartment will cost AED 1,400,000. Of course, three-bedroom apartments will be more expensive, as it is AED 2,300,000.
In addition, apartments in Park Heights show a good return on investment of 4.9%, which increases their attractiveness to potential investors.
Also Read: 5 Decorating Hacks For Small Apartments
Park Point
Easy access to Al Hai Road makes Park Point as convenient as Downtown Dubai. There are also plans to have a metro near the building, which will make it even more convenient for residents to get to the airport and other parts of the emirate.
AED 863,000 is the average price of a one-room apartment and AED 1,320,000 for a two-bedroom apartment. The profitability is 5.2%.
Collective
Collective is a high-rise building with one- and two-bedroom apartments. This is an ideal option for young couples and businessmen. The building is decorated in a modern style. The pros are the following: a fitness room, a games room, an outdoor swimming pool and so on.
The average price for a two-bedroom apartment is AED 1,200,000.
Our Assistance in Buying Real Estate in the UAE
Find out all about real estate in Dubai. There are details on AX Capital's website: https://www.axcapital.ae/.