A Guide to Lighting Your Bathroom Perfectly
The brightest bathroom lighting contributes to the creation of a relaxing and rejuvenating environment. Yet, bathroom lighting is arguably given the least care out of all the rooms in the house. But the reward is enormous when it's done correctly. After all, your day starts and ends in the washroom, so why not make it fancy and exciting! Lend your bathroom the touch to make it unique.
It's not easy to choose the correct lighting fixtures that will enhance the bathroom and harmonize well with the overall interior aesthetic. Because it is important to remember that the decor of an entire house must have a continuous thread.
Indeed, Black bathroom light fixtures can be a safe option, but there is much more to it than that. There are many more options and choices that will enhance your bathroom.
So, let's learn the details below!
Incredible Ways to Light Up the Bathroom Space

Source: tollbrothers.com
To shower or not – beautiful tub, excellent graphic floor, custom wallpaper for ceilings, broad and luxuriant theme, the modern chic restrooms tend to have a lovely, fresh, and minimalist style but also unique and distinctive. In such cases, choosing to use a gorgeous and stunning white chandelier would be an excellent addition to any transitional style. It's a true must-have for a majestic vibe and atmosphere, and what can be better than that is to feel royal when it comes to your own private space!
If you prefer modest, basic decor without going overboard with the frills, a bathroom spotlight is a way to go. This primary spotlight will bring plenty of light and flair to your lavatory. Giving your bathroom a monochromatic concept of silver and gold with a matte finish and clear glass shade with convenient and straightforward lighting adjustments will make it seem beautiful and provide comfort. With the same color palette, you can then choose your faucets and create one perfect style.
Considering the time it takes to find the right solution and the many challenges to find suitable illumination, you can add a ceiling lamp that will offer softer yet visible light in your bathroom. The soft glow will create a nourishing traditional and vintage feel if you align it well with the ceiling.
Then, pair it with a brass look to add a vintage touch to the overall tone of your space, especially if you have a black-themed bathroom or one that is characterized by the use of intense colors especially in the use of tiles.
On the contrary, if your idea is more bright in an overall way, you can add some black bathroom light fixtures to a light-themed bathroom, that will contrast a light-themed bathroom, bringing a modern outlook with the most refined touch of class and sophistication. As seen on Sogni Di Cristallo, there are several choices to fit different tastes, but creating exquisite contemporary washroom interiors all the same.
Finally, if you are wondering if pendant lights are the right solution.
The correct answer is certainly yes!
These pendant lights can be used in a bathroom as long as they are not too close to the water.
Brass ones for example are a good choice to add a touch of warmth to the bathroom, while glass pendant lights bring a sense of elegance.
Pendant lights are the latest trend for decorating the washroom; the glass and brass pendant light fixtures are amongst several excellent options for evoking a feeling of refinement and tenderness in your stylish bathroom. These lights may also be placed next to the bathroom vanity to improve and enhance the interior design. They give ultimate glam to the corner space of the washroom, while the different variety of styles and shapes provide an edge to the environment.
Also Read: Bathroom Design Ideas with Separate Bath & Shower
The Most Important Key Things to Remember Before Setting Up the Perfect Light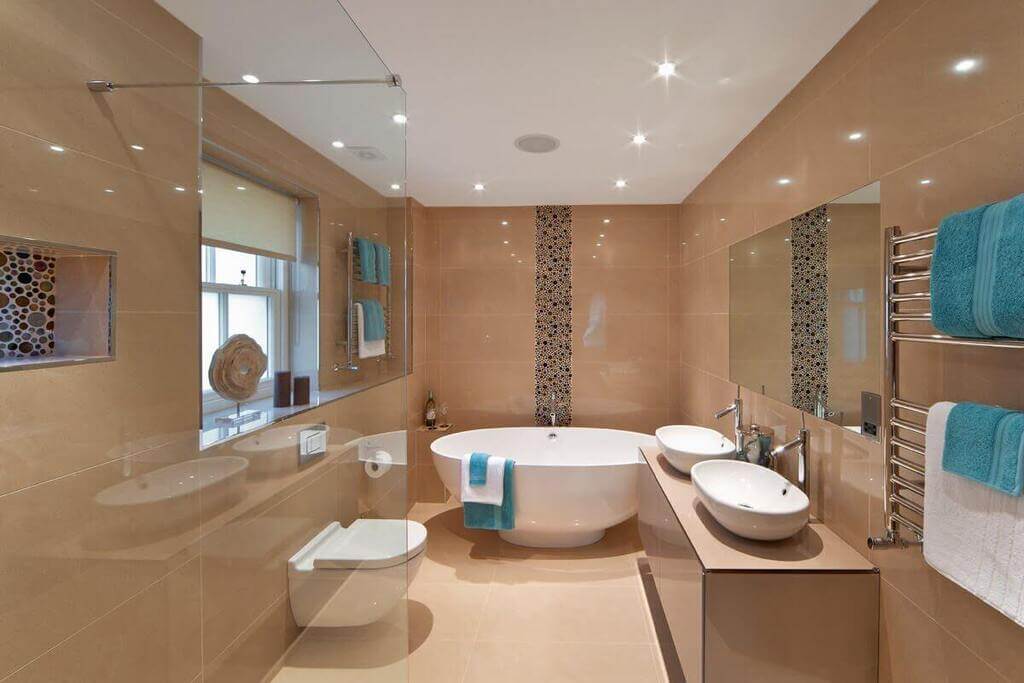 Source: kreatecube.com
Ensure the light fittings selected aren't too big to overwhelm the space and thus avoid giving a sense of visual imbalance. The size should always be well proportioned. Also, to prevent any unnecessary lightning dangers, keep and maintain a safe distance between the pendant luminaires and any forms of water resources. Following all the electrical preventive measures is a must too.
Now that you have all the information and advice you just need to figure out what is the bathroom of your dreams and lay the groundwork to structure, create and decorate it the way you want.