9 Best Decorative Floor Lamps to Brighten Your Home
Every room needs light. Even if there is plenty of natural light flooding the room, a reliable light source is needed for dark days and evenings to ensure that the people using the space can see what they're doing. 
Light can create a mood, make you more productive in a workspace and even draw your attention to artwork or a room's unique features. In addition to table lamps, ceiling lights and wall sconces, floor lamps are a great choice to ensure a room has proper lighting.
Floor lamps are chic and versatile. You can move them around within a space to add warmth and beauty or use them in rooms that don't have the proper surface for a table lamp. Regardless of a room's size or layout, floor lamps always work well in a bedroom, office and living room. Once you've determined that you'd like to add a floor lamp to a room's decor,
ask yourself what you need it for. Is it for reading? Casting a subtle glow to create ambience? Allowing the family to move around without stumbling over furniture?  Knowing the lamp's purpose (practical, decorative or both) is important when purchasing a floor lamp.
Some floor lamps are designed with a shade that directs the light up or down. If you want to read by a floor lamp, you wouldn't choose a torchiere style, which directs light to the ceiling. Light directed upwards has a decorative impact. It provides subtle lighting and is considered a general light source for seeing around the room, but not necessarily reading or working.  Here are a few stylish choices of floor lamps to beautify every room in your home:
1. A Stylish Table Lamp Illuminates a Reading Nook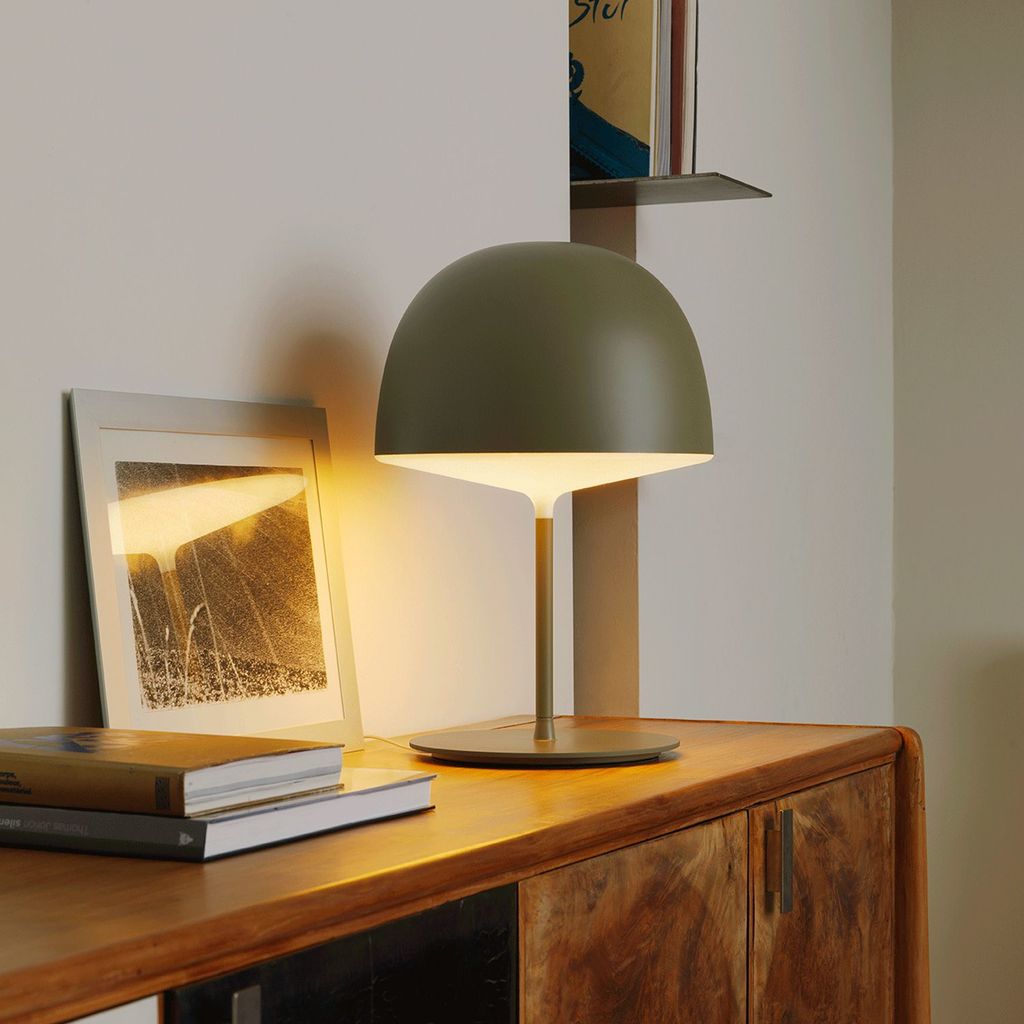 Source: pinimg.com
A floor lamp that works double duty as a side table is ideal for a living room or bedroom. Place it beside a comfy reading chair or use it as part of a seating arrangement to brighten a room while providing a handy surface to hold a beverage, book or reading glasses. 
2. Artistic Lighting Showcases Your Style
Source: home-designing.com
Designer floor lamps such as this one allow you to make your space unique. Light directed upwards typically has a decorative impact. However, when the bulb is a glass sphere and doesn't have a shade to direct light up or down, it provides an all-over glow, making it a great light source to see around the room. This floor lamp has a balancing sphere in frosted glass resting on a gold-tone metal stem. With angular shapes and crisp finishes, this style of the lamp will make any space unique.
3. Tripod Decorating Floor Lamp is Up for Any Task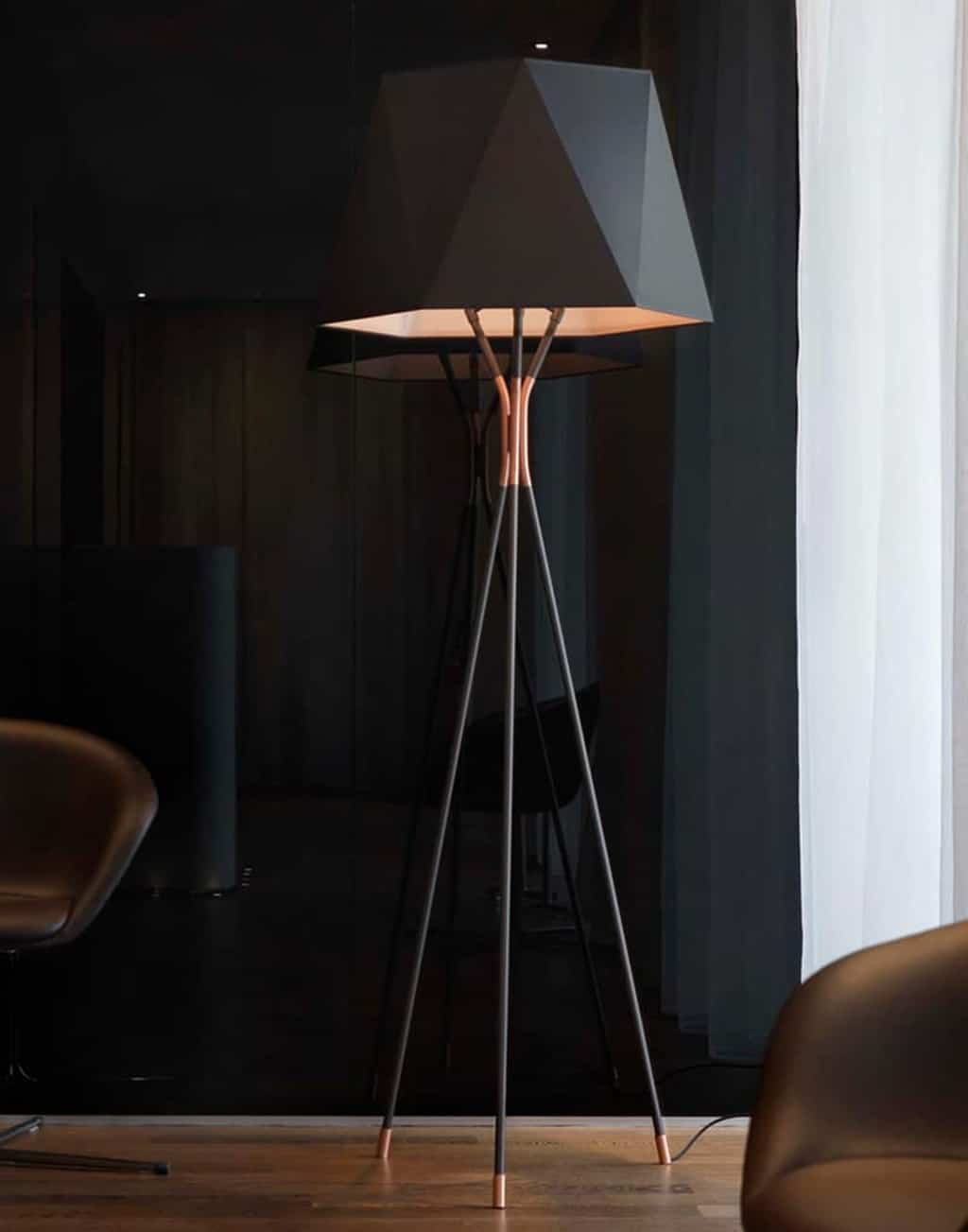 Source: trendir.com
A trendy light on a tripod stand is always the right choice for a bedroom or office. It's also perfect for a living room. Okay, let's face it… it's right for any space!  This versatile floor lamp has a shade that allows you to direct light into a specific area. And because it's not bulky, you can slip this floor lamp into a corner, behind a chair or even between a sofa and a loveseat for reading or to cast a glow in the entire room while watching tv.
4. Elegant Arched Light Casts a Golden Glow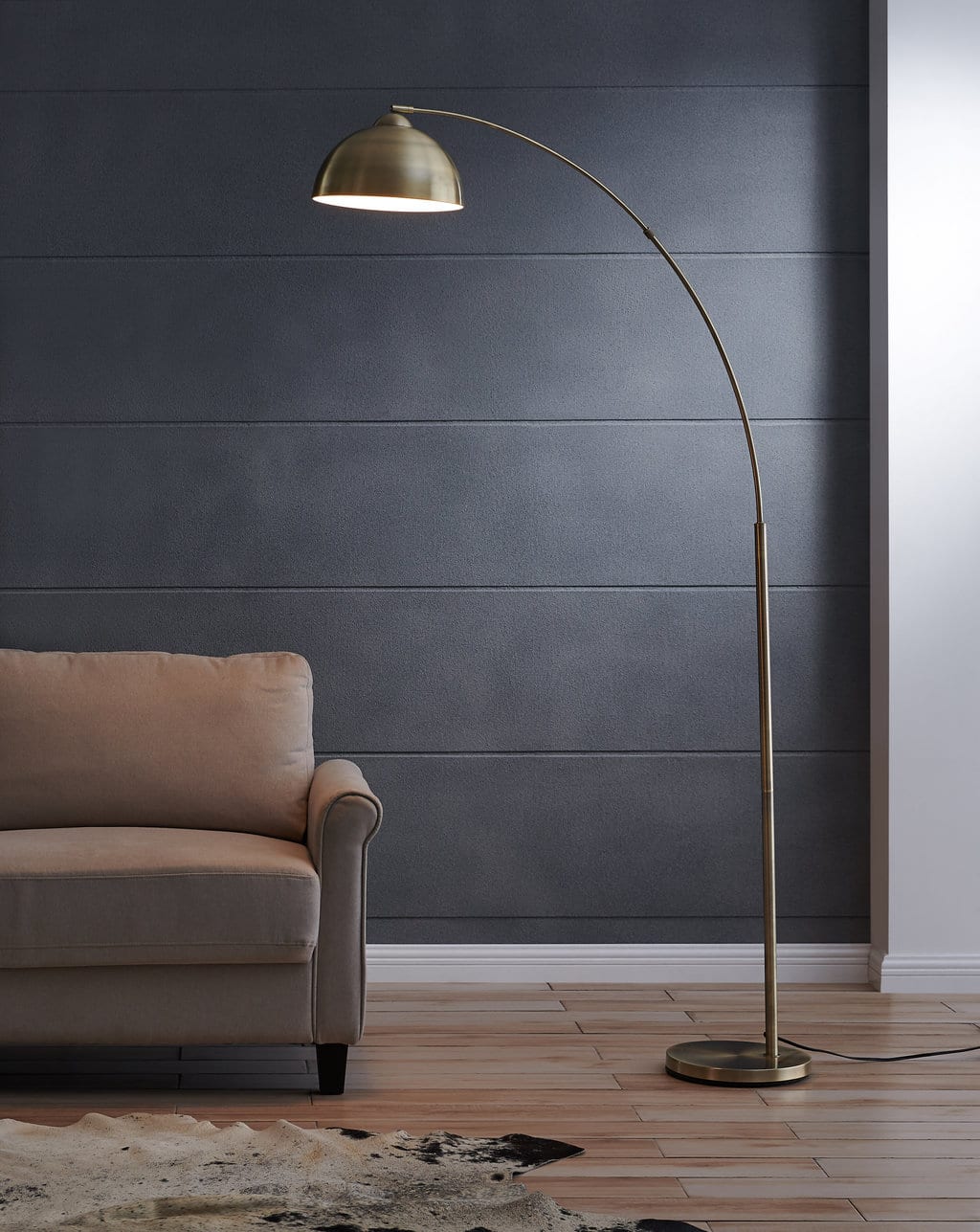 Source: wfcdn.com
No matter what your decor style maybe, adding a touch of gold always enhances a space and gives it a luxurious edge. Choose an art deco style floor lamp to take a room from so-so to so-sensational. Consider a light that works to brighten your space and also starts conversations with its stunning shape. A defining feature of this gorgeous light is the frosted glass shade that drops in an arched shape. Adjustable in height, this lamp is a must for a chic bedroom or to add golden glamour to a living room.
Also Read: 5 Best Ways to Decorate Your Home and office Using Salt Lamps
5. Tri-light Stuns from Every Angle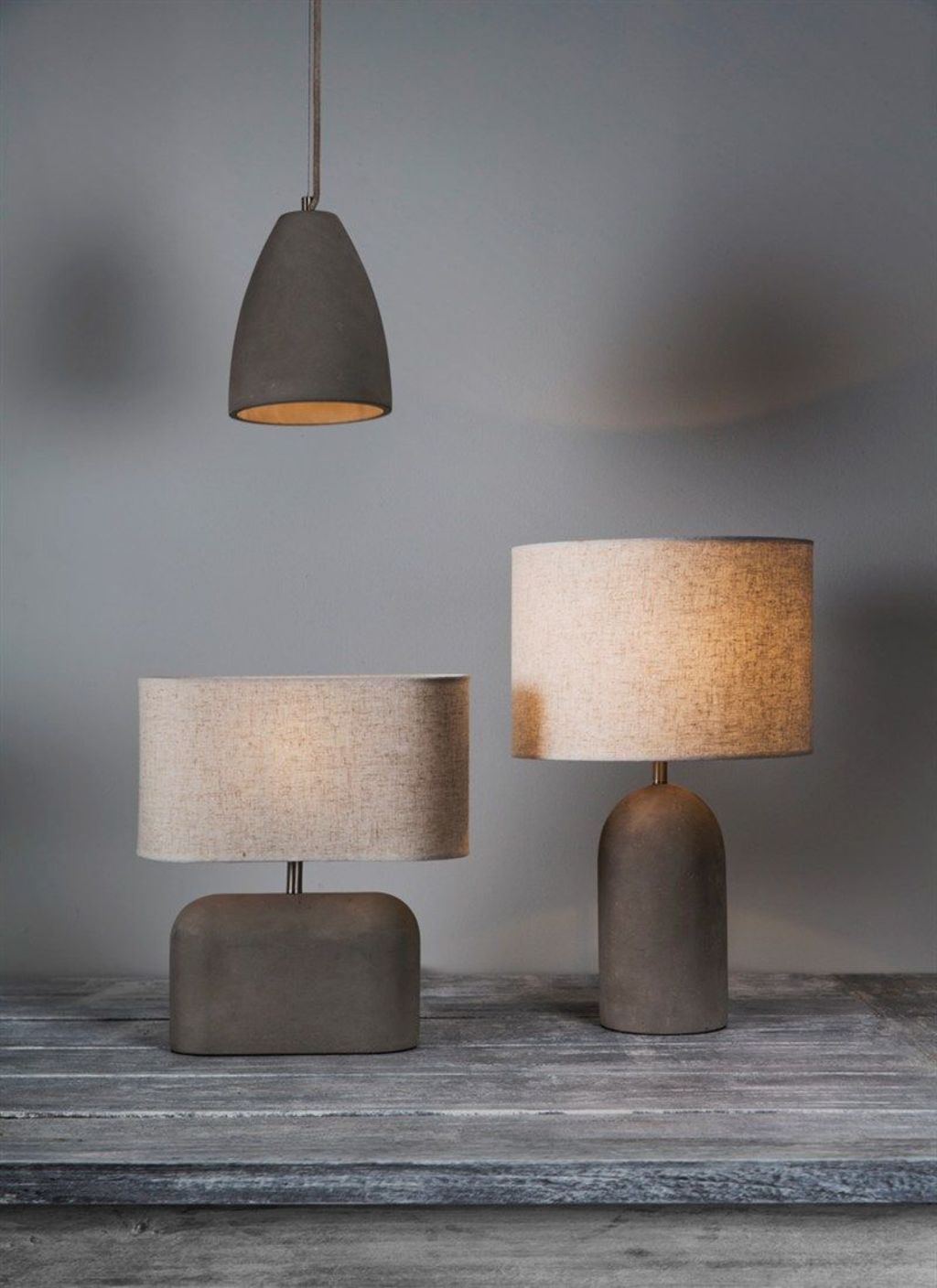 Source: pinimg.com
Stylish floor lamps with multiple light sources branching from a single-pole allow you to control the direction of the light, combining form and function in one stylish look. The shape of this chic floor lamp takes a cue from mid-century modern design. With a tripod base, this eye-catching decorative floor lamp blends easily into an office or living room to brighten the space, provide a reading light overhead or simply add a cool industrial vibe. It's a showstopper in an artist's loft or modern condo.
6. Minimalist Design has Maximum Illumination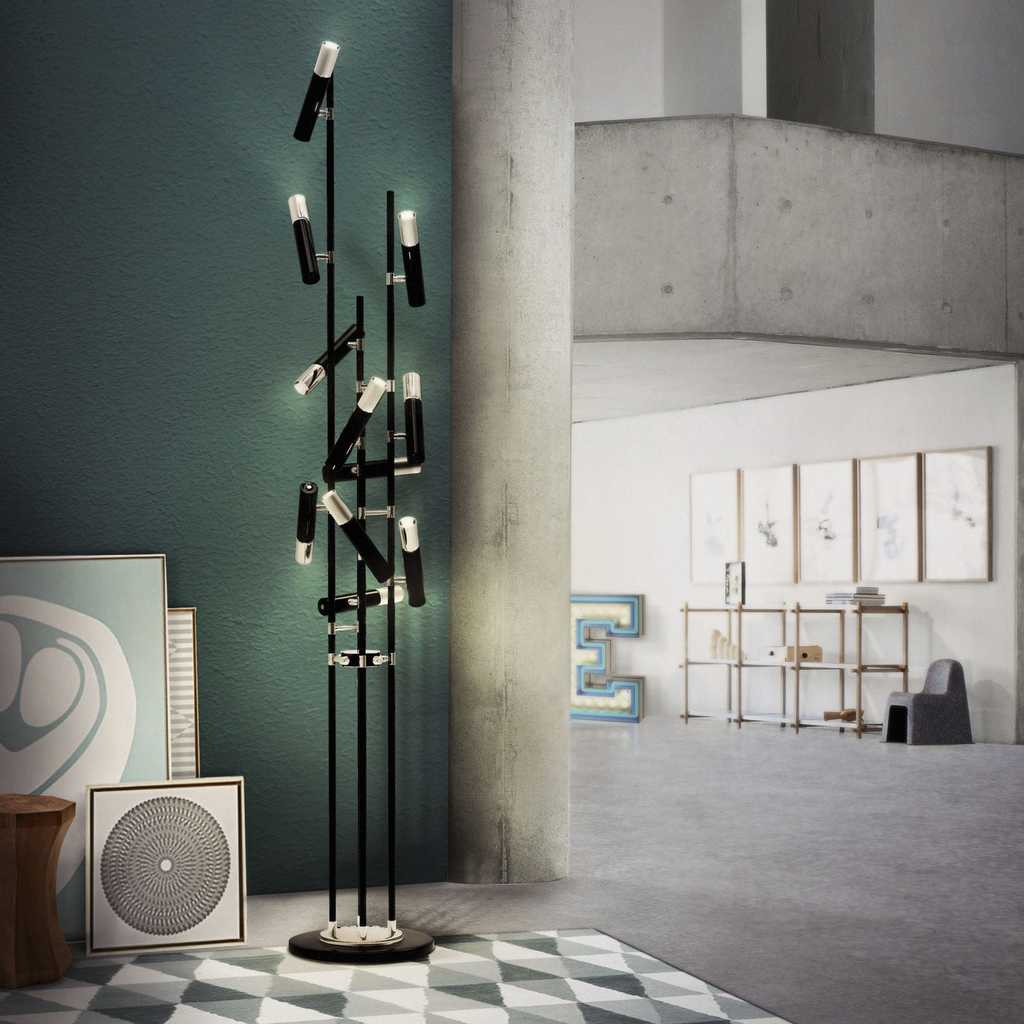 Source: archiexpo.com
A slim, barely-there stick lamp offers far-reaching illumination that's perfect for brightening large or small rooms, as it requires minimal space. This trendy bar light is as stylish as it is functional. For such a sleek design, you'll be impressed by how captivating this floor lamp is.
7. Decorative Table Lights Offer Twice The Elegance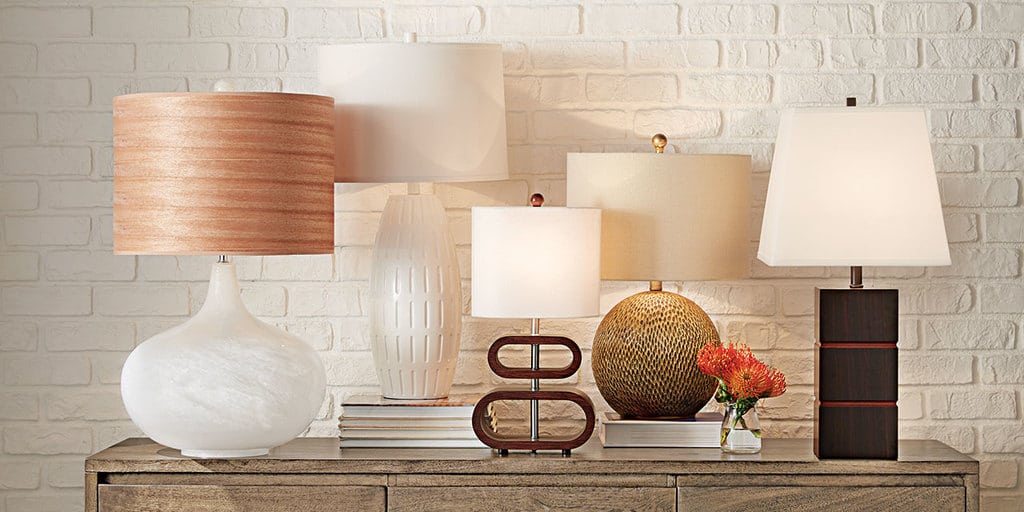 Source: homedepot-static.com
Whenever you find a floor lamp you love and it has a matching table lamp, you might want to consider purchasing both. A set of stylish lamps can be the finishing touch that ties a look together in a bedroom or living room. Tuck the floor lamp into the corner of a room or place it beside a chair. Use the decorative table lamp on a side table or dresser. The lamps shown here offer the best of everything–elegant black shades with golden liners and a stunning white marble base. Consider sophisticated black lampshades instead of the standard white ones. Lamps with gold or brass touches or marble bases instantly add glamour to your home.  
Also Read: 21 Most Creative Paper Lamps That You Can DIY For Less Than Hour
8. Shine a Spotlight on Designer Style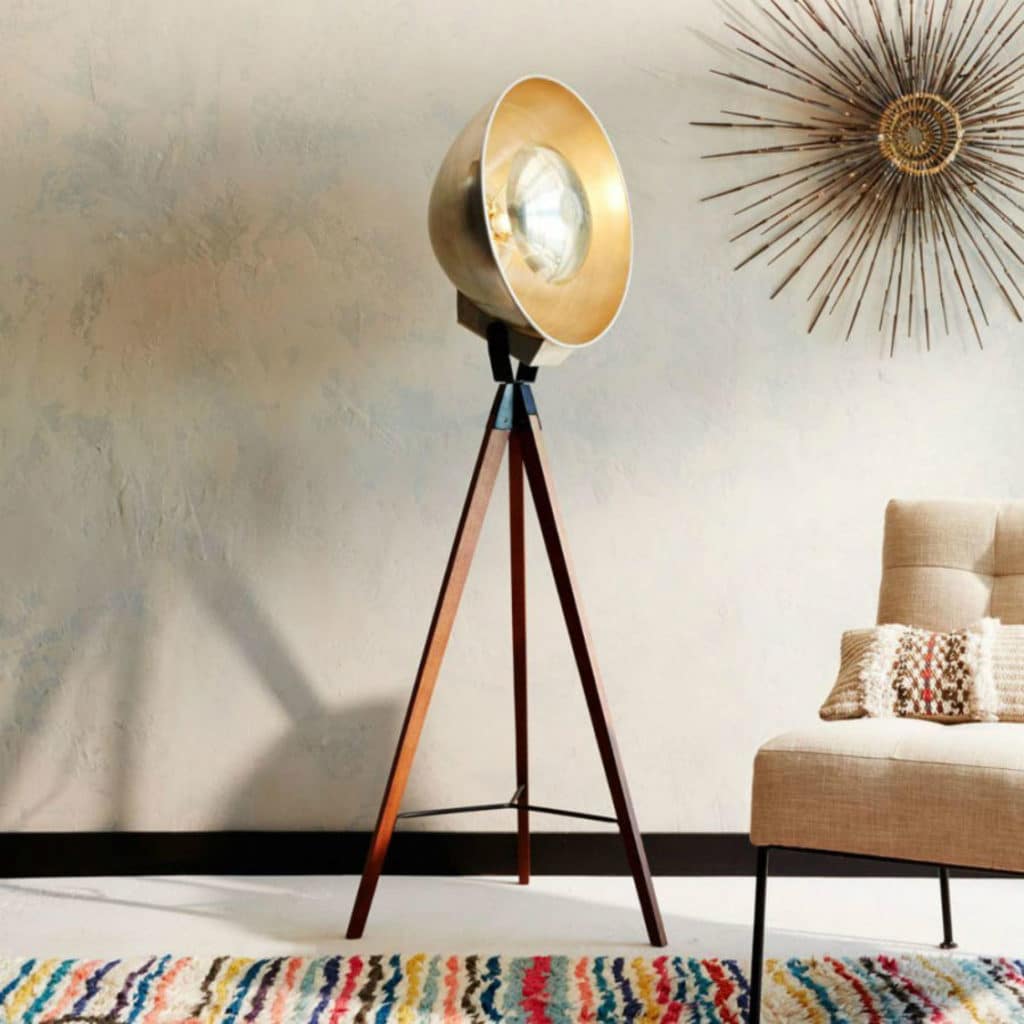 Source: trendir.com
Designer floor lamps come in all shapes and sizes. Why not opt for a lamp that's got a little something extra, such as a shapely shade or unusual base. A pointed oblong shade can tilt up or down for reading in bed, yet is also a focal point beside a fireplace mantel or emphasizing artwork. While a sleek silhouette can blend seamlessly into any setting, a stylish floor lamp with a unique shape always captures admiring glances.
9. Live by The Light of the Moon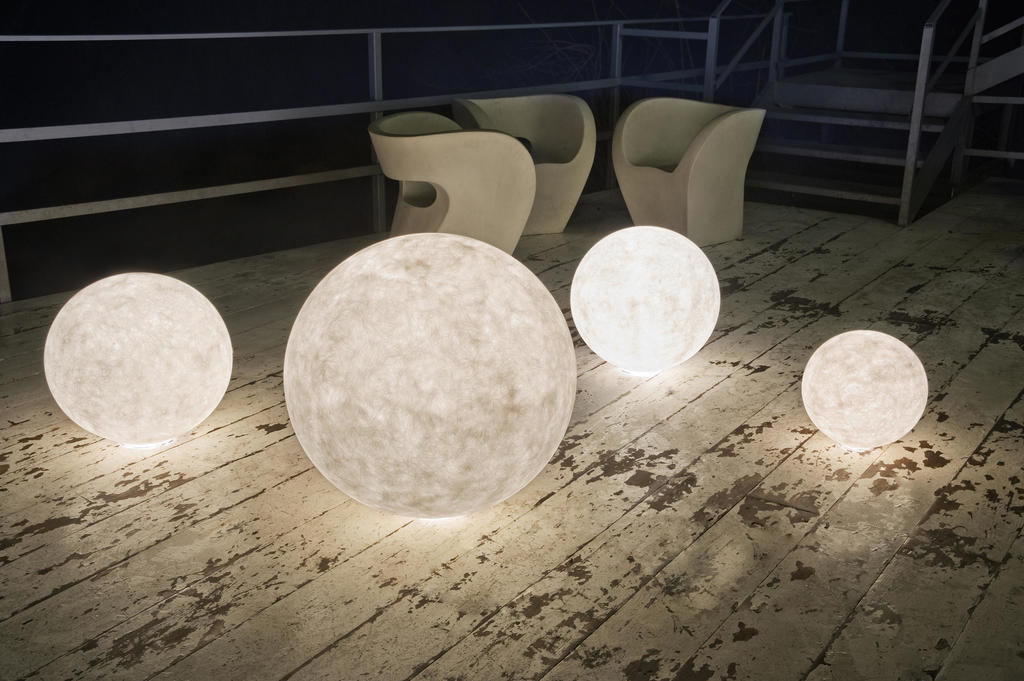 Source: architonic.com
Entertain by the light of your very own moon. These glorious orbs of light are ideal indoors or out, creating the perfect ambience for an elegant dinner party or casual backyard gathering. Illuminated globe lights offer captivating beauty by which guests will be mesmerized. Orbs of light are unique decorative floor lamps that can rest in any corner or among a seating arrangement. You can be as creative as you like with these glorious lights–they're beyond beautiful. As an added bonus, these stunning lights have a matching simple designs table lamp.
Read additional tips on buying the perfect floor lamps and browse a selection of top floor and table lamps for your home before you buy.  If you're interested in taking the light off of the ceiling or floor, consider stylish wall sconces.