10 Best Dorm Room Ideas & Themes to Amp up your 'Me' space
Graduating High School and taking the first step in College Life is exciting, and another great aspect of college life is to build your next home in the dorm rooms ideas. Your dorm room is your 'home away from home,' be it for a month or all undergrad years. While you're making a home at your college, it is vital to make it perfect for your stay, however long it could be.
Dormitories are generally blank and boring, coming up with dorm room ideas to give a makeover to the bland room can be a bit challenging as it requires a lot of tiny steps and changes.
Your dorm room is a haven for all the "me time". It is an ode to the fun scenarios and the memories that will follow up, so it's essential to come up with dorm room ideas that go well with your vibe. It is necessary to have a dorm space that resonates with your personality and taste. 
This space is going to witness all the happiness, home-sickness, excitement, work, tears, joy, and will be a host to all the fun parties and sleepovers; so, a space to host all these need to have the best dorm room idea to make it feel like home while being comfy and inviting.
Whether you go for simple, elegant dorm decor ideas or creative and funky, your way of styling will define you and your personality through a physical space. 
To make this journey of choosing the right aesthetics among a sea of college dorm room ideas, we have prepared a concise list for you. 
Here are a few dorm room ideas to get started within this challenging makeover of a place you'll be referring to as 'home'. 
Dorm Room Ideas
Ranging from simple to funky layouts, explore these dorm room ideas that will get you all inspired and excited about the college years ahead.
Create a Wall of Memories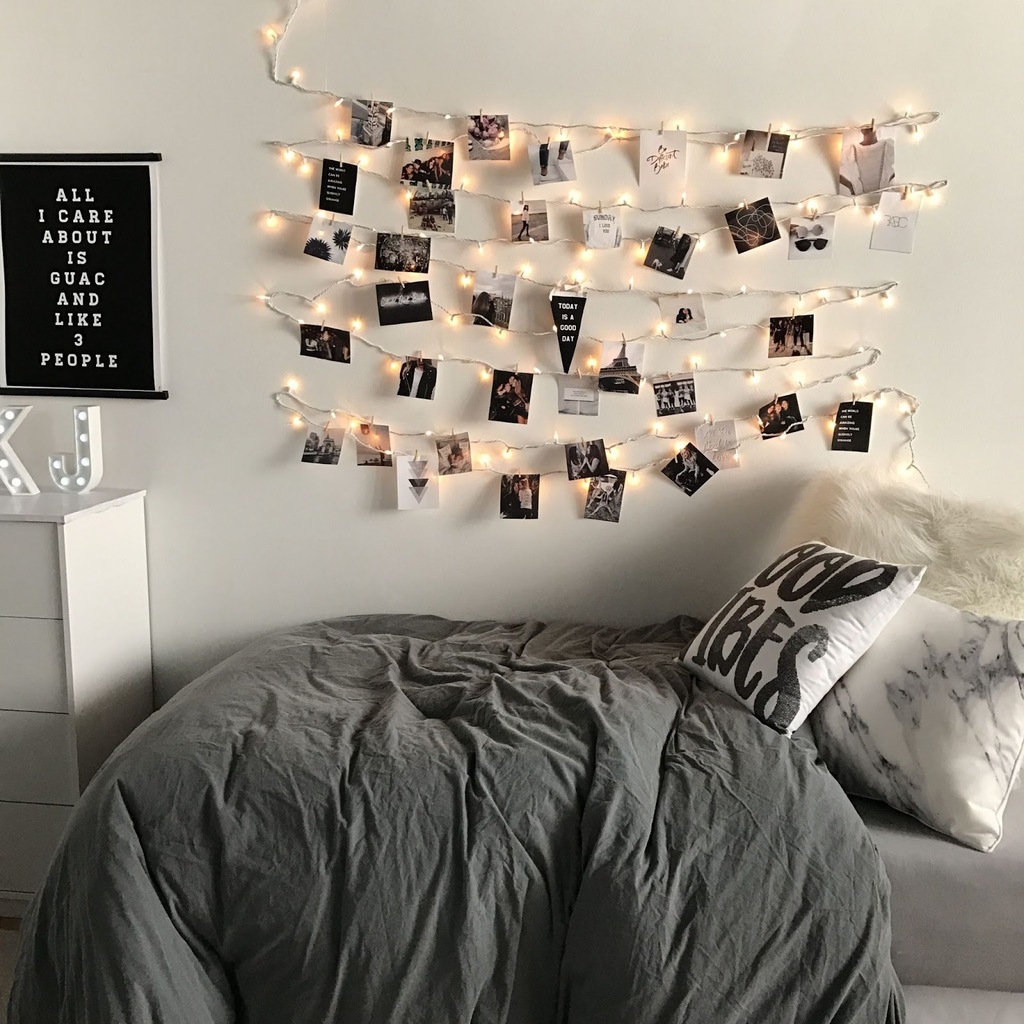 Source: Vamos Rayos
Stepping into college is exciting, but it also means stepping into a new environment without your family and friends. In this case, setting up a photo wall is not only a decorative element to your space, but it also makes the entire space feel homely and makes you feel closer to your family and friends. This photo wall can grow as you make more and more memories in your college.
The photos can be arranged either in an abstract form or in shapes like heart, star, etc.
Additionally, string lights can be added to these pictures, or you can explore other dorm room ideas with your creativity.
Add Green Friends to Your Dorm Decor Idea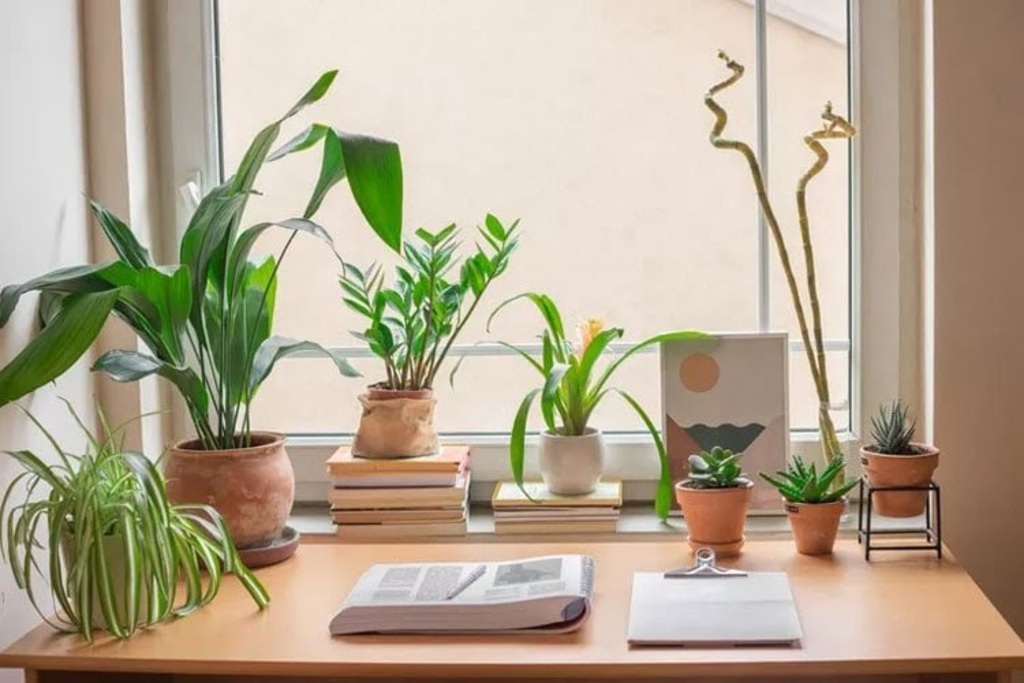 Source: Design Ideas Guide
Bringing in plants into the dorm room ideas list can make the space feel comfortable and uplifting. Dorm rooms are usually bland, and for students who are always energetic and excited, living things can pour some life into the otherwise boring rooms. 
Plants are low-maintenance green friends that require small space and will pop in colour to the whole room, adding on a boho vibe. Many indoor plants like the snake plants, dracaena, and several other species, require very little maintenance and can survive on minimal sunlight. As a student's life is hectic with several deadlines, opting for low-maintenance but aesthetic plant species can instantly spruce up your dorm room. 
Let in Natural Lighting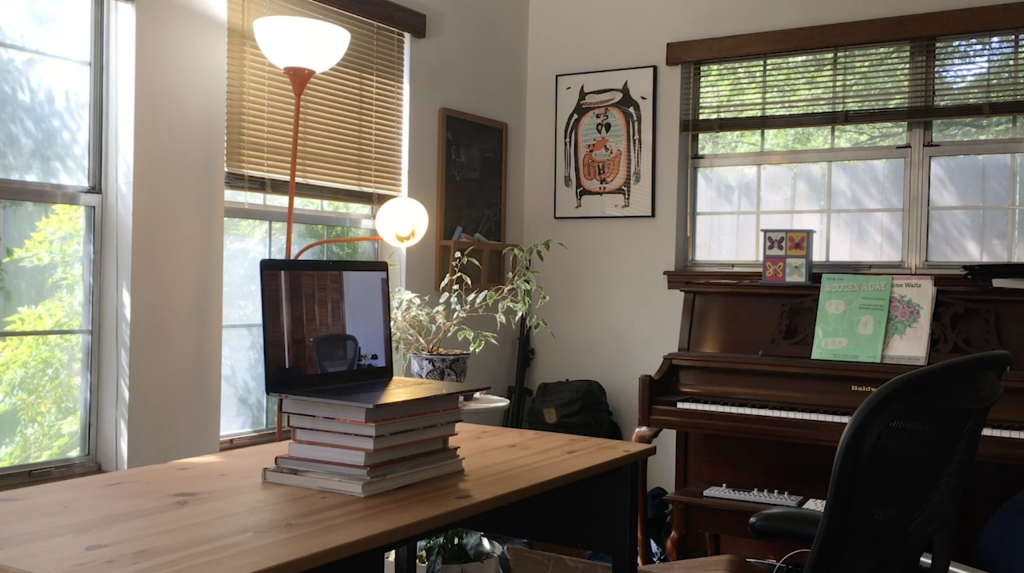 Source: Pinterest
It is a proven fact that dim and dark rooms can put down your mental health, so, it is advisable to let in as much natural light as possible into your dorm during the daytime. Quality lighting is a must-have in the dorm room to keep you happy and motivated.
In case your form isn't oriented in the direction of the natural sunlight, it is advisable to use light bulbs that feel natural than using the ones imparting typical artificial light. Lighting designs is one of the core dorm room ideas that can instantly add vibrancy to your spaces. 
Dorm Decor Ideas to Jazz Up the Walls!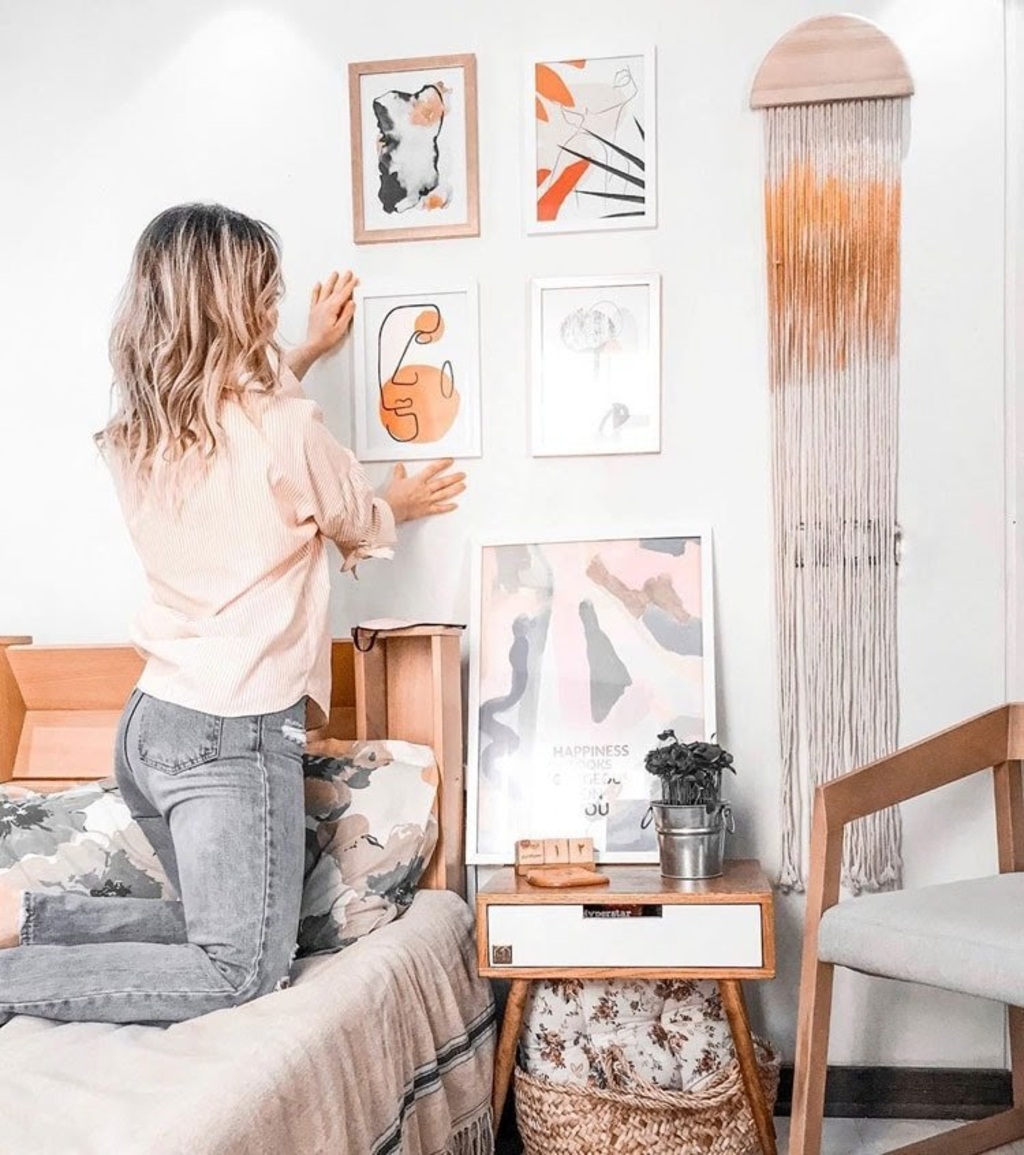 Source: Design Ideas Guide
Dorm rooms offer very minimal space to add on extra furniture, but, luckily, you can add your personalized touch to the walls. You can experiment with various dorm decor ideas by adding unique wall accessories. Art and prints from your favourite artists on your walls make a big statement and impart extra comfort to the whole space.
Walls can be a representation of your personality, be it your favourite band or artist, your favourite book covers or poster, it can help in creating a playful aspect to your spaces. 
Designated Study Area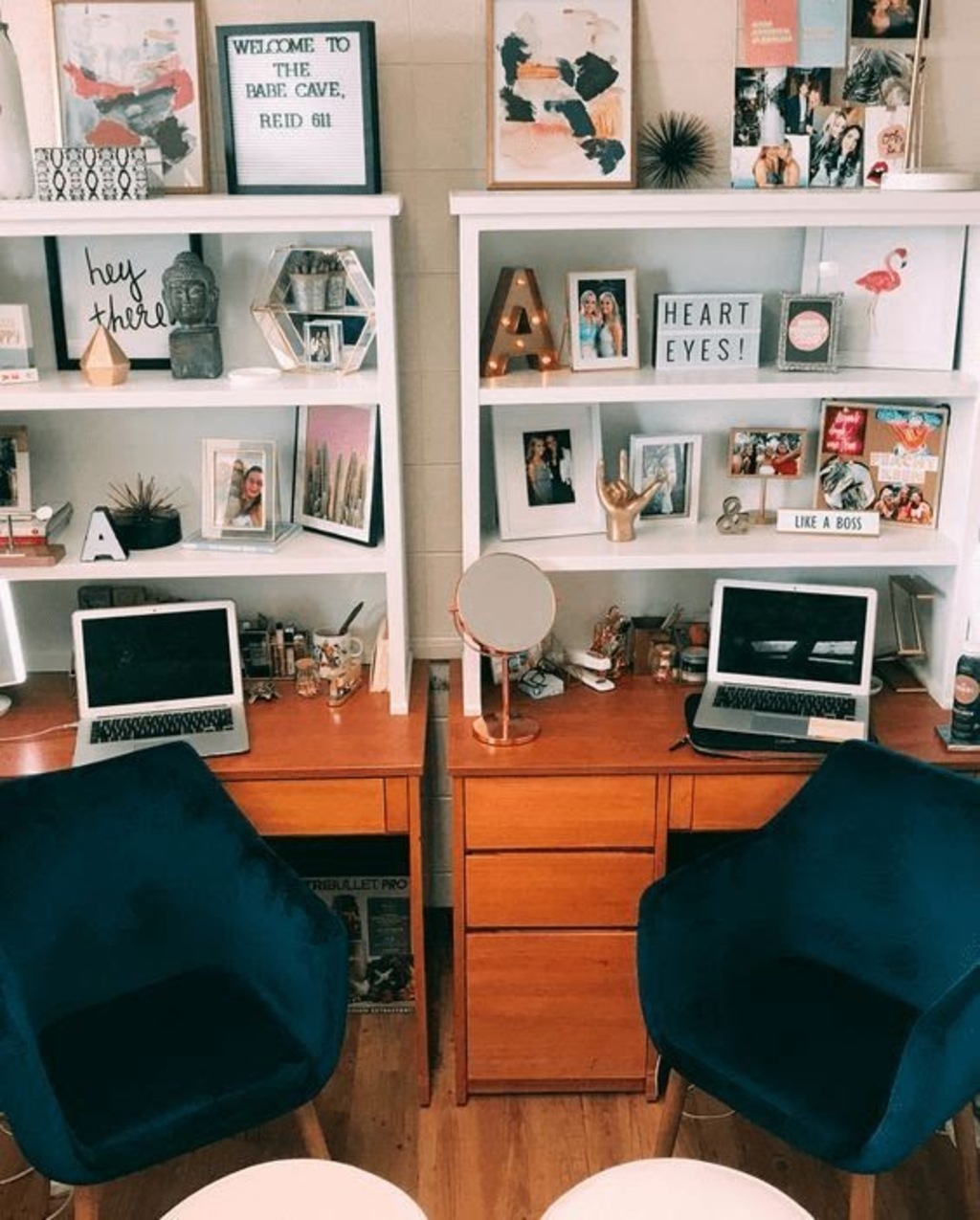 Source: Pinterest
Your dorm room ideas should optimize the space and use it efficiently. Pushing the study desks to one side leaves plenty of room to add on extra furniture and creates your designated study area. 
In the case of sharing rooms, study tables on one side can assist in group study and discussions. Adding seat cushions to the study chair can be a transformation to the uncomfortable chairs provided at the dorm.
Add Mirrors in Your Dorm Room Ideas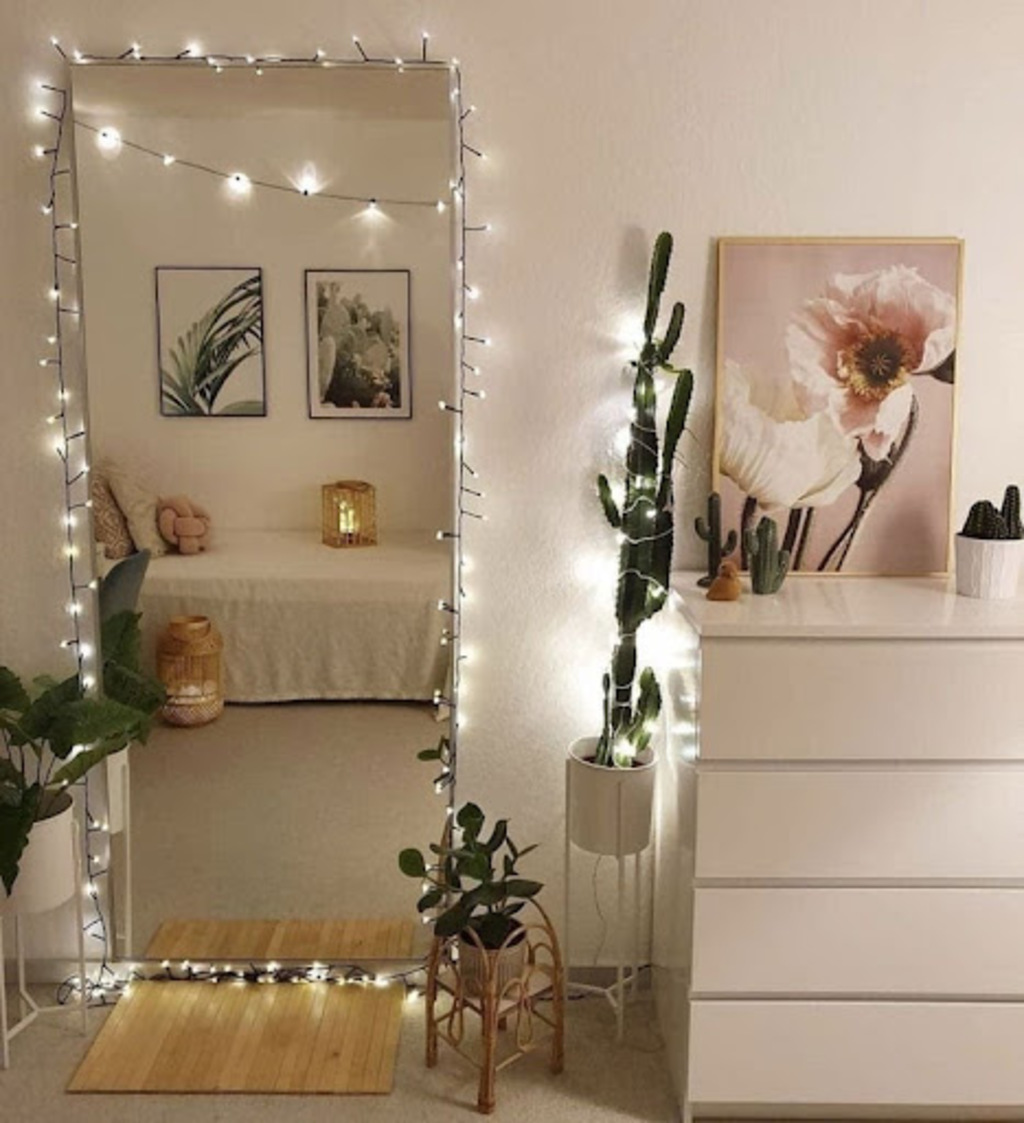 Source: Design Ideas Guide
With a limited space offered, hanging a full mirror on the back of the dorm room is a practical way to avoid trips to the common hall to check your appearance. 
Additionally, it will make your room feel larger as the reflective surfaces trick eyes into believing that the space stretches out further.
The Magic of Fairy Lights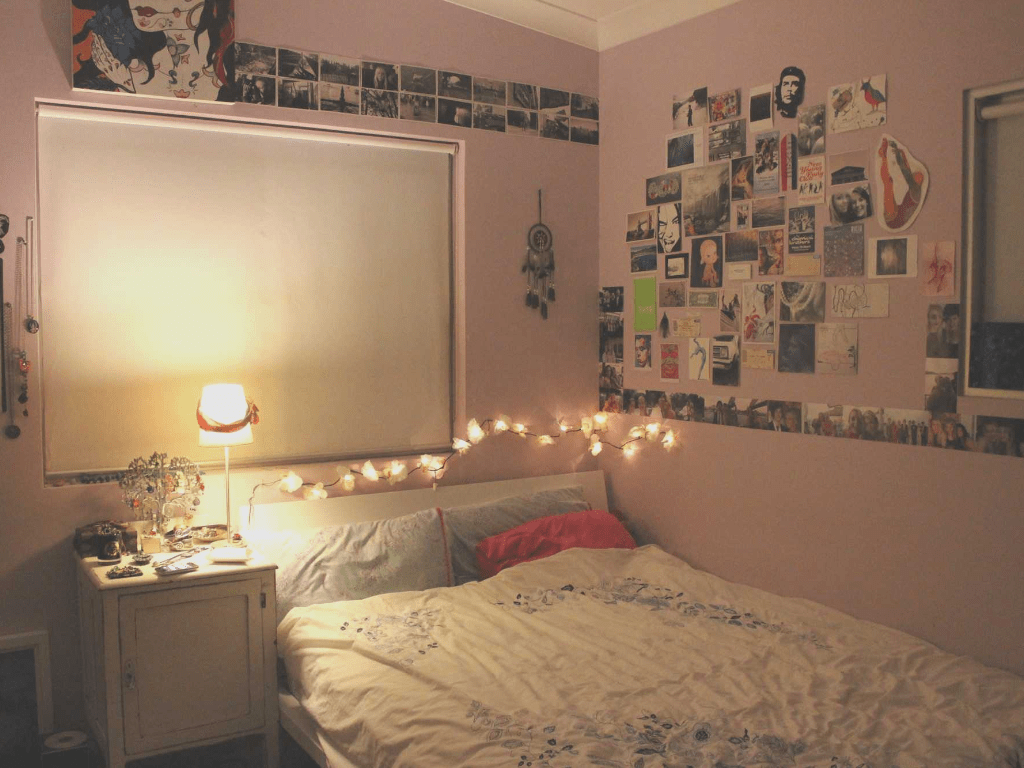 Source: Dorm Essentials
Twinkling fairy lights can create a very warm and whimsy effect on the whole room. These lights can flow on walls or around the ceiling and curtains to offer a starry effect. There are endless iterations to let your creativity flow with fairy lights and make the space feel more customized to your taste. Therefore, they are a must-have on your dorm decor ideas list!
Add a Chic Plush Rug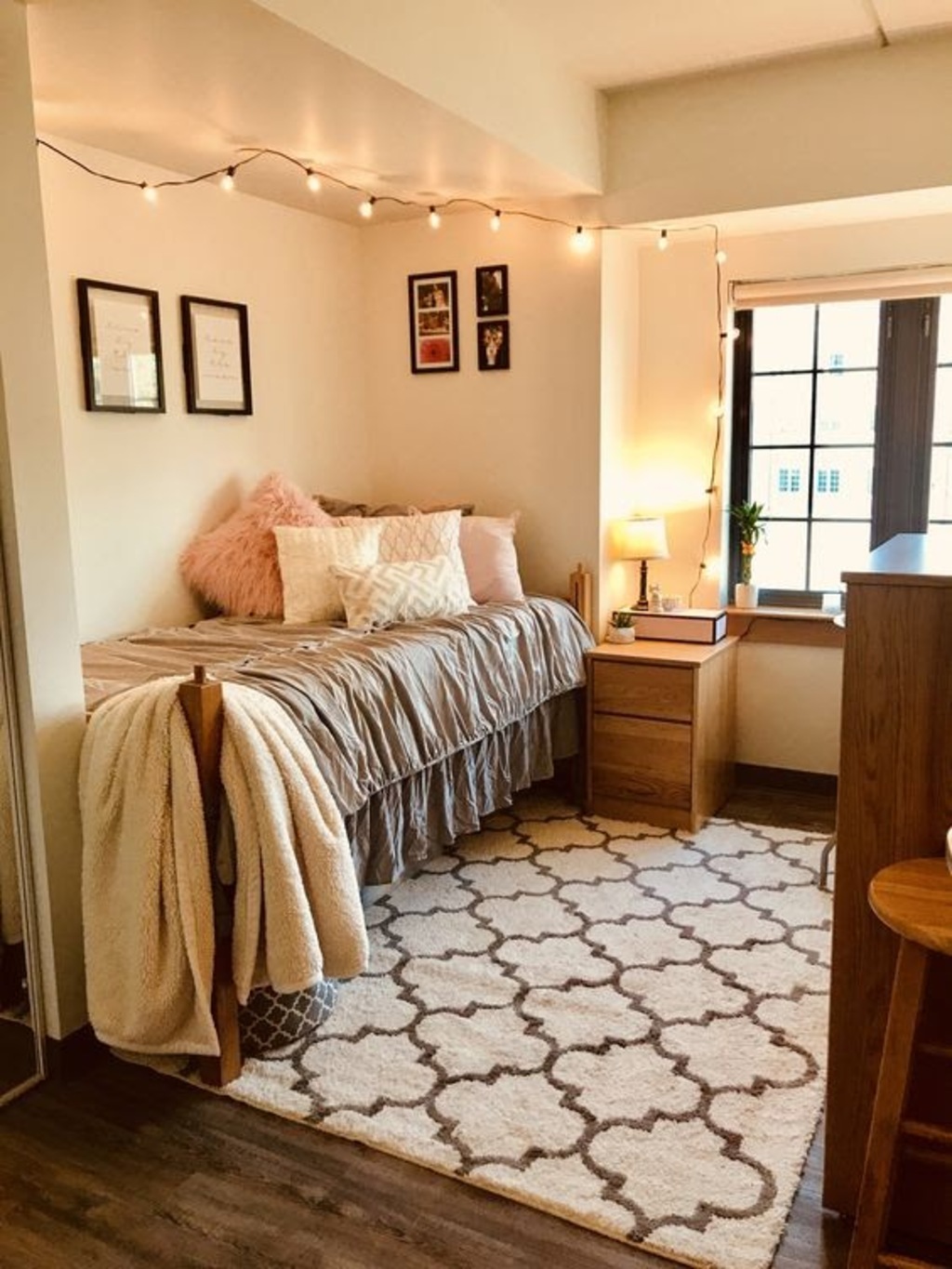 Source: Pinterest
Dorm room floors are made of hard and sturdy material for rough use, so adding a rug of your choice is a perfect dorm room idea to make the floor look appealing and add to comfort. It can also be used to conceal any damages existing on the floor. It also adds a pop of colour to the room.
Put Bins under the Bed for Storage
Source: By Sophia Lee
Bins can be used as storage units to keep papers, clothes, shoes, etc. these items can be loaded in a clean bin and can be organized under the bed. With these dorm room ideas, you'll make enough room for keeping other essential stuff.
 Add Power Strip
Source: HouseBeautiful.com
Along with offering very little space, another issue in dorm rooms is not enough power outlets. You need to plan with power strips or extension cords for your convenience. You can go for cool, funky extension cord designs that don't kill the vibe of your room decor. This can be one of the essential college dorm ideas that will come in handy during your years. 
Dorm Decor Ideas & Themes
There is an ocean of ideas regarding the themes you may go ahead with to give your dorm room a personalized makeover. Explore this list of college dorm room ideas to find an inspiring and appealing pattern for your space.
Cosy Layers and Textures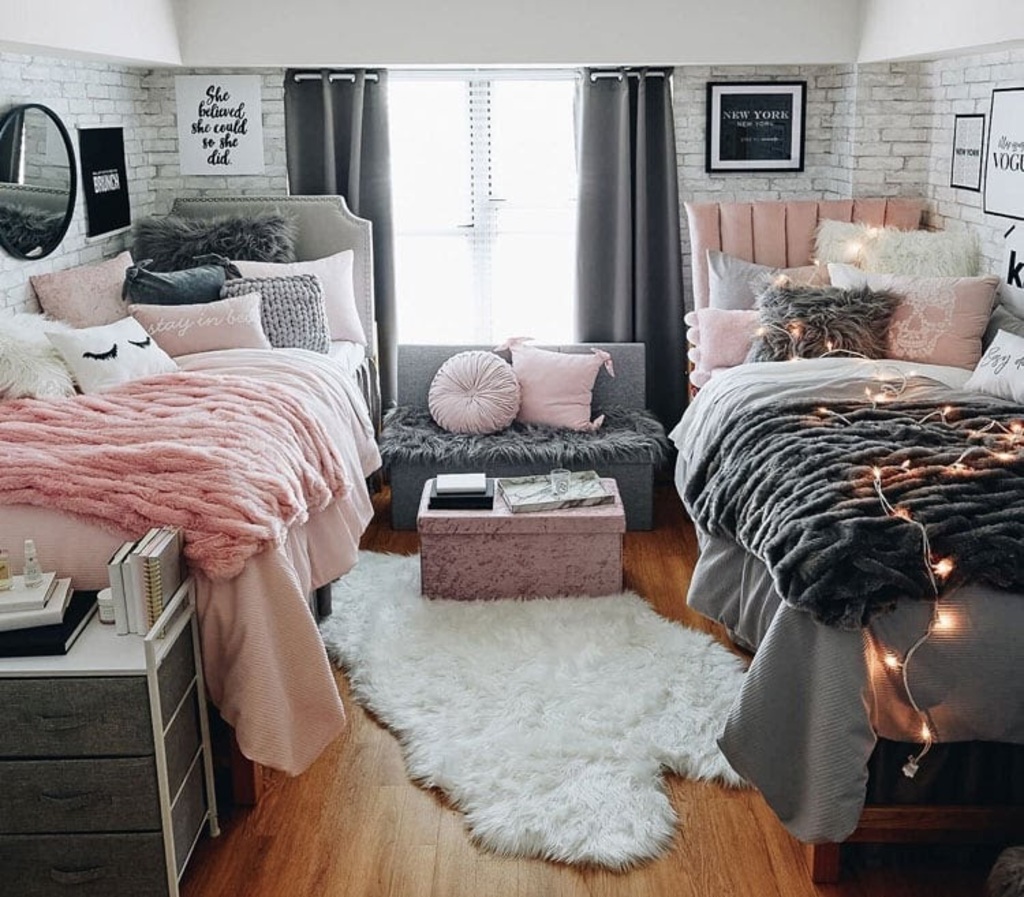 Source: Design Ideas Guide
This is a clever trick to make a room feel cosy and chic. It requires simple fuzzy pillows along with a velvet storage chest to give a vintage look to the room and makes the room feel much more comfortable. 
Floor-to-Ceiling Style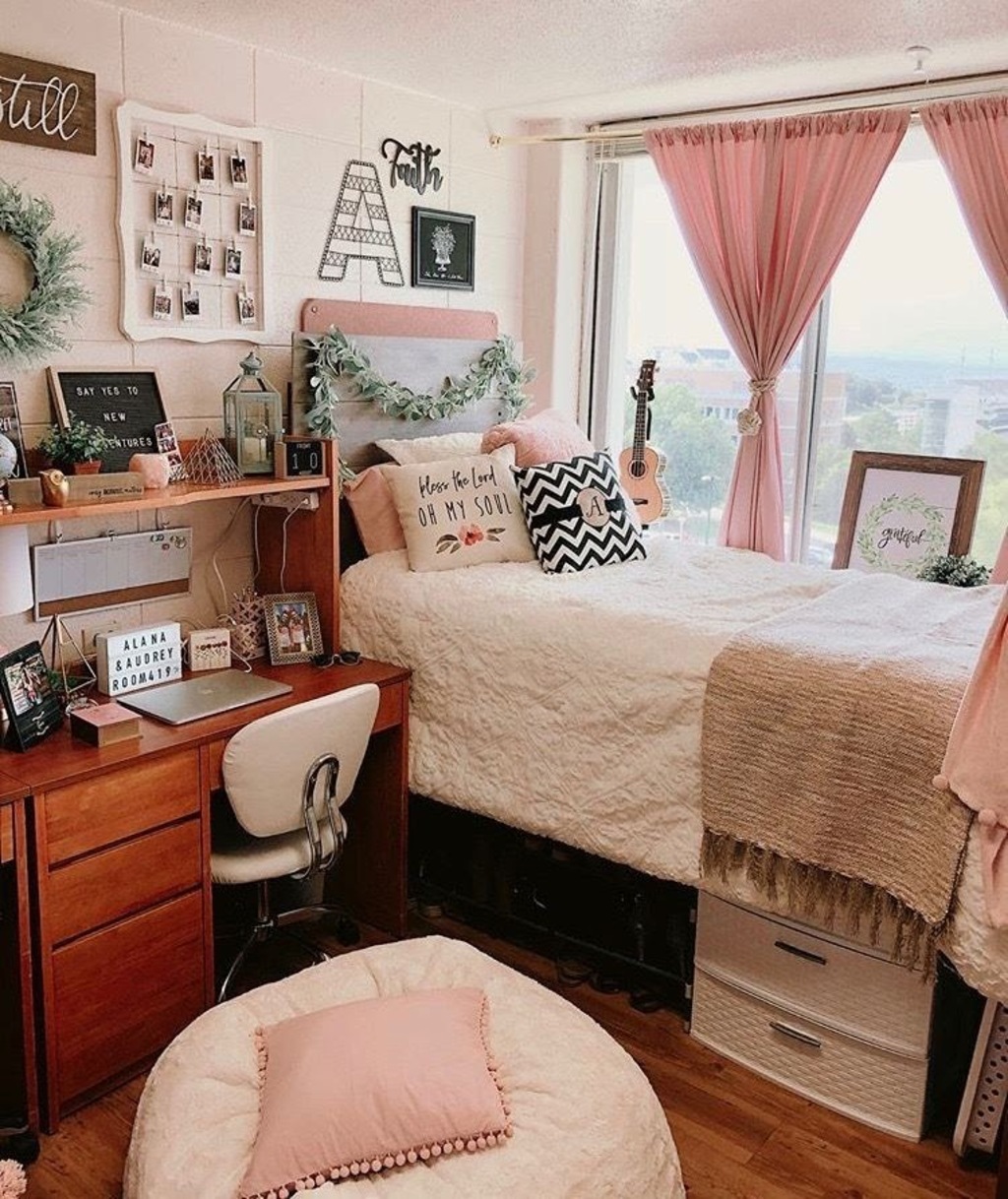 Source: Design Ideas Guide
This is one of the best dorm room ideas to maximize efficient vertical space. A raised bed with storage units underneath adds style and is a practical decor idea. Elements like photos are positioned near the ceiling which draws eyes upward and makes the room seem elongated.
Classic Dorm Room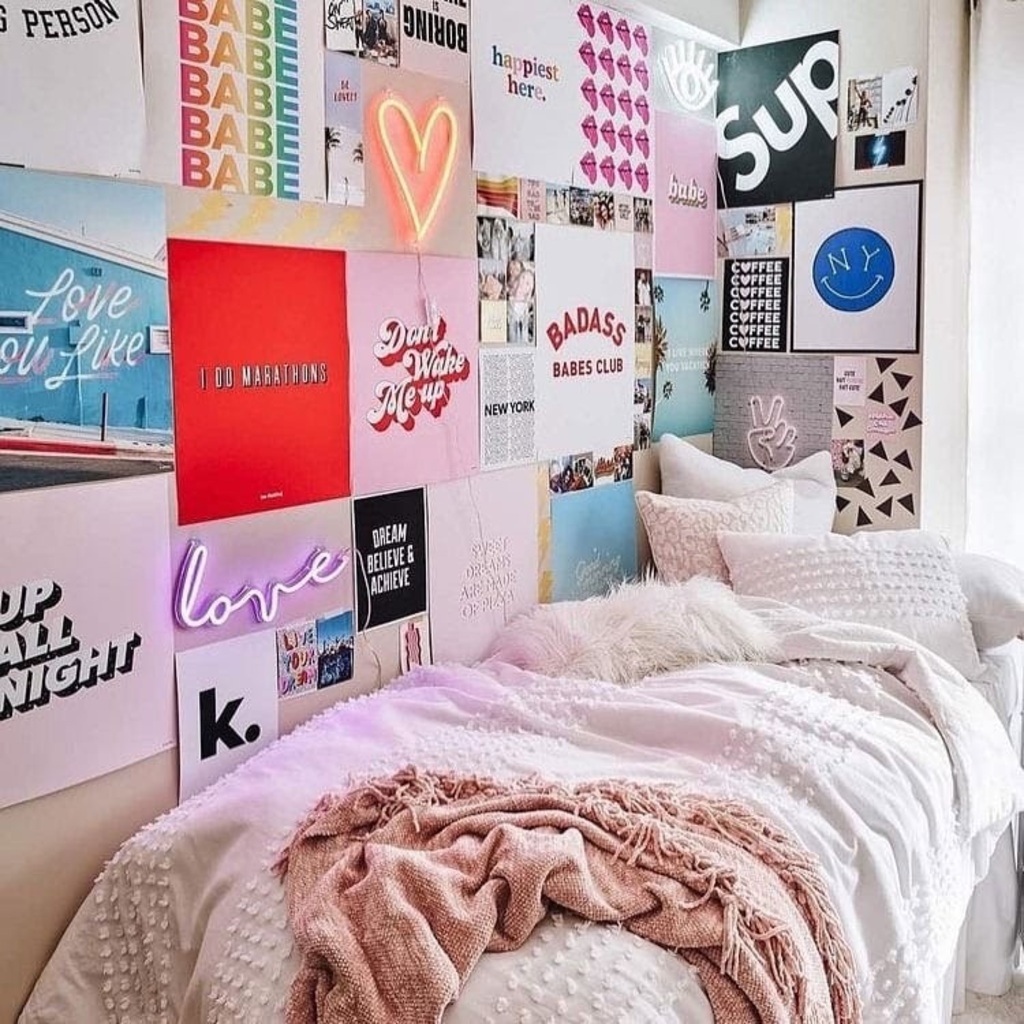 Source: Design Ideas Guide
The classic dorm room ideas include a feature art wall along with neon word art or neon lights and textured bedding. This style keeps the room bright and adds to the cheer.
Complementing Colors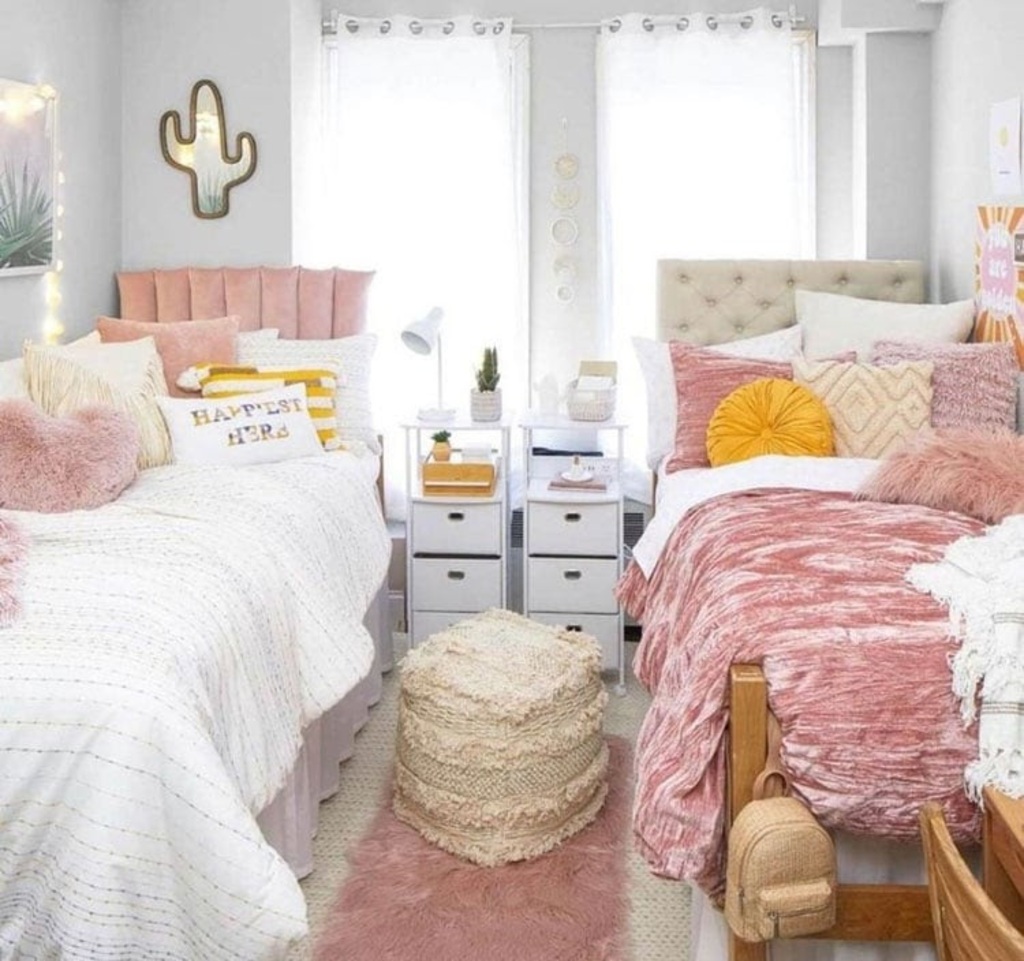 Source: Design Ideas Guide
Choosing complementary colours to the furniture and the decoration accessories can create an eclectic vibe and won't make the room feel over-designed.
Black and Gold Glam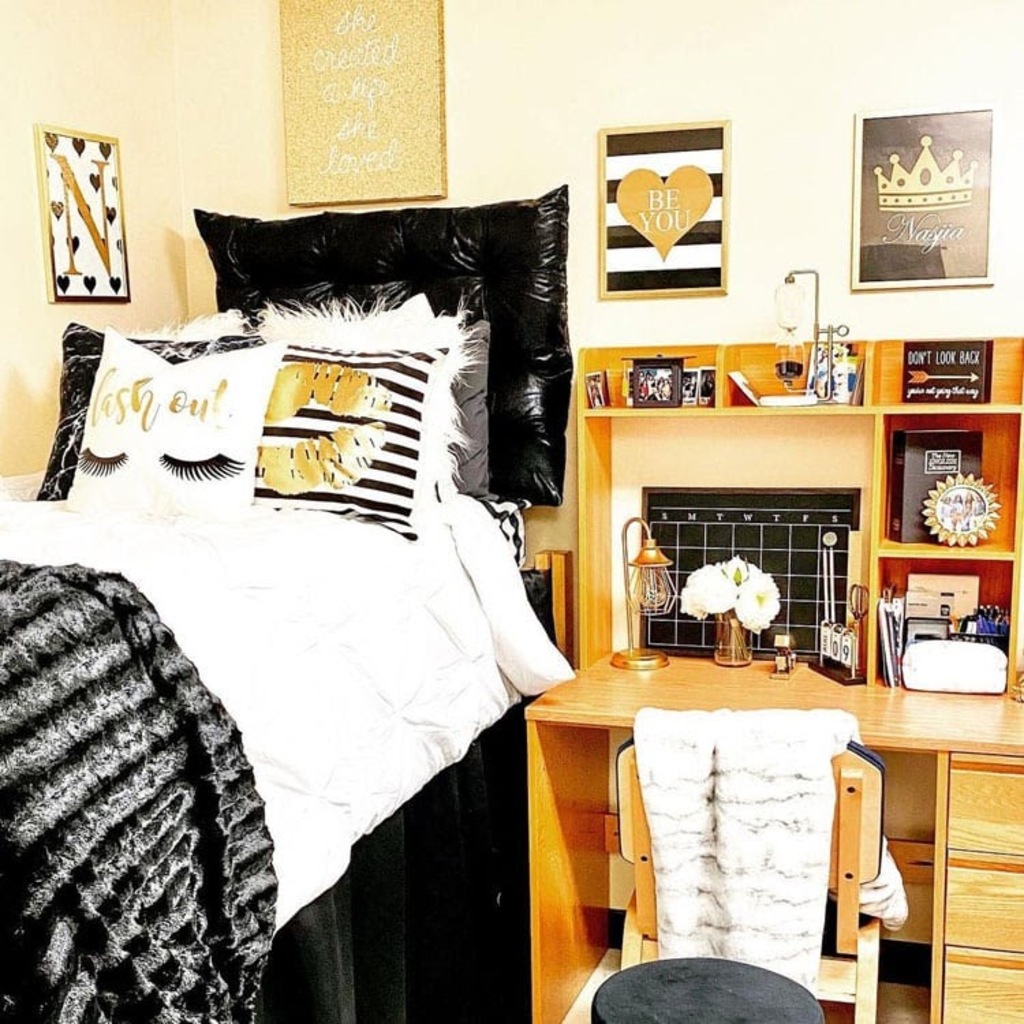 Source: Design Ideas Guide
A touch of black to the room gives a sophisticated touch to the whole room and will impart a grown-up feel to you mentally. Contrasting the black with the gold helps to keep the room look classy and balances the black.
Boho Chic Theme
Source: Design Ideas Guide
Boho style serves as a mature and casual dorm room idea with a neutral colour palette and multiple small decoration pieces. Elements like wall hangings, posters, hanging plants create a bohemian vibe perfect for your dorm life ahead.
Also Read: Dining Room Trends 2021 – What to Expect?
Floral Dorm Decor Ideas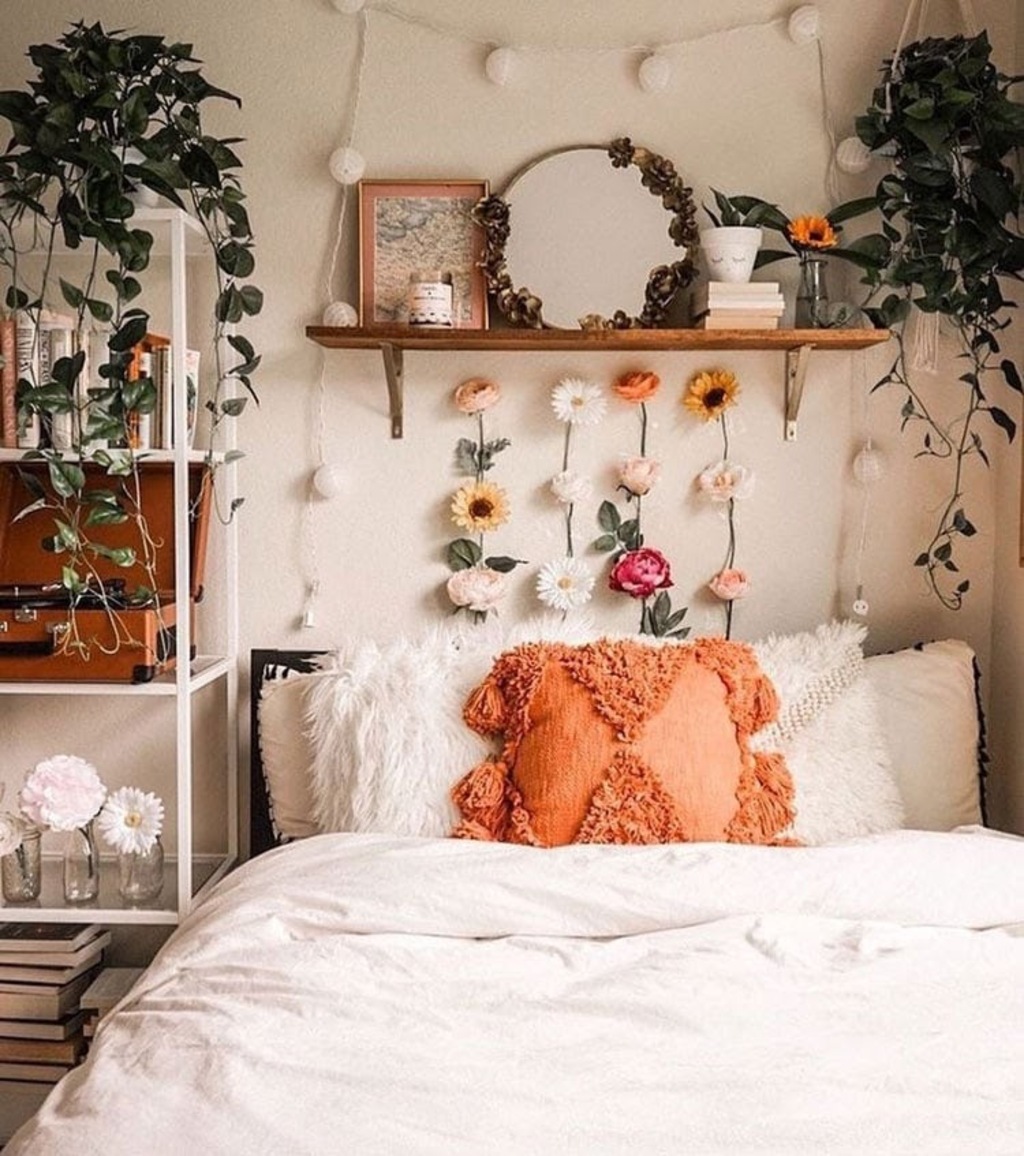 Source: Design Ideas Guide
Hanging plants and floral decoration pieces can add a romantic touch to the dorm. White background with coloured floral equipment goes well to create a cheerful and romantic room ambience.
Patterned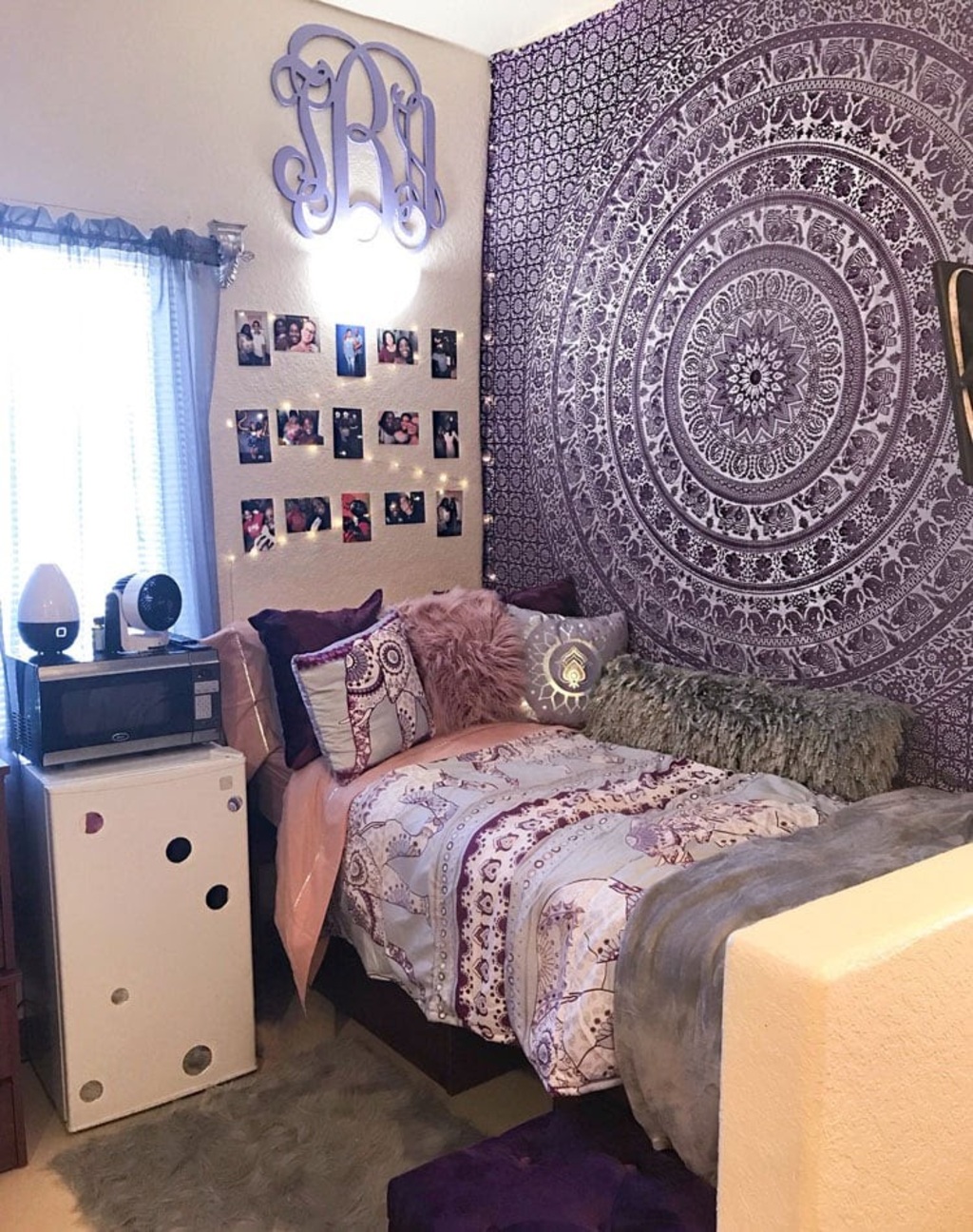 Source: Design Ideas Guide
These dorm room ideas let you jazz up the boring room by bringing in simple patterns and colours. Patterned bedding complementing a hanging wall tapestry adds tones, layers and livens up the space.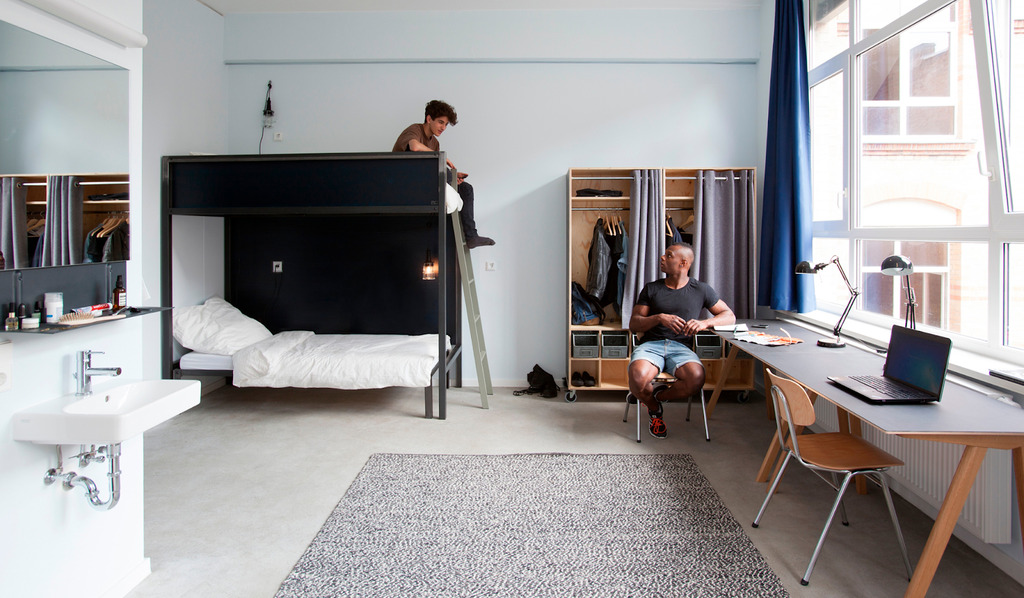 Source: UR Design Mag
Source: mywonderfullwalls.com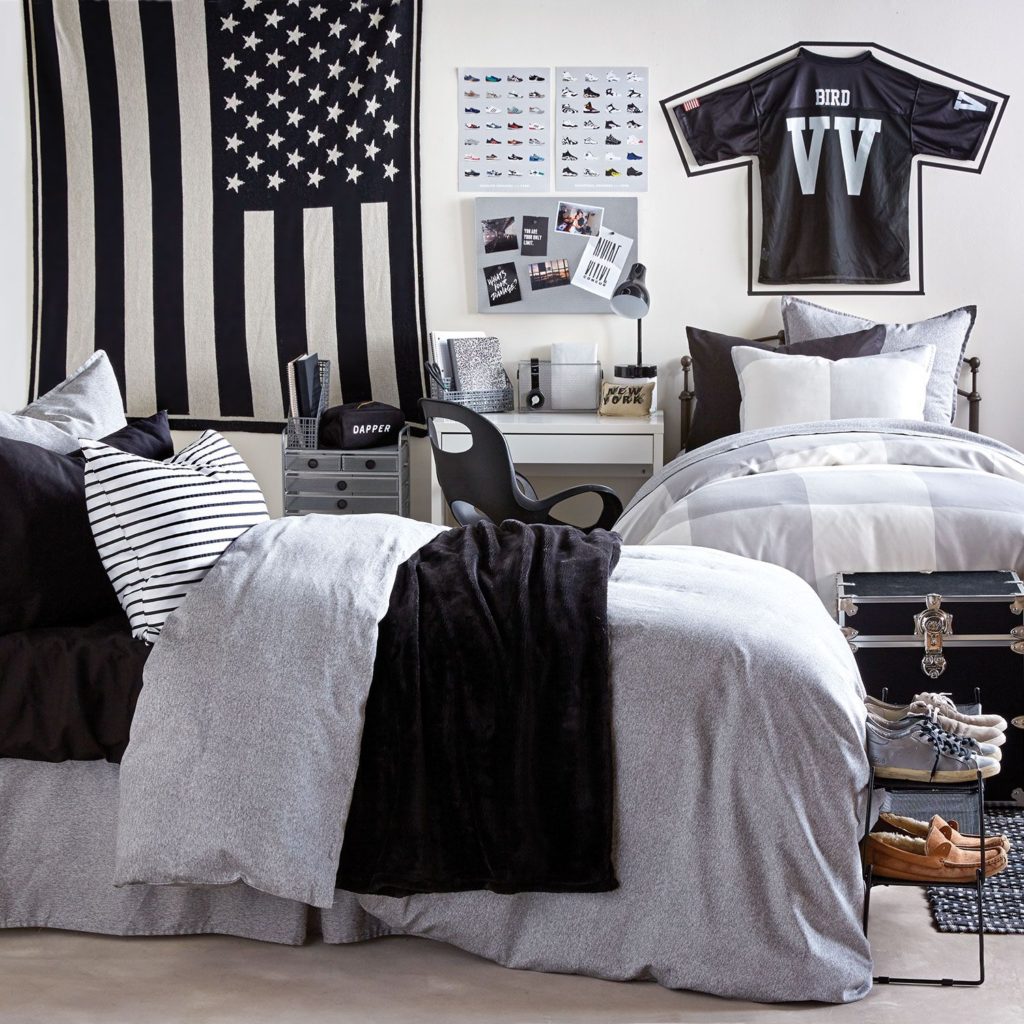 Source: ModernTeen.com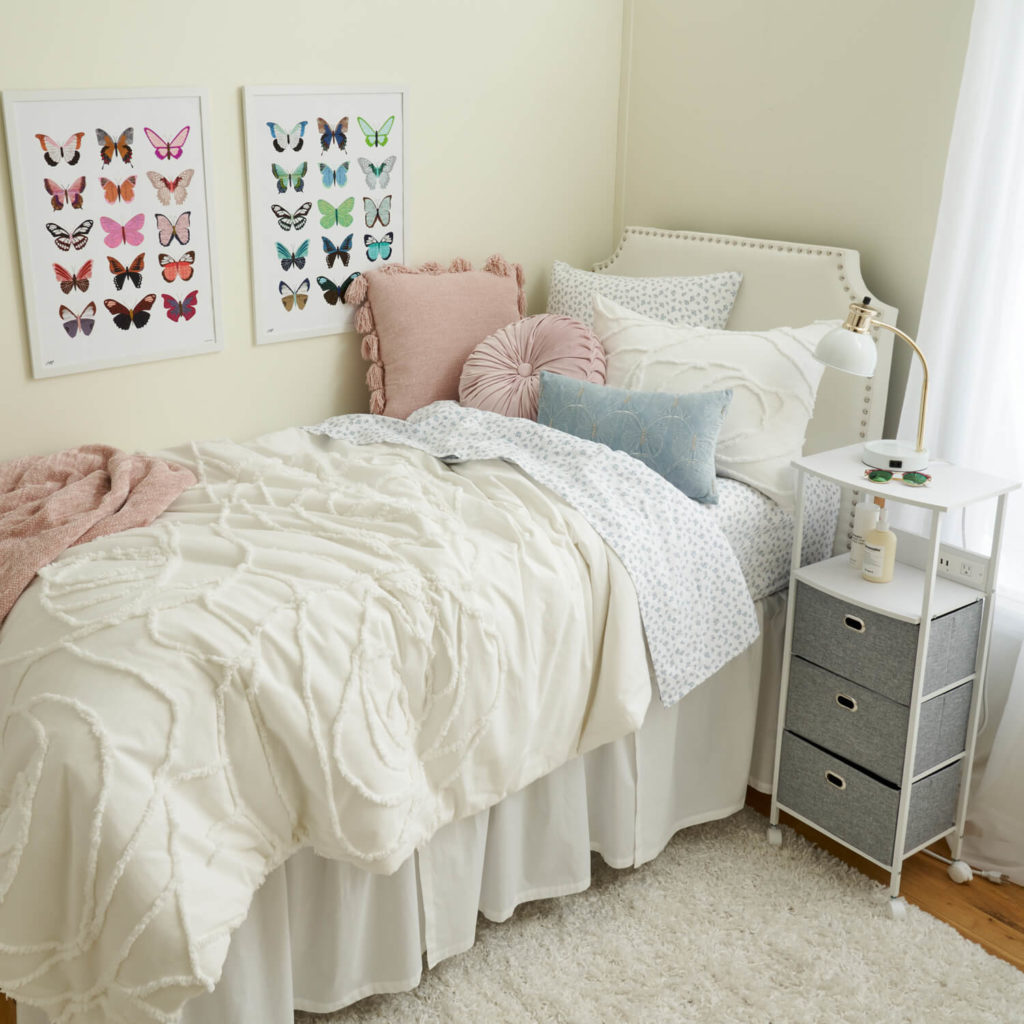 Source: CollegeFashion.com
Source: Storables.com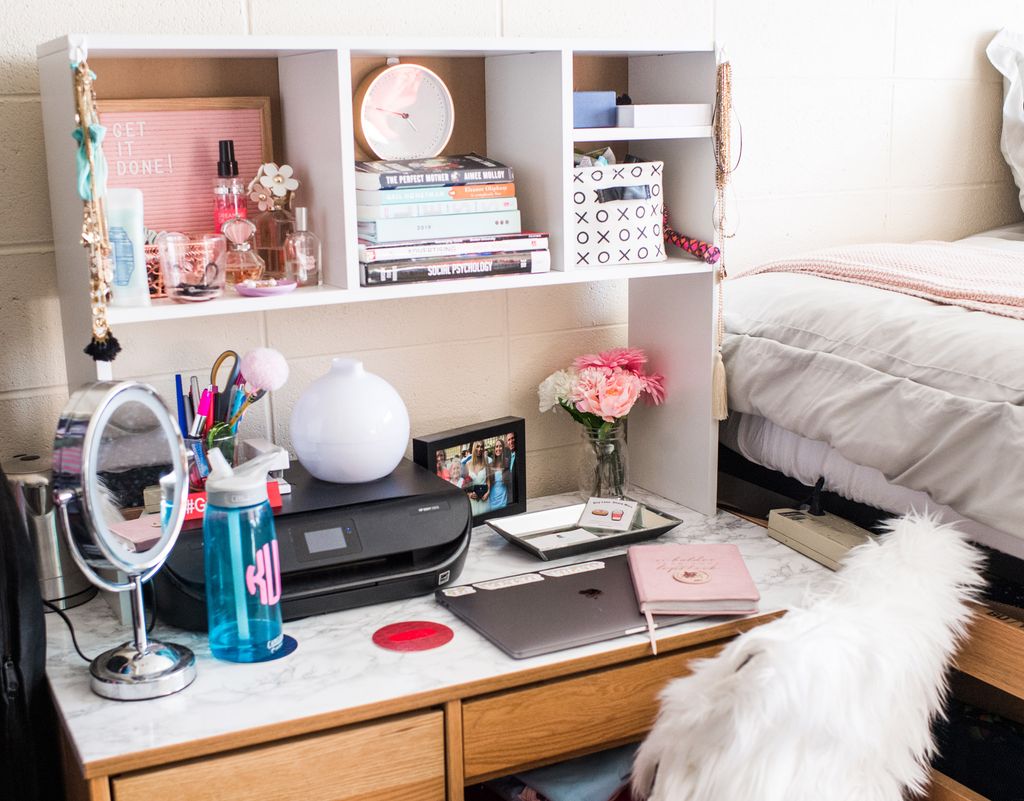 Source: BostonUniversity
Source: Ashleyfurnitureblog.com
Source: Faviana.com
Source: Society19.com
Source: DIYtips.com
Source: Society19.com
A Dorm Room is a special entity of your college years, it is a reflection of all the splendid memories of the golden time. Therefore, it is necessary to spruce up these spaces with dorm decor ideas and themes that can help you in creating a space that you're proud of!
To know more about cleaning tips, home improvement tips visit Architecturesideas.