Rising damp may not be the most rampant form of dampness affecting homes, but it is arguably one of the most destructive damps found in buildings. In most cases, this band of wetness causes the masonry material on walls to disintegrate, causing wallpapers or the mortar between bricks to fall off.
If you think your property might be at risk of rising damp, understanding what it is, its causes and the best actions to treat and prevent dampness is one way to protect your property.
What Does Rising Damp Mean?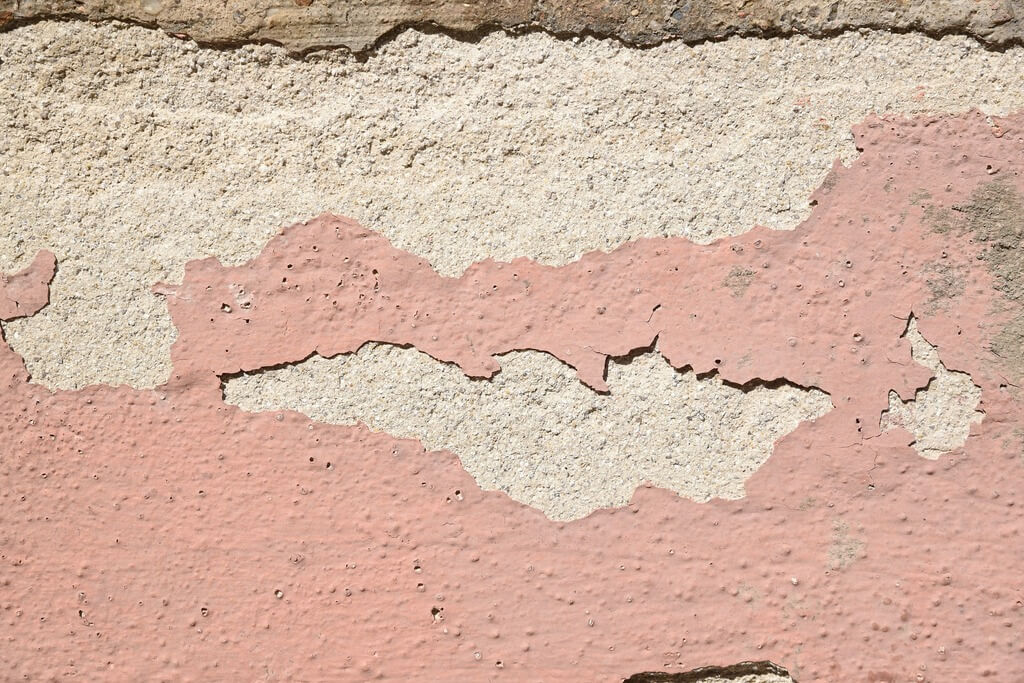 Source: wp.com
Rising damp is the upward movement of moisture from the ground beneath your house's walls through the fabric of the walls.
The water flows through capillary action and usually rises to a maximum of 1.2m. However, the effects of rising damp such as salt deposits may be visible at a greater height. 
Because of the high repair and maintenance costs that come with rising damp; it is essential to get home insurance if you suspect your property might be at risk of this problem. If you are not sure what provider to choose, a local comparison site like iSelect (if you are based in Australia) can help you compare home insurance providers so you can find one that best fits your unique needs.
What Causes Rising Damp?
In most cases, rising damp occurs when water flows up your wall from the ground beneath or around it. This often happens if your area has gone through a period of extreme humidity, such as heavy rainfall. 
In other situations, constructional faults can result in rising damp even when the damp proof course (DPC) is intact. Examples of constructional faults resulting in rising damp include plaster overlapping the DPC and surrounding ground levels higher than the DPC. 
Signs of Rising Damp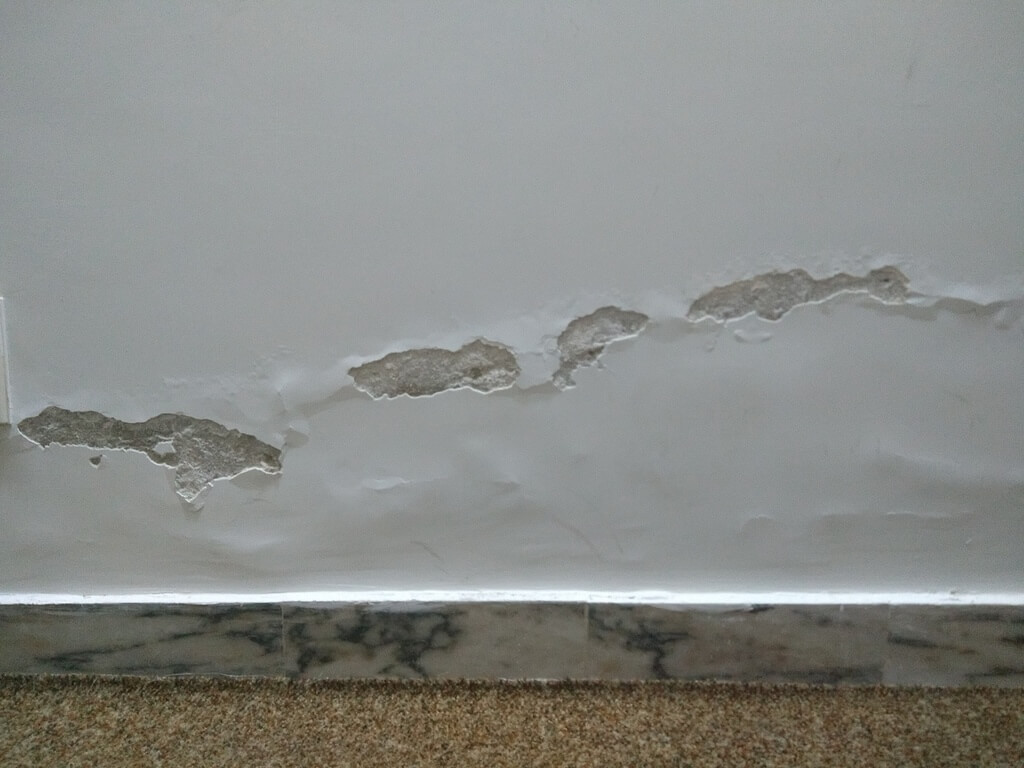 Source: wikimedia.org
It is relatively easy to spot the first signs of rising damp. Here are a few signs that you should look out for:
The appearance of bubbles underneath your wall's paintwork

Flaking or falling away of wallpapers

A musty smell in the house with no apparent source 

Plaster flaking away

Wall staining

Rotting skirting boards
How to Prevent Rising Damp
One of the most effective ways of preventing rising damp is installing a damp-proof course between the foundation and the wall to avoid water absorption from underneath into the walls.
A damp-proof course is usually a non-absorbent water-resistant material such as slate, bitumen, and plastic, with the material used depending on when a home was built. Sometimes these physical DPCs may fail due to age or may not exist in older houses. 
Treating Rising Damp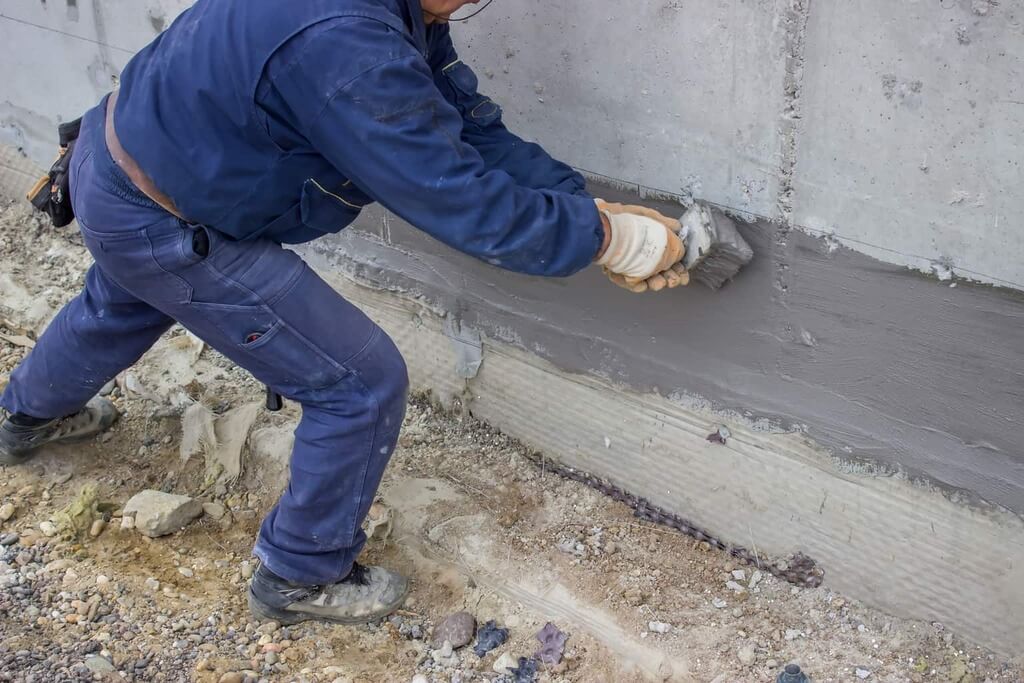 Source: yourownarchitect.com
Treating rising damp can be costly because it goes beyond fixing the damp-proof course to include replastering and repainting. Timber flooring may also be necessary, depending on the level of damage caused. 
There are several ways of fixing a rising damp problem. However, the cheapest and the most cost-effective way is by injecting a damp-proof injection cream at the faulty sections of the damp-proof course. This option is only applicable for small damp patches. 
To stop such issues, you may have to replace the damp course membrane under your house after every few years. This process can be complicated and is best left to the experts.
Also Read: 10 Minute House Cleaning Tips
Who Treats Rising Damp?
If you suspect your rented home or property has a rising damp issue, it is the responsibility of your landlord to deal with the damp. However, if you own the building, you will need to first confirm your suspicions before treating the damp.
When diagnosing and treating rising damp, you will need to work with a rising damp treatment specialist, professional damp surveyor, or preservation firm with vast experience in rising damp injection treatment. Whether you choose to hire an individual or a company, make sure they have the necessary qualifications to help you fix your rising damp problem.
In Australia, Certificate III in Construction Waterproofing is the most industry-recognized qualification that professionals should have. This certification is vital for experts who ensure waterproofing standards are fulfilled in structures. In other words, any professional with this certification can diagnose issues with water entering your building below ground level and recommend the ideal design or treatment solution.
Protect Your Property from Rising Damp
Considering the damage that rising damp can cause to your property and the high repair costs that follow; it is important to get home insurance to cover the structure of your home. However, choosing the right insurance for your home can be tricky, with all the insurers on the market.