Trending Black and White Houses Exterior Ideas
The modern day is filled with new trends and updates flowing every day. Open social media and you're introduced to a plethora of new trends, which are saved to be followed. Why not do the same when it comes to your homes and opt for a black and white houses exterior which is currently trending?
As designer Brian Patrick Flynn has rightly said, "we have gone from everybody doing things that are safe with white or cream or gray, now people are embracing things that may have been considered risky and saying "let's go for it"". Speaking about what you're here for, the latest trend. Black and white houses exterior is today's hottest trend.
The Achromatic Appeal Black And White House Exterior
Source: cutewallpaper.org
The absence of perceivable color in black and white shades gives them a sense of neutrality. Viewers can project their ideas to the building's surface, hence this achromatic approach has been alive for a while and picking up again. Black highlights the architectural design and complements outdoor spaces whereas white adds contrast and creates a balance. 
Adding black to your modern houses exterior is like wearing that little black dress or black suit. Can't go wrong with it. As intimidating as it sounds it is rather simple to create an achromatic balance for black and white houses exterior. White houses with black color-blocked areas, incorporating black window frames/doors or using black trims.
Top 15 Examples of Modern Black and White Houses Exterior
Scientifically speaking, black and white are not colors, they are rather "expressions of light". In architecture, these reactions to light can be manipulated to create interesting effects. Both used together can complement each other beautifully. Just a plain black building will either appear too prominent or become invisible in its environment, a splash of white can balance this out with an achromatic contrast. Vice versa, a plain white exterior would wash the building out but a splash of black will add character. 
To help you get a visual understanding here are our top picks for black and white houses exterior.
1. Black Cherry on a White Cake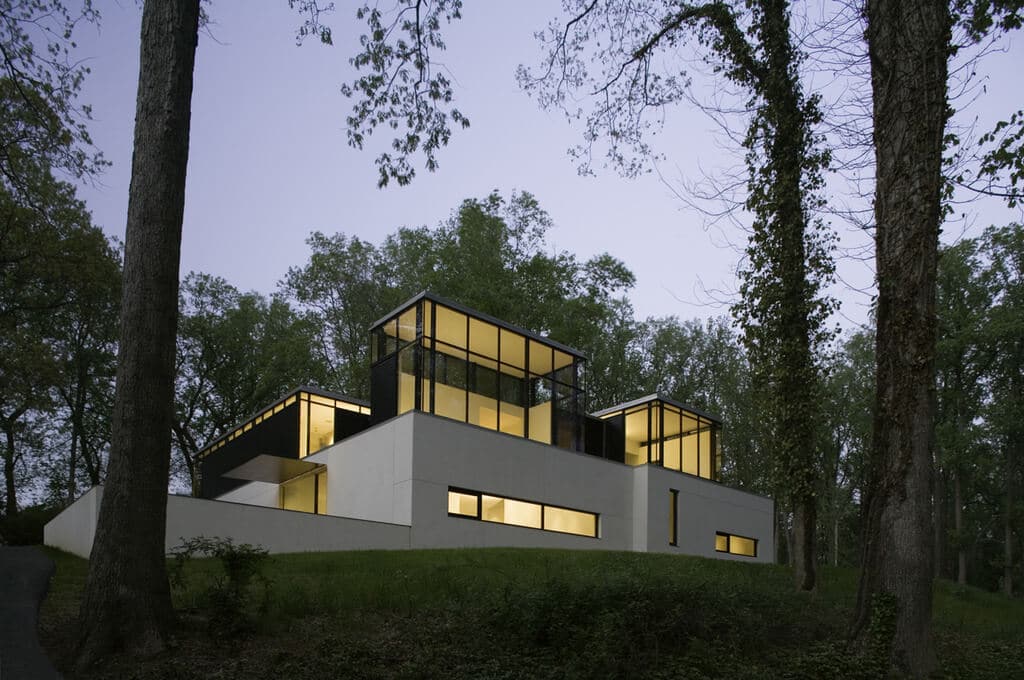 Source: adsttc.com
This house shows the perfect balance of black and white. The contrast in the black and white house exterior highlights the distinction between the two volumes of the house. Black is kept very subtle, only used for the frames whereas white takes up the solid volume. This perfect balance of black and white creates the feeling of positive and negative space bringing out all the individual features. 
2. Black and White Twins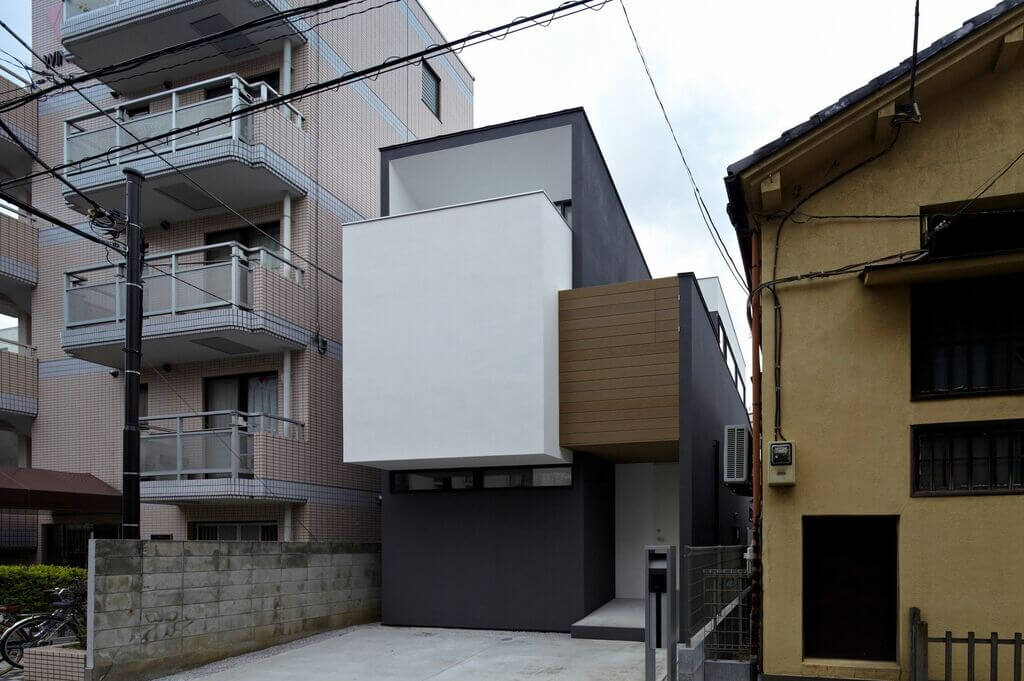 Source: pinimg.com
This project is the perfect example of white houses with black color-blocked areas or vice versa for a modern black and white house exterior. The black skin of the apartment is perforated with white windows and voids. The White framed terrace gives an illusion of negative space like chunks of the building have been cut out. A solid void mix of black and white creates a balance between both colors. 
3. Black Roof Snow Caps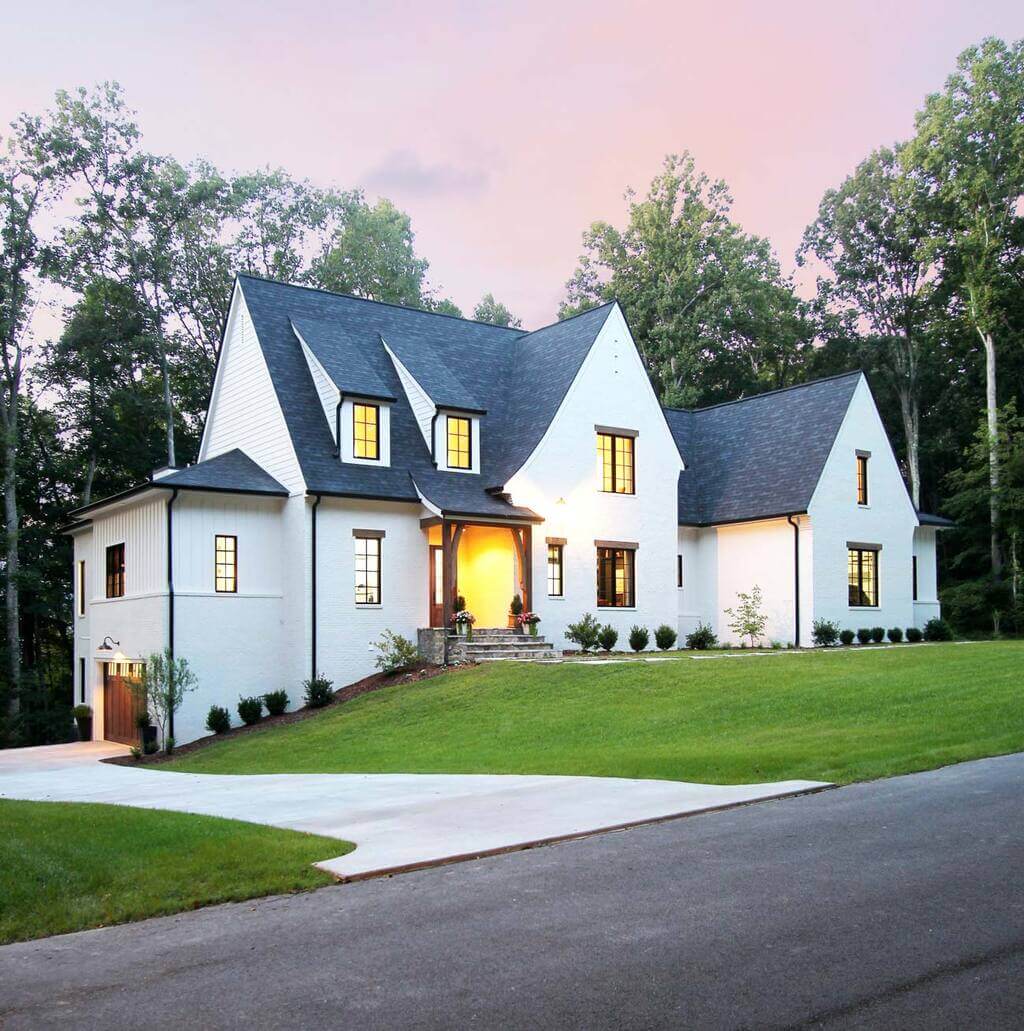 Source: plankandpillow.com
This project by Plank and Pillow is a quintessential modern farmhouse. The beautiful white house is brought to life with black-trimmed windows and a dark roof that creates stark contrasts. Color blocking is the main principle of this house since two focal points are created, the roof and the body of the house. The wooden elements add to the visual interest of the black and white house exterior.
4. Black Lines on White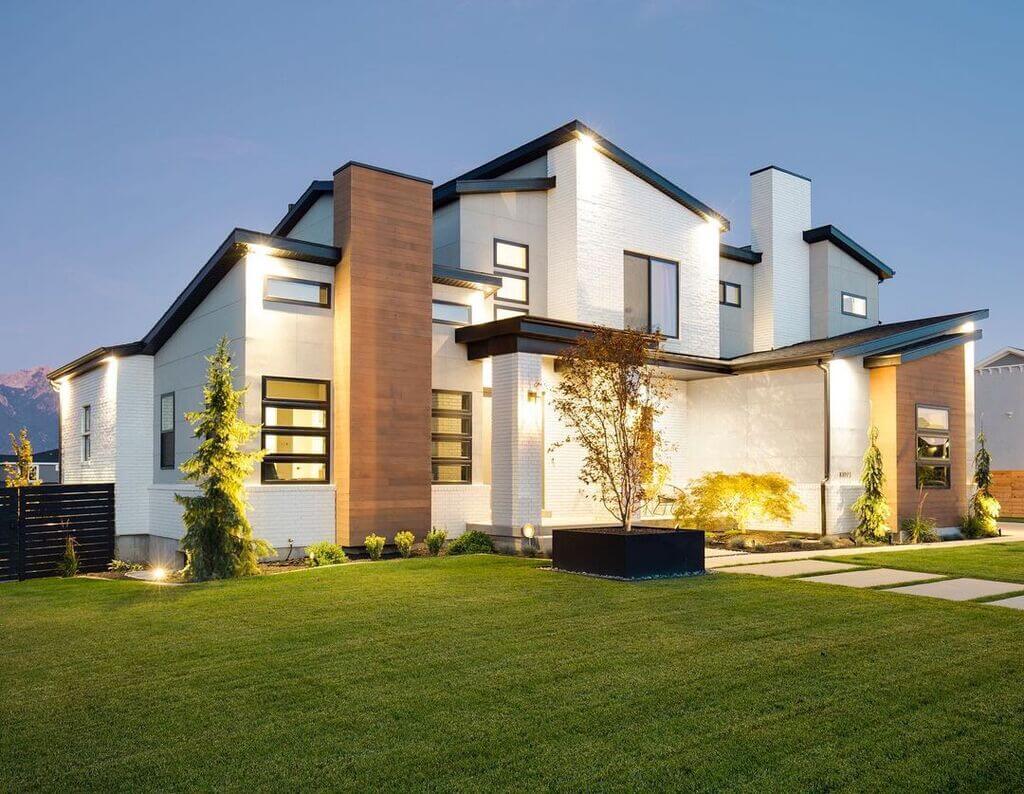 Source: homelikeyoumeanit.com
This project by Mill Haven homes shows how black and white house exteriors can be made more interesting by playing with textures. The rough white exterior texture is balanced out by the smooth matt finish black trims on the roof. Black window frames create a definition on the black canvas of the house. Pops of brick finish add more focal points to the facade.
5. Splash of White on Black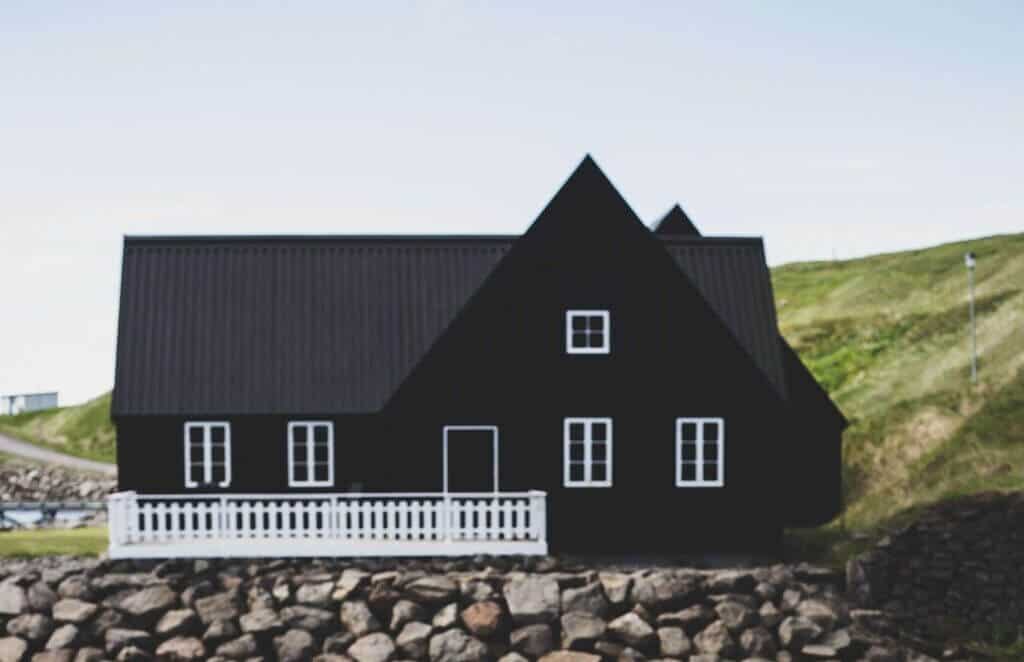 Source: mizootown.com
In this black and white houses exterior, black is the canvas on which white is placed to create a sharp contrast. The white fence helps in defining the boundary of the house since the landscape is very vast. Adding white frames creates distinct shapes on the black facade and helps in dividing the volume hence distinguishing the levels. 
6. White and Black House Exterior Go Hand In Hand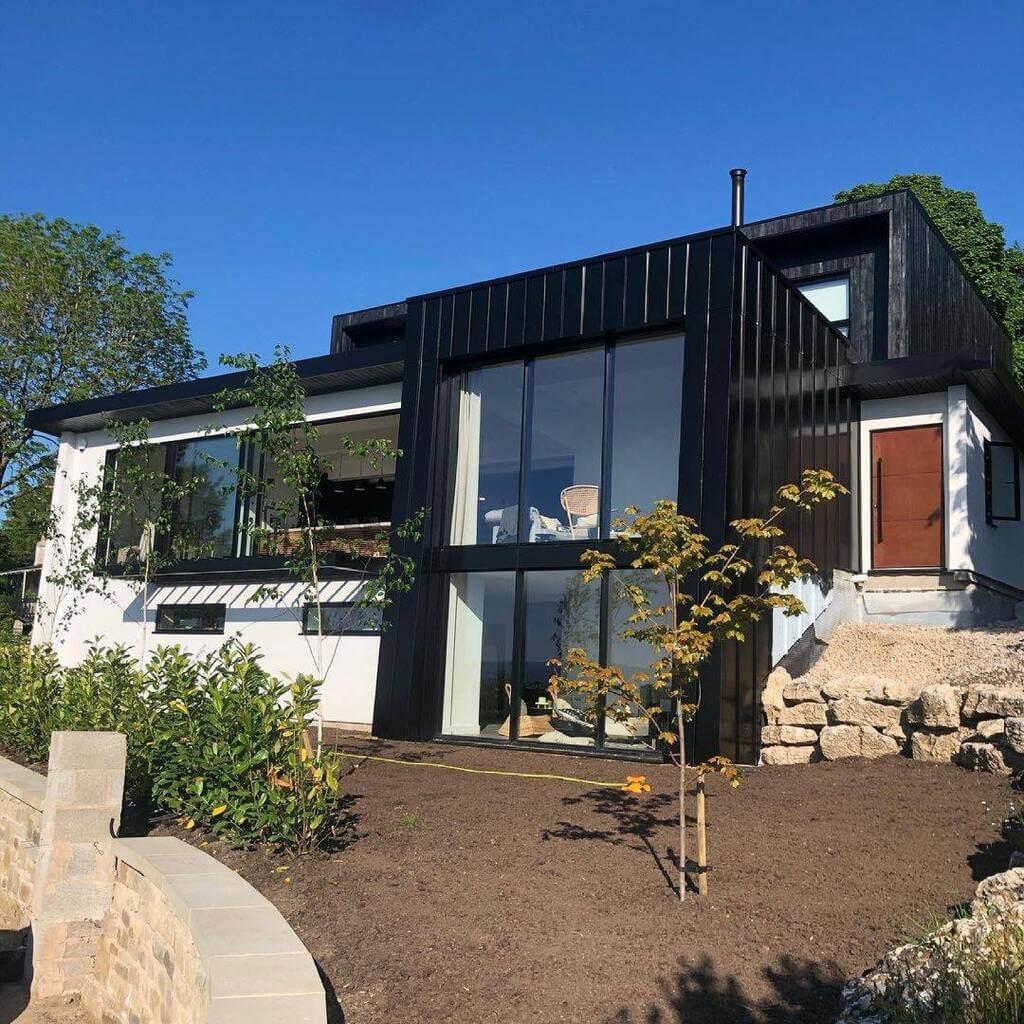 Source: decoist.com
Black and white house exteriors can be done in a way that black and white can go hand in hand. A single story white house black trim helps in defining the separate volumes. White house black windows add life to it since it breaks the solid form. Pop of white on the other corner creates a harmony of alternating white and black house exterior.
7. Black Against White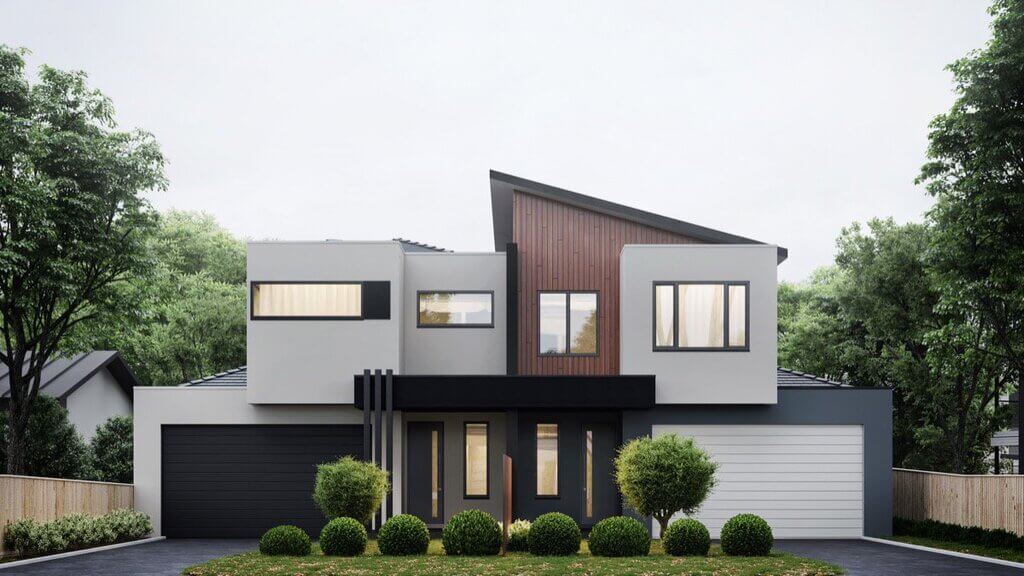 Source: twimg.com
A true mix of black and white house exterior, it has black on white and white on black. There's a unique harmony maintained because white is used on surfaces to absorb light and reflect whereas black is used on surfaces to absorb light and show the absence of color. The wooden element helps break the black and white monotony. 
8. Pops of Black Trims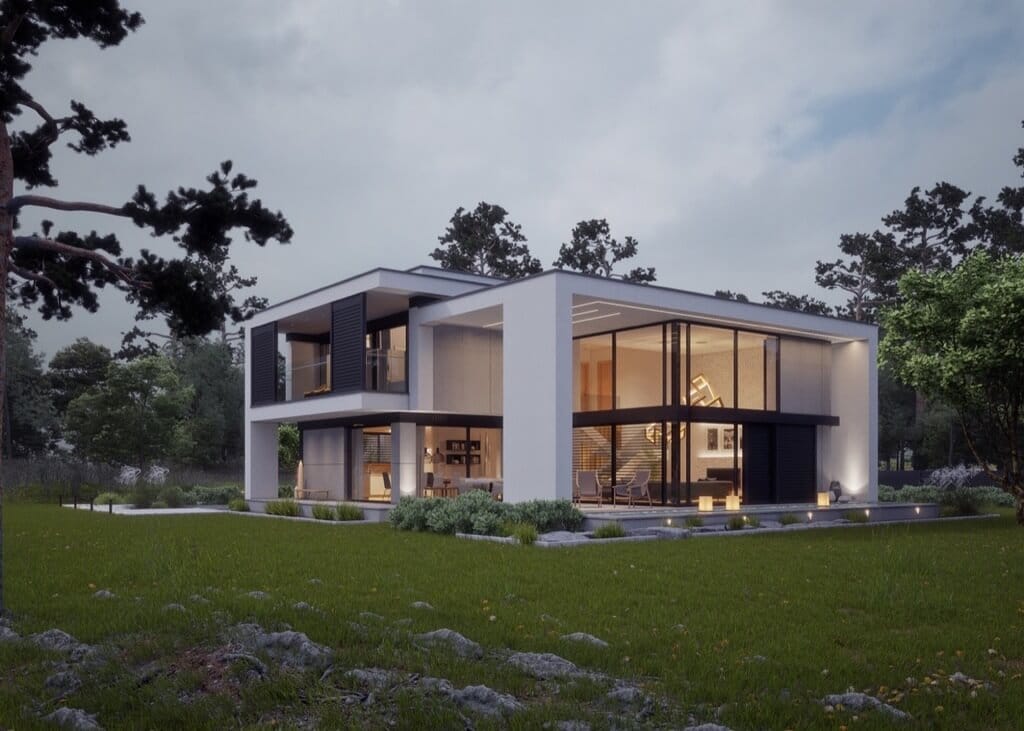 Source: home-designing.com
This house shows how elements of black can be added rather than volumes. Black frames add contrast to white. The play of horizontal and vertical lines is the main focus of this black and white house exterior. Pops of black are used as focal points of the house to sharpen the aesthetic. Black lines are also used to show the different levels of the house.
9. Black Hat, White Suit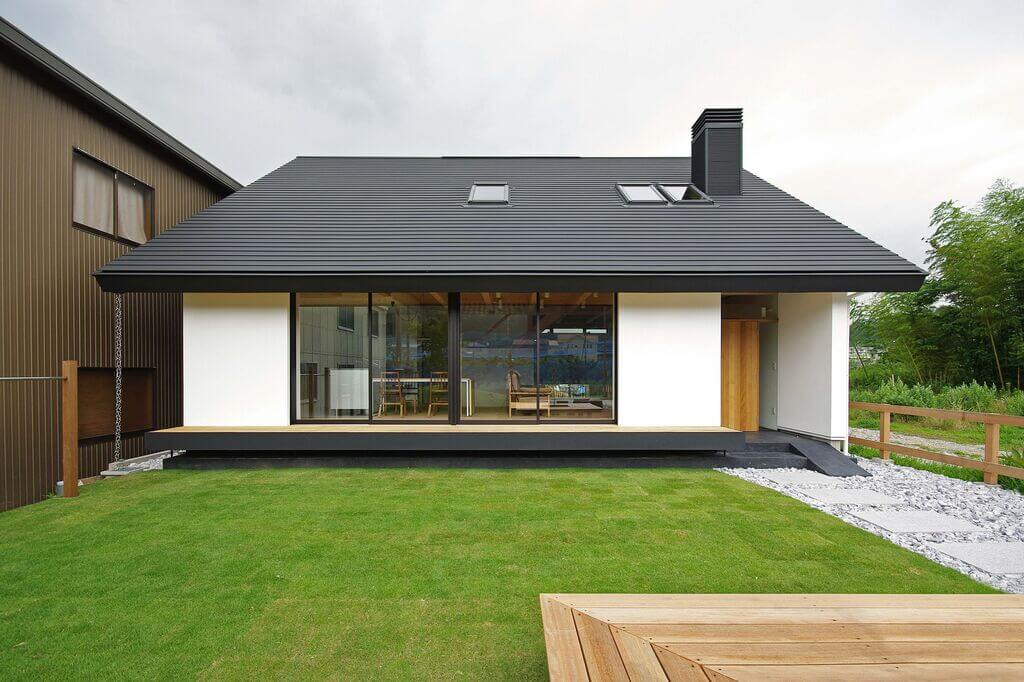 Source: pinimg.com
This cozy family villa reminds us of a white house wearing a black hat because of the stark contrast that it exhibits. The house is divided horizontally in alternating black and white with the black roof, walls in white with black frames, and a deck with black trims. The wooden entrance door creates a harmonious balance with the black and white house exterior.
10. Black Door Welcomes You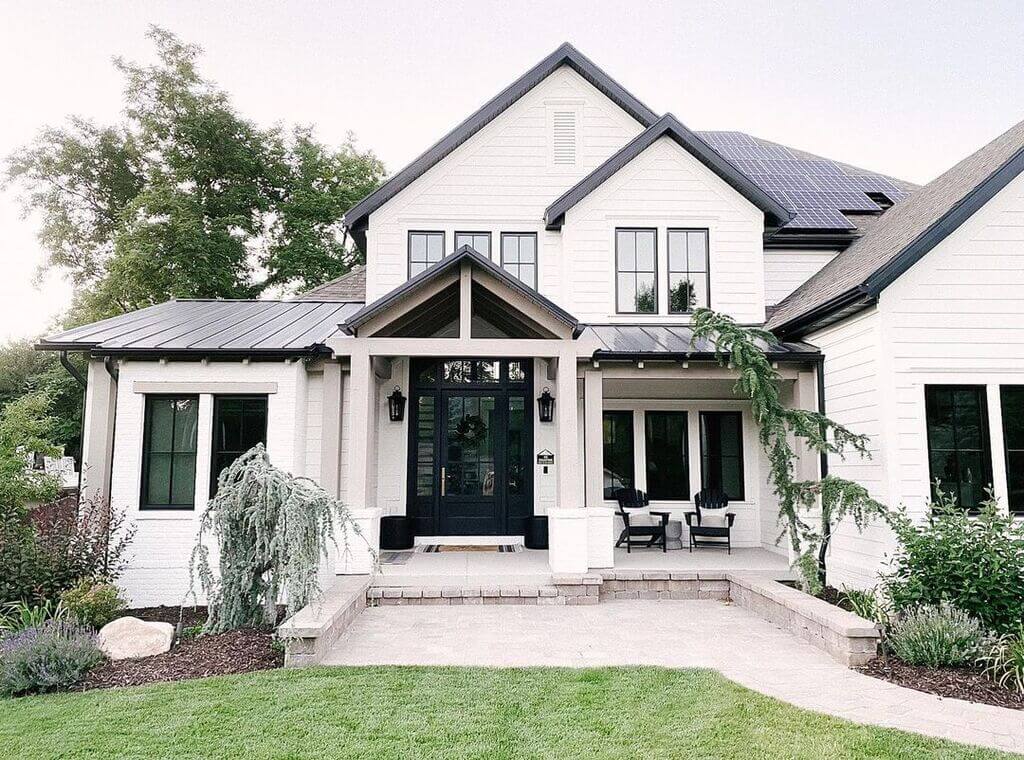 Source: homelikeyoulikeit.com
Used to the usual wooden entrance door? Swap it with a black frame door to add an interesting element to your black and white house exterior. Black roofs make the white house stand out along with other black accents like the entrance lamps and outdoor chairs. The stone texture compliments black and white perfectly creating a balance of color and texture. 
11. Hints of Black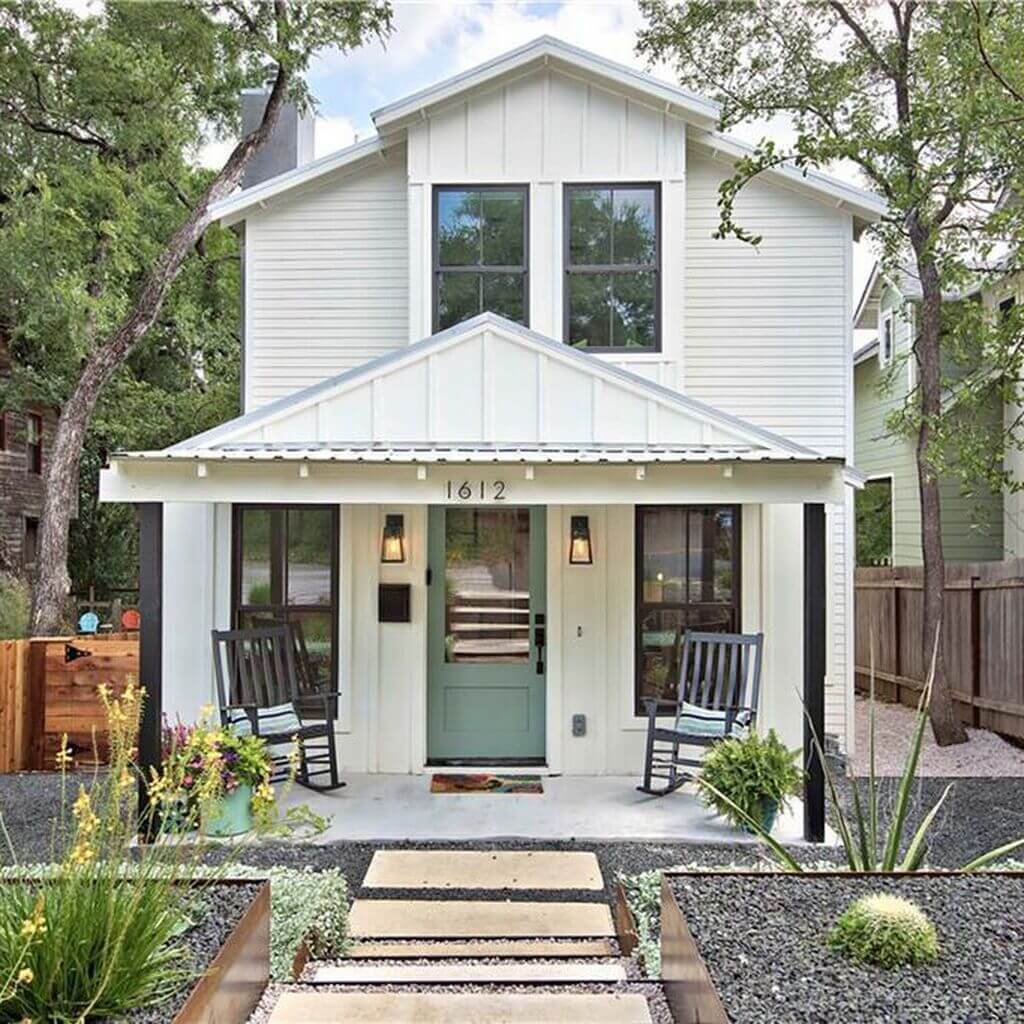 Source: vox-cdn.com
This house looks like it is just white but on a closer look, you see the black and white house exterior elements incorporated. Black frames for the windows create a very sharp definition adding a balance. Black columns, lights, chairs, and even something as small as the house number sign in black add interesting pops of black creating an overall harmonious black and white exterior. 
12. Black Peaks 
Source: thecreativityexchange.com
This is another classic example of a white house with a black roof. A play of textures can be seen here, with the tiled roof and rough white exterior finish. Pipes, lamps, and house numbers on this house are also in black maintaining that contrasts. Bigger wooden elements are incorporated here which compliments the black roof and stands out on the white walls. 
13. Black Branching Out of White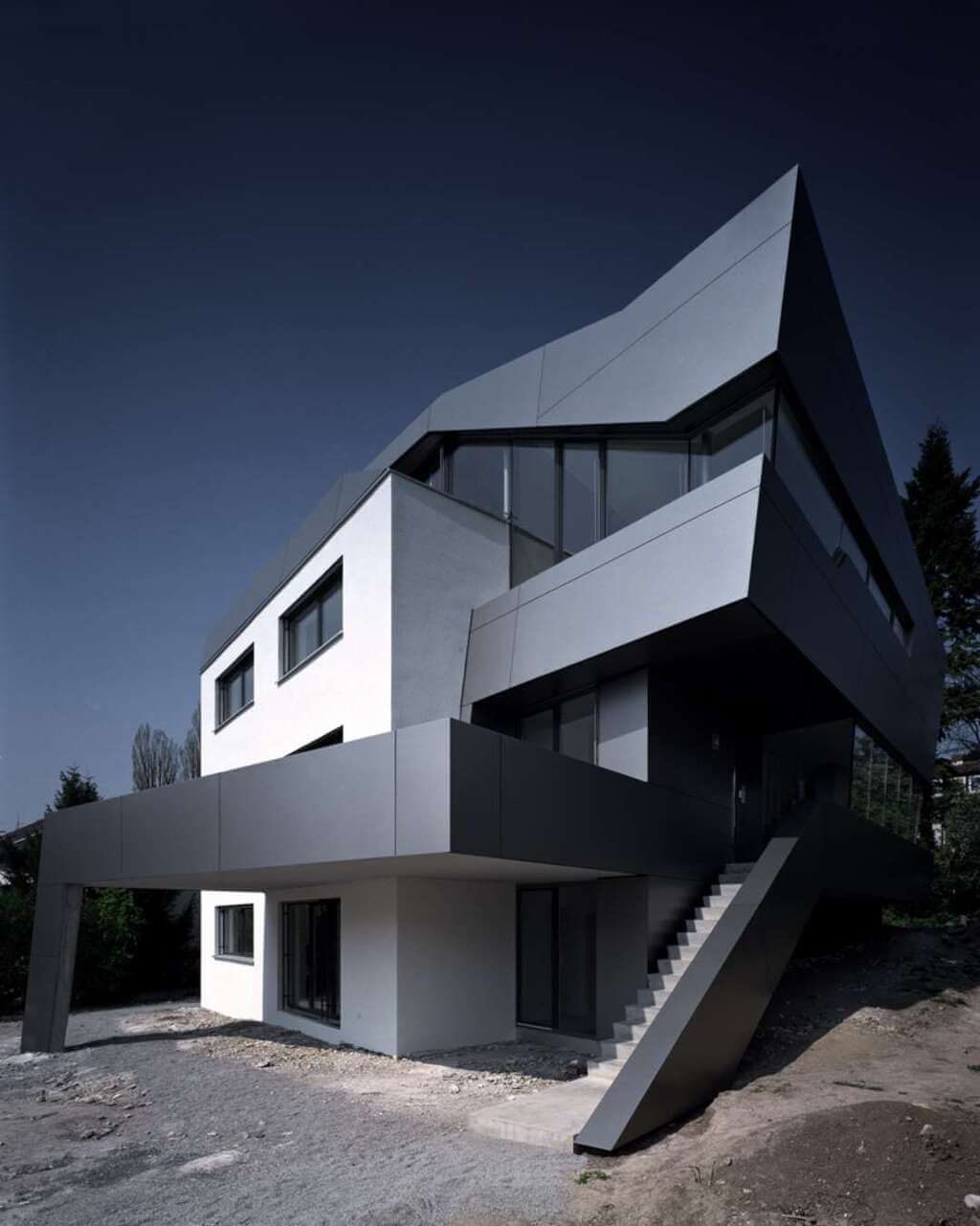 Source: architizer.com
A bold abstract design. The black and white house exterior almost looks like the black volumes are emerging from the white volume. Black frames are still a constant in this project since it creates a contrast on the white walls. Large windows on the black volume break the solid giving that negative space that balances the strong form. 
14. White Frosting on Black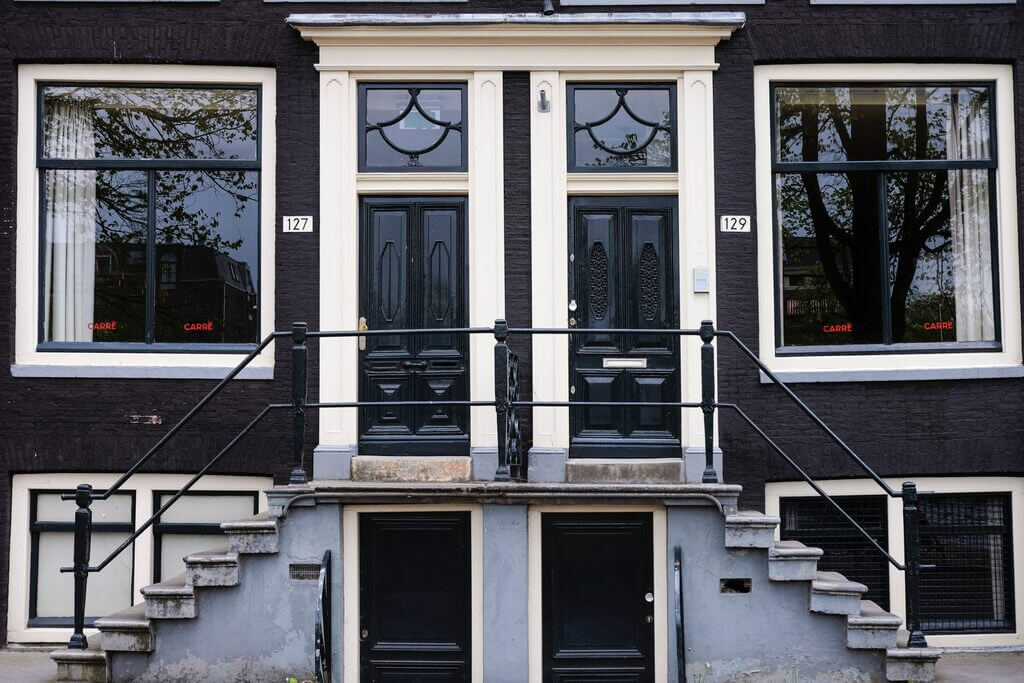 Source: welcomehome.nl
The black facade has perfectly balanced pops of white on the door and window frames creating a harmonious balance. White on black creates defined focal points due to the stark contrast, adding depth to the black. Adding white to the openings creates a more welcoming feeling because it makes the angles crisper and architectural details more visible. 
15. White Lines on Black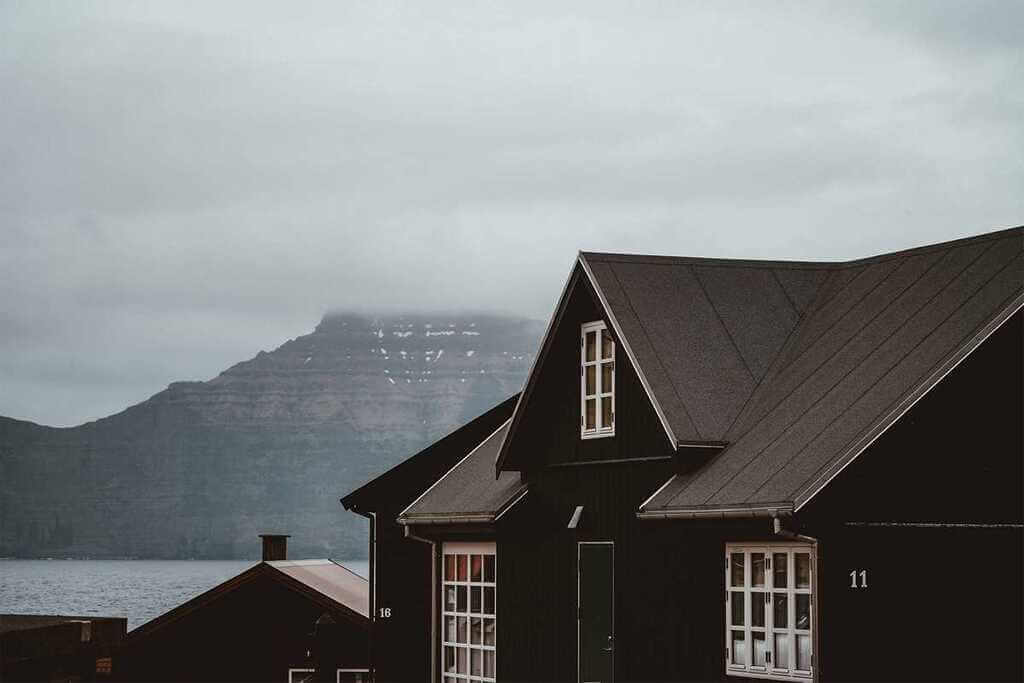 Source: as-sbdc.org
This example can easily make us picture a dark mountain with white snow on it. Inspired by the natural landscape around it, this house is black with white frames. The white frames help is dividing the black form into various sections of the house through the facade. Even the house numbers in white create a small contrast showing how black and white house exteriors can be played with. 
Let's Follow This Trend, Shall We?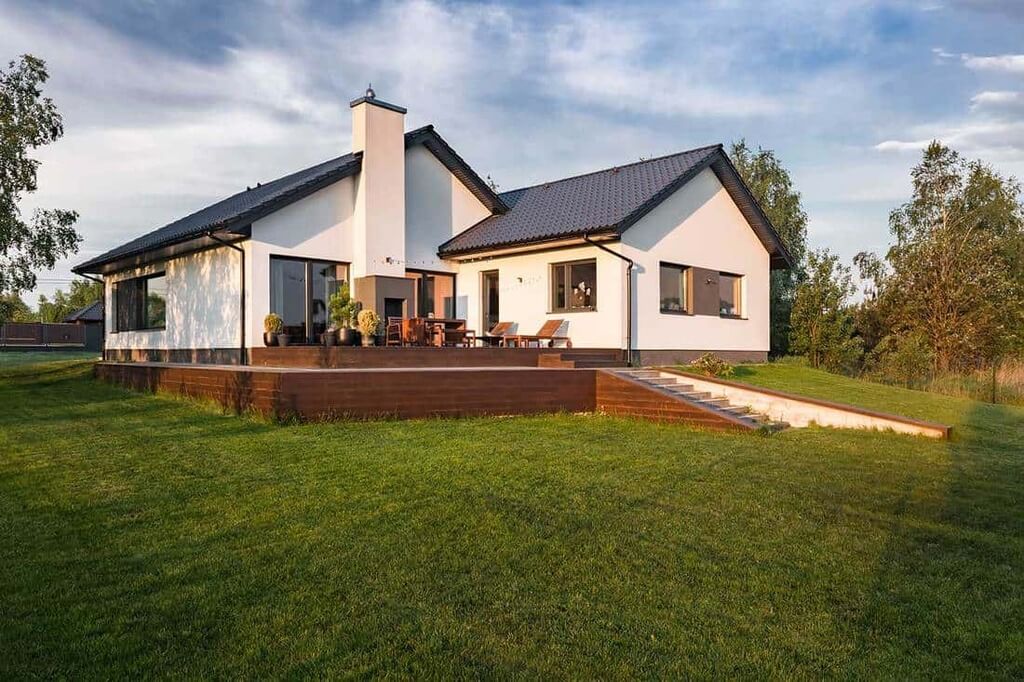 Source: homedecorbliss.com
Source: hzcdn.com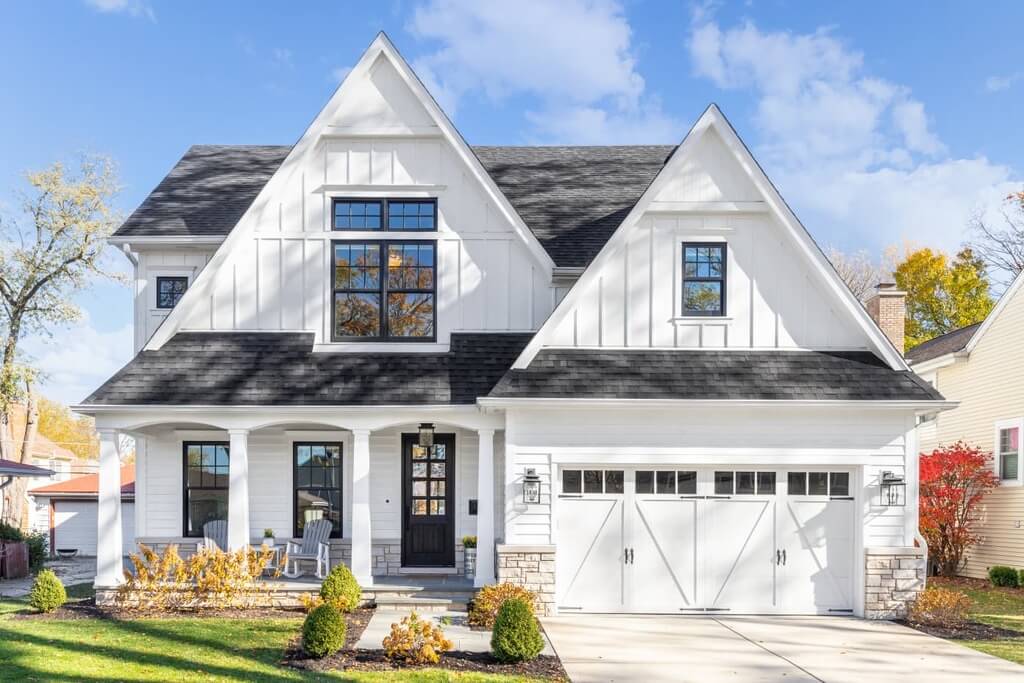 Source: apartmenttherapy.com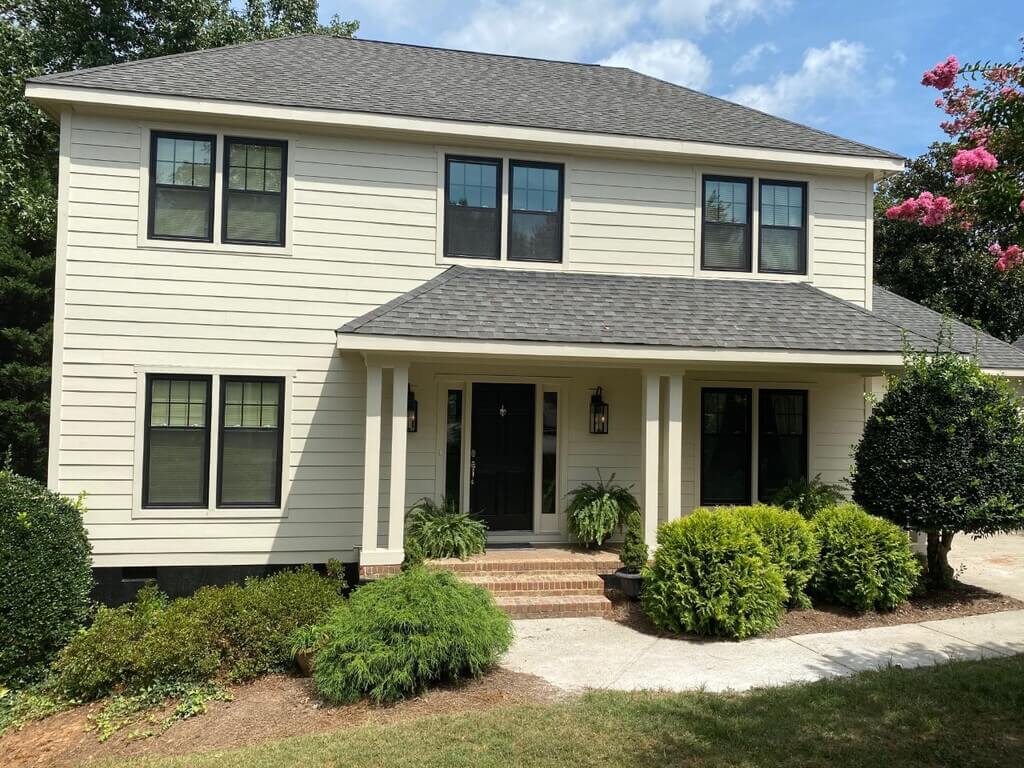 Source: belkcustombuilders.com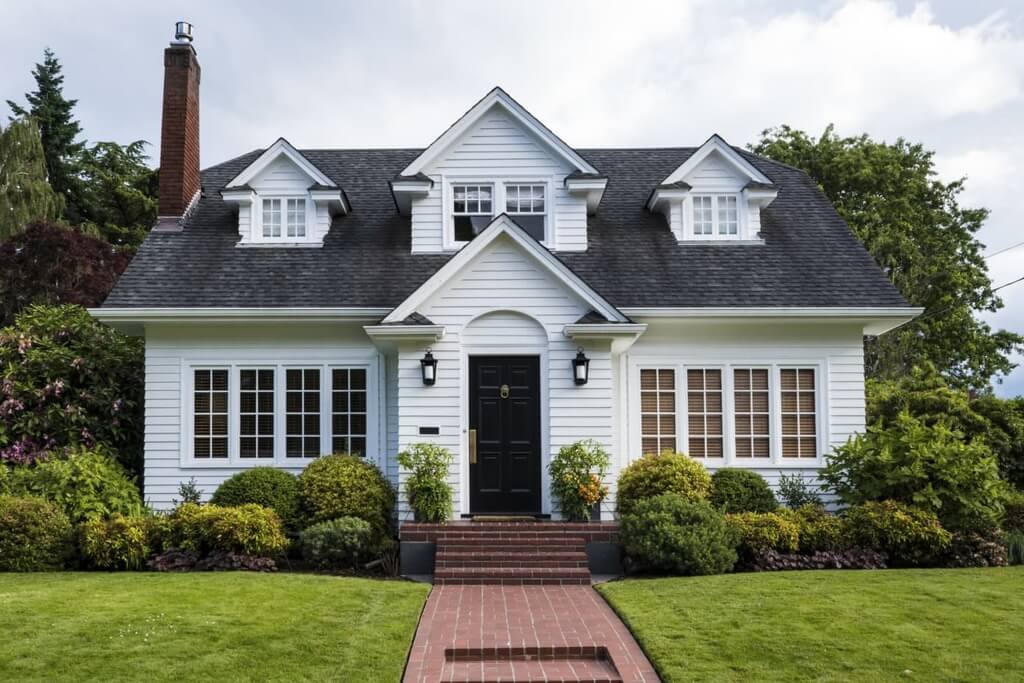 Source: apartmenttherapy.info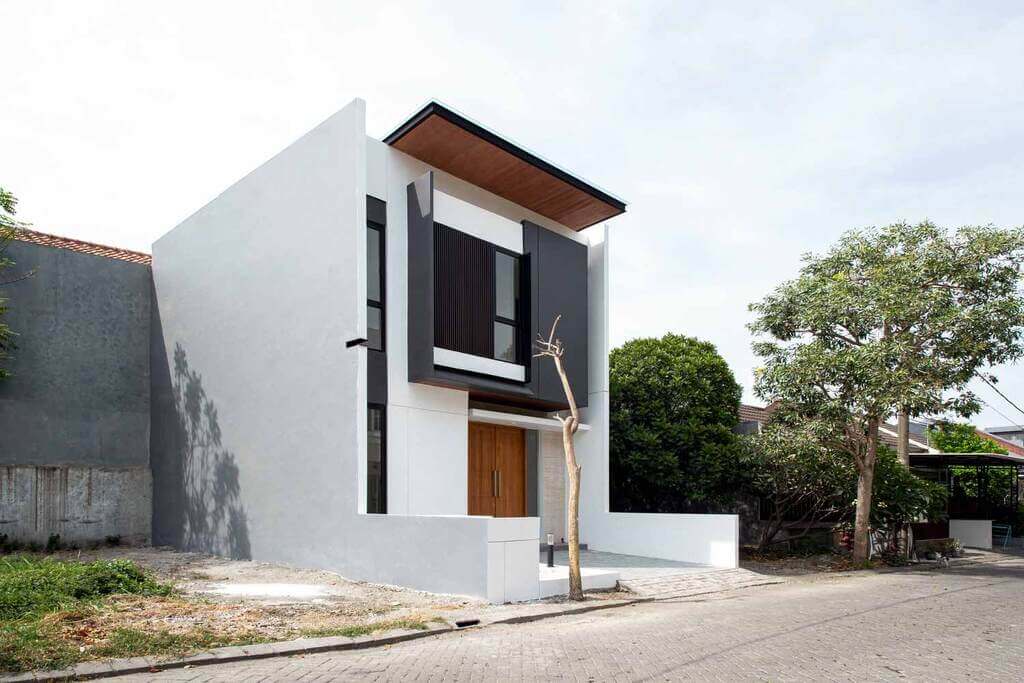 Source: artfasad.com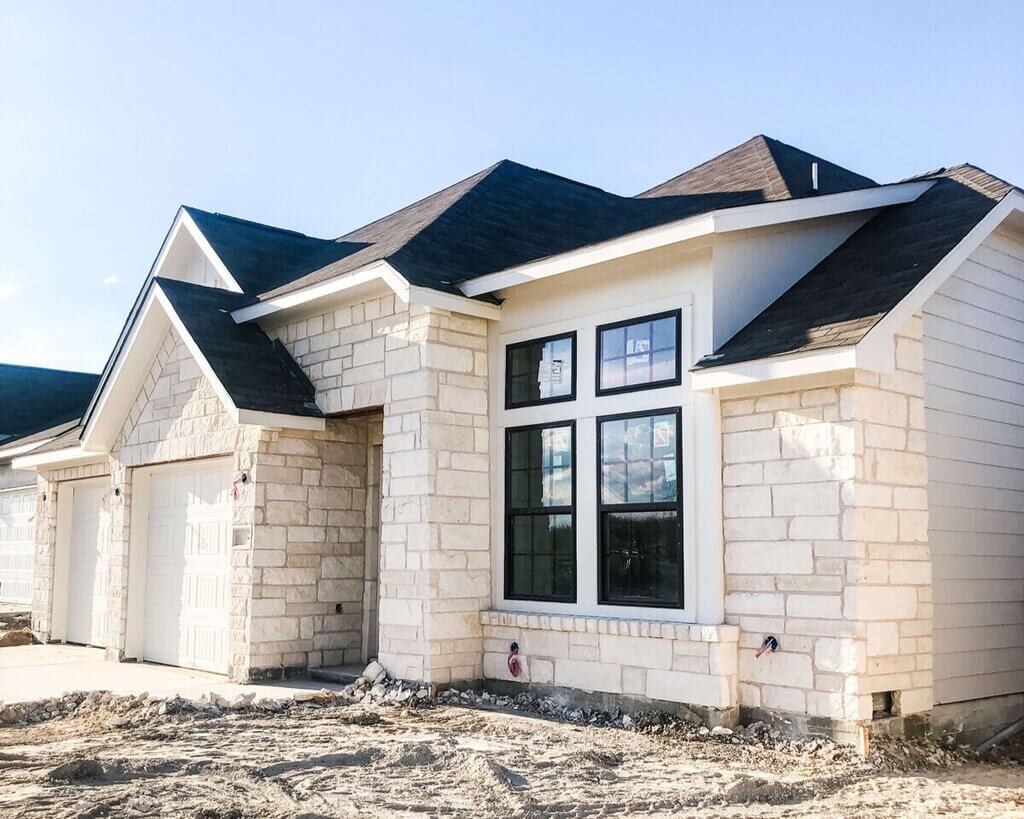 Source: squarespace-cdn.com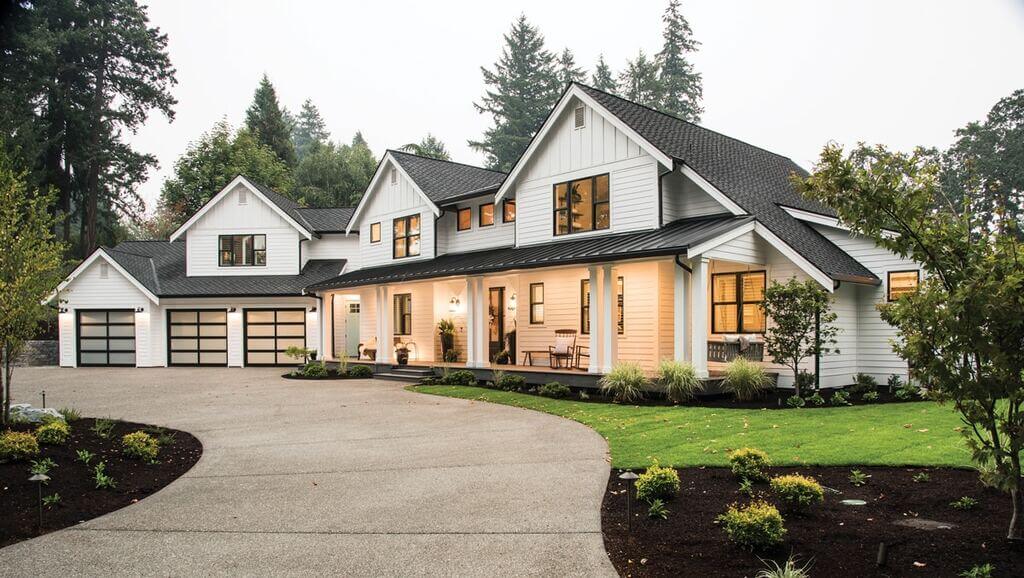 Source: maisondepax.com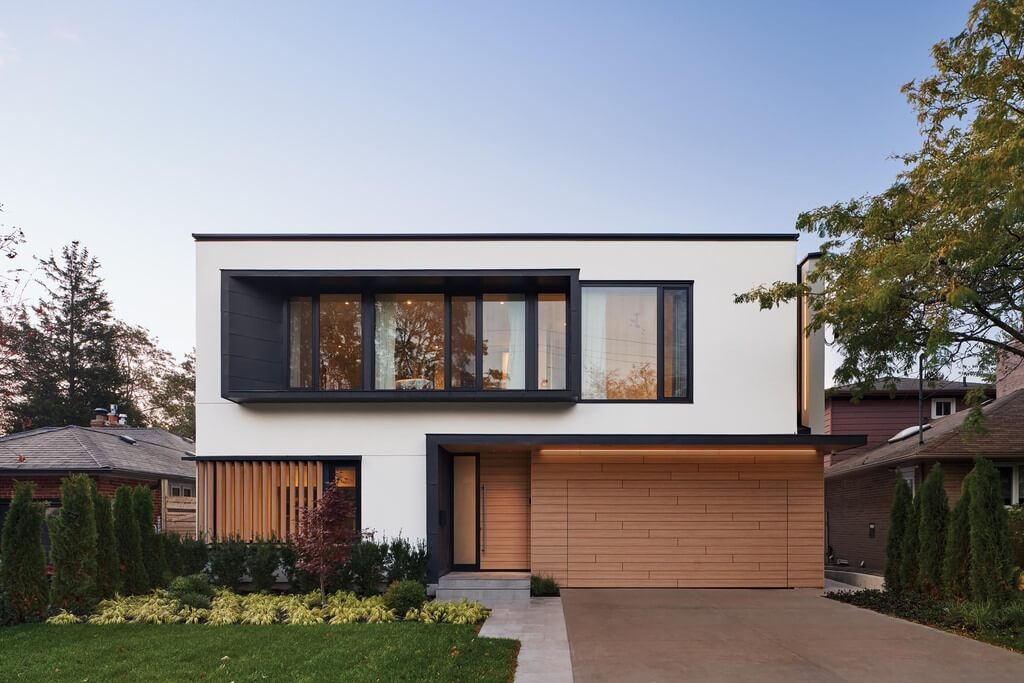 Source: contemporist.com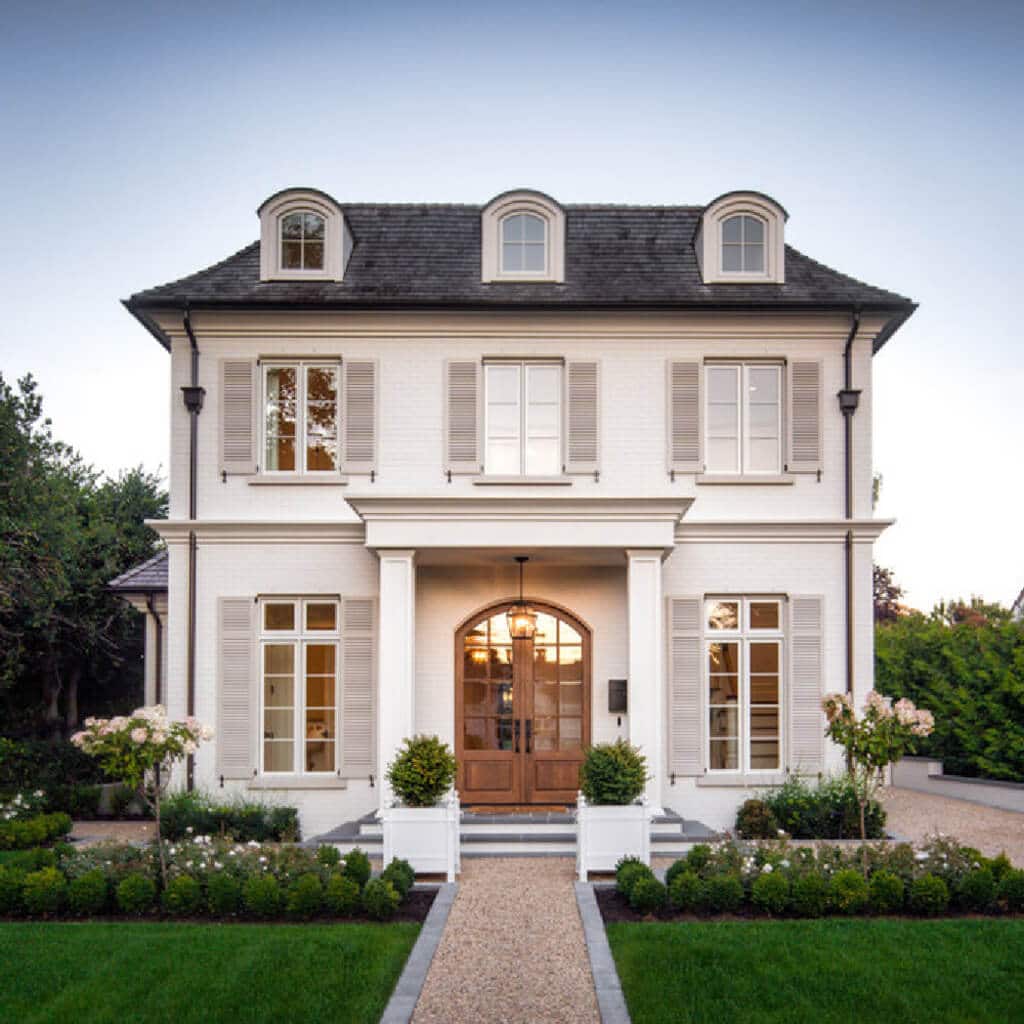 Source: hellolovelystudio.com
Embracing new materials and trends has shaped architecture into what it is today. Color and the kind of feeling it brings to architecture is what has drawn towards the shift into black and white house exteriors. This monochromatic color scheme sharpens aesthetics, creates focal points, and adds uniqueness to the facade making it a style quotient. If the black and white color scheme is a trend, don't we all want to be trendy? 
Also Read: Fab Fifteen Ideas for White House Black Trim
FAQ's
1. What Are the Current Black and White Exterior House Trends?
Incorporate black and white with — Black frames, black trims, and black and white volumes balancing each other. Something more prominent would be having white on black, like white frames or accent pieces for a bolder facade. 
2. Best and Minimalistic Black and White Exterior House Trend?
The best and most minimalistic way to incorporate black and white into the exterior would — have a black roof with white walls. It makes the facade look minimal since the blacks are mainly focused on the roof which makes the white stand out more. 
3. How Does Add Black to the Exterior Amplify the Facade?
Adding black highlights the architectural design and complements the outdoor spaces, it adds contrast, creates a harmonious balance, and gives a sense of positive and negative space. Most importantly, black elements help sharpen the aesthetics of the facade. 
4. Why Choose a Mix of Black and White and Not One Color?
Keeping the facade only one color defeats the purpose of contrast and balance. An all-black building will look too prominent or become invisible whereas an all-white building will wash out. Adding black to white will give character to the facade and adding white to black will break the form and balance it out. 
5. Which Architects/firms Take Up Black and White House Exterior Projects?
AGI architects did a black and white house in Kuwait, Formwerkz architects completed a black and white tiny home in Singapore, Fabi Architekten is an architecture firm based in Germany that uses black and white houses exteriors for their project. These are to name a few, although the black and white color scheme is used in many designs and is growing. 
To know more about Home improvement ideas, Cleaning and decoration tips visit ArchitecturesIdeas.
For daily updates, follow us on our Instagram page @architectures_idea.