Architectural details make a statement for home and highlighting them with different shades can make a house look even more gorgeous. The black and white combination is the classic one whether it's in fashion, art, or architecture. A palette with white house black trim offers endless choices for your home with numerous possibilities. A white house with black trim is considered to be an American classic style.
Nowadays, homeowners don't go for a single black or white shade, instead, what excites them more is various combinations of black and white to create a warm, welcoming, and stylish combination.
The Black and white duo goes for any decor whether it's in the interiors or exteriors of the house. This trend has been there forever, and the timeless appearance through the combo will sustain the popularity in the coming times as well.
White House With Black Trim: 15 Inspiring Ideas
Source: brickandbatten.imgix.net
White house black trim duo is something worth incorporating if you're planning on remodelling your house or building a new one. It can enhance the visual appeal and add boldness to the facade.
Here are 15 white house black trim ideas to create a classic visual of your home's exterior.
1. White Brick House with Black Trim
Source: pinimg.com
One of the easiest ways to modernize a house is by painting the bricks on the exterior. The plain white facade can further be enhanced by applying a smooth combination with black trim. Black window frames, columns, and eaves can add boldness to the design.
The aesthetics can be more enhanced with a wooden front door which will add another colour to the material and colour palette of the house. With soothing white on the majority of the area, the darkness of black stands out and creates a stylish facade.
2. Front Door in Black
Source: brickandbatten.imgix.net
A pop of black is more than enough to make a statement. In a simple white home, this can be done by just painting the front door black.
The dark main door complements the surrounding neutral-toned walls and adds to the beauty of the structure.
3. Black and White Contrast
Source: brickandbatten.imgix.net
To make a plain white elevation stand out, it can be contrasted with black colour. The black shade on the windows can provide a strong contrast and add life to the otherwise bland facade.
The combination of black and white merges well with the natural scenery and provides a sense of belonging to the whole structure.
4. Black Garage Door
Source: brickandbatten.imgix.net
A classic white house is the most popular style for the facades. With white bricks, trims, eaves, and siding, these homes have been in the trend for a long time.
In order to add vibrance to the white structure, windows and garage doors can be painted with bold black. Set in a crisp landscape, this white house black trim house can stand out with brown wooden beams and greenery surrounding the building. This small step can make the simple elevation look complex and interesting.
5. White House Black Trim on Stone House
Source: brickandbatten.imgix.net
A white stone house can be combined with black trim to create a unique look. The light coating on stone can be highlighted with a black accent on windows and the metal roof.
A light stone house totally contrasted with a black roof and black trim is an absolute favorite in terms of its style and extraordinary accent.
6. Off-white with Charcoal
Source: brickandbatten.imgix.net
A fresh coating of paint can bring back life to a house. For a white house, a contrasting charcoal shade can add an extra punch to the appearance.
The off-white brick house can appear more intriguing with charcoal trims as it adds depth to the appearance.
The timelessness and elegance of this combination can modernize an otherwise traditional house. It can further be enhanced by adding a modern steel door for the garage.
7. Monochromatic Magic
Source: brickandbatten.imgix.net
A monochromatic colour palette has its own magical effect on the aesthetics of a building. This palette can be chosen for the house and trims can be enhanced with black shade for the windows.
Highlighting the trims can impart a strong and crisp look to the white house. Painting trim in the same colour as siding is a common technique to deviate from the conventional white house black trim contrast.
8. White House with Black Gutter
Source: st.hzcdn.com
Did you know the role gutters play in the exterior design of your house?
The idea of white house black trim can be applied by painting the gutters in the same shade of black for significant benefits.
It is a great idea to avoid the house looking plain and too simple. Black gutters provide an additional accent to the elevation of the house along with black trims. It is a great way to make the home elevation look dazzling and engaging.
9. White Shingles and Black Trim
Source: museum-design.ru
Another dazzling combination is with white shingles contrasted with black trim. Ivory color with a yellow undertone gives a warm appearance to the house. The black latex paint on the trims adds boldness that can be increased with the width of the trim.
The black color can also be used to highlight various other architectural elements in the facade like the main door, beams, gutter, and windows.
10. Wide Black Trim
Source: aprylann.com
A plain white home can be conceived as a simple style due to the neutral tone used in the major dominating part of the house. However, even with plain white walls, a touch of boldness can be added with the use of black trims.
Black oversized trims for the elevation can add an interesting appeal. It can make the simple windows look unique and extraordinary just by adding a touch of black to the trims.
11. White House Black Trim with Brown Roof
Source: pinimg.com
A white house black trim combination doesn't only go well with a black roof, instead, a tint of brown can be taken into consideration for a more enhanced view.
The colour of the highest exterior element can be contrasted with the white hue. The visual impact resulting from the addition of a brown roof for the white house makes the house look unique and cosy from the exterior.
Upon pairing with black trim, the brown shade of the roof imparts a relaxing appearance to the house. To complement this combination more, a warm white shade can be selected.
12. Black House with White Trim
Source: pinimg.com
A smart combination of black and white can transform a bland structure into a lively one. A black house with white trim is a perfect contrast that can further be enhanced with white and green landscaping.
Black house with white trim is a stunning pair that feels classic and fresh at the same time. The modern black houses stand out and make a statement with their color accents.
13. White and Black with Bright Red Door
Source: squarespace-cdn.com
As black and white can be paired with any other color, a bright red shade adds liveliness to the design. Bright shades form an interesting visual focal point and using a bright red door in a white house black trim design is a compatible choice.
The bright red door adds a sense of stunningness and daring feeling to the whole structure. It makes the house look welcoming and safe. Highlighting black and white combo with such bright shade catches more attention and make the design stand out,
14. Rake Board Roof with Black Trim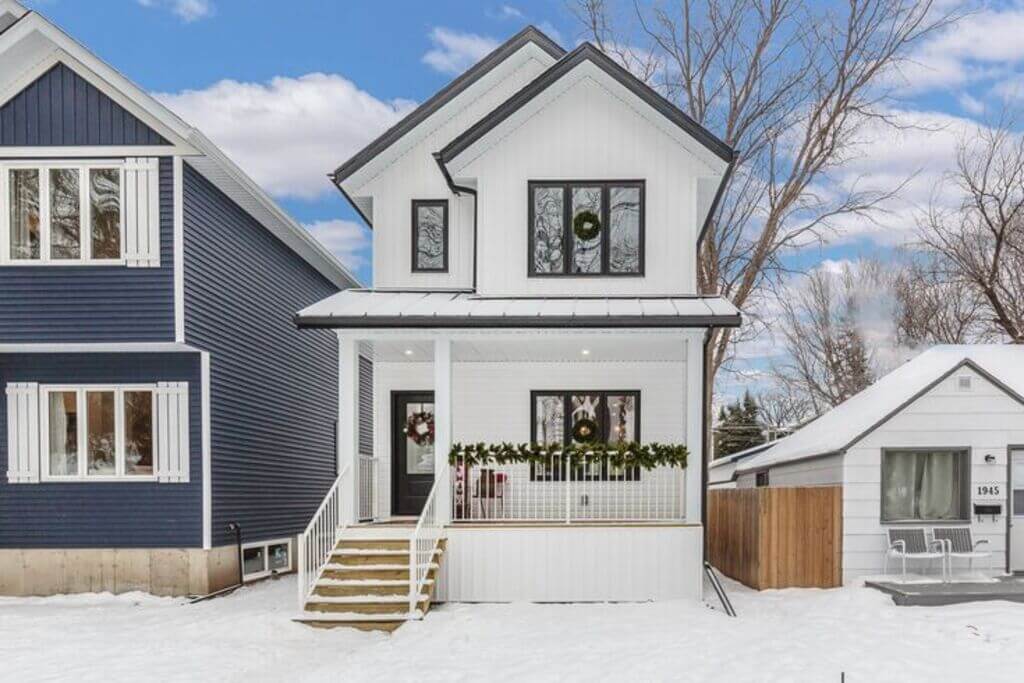 Source: pinimg.com
Rake Board is one of the exterior trims that can be incorporated in a white house design. It can be used to conceal the edges of a sloped roof.
The black trim as a rake board can impart a finishing touch to the roof and add aesthetic value as well.
15. Black Roof for White House
Source: hzcdn.com
For the vintage black and white design, it is the best idea to combine a white facade with black trims and a black roof.
The design with this palette adds consistency to the design apart from being easy to follow and apply. Although using black trims does the job of making a house look prominent, the addition of a black roof can make it look even better. It can enhance the prominence of the home in the entire neighbourhood.
White House Black Trim with Wooden Accent
Source: pinimg.com
These white and black combinations are highly inspiring. If you're looking for black window trims but your windows don't need replacement, you can just paint black shade on the existing window trims to achieve the look.
In case you're looking for brand new black trim windows, the best option is to go for vinyl windows or black aluminum clad windows for added durability.
White has been the most popular choice for a home's elevation. But with the emergence of the farmhouse trend, the white exteriors are highlighted and made more appealing with the use of black trims.
For a warm white house black trim house, adding accents of natural woods can come in handy. A wooden toned door with black trims on a white house makes an interesting combination that leads to a unique effect and hikes the aesthetic scale of the structure.
Drama and Contrast
Source: brickandbatten.imgix.net
Windows with black trims are well capable of adding a drama contrasting to the white house. The white bricks, stones, shingles, etc. can be paired with black trims to achieve this look.
The white house black trim combination not only makes the white stand out, but a pop of black adds an interesting contrast to the structure. Architectural elements and their colour selection are important to compose a good elevation.
The sea of options in the combinations and design of these elements provides homeowners with unlimited options to try and make the house look unique and special. The best part about a white house with black trim is that it is a classic, timeless design. The combination of two welcomes other shades to be added in the colour scheme to jazz up the design even more.
There are numerous ways and design ideas to incorporate a black trim in white house. Apart from these, there are many options for the exterior trim types to choose from. All you need to do is pick the right one that will suit your design and make the house look more appealing.
This trend of black trims has pushed the boundaries in-home designs and allowed people to experiment as per their personal choice. Whether it's a traditional house or a modern style, this look with a black and white combination is easy to achieve and will ensure a highly aesthetic design for your home.
To know more about cleaning tips, home improvement tips visit Architecturesideas.
For daily updates, follow us on our Instagram page @architectures_idea.