Creative Building Access Designs
One out of every four Americans live with some form of disability, reported the CDC in 2018. These disabilities affect major daily activities, making these 61 million adults supported under the Americans with Disabilities Act (ADA).
Accessibility is a civil rights issue, and access can heavily be affected by existing features in our surroundings. Every day, millions of people with disabilities across the globe live among people who are otherwise able to enjoy their gifts normally. Though their capabilities are hampered, they have no choice but to adapt to the same environment that may prove unkind to them. But what if it was the other way around? What if the environment can be adapted to suit the needs of persons with disabilities?
In 1990, the ADA was enacted to acknowledge that persons with disabilities have rights to equal access and opportunities. If reasonable accommodations can be made to help everyone avail the same goods and services, the state protects their rights to achieve this.
Through the ADA, the government was able to come up with guidelines after identifying and understanding the needs of individuals with disabilities. For instance, the 2010 ADA Standards for Accessible Design was published by the US Department of Justice ten years prior to instructing owners and planners in drawing plans for facilities that are meant for public use.
While the guidelines propose measurements for many features of an establishment, it is not strictly a building code. These minimum requirements serve as recommendations to direct contractors in a standardized way of implementing the ADA.
Artists are still free to exercise their creativity in approaching their craft. In fact, it can serve as a challenge to today's architects and engineers on how they can incorporate accessibility to their finished work. Accessible design is not limited to wheelchair ramps and the locations of grab bars.
If anything, it can promote functionality and make aesthetics more purposeful. Creative accessible design can push people to think outside the box and look for new ways to help improve access due to the sheer number of disabilities that impact people's lives.  
Here are some examples of beautiful designs that go beyond making environments more accessible to people with disabilities. Some architects all over the world have approached the issue so that the environment itself adapts to the needs of the ones who enjoy it.
De Zeester, Netherlands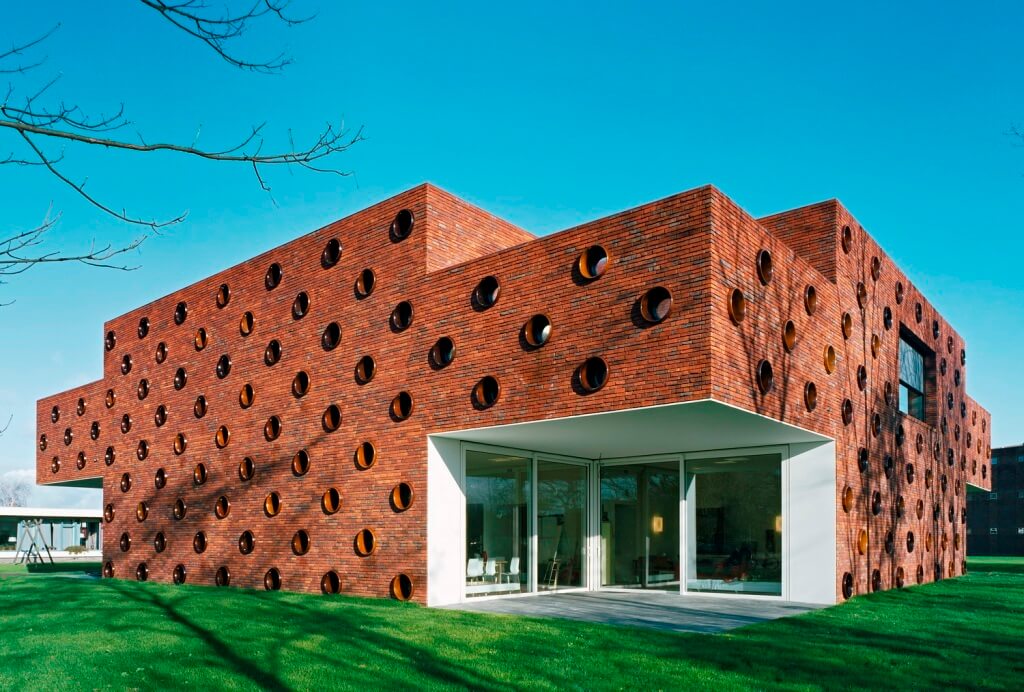 Source: amazonaws.com
On quick inspection, this assisted-living facility in the Netherlands looks like an interesting place for everybody. But it is an institution specially focused on persons who have cognitive disabilities. "De Zeester" translates to "The Starfish" in English and just like its namesake, this building looks like it has a lot of perforated holes all along the walls.
These holes are really windows that improve the lives of the building's residents by making them feel that they continue to be in contact with the rest of the world. Designs like this don't just show that it is necessary to understand the plight of persons with disabilities. It also proves that a basic understanding can lead to concrete solutions.
Hazelwood School, Scotland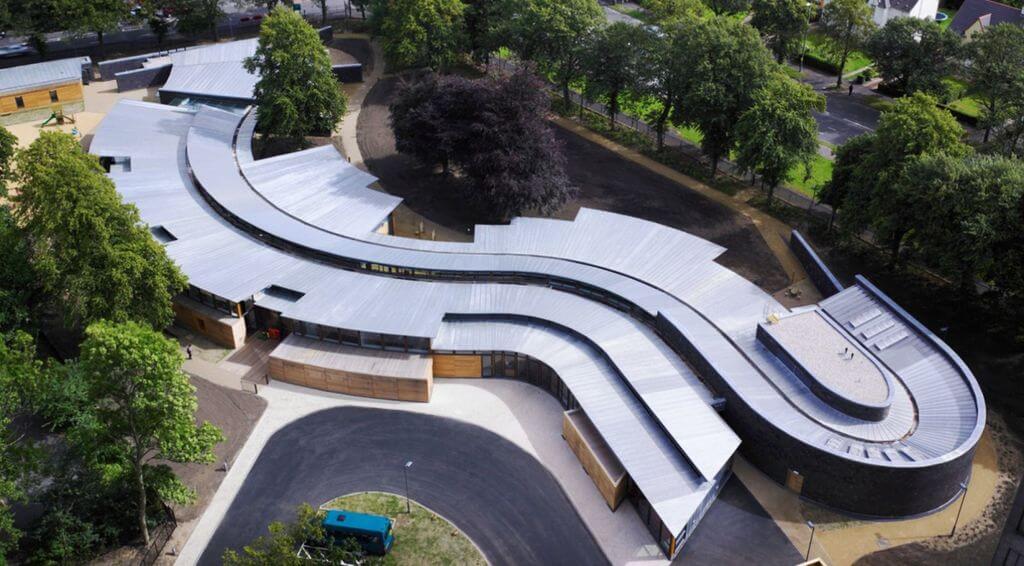 Source: aasarchitecture.com
In Glasgow, a school was built to specifically cater to the needs of children with autism. Aside from autism, the students also present with visual, hearing, mobility, and cognitive disabilities. The architect of the project was selected among six who submitted their proposals for the design to the Glasgow City Council.
The resulting product was an innovative work that includes visual, auditory, and tactile clues for the students who are heavily dependent on support. One of its notable features is a striking sensory wall that helps the students navigate the halls of the school even on their own.
Also Read: Top 18+ Georgian Colonial Style Home Designs
Boarding School for the Deaf, France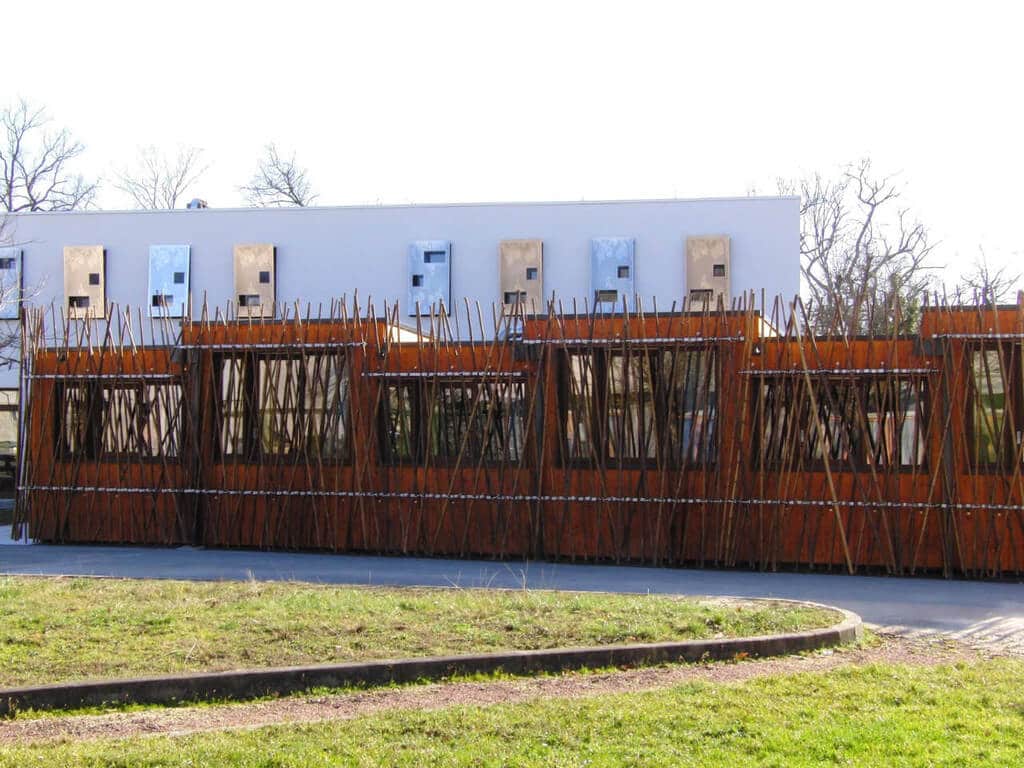 Source: adsttc.com
Southwestern France is a great specimen proving that accessibility does not discourage creativity. The Boarding School for the Deaf in Gradignan was developed on a visually appealing theme that is reflective of its surroundings.
Along with the school, the facade is a wall that features bamboo elements inspired by the vegetation in the area. More than the reasonable needs of the students with hearing disabilities, the architects behind this project went further by achieving a design that was also great for their mental stimulation.
While artists retain their creative license, back in the United States, it is part and parcel of ADA adherence to be subjected to certification. At the end of the day, the government still has the final say whether a facility is able to achieve the demands of this civil rights law. Not all architects and engineers specialize in accessibility regulations. Before beginning operations at a newly constructed building, you can contact a local Certified Access Specialist to conduct an ADA inspection for your property.